Champagne blonde hair color is back with a bang! From Taylor Swift to many other celebrities, we have seen people going for it immediately. The champagne blonde hairstyle looks lovely while it cascades down the sides of your face and the back of your head.
This hair goes well with most makeup looks and you really do not have to worry about the shade clashing with your make up as it goes with simple and lovely makeups to those which have very glamorous appeal to them. Women are so impressed with this blonde hair shade that they are getting their hair bleached and treated for just the sake of getting this lovely shade on their hair and flaunting it.
Many celebrities have recently started sporting champagne-hued blonde locks which have given them an instant popularity boost. After all who doesn't love to fuss about the latest fashion choices of a celebrity. Well, putting that aside, other women who do not have such a glamorous and happening life can also go for this attractive and subtle color.
What Color Is Champagne Blonde?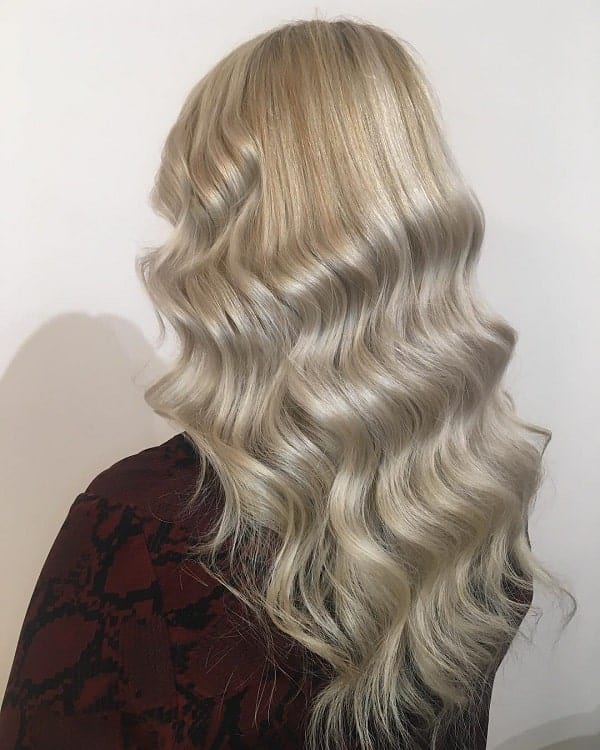 Champagne blonde hair dye is very much like the sparkling wine that it got its name from. It has many under undertones to it which makes the hair overall quite lovely and refreshing. The champagne blonde color is basically beige blonde color which has soft golden undertones to it making it have more details and lovely hair texture.
This color goes a long way in improving the texture of your hair in a very subtle and elegant way that is quite natural. Even the newbies to hair coloring know that this color is somewhat special when their eyes land on this.
Which Skin Tone Suits Champagne Blonde Hair Color?
Champagne blonde hair color is lovely and exquisite, but it is not for every skin tone since it looks quite contrasting on darker skin tones. To keep things natural and pretty, go for this shade of soft blonde if you have pale skin since it will let the hair nicely accentuate your facial features, but if you have dark skin it will be a huge put-off.
How to Dye Champagne Blonde Hair
Your hair needs to have a golden or pale blonde shade to pick up champagne blonde hair color. For this, you might have to bleach your hair several times so that you can have the most natural and beautiful shade of blonde with champagne color which enhances your beauty. Here is how you can dye your hair in this wonderful way.
First, wash and dry your hair so that it is clean and fresh. Clean hair picks up color more easily, so it is better to wash your hair before getting it dyed or bleached.
After drying them off, apply the mixture of bleach and activator to your hair to remove the natural color of your hair.
Let the bleach sit in your hair for as long as the product packaging demands and wash it off.
After drying your bleached hair, apply the coloring cream and developer mixture to the hair and leave it on for the time mentioned on the product care
After that wash your hair and blow-dry it to have a refreshing start.
If you feel that you haven't got the perfect champagne blonde hair that you aimed at then repeat the process. You may skip bleaching in the second go if you think that your hair was bleached enough for dying in the first go.
Champagne Blonde Hairstyles
Well, champagne blonde hair is surely something that you must be wanting now, so why not just have a look at some of the best hairstyles that we have come across so far.
1. Sleek Straight Lob
This hairstyle comes first on our list of best champagne blonde hairstyles because it is perfect for all kinds of occasions. No matter if it is a casual shopping spree, a night out with friends or a flashy dressy party, you can rock this one with confidence and style wherever you go.
The hair is cut to medium length and the sleek straight strands are just as easy to manage as they are to impress other people around you. So, go ahead and get this hairstyle if you are planning on getting champagne blonde hair.
A messy bob never goes wrong, but what makes it even more right is the champagne blonde hair color! This messy bob has hair cropped short at the back which grown slightly longer as you proceed to the front.
The hair is cut on sharp angles and has a discreet lovely feel to it which is sure to get you many admirers and new friends who fall in love with your sandy blonde look.
Sombre hair always makes it big on the fashion boards so you should not take them lightly while you are considering to get a lovely hair color. The hair is of a medium length which makes it easier for you to handle it, so go for this one if you want things to be on a lighter note.
4. Long Easy Beach Waves
This long beach waves hairstyle is perfect for you no matter if it is a hot sunny afternoon or a snowy windy evening. You can rock this natural and simple look easy if you get the perfect of the shade of champagne blonde to go along with this.
This sleek long blunt bob hairstyle with side swept bangs truly does justice to your overall look if you have some lovely champagne hair. The hair is slightly longer and has a very amiable yet professional look about it.
6. Simple Straight Hairstyle
This simple yet youthful champagne blonde hairstyle needs just some brushing for styling and no extra hair care products to stay in its place. Your natural long straight hair is allowed to fall down in a gentle manner which helps you nail every makeup look that you try.
This is another simple and decent hairstyle where your natural hair texture is on display which is beautified by the champagne blonde hair dye.
8. Easy Chic Waves
This natural long hair look with champagne blonde color needs just a little blow drying to get in this beautiful form.
This wavy bob is all that you need to distinguish yourself from among your fashionista girlies, so why not go ahead and give it a try. This has a very innocent and youthful vibe around it which helps people to find it easier to approach you without being intimidated by your looks.
This champagne-hued wavy hairstyle is perfect for your hangouts with friends as well as your workplace routine, so it is a win-win.
This casual long bob balayage on champagne blonde hair is one of our favorites since it has such a simple yet stylish energy about it. The middle part makes it casual yet classy.
So, in order to change your hair, look this season, go for a lovely champagne blonde hairstyle which distinguishes you in every crowd!