Braiding hair is a supreme art, and braided ponytail with weave is an excellent work of art. This hairdo can transform your look from dull and boring to exciting and trendy in an instant.
How to Style Braids with Weave
When it comes to weave braided designs, there are tons of styles that you can choose from. According to your taste, you can include or eliminate certain aspects of a hairstyle. You can color your hair or leave them as they are, or just add highlights or lowlights.
You can also experiment with different kinds of braids, be it French braid, fishtail braids, or box braid. For these hairstyles, accessories also play an essential role. There are various hair accessories that can be used to adorn your hairstyles.
Trendy Ponytail Braids Hairstyles with Weave
Scroll down to find 17 different styles in which a weave ponytail with braids can be styled and choose the one that works best for you:
If you want this classic braided ponytail with weave hairdo, take all of your hair and braid them into cornrows. Secure all the cornrows on the tip of the head and tie them there into a braided ponytail.
This hairdo is ideal for black girls with their unique hair texture and jet-black hair. Though it is a classic hairstyle, it can look super trendy if you carry it well.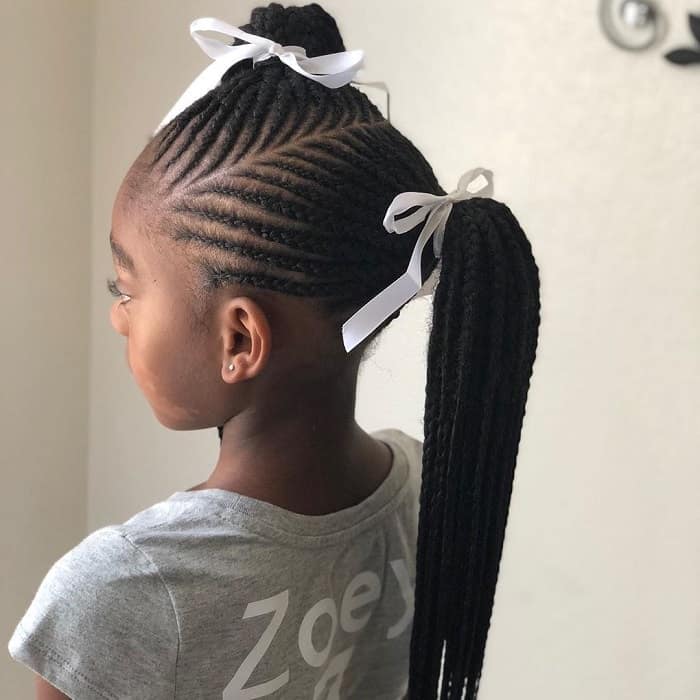 For an absolutely fantastic hairstyle, divide your hair into equally parted horizontal sections. Weave each section into cornrows. Take the cornrows of each section and turn them into a braided ponytail on both sides.
Tie white ribbons on both the ponytails for added style. This hairstyle seems as if it is out of this world but that too in an extremely positive manner.
To get an extremely bold look, take a step forward and get your hair dyed a bright red shade, leaving the roots dark.
Get inverted French braids, stretching into three-strands box braids, join all the braids to give them the shape of a ponytail. This hairstyle will bring out the real you through the boldness it displays.
If you like colorful hair, then add colorful weave to get an icon that hairstyle you will love more than anything.
Get your hair dyed into different colors and weave them all into equally parted cornrows. Secure all the cornrows in a high ponytail. Pick braided strand and wrap it over the ponytail for more style.
Auburn ombre really gives you a chic look. For this hairstyle, get an ombre to your hair. Get flat cornrows of all your hair and further braid them into box braids.
Connect the cornrows to form braided weave ponytail. You can rock this look in all possible ways.
6. Black Hair with Blue Highlights
For a blue highlights style, ask your stylist to add some pop of electric blue shade to your hair. Knit thin cornrows from your top hair and connect them with the lemonade braids of lower hair.
To achieve this look, ask your stylist to dye your hair a dark magenta color. Knit thin French cornrows into your top hair and style them with beads.
Connect the weave braids and form a ponytail made of braids. Style the ponytail with beads too because hair accessories make a huge difference and can completely change how your hairstyle appears.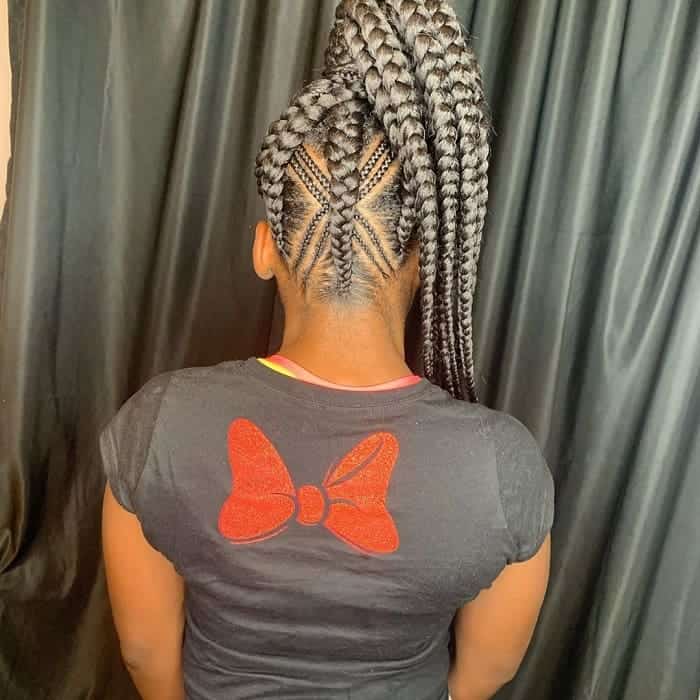 For a designer hairdo, go with metal grey designed cornrow ponytail braids with weave. Color your hair into a metal grey shade and knit intricately designed cornrows into them.
If you have got your natural jet-black hair, then style them with braids. Take the top hair and weave them into alternating thick and thin cornrows.
Stretch those cornrows into three-strands plaits and turn them into a braided ponytail. Add some curly weave hair to your ponytail as well. Gel down the baby hair into swirls for added perfection.
Knit thick braids into your weave hair in all directions, coming towards the tip of your head. Combine all the braids to form a braided ponytail. Orange and yellow shade gives your hair the beautiful effect of sunrise.
For this hairstyle, you have get two tone kanekalon braids. Do thin cornrows into your top hair and join them with thin colorful weave box braids for a wow effect. The way the lower box braids turn into curly braids is majestic.
If you like rainbows, give your hair all the colors of rainbows while leaving the roots dark like this.
Divide your top colorful weave hair into alternating thick and thin sections and braid them which ultimately form a braided ponytail. Secure the ponytail with a ribbon band.
If you can't handle the mess of fancy ponytails, then plain cornrows and ponytail should become your go-to style.
For this weave braided hairstyle, you have to braid your top hair into plain cornrows going down into simple plaits. Secure all the braids on the tip of the head with a ribbon covered by strands of braids to form a high ponytail.
Orange is a beautiful color and can give you a refreshing look. So, we suggest that you get an orange ombre for a change. Style the top hair by knitting box braids going down the edges of your hair.
Grab all the braids in one place and secure them there for a ponytail braids style with weave. This hairstyle can become your favorite instantly.
To leash out the true punkster in you, get your hair dyed into a bright red shade. Twist the top hair into thin ropes.
Collect all the hair at the tip of the head and raised them in a thick strand. Further, divide the hair into six equally parted strands and knit them into heavy braids, forming a hair fountain.
To achieve a cute stunning and a Barbie-like look, go with this barbie hairdo. Get pink and lavender highlights to your brown hair. Weave the side hair into cornrows.
Grab all the hair and part them into two sections. Knit each section into a pull-through braid. Secure each pull-through braid with a ribbon.
If you want to get this hairstyle, leave the roots of your hair dark and dye the rest of the hair a cream blonde shade.
Knit the remaining weave hair into box braids and secure them in the form of a ponytail. Place the ponytail over your shoulder to look cool.
These ponytail braids with weave style will help you to be ahead in your game. Don't forget to secure all the weave braids in the form of a high ponytail for an edgy look this season.