When it comes to braiding, each woman with long hair thinks she knows a lot. However, braided ponytails come in so many varieties that it's close to impossible to know them all.
Any ponytail can turn into a beautiful braid in the hands of a professional. Meanwhile, you don't need to be a barber to create wondrous masterpieces. If you are tired of keeping your hair tied in a regular ponytail or French braid, you just need a little help. With the right options in front of your eyes, you can make a new hairstyle every now and then.
Braided Ponytails
The main problem with most of the hairstyles is the lack of knowledge. For thousands of years, women have been coming up with new ways to arrange their hair.
However, when the internet came, others got access to what used to be kept secret. Even though we now have access to all the braided ponytail hairstyles in the world, most of us still can't find the right one.
We have picked 70 amazing ponytail braids to help you end your hair struggle. Sport a new braided ponytail hairstyle every week!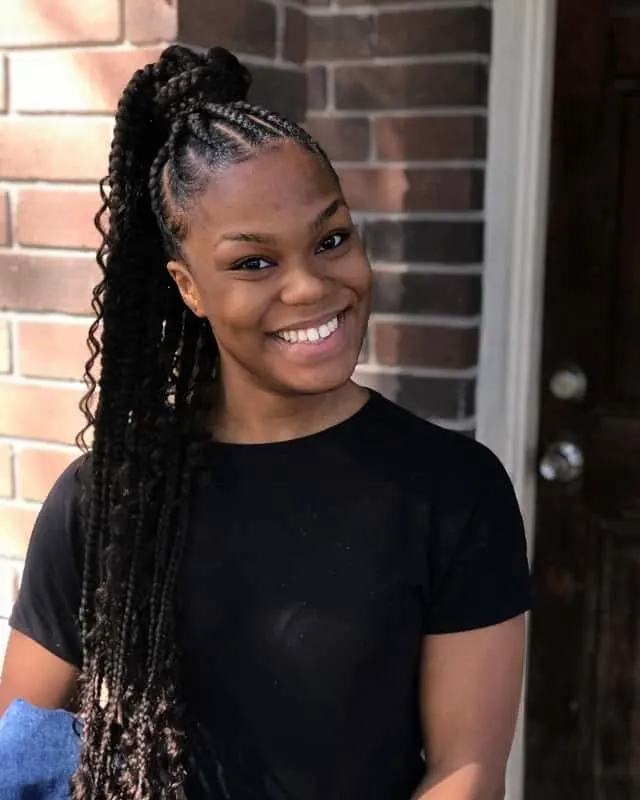 Ponytails look gorgeous, especially if you choose to recreate them with your fabulous box braids. Pin all the twists up and spare a few braids to wrap them at the base of your pony.
#2. Feed-in Braid into Ponytail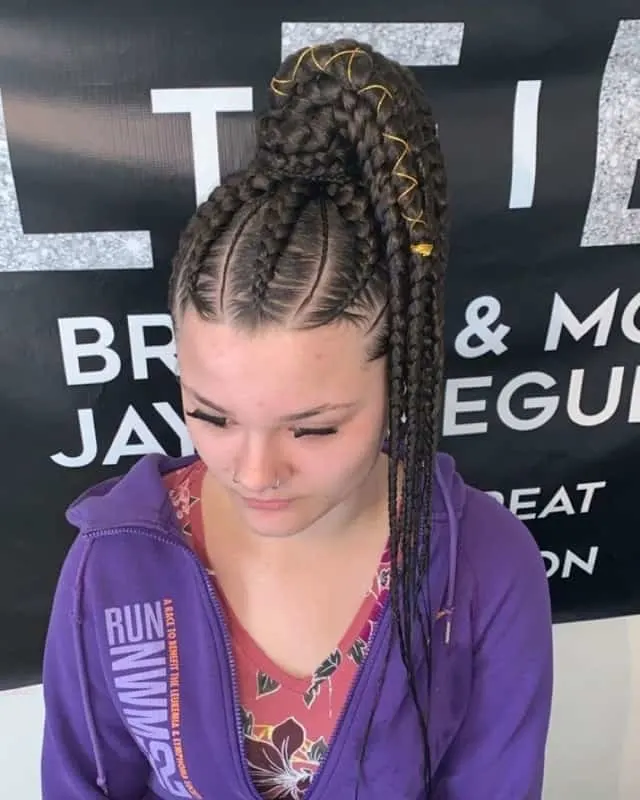 Your braids look gorgeous, and they can look even better if you pin them in a ponytail. Use 2 or 3 thicker braids to roll around the pony at the base, and you will get a high hairstyle that will certainly grab anyone's attention.
If your little girl likes fancy hairdos, you need to get her these gorgeous braids for kids. Create two knits on both sides of her head and pin them into a low ponytail. Use a few strands of hair to connect the two braids.
#4. Braided Side Ponytail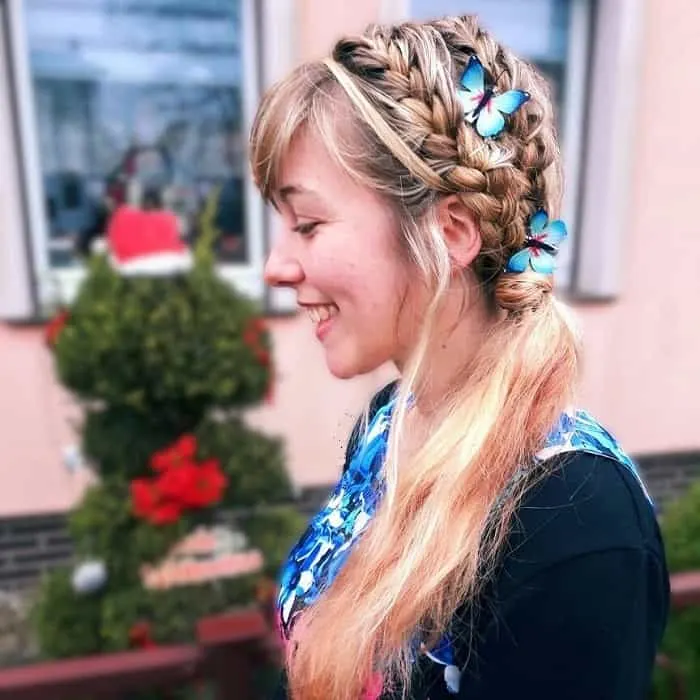 Whenever you want a romantic summer look, this French braid hairstyle is the perfect match. Create a braid on one side and pin it into a low ponytail. Accessorize your hairstyle with flowers or butterfly decorations.
#5. Ponytail with Lemonade Braids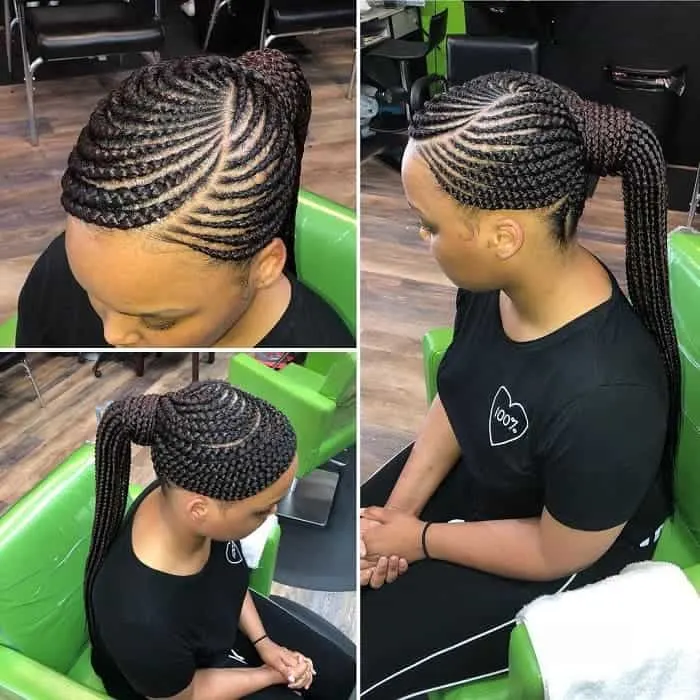 Beyonce launched a trend that all black girls love, the Lemonade braids. If you want to make them look fantastic, pin them into a ponytail and make it stand out with a thick braided base that holds the knits together.
#6. Box Braids + Ponytail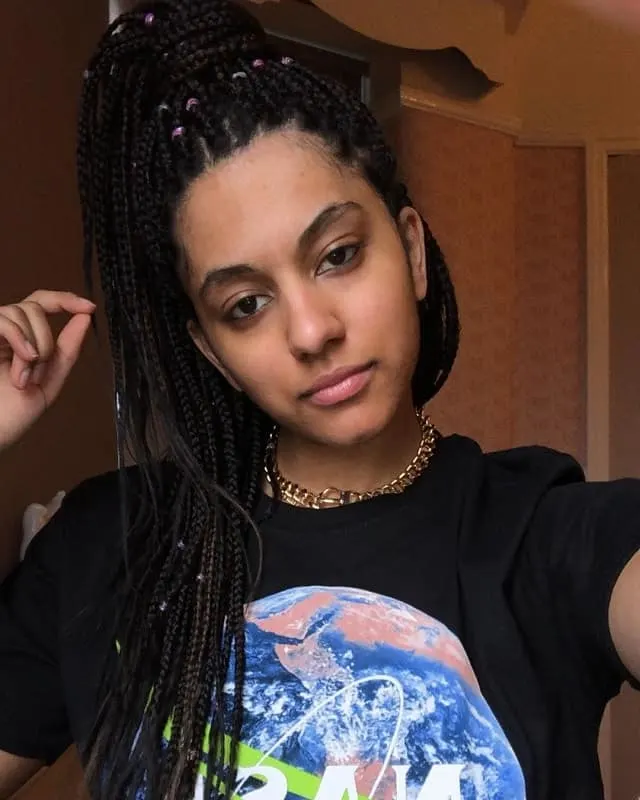 Accessorize your box braids with colored cuffed beads and pin them all in a high ponytail with a prominent base. This hairstyle with braids will make your face look longer, and you'll get a fresh modern look.
#7. Two Braided Ponytail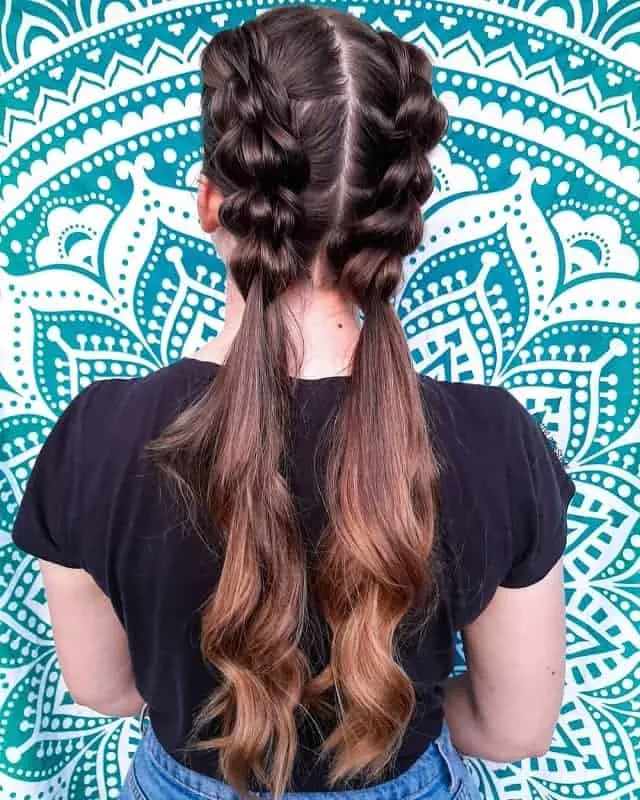 Make your French braid hairstyle look fantastic just by simply pulling out a few strands of the braided hair. Pin them in two low ponytails and use a curling iron to create some loose full waves for your tips.
#8. Tribal Braids Ponytail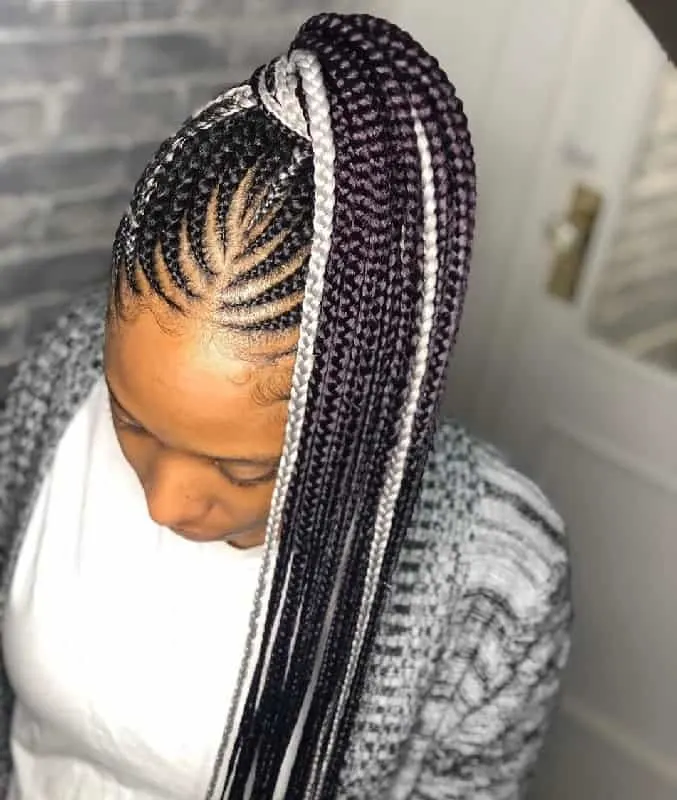 To recreate this astonishing braided ponytail hairstyle, you need to use white and black jumbo hair for braids. Pin them all up in a high pony on top of your head and wrap a few white braids at the base.
Fulani braids are well known for their spectacular designs, and you can take advantage of this when creating a pony. Tie your hair on top of your head, let your locks and braids fall on your back and shoulders.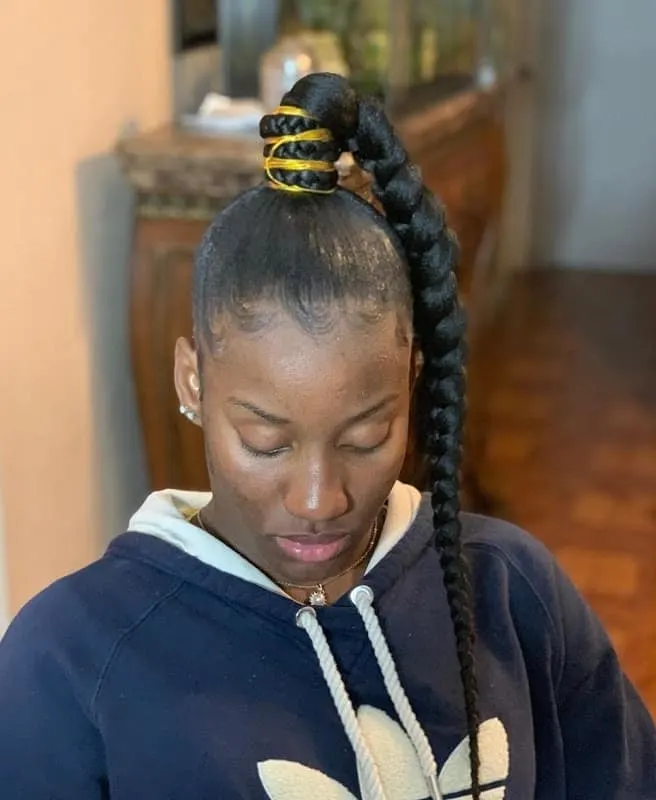 Genie ponytail hairstyles make your hair stand out by simply adding hight to your hairdo. Pin your whole hair in a big bun and attach your jumbo hair ponytail on it. Make it look fantastic by wrapping a golden thread on the spot where the bun and the pony blend.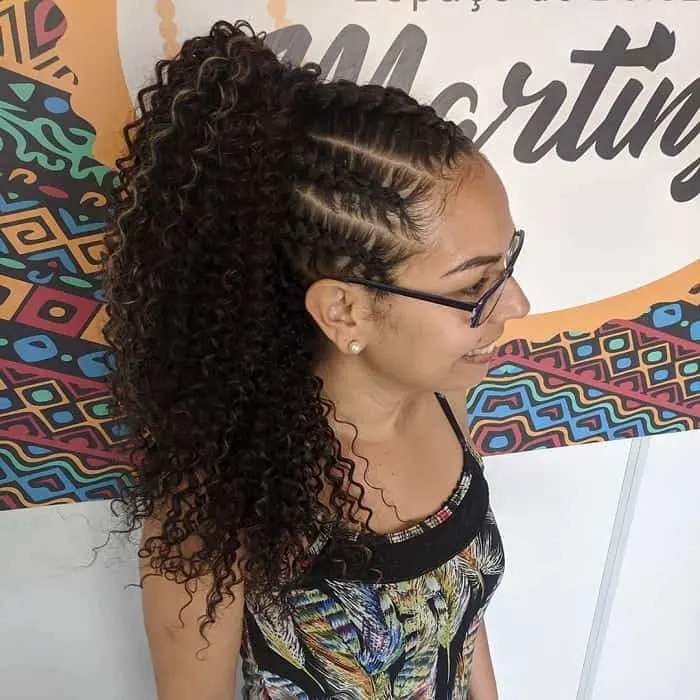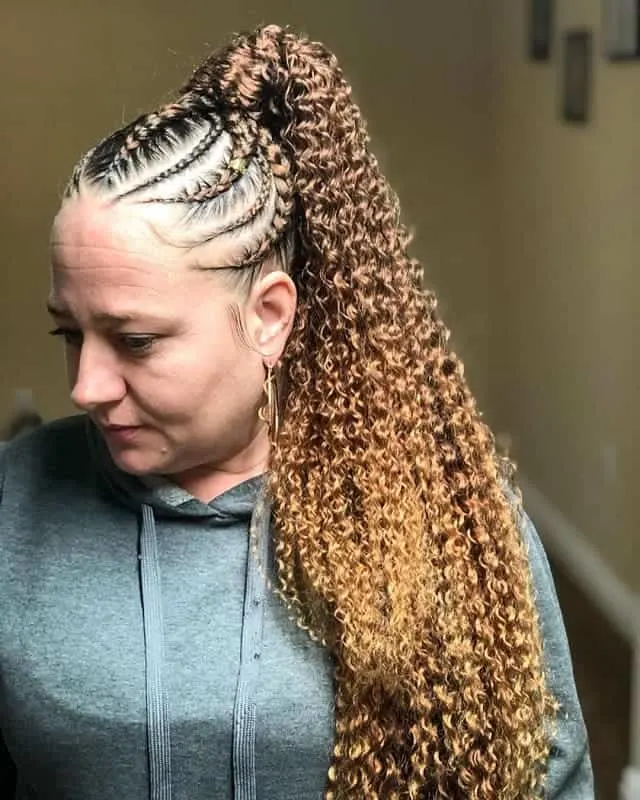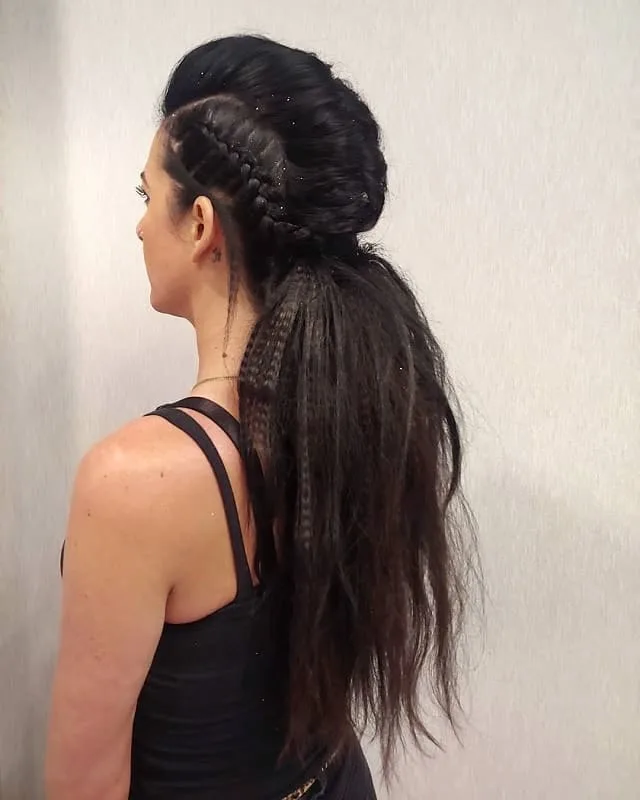 #15. Sleek Ponytail with Braid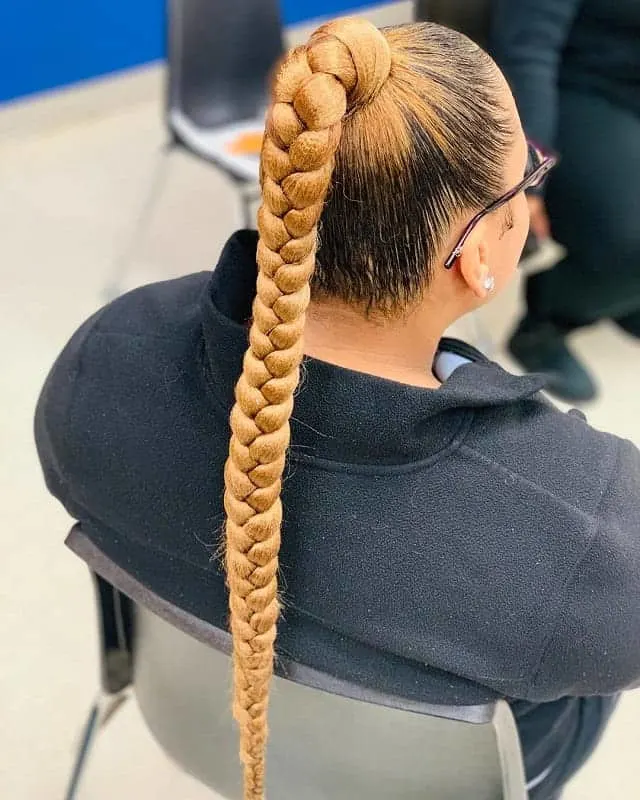 #16. Two Side Braids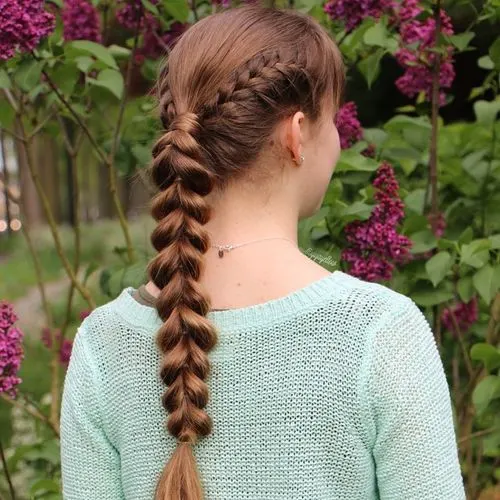 Even though asymmetry is popular nowadays, symmetrical hairstyles look great anyway. Consider making two side braids using the method described in the tutorial and then braiding the ponytail itself.
#17. Special Fishtail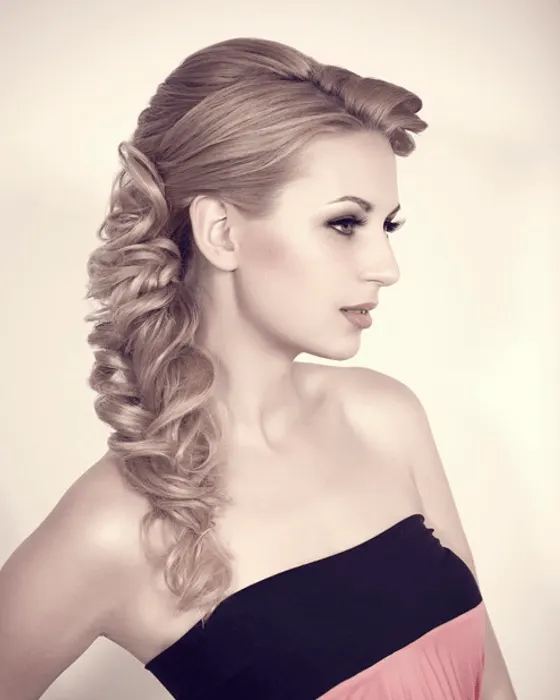 Fishtail braid ponytails always look special. You can use them to create a wonderful hairstyle for an upcoming occasion. Consider making the ponytail slightly asymmetrical in order for it to run down one shoulder.
#18. Loose Braiding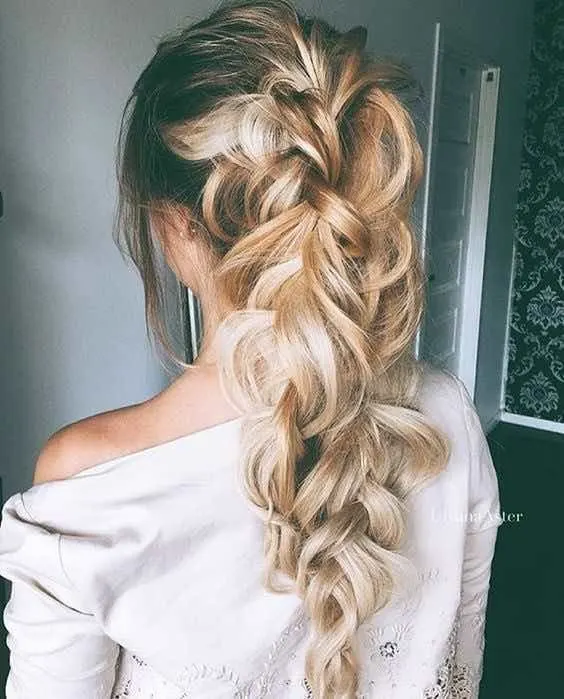 If you have fine hair, a loosely braided ponytail is your way to add some volume. You'll need to use a curling iron to make curls first. Then you have to make a high ponytail and proceed to make a loose braid.
#19. Professional Braiding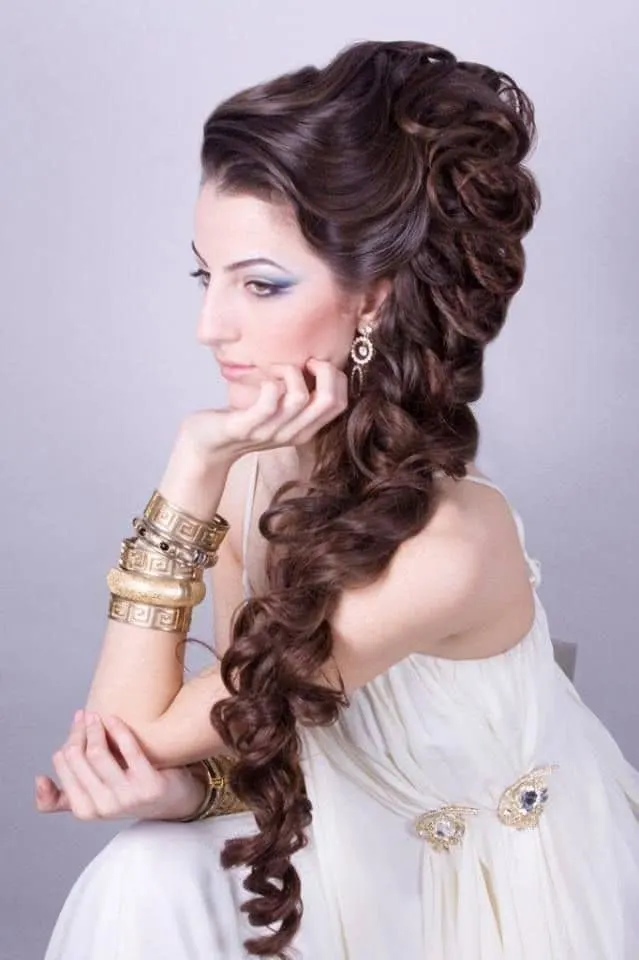 If you are looking for a special hairstyle for a wedding, this professionally made ponytail can put an end to your search. Show this picture to your hairstylist and wait for the masterpiece to be created. If your hair is not long enough, use a weave.
#20. Half and Half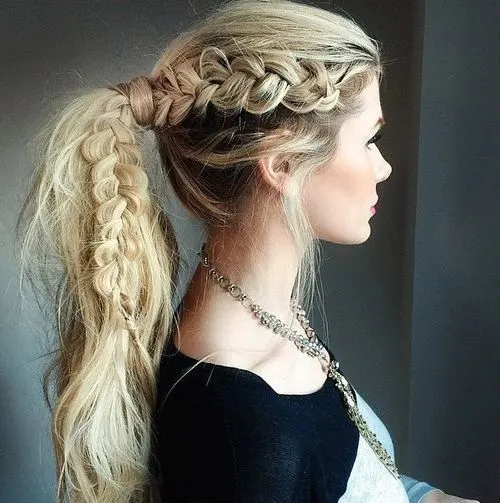 If you are looking for non-standard ways to create a hairstyle, this one is for you. You have to finish braiding the side strand and incorporate it into a high ponytail. The results will look fantastic.
#21. Low Fishtail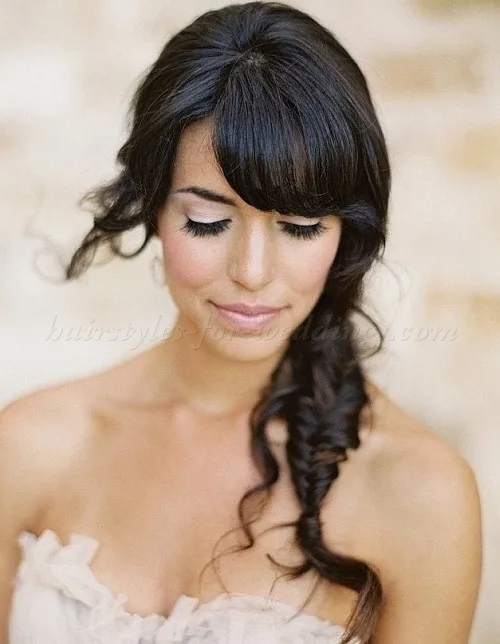 This low braided ponytail hairstyle is wonderful for loose style lovers. If you are into "close to nature" images, make a low ponytail and braid just the lower part of it. Such hairstyle needs plenty of hairsprays to stay intact.
#22. Be Simple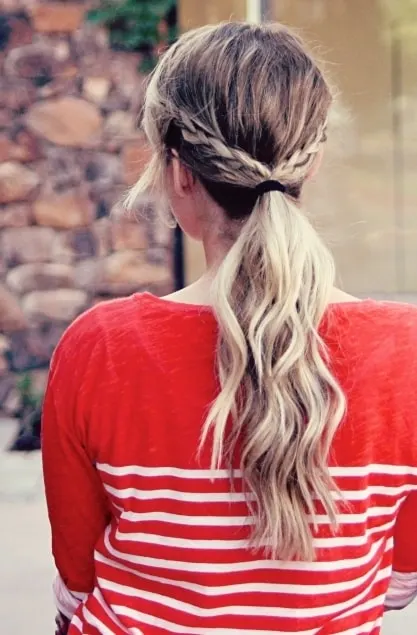 This simple hairstyle is available to just about anyone. It's also a wonderful choice for women with medium length hair. Two simple French braids on the sides are incorporated into a low ponytail. Fast and simple!
#23. Loose and Fine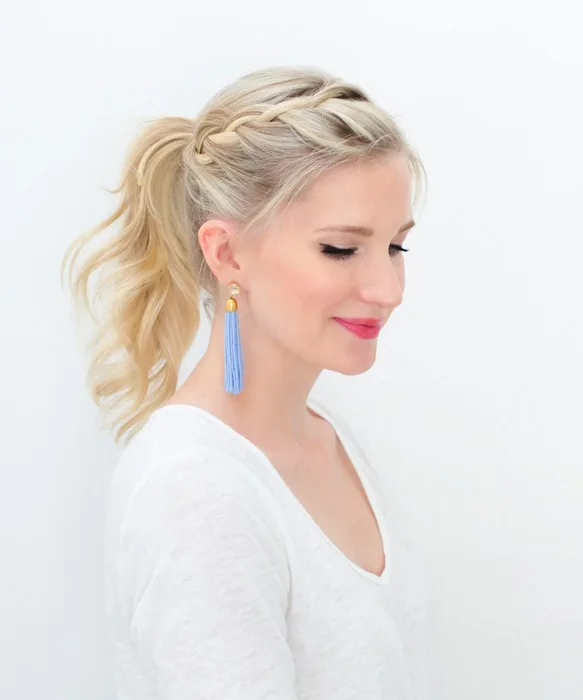 This loose side braid is great for women with fine hair. You have to make the braid as loose as possible to add is some volume. Make a high ponytail to suit the same purpose. You can make such a hairstyle with fairly short hair.
#24. High and Mighty
If you have long and thick locks, consider this interesting braided ponytail. Start making the braid from the front and have it run to the back where it can join the rest of the hair to form a ponytail. Use one strand to hide the elastic band.
#25. Braided Weave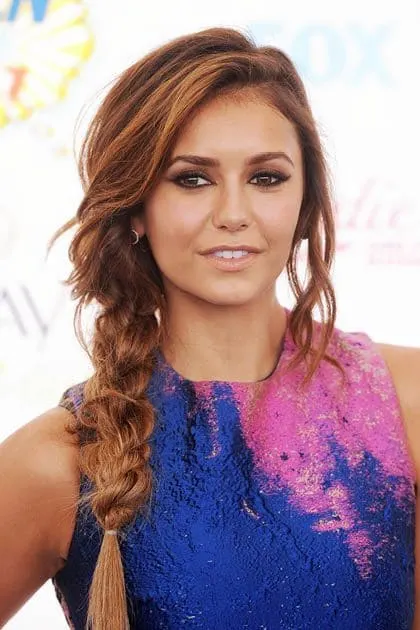 If you are a big fan of the long hair but all you've got is a bob, you can take advantage of hair extensions. Weaves are wonderful for creating thick and impressive braids. They can last up to a month.
#26. Boho Braid
A loose braided ponytail on long blond hair coupled with a headband creates a wonderful boho style you always wanted. Such loose hairstyles are always a hit at special occasions but won't do you too much good on the everyday basis.
#27. Dutch Braided Ponytail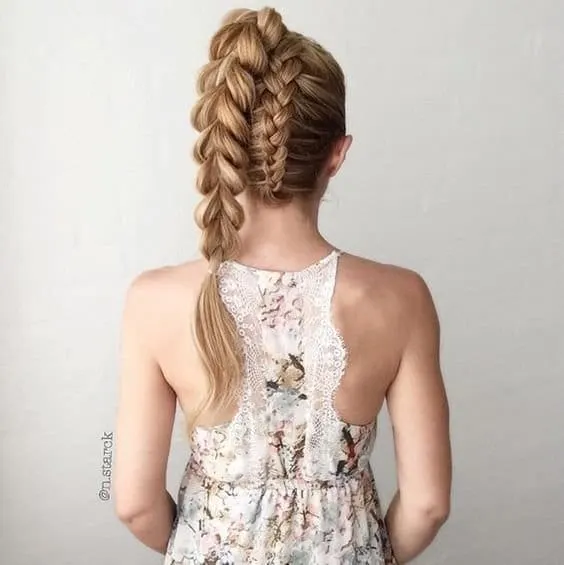 Look at this unique Dutch braid hairstyle. You start with making an upside-down braid and have it hang down from the top. First, you need to create the upside down braid and then tie it into a ponytail on top. Then proceed with braiding.
#28. Side French Braided Ponytail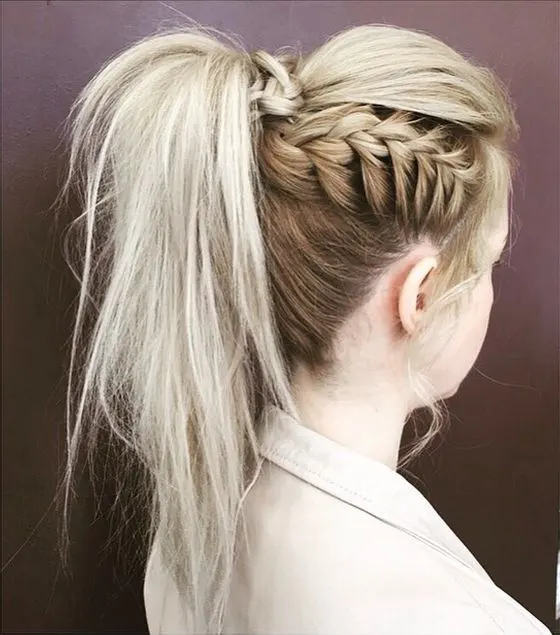 This high side braid with a high ponytail makes an impression of an undercut. Braids are a wonderful way to create a closed to a shaved appearance on your side. Cornrows do it the best. But French braids can follow suit just as well.
#29. Halfway Down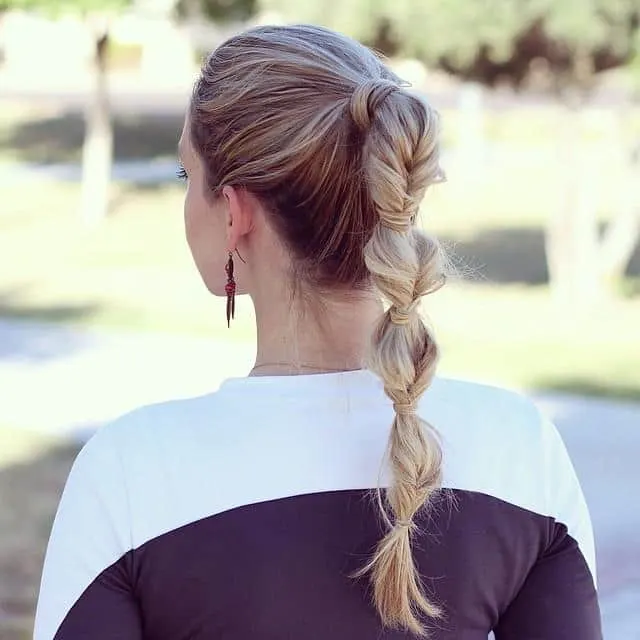 This twisted ponytail looks like a braid when in reality it's nothing more than two twisted strands kept together by several elastic bands at the equal terminals. This is a very easy hairstyle, which is suitable for any occasion.
#30. Additional Braid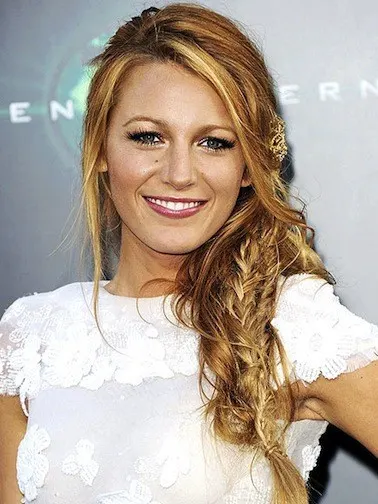 You don't have to use all of your locks to create a braided ponytail. Messy hairstyles look great when you add a subtle braid to it. Such style can be suitable for a theme party, a wedding or just a day at the beach.
#31. Twist and Braid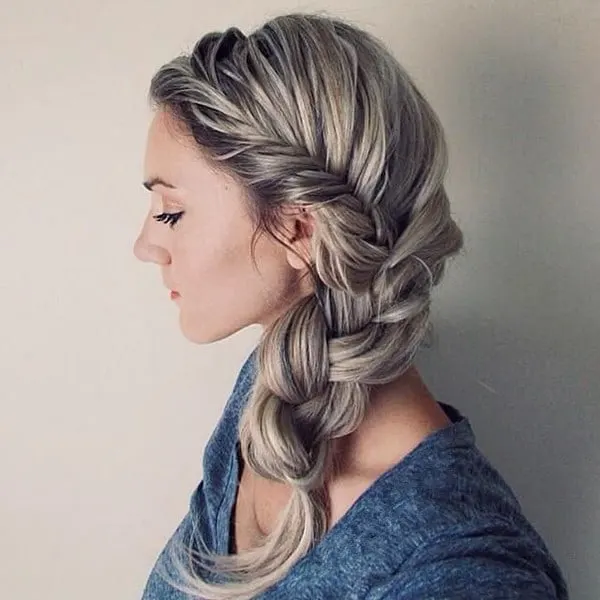 This special hairstyle involves twisting the side strands instead of braiding them and then incorporating them into a braid. The steps are similar to making a side braid. The best part is that twisting is easier to do.
#32. Several Braids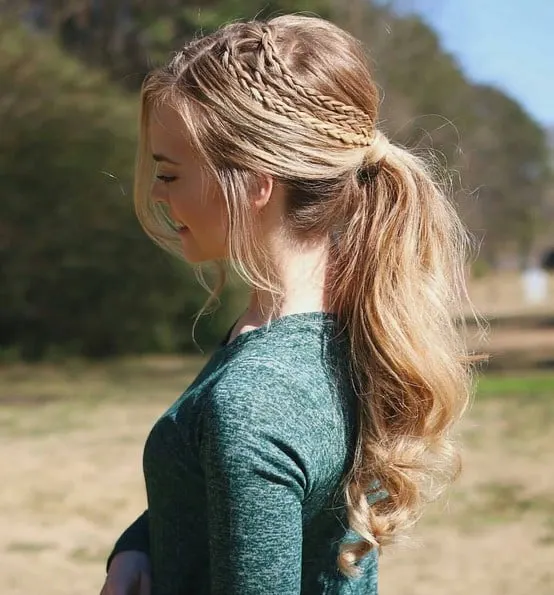 Making several braids on one side and none on the other or just different number of braids on each side can make your hairstyle truly unique. Depending on your hair thickness you can make up to 10 braids.
#33. Side Extensions
Use hair extensions to make your braided ponytail look thicker and more appealing. Women of all ages look great with the well-chosen hair extensions. Try them for the next special occasion.
#34. Neat Braiding
Even if you are going for a rather messy hairstyle, you need to pay close attention to neat braiding. An overly messy braid can fall apart in an hour, turning your long-awaited event into a disaster.
#35. Faux Braids
If you have fine locks that just can't create a really thick braid, you can go for a faux braid effect. All you need to do is make large curls and arrange them in a way to resemble a braid.
Best Braided Hairstyles with Curls
#36. Waterfall Braid
Waterfall braids are a good change. They might look complicated to do, but if you watch a DIY video of this braid, it is super easy to follow. This unique braided ponytail is a good substitute for a regular braid, especially when you have highlights in your hair.
#37. Multiple Braided Ponytail
This hairstyle is perfect for a formal event when you want to stand out and do something that is outside the box. All you have to do is divide your hair it half, down the middle. Braid one side with three different braids and comb back the hair into a sleek pony on the other and then tie them all together.
#38. The Braid Twist
This is another unusual glam braid that you can wear at occasions where a normal hairstyle just isn't doing it. This hairstyle incorporated both a braid and a side pony. It's perfect for a night out or any other extravagant occasion.
#39. The Braid to Pony Style
This braid and twist is a perfect way to add some dimension to a regular braided ponytail. It doesn't take much time to do and can be worn for work or just a regular day out. Wear it to school or for a casual day-out and steal the attention of all!
#40. French Braid and Pony
This hairstyle is a perfect first date hairstyle. It helps you keep your hair away from your face letting you accentuate all your facial features. And, at the same time the braid into a pony has this feminine Disney princess feel about it.
#41. Braid It All
Part your hair into two sections, and the French braid both and bring it back into a pony. Twist braid that pony. This hairstyle is perfect for the gym or when you are going out for a run but still want to look cute. For those of you who like the hair all tied back, this look is meant for you!
#42. Highlighted Braided Pony
Again, this is a perfectly unique braided ponytail for someone who has highlights. Especially if you have bright colors in your hair, you can wear this hairdo anywhere, and you will look amazingly edgy.
#43. The Unicorn Tail
This is the right hairstyle for you if you have long hair and you are looking for a way to style it. You can also add hair jewels to the plate to add a little bit of glamor.
#44. 4 Strand Braid
Four strand braids look complicated but are the absolute opposite. This hairstyle will come off as if you spent hours doing it, but in reality, took you 45 minutes — a perfect hairstyle for a special occasion.
#45. Fishtail Braided Ponytail
Mixing up two different kinds of braids can give the best results. This braid crown that transforms into a fishtail braid is a perfect braid to wear absolutely anywhere.
#46. Cornrow Pony
Cornrow braid your hair in an upward motion so that you can secure it in a pony and then start braiding the usual way. A unique cornrow ponytail hairstyle is perfect for want you feel edgy yet want your hair away.
#47. High Ponytail with Braid
If you think half-up hair do's are only for when you let your hair open you couldn't be more wrong! Wear this hairdo anywhere, and it'll look appropriate and classy.
Instead of heart braid at the back of your head, try the heart braid at one side for a little variation.
#49. Inverted French Braid
A good alternative for the French braid is braiding it inverted. But instead of braiding it all the way down, stop towards the end and secure it. Proceed to curl the ends of the braid and wrap a hair strand around the tie to make it look more chic.
#50. Colorful Braids with Ponytail
Part your colored hair down the middle and then take two sections and braid it upwards into a pony. Add random braids here and there to make it more boho styled unique braided ponytail.
#51. The Heart Crown
This hairstyle is perfect for your flower girls at weddings. The crown that circles what look like two swans, is perfect for an occasion like a wedding. This hairstyle is extravagant and looks amazing.
#52. Close-Knit Braid
A very unique two-toned style. This hairstyle is perfect for the festival season.
#53. Braided Ponytail with Accessories
Hair accessories are the best things that were ever invented. And recently since Ariana Grande has sported rings in her hair, it's become a trend. Adding rings to your versatile braid style adds that extra extravagance and gives you an altogether unique braided ponytail. Again, this hairstyle is perfect for all the festivals you will visit in the summer.
For the longest time, just usual strands of hair are used to cover up hair ties. But here's a twist on the traditional method. Braid your hair to wrap it around your hair tie and go one step ahead of the traditional method.
Adding glitter to anything just takes it to a whole new level of wow. This hairstyle is perfect for an occasion like your 21st birthday or prom.
#56. Pumped Up Braid
A different twist to a half up, half down hairstyle. Make the traditional hairstyle more glamorous by making a four-strand braid. You can wear this hairstyle almost anywhere, and it would look appropriate and amazing.
#57. Galaxy Braid with Ponytail
One of the ways to add a little pop of color without actually coloring your hair is to add bright colored strands of wool into your braids. This unique braided ponytail can be worn anywhere when you are feeling extra. It is also perfect for concerts or games.
#58. Three Cornrow Braids
These three tight braids on the crown of your head are really something that isn't done a lot. It's a perfect hairstyle to make you stand out, and yet it isn't all over the place. It's perfect to wear anywhere, even a casual day out with your friends.
#59. Ponytail Braids with Weave
Braiding all your hair is a perfect way of keeping it all away. This unique braided ponytail with a weave is perfect for every occasion. Braid your hair into thin braids to give it a perception of thin dreadlocks. Do this all around your hair. After you do that, tie your hair into a pony and secure it with a tie. Cover that tie with the braids from your pony.
Braid your hair like you would in the previous hairstyle. The only difference is instead of tying all your hair back, only tie your hair from the crown portion.
Braid three braids at the crown of your hair and then pull it back into a pony. Curl the rest of the hair to make the look complete and yet again use a strand of hair to wrap around the hair tie.
#62. Bow Up The Braid
Braiding your hair ties into your braid is a great idea to add some color into the braid. Instead of keeping your hair messy, pull it back in a sleek manner and add a bow at the top to make it come together.
#63. Silver Queen Braid
A half-French braid is also another great variation. Tie the half French braid into a four-strand braid. Tug on the braid to make it lose and to create an illusion of volume
#64. Long Braided Pony
This unique long braided ponytail is perfect for the third or fourth-day hair. Because all you have to do is pull it back and make it look sleek and tie it into the braid. Just like the previous hairstyle, pull and tug on the braid to achieve volume.
#65. Braided Enchantress
This hairstyle is simply enchanting, because of the way it's braided. You could wear this hairstyle on several different occasions.
#66. Wild Braid
The best way to give the illusion that your hair has a lot of volumes is braids that braid into each other. This hairstyle is perfect for anyone who has long hair and wants to change it up a bit. This hairstyle could be glam and subtle if worn with the right outfits.
#67. Candy Braid with Ponytail
This is another hairstyle that would really look mesmerizing if you had highlighted hair. You could wear this hairstyle anywhere because it's cute and organized.
#68. Jumbo Braided Ponytail
This is a hairstyle for someone who likes the jumbo braid. All you have to do is braid braids of different sizes and pull it back into a pony.
#69. French to a Fishtail Braid
This is an innovative twist on the regular fishtail braid. First, start with a reverse French braid at the top of your braid and continue doing so till you reach the end of your head. Secure the braid there with a tie and then start a fishtail braid from there on. The result is a unique braided ponytail!
#70. Sectioned Pumped Up Braid
This hairstyle is perfect for when you need a change from your regular braids and ponies, and you can wear it anywhere.
Braided ponytail hairstyles can become an integral part of your daily or weekly styling. By trying each one of the above options, you are giving yourself a chance to enjoy hairstyling more than ever before.