Fishtail braids have been a popular way to arrange women's hair for many centuries. While ponytails serve the same purpose of keeping the hair neat, braids do it in a more intricate way. Making a beautiful braid is real art. The variety is amazing.
Girls try new options every day. Special attention should be paid to fishtail braids. They look really impressive. If your hair is long enough to create such a braid then you should take a look at the different ways to do it. You'll be amazed at how many choices there are out there.
How to Make a Fishtail Braid
A fishtail braid can be made out of fine, thin, thick, straight and curly hair. It looks especially great on highlighted medium-length hair. While it seems pretty complicated, this hairstyle is very easy to make. Before you start, brush your hair well and moisturize it with water or special hair products. Otherwise, hair might get tangled up or attract static electricity.
Brush your hair well and sweep it back
Start with the temples. Take strands, which are about 1 inch wide, and cross them at the crown – right over left
Use your right hand to push the hair to your head. Then grab the left strand with your right hand and cross it with the right strand. Then use the first left strand to braid it with the new one.
The two new strands you got should be crossed with each other.
Then follow the instructions over and over until you reach your neck.
You can either stop here and tie it with an elastic band or continue until the hair ends.
Fishtail Braids
If you think that a fishtail braid is too complicated, you are absolutely wrong. Maybe you will need a little practice at first, but once you get good at making it, no one will stop you! Such braid is a life long experiment, which will bring you pleasure every time you make a new one.
We prepared a list of 75 amazing fishtail braids for you to check out and start experimenting. You will surely be pleased with the result, so give a couple a try! You can also see different waterfall braid hairstyles and choose the one you like.
1. Highlighted mix
If you have highlights, then your fishtail braid is bound to become very fashionable. Choose the strands of different colors to make the braid, and the result will truly be amazing. This zebra-like style will really impress everybody.
2.Decorative fishtail braid
No need to use all of your hair to create a braid. You can make one decorative one using just some of the hair on top. Take two side strands and twist them on top, then pull them together with an elastic band to create a ponytail. Then turn the ponytail into a fishtail braid.
Best Braided Hairstyles for Black in 2019
3. A weave plus fishtail
If your hair is not long enough to make a fishtail braid, no problem! You can get a weave. Hair extensions do a great job of creating impressive braids, which will really change your look and make you feel amazing.
4. Get creative
Why limit yourself to just one braid, when you can make two? Take a thin strand of hair on top and make a braid, which will turn into a strand for the bottom fishtail one. The result is truly creative and stylish.
5. Use jewelry with your fishtail braid
Braids can become much more interesting if you use some accessories. Weaving different elastic bands or pins into the braid will really make it look fashionable. If your hair is dark, try using pearls. They will really stand out.
6. Side braid
Side fishtails braids are great for women, whose hair is not thick enough to create two braids. Sweep the hair to one side and use the full volume to create your new and improved braid. Let it run down one of your shoulders.
7. Levels
Levels might seem close to impossible to make on your own, but some experienced girls still manage to create them. If you are not sure you can, go to the stylist for some help. The result is so impressive, it will keep you coming back for more.
8. Let it loose
Loose braids look very sexy and don't require as much attention as tight ones. However, they don't last as long. Loose braid is created by pulling at the strands of a tight one. Nothing hard about it! Use some hair spray to prevent it from being too messy.
9. On one side
You can get creative and make a fishtail braid on just one side. The other side can be left alone. The result will be quite interesting and original. Make sure to use some hair gel to keep unbraided hair neat. Otherwise the hairstyle will loose its originality.
10. The tighter, the better
Tight fishtail braids are very popular since they serve the initial purpose of braided hair – neatness. If your hair is long, it is hard to keep neat and that's where the tight braids come in. Make them as tight as possible and forget about your hair for the whole day.
11. For a special occasion
If you are getting ready for a special occasion, a fishtail braid is a great idea. It looks very stylish and can be decorated with different accessories. Let some of the hair loose in front and curl it. You will be ready to conquer some hearts!
12. Loose and messy
If you like messy hairstyles, then you will appreciate the loose braid. The hair is brushed to one side and a loose fishtail is made to add zest to the messy picture. Such styles look very creative but need some care not to fall apart completely.
13. Tight ends
If you hair is not thick enough to create a full fledged fishtail braid, you can go for making one on the ends only. This will make an impression of a voluminous hairstyle on top and a braid on the bottom. Make sure to use some hair spray to keep it in place.
14. Voluminous braid
If you are a lucky owner of thick hair, you can make a high and voluminous fishtail braid. Gather your hair at the crown of your head and tie it together with a wide elastic band. You will get a high ponytail, which you will use for making the rest of the braid.
15. Half and half
Girls with long hair can experiment with half and half fishtail style. All you have to do is sweep the hair to one side, start making a braid and stop in the middle. The rest will be a ponytail. This is perfect for women with thin hair, since it creates more volume.
16. The run around
Run around braids have been popular for centuries. You start braiding your hair on one side of the head and then go around the forehead and down to the back. The top part can be a regular braid, while the bottom is open to fishtail experiments.
17. The classics
The classical fishtail braid is possible if your hair is long and thick. You need to make a low ponytail, tie it with an elastic and start braiding. The result will truly be amazing. Apply some hair spray in order to keep the braid neat throughout the day.
18. Fishtail and a weave
Weave is great for girls who dream about braids. But there is no reason to get lazy and leave everything up to the hair extensions. You can braid your own hair on top and then add a weave on the bottom. A great combination!
Short hairstyles for Teen Girls
19.Goldilocks
If you have always dreamed of golden hair, but couldn't achieve it by dyeing, no problem! Use a weave. Hair extensions look the best when braided since they don't require much maintenance. Take a look at a fishtail weave to make your dream come true.
20. Be natural
Many girls with long hair like going blond. No need to do that if you have a beautiful shade. Make a fishtail braid to outline your natural color. Wear it over your shoulder to flaunt the length. Being natural is very fashionable.
21. Use ribbons
If your fishtail braid is not very long and thick, you can add it some charm by braiding a ribbon into it. Ribbons make braids look amazing and can make any girl look even more fabulous. Choose the accessories to suit your wardrobe.
Pixie Cuts for Your Next Hairdo
22. Obvious weave
Even if your hair can't be braided in a way to make a weave look natural, no reason to forget about it. Nowadays fishtail hair extensions are very popular. You can attach them to almost any hairstyle. So, don't be afraid to go for it!
23.Tight and bright
The tighter your fishtail braid is, the better it will look, providing your hair is thick enough. If you are just starting out, you need to first learn how to make a very tight braid. Other variations are available for more experienced girls.
24.Cascade
This cascade is so charming, you will surely be the queen of the block. However, it might be quite complicated to make on your own. So, if you are not a real fishtail braid guru, ask for a stylist for some professional help.
25.Curly fishtail braid style
If you are getting a fishtail weave and don't know what to do with the rest of your hair, consider making curls. They make a really regal appearance while hiding the place where hair extensions are attached. A great idea!
26. Fishtail Crown
Fishtail braids are perfect for making runaround crowns on top of your head. They are especially good for girls whose hair is not thick enough to make a full time one. Add some waves on the rest of the hair and you will look fantastic!
27.Neat and thin fishtails
If your hairstyles has levels, then you can easily start braiding your fishtail a little lower than the classics dictate. Leave the bangs hanging freely and create a neat braid on the bottom. The combination of neatness and messiness is amazing.
Sew In Hairstyles That Are So Convenient
28. Braids all over
If you are a braid fan and your hair is long and thick, you can make an all over braid extravaganza, which will keep all the heads turning your way. Make two regular braids on top to frame your forehead and let them continue into the fishtail braid.
29. Thick and loose
If you want your hair to look thicker, go for looser hairstyles. The more volume you create on top, the better the style will look. You can then make a fishtail braid on the bottom in order to create some contrast.
30. Creative fishtail
Creativity is always very rewarding. So, why not do some experimenting? Make a regular ponytail, tie it with an elastic band and then run a strand of hair over to hide it. Then proceed with making a fishtail braid. Stop in a while and tie it with another elastic. Then hide the elastic band the same way you did the first one and leave the rest to be a ponytail.
Lucky owners of thick hair can proceed with making this creative hairstyle. Collect your hair into a high ponytail, divide it into two parts and make two fishtail braids. Then twist them together to create an amazing hairstyle.
Women's Short Natural Hairstyles That Will Brighten Your Day
32.Wedding style
Fishtail braids are a great idea for a wedding hairstyle. They look very neat, while providing volume to even the finest hair. You can use some of the most intricate accessories to outline the braid. And you can be sure it will last all day long!
33. Double fishtails
Another creative way to go about fishtail braid weave is to make a double braid. Leave your hair wavy and a little messy and attach a double braid on one side. The hairstyle will look terrific and will make you feel absolutely fabulous.
Breathtaking Short Hairstyles for Asian Women
34. Natural and disheveled
Some of the best hairstyles are the ones that look most natural. Same goes for braids. Once you make one, pull some strands out to create a messy appearance. Keep it in place by some hair spray and enjoy the natural look.
35. Fishtail bun
If you are tired of wearing heavy braids, which might be quite a hassle if they are long, consider getting a bun. All you need to do is make the braid you wish and then arrange it into a low bun with the help of some pins.
36. Summer colors
If you are into making braids, don't forget to pay some attention to the color of your hair. Blond is usually the most popular one, but there are myriads of shades. If your skin is not too pale, choose golden blond and you will not regret it!
Beautiful Short Curly Hairstyles for Black Women – Get Inspired
37. Twisted braids
Once you learn how to go about a classical fishtail braid, you can go for a different twist. Take a look at the braid on the picture. Start making it from the top and then twist it in the middle and use some pins to keep it in place. Continue making the braid until you are done.
38. Nothing extra

Elastic bands and accessories might look good, but natural -looking braids are always in style. To make them look even more natural, hide the elastic bands with the help of some strands. The result will be beautiful.
39. Thin fishtail braid

If your hair is not too thick, no problem! You can make a thin fishtail braid, as long as it satisfies you. Create more volume on top to contrast the thinning braid on the bottom.
40. Blond and fabulous

If you dyed your hair blond and missed a stylist appointment, you probably have some dark roots sticking out and making you upset. Don't worry. The braid will save the day. Use the trick of focusing the attention away from the problem by making a beautiful low braid.
41. Coarse and spunky

If your hair is thick and coarse, you can still easily make a fishtail braid. Use some softening hair products to make the braiding process easier. You can leave long bangs loose, while using the rest of the hair to make a spunky braid.
Weave hairstyles for Straight Hair
42. Asymmetry is the word

Asymmetry is in style, so why not use a braid to underline it? Make one thin braid on one side to make your hairstyle stand out of the crowd. A nice small fishtail will be lifting your mood all day while you catch raptured glances.
43. Neat and sweet

Young girls can go for simple and neat fishtails. These braids are a very comfortable way to tie your hair and forget about it until evening. This is a great choice for school and college girls, who are too busy to deal with their hair during the day.
44. Braid extravaganza

If you have a special occasion coming up, ask your stylist for a real braid extravaganza. It is hard to make on your own, so professional help is in store. You will be truly amazed with the result and will definitely come back for more.
45.

Colorful mix

If you have highlights, use them to create an amazingly creative braid. Ask your friend to some help in order to make the color transition neat and impressive.
46. School girl fishtail braid
Two braids on the sides make a wonderful school girl style. This simple, yet fashionable way to create braids has been popular for a very long time and hasn't lost its style. All you need is 5 minutes and your beautiful fishtail braids are ready.
47. Hearts
If you are good at making fishtail braid hairstyles, you can try something more complicated. Look at the photo. This style is achieved by braiding a regular fishtail in the middle and weaving side strands into it in four places.
The Best Braids for Black Girls
48. Very loose and very stylish
If you want to create a lot of volume, go for a very loose fishtail braid. It is created by pulling strands out of the braid. This hairstyle requires a lot of patience, since overdoing it will ruin the look.
49. Cute bow
This hairstyle will suit girls whose hair is not long enough to make classical fishtail braids. Separate the strands on one side of your head to make a fishtail and then pull it to the back and use it as part of a ponytail. Take one strand from another side to make a bow and pin it to the elastic that holds the ponytail.
50. Beauty queen
This fishtail braid hairstyle is perfect for special occasions. These braids are easy to make, but they look very complicated. This quality is perfect for beauty pageant hairstyles, weddings and photo shoots.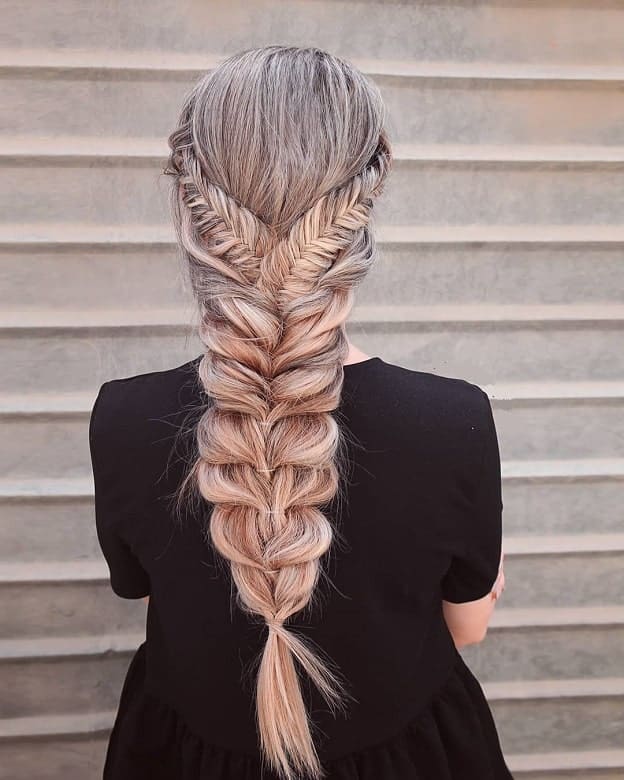 Now that you've looked through these 75 amazing options, you must have at least an idea of what type of fishtail braid you need. Don't forget to experiment with all kinds of different hair extensions. These amazing braids will make you look like a queen any day of the week!