There's no way to deny that mixing braids with curls is always a winning hairstyle. In fact, curly-haired cuties sometimes have an easier go of it when it comes to braiding their hair because the texture lends itself well to plaiting.
Even if you have stick-straight tresses, however, you can still add some jazz to your braids. You don't have to reserve this pairing for formal functions, either. You can slay on the day-to-day.
Curly Braids
Curls are commonplace, and braids are all the rage, so they rarely stand out. Pair your braids with curls, however, and you're taking your hair to the next level.
Braided and curly updos are popular for events such as weddings, birthday parties, and school dances, but why restrict yourself to special occasions? Braids and curls are hot, and they look fantastic on the daily.
1. Curly French Braid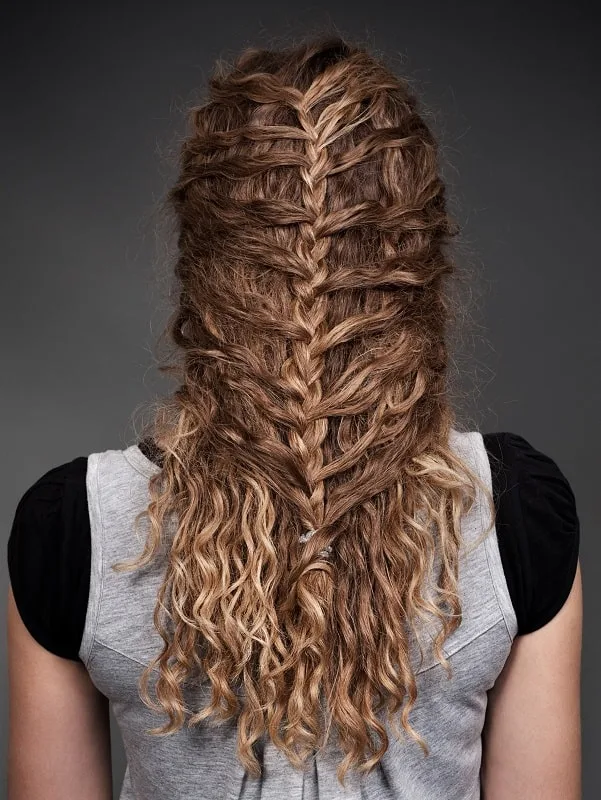 A French braid is gorgeous on its own for sure, but mix the style with a loose wavy style for a beautiful new take. Strands from the outside of the hair are woven into a French braid so you can show off your curls at the same time.
2. Box Braids with Curly Hair
Thick box braids form a side part on this long hairstyle. Blonde braids are accented with hot pink and loose curly hair for a hip combination you'll love rocking.
3. Curly Crochet Braids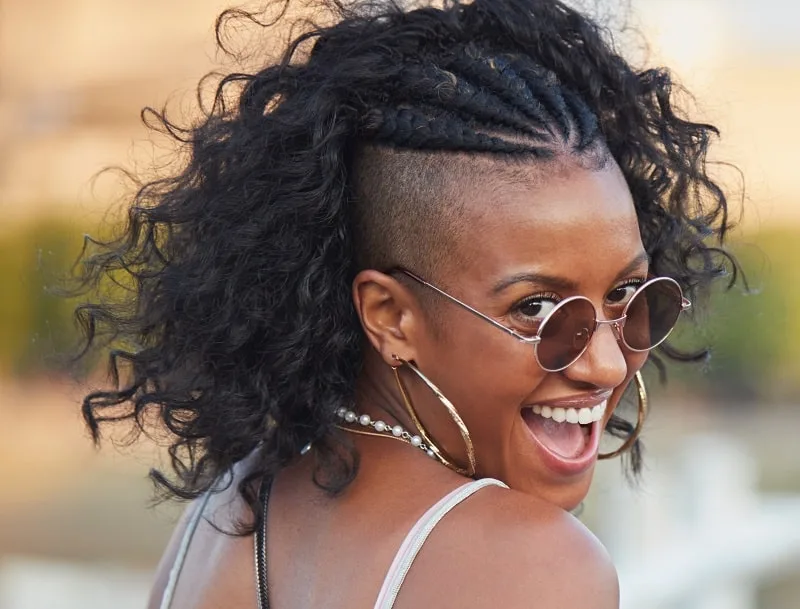 Crochet braids are a beautiful option for women growing out their naturally black hair. It's a popular protective hairstyle that takes a couple hours to install, depending on the length. Braid part of the top half of your hair, leaving ends curly, and add a fade for an edgy style.
4. Curly Feed-In Braids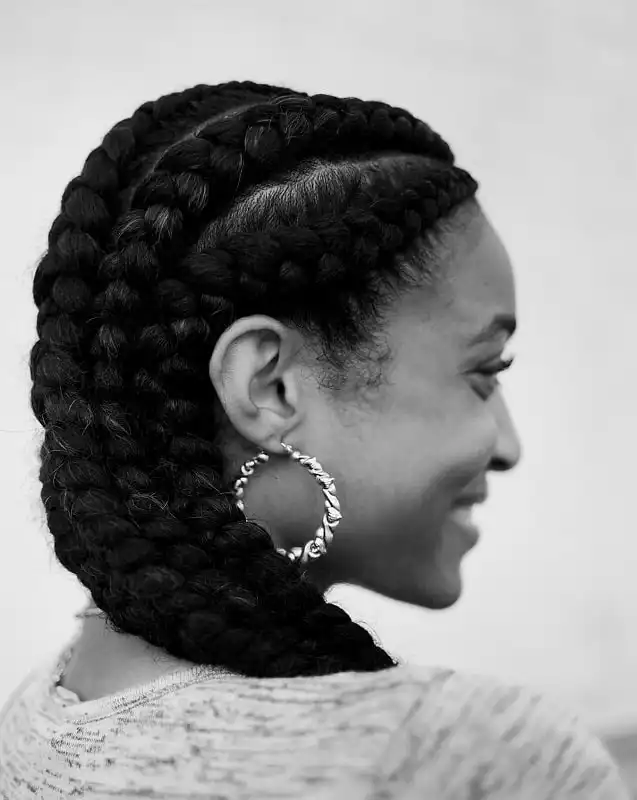 Longing for a glam hairstyle? Form four thick braids from hairline to tips for a gorgeous style. Feed-in braids work with whatever natural hair you are currently growing to extend the length for healthy-looking hair.
5. Two Braids with Curly Ends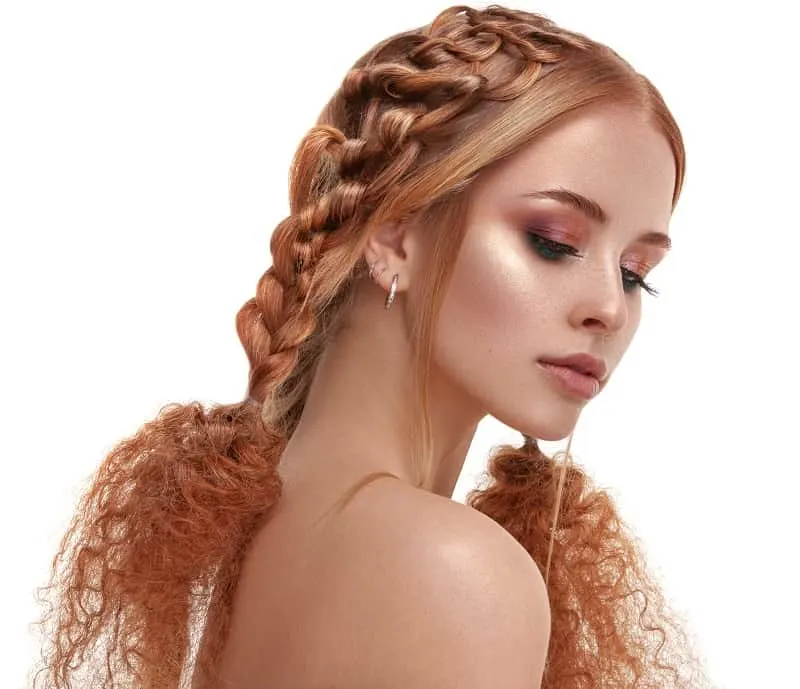 This braided style freshens up the traditional two braid look. Part hair in the center, loop the top layer of hair into braids, then weave them into a traditional Dutch braid, leaving ends loose and curly.
6. Curly Lemonade Braids
Lemonade braids, made popular by Beyonce, slant to one side. Just form cornrows at one side and braid them around to the other. You can leave some hair loose and curly to make a fuller mane.
7. Curly Micro Braids
Lots of micro braids are the key to making a hairstyle lush and full. Mixed with loose curls, the style becomes even more glam. Wear down to show it all off or pull it up for a formal look.
8. Two Braids with High Curly Ponytail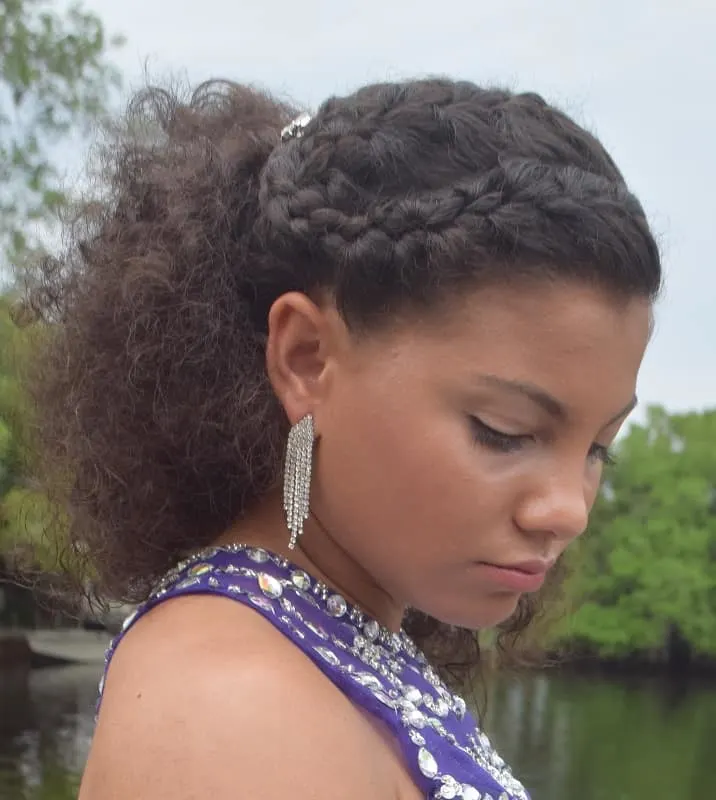 For thick curly hair, pull it up into a medium ponytail and decorate the sides with two braids. Instead of making the braids head straight back, put a little wavy shape to them for softness.
9. Two French Braids with Curly Hair
Dutch braids are usually used to create two braids, but this time a French braid makes the gorgeous look. Mixed with loose curls, hair looks thick.
10. Braids with Weave for Curly Hair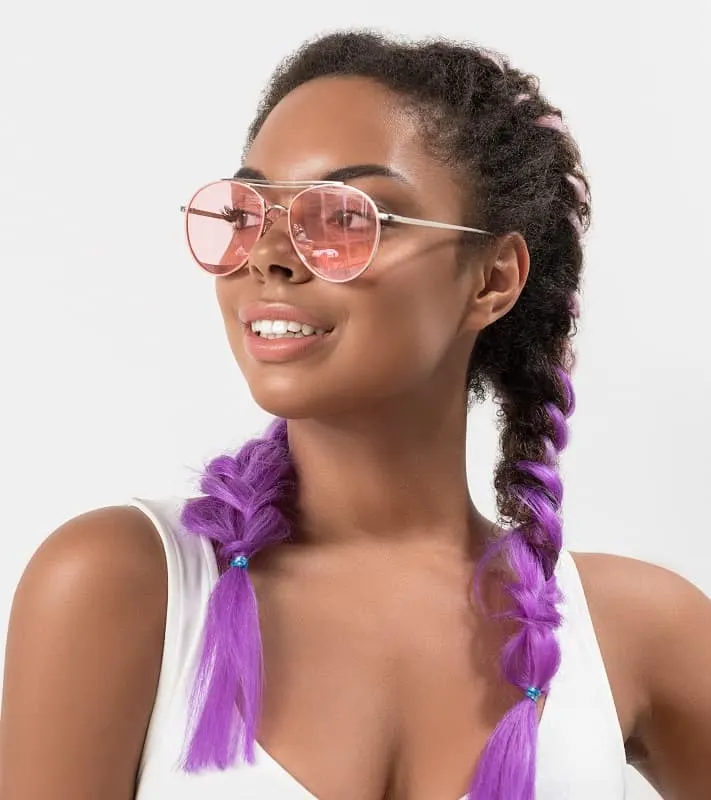 A weave is another great option for protective hairstyles. It uses sew-ins or extensions that combine with natural hair. Braid two low ponytails and pop the look with soft purple.
11. Braid for Short Curly Hair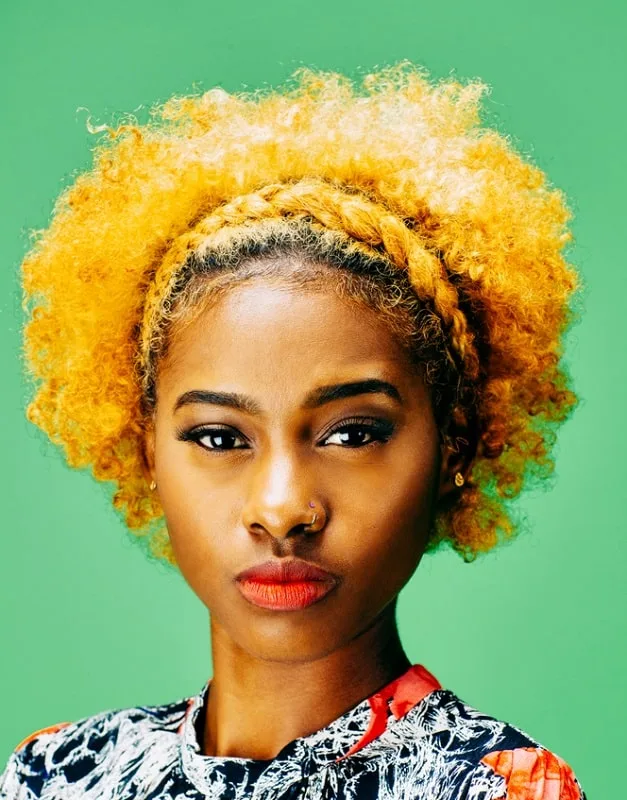 While wearing your naturally curly hair loose and short is adorable, a braided crown is a beautiful accent. Start the braid at one side and continue it over and across to the other. Smooth with hair gel.
12. Curly Mohawk with Braids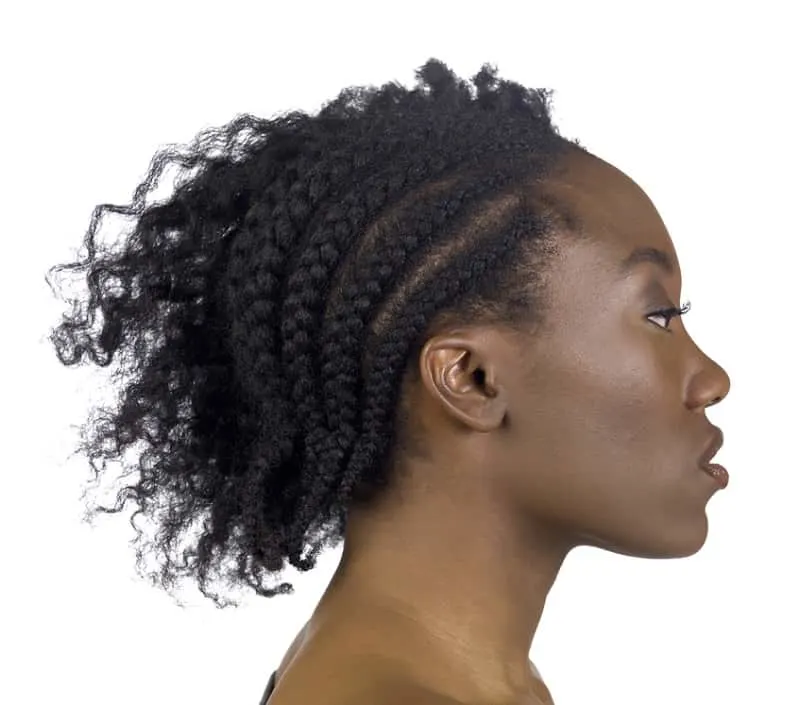 While mohawks are most commonly seen on men, the hairstyle is edgy on women as well. Insert crochet braids at the sides of this look and let the middle go loose to show off curls.
13. Crown Braid with Curly Hair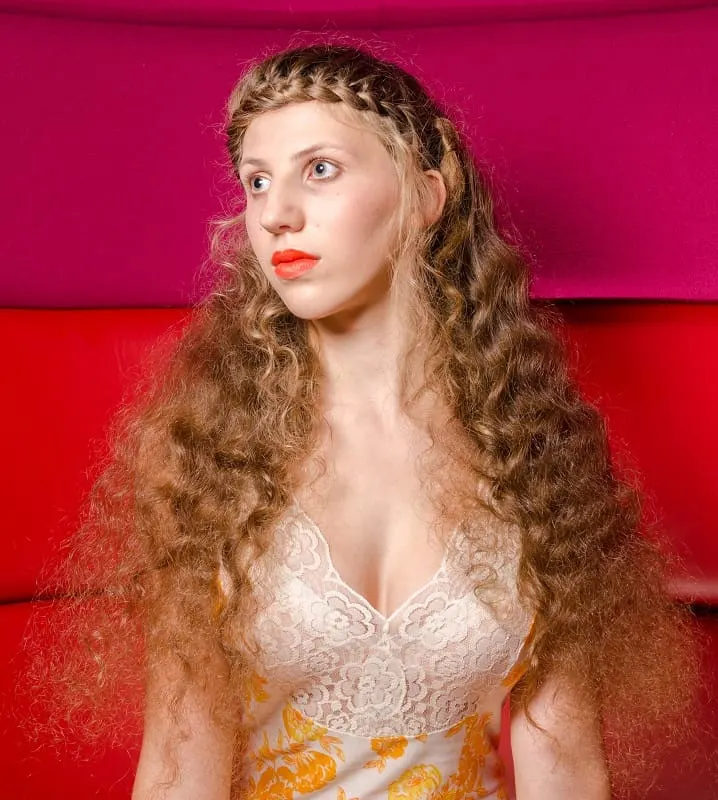 A crown braid is typically formed an inch past the hairline, but this one starts right at the hairline so it's the first thing anyone will notice. The second thing they'll notice is your golden curly hair cascading down shoulders.
14. French Braid Updo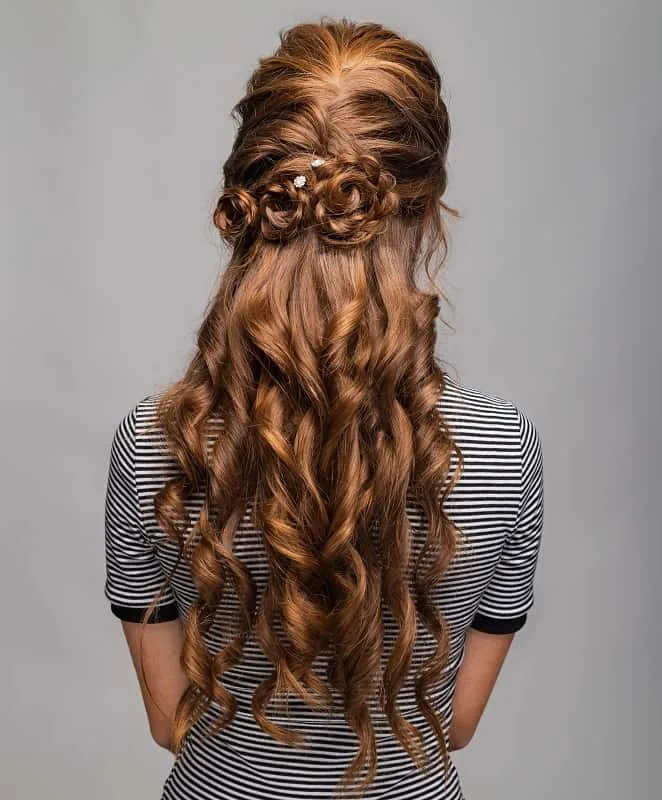 When you have an important event to attend, French braid the top half of your hair, securing it in three pretty rose shapes. Curl the bottom half into tight spirals to finish off this beauty.
15. Two Dutch Braided Buns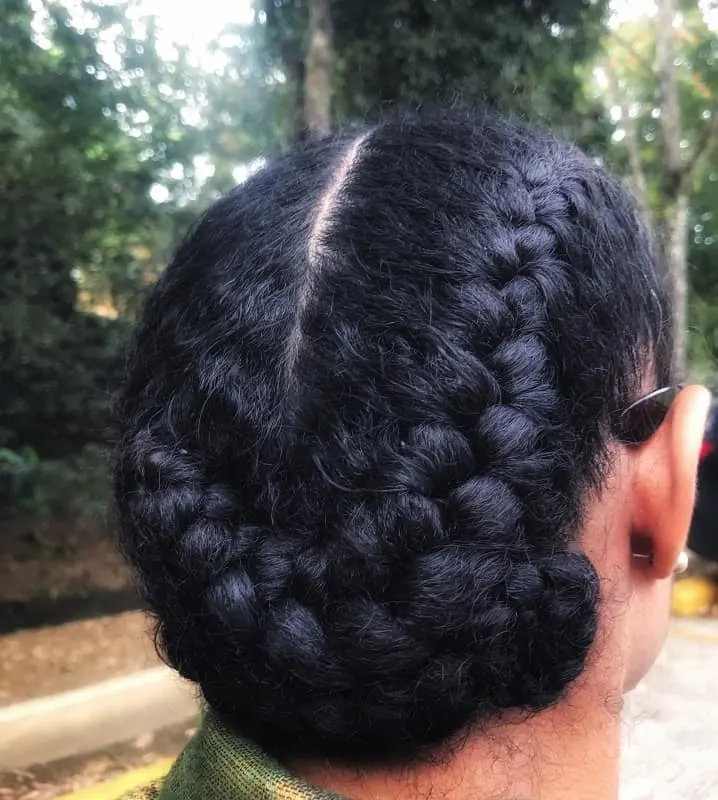 Part hair in the center and create two sections before creating two Dutch braids. Wind them up into a low bun right at the neck for a classy soft style.
16. Cascade of Curls
There's a whole lot to love about this hairstyle that pairs braids with curls. The cornrows at the crown create a gorgeous base for that fall of curls. You could also rock this style with shorter locks.
Short Curly Hairstyles for Black Women
Who doesn't love a fishtail braid? This braiding style works exceptionally well with curly hair because of the texture. Besides, don't messy hairstyles always look better with curls?
18. Sweet Side Braid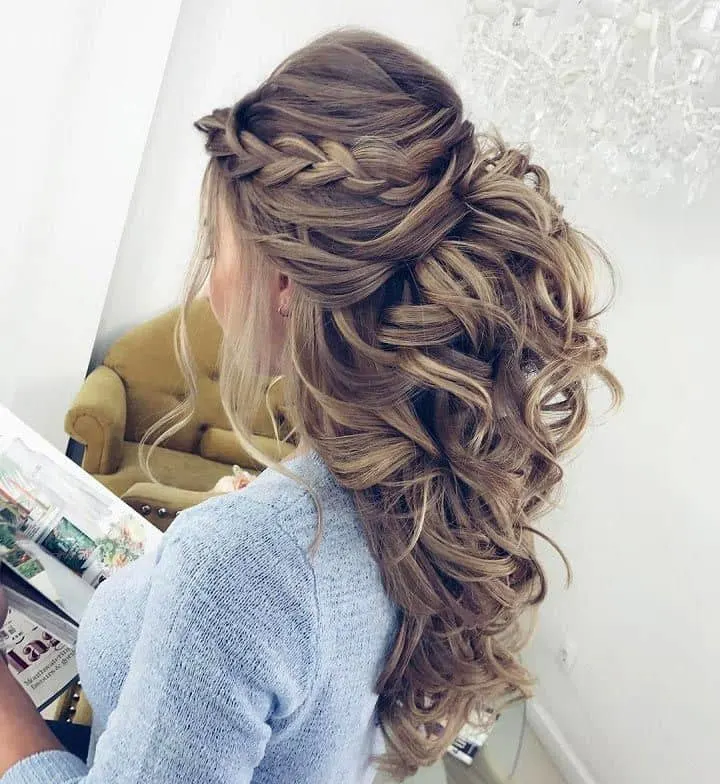 Here's a classic formal 'do that's ideal for proms, weddings, graduation parties—you name it. It's quite easy to do. The hardest part involves adding curls to the back.
45+ Fun & Funky Braided Hairstyles for Kids
19. Easy Waterfall Braid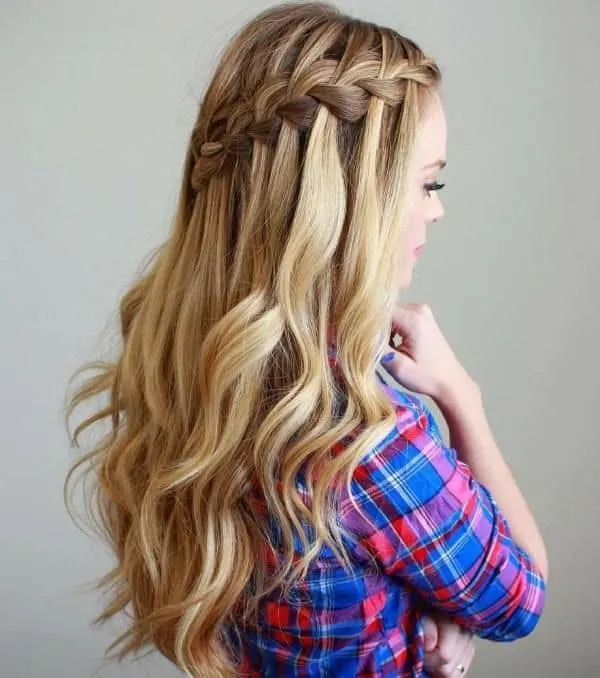 At a loss about what to do with your hair for the day? Pair a waterfall braid with curls, and you're good to go. You don't have to make it complicated—tuck the end of your braid with a bobby pin and curl the ends of your hair.
20. A Curly Crown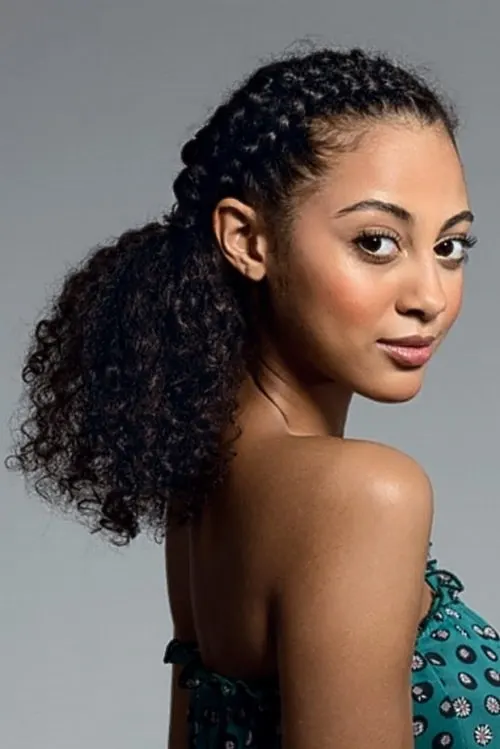 A crown of braids is beautiful, plus it's a smart, stylish way to keep the hair out of your face and off of your forehead. Throw the rest of your hair into a thick ponytail, low at the neck, and you're ready for anything.
10 Incredible Individual Braids for Men
21. Barely a Braid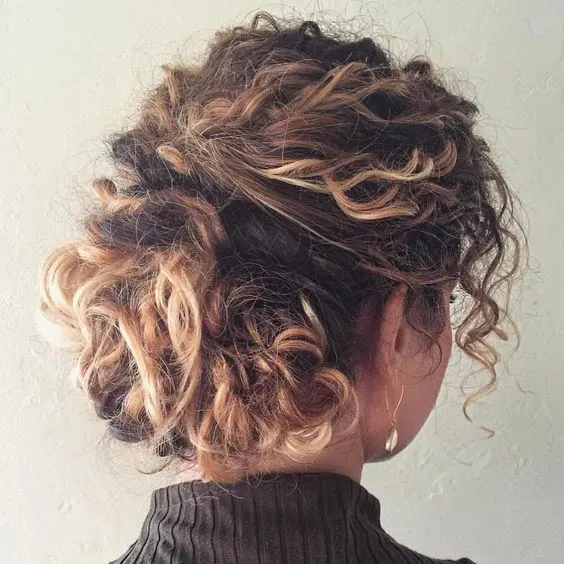 Even if you have short hair, you can still get your braid on, particularly if those short tresses are curly. A half-up, half-down 'do like this one lends itself well to work days, casual outings, or formal occasions.
22. Tiny Braids
Women of color, particularly Black women, have been owning braids with curls since forever, and this is a shining example of why. It seems so simple, but the results are beyond stunning.
12 Artistic Medium Box Braids Women Love
23. Braids and Spirals
Here's another example of that Black girl magic. The braids transition into perfectly sculpted spiral curls. With a style like this, you can pick and choose between wearing your hair up or down—it's all going to look phenomenal.
24. Braided Headband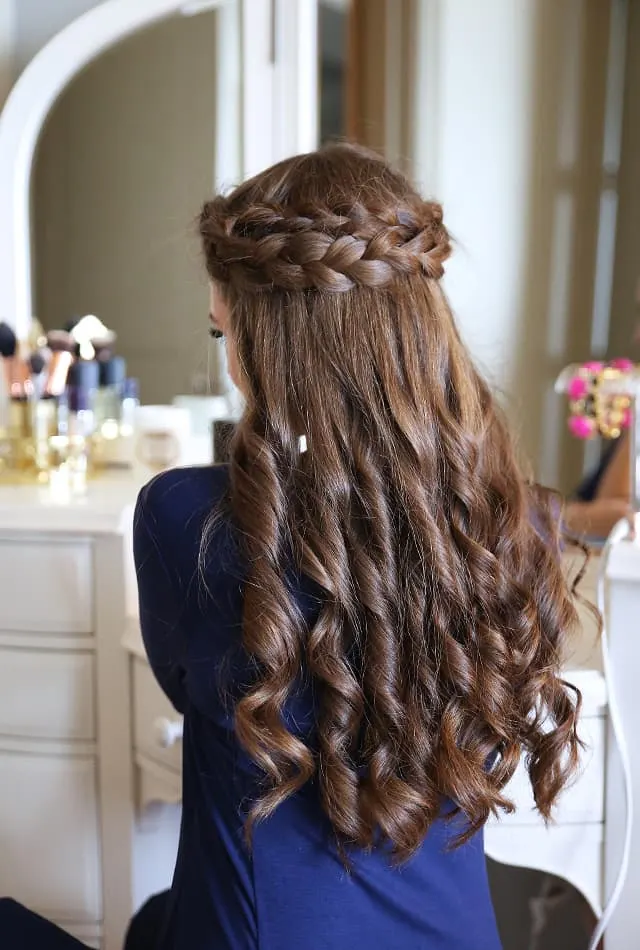 If you're into Boho chic hairdos, look no further. An uber thick braid wraps around the crown, while the rest of the hair hangs long and loose. To get spiral curls like that, you might want to go old-school and try rag curls.
What do you think of this eye-catching take on the waterfall braid? We love how you can see strands of hair woven through it. The way they fall into curls genuinely resembles a waterfall. See? This is why braids with curls will always work.
26. Meet in the Middle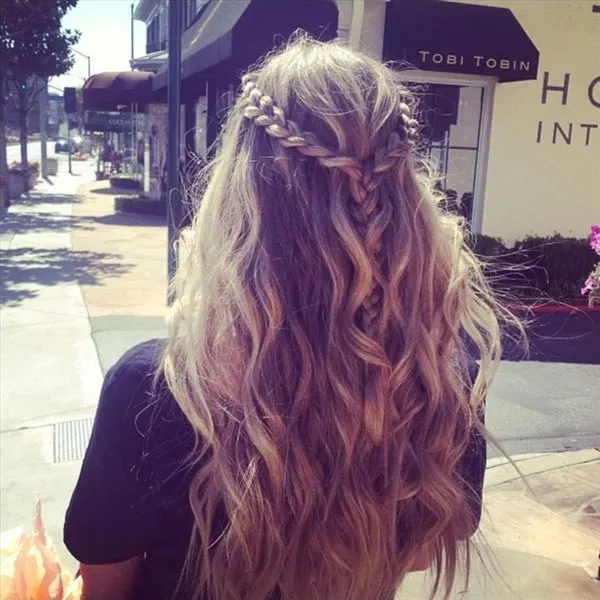 You don't have to be a hairstylist or even go to a stylist to achieve a coiffure like this one. As long as you know how to braid, you can do it yourself—although you might need an extra hand or two to join the braids and continue plaiting them in the back.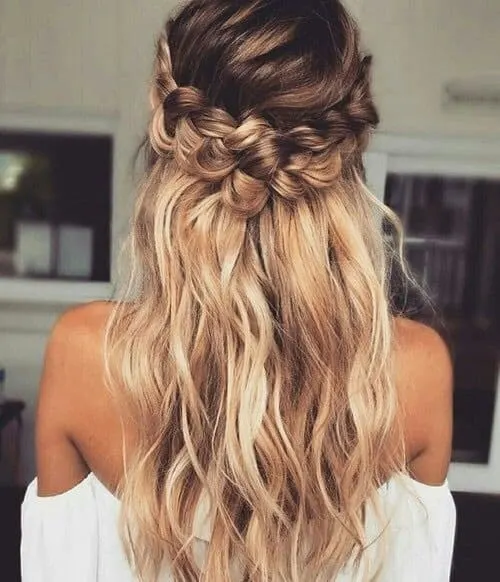 You can step out with a braided crown or headband without going to the next level. Opt for careless beach waves instead of curls to embrace a more casual aesthetic.
28. Braided Bump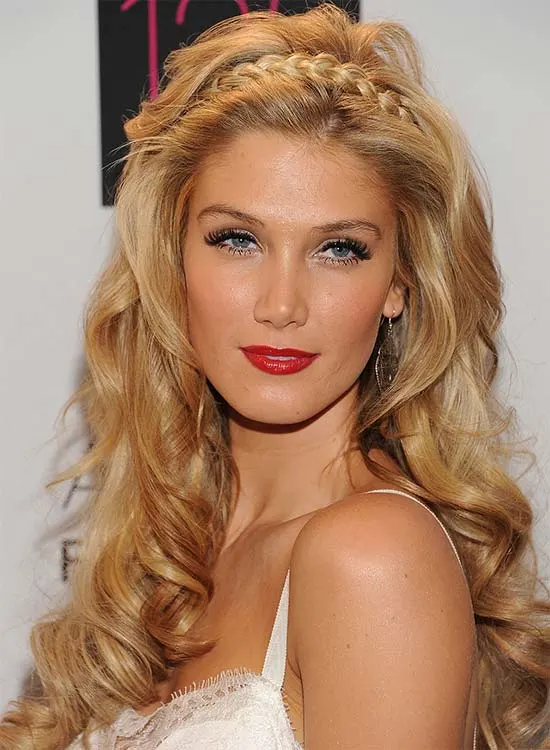 Use your braid to add—or create the illusion of—volume. In addition to curling the ends of your hair, you'll have to tease the heck out of your tresses to mimic this 'do. Headbands are one of the simplest ways to combine braids with curls.
29. Bare Braided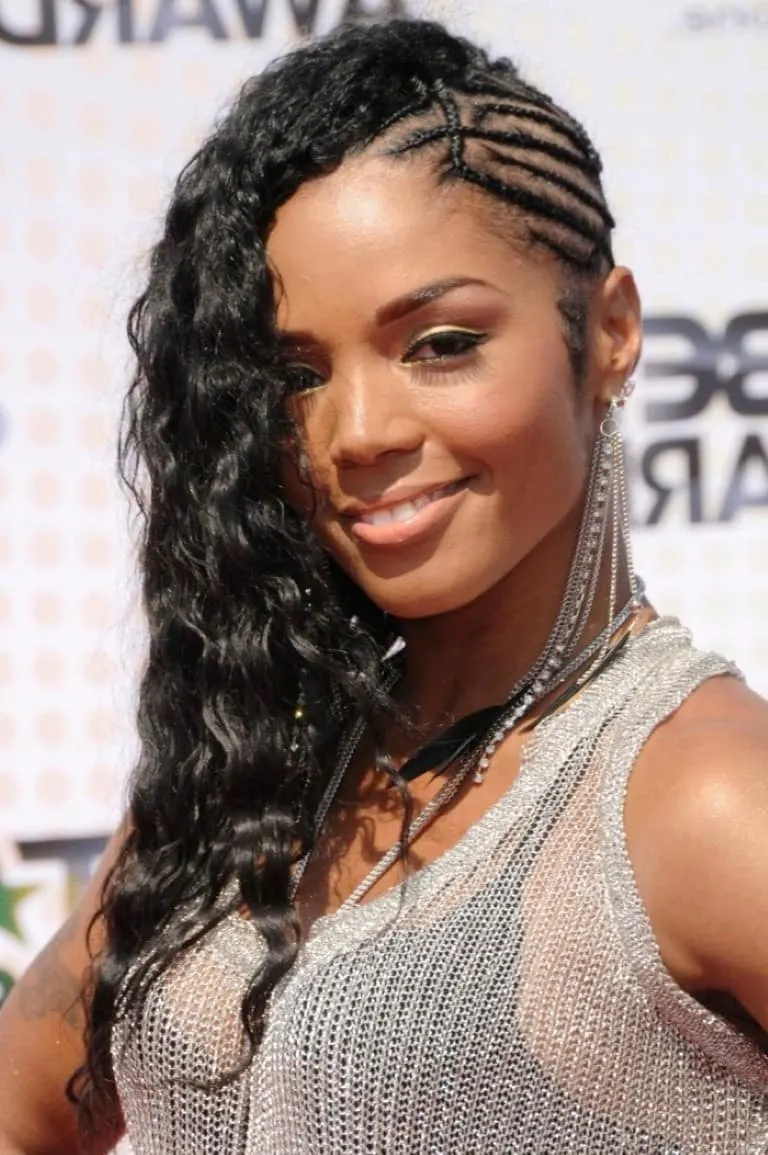 Asymmetrical hairstyles are having a moment, but you don't have to shave one side of your head to copy the style. Bare your neck by opting for cornrows, but leave the other side of your hair curly and free.
30. Pretty Frizz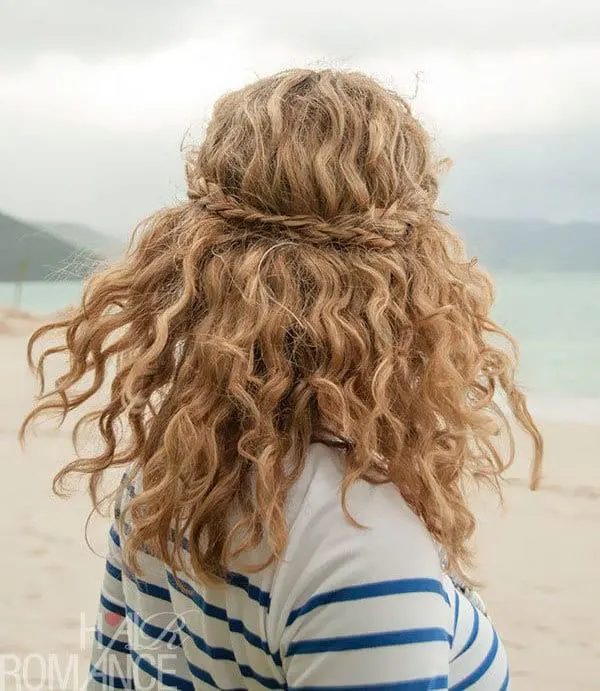 Forget about taming those curls. Weave in a braided headband to hold your locks in place, but let them do what they like—even if they get a little wild.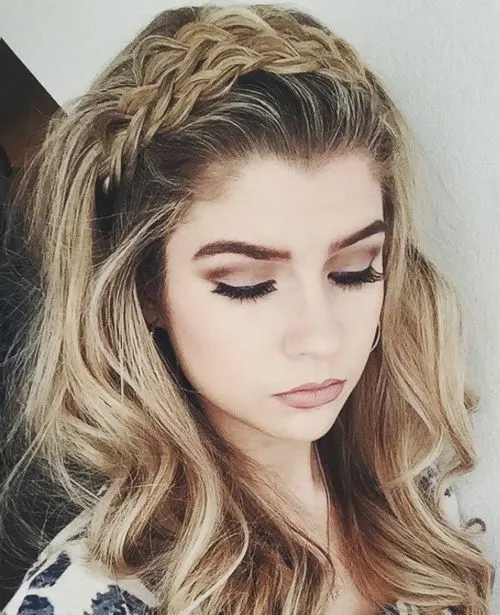 Do you see how her headband features double braids with curls? It's a unique coiffure from top to bottom. We especially love the tendrils of hair pulled free from the braid and left to frame her face.
32. Curls for Days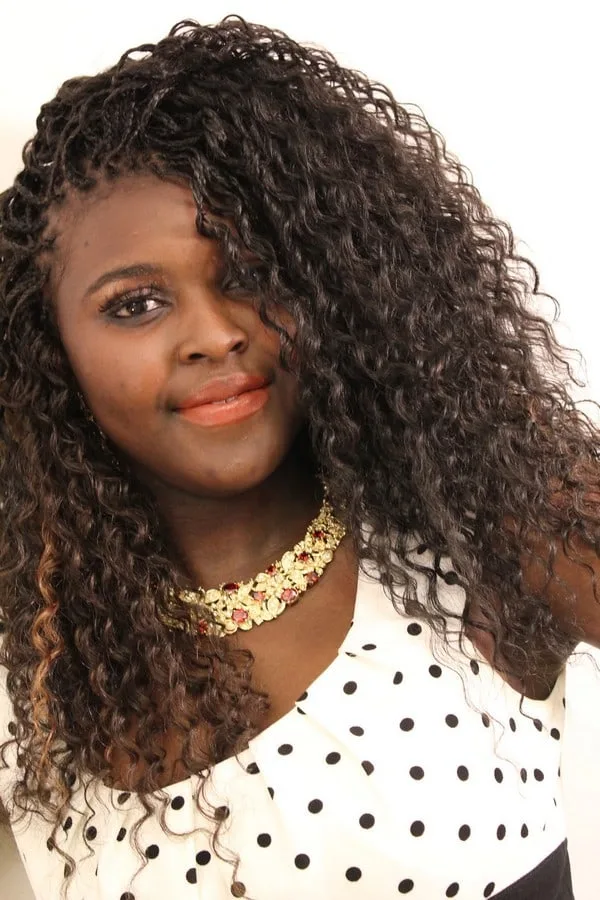 Yaaas! Her tightly plaited braids explode into a profusion of curls with volume to the heavens. This woman slays. Her expression reveals how confident she is—she knows this look is fire.
25 Braided Hairstyles With Mohawk
33. Thick Side Braid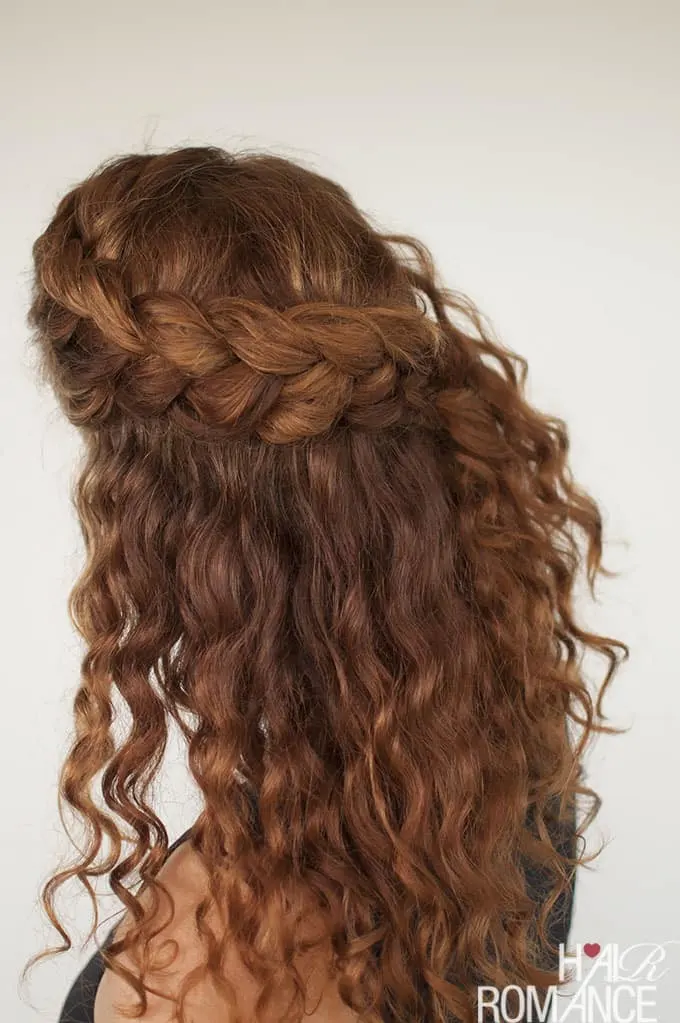 A simple, chic side braid is all you need to call attention to your curls while making the most of them at the same time. Or maybe we just have a soft spot for ginger girls in braids.
34. A Little Retro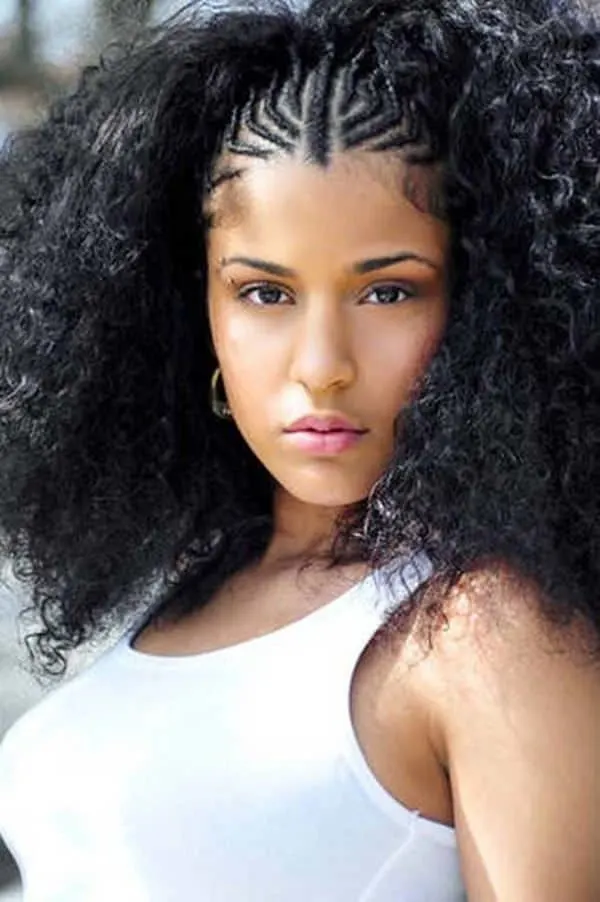 This is how braids with curls should look. Those cornrows are everything gorgeous in this world, topped only by the gorgeous mane of curls rising up from them.
35. Sleek Side Braid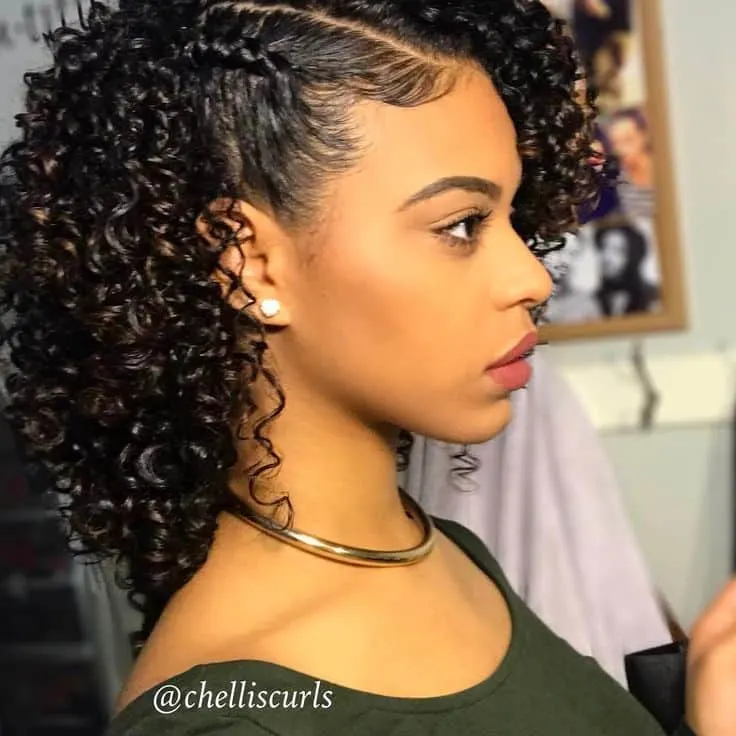 Everything about this look is stunning, right down to the girl who's rocking it. Those curls, though. Those curls are life.
Women's Popular Weave Hairstyles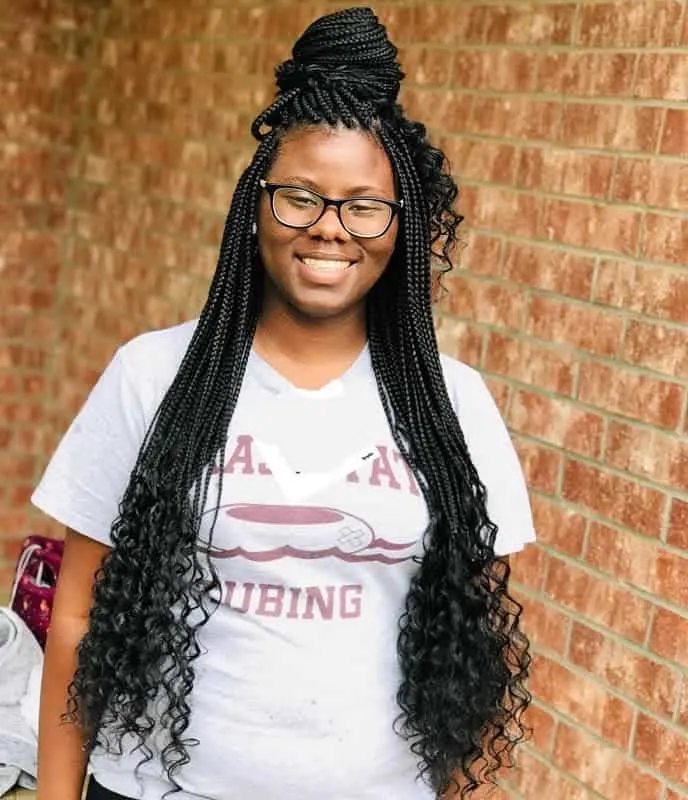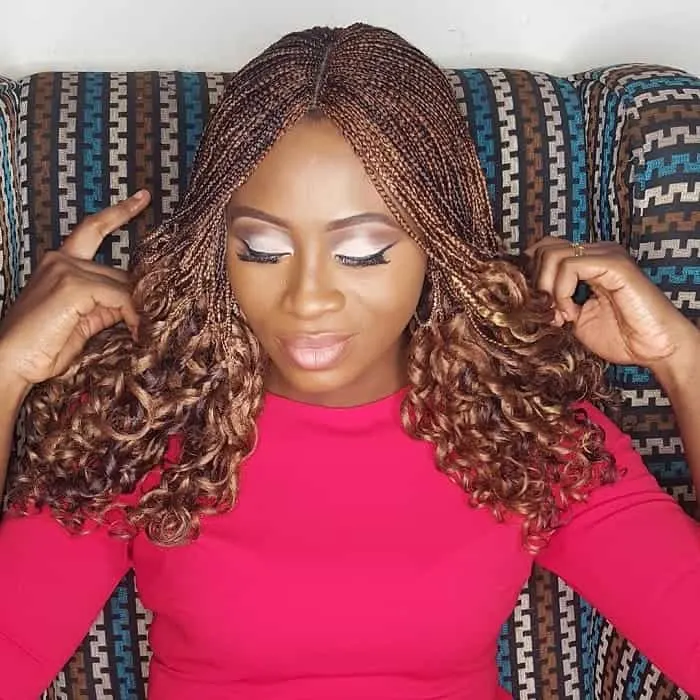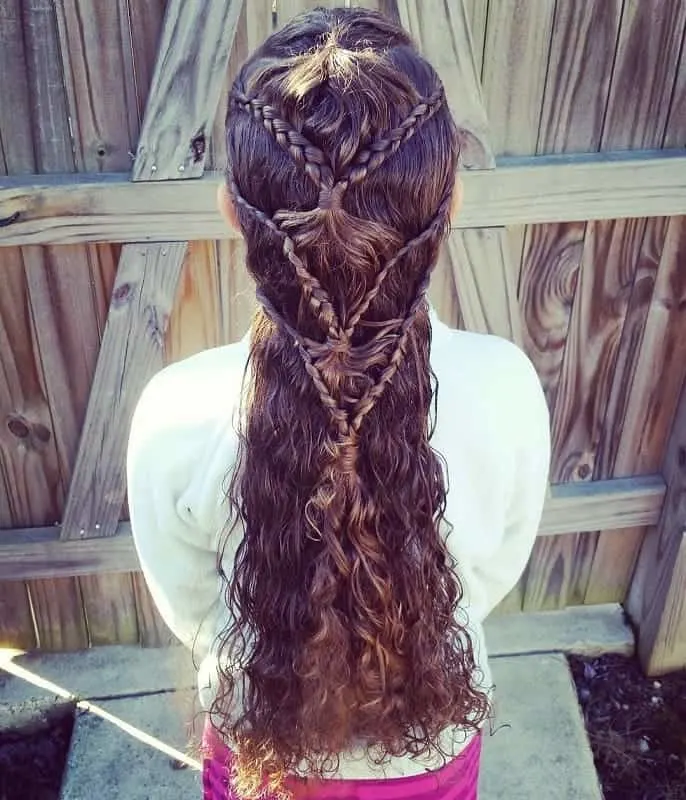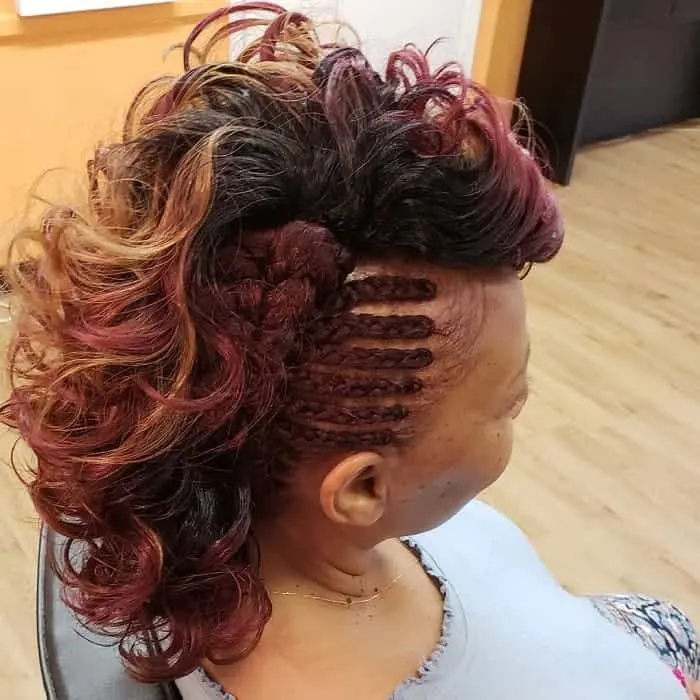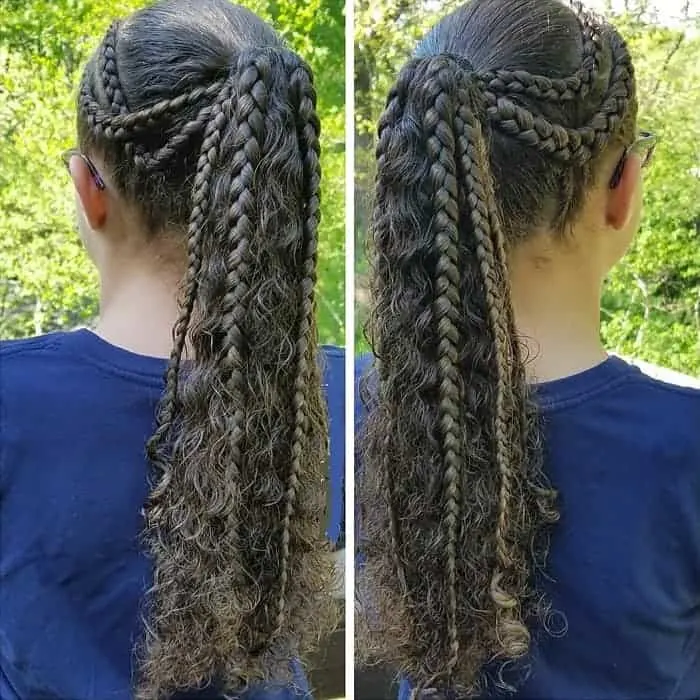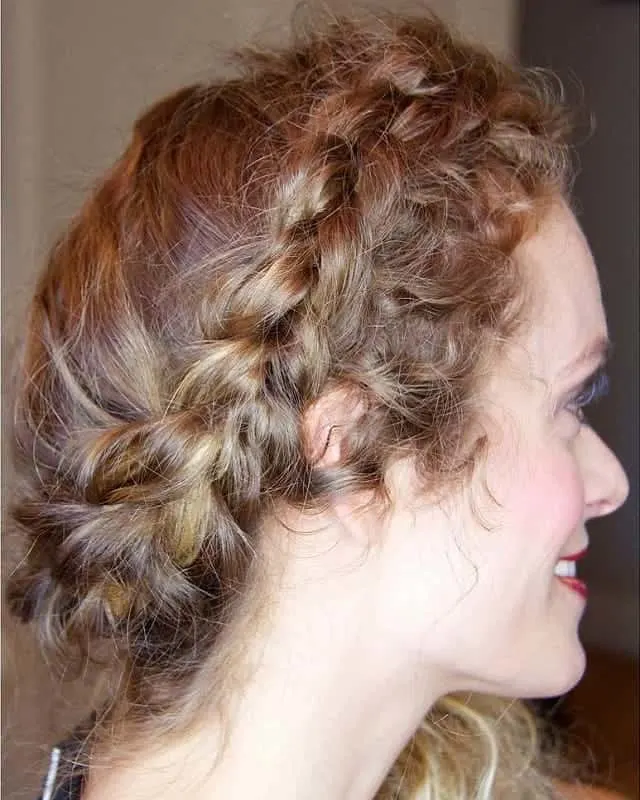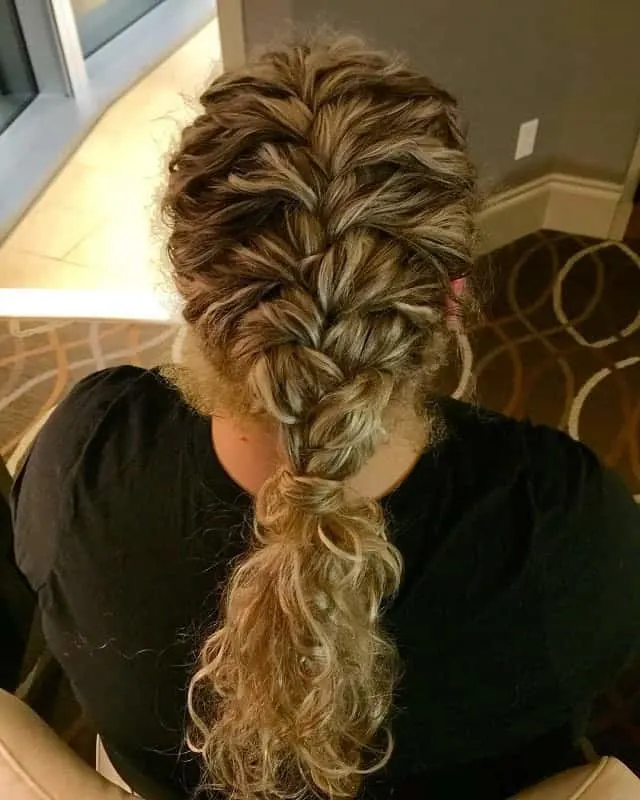 There are hundreds of ways to combine braids with curls, depending on the length, style, and texture of your hair. What's your favorite style?