A silver blue ombre is just what you need to make a huge impression without too much hair damage and maintenance. You can mix different hair colors to make the silver-blue hue more outlined or just use your natural locks to keep the touch-ups to a minimum.
If you are ready to enjoy silver blue hairstyles, you must know that some bleaching is in order. Don't worry about damaging your hair too much. A smart ombre approach can keep your locks shiny and beautiful.
How to Get Silver Blue Ombre Hair Without Bleach
Bleaching is usually an integral part of any unnatural hair color. However, bleaching is very damaging and can make you a slave of your hair for months to come. But silver blue color is just too beautiful to say "no" to. What do you do if you want to have your cake and eat it too? Here are some options. Please remember that all no-bleach options are temporary. If you want more or less long-lasting color, bleaching is impossible to avoid.
1. Hair Chalk
Hair chalk comes in a variety of bright colors including silver blue. It's better to ask a professional hair stylist about which shade suits your natural color best. You can even find hair chalk that glows in the dark! This chalk is easy to use. You put it under running water and then apply it to your hair. It comes off the next time you wash your locks with shampoo.
2. Cream Eyeshadow
Cream eyeshadow with intense pigment can make your dark hair color shine. The downside of this method is that you never know which color you'll get. The best part is that if you don't like the hue, you can always wash it off. For silver blue hair, use the richest light blue color you can find.
3. Temporary Hair Spray
Temporary sprays are easy to use and just as easy to remove. They come in all the possible colors. They are easy to apply too. Just spray it on and go. Unfortunately, the next time you wash your hair, the spray will be gone.
Silver Blue Ombre Hairstyles You'll Never Forget
Wondering how silver blue ombre hair will look on your head?
We came up with 5 stunning options that can help you make a choice. Remember, since silver blue is not a natural color, you have to be ready for touch-ups and special maintenance.
By bleaching your locks (even just one part of them), you are signing up for some serious hair care. Every beautiful hairstyle requires some effort. The effect is usually worth all the trouble!
#1. The Classics
This classical silver blue ombre hairstyle is for the gals who are not afraid to go all out. You can make the top part darker silver blue and the bottom part a lighter shade. It can be blonde or light blue depending on your preferences.
#2. Spray-on Ombre
This is the way your blonde tresses can look if you use temporary spray-on hair color to achieve a silver blue hue. If you use these temporary sprays on dark hair, they won't appear as intense as on blonde locks.
#3. Purple and Lively
This hue can look fabulous with intense purple shade. If you are in love with wild colors, this ombre can become your next favorite hairstyle. Blue and purple are a perfect match, especially when they are silvery.
#4. Natural Approach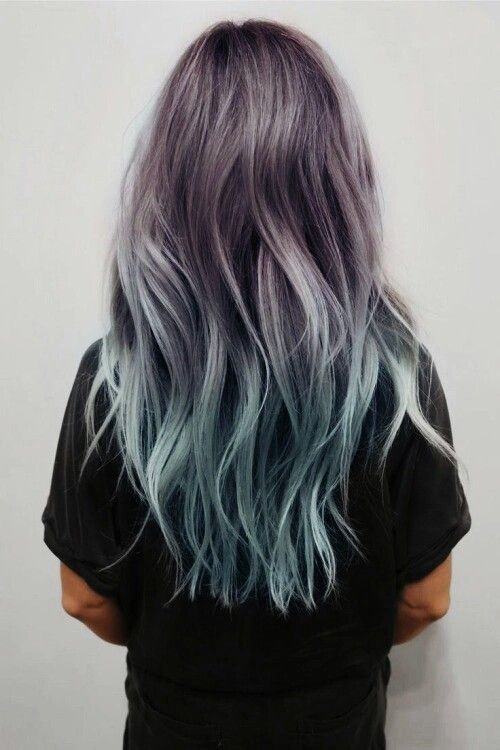 If you want to keep the top part of your hair natural, then you can take advantage of this ombre. Only the low part is bleached and dyed blue. The silver blue ombre on natural hair looks just as stunning as on dyed locks.
#5. Partially Balayage
This mix of ombre and balayage can be a good choice for women, who like hair color experiments. Just a touch of silver blue among blonde locks is the key to making your hairstyle look special.
While all these silver blue ombre hairstyles might seem like a long shot, they are definitely worth trying. The next time you are feeling ready for a change, go over these options once again. You'll find one to suit your tastes.