If you've decided to get dark blue hair color, there are a few vibrant options for you to consider. Dark blue is a little less extravagant than light blue because it looks closer to raven black. However, it still makes a huge statement. The main advantage of the dark blue hair color is that it's easier to maintain on dark hair. You can come up with various ombre and balayage options to keep the root touch-ups to a minimum. If you have light skin, dark blue hair can downplay your facial features and you'll have to adjust your makeup routine.
How To Get Navy Blue Hair Color
Getting dark blue hair color is not as easy as you might think. If you have dark locks, the effect might be minimal. The best way to achieve the right shade is to do a little bleaching. Here are a few tips to get the most long lasting color:
When you are bleaching your hair, start with the tips. The roots bleach much faster since they are not damaged with dyeing yet. Starting from the ends will allow you to get the most uniform bleaching results.
If you have dark hair, the bleaching will turn it orange. Don't get scared and run to the hairstylist. Just continue bleaching. It will go from brown to orange, yellow, and finally blonde.
When bleaching always, apply some lotion on the skin around your hairline. Same is applicable for dyeing. This way you can protect your skin from being burned and avoid staining.
Leave the dye overnight. The longer you leave the dye on, the better the effect will be. Remember, such approach can damage your hair slightly. So if your locks are already damaged, don't leave the dye on for too long.
Once the dyeing is done, go out and buy a deep conditioner. Use it once a week to hydrate your hair.
Try to wash your hair as rarely as possible. The blue dye washes off quickly, no matter how well the hair is colored.
Trendy Hairstyles for Women Dark Blue Hair Colors
If you want to add some outrageous colors to your image but wild hues are not your thing, you might want to consider dark blue hair color. Dark blue shades look quite stunning no matter what hair type or length you have. You can play around with dark blue and black combination and add a few light blue highlights to make your hair look even more magnificent. Dark blue allows your imagination to run wild and come up with various gothic images. Take a look at these 5 best dark hair color ideas for women to get a better idea on what you might be missing out.
1. Midnight blue
Midnight blue locks are the hardest to achieve and maintain. The color is so rich and deep, you'll enjoy it every second while it lasts. No matter what the length your hair is, midnight blue is always a hit.
7 Exceptional Light Blue Hair Color Options
2. Metallic blue hair
Metallic dark blue hair color can make your image so enticing; you wouldn't want to let it go. Try achieving this shade of blue in the hair salon. It's hard to do it on your own unless you have plenty of experience.
3. Blue and black combo
Dark blue hair color always looks good when mixed with black. Consider leaving some strands of your natural dark hair without dyeing. You can achieve a unique image without highlighting.
Dark blue shades mixed with violet colors create a beautiful hue. You might want to ask a hairstylist to help you with the dye mix in order to achieve the results you are looking for.
Pastel Blue: Another trendy bluish hair color
5. Blue combination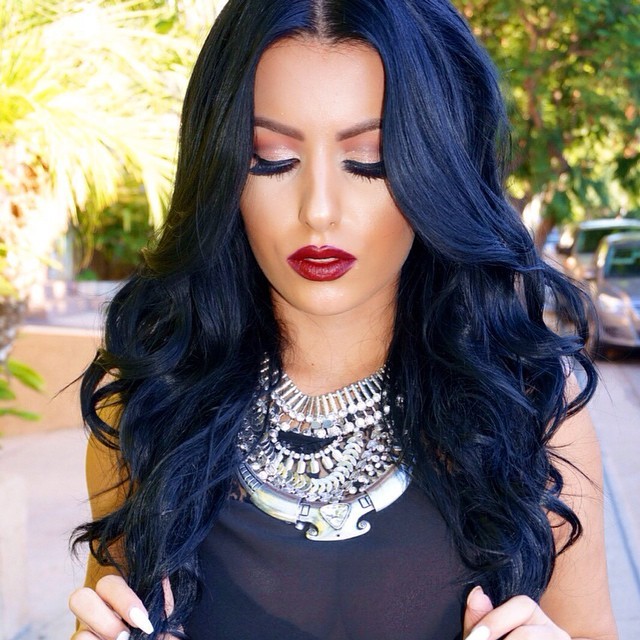 A combination of darker and lighter blue shades is a wonderful idea for girls with long hair that can flaunt this unique mix. Experiment with various shades of blue to make a stunning statement.
Butterscotch Hair Color Shades
Dark blue hair color can truly make you shine. It might be a hassle to achieve but the results are priceless. If you are ready to make a life-changing image decision, dark blue is a wonderful place to start.