Chances are, you've never had blue hair. It's not typically a color women choose for a hairstyle, but they simply don't know how great it can look! Whether it's a temporary color you're after or something more long-term, if it's time for a new look and you're feeling brave, we'll show you 30 ways blue hair color can work for you!
How To Dye Your Hair Blue
Blue is one of the most popular vivid hair colors right now. It's a fun color that can go well with various looks. Punk rock? Geek chic? Ethereal fairy/mermaid? Whatever vibe you're going for, blue hair can enhance the look.
However, as with most fashion colors, dying your hair blue comes with its own challenges.
Of course, with most hair decisions, going to a professional is ideal. But if you don't have the time or budget to do so, you can achieve the blue hair look you want on your own. Follow these steps to get the striking blue hair that works best for your hair type and style.
Step 1: Choose Your Dye
Overall, lighter blues complement lighter skin while darker ones look better with darker skin, which is just a general guideline and doesn't apply 100% of the time. Skin undertone is more important than the shade of your skin when choosing the suitable blue dye for your hair.
If you don't know your skin's undertone, you can check out this guide to begin. There are three skin undertones: warm, cool, and neutral.
Warm tones lean toward the peachy/yellow/orange palette, while cools lean more toward bluish tones. Neutral tones fall somewhere in between.
Blue hair tends to look better with cool to neutral skin tones, but that doesn't mean you have to give up on your hair dreams if you have warmer skin. Blues that are purple-based or green-based can make warmer skin tones stand out.
Step 2: Bleach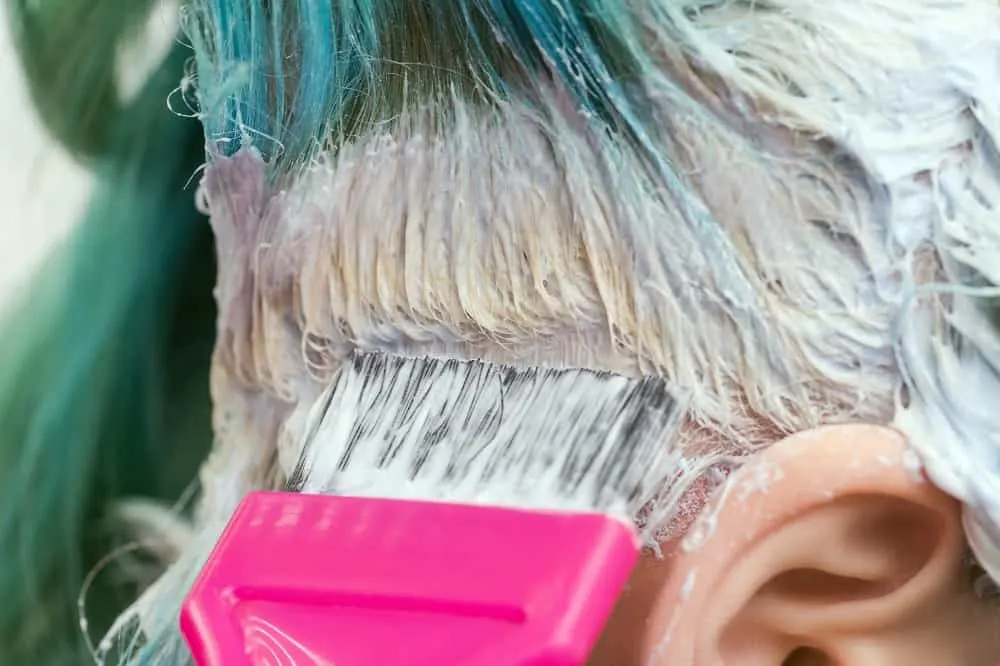 If you're not naturally a platinum blonde, you will have to bleach your hair first before dyeing it.
Achieving a successful bleach job is essential if you want your blue hair to look great. If areas of your hair don't get bleached correctly, you may have patches of a greenish color and an overall uneven look.
Ideally, you should let your hair rest for a day or two after bleaching before going in with the blue dye, which should give the hair time to recover and might help you sustain more minor damage to your hair.
Step 3: Condition
Color processing is hard on your hair, and the following bleach with color is doubly distressing. Deep condition your hair after bleaching to give it a little bit of extra recovery and reduce the risk of damage from the dyeing process.
Step 4: Mix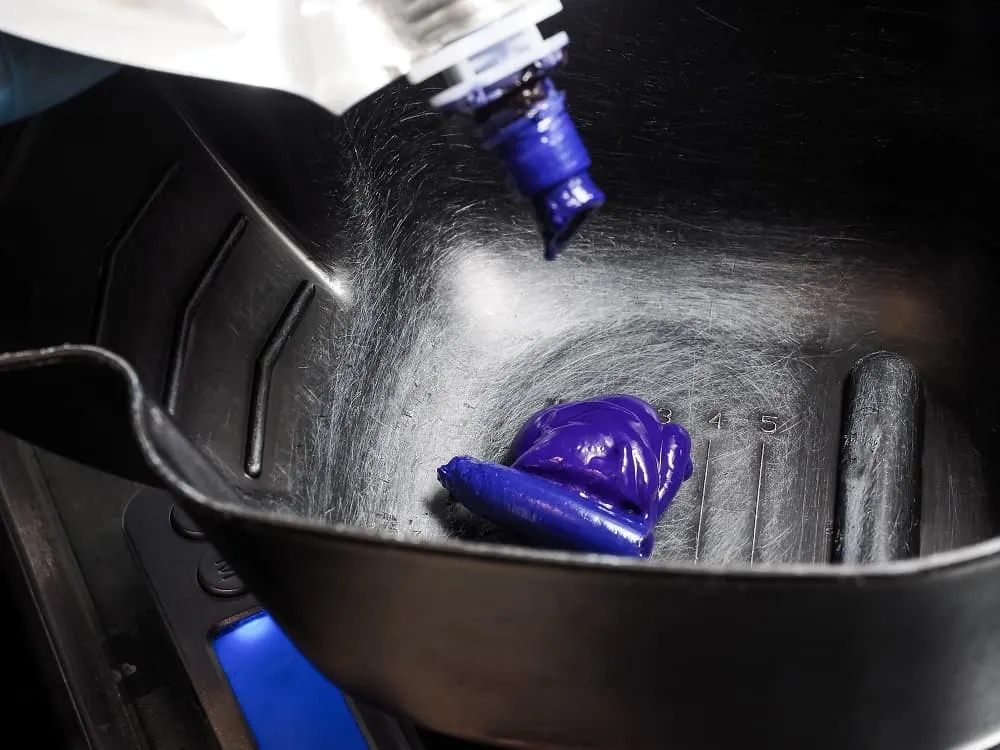 In a plastic or glass bowl, mix your desired dye and developer according to the package directions. Mixing the dye incorrectly can lead to uneven color, hair damage, and even burns, so be sure to follow the directions carefully while mixing. Mix until the dye is smooth and well-blended before applying.
Step 5: Prepare
Hair dye is messy. Dress in an old t-shirt that you won't mind staining, and drape a towel around your shoulders to prevent drips. Apply a thin layer of petroleum jelly around your hairline to avoid staining your skin and make smudges easy to clean up. Put on gloves to keep the dye away from your skin and nails while you apply.
Step 6: Apply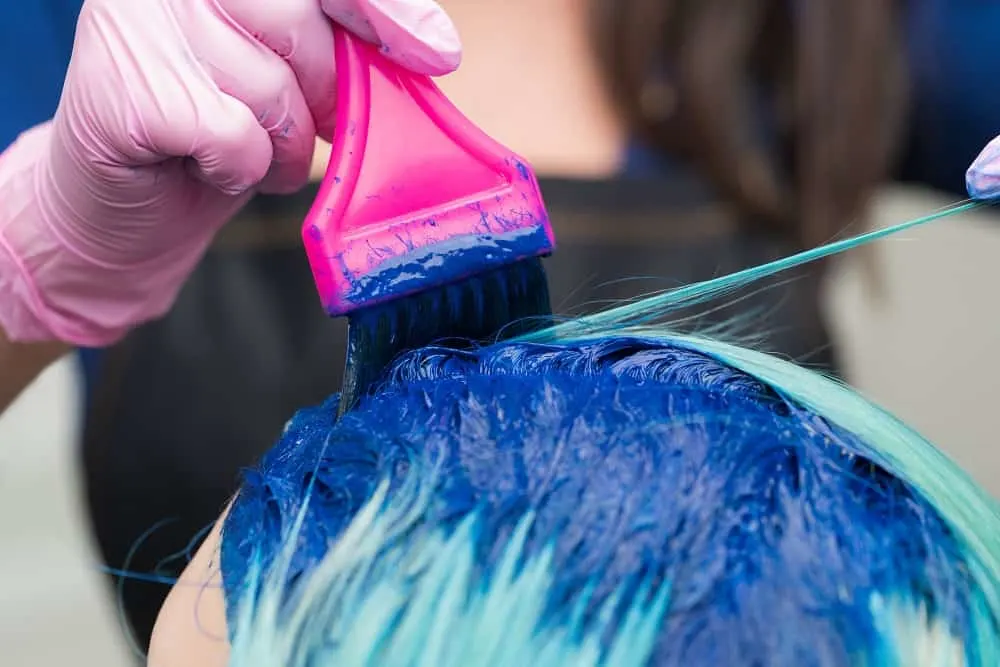 Part your hair into at least four sections (or more if it's extra-long or thick), holding the front sections out of the way with non-metallic clips. Apply the dye evenly with a brush to one section at a time, starting at the back of your neck.
Saturate the hair thoroughly in one section before moving on to the next to ensure even coverage. Continue applying dye until all your hair is thoroughly saturated.
Step 7: Wait
Clip your hair up or cover it with a shower cap to protect your skin and furniture while your hair develops. Follow the package instructions to determine how long to leave the dye on your hair. Check your hair's progress often to make sure it's developing properly.
Step 8: Rinse
After the required time has elapsed, rinse your hair thoroughly to get all the dye out. Use lukewarm water to avoid washing the pigment out of your hair. Rinse until the water runs clear, condition, and towel dry gently to avoid further damage.
Bold and Trendy Blue Hairstyles
Check out our guide on dyeing your hair blue and pick one of the below glamorous blue hairstyles to shine your hair.
1. Blue Bob
To start with, combine a simple short haircut with an unconventional blue hair shade to create an eye-catching style. The hair is chopped to a jaw-length bob and dyed in a vivid royal blue tint. This sleek look is easy to achieve yet hard to ignore.
2. Side-Tousled + Undercut
Show your wild side by opting for an asymmetrical hairstyle. The shoulder-length strands are powder blue with patches of aqua blue in between. They are side-tousled to contrast with the neatly trimmed undercut. This style is low-maintenance as the emerging dark roots top off the look.
3. Boyish Look
The ones who are confident enough to rock a boy cut, get a textured top that is slightly longer than the neatly clipped sides. Amp up the look by dying the strands and eyebrows in an aqua blue tinge creating a monochromatic appeal.
Here is another blue hair color idea for the current season. Referring to the ladies with kinky afro curls trim them into layers to frame the face beautifully. Dye the coils by mixing denim and aqua blue hair shades creating an ocean blue party look.
5. Side Design
Looking for something bold? Get a faded undercut along the sides with a zigzag shaved design. The wavy long top is royal blue with a touch of silver to contrast with the darker sides. Braid down one side to finish off this punk side-tousled hairstyle.
6. Futuristic Look
If you don't want to color your entire head blue combine it with other hair shades creating a futuristic appeal. This short haircut has purple roots merging into a silvery-grey hue at the front while the sides and back are painted in a bright electric blue shade.
7. Vintage Victory Rolls
Victory Rolls are timeless and can be flaunted by adding a modern touch to them. Dye the mane in a bright electric blue shade and crimp the strands before styling them in an updo with victory rolls at the front. This look is ideal for vintage lovers.
8. Blue Ombre
Make a jaw-dropping style statement by going for this three-toned look. The natural roots merge into a denim blue shade that melts into an aqua blue tint midway to the ends. The hair is styled into a French braid with two side braids twisted around a low ponytail.
9. Senegalese Twists
This vibrant color is one of the best shades of blue to try for the current season. The black strands are twisted while incorporating blue hair extensions to create glamorous Senegalese twists. This look can be kept for a few days and will surely turn around some heads.
10. Blue Mullet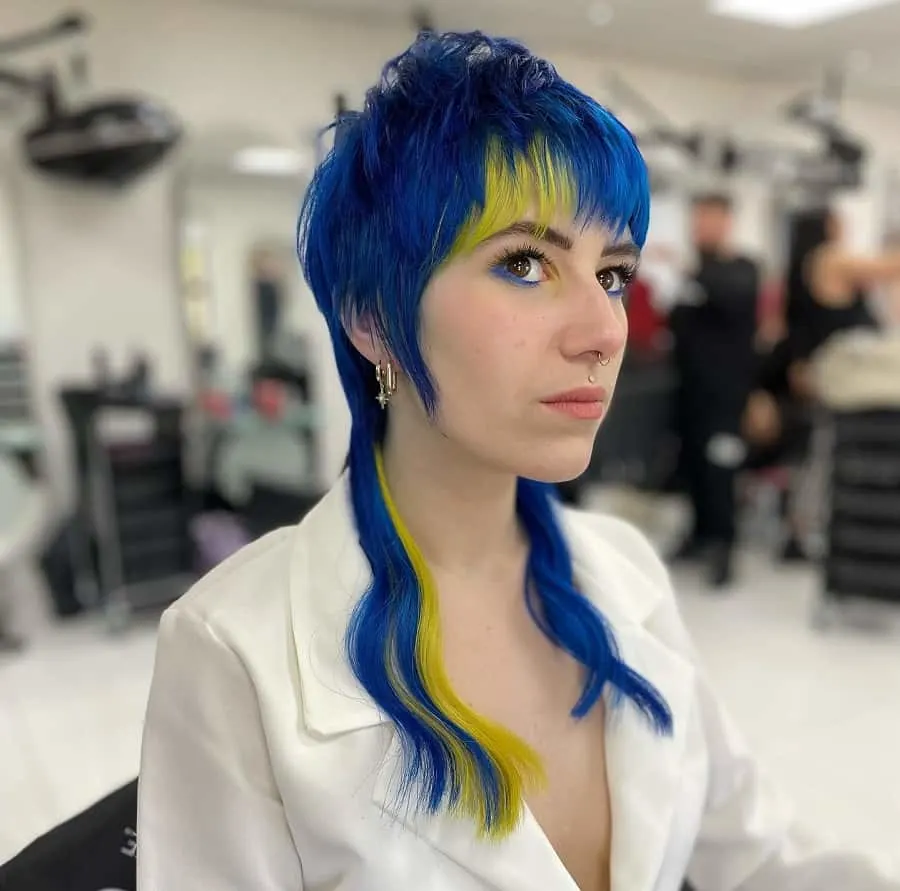 Go for a rebellious pixie mullet haircut by keeping the top and sides short and textured while the back long enough to fall on the chest. Dye the hair in a dark cobalt blue hue with a touch of yellow at the front and back creating a hipster look.
11. Sea Foam Green and Dark Blue
Three shades of blue are a beautiful ombre on black hair. Rather than wearing the hair straight, curl in some thick waves at the ends to flaunt over your shoulder.
In the light, this shade of light blue looks like it has hints of purple. That's just one reason it looks so great on a jaw-length wavy bob with a center part.
Want to use blue hair dye with another vibrant color? Now you can have cotton candy hair just by adding pink and purple to light blue hair. Take the leap and add the color at the salon this weekend. Thick curly hair will look colorfully regal.
For women with dark skin, dark blue is a great choice for your hair. This style is a half updo full of soft waves that sit on the shoulders.
15. Sea Green and Medium Blue Ombre
On a shoulder-length straight haircut medium blue and light green blend on a beautiful ombre for brown hair. Since the color adds all the style, you don't need to anything else with your hair!
16. Periwinkle and Dark Blue
Your new nickname will be Candy with a sweet addition of color like this soft pink at roots and a dark blue from the mid-shaft to tends. Add lots of curls and enjoy feeling like an icon!
If all over color isn't right for you, try adding a section of light blue to the hair closest to your face. On a formal updo against blonde hair, the color will pop beautifully.
This particular shade of midnight blue is hardly noticeable on black hair, but that's what makes it a great choice for professionals who need to keep their look work-appropriate.
Baby blue, or periwinkle, hair color is a soft choice for women's hairstyles and is beautiful against light or pale skin tones. Add it to a short curly bob for a great look not harsh in the slightest.
On the top of a short pixie hairstyle, light blue brightens up locks while a patch of dark blue is a nice pop of personality at the ear. Wear hair straight and smooth it down with hairspray for finishing touches.
21. Long Cobalt Blue Hair
Whether it's dreadlocks or box braids you want to add blue hair color, pull half of your hair up into a ponytail and decorate it with silver or bedazzled beads and hoops.
22. Dark Blue and Brown Braid
When you're loving your natural hair color but want a dash of color, ask your stylist for blue highlights. When hair is braided into a mohawk, the pops of color will really stand out.
23. Royal Blue Hair
On women with light or pale skin, royal blue is a stunning dark contrast. A center part and cascading curls complete this statement style.
24. Dark Blue-Purple
Do you already have a favorite hair color you're rocking? Top it off with blue roots! Here, light blue and bright red work together to add bright personality to a peppy wavy bob.
Space buns are quickly becoming a popular hairstyle choice for young women. While box braids are gorgeous on their own, by adding a touch of blue hair color and your favorite pair of earrings, you're sure to be stylin' all day.
Go for a twist on your greying hair by adding a tint of blue. You'll maintain your youthful spirit and appearance by fashioning hair into a long straight style with straight bangs. You can also add ombre to get a unique color combination.
27. Sky Blue Hair
Another gorgeous color for women with light and pale skin tone is this sky blue. Let it brighten up your day and your short straight bob with blunt-cut ends.
If color doesn't make you uncomfortable, test your limits by mixing medium or light blue with a medium shade of green. Have even more fun by playing with different eye shadows to play up the color.
A long top and short sides are featured on this sport pixie. On a woman with dark skin, the color is the perfect complement. Wear it straight or try adding soft waves to dress it up.
30. Stunning Layers
Take full advantage of the ombre technique when it comes to the blue colors. Keep the darkest blue on top and then start creating layers. Each layer should have a separate shade of blue. What a great way to make a statement!
What Color Can You Dye Your Hair After Blue?
If you're ready to say bye-bye to blue, choose your new shade wisely! Not every color and type of dye will cover your blue adequately.
Try purple or green if you want to stick with a fantasy color. They both cover blue very well. However, going back to a more natural color after blue is trickier. It's recommended that you let your blue dye fade to at least some degree before attempting to go for natural color.
Dark auburn, brown, black, or light copper are excellent choices to cover blue. You may need to use permanent hair color to ensure complete coverage. You should visit a hair salon if you want to change a recently done blue dye job drastically.
What Colors Cancel Out Blue Hair?
Orange cancels out blue. If you want to color-correct the blue from your hair, you can use a warm toner and an orange-based dye like copper brown.
How To Get Blue Hair Dye Off Skin
The first step is avoiding getting it on your skin in the first place. Use petroleum jelly around your hairline and scalp so that the dye doesn't stain these areas.
Wear gloves while preparing and applying the dye. If dye gets on your skin, you can use a mixture of dishwashing liquid and baking soda to scrub it off. Any remaining color should fade away within a couple of days.
FAQs
Here are the most commonly asked questions regarding blue hair.
Is blue a natural hair color?
No. Blue hair doesn't exist in nature for humans, but some shades of black hair can have bluish undertones in sunlight.
Which skin tones go well with blue hair?
As discussed above, cooler and neutral skin tones look better with pure blues, while warm skin tones are complemented by purple or green-based ones. Always test several colors of blue next to your skin before making a final decision.
What to wear with blue hair?
It all depends on what look you're going for. You can go for contrast colors like orange (if your hair is pure blue) or yellow (if your hair is purple-blue).

If you're in more of a romantic or cute mood, you can match your pastel blue hair with other pastels like pink or mint green. If in doubt, white and black are neutrals that look good with any hair color.
What color does blue hair fade to?
Blue hair will usually fade to a lighter shade that gets weaker over time until it's completely gone.
Will blue hair fade fast?
Usually. Like most unnatural "crayon colors," blue fades relatively fast. About six weeks is the average time.
Is blue hair color high-maintenance?
Yes. Due to its fast fade time and the fact that it looks best when vibrant, this hair color needs substantial upkeep. Blue color-depositing shampoo and conditioner can help extend the life of your color. You can also limit heat styling and harsh chemicals.
Can I dye blue hair without bleach?
Yes and no. You will need to bleach your hair if you want a bright or pastel, and your hair isn't naturally light pale blonde. If your hair is darker and you don't want to use bleach, you can still go blue by choosing dark shades like Blue, Black, Navy, and Midnight shade.
Will brown hair dye cover blue?
A coppery-brown dye (preferably permanent) can cover blue. Toning with copper toner may be needed to keep the color from looking greenish.
Does blue hair turn green?
Yes, blue hair can turn green as it fades due to environmental factors, hair products, and other reasons.
Does purple shampoo work on blue hair?
Somewhat. Purple shampoo can keep your hair from going green and help the blue last longer. There is also blue shampoo which would be better suited for the job.
Will blue hair dye cover red?
Not always. Blue hair dye over red hair is likely to result in a purplish or maroon color unless you go with a very dark black-leaning shade of blue.
Are you feeling inspired yet? We're sure you're mind is reeling with the number of beautiful ways you can add blue hair color into your current look!
You May Also Like