If you only have one go-to look when you want a sporty hairstyle, we've got news: you have many other amazing options!
Whether you're hitting the gym to break a sweat, you're running errands, or you're heading in to work, there are plenty of ways you can style your hair to give it a livelier look with comfort.
From colorful box braids, messy buns, twists, and even hairstyles that can be worn with a visor, get ready to screenshot each of these sporty 'dos!
Comfortable Sporty Hairstyles and Haircuts
When it comes to hairstyles for sports and physical activity, the priority is practicality, comfort, and keeping hair securely in place. But that doesn't mean it can't be stylish.
So, take a look at the list below with certain sporty hairstyles that are easy to do, and allow women to look great while performing at their best.
1. Long Straight Ponytail
A sporty hairstyle doesn't have to be short and this long classic ponytail can create a fashionable look that is also perfect for athletic pursuits.
Tie it up high with elastic hair ties or even off to the side to allow it for movement while keeping hair securely off the face and neck.
2. Braided Ponytail
One cool way to give a sporty hairstyle some detail and flair is by braiding it. This high braided ponytail is super easy to do no matter your hairstyling skill level.
3. Visor Hat for Short Hair
Short or shoulder-length hair doesn't need much taming to keep it out of your way. A simple visor hat makes a sporty hairstyle perfect for getting your locks off your face for your next game of tennis.
4. Messy Bun Updo
There's a reason a messy bun is such a favorite for women's hairstyles. It's universally flattering, great for short and long hair, and can be styled up for special occasions or used for gym sessions.
5. Cornrow Braids and Bangs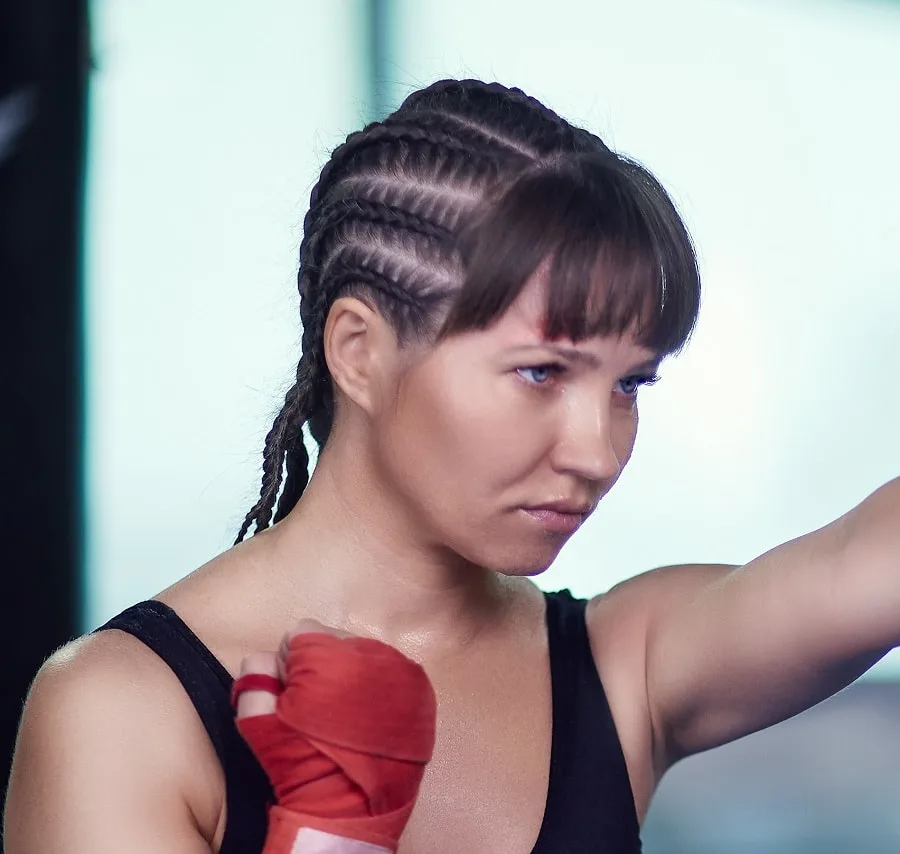 Instead of gathering your hair straight back into a ponytail, dress it up with a couple of cornrow braids. Leave your bangs out to cover your forehead or combine them into the braids.
6. Long Boxer Braids
This long sporty hairstyle known as a boxer braid, allows for movement while keeping hair securely off the face and neck. To get this goddess-looking but sporty hairstyle, make four thick braids in your long hair.
Give them a little height and shape by teasing your locks with hairspray first. Big hoops and bold eye makeup will complete your look.
7. Afro Curls with Headband
Black women with short afro-textured hair will love the way a colorful headband accentuates their beautiful locks. Opt for light pink for a softer look or bold red or blue for a more vibrant look.
8. A-Line Bob Updo
Who says you have to wear your hair up when you're working out? This chic A-line bob proves how stylish women can be with the right haircut.
You can still keep hair out of your face just by taking two sections at the front and twisting them back to secure them together.
9. Blonde Pixie
For women with very short hair, use color to make a sporty hairstyle stand out. This bold pixie pops in very light blonde.
You can choose to maintain one length all around or keep it longer on top and shorter on the sides.
10. Curly Half Updo
We get it, you love your curls. So don't hide them! Instead, get the sporty look with an easy half-updo.
Make a half ponytail or messy bun in the top half of your hair for the best of both long and short hair worlds.
11. Box Braid Bun
Box braids are one of the most popular hairstyles for Black women. They can be worn in a variety of ways, including this half updo bun, which makes for a beautiful sporty look at the gym.
12. Orange Dreadlock Ponytail
To give your hair an eclectic vibe, why not consider boho dreadlocks? This type of long sporty hairstyle is suitable for sports like volleyball, soccer, etc.
The extensions come in many lengths and colors and look even cooler worn in a thick ponytail and wrapped in a braid instead of a hair tie.
13. Curly Black Ponytail
Do you have a big game coming up? There's no need for a slicked back boring old bun. Let your curly black hair flow wild and free in a super high ponytail that flops forward toward your forehead.
14. Half Pixie Fade
An edgy half-pixie cut will get you noticed by everyone whether it's while you're running weekend errands or breaking a sweat during your daily workout.
Keep it smooth and sleek, and maybe even consider rocking some badass silver highlights.
15. Blunt Bob with Side Bangs
For an easy morning yoga class, you don't need a complicated hairstyle to keep locks at bay. This blunt bob with wispy side bangs is short enough that simply tucking it behind your ears will do.
16. Ponytail with Shaved Sides
You don't have to have short hair to pull off faded or shaved sides. If you have long hair, we highly recommend shaved sides to give your look a sporty vibe and less sweaty hair.
17. Colorful Cornrow Braids
Set your workout hairstyle apart instantly by rocking long, thick cornrow braids in a mix of two colors, like this blonde and light blue combination.
18. Short Spiky Red Pixie
If you have short hair and bold color is your thing, opt for a spiky pixie cut! Dark red highlights the fun texture and pointed sides. Plus, the low-maintenance style of the cut is a major bonus.
19. Short Afro Twists
Another hit hairstyle for Black women with afro-textured hair is twists. You can wear them long or short.
However, these short twists are ideal for women who want an easy, breezy workout hairstyle without too much styling time involved.
20. Messy Pony with Braid
Short on time and can't braid your entire ponytail? Braid one small section of your hair to give it a little pop of detail, then finger comb your hair together and secure at mid-height. A thin stretchy headband is perfect for keeping flyaways tamed.
21. Two Low Buns
How cute are these two buns? They're the softer version of the very popular space bun hairstyle and take only a minute or two to style.
You can even twist back two small strands of hair near your temples and secure them above the buns for an attention-grabbing detail.
22. Low Pigtails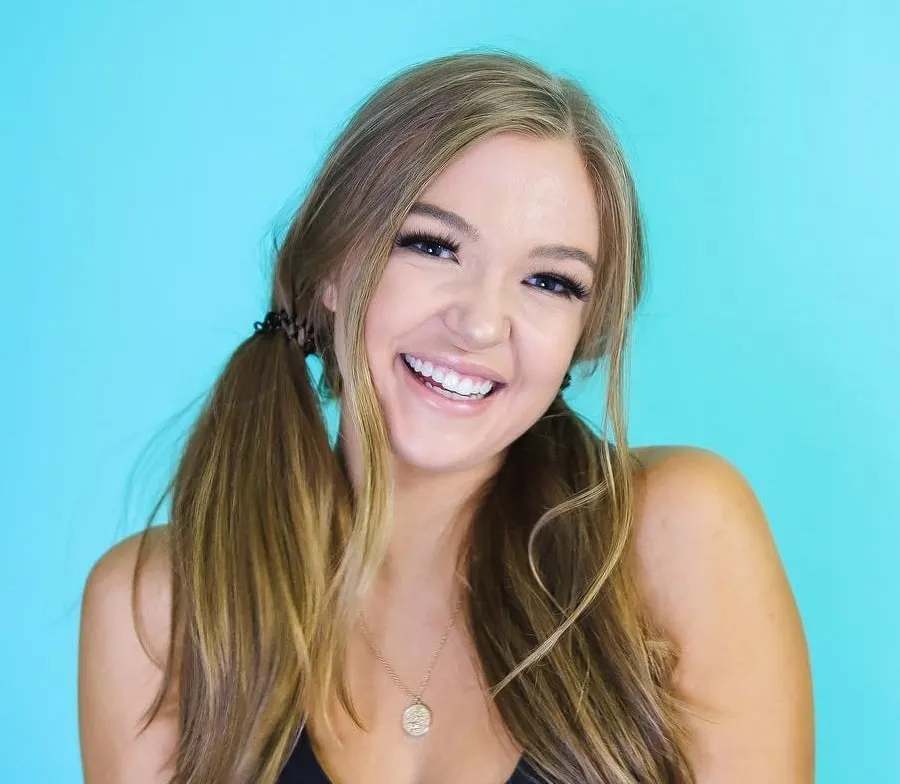 For both medium and long hair, there's nothing cuter than two low pigtails. Part your hair in the middle, then comb it over your ears and secure it with colorful hair ties to give your sporty hairstyle a childlike flair.
23. Three Knotted Buns
Separate your hair into three sections before turning each section into a little knotted bun. Line the bottom two up right under the top one for a refreshing new look.
24. Pull Through Braids
Pull-through braids aren't just for fancy occasions anymore. Make two high ponytails and transform your long hair into these beauties to feel like a goddess all day.
25. Sectioned Ponytail
If you struggle to tame your long hair and need some inspiration, liven it up by making a sectioned ponytail.
Separate the hair into three or four sections and secure each one with a hair tie. For more texture, tighten each section.
So, it isn't hard to achieve a sporty hairstyle. Most of them are flexible enough that you can try them whether your hair is long or short. Spend a little time playing around with these sporty styles and be sure to let us know which one is your favorite!
Trending Topic