It is hard to be proud of thin hair. Usually, women do everything possible to hide this fact. However, having thin hair doesn't mean that you can't create a very stylish haircut with a lot of volumes. For ages, women have been creating hairstyles for thin hair, which don't look any worse than the ones for thick hair.
Haircuts for women with thin hair are very popular since fine hair is much more widespread than thick manes. There is no need to be upset by the hair you have, all you need to do is learn how to handle it!
Haircuts for Women With Thin Hair
The thin hair needs a little more maintenance, but that shouldn't scare you. Remember, your goal is not to make your hair thick, all you have to do is style it correctly to make it look voluminous. At the same time, there is a great variety of hairstyles that just can't be created out of thick hair. You can be sure, that a lot of women with thick hair are envious of the great hairstyles for fine thin hair, which you can create.
Fine hair is easier to handle and you can enjoy almost any hairstyle out there without too much effort. Take a look at the 70 wonderful hairstyles for thin hair we have chosen for you. You can pick anyone you like!
1. Curls
If your hair is fine, curls and waves will become your best friends. Of course, they are not an everyday solution, but for special occasions, they are the best hairstyle for thin long hair you can imagine. Play around with the curl size to find the one that looks most fabulous.
2. Straight and wavy
Haircuts for thin hair vary in length. If you choose to keep your hair long, but don't want to overdo the curls, keep it straight on top and wavy on the bottom. This style requires less maintenance than the regular curls and still looks very interesting.
3. Asymmetrical Bob
Bobs are great hairstyles for fine thin hair. Especially the asymmetrical ones. Such asymmetry helps add volume to the bob while keeping the style very easy to handle. Wispy bangs are a great addition to any fine haired bob.
4. Textured bob
Texturing fine hair is a great way to make it have more volume. Textured haircuts for women with thin hair is always a great choice. Proper highlighting will do a great job adding even more volume to the look.
5. Chin length bob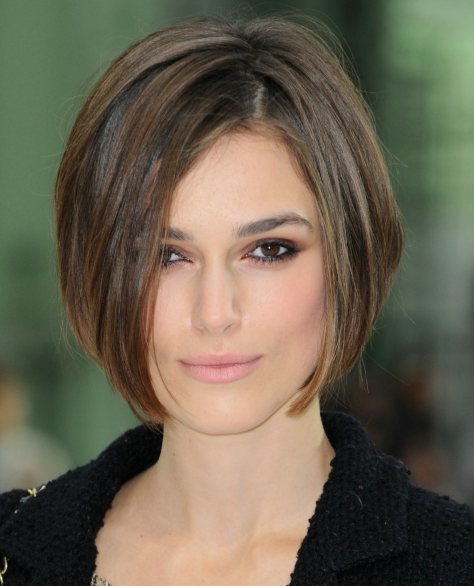 Bobs are great for thin hair. Fine hair doesn't like to be long, so chin length hairstyles are the best choice for it. Straight haired bobs always look great, so lucky owners of thin hair can experiment with short bobs any way they wish.
6. Shoulder length hair with wispy bangs
Keeping your fine hair shoulder length needs some work. Don't be afraid, you won't be spending hours in front of a mirror. Just give your hair a little tousle and add some wispy bangs. A great short hairstyle for thin hair is ready!
7. Graduated shoulder length hair
Keeping your fine hair all the same length is not a good idea. This way it will just seem dull and, well, thin. Add some levels to your hairstyle and you will immediately bring some volume as well as brightness to your cut.
Teenager? Try These Hairstyles
8. Long graduated bob
If you have thin hair, bobs are your right hand. You can do almost nothing without them. Play around with the length to choose the one that suits you best. Don't add bangs if you don't want to. Such bob will look great all on its own.
9. Classical pixie
Pixies are next in line after bobs for girls with thin hair. Fine hair feels great when it's short, so pixies will make any woman with thin hair look fabulous. Add some wispy bangs to complete the look and you'll forget about ever being ashamed of fine hair.
10. Curled ends
Making curls and waves daily takes too much time and does no good for your fine hair. But you still want curls and volume? Curly ends are a way out. They don't require a lot of time and make your fine hair look fantastic.