Medium length hairstyles will never go out of fashion, which is just one of the reasons why we love them. Medium layered hairstyles are easy to maintain, look classy, and suit a wide variety of face shapes. Ask your stylist for one of these amazing hairstyles next time you visit.
Favorite Medium Layered Hairstyles for Women
#1: Face-Framing Layers
Take the classic 'Rachel' 90s hairstyle for a modern spin with a medium straight layered haircut. Cut correctly, these layers turn inwards to frame and highlight a beautiful jaw and face. Plus, it makes hair look extra cute in a ponytail.
#2: Loose Spirals
One easy way to dress up your hair is with a medium curly layered hairstyle. Whether you have natural ringlets or not, curls like these can be worn for daily or for formal events. Brush them out for a more relaxed, beach wave vibe.
#3: Sleek Lob
A lob is not quite short and not quite long, making it a super attractive medium length layered hairstyle for Black women. A strong center part sets the tone for perfectly smooth and sleek hair that shows off your gorgeous face.
#4: Feathered Hair with Wispy Bangs
A medium length feathered layered haircut for women is truly timeless. It is especially softening on women aged 40 and up. To complete the look, add wispy, feathered bangs that are slightly parted at the center.
#5: Dirty Blonde Ombre
There is something so appealing about a dirty blonde medium layered ombre hairstyle. Done correctly, this hair can grow out forever, while looking natural and fabulous at each step of the way.
#6: Ashy Platinum
Ashy tones are a current color trend for a medium length layered silver hairstyle. Don't think you have to stick to grey, though; ash platinum, lilac, and even brunette has that amazing cool effect that pale babes know and love.
#7: Medium Razored Edges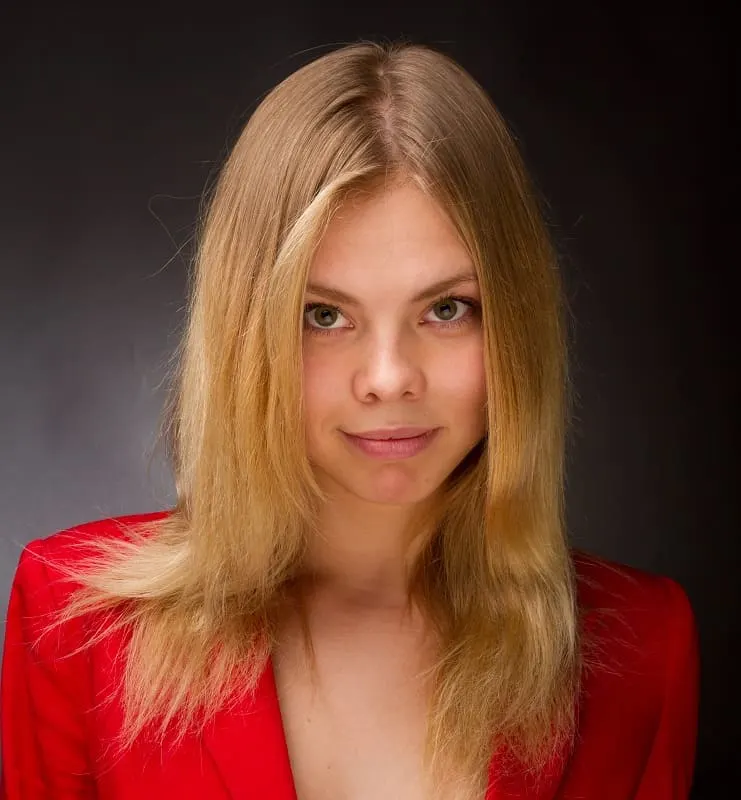 Conceal the breakage that inevitably comes with dying your hair a lighter color by opting for a medium razored layered haircut. Your stylist can add dimension to the lower half of straight hair all while snipping off broken and fried ends.
#8: Pretty Pink Ombre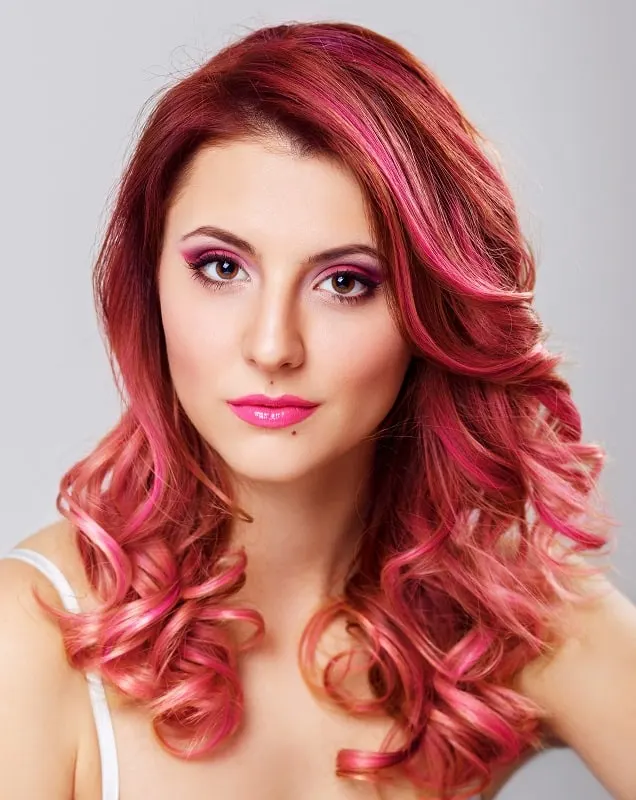 Make your look more interesting with a pink ombre, medium thick, layered hairstyle. Whether you choose a bold color combination or stick to natural colors, ombre looks add a touch of subtle interest that medium styles shouldn't be without.
#9: Medium Hair for Round Face
Sleek styles often accentuate full cheeks, but this medium layered haircut for round faces takes advantage of a strong middle part. By choosing the center, you're essentially creating a long, lean line down the face for the ultimate slimming effect.
#10: Funky Shag
If you have thick locks, then medium shaggy layered hair should be your go-to look. These strategically cut layers will give your hair movement and help it feel lighter. Make it feel hipster and finish it off with short, choppy bangs.
#11: Highlights and Lowlights

Give your layered look the illusion of having more texture, by adding complementary highlights and lowlights. This modern style of coloring looks fantastic with a choppy cut.
#12: The Wavy Weave Medium Hairstyle
Whether you get your natural hair relaxed or have a wavy weave put in, it doesn't matter. Heavy bangs make this a great style to try if you have thick hair.
#13: Fiery Temptress Medium Layered Hairstyle
These 60's inspired tresses are too hot to handle. Mix different copper tones to create a truly eye catching look, and the perfect medium length layered hairstyle
#14: Choppy Layers
This choppy layered look is reminiscent of the 90's, but is making a big comeback. Seemingly random layers allow you to have volume at the top, which thins out towards the bottom. Kick out each layer slightly to show off the styling.
#15: Straight and Sleek Haircut for Young Girls
Medium length layered hairstyles also look great when they are straight and sleek. Choose a slide parting with a long fringe to add another dimension to your style, so that the eye is drawn to your facial features.
#16: Loose Waves With Medium Hair Length
This manicured look can be worn for work or when you are out in the evening. Teaming a side parting up with loose waves helps to give the style a real touch of modern-day class.
#17: Bed Head Shoulder Length Haircut
This seemingly effortless layered look suggests that you got straight out of bed looking this fabulous. Run a little bit of product through your hair every morning to help to give your layers definition.
#18: Punk Rock Princess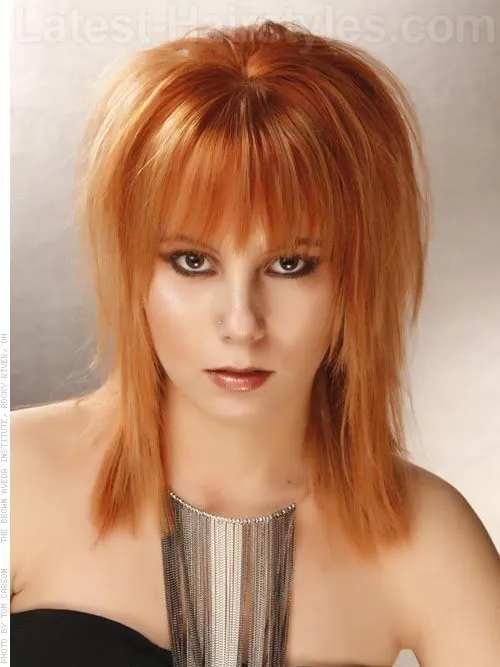 A punk rock style can easily be created with medium layering. Short, chunky layers on top with thin, longer layers below offer a fantastically fashionable take on the mullet.
#19: Layered Lob
The layered long bob ("lob") frames your face wonderfully, and its a great style for people who have small "pixie" features.
#20: Frame your face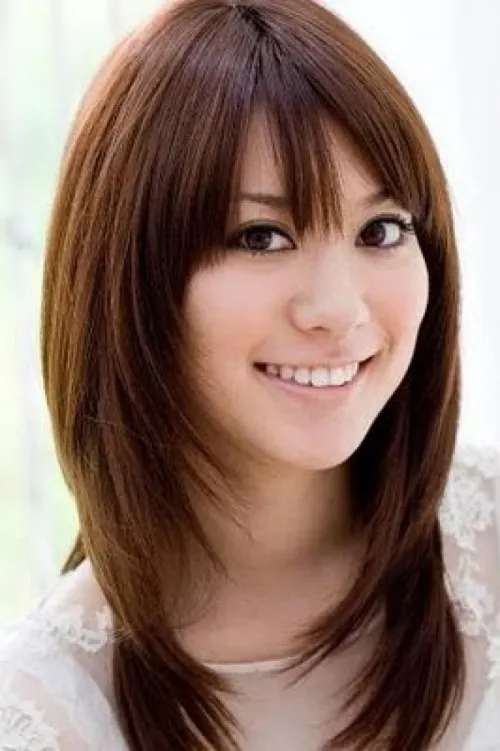 Chin length layers at the front teamed up with longer layers at the back will help to frame your face. This style is great for an "everyday easy" look that's still special.
#21: Thin Hair
Make thin hair look thicker with a combination of highlights and lowlights, and subtle layering. Feathering at the end of your layers will also add extra thickness.
#22: Dark Beauty
In a dark, medium length layered hairstyle, add extra excitement with very subtle hints of copper.
#23: High Volume Hairstyle for Girls with Mid Length Hair

If your hair already has a lot of volume, use layering to help you to create a manageable yet classy style. A side parting and loose flicks add an interesting touch to bigger hair.
#24: Smoking Eyes
Adding different length layers can draw attention to (or away from) certain areas of you face. Accentuate your eyes and cheekbones by creating a layered fringe which flicks out just below your eyes.
#25: Signature fringe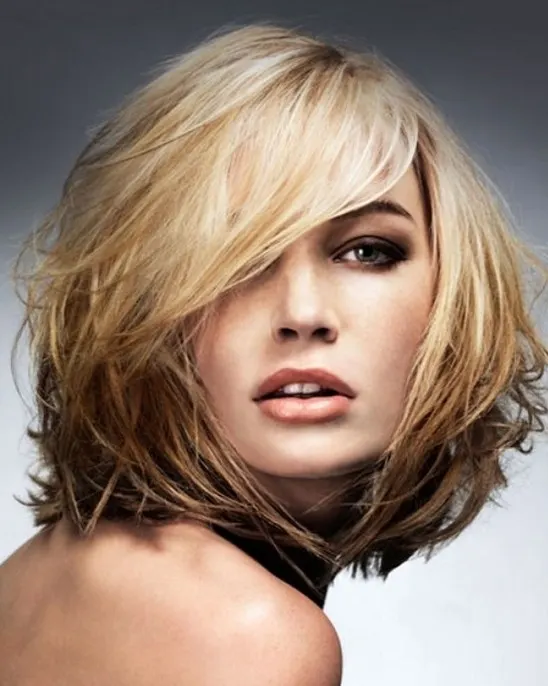 A large sweeping fringe is an excellent choice for a dramatic look. THe addition of choppy layers helps to add to the sexy windswept look.
#26: The Rachel (mark 2)
Rachel was the queen of the medium length layered look, and the Rachel was the most fashionable hair cut in the world for 6 months in the 1990's. Bring your style into the modern era by choosing a different cut with a more timeless Rachel look.
#27: Medium Layers with Side Bangs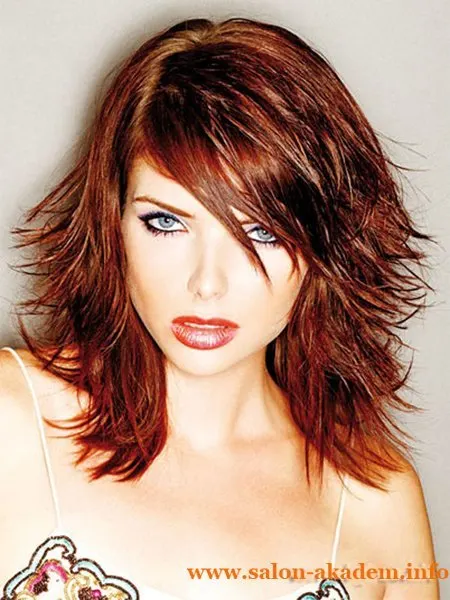 Stay cool in summer with this fantastic wet look. Run product through your hair, so that each individual length of layer is accentuated.
#28: Vampire Slayer
For a super trendy look which will be slaying them in the aisles, choose a look which is longer at the front than it is at the back. A mixed fringe (both long and sweeping) will draw attention to your dramatic eyes. Add a touch of colour for the killer blow.
#29: Back in Black

Medium length hair looks fantastic in a thick, luscious black style. Frame your face with layers at the front, then keep things longer at the back, so that you can show off your shoulders when you are out and about.
#30: Short and Sweet

This short-medium length layered look is great for people who have thinner hair. Very fine layers can be added to keep your hair looking "light" and effortless, without leading to it looking thin and unkempt. A sweeping side fringe completes the look.
#31: Face Framing Bob

Frame your face perfectly by adding chin length layers at the front, and then slightly longer layers as you go back. For a face framing effect, keep the layers above shoulder length, and give them a slight flick inwards to follow the natural curve of your jaw. Beautiful bangs accentuate your eyes too.
#32: Everyday Easy

For an easy look which can quickly be changed up if you need to attend an important function, choose a manageable style which looks great whatever configuration its in. Face framing layers and a diagonal parting help to make the style look effortless. To add an evening touch, add a few loose curls to some of the top layers.
#33: 70's Glamour

Bring back the 70's with big hair and lots of layers. Use a light feathering technique to flick the layers away from your face. Curl your hair rather than flicking it to give the style a modern twist. Short layers near the crown of your head contribute to the unique, retro glamour.
#34: Spanish Fire
Soften dark hair by adding caramel highlights which complement your natural skin tones and dark eyes. Side swept heavy bangs can help to transform a simple medium length layered look into one which is red carpet ready!
#35: Sleek Bob
Not a hair out of place! Add only a couple of layers at the front of your style and keep the rest long. Straighten your hair to make sure that it stays looking sleek and perfect. If you have a long face shape, avoid styles similar to this one.
#36: Thick Hair
This medium-long style is an excellent option if you have thick hair. Add a medium length fringe which flicks outwards to accentuate your cheek bones, and brush through your layers to enhance your natural volume. This can be worn up when you are at work, then taken down in the evening for no-nonsense glamour.
#37: Casual Cool
For a casual but cool look, layer your hair around your face, and add a sweeping side fringe. This is a real girl next door look.
#38: Beautiful Bob
A short-medium length shaggy bob is a brilliant modern look for those who want everyday easy and gorgeous glamour all in one cut. Cut short layers on the top, and chin length layers underneath, then run a little product through your hair to create loose flicks out.
#39: Shaggy Bob Story

The shaggy bob is one of this year's hottest trends. Team a side parting with layers, then run a lots of product through to create a shaggy, tousled look.
#40: Professional Bob
Stick to one length at the back, and then bring the layers up to your chin at the front to frame your face. A gentle fringe above your eyes will help to give you a soft and sensitive look.
#41: Messy Layers

Messy, mixed length layers can actually create the wow factor if your hair is naturally wavy. Different length layers mean that waves naturally flick out at different levels, making your hair look truly beautiful.
#42: Graduated Layers
Graduated layers are a brilliant choice if your have naturally straight sleek hair, or if you like to keep your hair straightened. Enhance your style with a side parting.
#43: Blonde Beauty
A short-medium length bob in a warm blonde colour can help to make you feel playful and summery all year round, even when winter sets in. Run a little product through your side fringe to give it extra bounce.
#44: Wind in the hair
Always look like you have got wind in your hair with light layers and feathering. Cut in lots of short layers at the top of your style, and put in a little dry product to keep things light and airy.
#45: Feathered Bob Hairstyle
Keeping your hair at chin length, blow dry your hair away from your face using a barrel brush to create a lovely feathered layered bob. This bob brings 70s hair into the new millennium.
#46: Extreme Highlights and Lowlights Medium Length Haircut

If you want to take a slightly different approach to the highlights and lowlights trend, then you can consider adding in colours that sharply contrast your natural style, or even bring in colours which aren't in the natural hair colour spectrum.
#47: On the Fringe Back Layered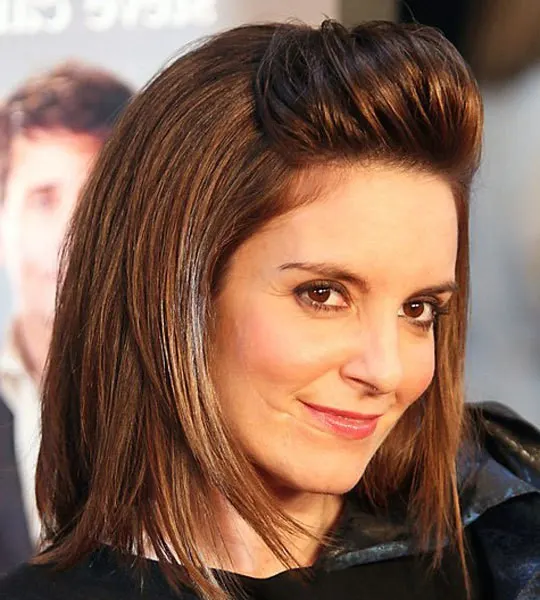 Whether your bangs are getting too long, or whether you just want to make a statement, combing back your fringe looks great. Curl up slightly, then pin it back to allow your face to be seen.
#48: Easy Shoulder Length Glamour Hairstyle

If you want a look that is good enough for the red carpet, but which is quick and easy to style, choose a side parting, and light layering. Blow dry your hair straight and then run your fingers through it to add a little extra texture.
#49: Copper top
Copper-brown hair really suits a medium length layered hairstyle. Try to keep the laying simple, but add a signature fringe for the perfect look that lets your colour speak for itself.
#50: Medium Length Hairstyle With Curls

Cut in lots of layers of varying length to make a brilliant curly bob. Enhance your natural curls by drying your hair with a diffuser, or by scrunching handfuls of curl mousse through it whilst using a normal blow dryer.
#51: Waves of Glory – Black Shoulder Length Curly Hairstyle
Style your layered look with straightened hair at the top, leading down into natural looking waves nearer to the bottom.
#52: Professional Bob Hairstyle for Medium Hair

For hair to enhance your professional appearance, cut in a classy side fringe, then keep the rest of your hair at a consistent shoulder length all the way around. Wear this style up or down.
#53: Medium Length Glamour girl Layered Hairstyle

Ask your hairdresser to cut in lots of different layers, so that your hair has a very distinctive style to it. Put in a diagonal parting to enhance your look.
#54: Poker Straight

Cut in lots of layers at the front of your hair, but cut a consistent length around the back. Sweep your bangs across, and use straightening irons or a blow dryer to straighten your hair.
#55: Big, Bold Bob Hairstyle for Shoulder Length Hair

Use a blow dryer and a barrel brush to create volume and waves. This glamorous, big, bob bold is suitable for your own red carpet moments.
#56: Choppy Medium Layers

Cut in choppy layers all the way around your style, and then enhance your look with a choppy "bang" style fringe.
#57: Brilliant Bangs Layered Haircut for Punk Girls
Make your lips the chief feature of your face with this gorgeous high fashion look that really works your bangs. Frame your face even more by adding jaw length layers at the front.
#58: Red Hot Long Layered Hair
Combine reds and chocolate browns for a seriously hot but sophisticated look. Cut lots of shorter layers over the top after highlighting. This style suits round, oval and heart-shaped faces.
#59: Sophisticated Seductress
Use soft, straight layers to frame your face, then add a fashionable, heavy side fringe into the mix. This hairstyle with medium length hair is really appealing for girls.
#60: Dark and Stormy

A dark, shaggy bob looks great, even if your hair isn't as thick as you would like it to be. Add to your stormy look by separating out individual layers with plenty of product.
#61: The Wow Factor
Accentuate your eyes with a fringe that stops just below. Add brilliant loose curls to your medium length layered cut by using curling tongs or blow drying with a barrel brush. Set with a loose hair spray for Hollywood glamour.
#62: Tousled Wavy Bob Side Layered Haircut
Add waves to your hair using curling tongs, then run your fingers through the waves to separate them out into tousled layers.
#63: Serious Side Parting
Give your medium length layered look an extreme side parting with a sweeping side fringe, for a look which is bound to grab the attention of the band.
#64: Hollywood High
Thick hair looks absolutely gorgeous when it is full of loose waves. Give yourself even more volume by cutting in lots of layers into your top layer of hair.
#65: Black to the Future
Brilliant black or dark brown hair looks stunning with a medium length layered look, especially if you have a natural waviness. Use product and a curling iron to flick small sections outwards for a different style.
#66: Medium-Long Hair with Wispy Bangs
This type of soft look can be achieved by brushing through your hair to remove all of the tangles. Choose your brush carefully or you could create static frizz. Wispy bangs are cute and less severe than blunt bangs are.
#67: Rounded Bob
Shorter layers around the sides and back of a bob hairstyle help to give it a gorgeous rounded shape which follows the natural curves of your head. This looks really pretty if yo have petite features.
#68: Medium-Long Hair with Large Curls
The longer that your hair is; the larger and looser curls that you can make. These huge looping curls will make your hair to look gorgeously soft.
#69. Lightly Layered Fringe

Lightly layering your fringe around your face will give you a very beautiful and soft look which is very easy to maintain. This style is perfect for everyday wear hair.
#70. Bob with Zigzag Parting
For a funky take on a classic bob style, use a non-standard hair parting. To create a Zigzag style, use a comb to drag your hair into the position that you want it in and create an obvious strong parting line.
#71: Silver-Black
A matt silver black style is a beautiful choice if you want to be different. Although it does not have the intensity that a full black style could have, Silver-Black is guaranteed to turn some heads.
#72: Soft Bob
A longer bob is a beautiful style for the office. It is a very easy to maintain style, which you will love to wear at the office. Brush through your hair lightly to prevent any tangles and to maintain your shape.
#73: Bob with Tousled Curls
Light curls are perfect if you want a bob with width. To get gorgeous tousled curls, use a defuser attachment when you are blow-drying your hair. Scrunch a bit of product through it for extra hold.
#74: Mauve Magic
This hair colour is both vivid and subtle which makes it an amazing choice regardless of what cut and style you have. Keep things sleek to show off your colour at its best.
#75: Pushed Back Fringe
Keep your hair out of your eyes by pushing it backward and over to one side with your hand. Lifting from the roots will also help to give your style a little bit more shape and volume.
#76: Lightly Flicked Layers
For a really feminine layered look, create outwards flicks in your hair. It is easy to do this with straightening irons if you run the irons down the length of your hair and then turn the tips out before releasing your hold.
#77: Heavily Layered Long Bob
For a modern looking "short-medium" hairstyle, why not experiment with a heavily layered bob style. The heavy layering at the top will allow your hair to follow your face shape, whilst the thinner sections near the bottom will give your hair extra length.
#78: Poker Straight Long Bob
Although poker straight hair can sometimes look a little bit lifeless, you can give your style life of its own with a heavy fringe. This style is more effective if your hair is a totally monochrome color block, such as dark black or dark brown.
#79: Dirty Pink
Dirty pink is a very popular colour at the moment amongst some of the world's hottest celebrities. The colour is a great choice for a slightly grungy style, because although it is non-conformist it also has a beautiful touch of femininity to it.
#80: Flyaway Bob
This style is both tamed and untamed. Although some sections of it look unmanicured, the curls are actually carefully held in place with hairspray. Give your hair a little flyaway texture by distressing the hair at the top.
#81: Long Side Bangs
Medium hair looks fantastic with subtle, sexy movement. Long layers and long side bangs are ideal for achieving that effect. Give hair a healthy blow out and add a touch of shine with a light, hydrating oil.
#82: Short Textured Layers
Medium length can be tough on thick, coarse hair, but lots of layers are here to help! Short layers cut throughout the hair and on long side bangs help thin out hair and give it the movement it so desperately needs. Also, be sure to get your hands on a deeply hydrating conditioner.
#83: Razored Ends
Nothing about this hair is boring. Awesome on pale skin with pink undertones for contrast, this mossy sea blue and green color gives your hair interest that it never has had before. A razor is perfect for creating loads of thin and energetic layers on the ends of hair.
#84: Wavy Tousle
Soft waves never seem to go out of style. Dress up your medium hair with this easy style that is perfect for virtually every occasion. Styling tip: Switch the direction of each curl on alternating sections of hair for a natural look.
#85: Round Face-Framing Layers
This look is so amazing for long, thick hair. Don't forget that this hair needs to be blow dried to get the most out of the style, however. Choose this medium haircut if you don't mind working with a round brush in the morning.
#86: Cherry Medium Hair
Any babe can rock soft waves with style, but this deep cherry color will set you apart from all of the rest. Rock it if your skin has olive undertones. Your stylist can help you adjust your cherry color according to your unique skin tone.
#87: Dusty Lilac Balayage
Now more than ever before are young women playing with interesting colors on their medium hair. Dusty lilac is very on trend, yet the balayage effect makes it feel natural rather than shocking. Use the same toner all over for that muted, ashy look.
#88: Subtle Blonde Balayage
You don't have to go crazy when it comes to highlights. In fact, you can spruce up your basic light brown hair with beautiful balayage highlights that surround the ends of hair and your gorgeous face. Lighter hues have the ultimate lightening effect.
#89: Center Part for Curly Locks
Because of their voluminous nature, curly locks don't often need much help with creating a thick appearance. Rather, a center part steadies and controls your look, while a great curl creme hydrates and defines those locks.
#90: Soft Shag
Shags are truly classic medium styles that practically ooze with personality. Layers can be cut short and start at the forehead where short and choppy bangs should rest. Cut them shortest at the center of the forehead.
#91: Ash Balayage
Blonde hair will never go out of style, but these days, it's an ashy hue that is all the rage. Add a cooling toner to your medium blonde hair for a fresh look. Invest in a solid purple shampoo to keep brassy tones at bay.
#92: Peachy Pink
Peach tones are so fresh right now, so why not add it to your medium hair? A pearly pink hue provides the perfect depth. We love this color on light olive skin with yellow and green undertones.
#93: Baby Bangs
Show off some gorgeous eyebrows with cropped baby bangs. These sleek bangs look great on a medium style for a sexy pin-up vibe. Create soft curls throughout the hair for this look, or go sleek for a more serious and intense feeling.
#94: Two-Toned Plum Ombre
This two-toned pink and plum ombre style is seriously so fresh and gorgeous. Who knew pink hair could look so classy? The darker plum blends so seamlessly into hair, making it perfect on the babe who is a natural brunette.
#95: Soft Platinum Curls

Create soft, Dolly Parton glamour with large ringlets on your platinum locks. Hair is best when cut in feathery layers to give your hair the illusion of thickness without feeling bulky.
#96: Golden Brunette
A golden brunette hue with hints of caramel not only catches the light in a glorious way, but it's an approachable way to play with color. Instead of a basic, straight-across cut, feather the ends of hair and utilize the shaping effect that comes with tapered layers around the face.
#97: Cherry Cola Blowout
Perfect for olive skin, this cherry cola hair is awesome for brunettes looking to spice things up. Easy layers cut throughout the lower half of the hair give off a simple, sexy glamour that is perfect for every day.
#98: Long and Funky Fringe
Okay, you don't have to wear your long bangs exactly like this, but this cut is perfect for adding pizzazz to thin, fine hair. Brush long bangs to one side or create a center part and reap the benefits of these soft and gorgeous layers.
#99: Side Part and Face-Framing Layers
The easy hairstyle is probably the most versatile on the list. Slim full cheeks and soften a large chin with a side part that distributes the features of the face with ease. Layers at the chin and below soften and shape for subtle beauty.
#100: Textured Blunt Cut
Medium blunt cuts are so trendy right now, every celebrity has rocked this look at some point. Hair all one length and with a center part feels fresh and modern while a few bendy waves make it approachable.
Hope you have enjoyed these amazing list of medium length haircuts and hairstyles with layers and got the inspiration for your own. Choose a layered hairstyle based on your facial shape and size so that it suits you and your mid-length hair. Let us know which one you liked the most and want to try in the comments.