The time has come for a change and cutting your hair isn't an option? Color it! There are so many different colors out there, they will make your head spin. In order to choose the proper hair color you should consider the skin type as well as the amount of make up you are ready to apply. Women with pale skin need to go for lighter colors in order for the facial features not to get lost among the bright locks. Women with dark skin have more choices but still must be careful not to overdo it. Choosing the right color might be complicated, but don't forget that it is very easy to change. So don't be afraid of making a mistake and do some experimenting!
Hot and Unique Hair Color Ideas for 2017
We have prepared a list of 50 wonderful hair color trends for women to choose from. To make a right choice, pick a model with the skin tone and face shape, which is the most similar to yours. The wild hair color options fit almost any woman, so they can be tried any time. Get hair color ideas from the below styles and choose the perfect one for you.
1. Vivacious red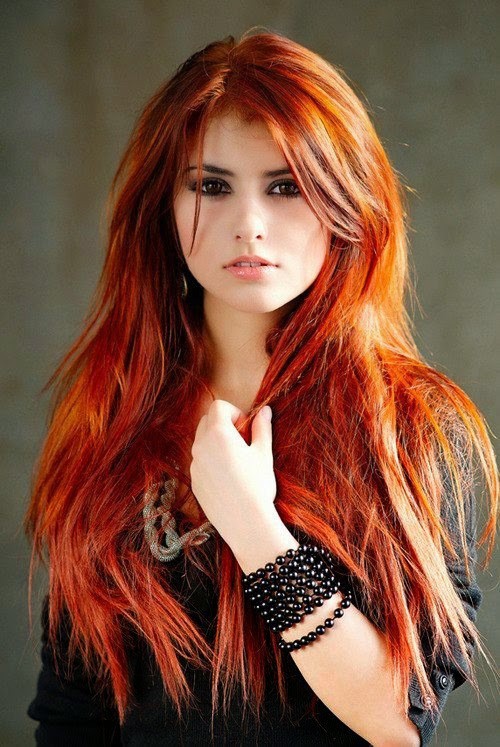 The most vibrant and fabulous look is achieved by choosing an outstanding and wild color. Vivacious red is the best choice for those women who are tired of the old and simple hair colors and need to bring a serious change into their lives.
Gorgeous red hair color ideas for women
2. Soft burgundy waves
Burgundy color might seem a little wild, however, it is easy to balance it out with soft waves. Girls with long hair can easily sport the burgundy color without having to stand out of the crowd too much. The length adds some softness to the color. Check here for trendy burgundy hair color ideas.
3. Havana brown with pure blond highlights
Mixing several hair colors is a wonderful idea, which will look great on women with all hair types. The longer the hair, the better the effect. However, women with short hair can try this as well. The important point here is to choose the colors, which will look good together like these two do.
Cutest weave hairstyles you'll love
4. Fair amber and yellowish platinum curls
Mixing different shades of blond is always a great idea. A perm is a great way to demonstrate them. Unfortunately, this type of a mix can't be done properly at home, so a visit to a hair stylist is a must. The vibrant result will leave you breathless.
5. Cafe blond
This color reminds some of coffee but it is really a good dark blond color which is suitable for a great variety of women. Those of you who are not ready to go fully blond can try this charming color, which looks great with any face type.
6. French roast with caramel tips
Another coffee hairstyle for you. However, this one has caramel tips, which add it a lot of style. Such double colored hairstyles will be a popular choice for women in 2017, so make sure to give them a try. You will surely like them!
7. Espresso with sunflower blond
This interesting mix of colors is a great idea for women with thin hair, who want to go at least partially blond. The darker color on top creates a voluminous impression, while the blond strands produce a festive look.
8. Honey blond
Honey blond is always in style. For those women who want to go blond but don't want a radical change from their dark color, this shade is a wonderful choice. This hair color looks good on straight and neat hair.
9. Light golden brown
Light golden brown looks great on any type of hair. This color doesn't require bright make up and will do wonders for emphasizing your facial features and your skin tone. This popular brown hair color will fit women of any age.
10. Ruby Fusion
This Ruby Fusion hair color is available from L'Oreal and will make a great choice for women who want some changes in their life. This color is not as radical as other red colors, but it will surely give you a new and fresh look.
11. Sparkling amber hair color
This bright hair color will get some heads turning your way. This is a wonderful idea for girls who are tired of their dull hair. This color adds a lot of brightness to any type of hair but will look the best on long ones.
12. Light ash blond with brown tips
Light ash blond is an outstanding hair color all on its own. However, adding darker brown tips will make it even more special. This mix is appropriate for medium length hair and is quite easy to create.
13. Burgundy with violet highlights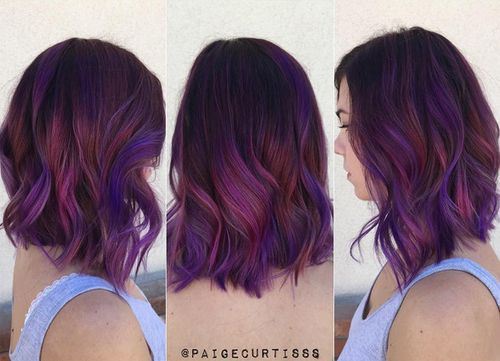 Burgundy is a wild choice of color all on its own. Burgundy with violet highlights is a style, which will make you stand out of the crowd. Women with pale skin tone will need to use a lot of makeup to make sure their facial features are not lost against such bright background.
14. Golden chocolate brown
This hair color looks very natural hairstyle and will suit any girl who wants to try it. It is also very low in maintenance for girls with naturally dark hair, since when their own hair will start growing, the roots will not be as noticeable.
15. Light copper
Light copper hair color is a great idea for those women who don't want a drastic color change but want to sport a bright and stylish hairstyle. This color will give a romantic look to girls with long wavy hair and a fashionable feel to the girls with short ones.
16. Dark natural blond
Such hairstyle is quite popular with the girls who have dark hair and want to slowly change it to blond. Dark roots don't look too obvious with this hair color. In fact, they seem a bit stylish, so if you skip one hair color appointment it won't be a disaster.
17. Bright golden brown
This bright golden brown color is a great way to draw some attention to your hair. It looks great on any length and suits women with dark skin color. Make sure not to use too much make up, or the overall look will be too tacky.
18. Honey blond and light brown
This is a wonderful mix for women with pale skin tones. The highlights look great on hair of any length and will make any woman look fabulous. This look works better on long straight hair. However, short and curly hair will look great too.
19. Pale violet
If you are looking for an outstanding hair color, but don't want it to be too bright, your choice would be pale violet. While this color will have you visiting the salon quite often, its distinguished look will keep you coming back for more.
20. Chocolate brown
While there is nothing very distinguished about this hair color, many women choose just this one and are very happy with it. Chocolate brown is a very natural color, which will outline your facial features and won't force you to touch up the color too often.
21. Medium ash brown
Ready to keep the heads turning without making any drastic changes to your look? Try the medium ash brown hair color. Its soft and natural look is a great choice for women with any skin shade or hair type. A universal color!
22. Dark brown and yellow blond
Dark brown and yellow blond mix are a very interesting and unusual choice. Not just every woman will be brave enough to sport such a combination. However, it is a great way to stand out and to feel very special. Give it a try!
23. True red
Redheads are always a hit. You can't go wrong with red if you choose the right shade of it. This true red color is extremely popular nowadays and any woman with such hair will look very stylish. But remember, letting the roots show here is not a good idea. So, make a timely appointment at you hair salon.
24. Dark cherry red with golden brown
Dark cherry red is a wonderful way to become a redhead without making any drastic changes to your natural dark color. Since the color mixes are in style this year, color your tips with a lighter shade to keep up with the trend.
25. Brown and light beige blond
This is a hair color mix favored by women with dark hair who want to go blond fast and forget about maintenance. Keeping the top part of the head natural while coloring the rest will allow you not to worry about regular coloring.
26. Light auburn and beige blond
Auburn is a universal hair color. It fits any hairstyle, hair type and skin shade. However, it might seem a little boring to some of the more fashionable ladies. So bringing beige blond into the picture is a great way to add some zest to the look. Check more auburn hair color ideas.
27. Light brown with highlights
Proper highlighting is an art, so making such mix might be complicated. But if you are sure that you stylist is up for the job, make sure you go with this type of hairstyle. You won't just turn heads, you'll feel absolutely fantastic!
28. Espresso
This dark color will do wonders for women with pale skin tone. This dark hair will outline the facial features and give your face a completely new life. Even if your natural hair is light, give this color a try. You won't regret it!
29. Light violet and platinum blond
Ready to look outstanding! Try the violet and platinum mix. It will give any girl a fresh and wild look she always wanted. Try not to overdo the violet and the hair color will even look natural. Any practical violet to blond ratio will do here.
30. Copper shimmer with yellow blond tips
Tired of the good old blond and brown? Try the bright copper hair shade to freshen up your look and give you a light feeling. This color mix is great, but don't forget that such bold hair color choice requires a corresponding style.
31. Blue highlights
Exotic colors are a great idea for those girls who want to try something different. These highlights don't have to be done with permanent hair color. So, if you just want to try this colorful idea, use a temporary hair dye.
32. Sparkling amber
Sparkling amber is a great choice for girls with naturally dark hair. If you don't want to go blond, but wish to lighten up the hair, go for amber. This hair color will instantly brighten up your face and give it a little spice.
33. Light red orange hair
While this hair color doesn't look too natural, its interesting shade will make you stand out of the crowd. It is not too bright to be wild and not too ordinary to be boring. So, the light red orange color is a great idea for those women who want a change.
34. Crazy mixes
As you have learned by now, mixed hair colors are in style in 2017. But mixing brown and blond doesn't satisfy some women. So, take a stand! Come up with a crazy mix on your own and give it a try. The feeling of delight will leave you wanting more.
35. Light ash brown
Light ash brown is a color of choice for women who like calm and smooth colors. There is nothing wild about this color, but its softness gives an amazingly sweet look to any girl who makes it her color of choice.
36. Dark natural blond
Being a blond doesn't mean completely light hair. Natural blonds are often far away from platinum. This natural hair color is great for girls who don't want to go far away from their own shade. Dark natural blond is a great idea for anybody.
37. Light golden blond
Light golden blond is the color of fairytales. If you want to feel like a real princess, light golden blond is a color for you. While this color is very bright and vibrant, it needs really careful maintenance. Dark roots are unacceptable here.
38. Bright winter peach
This bold hair color looks great on women with short hair. It is a great idea for special occasions and beach vacations. While it is far from being an office style color, a lot of girls make it their shade of choice and don't regret it even a little bit.
39. Dark cherry with highlights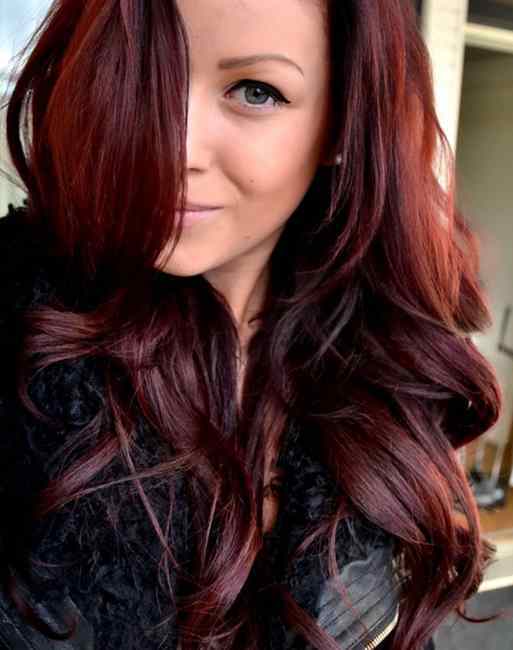 Dark cherry hair color is a step away from natural colors, which doesn't require a serious change. While it is obviously a handmade shade, it has a way of looking pretty natural. If you add some lighter highlights you will give the color a more vibrant look.
40. Butterscotch hair color with violet tips
Butterscotch hair color is very interesting all on its own, but if you want to surprise your friends, different colored highlights are a must. Violet is usually the highlight of choice since it is the wildest shade pout there. Give it a try!
41. Light blond with peach highlights
Blond and peach are always a great mix, so you can play around with it as much as you wish. The more peach you add, the more outstanding the hair color will look. But try not to overdo it. There is no reason to completely hide the well-colored blond.
42. Light violet
Light violet is the color of choice for many movie and music stars. Will it fit you? It might. Or might not. Give it a try with a temporary hair dye to get an idea how this hair color will look with your skin tone.
43. Dark brown
Even though highlights are in style in 2017, there is no reason to forget about the good old natural dark brown hair color. Natural never goes out of style and if you manage to keep the color neat and smooth you might even outdo the wild violet and peach mixes.
44. Fire red
Light some fire on your head and in someone's heart by trying this fire red hair color idea. You will be amazed at how bright you will look and feel every time you look in the mirror. Make sure to keep the roots colored on time.
45. Sunflower blond
Sunflower blond is a great choice for women with pale skin type who want to lighten up their hair. No mixes are needed here. Straight out blond color will make blonds even out of girls with very dark natural hair.
46. Blowout ruby
Ruby hair is a great idea for those women who are not ready for bright red colors. This color is rather heavy, so take some time to consider whether or not it will fit you. Perhaps you should first go for something less eccentric.
47. Triple mix
As opposed to a crazy mix, a triple mix is much less wild and is pretty acceptable for an everyday office style. Make sure to choose the shades which suit one another and give a triple mix a chance. You will definitely like it.
48. Dark brown and pure diamond blond
This yin and yang hair color mix will really make you stand out of the crowd. Make sure to apply the appropriate make up and you'll be the most fashionable girl on the block.
49. Romantic light peach
Get a romantic feel with applying a light peach color to your long hair. The lighter you make it, the more natural it will look. This fairytale hair color is sure to add some romance to your life. Make sure to color the roots on time.
50. Purple and violet mix
Add some spunk to your long hair by trying on this purple and violet mix. It might not be a great idea for everyday life, but choosing this mix for a special occasion is a wonderful idea. Keep the shades as pale as possible to avoid a tacky look.
Now that you have carefully studied the hottest color trends of 2017, you are ready to make the right choice. Remember, mixes are in style, so try on different hair color combinations. There is no reason to choose one or two colors and stay with them. You can change your hair color as often as you like.