Highlights are always a great choice for any hairstyle. Whether you are tired of your color or just want to try something new and improved, take a look at brown hair with caramel highlights.
Such a mix of colors looks extremely fabulous and will bring your hair a new and fresh look. Interestingly enough, brown and caramel colors suit almost any face type as well as the skin shade. So, you can easily try these colors without being afraid of ruining your style. If you have naturally brown hair, the caramel highlights are a total must.
Best Brown Hair Ideas with Caramel Highlights
Don't be scared of experiments. Highlights are a great way to improve your hairstyle. They don't only give you a more fabulous look, they also add volume and brightness to your hair. Caramel highlights are a great choice for brown hairstyles. Thousands of women have tried these hairstyles, so you will definitely find the one that suits you best.
Take a look at the 70 different brown hairstyles with caramel highlights below and get ready to look amazing! You can also check our post on trendiest hair color ideas for young girls in 2023.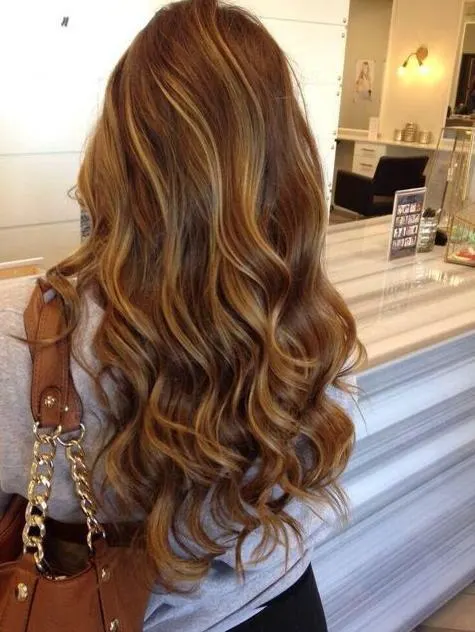 Brown hair with caramel highlights looks amazing when it is long. If you would like your highlights to look even more outstanding, make some soft waves and you will see the difference. The lighter the highlights, the better the look.
2. Brown ends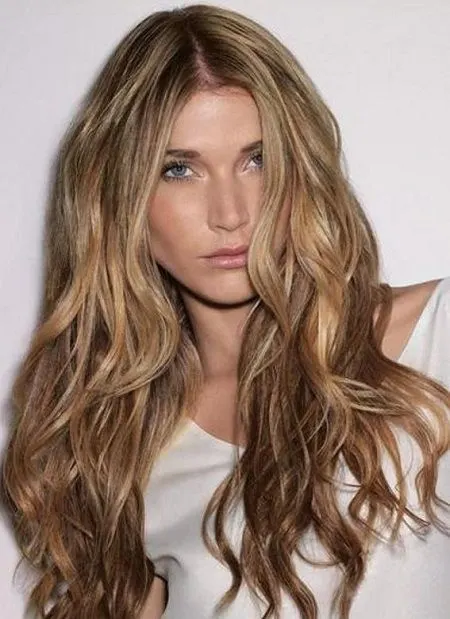 Another way to work with highlights is to apply them on top of your head while leaving the ends darker. This brown hairstyle is pretty special, especially for those who want to go blonde in the future. The brown ends offer a soft transition.
Check all posts on 'hair color'
3. Wavy ends
If you are not ready to make waves all over your hair, go for wavy ends. They will outline your brown hairstyle and make your mane look even brighter. You can make lighter highlights on top and darker on the bottom.
4. Soft highlights
Highlighting doesn't necessarily mean that the color should be very obvious. A soft way of highlighting is often preferred by women who don't want to change too much but still wish to add some zest to their brown hairstyle.
Add caramel highlights to light brown hair and you will be amazed at the fresh look your hair will get without much effort. If you have light brown hair, don't hurry and go blonde, try this style and you might never think of blonde again.
6. Accentuate the ends
If your hair is long and thick enough you can accentuate your ends with caramel highlighting. This is an amazing choice, which will make your hairstyle look regal. Color your ends and start feeling like a queen, no less.
Tutorial: How to Warm Brown Hair with Caramel Highlights
7. Soften the color
If you have dark brown hair, it can be softened by the caramel highlights. It doesn't matter whether your hair is straight or curly, softening is always a great idea since it doesn't bring about any drastic changes.
8. Highlight the bangs
There is no reason to highlight the whole length of hair to bring about some change. Brown hair with caramel highlights can look great if you highlight just the bangs. In fact, this will look very creative and will definitely score you some points.
9. Dark brown hair with caramel highlights
Caramel highlights look amazing lovely girl on dark brown hair. The contrast they create is fabulous. You can play around with the number of strands you want to highlight and create all kinds of different looks. Give them a try!
10. Asymmetrical highlights
Asymmetrical highlighting is an art. If your stylist can go through with it, you'll be amazed at how wonderful your brown hair will look. Use asymmetrical caramel highlights to improve the dull and boring brown hair.
11. Mix and match
Caramel highlights are great for brown hairstyles. However, there is no need to stop experimenting. Add more highlights to your hair to get a great mix of colors, which will keep some heads turning. Experiment!
Chocolate and caramel sound like a great and tasty mix. So, if you are a lucky owner of chocolate brown hair, give caramel highlights a try. They will introduce a fresh feeling to your beautiful color and outline your facial features.
13. Textured highlights
Highlights look amazing on textured hair. Make sure your stylist makes it seem as though the layers correspond with a certain color. You will get a unique hairstyle, which will make you look fabulous and give a second life to your hair.
14. Long, beautiful and caramel
Highlights don't just look amazing on curly hair, straight hairstyles are great for highlighting as well. Diversify your brown hair with beautiful caramel highlights in order to freshen up your look. The lighter the colors, the more interesting your hair will look.
15. Pale highlights
If you don't want to say goodbye to your brown hairstyle, you can go for the pale caramel highlights. They will not bring about a lot of change, but the subtle softness they will add your look is amazing and will leave you wanting more.
If your hair is light brown, bright highlights are a great idea. Light brown hair is often considered to be rather pale and it needs some brightness to liven it up. Add some bright caramel highlights and the job is done!
17. Overwhelming highlights
Want a shocking change, but don't want to color all of your hair? Go for overwhelming highlighting. They help make a great and easy transition from dark color to a lighter one while creating a great hairstyle all on their own.
18. Caramel highlights on thick hair
Thick brown hair looks especially fabulous with caramel highlights. No matter how you style your hair, these highlights will do a great job making your hair bright and lively.
19. Caramel highlights under dark brown hair
A very popular way to create highlights is to make them under the top part of the hair. The style you see on the photo is rather drastic but still amazing. You can experiment with different caramel shades to make them look more suitable for yourself.
20. Caramel streaks
Brown hair with caramel highlights looks great regardless of the length of your hair. If the hair is long enough, you can make caramel streaks, which will look absolutely fabulous. The more streaks you make, the better your sweet hair will look.
21. Sunny look
A proper choice of brown color and caramel highlights can create a very bright and sunny look you will love. Make sure your stylist chooses the brightest shades of brown and caramel to bring out the sunniness your hair is capable of.
22. Dark caramel highlights
There are different shades of caramel highlights, which you can use for your brown hairstyle. It doesn't necessarily have to be light caramel. If your hair is dark and you want to avoid drastic transitions, go for dark caramel highlights.
23. Caramel highlights on short brown hair
Caramel highlights look great on short hair. In fact, they might even look better on short manes than on long ones. Play around with different shades of caramel since you can definitely use more than one.
24. Radiant strokes
Radiant strokes look great on long and thick hair. So if your brown mane has these parameters go for the radiant caramel strokes. You can play around with hairstyles, which will make your highlights look even more amazing.
25. Straight stripes
Highlights look wonderful on bright hairstyle when they are made to look like stripes. This style is available for straight hair. Girls with thin hair should also pay attention to these highlights since they will add dazzle to your hair.
Separate your hair into a top section and a bottom section. Pull the top one out into three different pieces and use these to French Plait your hair. Leave the bottom section down underneath the plait.
Relevant Hairstyles:
27. Tapered Style
Tapered layers leave your hair thick and lush at the top but thinner and more defined towards the tips. Your stylist will be able to advise you about how much tapering would suit your hair.
28. Highlighted Fringe
You can add light caramel highlighting through the rest of your hair, but accentuate your style with one signature strip. Do this by putting more prominent highlights in your fringe to frame your face.
29. Sleek Waves
It can sometimes be difficult to make wavy hair look sleek because it reflects light differently to straight hair. To make sure that your hair looks sleek and smooth, you need to make sure your waves are regular and that you do not have a hair out of place.
A wavy bob is a really fashionable hairstyle choice, which looks perfect for casual everyday style or for a big night out. If you don't have natural waves, you may need to use a strong hold hairspray to keep your waves in place all day.
31. Curly tips
A curled style does not have to have curls all of the way from the roots to the tips. Wrap the bottom sections of your hair around curling tongs, but stop wrapping the hair around half way up each section. Add a little curling mousse to help to keep the soft curls in place.
32. Dark Chocolate and Caramel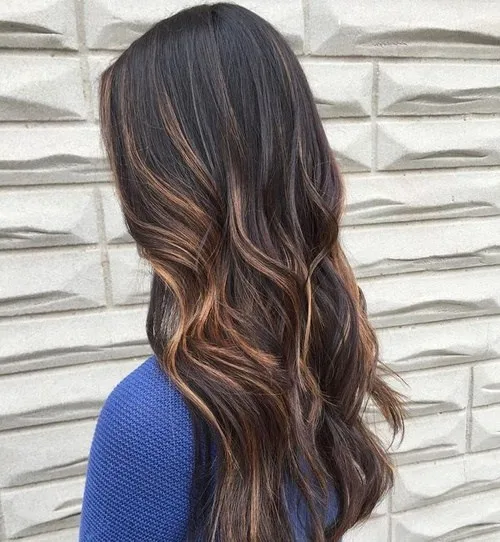 Soft caramel highlights look amazing with dark chocolate brown hair. The strong contrast helps the highlights to really stand out and it will give the impression of additional texture in your hair.
33. Subtle and Sun-Kissed
Very subtle highlights and lowlights will give your hair a beautiful sunkissed appearance. Rather than using bigger blocks of color, very thin sections are great if you want your hair to look like it has a deep golden sheen.
34. Corkscrew Fringe
Your curls do not have to be evenly spread across the whole of your hairstyle. Style your hair so that you have a loose curl across the majority of your head, but make the style more extreme near the front of your face. A tighter corkscrew curl around your face will help to frame your face.
35. Heavy Caramel
Rather than brown being the overriding color, make caramel the star of the show. If you let your caramel highlights take over, you will be able to see whether blonde highlights really do have more fun!
36. Angled Cut
For a beautiful angled cut, cut your hair so that it is longer at the front and then gradually slopes upwards to a much shorter length at the back. Angled cuts suit curly, wavy and straight brown hairstyles with caramel highlights.
To create a blunt cut, your hair should be kept to an even length around the entire style. This type of cut looks best with a sleek and smooth style because this helps the cut to look more linear and striking.
38. Lightly Textured Layers
Lightly textured layers help to give straighter hair a little bit of life and volume. Cut your hair so that it is much shorter near to your face and then longer around the back. Use a center parting to bring symmetry to your style.
39. Dark Caramel Highlights on Dark Chocolate Hair
If you have very dark hair, it is unlikely that caramel highlights will present themselves as a light color unless you use bleach before adding the dye. This can be bad for your hair. Thankfully, darker caramel colors really complement very dark browns.
Once your hair starts to grow out a little, your roots will begin to show. This doesn't have to be a bad thing. Integrate your roots into part of your style by actually making your roots an even block of color.
To create this style, you will need to brush your hair over into a side parting. Moving from the crown, brush some of your hair forwards to thicken your fringe and then sweep it over from one side of your face to the other.
A long bob is a great style to choose when you are in the "holding pattern" between short hair and longer hair. Light waves give gorgeous texture and volume to your style. Lightly tousle your hair for a semi-casual look.
43. Caramel with Hints of Red
You don't need to restrict yourself to only one color of highlights. Subtle red tints will go really well with both caramel highlights and chocolate hair colourings. This fiery look is totally hot.
44. Power Quiff
Use strong hold hair gel to style your hair forwards into an impressive power quiff. The caramel highlights in your hair will really add to the wild and stormy look that your hair will have when you wear it in this style. It is also great for showing off your cheekbones.
45. Long and Large
The brilliant thing about a long and large style is that you can just keep on growing it. Make sure that you use conditioner on your hair regularly to help to keep it nourished and avoid intensive straightening as this can make your hair brittle.
46. Big and Bold Curls
Big and bold curls are the ideal style for a glamorous red carpet event. Use styling products on your curls to help to keep them looking perfect and to prevent you from having a hair out of place.
47. Accessorize
Express a little more of your personal style by accessorizing your hair with a beautiful big bow. You can buy ready-made hair bows from lots of stores or you can actually make your own bow quite easily out of your favorite piece of fabric. If you make your own, all that you will need to do to transform it into a hair accessory is to sew a clip onto the back.
Caramel highlights look totally stunning when they are in tight flowing curls. If you have afro textured hair, you might need to relax your hair slightly to allow your curls to flow downwards in a softer style like this.
49. Corkscrew curls
If your hair does not have this texture naturally, then you should ask your stylist for a tight perm. The look really suits highlighted hair, because the highlights help to give all of your curls a look which has more definition.
50. Shaven Side
Shave the underside of your hair for an amazing look which will break through gender stereotypes. Sweep your hair one way to show off your shaven undercut, or sweep it the other to cover the shaven section. This a great style for girls who want to break barriers.
51. Razor Haircut with Golden Caramel Highlight
When golden brown caramel highlight combined with dark brown razor cut hairstyle, it makes a stunning look which is pretty obvious in the before and after comparison in the above image. It looks awesome on light skin tone and best choice to carry for the summer season.
52. Layered and Caramel Highlights
The light hue of caramel highlights work wonders on a dark brown layered hairstyle. It looks fabulous on light and medium skin tone and dark brown hair color. Keep these highlights soft to maintain the subtle appearance of this hairstyle.
53. Face Framing Waves with Highlights
Add a dramatic touch to your lobs through bold caramel highlights incorporation. Turn your hair into waves or soft curls to give prominence to caramel hues flowing through your mane. It fits best on medium and light skin tone.
54. Brown Soft Waves with Highlights
High and lowlights is a startling way to give you long, brown mane a trendy look. It is best for those women, who are looking for low maintenance highlights. Hold the soft curls into place by a good quality hair spray.
More Relevant Hairdos:
55. Caramel Highlights for Wedding
Add richness and dimension to your brown hair by incorporating the multi-tone caramel highlight, this will give you dazzling results that you ever desire to wear for your special day. You can choose the caramel hue according to your skin tone and preferences. This will add more glamour to your look.
We are in love with this subtle and dimensional brown hairstyle with caramel highlights. It is revealing a quite natural, summery and sun-kissed aesthetics. Soft curls are the best way to show off the lowlights.
57. Brown Shaggy Bob and Highlights
Club up your ultra-ravishing shaggy bob cut with caramel highlights to create a youthful and swanky aesthetics. It fits best on hair that has a healthy and dark brown base.
58. Chocolate Brown Hairstyle with Caramel Streaks
If you have lovely and long brown hair, you can consider the bright streaks of caramel highlights for a breathtaking look. Use a curling wand to achieve soft and loose wavy texture. Due to its warm tone, these caramel highlights look best on medium skin tone.
59. Gorgeous Highlights and Brown Hairstyle
Dark brown hair base and bright caramel highlight are making an alluring combination altogether. There is a slight touch of rose gold hair undertone that is providing the above combo ultra-distinctive look. The Ombre waves give the hairstyle and highlight a more striking, textured aesthetics.
60. Asymmetrical Layers with Caramel Touch up
Want to create interest and texture to your tresses, get an asymmetrical layered haircut and incorporate the caramel highlights to you light brown hair, you will get the tantalizing results.
61. Dark Brown Hair and Caramel Highlights
If you are in search of natural hairstyle and sun-kissed, caramel highlights for your brown hair, give this combo a big shout out. You can achieve this look very easy as it involves foil treatment rather than the whole head's highlighting procedure.
62. Caramel Beige Highlight
To get this look, emphasize more on the lowered layers than the top. The gold caramel highlight flows in the form of few streaks on the top and gives more definition to lowlights. The gold caramel hue enhances the brown hair texture.
63. Rich Caramel Highlights+ Dark Brown Hair
The rich caramel along with the soft touch of ash blonde balayage is really making a statement. These highlights look equally stunning on straight and curly hair texture. If you are opting for the waves, a hint of hair spray is enough to hold the waves in place.
64. Allover Color with Caramel
The highlighting treatment involves the use of very fine foils with allover color and rich roots. After that, to get this divine caramel hue, highlights are toned professionally.
65. Chocolate Caramel Swirl
Chocolate and caramel is not just a scrumptious combination in the food category, but when implemented on hair, the overall look of ladies becomes exquisitely imposing. Always visit the salon with a picture of highlight to get the exact results.
Create a mysterious look by pairing up the cool-toned caramel hue and dark brown half up hairstyle. It is also giving a touch of gray undertone that looks awe-inspiring on brown hair. Turn your mane into loose curls for a finishing, chicly touch.
67. Tousled Brown Waves with Light Caramel
The lighter shade of caramel highlights and dark brown hair create a sassy manifestation. Tousled wavy hair is a perfect match up to carry with this warm color. Use a good quality moisturizer to keep the waves glossy and to prevent your mane from drying out.
68. Warm Caramel Highlights
Have you ever seen a windswept beauty? If not, here it is! Add more beauty to your natural brown hair by incorporating the warm hue of caramel highlights. Incorporate these highlights from lower layers to the top to make this hairstyle, total stunner. To achieve this glossy and smooth curly hairstyle, apply a good quality smoothing milk.
69. Glowing Brown Hair+ Caramel Highlights
The dazzling, glossy golden caramel highlights when exposes to the sun, it creates an aura around the women with natural brown hair. That's why it is a top prior choice to carry in summer or spring season. When you have such a splendor to show off, you need nothing else to get an admiring aesthetics. A slightly tugged ponytail or loose curls will make these highlights protruding.
70. Freshen Up with Caramel
Caramel highlight does not always mean light brown or golden hue, rich brown also comes under caramel shade. This particular caramel hue when applied to dark brown hair, it makes you get rid of the dull look and gives you buoyant vibes.
Now that you've checked out this great variety of brown hairstyles with caramel highlights, you are ready to take your pick. Take into consideration your hair shade, thickness and length and you will narrow your choice down a bit. There is no reason not to try out as many styles as possible