Long hairstyles are always a popular choice for women of all ages. Having long hair means that you have a lot more hair to work with when you are creating your style. This means that it is possible to make some truly breathtaking hairstyling choices.
Popular Long Hairstyles for Women in 2021
If you do not have the patience to wait until your hair grows longer, you can always create long hairstyles by asking your stylist to put in long hair extensions for you. It is now possible to get extensions that fit so naturally with your own hair that nobody will even realize that you have hair extensions in.
Ask your hairstylist what options are available to you if you want to try out any of these long hairstyles. Below is a list of 80 amazing hairstyles for women with long hair.
#1: Feathering
Open up your face by feathering out the hair that sits at the front of your head. Do this by curling it outwards around a barrel brush as you blow dry it.
Flicking the ends of your layers so that they curl in under your face help to frame it. Alternatively, flick the ends out to help to give you more bounce and volume.
#3: Bouncy Blowout
This look is only really suitable for long hairstyles because the bouncy curls tend to disappear more quickly on short hair. Concentrating the big curls below the chin allows the style to look glamorous but not too formal.
Beautiful blonde short hairstyles for girls
Get highlights and lowlights put in your hair to complement your natural colour. These additions can help to give your hair the appearance of more texture and volume.
Most popular sew-in haircuts for African American girls
#5: Long Hairstyle With Texture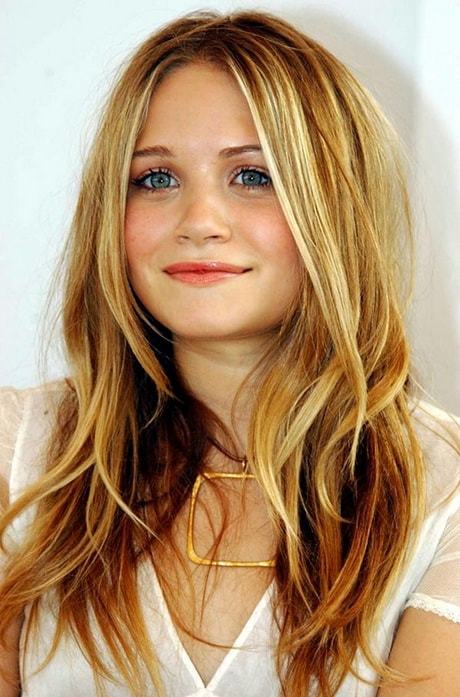 Add texture to long hairstyles by adding very loose waves towards the end of your length. Use curling tongs on the lower section to create curls, then brush through the curls to transform them into loose waves.
#6: Light Feathering
Light feathering gives your hair texture and volume. Use a barrel brush and blow dryer to flick your hair outwards away from your face.
Tousled tresses are the perfect semi-casual look for long hairstyles. Let you hair dry naturally and then run a little bit of product through your hair to separate your hair out into sections.
Side partings are a great way to lift your hair from the roots to help to give it more volume. Side partings work with straight, wavy and curly hairstyles.
#9: Loose Waves
Loose waves can be achieved by putting your hair up in heated curlers. Rather than putting a product on your hair when you remove the curlers, run a natural bristled brush through your hair first and then apply a little product.
#10: Volume-building layers
An amazing haircut for long hair. The controlled layering of the hair can help to give it volume and will help to produce an extra bounce when you walk.
Long, blunt layers suit wavy styles because the layers help to enhance each wave. Cut in blunt layers at random to help to keep you volume manageable if you have thicker hair.
#12: Rich Chocolate Brown
Rich chocolate brown is a fantastic shade to choose because the colour has such a natural intensity. This colour will help to enhance your eyes if you have deep brown peepers.
#13: Waist Length Hair
This look is truly stunning. Most women struggle to grow their hair this long, as it normally becomes more fragile the longer that it is. If you can't grow it to waist-length naturally (or if you want long hairstyles instantly), ask your stylist about extensions.
#14: Soft textured waves
These very soft curls look like they are the most natural thing in the world. If your hair isn't naturally wavy you can get this look by curling your hair and then brushing lightly.
#15: Glamorous Curls
Putting in big, bouncy curls below your chin helps to add a touch of glamour to this voluminous look. Use thick heated rollers on just the bottom section to get curls like these.
#16: The Wind in your hair
Create the illusion of the wind in your hair by cutting in lots of random choppy layers. Despite the fact that you will actually have less hair, this cut can give the illusion of volume.
#17: Springy Curls
If you do not have naturally springy curls, use curling tongs to fake the look. Wind each section tightly around a curling wand and then spray it with curling hairspray as soon as you take it off of the wand.
#18: Face Framing Layers
Cut your layers at the front so that they are just longer than your chin and then leave the rest as long as you like. Be careful if you are cutting naturally curly hair because sections will shorten when the curls start to dry.
#19: Straight and Sleek
Straighten your hair using ceramic straighteners and heat protect products. The heat protects products will keep your hair looking sleek and will reduce breakages.
#20: Flicked Under
Straighten your hair using narrow plate ceramic straighteners and then flick the ends under by curling them under with your straighteners. This helps to give your hair a little bit more bounce.
#21: Royal Blowout
For a simple, high-style look choose a royal blowout. When you are drying your hair you should tie up the top section and start to blow dry from the underneath.
#22: Boho Beach Babe
Lots of layering will help to give you a boho beach vibe. Scrunch a little wave mousse through your hair whilst drying it to give your hair a seaside feel.
#23: Copper Top
Copper is a colour which really suits long hairstyles. The fiery colour helps to show the passion of the individual and looks spectacular on green-eyed people.
#24: Braided Crown
Create a natural crown out of your own hair by making a braid around the top of your head. This style looks stunning with tight waves / loose curls.
#25: Side Braid
A side braid down one side of your face can help to add an interesting feature to your hair if it is naturally straight and lifeless.
#26: Blunt Bangs With Long Hair
Blunt bangs are great for hiding a large forehead. They will also help to draw attention to your beautiful eyes.
#27: Half up, Half Down
Half up, half down looks great for semi-formal occasions. Pull the top layer of your hair back from your face and tie it up at the back. Leave the rest of your hair down.
#28: Sweeping Side Fringe
A slight side parting and a sweeping side fringe will help to draw attention to your eyes. A side fringe looks good with short and long hairstyles.
#29: Layered Waves
If you have natural waves, long hairstyles are improved by adding layers. The weight of your hair can pull your waves straight, so cutting in layers helps to take some of the weight off. This will give your hair its bounce back. You can also check out these cute layered hairstyles for women of all ages.
#30: Un-straightened hair
Un-straightened hair is hair which isn't really wavy, but which has not been completely straightened out. Some people prefer this look to straight and sleek options because their hair has more texture.
#31: Hollywood Waves
This type of wave is favoured by celebrity stylists. This cross between curls and waves helps to give your hair texture, volume and bounce.
#32: Tapered Layers
These tapered layers get gradually longer until they reach a long point at the rear. Tapered layers look great if you are growing your fringe out.
#33: Wispy Bangs
If you don't want the intensity of full-on bangs, cut in a few wispy bangs instead. This will keep the hair out of your eyes without the look being too severe.
#34: Loose Curls
Loose curls look beautiful and relaxed. This style can be worn on an evening out or for a day at the beach.
If you can't decide between "fiery red" or "blonde bombshell", why not choose strawberry blonde? Long, straight locks will help to add to the intensity of the colour.
#36: Very light layering
Use very light layering to avoid the harshness of a blunt cut. Adding a minimal amount of layering to the end of your hair will help it to keep its softness.
#37: Symmetry
Keep your hair parting right down the middle for a symmetrical look. Make sure that you have exactly the same length and layering on either side of your face.
#38: Rainbow Warrior Long Haircut
If you can't decide what colour to dye your hair, then why not go for a bunch of different ones? Vivid pink at the roots fading into pastel blue at the tips looks fantastic.
#39: Long Fringe Hairstyle
Highlighting your fringe is a good way to draw attention to your face. Highlights can help your face to look brighter and more open.
#40: Choppy Layers
Lots of different length layers can help to give you a "wind in the hair" look. Choppy layers can be feathered outwards to give the illusion of more volume.
#41: Front Layers
Heavy layering around the front, combined with barely any layering around the back of your cut helps to frame your face.
#42: Waterfall of Curls
This intense waterfall of curls looks truly breathtaking. Enhance the waterfall by dyeing your hair so that it goes from light to dark at the bottom.
#43: Angled Ends
These angled ends gradually work up to chin length to draw attention to our face, even if your hair is really long. Clever cutting of length will allow the layers to blend seamlessly.
#44: Shaggy Long Bob
A shaggy bob is one of the trendiest long hairstyles around at the moment. Run your fingers through your hair with a little bit of product to achieve the shaggy effect. Sweep your bob round to one side for a very different look.
#45: Colourful Streak

Get a single streak of a different color put into your hair. Choose either a color which complements your natural shade or get a rainbow color put in instead.
#46: Festival Waves
Create loose regular waves like these by putting your hair into a chunky braid the night before. Once you take your hair down, spray it lightly so that it keeps its shape.
#47: Surfer Chic
The sun-bleached blonde look will help to build your surfer credentials. Tousled loose waves in your hair will also be reminiscent of the beach lifestyle.
#48: Rapunzel
The Rapunzel is the Queen of long hairstyles. For a truly spectacular look, grow your hair all the way down to the floor. Alternatively, ask your stylist to put in extensions for you. Be aware that such long hair takes a lot of maintenance.
#49: Straight and soft
Light random layering in your hair can help to keep it looking soft. Even when it is straightened out, this layering will add a light and soft appearance to your hair.
#50: Voluminous
If you have long hair, lots of volume helps to give your hair life. Blow dry your hair from underneath and put in light waves to add more volume if your hair is thinner.