Whether you're a lucky lady who can grow out your long hair naturally or one that needs a little help from discreetly placed extensions or weaves, you can enjoy the face-flattering benefits of long hairstyles.
Whichever category you fall into, it's essential to keep your hair healthy by trimming the ends when they begin to dry out.
Long Hairstyle Ideas for 2023
Long hairstyles don't have to be flat and boring; there is an abundance of ways to wear your luxurious locks to enhance your appearance and draw attention to the facial features you want to show off.
Choose a style that works best with your hair's natural texture and growth pattern, it will simplify maintenance and make hair care a breeze.
1. Long Layered Hair
Let your locks cascade in a series of long feathered layers that sprout from an off-center part. When long hair is super healthy, hairstyles like these show off your natural colors and sheen. Flounce the face-framing layers in front of your shoulders to show off their dazzling length.
2. Long Hair with Bangs
Thick, blunt-cut baby bangs or long wispy bangs; both look stunning on super-straight hair with a center part and razored ends. Pulling off this casual, long hairstyle is easy as long as you're willing to commit to the bangs.
3. Updo for Long Hair
One of the biggest perks of long hairstyles is that they are quick and easy to pull up into a ponytail or a simple top-knot updo. All you need is a rubber band and a few bobby pins, and you're good to go!
The smooth silhouette shows off your neck in an elegant fashion. For a more casual vibe, pull out a few loose tendrils and dress the bun down with a comfy pair of jeans and a t-shirt.
4. Long Curly Hair
Proudly show off what Mother Nature gave you and wear your long glorious curls loose and carefree. It can take years to let your natural curls grow out to this length, but it's worth it for the beautiful result.
The downside of long curly hairstyles is the tangles, so you'll want to invest in some great hair products to help you manage them. Wear your striking locks as a comb over or with a center part, and whatever you do, DON'T BLOWDRY THEM!
5. Long Straight Hair
Thick or fine, as long as your hair is bone-straight, you can part it on the side for a fashionable look that's ready for the runway. The deeper the part, the easier it is to create a long hairstyle with an exotic comb over and some vampy peek-a-boo tresses.
When selecting the base color of your golden-blonde balayage, be sure the front pieces are a few shades lighter than the rest of your hair to better frame your face.
6. Long Wavy Hair
Create a signature look by styling your luxurious copper-toned waves into a voluptuous long hair comb over that makes an unforgettable impression when you walk into a room.
The cascade of shiny waves and rich textures frames your facial features and emphasizes your neck and upper torso in a flattering fashion.
7. Long Hair Perm
If you're ready for a change to your long hairstyle and you're willing to sacrifice a few inches of length, go for a curly permed style. The bouncy ringlets will be slightly shorter than what you're used to, but it's worth it to achieve a brand new look.
When you chemically treat your hair, stay away from over-the-counter coloring kits. Best to go to a salon and get a professionally applied balayage or highlights.
8. Long Blonde Hair
Whether your long hairstyle has fine, straight locks or thick and wild textures, you can flick the front section of your fabulous blonde hair over to one side to create an alluring comb over.
Play with the coloring and choose platinum or strawberry-blonde balayage.
9. Long Hairstyle for Weddings
Long hairstyles are wonderfully versatile and can be fashioned into sensational updos for any wedding or special event.
A full-bodied chignon can be woven from thick, luxurious curls to create a voluminous bun that extends from the back of the crown section to the nape. A top-knot updo with a deep side part looks rich and sophisticated with shimmering white hair adornments.
10. Braids for Long Hair
Gather your waist-length locks to one side for a quick and easy long hairstyle you can do on your own at home. Fishtail braids are great for showing off your highlights because they are woven from smaller strands of hair; each braid twist reveals a glint of color.
If you're especially adept, you can weave a second braid into the first one, if not, then keep it simple at the top with some smooth, face-framing bangs.
11. Long Black Hair
Show off your thick and wavy black tresses by wearing them in a long hairstyle that's simple and straightforward. A deep side part with some subtle laid edges sets the stage for long side pieces tucked behind one ear. Baby tendrils double as dainty, feminine sideburns.
12. Long Hair Undercut
If you're a woman with long hair and a bit of courage, commit to a closely shaved undercut on one side.
If you're a woman with long hair and A LOT of courage, go for the shaved undercut on both sides and the back. Either way, you'll be sporting a slightly masculine twist to a typically female hairstyle. Your natural roots offer balance and contrast to lighter color balayages and highlights.
13. Older Women with Long Hair
Whoever thinks there are no attractive long hairstyles for women over 60 hasn't seen these two lovely ladies. As an older woman, it's important that your long locks look purposefully styled and not the result of a lazy personal style.
In other words, embrace your grey hair and wear it with confidence. Brighten up drab tones with bright white and silver colors to keep it looking healthy, shiny, and voluptuous.
14. Long Brown Hair
Long hair is pretty on its own and doesn't need a lot of bells and whistles. Part your classic long hairstyle in the center, or comb it towards the back and wear a simple headband to keep it off your face.
For on-the-go comfort and convenience, always keep a barrette or hair tie in your purse so you can swoop up your long locks into a fuss-free ponytail on the fly.
15. Balayage Long Hair
If you're a natural brunette, you can enhance your long, textured waves with a glamourous blonde balayage. Frame your face with highlights toward the front and leave the crown section a darker color, so the blonde tones at the end really stand out.
16. Long Hair with Highlights
No need to stick with the "every-day" tones of an ordinary balayage. Long hairstyles are the ideal canvas for experimenting with scorching red, orange, or copper highlights.
If you think an entire headful of Halloween hair is a bit too much for you, then add some subtle rusty strands to your natural brunette base color.
17. Ombre Long Hair
The lustrous gleam of a charcoal ombre lends silvery smoothness to long hair with lots of swoopy waves. Medium-brown hair gets a luminous "pick-me-up" with a strawberry-red ombre that enhances the curly ends.
Don't try this one at home; the precision blending of light-to-dark colors on super-long hairstyles is a styling technique best left to the professionals.
18. Long Red Hair
Walk into a room, and all eyes are on you. On the street, heads turn to give you a second look. Why? Because you're one of those long-haired women who can pull off a sizzling fire-engine red hair color. The wavier your hair is, the more lasting impression you'll make with this playful long hairstyle.
19. Long Grey Hair
Grey hair is not just for grandma's anymore; younger women are also embracing the trend and coloring their hair shades of silver, grey, pale lavender, and white.
Long hairstyles for grey hair can be one solid hue or a balayage that combines lighter and darker tones. Muted hair colors do a great job of bringing out natural pink and rosy skin tones.
20. Hairstyle for Long Thin Hair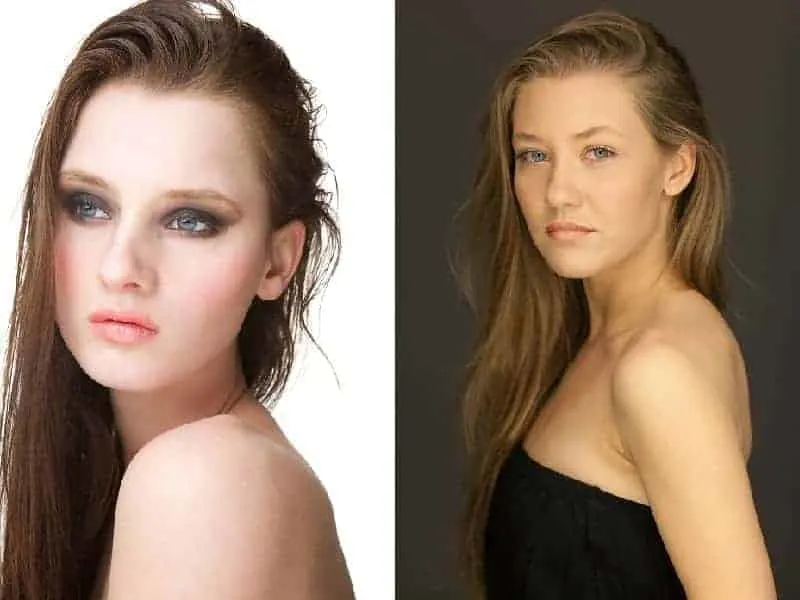 Thin, lightweight hair appears more full-bodied when you toss the front section to one side in a comb over style. The hair lays close to the sides of the face, accenting your delicate features.
Fine-textured hair looks its thickest and healthiest when it's all one solid color and cut bluntly at the ends.
21. Long Thick Haircut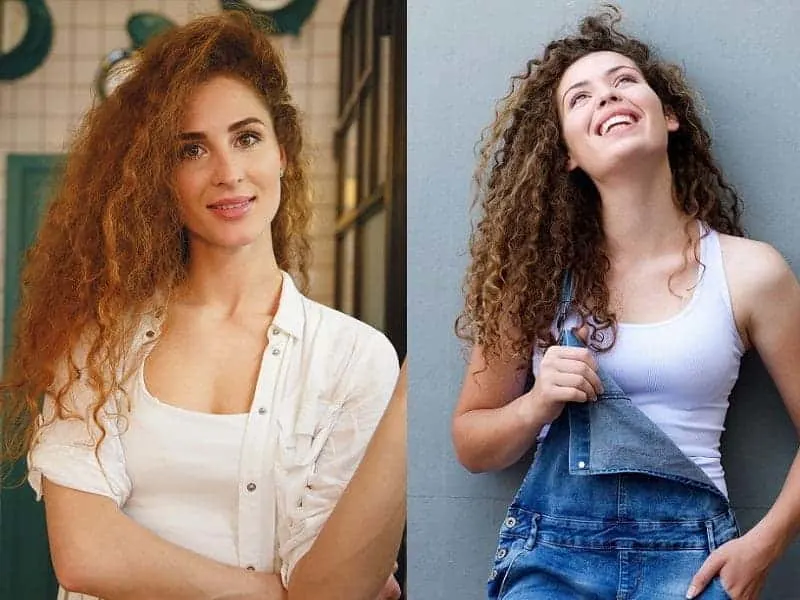 Wear your hair like 1990s pretty woman Julia Roberts: a thick curly comb over that's wild and untamed. Long wavy locks cascade below the shoulders and reveal a sporty long hairstyle that looks casual during the day and transforms into an elegant updo for a special evening event.
22. Blunt Cut for Long Hair
Blunt cut ends are a fantastic option for women with long straight hair. The center part and smooth textures add balance to the all-one-length style. If you have naturally thick hair, you'll like the swingy, slinky movement of this long hairstyle when you move your head.
Don't try this one at home ladies…precision is the key to making sure the ends are cut with a perfectly straight edge.
23. Asian Long Hair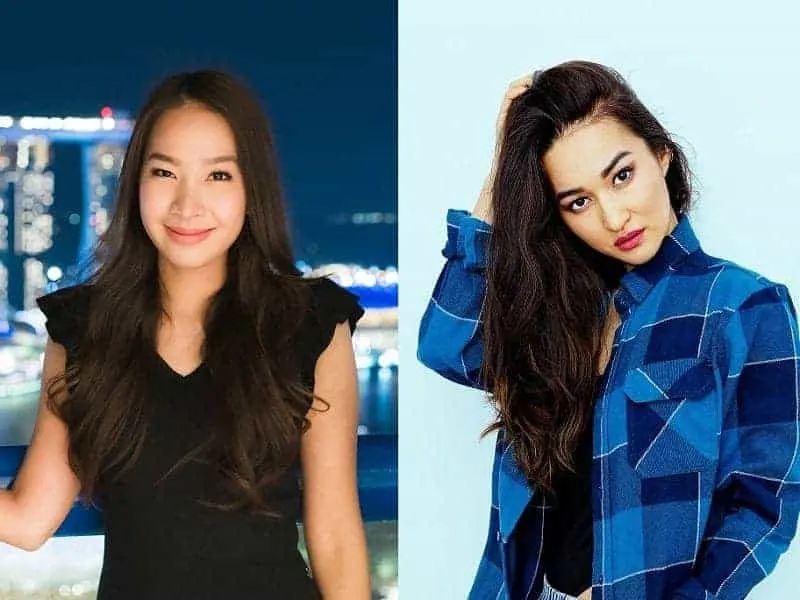 Long Asian hairstyles usually look sleek and healthy right out of the gate. Its naturally smooth textures make it easy to style, but getting it to hold a wave is another story. A side or middle part with no bangs shows off a lot of forehead; if you want some extra height and volume at the top, make it a comb over.
24. Long Hair with Braided Mohawk
Braid your long hair into intricate cornrow-style patterns and add some hair jewelry to draw attention to the sides of your scalp.
A thick mohawk braid has vibrant highlights that give it more texture and volume. The creatively designed updo has a flattering silhouette and an overall slimming effect that elongates the neckline.
25. Long Hair for Round Faces
The longer the hair and bangs, the thinner the face will appear, so it's a fantastic go-to choice for women with round faces. Thick, blunt-cut bangs complement the apples of the cheeks, and thinned-out "Korean" bangs let a bit of the forehead show through.
For an increased slimming effect, be sure to keep the hair straight and smooth around the face, but let the ends go a little wavy for some extra volume at the bottom.
26. Feathering
Open up your face by feathering out the hair that sits at the front of your head. Do this by curling it outwards around a barrel brush as you blow dry it.
Flicking the ends of your layers so that they curl in under your face help to frame it. Alternatively, flick the ends out to help to give you more bounce and volume.
28. Bouncy Blowout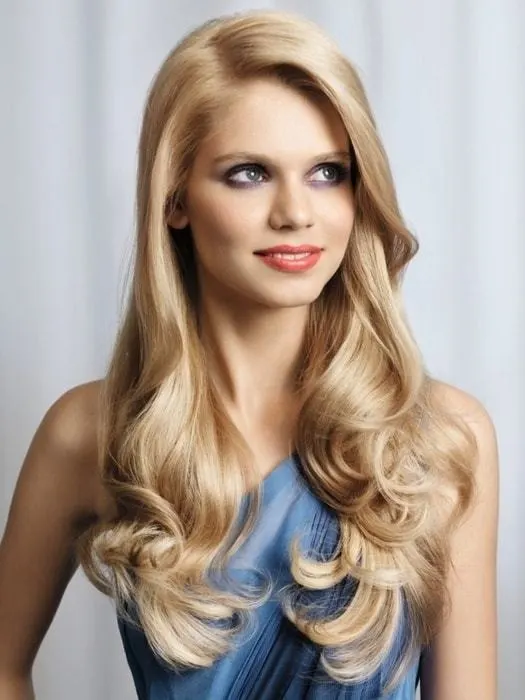 This look is only really suitable for long hairstyles because the bouncy curls tend to disappear more quickly on short hair. Concentrating the big curls below the chin allows the style to look glamorous but not too formal.
Beautiful blonde short hairstyles for girls
Get highlights and lowlights put in your hair to complement your natural colour. These additions can help to give your hair the appearance of more texture and volume.
Most popular sew-in haircuts for African American girls
30. Long Hairstyle With Texture
Add texture to long hairstyles by adding very loose waves towards the end of your length. Use curling tongs on the lower section to create curls, then brush through the curls to transform them into loose waves.
31. Light Feathering
Light feathering gives your hair texture and volume. Use a barrel brush and blow dryer to flick your hair outwards away from your face.
Tousled tresses are the perfect semi-casual look for long hairstyles. Let you hair dry naturally and then run a little bit of product through your hair to separate your hair out into sections.
Side partings are a great way to lift your hair from the roots to help to give it more volume. Side partings work with straight, wavy and curly hairstyles.
34. Loose Waves
Loose waves can be achieved by putting your hair up in heated curlers. Rather than putting a product on your hair when you remove the curlers, run a natural bristled brush through your hair first and then apply a little product.
35. Volume-building layers
An amazing haircut for long hair. The controlled layering of the hair can help to give it volume and will help to produce an extra bounce when you walk.
Long, blunt layers suit wavy styles because the layers help to enhance each wave. Cut in blunt layers at random to help to keep you volume manageable if you have thicker hair.
37. Rich Chocolate Brown
Rich chocolate brown is a fantastic shade to choose because the colour has such a natural intensity. This colour will help to enhance your eyes if you have deep brown peepers.
38. Waist Length Hair
This look is truly stunning. Most women struggle to grow their hair this long, as it normally becomes more fragile the longer that it is. If you can't grow it to waist-length naturally (or if you want long hairstyles instantly), ask your stylist about extensions.
39. Soft textured waves
These very soft curls look like they are the most natural thing in the world. If your hair isn't naturally wavy you can get this look by curling your hair and then brushing lightly.
40. Glamorous Curls
Putting in big, bouncy curls below your chin helps to add a touch of glamour to this voluminous look. Use thick heated rollers on just the bottom section to get curls like these.
41. The Wind in your hair
Create the illusion of the wind in your hair by cutting in lots of random choppy layers. Despite the fact that you will actually have less hair, this cut can give the illusion of volume.
42. Springy Curls
If you do not have naturally springy curls, use curling tongs to fake the look. Wind each section tightly around a curling wand and then spray it with curling hairspray as soon as you take it off of the wand.
43. Face Framing Layers
Cut your layers at the front so that they are just longer than your chin and then leave the rest as long as you like. Be careful if you are cutting naturally curly hair because sections will shorten when the curls start to dry.
44. Long Sleek Hair
Straighten your hair using ceramic straighteners and heat protect products. The heat protects products will keep your hair looking sleek and will reduce breakages.
45. Flicked Under
Straighten your hair using narrow plate ceramic straighteners and then flick the ends under by curling them under with your straighteners. This helps to give your hair a little bit more bounce.
46. Royal Blowout
For a simple, high-style look choose a royal blowout. When you are drying your hair you should tie up the top section and start to blow dry from the underneath.
47. Boho Beach Babe
Lots of layering will help to give you a boho beach vibe. Scrunch a little wave mousse through your hair whilst drying it to give your hair a seaside feel.
48. Copper Top
Copper is a colour which really suits long hairstyles. The fiery colour helps to show the passion of the individual and looks spectacular on green-eyed people.
49. Braided Crown
Create a natural crown out of your own hair by making a braid around the top of your head. This style looks stunning with tight waves / loose curls.
50. Side Braid
A side braid down one side of your face can help to add an interesting feature to your hair if it is naturally straight and lifeless.
51. Blunt Bangs With Long Hair
Blunt bangs are great for hiding a large forehead. They will also help to draw attention to your beautiful eyes.
52. Half up, Half Down
Half up, half down looks great for semi-formal occasions. Pull the top layer of your hair back from your face and tie it up at the back. Leave the rest of your hair down.
53. Sweeping Side Fringe
A slight side parting and a sweeping side fringe will help to draw attention to your eyes. A side fringe looks good with short and long hairstyles.
54. Layered Waves
If you have natural waves, long hairstyles are improved by adding layers. The weight of your hair can pull your waves straight, so cutting in layers helps to take some of the weight off. This will give your hair its bounce back. You can also check out these cute layered hairstyles for women of all ages.
55. Un-straightened hair
Un-straightened hair is hair which isn't really wavy, but which has not been completely straightened out. Some people prefer this look to straight and sleek options because their hair has more texture.
56. Hollywood Waves
This type of wave is favoured by celebrity stylists. This cross between curls and waves helps to give your hair texture, volume and bounce.
57. Tapered Layers
These tapered layers get gradually longer until they reach a long point at the rear. Tapered layers look great if you are growing your fringe out.
58. Wispy Bangs
If you don't want the intensity of full-on bangs, cut in a few wispy bangs instead. This will keep the hair out of your eyes without the look being too severe.
59. Loose Curls
Loose curls look beautiful and relaxed. This style can be worn on an evening out or for a day at the beach.
If you can't decide between "fiery red" or "blonde bombshell", why not choose strawberry blonde? Long, straight locks will help to add to the intensity of the colour.
61. Very light layering
Use very light layering to avoid the harshness of a blunt cut. Adding a minimal amount of layering to the end of your hair will help it to keep its softness.
62. Symmetry
Keep your hair parting right down the middle for a symmetrical look. Make sure that you have exactly the same length and layering on either side of your face.
63. Rainbow Warrior Long Haircut
If you can't decide what colour to dye your hair, then why not go for a bunch of different ones? Vivid pink at the roots fading into pastel blue at the tips looks fantastic.
64. Long Fringe Hairstyle
Highlighting your fringe is a good way to draw attention to your face. Highlights can help your face to look brighter and more open.
65. Choppy Layers
Lots of different length layers can help to give you a "wind in the hair" look. Choppy layers can be feathered outwards to give the illusion of more volume.
66. Front Layers
Heavy layering around the front, combined with barely any layering around the back of your cut helps to frame your face.
67. Waterfall of Curls
This intense waterfall of curls looks truly breathtaking. Enhance the waterfall by dyeing your hair so that it goes from light to dark at the bottom.
68. Angled Ends
These angled ends gradually work up to chin length to draw attention to our face, even if your hair is really long. Clever cutting of length will allow the layers to blend seamlessly.
69. Shaggy Long Bob
A shaggy bob is one of the trendiest long hairstyles around at the moment. Run your fingers through your hair with a little bit of product to achieve the shaggy effect. Sweep your bob round to one side for a very different look.
70. Colourful Streak

Get a single streak of a different color put into your hair. Choose either a color that complements your natural shade or get a rainbow color put in instead.
71. Festival Waves
Create loose regular waves like these by putting your hair into a chunky braid the night before. Once you take your hair down, spray it lightly so that it keeps its shape.
72. Surfer Chic
The sun-bleached blonde look will help to build your surfer credentials. Tousled loose waves in your hair will also be reminiscent of the beach lifestyle.
73. Rapunzel
The Rapunzel is the Queen of long hairstyles. For a truly spectacular look, grow your hair all the way down to the floor. Alternatively, ask your stylist to put in extensions for you. Be aware that such long hair takes a lot of maintenance.
74. Straight and soft
Light random layering in your hair can help to keep it looking soft. Even when it is straightened out, this layering will add a light and soft appearance to your hair.
75. Voluminous
If you have long hair, lots of volume helps to give your hair life. Blow-dry your hair from underneath and put in light waves to add more volume if your hair is thinner.
76. Long Shag
Liven up a long mane by going for a shaggy haircut defined by choppy layers and face-framing curtain bangs creating a feathery appeal. Spice up the look further with a monochrome pastel pink hue or a nice brown ombre. Long and lazy!
77. Try a Weave
Black women finding it almost impossible to grow their hair can enjoy a long length instantly with weave extensions. Choose the one with highlights, curls, or a subtle ombre for a stylish look and fix it with professional help. Swoop down the baby hairs and done.
78. Half Updos
Half updos and buns have been trending this season and look effortlessly chic on both long and short locks. Twist half of the strands in a messy top bun and secure it with pins. Add waves or curls to the remaining hair or keep it simply straight.
79. Dark Tresses
Ladies with a light hair shade can give themselves a makeover without compromising their length. Keep it simple yet gorgeous by dyeing the mane in the darkest shade of brown. Add detail with subtle babylights or just leave it single-toned. Your call!
80. Classic Bun
Not in the mood of leaving the tresses loose? Achieve an elegant bun hairstyle with a flick. Just gather the strands in a top ponytail and wrap them around to be secured with pins. Settle down the flyaways for a sleek finish.
81. Messy Loose Curls
Messy long locks are sure to attract a lot of attention. Add curls and brush them out with fingers for a ruffled appeal. The ones with ginger hair can recreate this style to look just like Merida from Brave.
82. Protective Crochet Style
Protect your natural hair by styling it in cornrows while covering them with synthetic extensions. Crochet hair gives you a wide range of textures to choose from plus you can go as long as you want. Finish off with subtle layers.
83. Pretty Ponytail
Another long hairstyle idea that looks fabulous on anyone. Flaunt a blonde balayage or those golden tresses by styling them in a curly ponytail. Go for side-swept bangs or pull some strands out to frame the face elegantly creating an ideal summer style.
84. Middle Part
Long healthy hair is beautiful in itself and does not need much styling. Wear the tresses simply straight or add curls and waves for a funkier vibe while keeping them loose with a center parting. Subtle highlights surely amp up the look.
85. Side-Swept
Not fond of a middle parting? Try out an elegant side parting instead. Go for a basic black or brown hair shade or turn around some heads with a vibrant red mane and leave it loose with one side tucked behind the ear.
86. Messy Bun
Try out this graceful messy hairstyle for a formal event. Curl the strands and pin them back into a messy updo or a high bun sparing some to accentuate the face at the front. Top off with floral accessories to look like an ethereal princess.
87. Prom Look
Prom or not, here is a pretty way to show off that stunning hair length. Entwine the side locks and merge them at the back creating a half-up halo braid hairstyle. Finish off the dreamy look with loose waves.
88. Straight Feather Cut
The feather cut is as popular today as it was in the 1970's. Ask the hairstylist for feathery layers and a face-framing fringe. Take the look up a notch by highlighting the ends and flicking them out for a chic finish.
89. 50s Hairstyle
Inspired by the 50's, a vintage hair look like this will keep all the eyes on you. Style the front fringe in a retro victory roll or a single pin-up curl using hair pins and setting spray with the remaining ruffled waves dangling loosely at the back.
90. Sew-in Extensions
Ladies! There is no need to wait to achieve that desirable hair length when sewn-in extensions allow you to achieve it immediately. Additionally, flaunt the most vibrant hair shades like pastel pinks and bright yellows without even touching your original hair. Convenient isn't it?
91. Deadly Dreads
Last but not least, this bold long hairstyle is not for the weak-hearted and demands some commitment. Add silvery grey strands while dreading the hair and rock a half-up bun or pin back the side locs keeping the remaining at the front. Voila!
There are virtually limitless long hairstyles that make you look as good on the outside as you feel on the inside. Choose one that's appropriate for your hair's texture and length as it is now.
As your hair continues to grow longer, you can update your style by modifying the silhouette and selecting new base colors and highlights to rejuvenate your look.