If you're ready to bid farewell to your short locks and embrace the journey to longer tresses, transition hairstyles are great for you. The time between growing out your short hair and reaching the length you want can be a difficult transition. If you aren't patient, the waiting period can seem like years, especially if you aren't happy with your hair.
But don't worry! We've got you covered with a variety of stylish and chic transition hairstyles that will make growing out your short hair a breeze.
Transition Hairstyles When You're Growing Out Short Hair
While you're waiting for your long locks to grow back, there are plenty of ways you can style your short hair in the meantime that will help you feel your best and prettiest. Let us reassure you by taking a look at the transition hairstyles below!
Choose one of these 23 transition hairstyles when you're growing out your short hair.
1. Short Hair, Long Bangs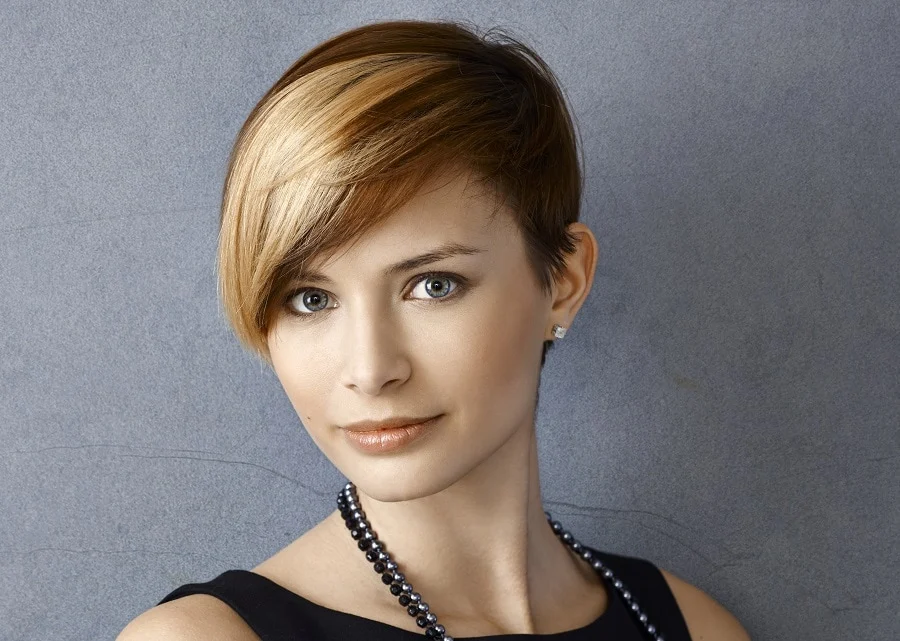 If you're working on growing out short hair with bangs and they're at an awkward stage, ask your hairstylist for layered side bangs. You can straighten them to make them smooth and sleek. They'll look very chic with blonde highlights on a brunette pixie.
2. Short Bob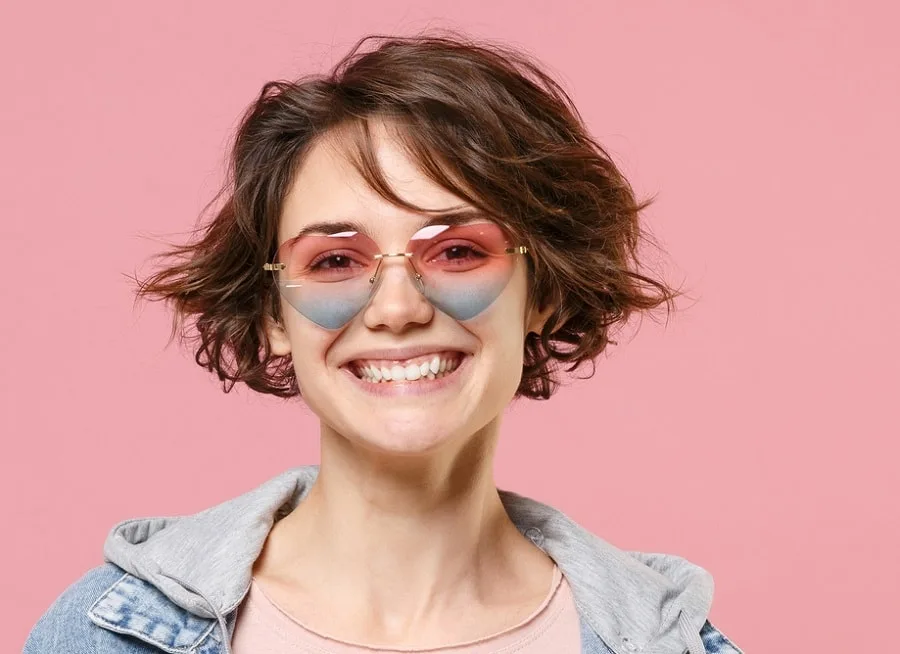 This transition hairstyle features a short bob with waves. The hair is just past the ears and since there's only a simple side bang, styling is a quick breeze in the mornings. Just run your fingers through your mane with a little texturizing cream.
3. Highlighted Pixie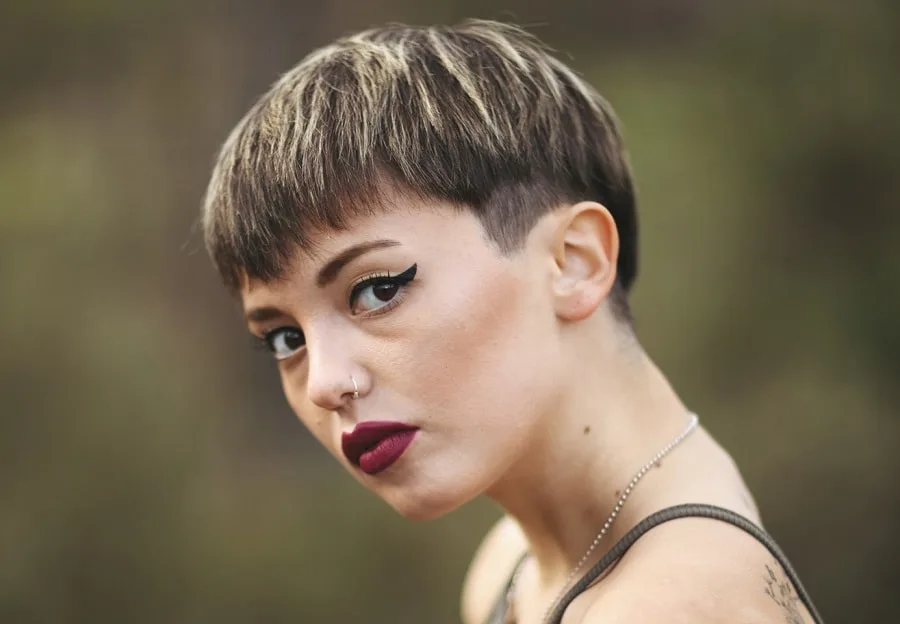 Growing out straight short hair? Go for a choppy pixie cut with jagged-cut edges for shape. Add a couple of thin blonde highlights on top of dark hair or vice versa. For a bit of edge, fade the hair about an inch around the sides and at the neckline.
4. Short Blonde Curls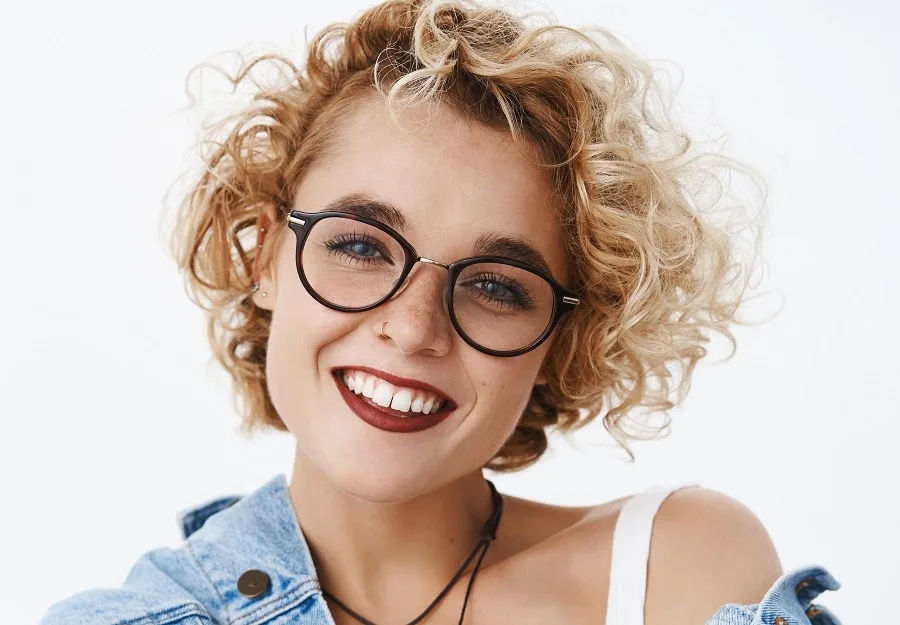 Short ringlets like these look pretty no matter what length they're at, but for your transition hairstyle, we recommend a cute bob with layers to accentuate their shape. To dress it up, simply pin back one side for instant elegance.
5. Short Dreads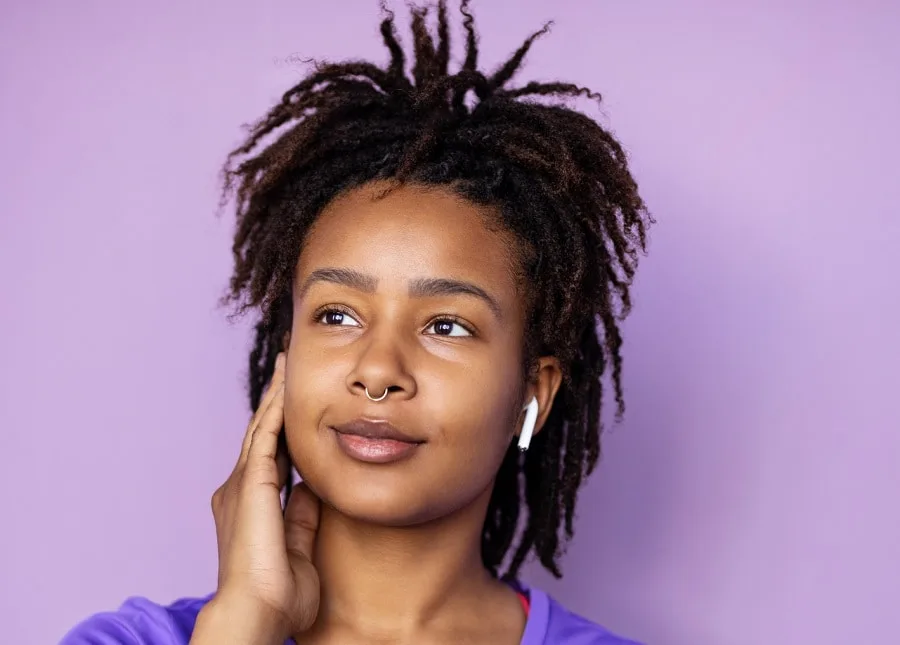 The best thing to do when you have short dread hair is either make them all one length or add layers all around. You'll see your new haircut's shape best when it's worn in a cute half updo.
6. Rounded Bangs on Mullet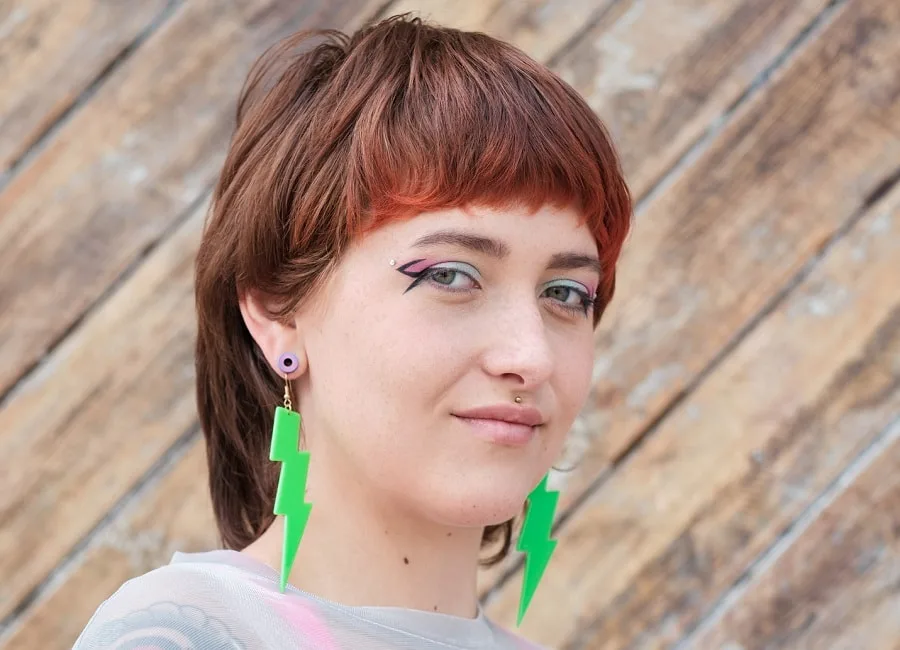 To make an edgy transition with thin short hair and bangs, cut your fringe so it has a more rounded shape. Give the body of your hair long layers, with the longest one starting at your ears.
7. Short Fine Hair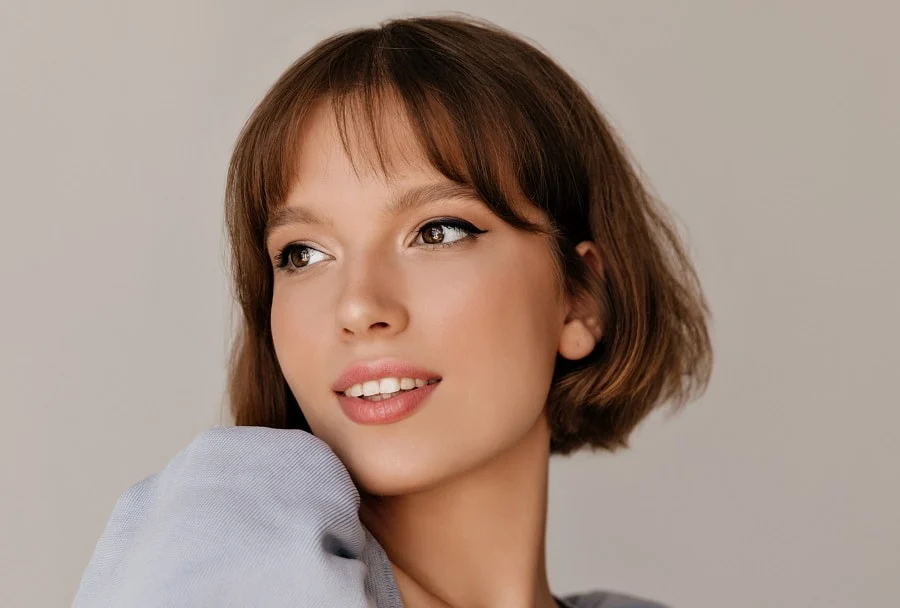 The last thing you want to do when you're transitioning with short fine hair is make it look even more fine, so skip the layers and instead make it all one length, like this bob displays. A soft wispy bang for framing is optional.
8. Asymmetrical Pixie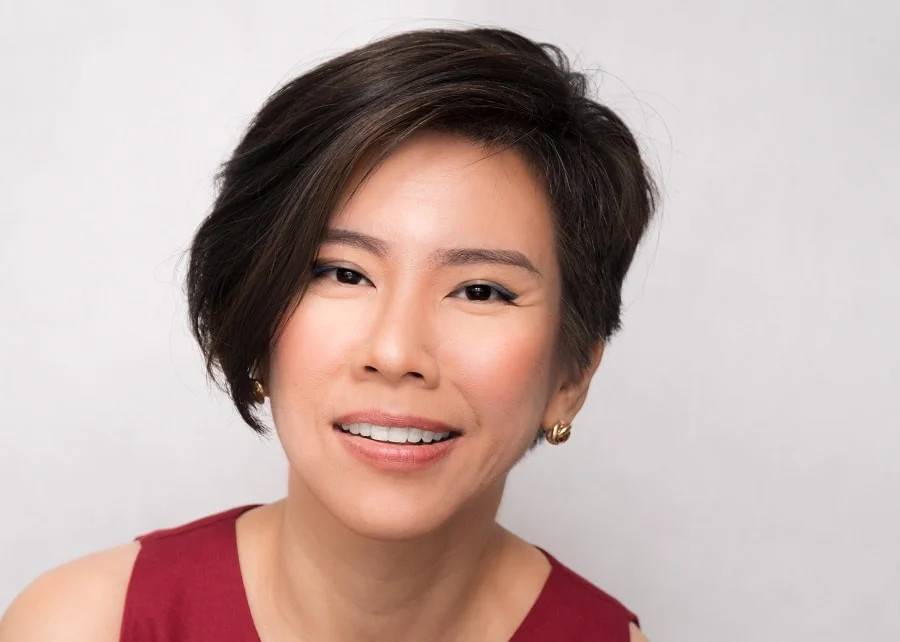 Lucky for you, a chic asymmetrical pixie works for many face shapes. And whether you want your transition hairstyle to distract or emphasize your face shape, the dimension that wavy texture on one side helps with will be the answer to your prayers.
9. Dark Roots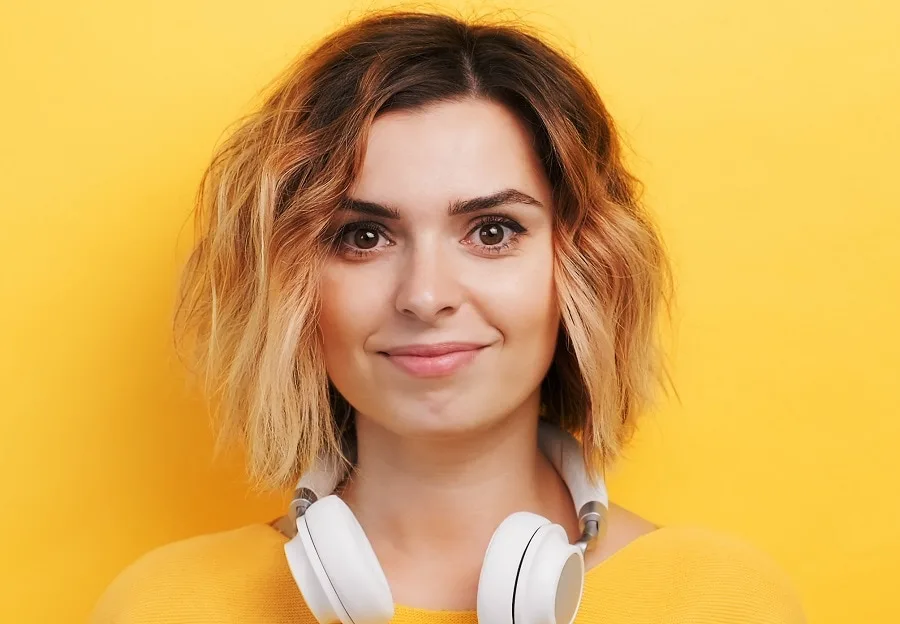 With beautiful blonde ombre decorating your short hair, you'll forget you're even waiting for your natural mane to grow out. Comb in a middle part and load up a bob with big waves for texture everyone will be admiring.
10. Pastel Pixie
If your hair has grown out to be pixie-length, liven it up with a punch of color. This pale strawberry blonde is easy on the eyes and ideal for women with a pale or light skin tone. Use a blow dryer to make straightened strands lean to one side.
11. Dyed Afro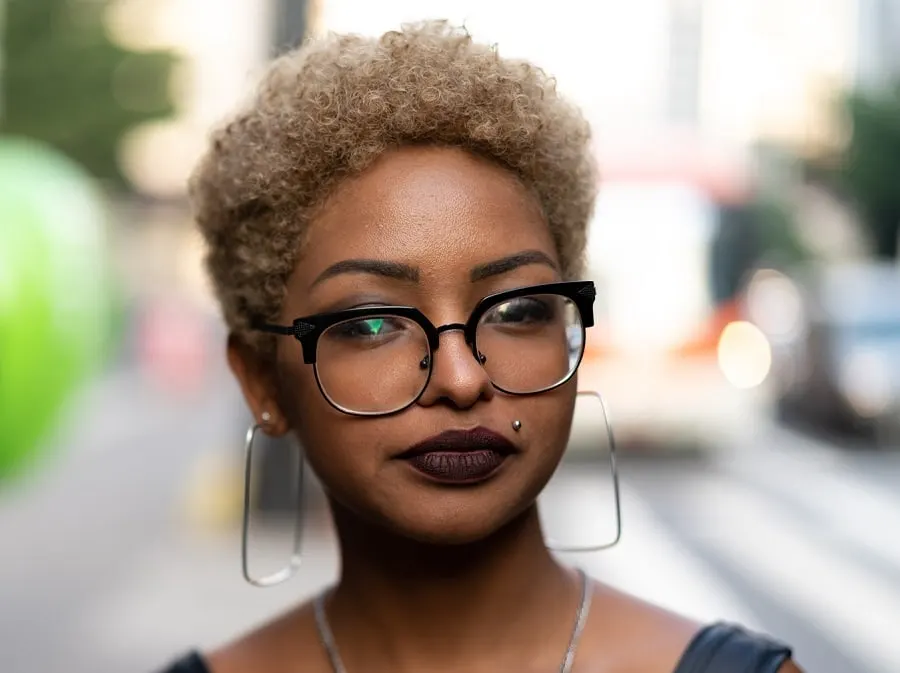 Black women with naturally curly or afro-textured hair look awesome with short haircuts. This hairdo is a bold choice for a transition look since it draws attention to the angles of the face. We recommend an ashy blonde color.
12. Wedge for Older Women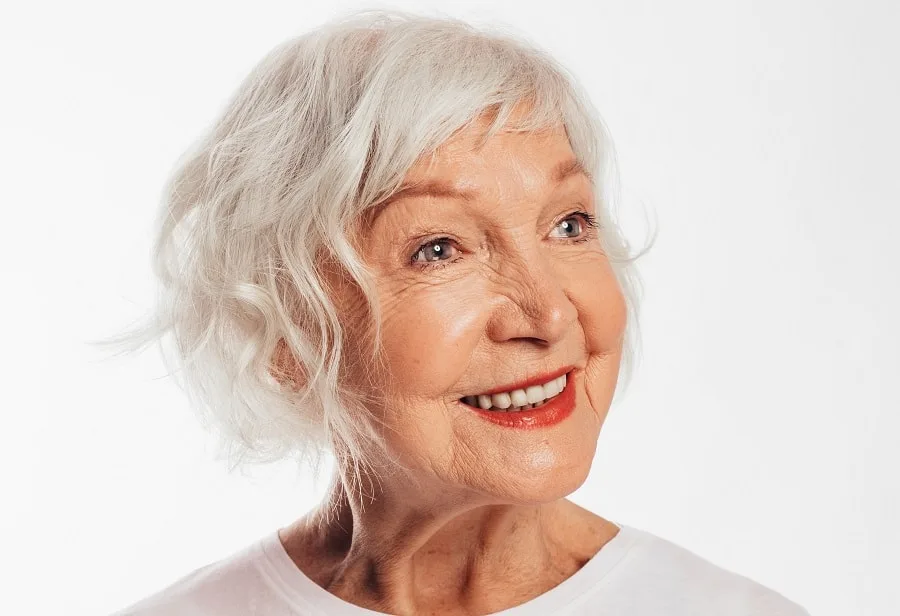 Oftentimes, older women play it safe when styling their short locks. But we dare you to try this wedge haircut with side-swept bangs while you're in transition with your mane. White locks and their natural texture will look amazing in their softness.
13. Thick Bob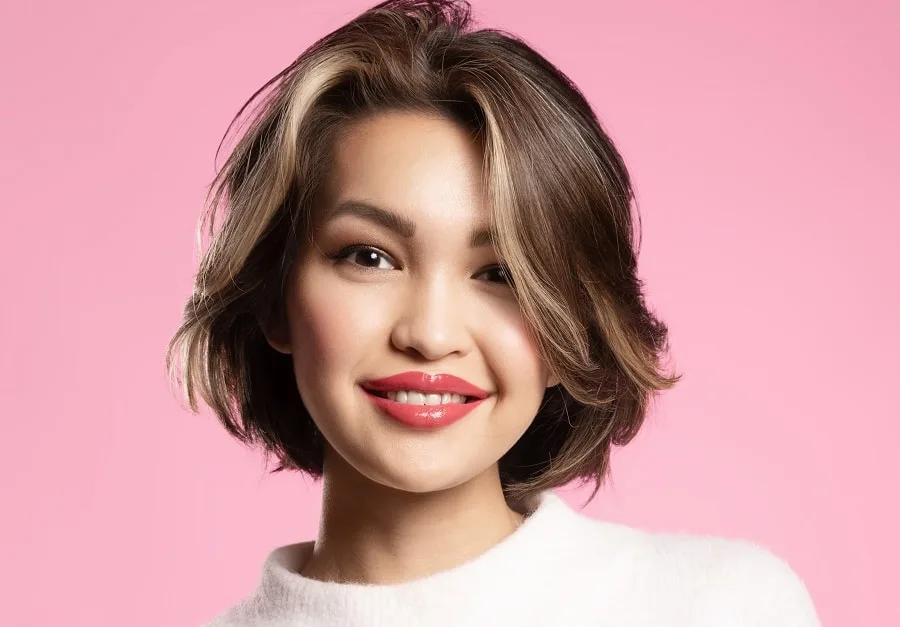 Thick hair is its own challenge, especially when it's short. To combat bulkiness, ask your stylist for a thinned out layered bob with front highlights. Part hair in the middle and create the lift of volume seen here with some mousse and a quick blow-out.
14. Short Ponytail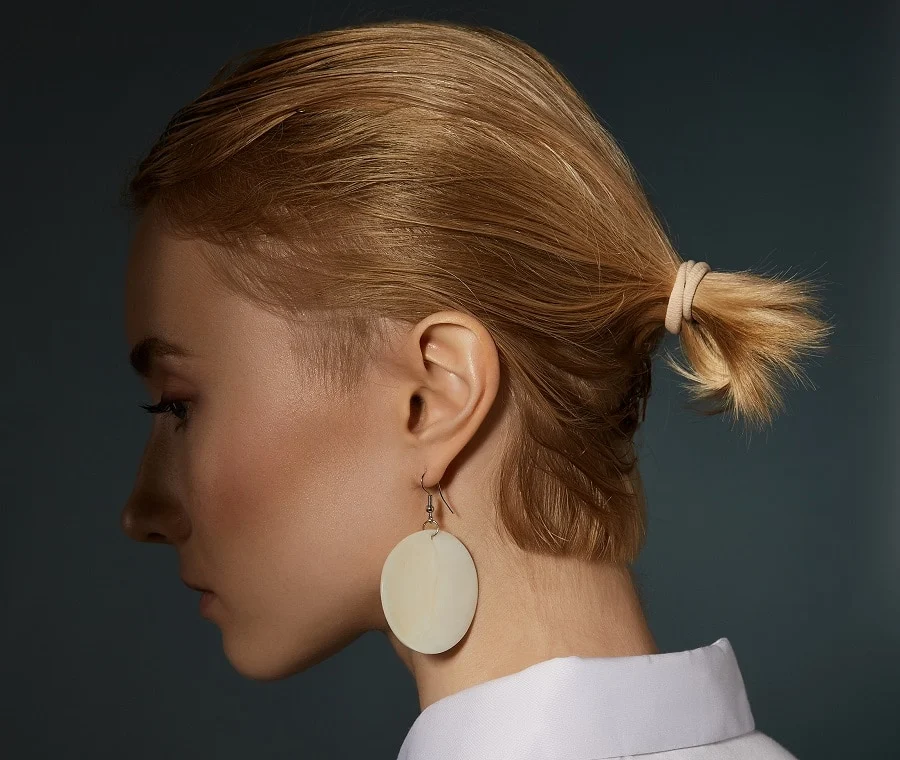 A simple ponytail is still possible with short hair. Gather the hair you have into a slicked back low pony, smoothing shorter pieces with your fingers and a little mousse. Comb the hair that doesn't fit into the ponytail neatly over the neck.
15. Short Coiled Bangs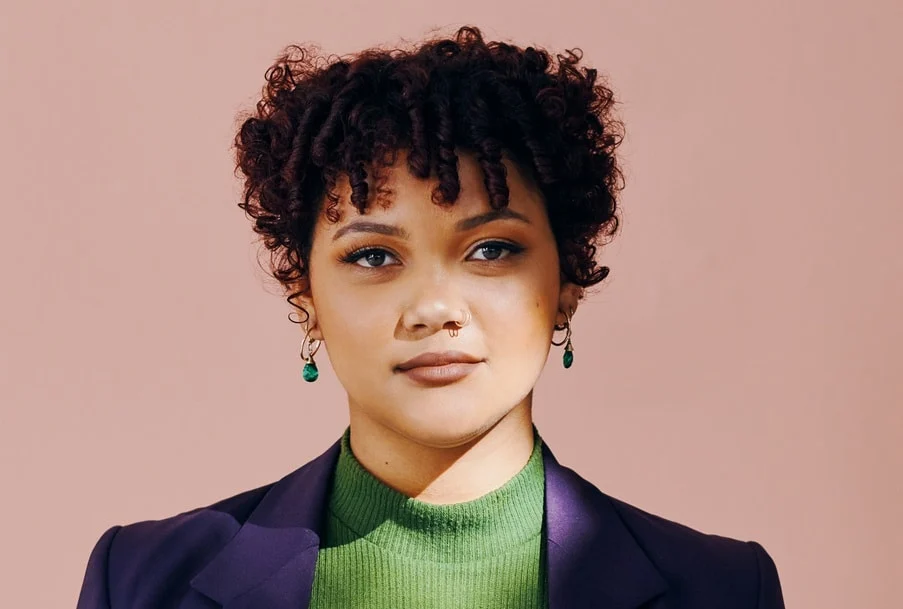 3B and 3C hair is spiral-shaped or coiled tightly. While you're growing out your short hair, let your curls shine in a layered short haircut. Take a few of the spirals and arrange them into piecey fringe.
16. Short Pink Ombre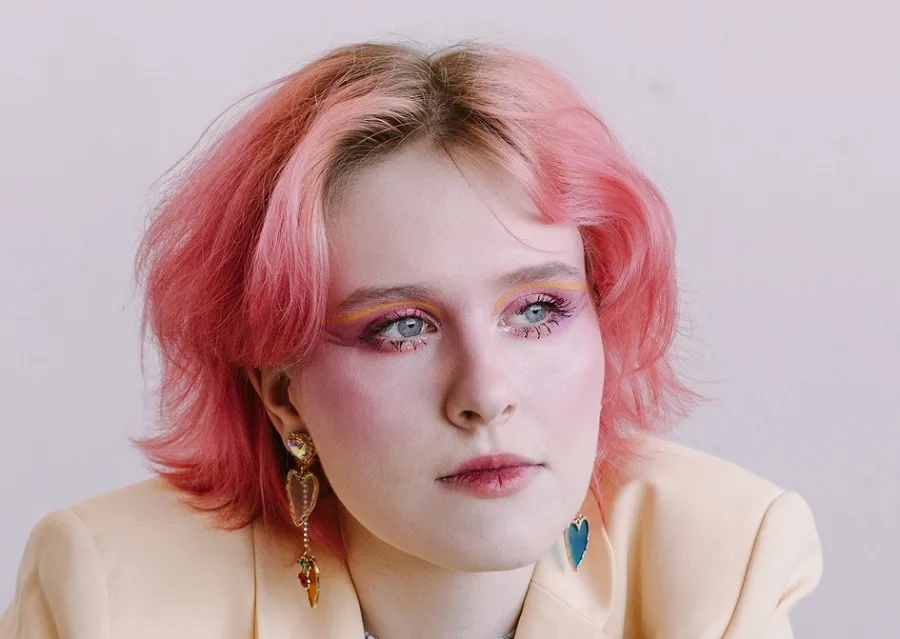 If you have a light or porcelain skin tone, take the transition from short hair as an opportunity to play with a unique color. This medium shade of pink ombre nicely dresses up short wavy hair with face-framing layers.
17. Short Hair with Side Braid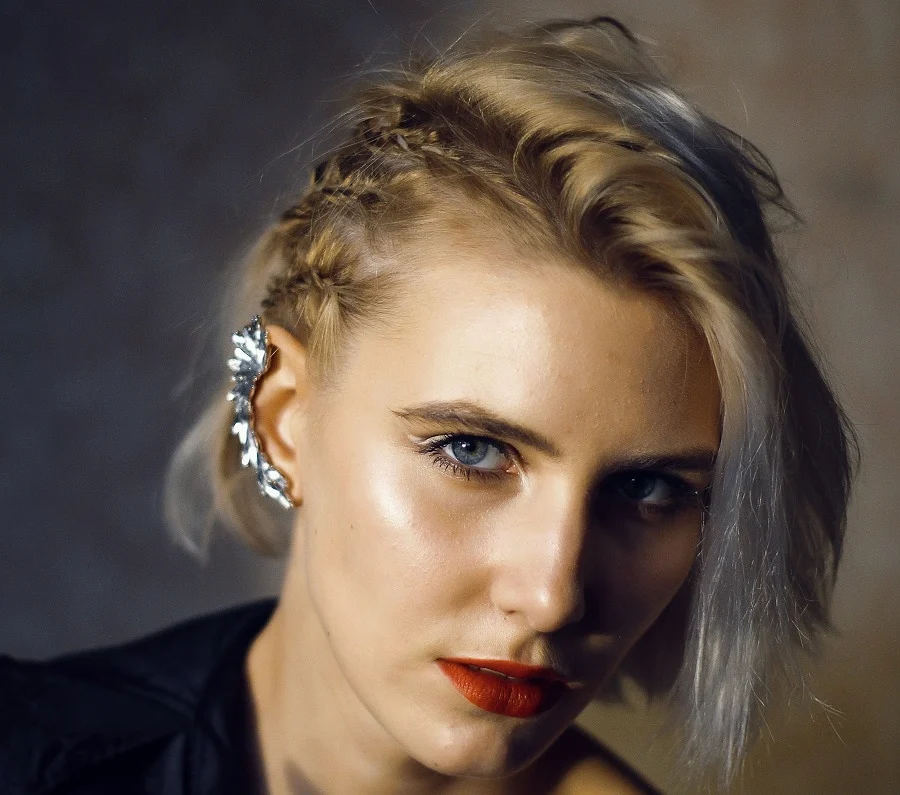 How gorgeous is this short blonde hairstyle with a couple of side braids? Make three or four braids, depending on how thick or thin your hair is, and finger comb the rest of your hair for sexy texture. It's the perfect low-key updo.
18. Thick Curls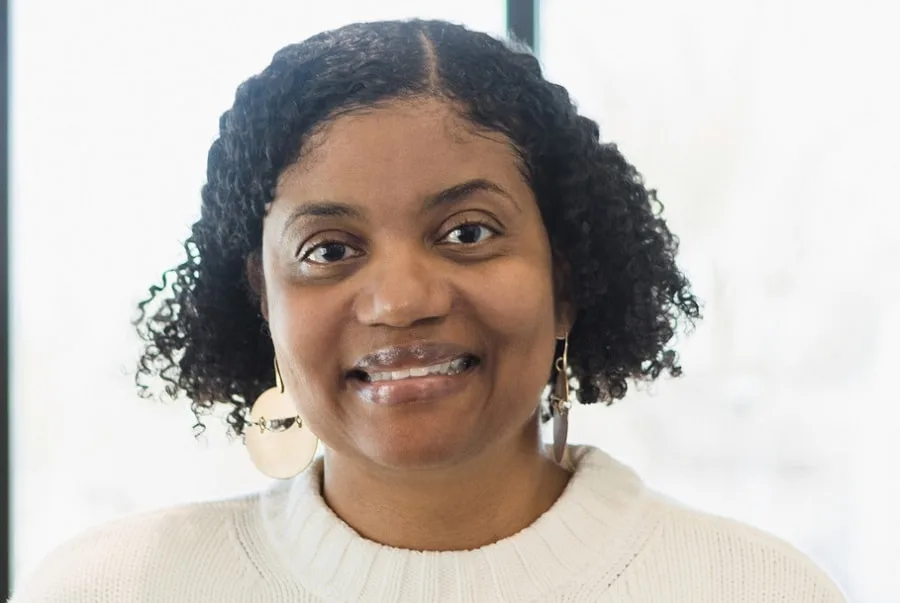 Black women who have thick curly hair will appreciate the low maintenance styling of this short bob. A middle part is all you need to worry about for making your curls look their best. You can also scrunch in a little product to enhance their shape.
19. Fluffy Short Pixie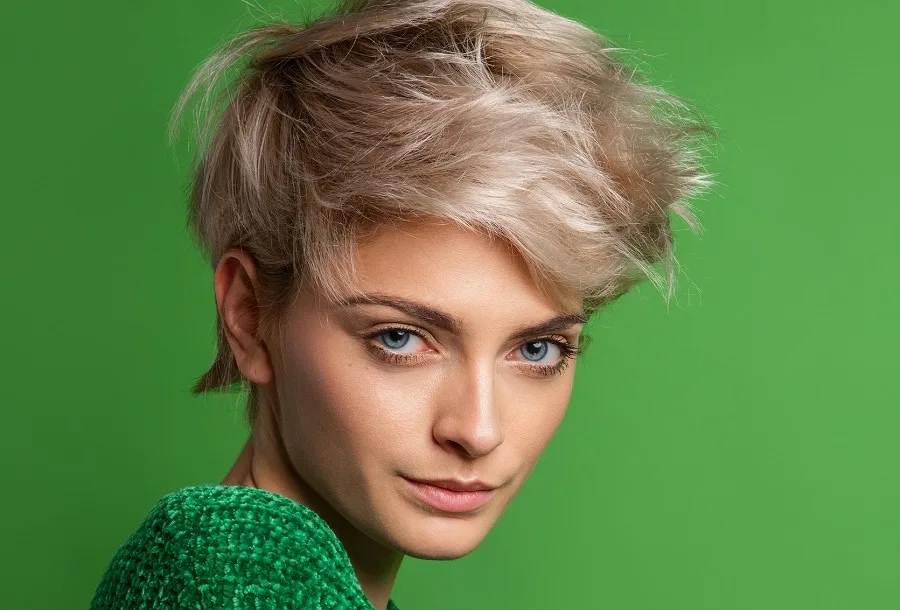 Another way to rock a short transition hairstyle on thick hair is by blowing it out. If it's pixie-length, use a blow dryer to make this fluffed up version. Give it some attitude by blowing out the front toward one side and styling the rest with your fingers.
20. Bob with Heavy Part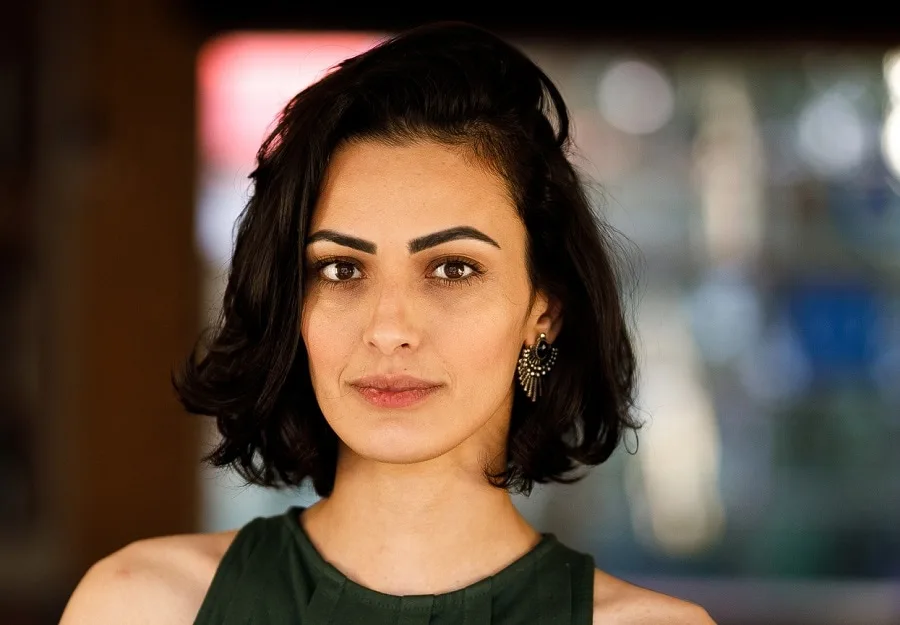 If your short hair doesn't have much oomph to it, opt for a neck- or chin-length bob. Scrunch in some texturizing cream and give your mane a heavy part for lift. Any natural waves or curls you have will come to life with this cut.
21. Long Pixie
Whether you're an older woman with more white hair coming through or you just like white hair color, turn a transition hairstyle into a statement look by going totally white. We love this side parted, straightened pixie with short layers.
22. Straight Bangs with Wavy Body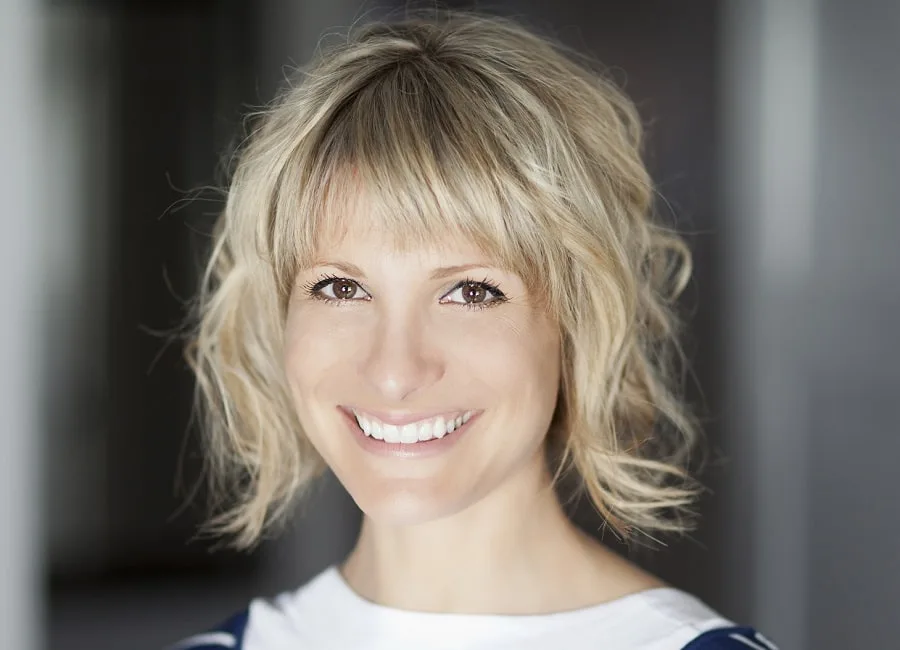 Are you growing out short hair with bangs? Instead of leaving your hair all one length, give it a choppy cut for more personality that will play up your wavy texture. Straighten and neatly comb long bangs for contrast.
23. Half Up Bun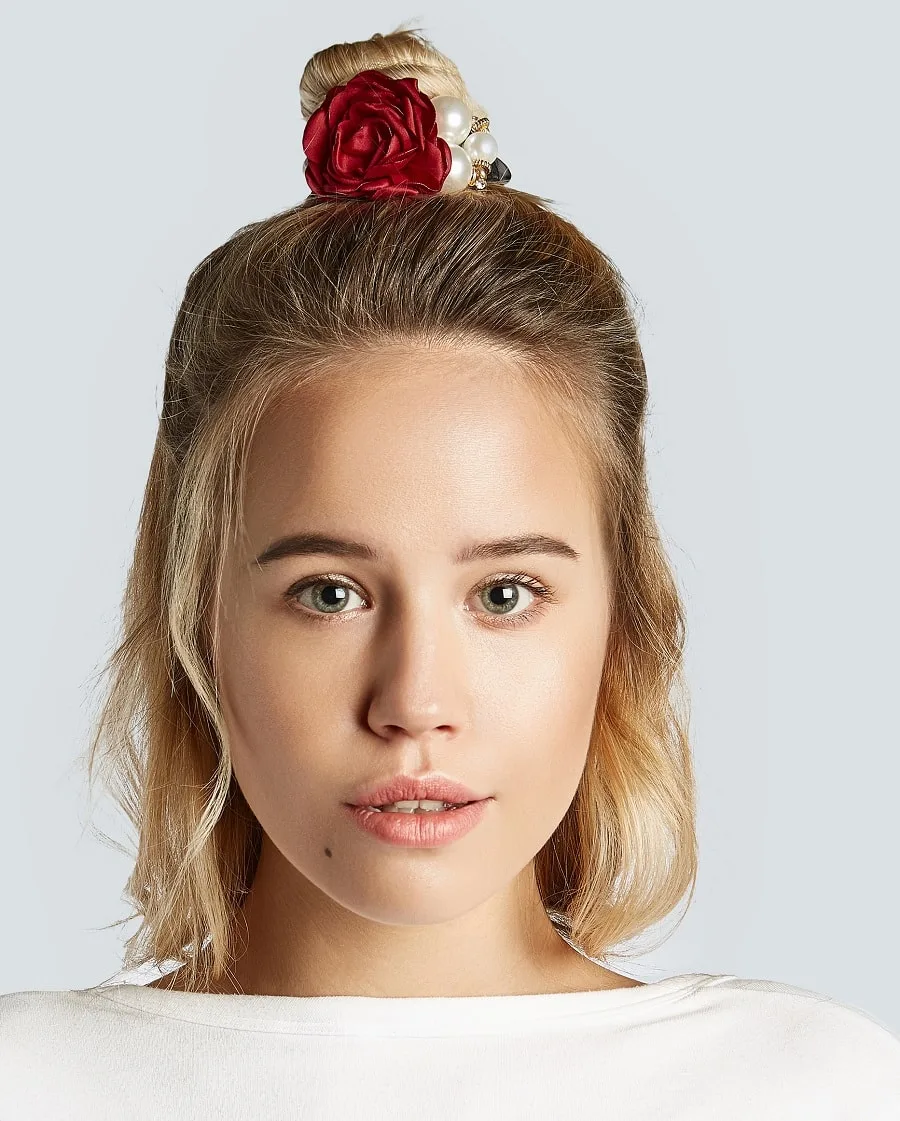 Growing out short hair isn't such a bad thing when you have adorable wavy hairstyles like this to fall back on. The top half of the hair is combed back into a high ponytail and wrapped in a tight bun with a large flower and pearled clip.
Hopefully after seeing these 23 transition hairstyles for short hair, you're feeling a little better about being in the middle of growing out your hair. From thick to thin hair, wavy or straight, it's all about getting creative and working with what you have.
Consult with your stylist and see what ideas you come up with. Who knows, you might choose to stick with your new look permanently!