Who says that hair has to be long to be beautiful? This selection of short hairstyles for women proves that there is an amazing selection of short cuts which look truly breathtaking. From close crops to style which you can try when you are growing your hair longer, you are sure to find inspiration in this list.
Short Hairstyles for Women
Short hairstyles can be worn by women of all ages. Although short hair is often associated with older ladies, a handful of Hollywood beauties have recently been sporting crops and pixie cuts. This list contains a mixture of hairstyles which are perfect for women who can't grow long hair any more, and hairstyles which are perfect for trendy young women and teen girls.
#1: French Girl Bob
This classic French girl bob has a chic touch to it. The icy blonde hair covers the yellow hair beneath. The fringe at the front is kept short and has a more yellow hue to it compared to the remaining hair.
#2: Stylish Pompadour
Who says that women cannot flaunt a pompadour hairstyle? To achieve this hair look get a high fade with a shaved slit on one side. The top part is brushed up and dyed blonde to turn some heads around.
#3: Short Afro Curls
Afro curls are timeless. They can be either kept long or short. For this particular hairstyle, trim down your curls to a short length all over. Give them a tousle and you are good to go. A headband can be used to further enhance the look.
#4: Messy Updo
Women can flaunt their short haircut with this messy updo. Gather as many strands as possible and secure them up using bobby pins. A slight back-comb at the top and an elegant hair accessory at the back complete this dreamy look.
#5: Low Ponytail
This hairstyle is the simplest and easiest to achieve for short hair. Just brush out your strands and tie them back in a low ponytail. Leave some strands loose at the front for a carefree look.
#6: Half Up Half Down
The half up half down hairstyle goes equally well with short and long hair. Half of the hair may be tied up in a high bun or ponytail leaving the remaining strands loose. This cute hairstyle keeps hair away from the face.
#7: Short Box Braids
An ideal way to tame curly locks is to style them in box braids. This hairstyle gives a short bob-like appearance. Add highlights here and there to accentuate the look. This style is easy to maintain for the lazy folks out there.
#8: Low Messy Pigtails
Low pigtails look cute with short hair. Brush your short locks and secure them in two low pigtails. The short side-swept strands at the front are kept loose for a messy and edgy look. This hairstyle is ideal for young girls.
#9: Rainbow Hair
Bring the rainbow on your head with this colorful hairstyle. Get a short crew cut and add purple, blue, pink, and yellow hues to it. This hairstyle is low maintenance and just needs a hand tousle.
#10: Short Layered Crop
This style gives off vintage vibes and is full of layers and curls. The layers add a lot of texture to the hair. This short hairstyle is ideal for women over 50 when it comes to low maintenance.
#11: Long and Short
If you can't decide between long and short hairstyles for women, an asymmetrical style like this will give you the best of both worlds. A cut like this looks breathtaking with a slightly wavy texture.
#12: Loose Waves
To achieve beautiful loose waves like these, curl your hair and then brush through it lightly before applying any product. Once you have brushed it into waves, apply a small amount of hair stray to help your hair to hold its shape.
#13: Asymmetrical Crop
An asymmetrical crop is enhanced by a sweeping side fringe. Use alternative lengths to draw attention to your eyes at one side and your mouth at the other.
#14: Sweeping Fringe
The best way to get a natural looking side fringe like this is to put in a side parting. You can use a side fringe to hide a larger forehead.
#15: Dishevelled Crop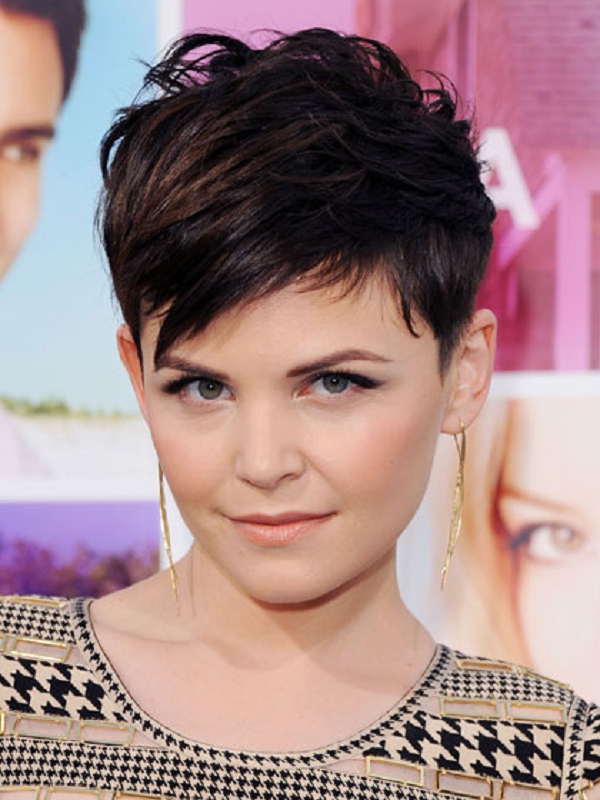 The dishevelled crop is a great option for people who want a low maintenance hairstyle which still looks super stylish.
#16: Curly with a straight fringe
If your hair is naturally curly, you can always help to draw attention to your face by straightening your fringe. This takes much less effort than straightening all of your hair.
#17: Boho Accessories
Enhance your boho style by teaming simple band accessories with very soft waves. This look is perfect for the beach or an outdoor music festival.
#18: Volume
Give short haircuts more volume by adding layers and waves. Layering helps natural waves to form into a more pronounced shape.
#19: Flicked-under Bob
A chin length style is great for short haircuts. Choose a classic bob, and flick your ends under your chin to help to frame your face.
#20: Face-Framing Layers
Angled layers at the front of your hair help to frame your face when you have a straight and sleek style. Turn the layers in under your face to improve the framing effect.
#21: Forward Plait
For a high fashion look which is a little bit different, create a plait which comes from the back and goes forward. You will find that you have to leave out a lot of your hair when you do it like this, so arrange this into a messy up-down do.
#22: Big Barrel Waves
Big barrel waves are a great choice for achieving more volume for your hair. Twist your hair around a barrel brush as your are blow drying it, then run your fingers through your hair to puff out the waves.
#23: Wavy Bob
Just because your hair isn't naturally straight, it doesn't mean that you can't have a stylish bob. A naturally wavy bob is low maintenance but very stylish. Just scrunch a little product through your hair in the morning to help your bob stay brilliant.
#24: Stylish Pudding Bowl
This asymmetrical option is perfect for those who are look for a stylish alternative to the ladies' pudding bowl haircut. Keep your hair straight and sleek with ceramic straighteners and heat protect serum.
#25: The Comb over
For this short style, you will actually need to keep some sections of your hair relatively long. Comb sections back and over for an amazing androgynous look.
#26: Choppy Pixie
A choppy pixie cut looks great on people with square faces. Have a few different short lengths cut into your hair, then add height by running hair gel through your hair in an upwards direction.
#27: Modern Bouffant

Bouffant hair was all the rage in the 1960s. Back comb your hair to add volume, then pin your hair up at the back to create the bouffant section. Leave the front sections down to add softness to your face.
Women's Different Types of Hats for Short Hair
#28: Copper Top
Short hairstyles for women look brilliant in a vibrant copper color. The coloring goes well with soft, natural make-up.
#29: Spiky Crop with Fringe

Achieve height on your crop by running the product through your hair whilst pulling upwards. Cutting in a straight side fringe will help to draw attention to your eyes.
#30: Layered Bob
Chin length hair helps to frame your face, especially if you flick the ends under with your straightening iron. Cutting in layers will help to give your bob more volume. Flick some sections out for a fantastic effect.
#31: Curls Curls Curls
Tight curls can still look beautiful in a short haircuts. Layer your hair before putting tight curls in, and you will produce a spectacular effect.
#32: Vampire Slayer

This amazing look is particularly dramatic because it is longer at the front than at the back. Bangs teamed up with a sweeping fringe help to give your eyes a supernatural intensity. Add signature colour to your fringe to give the look an even bigger wow factor.
#33: Tapered Ends
Tapering at the ends of short hair can allow you to keep a little bit of length without the harshness of a blunt bob. Flick your hair slightly under your face to frame it.
#34: Afro
The natural look is very popular amongst people of African descent. Tight curls look amazing and they are far better for your hair than relaxed styles are. If you do not naturally have tight curls, your stylist may be able to give you a perm.
#35: Mullet Crop
A true mullet has body at the front and length at the back, regardless of how short the hair is overall. Give your mullet crop body at the front by running hair gel through tousled layers.
#36: Lightly Tousled Crop
This is a great short haircut for women who are getting a little older, or who have thinner hair. You can add volume with lots of choppy layers. Use a light hair mousse to separate out strands.
#37: Short Bob
A short bob is one which stops below your chin length. This draws attention towards your cheekbones and allows your neck to be seen properly. A short bob looks great with a side fringe.
#38: Shaggy Short Bob
Wavy short haircuts look perfect in a bob style. Give your waves a shaggy look by running a little product through your hair in the morning to keep your waves separate.
#39: Short Weave with highlights
Caramel highlights looks amazing in short, black hairstyles. This colour can help to bring out different skin tones and they look fantastic with deep brown eyes.
#40: 60's Style
Lightly layer your hair, and then comb your front sections backwards. If your hair won't hold in this position with hairspray, use a hair grip to hold it. For a real 60's style, flick the back section forwards towards your face. Put your parting down the centre to help to maintain symmetry.
#41: Rounded Long Crop

A rounded long crop screams simple elegance. This cut looks perfect with lightly straightened hair. Run over your hair with irons, but then run your fingers through it to add a little texture.
#42: Crowning Glory
With this style, volume is created by lifting from the roots and using the crown as a central focus point. A choppy fringe can help to draw the attention back down towards your face.
#43: Bob with Choppy Bangs
If you do not want heavy bangs with your bob, you can soften your look by cutting in choppy bangs or a slightly sweeping choppy fringe. This can look less severe than perfectly straight bangs.
#44: Heavy Layering with Waves
Heavy layering looks breathtaking on short hairstyles with waves. The layering helps to give the appearance of more volume, whilst also enhancing each individual wave section.
#45: Crop with Sweeping Fringe
In this crop, the sweeping fringe is the main feature. Keep your hair shorter at the back for maximum effect. At this length, it will help to highlight both your eyes and your cheekbones.
#46: Extreme Side Fringe and Crop
Crop your hair closely at the back, but keep your hair long and voluminous at the front. Changing your parting can allow you to style this hair very differently.
#47: Asymmetrical Rounded Crop with Bangs
Create a rounded crop style with simple layering. Keep the top layers shorter and let the bottom layers follow the shape of your hair. Add choppy bangs to draw attention to your eyes.
#48: Highlights and Lowlights
Whatever age you are and whatever length of hair you have, highlights and lowlights can look fantastic. In a very short style, they serve to add texture and volume to the hair.
#49: Textured Crop
This textured crop looks good on older people and requires very little styling to create an attractive style.
#50: Simple Layered Bob
The simple layered bob is a classic short hairstyle which will never go out of fashion. Layering of the fringe will help to frame your face. Curl slightly under your chin to meet your face shape.
#51: Choppy Crop
Choppy layering on this crop helps to give it a great textured feel. This type of crop is one of the most popular short haircuts for women because it is very versatile and can be styled in lots of different ways.
#52: Wispy Short Bob

This short bob will suit you if you have thinner hair. Add a little texture with light layering and flicks at the end of your layers.
#53: Platinum Blonde

A lot of short hairstyles for women are enhanced by the platinum blonde colour. This shade of blonde can help to make you look more tanned and will make blue/green eyes sparkle.
#54: Loose Curls
Very loose curls give your hair a classy, professional look. If you are using curling irons on short haircuts, be careful not to burn your scalp or ears.
#55: Side Partings

Side partings are not just for long hairstyles. A side parting with a light side fringe can help to create a very professional bob which is suitable for the office.
#56: Classic Pixie Cut

The classic pixie cut has been popular for decades. This androgynous look is perfect if you have strong cheekbones, because your facial features have nowhere to hide.
#57: Hair Band

All short haircuts for women can be restyled with the help of a band. These accessories can be used to change your current look or they can be used to keep your hair out of your face.
#58: Frosted Tips:
With a close crop, frosted tips can completely change the look and will help to make your hair look thicker. Although this look may be accidental for some women whose roots are starting to show, it still looks amazing when styled properly.
#59: Curled Mohawk

Comb your afro up into a central Mohawk, and then allow any excess hair to flop down at the front like a fringe. This style looks stunning on people who have strong central facial features.
#60: Voluminous Fringe
If you have short hair, you can build a voluminous fringe by drawing in hair from further back on your head. Lifting hair from the roots when you bring it forward will help to build more volume.
#61: Jaw-length Bob

This jaw-length bob immediately draws the attention to the lips. A side-fringe and an angled cut can help to give this style an ultra-modern twist.
#62: Tousled Quiff

This style of quiff is good for covering up a larger forehead. Bring your hair forward from behind and run a little bit of product through it to give it the tousled effect.
#63: Side-Swept
This look has a wonderful touch of 1920's glamour. Lift from the roots to introduce volume to short haircuts like these. Sweep your hair forwards and across to build your hair up at the front.
#64: Chic Blunt Cut

This chic modern blunt cut is perfect for short hair. With a carefully considered crop like this, there isn't a hair out of place. The style looks breathtaking on women who have strong features.
#65: Shaved Sides

Shaving the sides of your hair can help to make your cheekbones look stronger, although you will need strong features to pull this off. You can shave both sides or choose to shave just one. This looks great with tight curls or longer, straighter hair.
#66: Signature Quiff
Give your quiff a signature look by colouring it a different shade to the rest of your hair. Give your quiff extra volume by running lots of product through it and then using a brush to tease it backwards and upwards.
#67: Bit on the Side
Change your pixie cut by styling your hair to one side, rather than keeping things even. Just put a little product in your hand and run your hand diagonally upwards through your hair.
#68: One Long Lock
Short hairstyles for women do not have to be short all of the way around. Keep a single lock long for a unique look. Sweeping your fringe towards the longer section helps the style to look less extreme.
#69: Lightly tousled Pixie
Use light layering and a little bit of product to create this androgynous style. A spritz of hairspray will keep your style looking natural but will make sure that it stays how you want it to stay.
#70: Tousled Crop with Highlight

A crop will look even more tousled if you have complementary highlights in your hair. These help to give the appearance of more volume.
#71: Firecracker

This bright red style is a real eye-opener. Cut in lots of short layers near the crown to give your hair an "explosive" texture near the top. A choppy fringe will suit this style perfectly.
#72: Ladies Crew Cut

Have your hair cut to a relatively short length at the back and side, graduating to longer length at the front. Put a few layers in near the crown to ensure that texture can be achieved.
#73: Extreme Side Parting
A bob can look even more seductive when it is styled with an extreme side parting. This kind of parting can help to boost the volume of your hair by giving lift from the roots.
#74: Blunt Bangs
Both long hair and short haircuts for women look breathtaking with blunt bangs. These bangs will help to keep the focus on your eyes and help to frame your face.
#75: Messy Curly Bob

If you want a curly bob, make sure that you put in layers, so that each of your curls is able to add volume. Scrunch handfuls of curling mousse through your hair and let it dry naturally to get the messy curls look.
#76: Messy hair with choppy bangs
This is a great style if you are in the process of growing short hairstyles out into a longer length. Run styling gel through your hair with your fingers and give particular height to the hair near your crown.
#77: Elven Crop

The Elven Crop is similar to a pixie cut or crop, but it leaves a distinctive section of hair in front of the ear. Although this a a popular style with older women, the style still looks good on younger people.
#78: Short Bob with Bangs

A short bob with bangs will draw attention to your eyes and lips. Add a little light layering to your bangs to help them to look less severe.
#79: Curly Crop

If your hair naturally starts to curl no matter what length it is, enhance your curls by running curling mousse through your hair after you have washed it. This will help to separate out individual sections.
#80: Tintin Quiff
Run styling gel or mousse through the front section of your hair with your fingers to help to achieve the Tintin Quiff. Alternatively, curl your fringe around a barrel brush whilst you are blow drying it, and then spray with hairspray to allow it to keep its curl all day.
#81: Close Crop with Fringe
For an incredible close crop you might want to consider asking your stylist to take a shaver to your hair. The longest option will give you a close crop without leaving you feeling bald.
#82: Sleek Bob
To achieve a really sleek bob, straighten your hair using ceramic straighteners. Make sure that you apply heat protect serum before using hot irons, as this will help to reduce breakages.
#83: Simple Crop
This crop / pixie cut is so low maintenance that you will barely need to touch it when you get out of bed in the morning. That being said, a little gel or mousse will allow you to change up your style.
#84: Silver Highlights

If you are going grey anyway, you may as well go grey with style. A few sandy and silver highlights in grey hair can make your hair look more youthful, without looking artificial.
#85: Wild Style
If you have a wild personality, dye your hair an unusual colour, such as light lilac. Once your hair is coloured, you can style it however you like.
#86: Sweeping Waves

Starting from your crown, run product through your hair with your fingers in a sweeping forward direction. Once your hair is all sweeping forwards, you can tease a few strands off to one side.
#87: Rounded Short Bob

If you have a short bob style, add extra layering to help to keep the bob rounded. Short hair over longer layers allows the hair to follow the curve of your head.
#88: Funky Quiff

Make your quiff funky by adding color to the tips of your hair. A lot of short haircuts for women can be jazzed up by adding a little bit of color to sections of your hair, whether it is the roots or the tips.
#89: Short n' Spiky
This short and spiky 'do produces an amazing androgynous look. Keep your hair spiked up using male or unisex hair hold products, as these work really well to create upwards volume and texture.
#90: Voluminous Curly Crop

For this type of crop you do need to leave a little bit of length on your hair when you cut it, so that your hair is still able to form curls. To gain height in the center, pin up sections of hair from either side.
If you are feeling short of inspiration, I hope that these cuts have given you the confidence that you need to try a bold new style. Short hair can be just as beautiful as long flowing longs, so dare to be different.