Micro braid is a name given to the braid which is very thin. Micro braids can be worn by men and women of all races, although they are often associated with people who have African-textured hair. Although this type of braiding can be done on natural hair, there are also a lot of hair extensions which are styled like micro braids. Braiding like this makes it easier to fix the extensions into the hair.
How to do Micro Braids: Some Amazing Ideas to Choose From
It is easy to do micro braids in your hair manually but it can take a long time to style your whole head like this. Some people choose to use braiding machines instead. Three sections of hair are clipped into the handheld braiding device, and the machine then quickly plaits the hair into a micro braid. This is much quicker than styling the whole head manually.
#1: Half Braids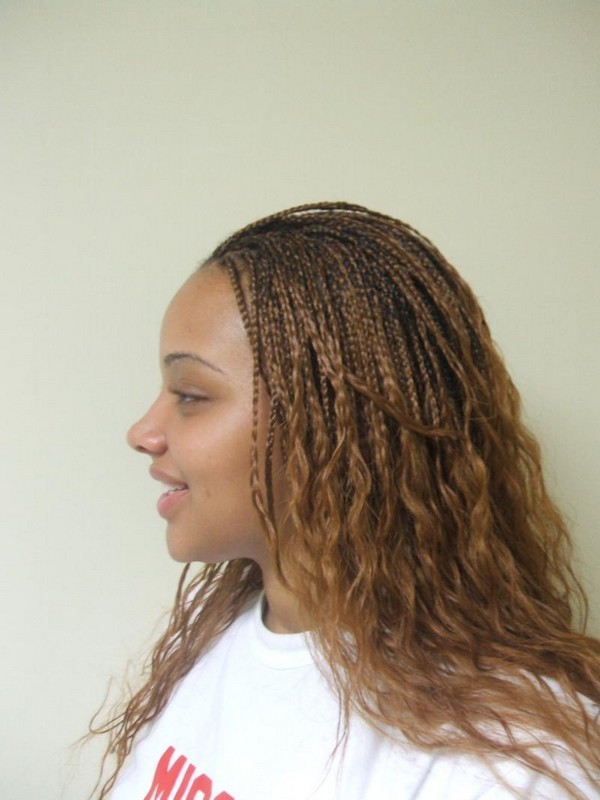 Braid your hair all of the way down to the bottom. Leave your hair in the micro braids whilst you sleep and then unpick them to halfway up. This will leave half of your hair in braids and half of your hair with gorgeous waves.
#2: Chocolate and Caramel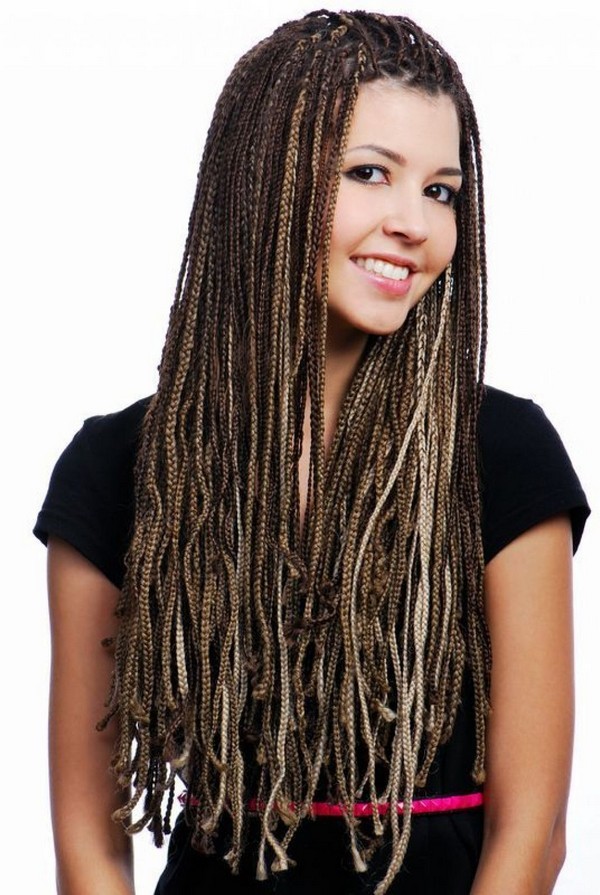 Brown hair always looks great with blonde highlights, but it looks especially cool when you style your hair with micro braids. The different colours in your hair will really help to show off your tiny braids.
#3: Half-Braided Bob
Half braid your hair and then leave the lower half free. Cut your hair so that it is bob length and then curl the ends under your chin. Bob hairstyles like this will frame your face in a really cute way.
Must Try Braids for Black Women
#4: Half Braided with Curls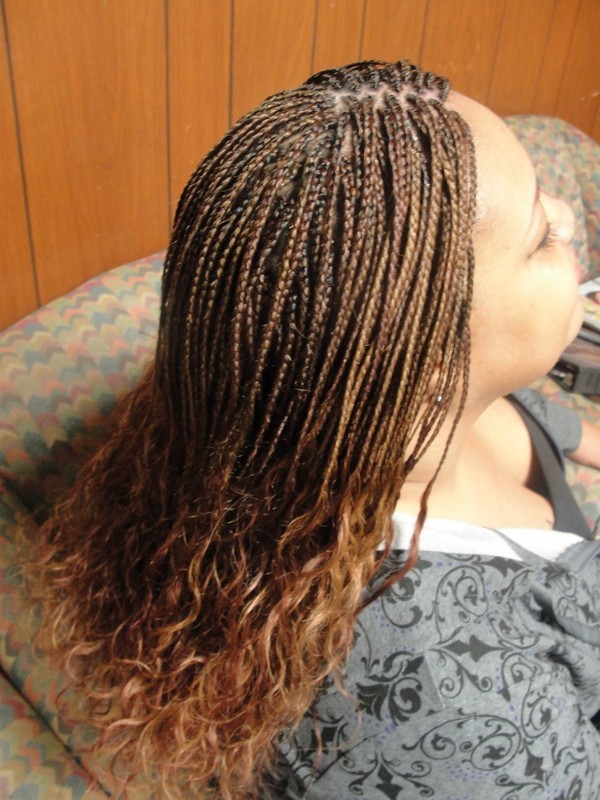 Get your stylist to put small braids into half of your hairstyle, but leave the lower portions of your hair totally unbraided. Ask them to perm this section of your hair to give your hairstyle lots of tight little curls.
#5: Long Blonde Micro Braids
Blonde micro braids can be very striking, especially if they are long and straight. The longer that your braids are, the more striking that they will look. Add extensions to your hair to give yourself even more length.
#6: Varied Lengths
When you braid natural hair, there is likely to be some variation in length. This can be more pronounced when you are working with micro braids. Make it part of your style rather than shying away from it. The variation in length can create a really happy micro braid hairstyle.
#7: Black on White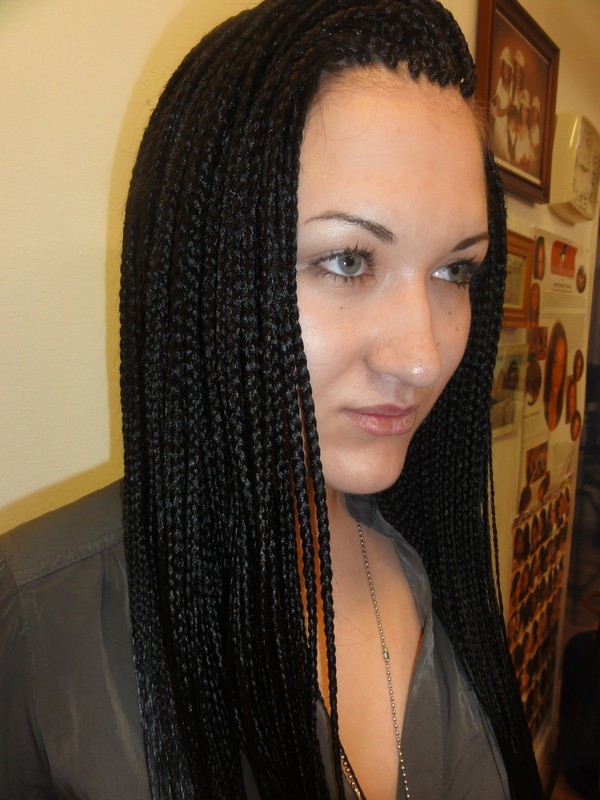 Black hair can look really striking on someone with a pale skin tone. The dark colour of the hair looks fabulous when it is contrasted against alabaster skin. Choose your make up style carefully if you do not want to look apart of the gothic or emo subculture.
Trendiest Box Braids in 2016-17
#8: Dark Chocolate
A gorgeous dark chocolate brown colour is a great choice for a micro braid hairstyle. Try pulling the top section of your hair up whilst leaving the rest flowing freely. Chocolate brown also looks great when interwoven with black hair.
#9: Twisted Bun
If you have really long micro braids, then you can consider putting your hair up into this beautifully twisted bun hairstyle. Portion your hair off into multiple sections and then twist each section to tighten it up. Wind the sections around one another and then tuck the ends in to secure them.
#10: Teeny Tiny Micro Braids
These micro braids are as small as they come. For a really delicate look, style your hair into very thin braids. You may need some help from your stylist if you want your braids to look as neat as these ones.
#11: Cartwheel Hat
Team your micro braids up with a seriously stylish cartwheel brimmed hat. These hats work well with lots of different women's hairstyles because they are subtle yet overstated.
Waterfall Braids: Try Something New
#12: Fauxhawk and Quiff
Pull your micro braids up into the center of your head and then use them to create a central fauxhawk hairstyle. Loop the front of your fauxhawk around to create a mock quiff at the front of your hairstyle.
#13: Chunky Braid
Separate your micro braids into three large sections. Use these sections to style a single chunky braided ponytail. Take the braiding all of the way down to the bottom of your hair or stop styling halfway down to create a unique braided updo.
#14: Black and Caramel
For a very distinct look, colour part of your hair a caramel colour whilst leaving the rest of your style black. The effect will be striking as the colours help to create varied patterns in lots of different hairstyles.
#15: Stylized Topknots
Twist your micro braids up above your head to create a stylish take on the topknot. Depending on the length of your hair, you will be able to create lots of different topknot hairstyles to suit every occasion.
#16: Simplistic Half-Up 'Do
For a super simple style which looks professional as well as casual, choose a half-up, half-down hairstyle. Pull a small section of hair in from the front of each side of your hair. Pin these sections together at the back over the down sections of your braided hairstyle. Let the rest of your hair flow freely.
#17: Over one Shoulder
Grab all of your micro braids and pull them around your head so that all of your hair falls over one shoulder. This style can help to show off your face and will keep your hair out of your eyes.
#18: Goldilocks
Caramel tones mixed with chocolate brown hair look gorgeous on flawless black skin. The colours mix together really well to help to create a colour that looks almost golden. It is perfect for those who want a regal look.
#19: Doughnut Topknot
Pull all of your hair up into a high ponytail on the back of your head. Use the hair from the ponytail to wrap around your hairband and create a tight looped doughnut shape. Secure the doughnut in place to keep your high hairstyle looking perfect all day long.
#20: Black and White
Micro Braids look really cool when two different colours are integrated into the style. Black and white (or blonde) are great contrasting colours to choose if you are giving yourself a micro braid hairstyle. The different colours will help to give your hair a really eye-catching aesthetic.
These Crown Braids Will Make You Look Good
#21: Glamourous Curls
Take the bottom sections out of your micro braids to create this part-braided hairstyle. Use rollers or curling irons to create glamorous curls in the bottom section of your hairstyle. Be careful using heated curlers or rollers if your braids are not styled out of all natural hair.
#22: Thick and Thin
Start your braided hairstyle off with thick braids at the top of your head, but work down towards smaller braids as you get towards the end of the hair. This women's hairstyle is easy to create when you are styling natural African-textured hair.
#23: Subtle Braiding
Subtle micro braids close to the scalp can be a style choice or they could be a great way of attaching a weave to your natural hair. Subtle braids like this can add a delicate detail to any type of hairstyle for women.
#24: Kinky Braids
Give your micro braids a gorgeous kink by plaiting them into chunkier braids before you go to bed at night. Unpick the bigger braids when you get up in the morning, and you should be left with beautifully kinked micro braids.
#25: Red Alert
Get the right kind of attention by putting red micro braids into your hair. Vivid colours like these suit all skin tones. The colour looks amazing when you team it up with a dark colour of lip make-up.
Micro braid hairstyles are just as versatile as any other hair type. You can actually look for inspiration from a lot of different hairstyle lists, and then try out those styles with your braided hair. Treat braids like your normal gorgeous locks!