Faux hawks are a toned-down version of the rebellious mohawk. Rather than shaving the sides and leaving a strip of long hair in the middle, the sides are slicked back temporarily using any styling product.
Such false mohawks provide greater independence to customize your edgy, bold, yet classy hairdo in whatever ways you want. You can try shaved designs, undercuts, braids, and twists along the sides while achieving volume on top with buns, braids, curls, ponytails, and spikes.
Go through the following coolest faux hawk hairstyles for women without further delay to enjoy getting stared at from a distance.
Funky Faux Hawk Hairstyles for Women
Rock an extreme hairstyle without fully committing to it. Keep it elegant, glamorous, or a little over the top, because why not?
1. Messy Top with Side Braids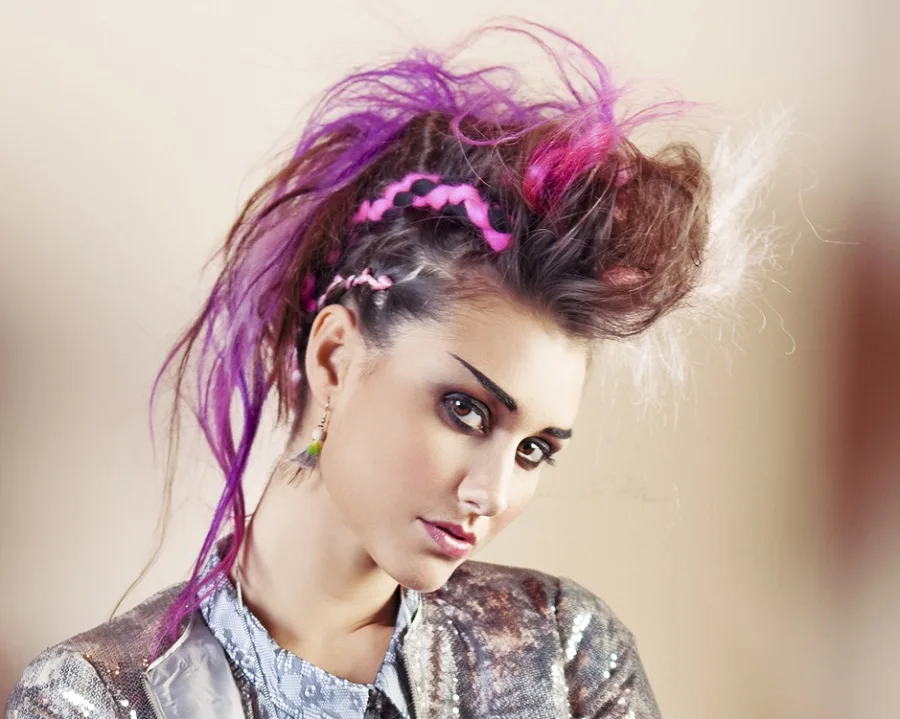 Go messy to look like a fierce metal rock star. Tease and tousle the strands in the center to stand upright with one or two chunky braids along the sides.
Use clip-in extensions for a pop of color and finish off with plenty of hairspray. A little chaos is just what you need!
2. Feminine Pompadour + Undercut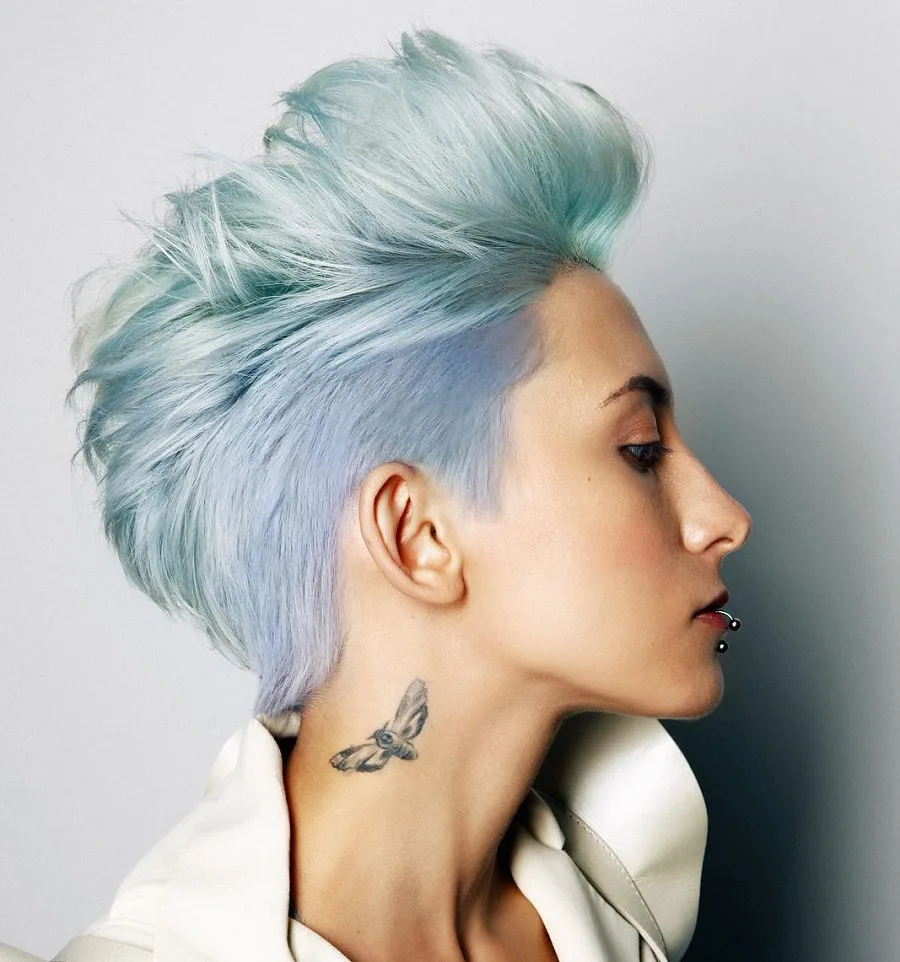 Office-going ladies can opt for a haircut that can be styled into a cool fohawk or a classy pompadour, depending on the occasion.
Keep the top longest at the front with a neat undercut along the sides. The frosted baby blue hair color is a must-try too.
3. Edgy Pixie-Hawk
Keep it low maintenance with this short spiky faux hawk hairstyle for women. Ask the hairstylist for a pixie cut with a v-shaped snip at the back, pointy sideburns, and significant length on top.
Create spikes using hair wax and gather them in the middle. Voila!
4. Subtle Pouf, Sleek Cornrows
There's no need to chop off your precious long to medium tresses to rock a funky fohawk for a while.
Backcomb the top to achieve a smooth subtle pouf with sleek cornrows that bend toward the nape. Leave the remaining hair messed up at the back for a careless vibe.
5. Over-The-Top Fohawk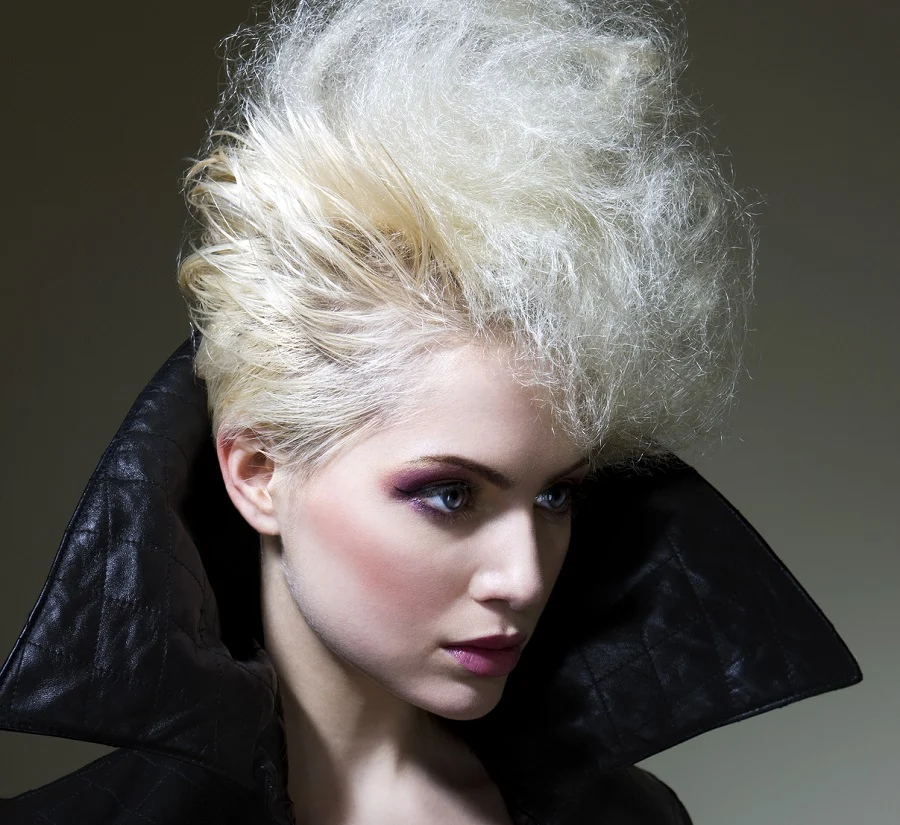 Going a little over the top surely won't hurt once in a while. Achieve extra volume on top by using extensions and tease them as much as you can while blending them with your natural hair.
This style is suitable for ladies with short and/or thin tresses.
6. Pinned-Back Natural Curls
Black beauties can take advantage of their god-gifted curls to achieve a one-of-a-kind faux hawk updo that won't go ignored.
Slick back all the hair using a comb to gather it in the center with pins. Swoop down your edges for further finesse. There you go!
7. Faux Hawk Wedding Updo
Here's another version of a curly false mohawk that's more elegant than quirky. Steal the show by piling the curls higher up on the head, sparing a few chunks to fall at the front.
The fancy hair comb and bubblegum pink dye are just what every brave bride can dream of.
8. Punk-Rock Tousled Top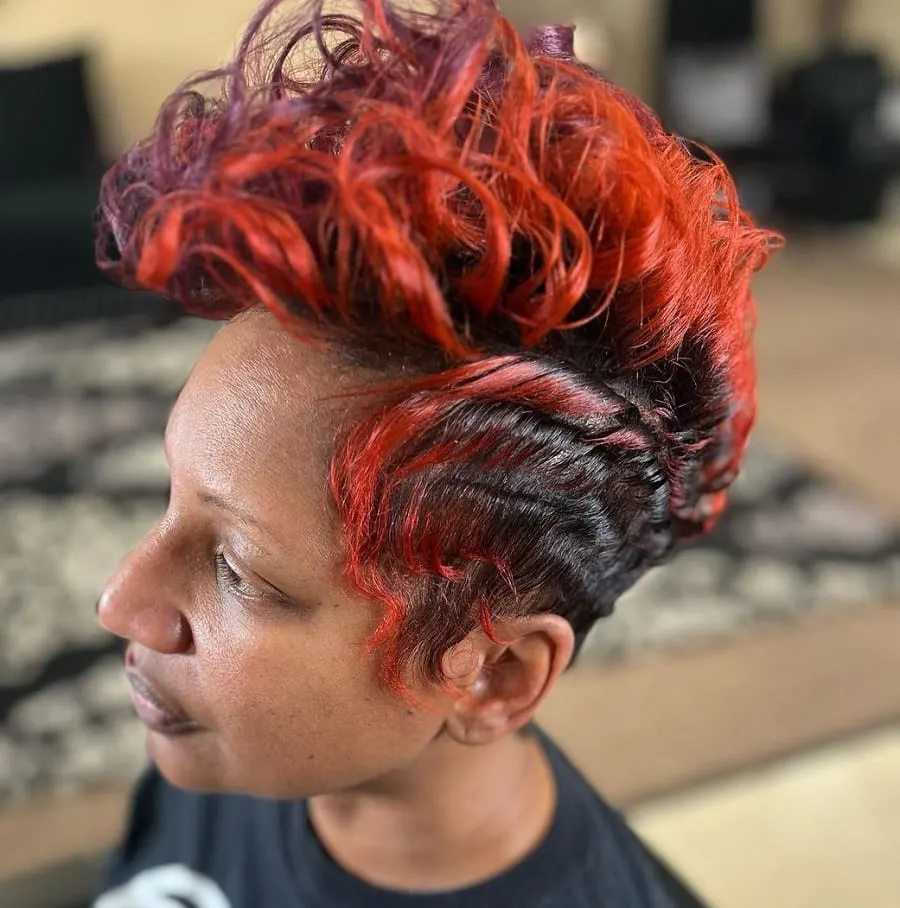 Set your mane on fire with a super long central strip of hair that tapers gradually towards the back with a fiery orange color.
Brush up the strands, whether curly or straight, to end up with a big pouf that stands against the short finger waves along the sides.
9. Elegant Pin-Up Curls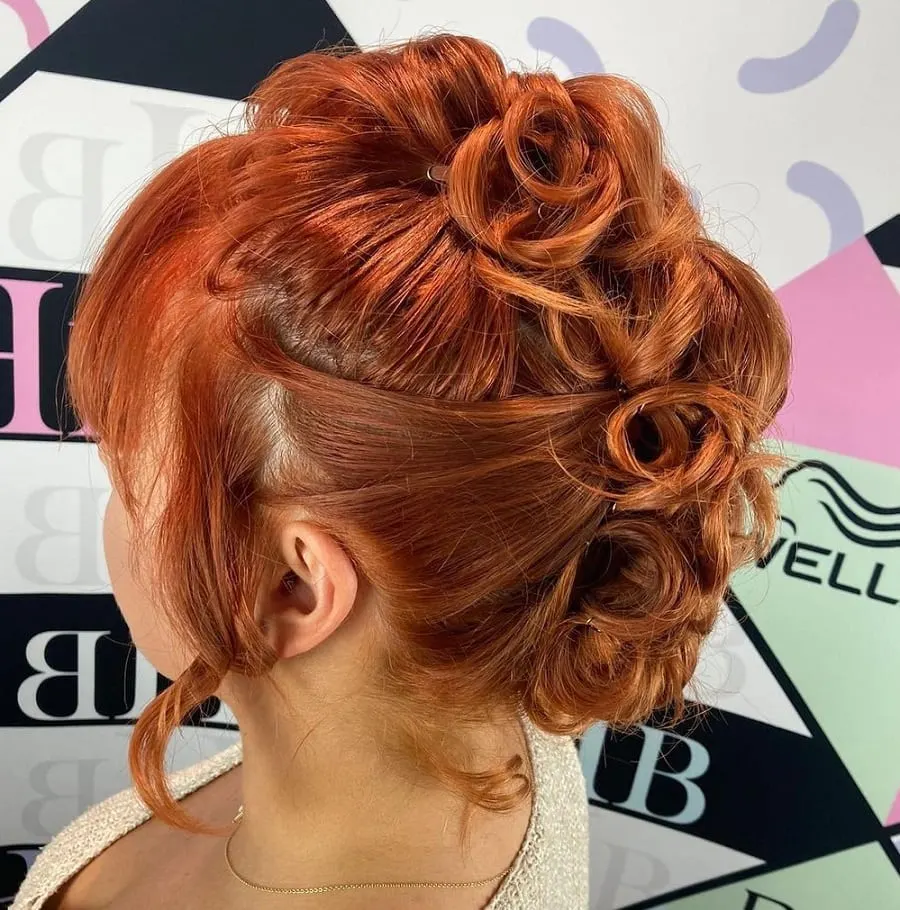 Faux hawk hairdos don't need to be extreme all the time. They can be low-key and graceful, just like the formal updo depicted here.
Opt for curls and roll them towards the middle to be secured with hairpins. Repeat the same for the front or frame the face with bangs instead. Your call!
10. Warrior Mohawk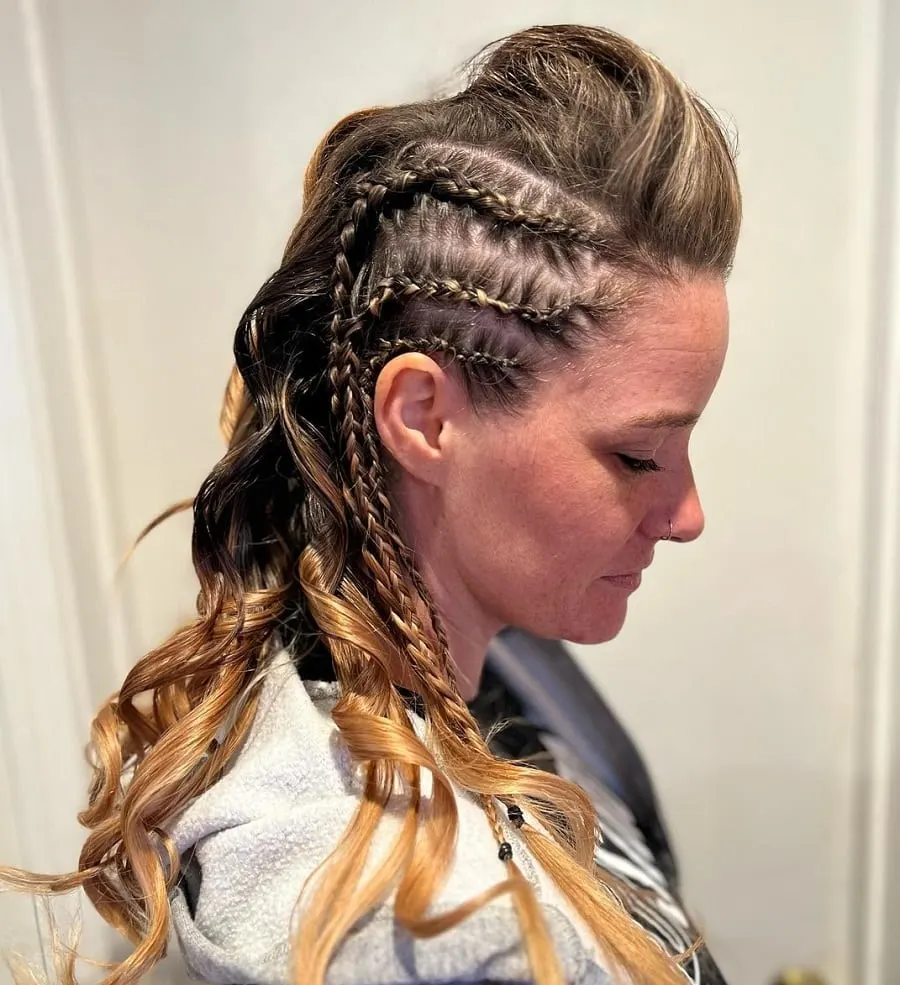 This fohawk hairstyle for women is sure to turn anyone into a brave warrior. Backcomb and smoothen the front to get a bumpy pouf with tight knits along both sides.
Finish off your groovy half updo by adding curls at the back, and get ready to drop some jaws.
11. Subtle Up-Sweep
Ladies getting on in years prefer to chop off all their locks, usually into pixies. No need to worry, as you can still sport a soft fohawk with just a little effort.
Brush all your salt and pepper strands forward with a tiny up-sweep on top. That's it!
12. Spiky Rock Star Shag
Express your wild side to pop some eyes this season. Get an uneven chop with long, disconnected sideburns and a lengthy top and back much like a shaggy mullet.
Go a step further and try a pastel blue dip dye with those spikes standing up in all their glory.
13. Color-Blocked Hoxton Fin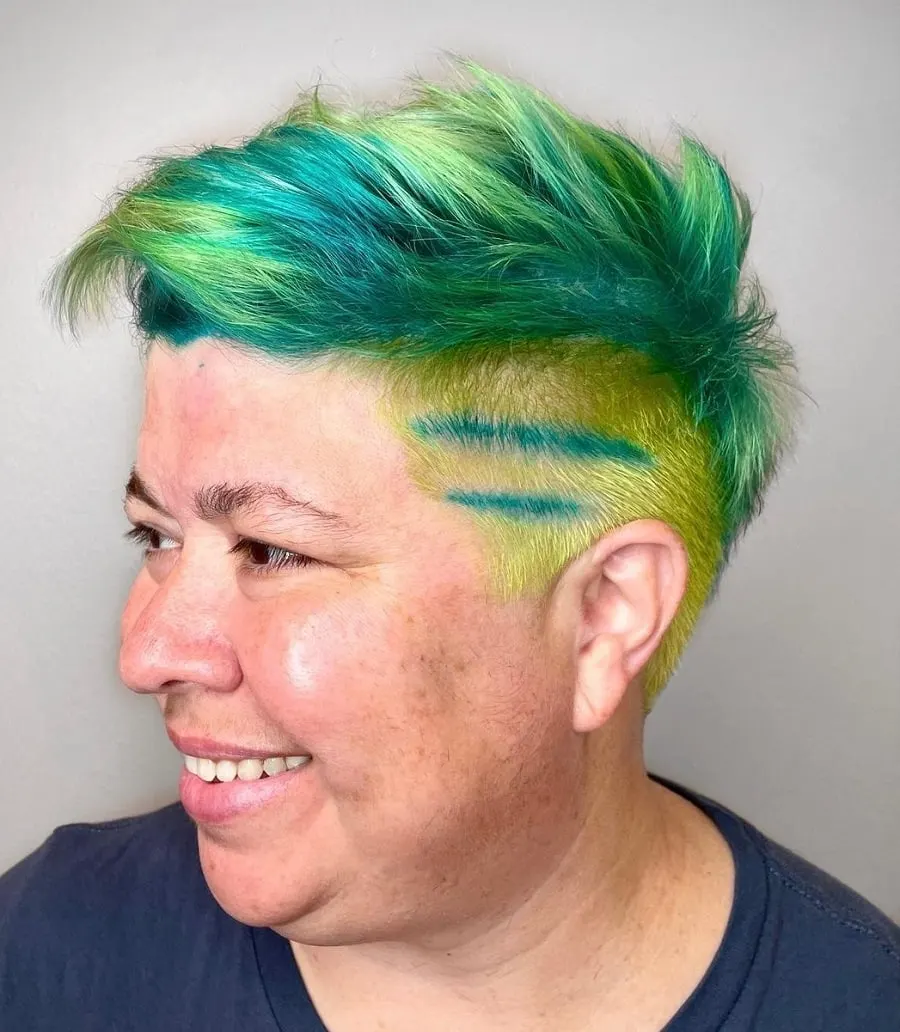 The faux hawk hairstyle was popularly known as the Hoxton Fin in the early 2000s. Consider getting an eye-catching color block to make your usual side-swept long top and buzzed sides stand out from a distance.
Teal and apple green will make a great color combo!
14. Piled-Up Long Curls with Bangs
Show off your long tresses with pride. Become a present-day rebellious Rapunzel by experimenting with stacked-up bouncy ringlet curls in the center and Dutch braids on the sides.
Bangs or some loose chunks are ideal for framing the face while avoiding a blunt look.
15. Relaxed Short Wavy Fohawk
What's not to love about this relaxed wind-swept faux hawk hairstyle for women? Outgrow your short pixie by applying gel on the fingers and running them through the mane from front to back.
Allow the wavy chunks to stand up in all directions for a messy yet sexy appeal.
16. Pretty-In-Pink Hawk + Faded Sides
Open up the face with a super short androgynous crop featuring a textured top with a similar length along the temples and a tight fade just above the ears.
Try the frosted rose pink hair color, too, to celebrate your womanhood with style.
17. Side-Swept Puff with Shaved Slits
Keep it workplace-appropriate by sweeping those long top strands sideward into a gentle puff. Retain some of the quirkiness with a V-cut at the back, a neat undercut, and a couple of shaved slits on one or both sides.
The broad top shortening and narrowing down gradually towards the nape is just everything.
18. Knotted Faux Hawk Pony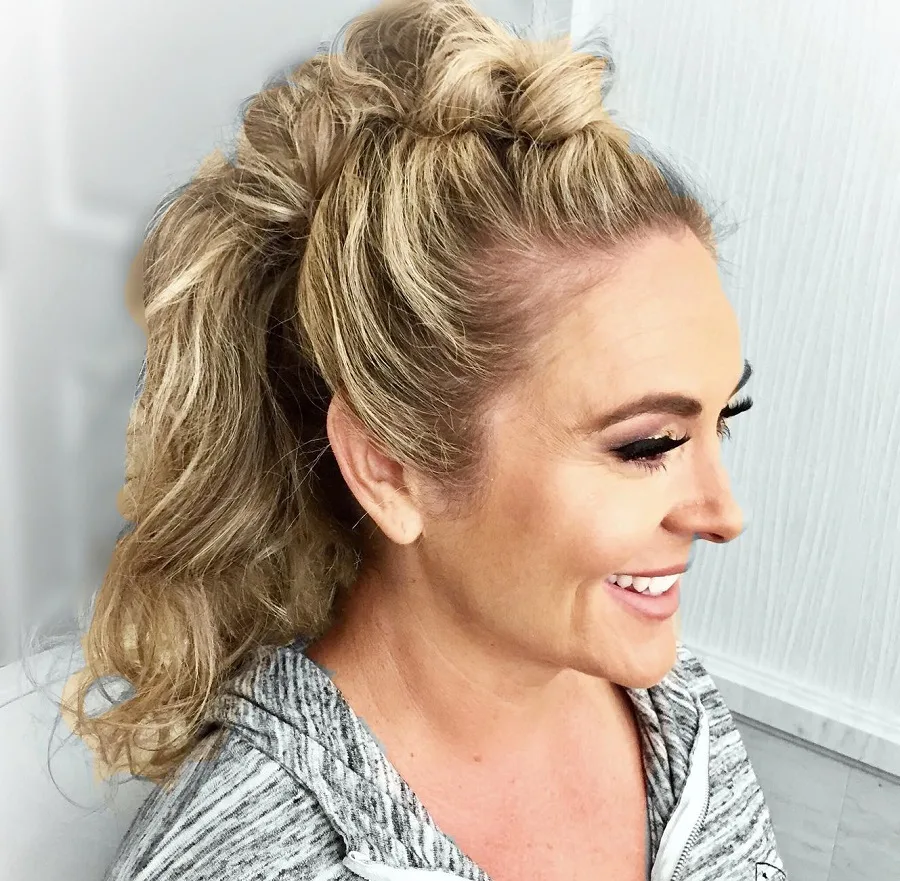 Ponytails produce the best temporary fohawk hairstyles for ladies. Create a half-up pull-through braid, or opt for tiny buns in a line for a knotted look with a simple high pony at the back.
Try a French bubble braid, too, and you won't regret it!
19. Disheveled Galaxy Spikes
Channel your inner hipster by replacing a narrow strip of hair with a long top full of wispy layers and a sharp drop fade along the sides.
Bring an entire galaxy on your head by adding hints of purple and blue and allow those uneven spikes to scatter everywhere.
20. Low-Key Mini Hawk
Start fresh with a mini-hawk that looks far more cute than bold. Opt for a very short top with even shorter sides or skin fade instead.
Sweep the strands up or sideward, depending on your mood, and that's it. Can't get any simpler!
21. Back-Swept Top with Shaved Side Design
Go wild for a change and ask for buzzed sides, sparing a strip of long hair in the middle from front to back.
Spice up your false mohawk with bright red tips, brushed-back spikes, and a zigzag shaved side design to look like a member of some punk-rock metal band.
22. Quirky Rainbow-Hawk
Can't take your eyes off it, right? Flatter your heart-shaped face with a unique rainbow-hawk hairstyle, and enjoy all the stares along your way.
The trick is simple; a disconnected long central strip and buzzed sides with streaks of all your favorite colors popping on top.
23. Rebellious Mullet-Hawk
Mullet-mohawks are a thing and feature the key attributes of both the decade-old hairstyles; the lengthy chopped-up top of a faux mohawk coupled with a long shoulder-grazing tail of a traditional mullet.
The undercut and unevenly lightened patches of hair will add up to your edgy hairdo.
All these funky faux hawk hairstyles for women will surely encourage you to get out of your comfort zone with style.
The biggest advantage? You can rock a cool mohawk hairdo without snipping off any hair until you're really ready. So what's the waiting for? It's your turn to become a rock star!