Auburn hair has long been associated with amazingly glamorous hairstyles. The rich intensity of the auburn color was a favorite amongst film starts in the early-to-mid twentieth century. Modern hairstylists have tried a variety of different ideas to help to keep this style modern and relevant. Auburn hair with blonde highlights has helped to update this look so that it is perfect for the twenty-first century.
Auburn hair color is so rich in the variety of hues it offers that anyone can get their very own auburn hair color without even searching for long hours. You can either choose a warmer shade or a more refreshing shade, depending on your skin tone and rock the new look this season. It is time to take into consideration your preferences, not forgetting your skin tone and hair texture, and get the hottest auburn hair color today.
Get Your Auburn Hair Colored with Blonde Highlights
Unless you are trained with using hair dyes and colors, you are recommended to ask a stylist to help you to color your hair. If your hair is naturally dark or auburn, you may have to bleach it before you put blonde highlights in.
Doing this without adequate training can really damage your hair. Leaving the bleach on for too long will leave your hair brittle and damaged. A trained stylist should be able to do this without damaging your locks.
Associated with various glamorous hairdos, Auburn has always been our go-to color. The vibrant intensity of the auburn hair color with blonde highlights is a hair industry specialty. Getting auburn hair color is going to be your happily ever after!
#1: Best of Both Worlds
This mixed up women hairstyles for auburn hair with blonde highlights is truly gorgeous. The top of the style is soft and straight whilst the bottom is characterized by lovely loose waves. Creating a look like this gives you the best of both worlds.
#2: Sleek with Heavy Bangs
A sleek haircut is best for showing off your amazing auburn color. The sleek style helps to reflect the light and give your hair a healthy shine. Heavy bangs give your look a funky modern edge.
Chicest Caramel, Violet & Brown Hair Color Ideas
#3: Messy Waves
Messy Waves help to give your hair a kind of shabby chic look. Get this hairstyle by scrunching handfuls of mousse through your auburn hair whilst you are drying it.
#4: Glamorous Waves
Long glamorous waves are perfect for an auburn hairstyle. Create perfect loose waves by leaving your hair in rollers overnight and then brushing through your style. This look is great for glamorous parties.
Ombre styling looks fabulous whatever hair color you have, but it is a great way to show off different shades of auburn hair with blonde highlights. Give your hairstyle an extra edge by keeping the top of the style straight and sleek, whilst styling the bottom with loose curls.
#6: Windswept hair with a Side-Parting
A side-parting can completely change the look of a woman's hairstyle. If you have light and floating hair, you can help to give your hairstyle an even wilder look by putting a part into one side.
#7: Golden Girl
Lightly auburn hair with stronger blonde highlights can look really golden. If you want your hairstyle to have a really winning look, then color your hair with this amazing golden shade.
#8: Asymmetrical Beauty
Asymmetrical hairstyles are really modern and edgy looking. Make your wild choppy cuts stand out more by styling your hair with straightening irons to give a gorgeously sleek look.
Wavy hair looks amazing in a long bob hairstyle. The shaggy style is perfect for smart-casual looks. Dyeing your auburn hair with blonde highlights will help to give the style an even more textured look.
#10: Sleek Layered Look
A sleek style is a great way to show off the intensity of your auburn hair color. Light layering at the end of your hairstyle will help to keep your style looking fresh. Taper your hair to a point for a really classic women's hairstyle.
#11: Arched Bangs
Arched bangs are bangs which have been shaped to follow the natural arch of your eyebrows and the curve of your face. An arched style is a really cute hairstyle which looks amazingly edgy on thicker heavier hairstyles.
#12: Signature Streak
If you want to make a real impression, you can just have one signature blonde streak put into your hair. It is really effective if you have a bold blonde streak in an asymmetrical fringe. This draws attention to your eyes and face.
#13: Big Bold and Beautiful
Big hairstyles have always been synonymous with real glamor. Brush upwards from the roots to give any hairstyle more volume and get large permanent curls by having your hair permed by a professional.
#14: Ombre Twist
For an unusual twist on the popular ombre hairstyles, you can color your auburn hair with blonde highlights which gradually move from the front to back. Whereas your hair will look more blonde at the front, your auburn hair color will look far more intense towards the back of the style.
#15: Hints of Violet
In addition to the auburn and blonde colors that you already have, you can also add a subtle hint of violet to your hair color. Violet helps to create a more intense colored hairstyle and gives your hairdo a slightly gothic edge.
#16: Long as You Dare
If you want to grow your hair into a long hairstyle, you need to make sure that you take good care of it or else the condition could start to suffer. Regularly trim the ends to encourage growth and to get rid of damaged split ends.
#17: Dark Auburn with Loose Waves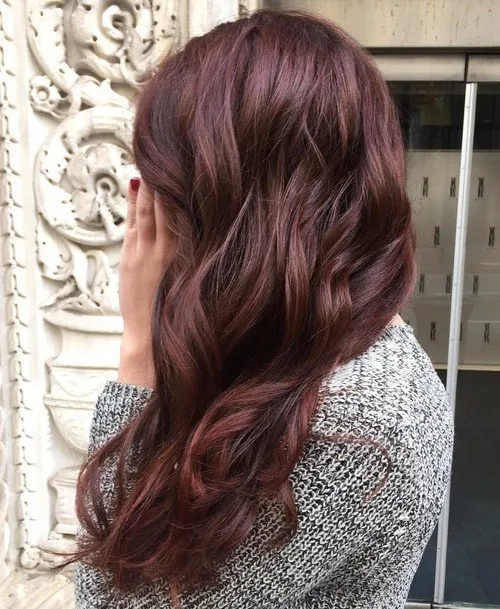 Dark auburn hairstyles are really intense. Loose waves can help to lighten things up a little bit. Loose waves like these can be worn absolutely anywhere, from the shopping mall to the office. They are an ideal winter style too.
#18: Diagonal Curls
The easiest way to give any hairstyle diagonal loose curls is to style your hair using a heated curling iron. Take a small section of hair and wrap it around the iron. Remove your hair from the iron and then spritz it with a light holding spray. Repeat until you have curled all of your hair.
#19: Glamorous Curls
These gorgeous big curls make a really glamorous hairstyle which is reminiscent of the styles that were worn by 1940s movie stars. You will need a firm hold hairspray to keep your curls looking immaculate all night long.
#20: Blonde Majority
Make blonde the majority player in your hairstyle and just have a few hints of auburn in the background. Flipping the colors in this way can have a really striking effect on any women's hairstyle.
Getting blonde highlights of close auburn hues is the key to being a trendsetter. Honey blonde is the perfect color to blend harmoniously with Auburn. Your beautiful locks will appear more dimensional if you get this auburn with blonde highlights hairdo.
Dark auburn hair with highlights is for the ones with not very light skin tones. This color adds freshness to your style by adding a shiny pop of color to your overall appearance.
Having thin hair can sometimes be a nuisance, but a dark blonde highlights add the illusion of voluminous hair. This shade of Auburn makes you look sophisticated and elegant.
#24: Multi-colored Waves
Level up your game by accentuating your auburn hair color with strawberry blonde hair highlights. Warmer hues always give you a vibrant appearance.
#25: Medium Auburn Waves
If you have got wavy medium length hair, then this cut will look great with a bold shade of Auburn. This goes exceptionally well for the women who have fine strands.
#26: Auburn and Ash Blonde Highlights
Auburn and ash is a super unique combination which you should definitely try. Dye roots in dark Auburn and random ash blonde highlights through the tips. This auburn hair with blonde highlights is to you breaking every standard.
#27: Auburn to Orange Fade
Layers are no longer needed to add bounce to your orange brown hair. Waves can do the trick by highlighting the color. Darker hair at roots and dropped down orange at tips usually have a more significant impact.
Don't just stick to a single color and be more fun. Experiment with your hair and get dark copper auburn hair color strands with golden blonde highlights this year.
#29: Brown Hair with Blonde Tips
To make your locks look dynamic, color and mix more shades. Platinum blonde highlights on tips pair best with brown auburn hair.
#30: Auburn Bob
Short haircuts have gained massive popularity this year. Bob haircut looks flattering on everyone and what makes it stand out, even more, is the deep Auburn with a tinge of the vine.
For straight and long hair, you can choose from famous ombre highlights. Copper hair especially goes well with blonde babylights and perfectly complete your look.
Auburn is our favorite color and comes with various shades and hues. Based on your skin tone, eye color, and hair texture, you can choose from hundreds of auburn hair color variations with blonde highlights. Go Auburn this year and experiment with your favorite Auburn hair color with blonde highlights. You will love it forever and ever.
If you don't fancy changing your auburn hair with blonde highlights, then you can always add highlights of a different color. Alternatively, leave your auburn hairstyle a solid color and let your styling do the talking. There are plenty of different classic and quirky options available.