Do you love braided hairstyles and want to try something new with your hair? Box braids are one hairstyle that comes in many different looks, from colorful and short to long and neutral.
If you need a protective style that is also low maintenance, box braids are a great choice. They will last four to six weeks and only require a bit of hair gel or conditioning mist to keep hair shiny and smooth. For any face shape, box braids will flatter your angles.
Box Braids
These 75 box braids hairstyles are a must-try, so what are you waiting for?
#1. Box Braids on Caucasian Woman
White, pink, and blue combine on these box braids for an unexpected yet gorgeous style. Pull the top half of your hair into a ponytail or bun for a quick, easy look and accent a few strands with beads.
#2. Medium Box Braids
Dark box braids with just a hint of burgundy at the ends dresses up this long hairstyle. For thick hair, medium box braids are a good option to keep hair looking full while containing bulk.
#3. Knotless Box Braids
Instead of tying in box braids by starting a knot at the scalp, these knotless ones are attached starting with your own hair and gradually feeding in the braids. A colorful style like this is easy and great for when you already have a lot of natural hair growth.
#4. Bohemian Box Braids
Get the beautiful boho look by mixing long box braids with loose curly hair. Caramel and blonde hair color is stunning against dark skin. Worn down or up, the loose waves will stand out against your braids making for an overall soft look.
#5. Crochet Box Braids
Crocheting braids into your hair is a lot quicker than doing sew-ins. For four to eight weeks, you won't have to worry too much about styling, other than touching up the curly hair with a flat iron. A side part is a great way to flatter an oval face.
#6. Triangle Box Braids
A pop of style sneaks up on you when you look at the top of these triangle box braids. A triangular shape is very fresh as is the beautiful turquoise color that glosses over braids as an ombre.
#7. Box Braids with Curls
A long hairstyle that features box braids and curly hair is the best of both worlds. Braid hair from roots to a couple of inches from the ends, accentuating curls with the product.
#8. Red Box Braids
Dark and light red pair with black box braids beautifully. A bunch of tiny braids cascade over this model's shoulders. If you're dying to have long hair, you need these long braids.
#9. Burgundy Box Braids
This burgundy is a cross between dark and light pink. While it is a bold color choice for long box braids, it stays professional because the colors are muted and you can pull the hair up and away from your beautiful face to remain work-friendly.
#10. Blue Box Braids
If you're the type to try bold hairstyles, this turquoise box braid hairstyle is for you. Against pale skin, it's a dramatic look, but it will work for dark skin tones as well. Dress it up with bows, beads, and headbands!
#11. Brown Box Braids
If your skin is dark, your box braids will look best with a combination of light and dark brown with a blonde. For a fun look, pull the top half of your braids into two space buns.
#12. Rainbow Box Braids
Here's a look that will turn heads: the colors of the rainbow gracing your long medium box braids. If lime green is too much for you, just add a bit more purple or pink! Worn down or up, your braids are guaranteed to catch eyes.
#13. Honey Blonde Box Braids
For women with light skin, opt for box braids in honey blonde. Prefer braids in a smaller width? Lots of tiny box braids will take 6 to 12 hours, but to get this look, it's worth it.
#14. Grey Box Braids
Grey is a great hair color choice for older women looking to embrace their greying hair or just do something different with their hairstyle, but it also looks gorgeous against dark skin. Wear it up in a ponytail half updo and pair with your favorite formal clothes for a super pretty look.
#15. Orange Box Braids
Another way to make sure your box braids stand out is with a bold electric orange. These two shades of orange brighten up thick box braids and silver rhinestone hoops dress up the roots.
#16. Twist Box Braids
Box braids with a twist give off a totally different yet still gorgeous look. These will last about four to six weeks and are a popular option for protective hairstyles. Bring out your flirty side with pink!
#17. Box Braided Updo
Looking for a stylish way to keep the hair out of your face? Pull the front part of your hair back into a cute bun updo. Instead of using a hair scrunchie, wind your own braids around the bun.
#18. Box Braids with Beads
A layered box braided hairstyle with bangs is the best way to show off beaded accessories. Stack a couple on the ends of each layer and at the bangs in a contrasting color for a unique look everyone will envy you for.
#19. Jumbo Box Braids
Wanting to skip the hassle of sitting for six hours while your stylist braids in jumbo box braids. Add in blonde highlights for a beautiful mix of dark and light color.
#20. Micro Box Braids
Micro box braids are much tinier than the traditional width of box braids. If you have thick hair, micro braids will make it easier to maintain while for thin hair, they will make your mane look fuller.
#21. Mini Box Braids
When it's summer and you're hot all the time, get your hair off your shoulders with a mini box braided hairstyle. Wearing it long and in braids will eliminate frizz, but wearing it up is equally as pretty, especially with this gorgeous blue ombre.
#22. Box Braids for Kid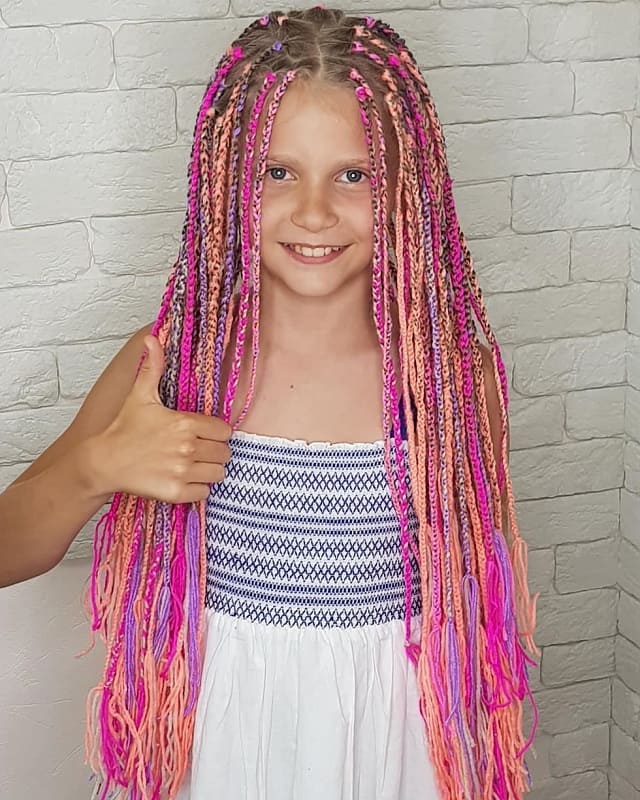 During the summer months, help your child enjoy herself by treating her to her own box braids. Pick out bright colors, such as orange and pink, for summer vibes and a low maintenance look she can rock for at least a month.
#23. Box Braids with Fade
Display your edgy-feminine side by mixing a fade with box braids. On an oval face, a bun updo accentuates angles and the bold blue and purple colors keep the hairstyle fresh.
#24. Box Braids with Dreads
Rock a boho style by mixing box braids and dreads. Another style best for women with thick hair, the box braids will contain bulkiness and last for at least four weeks. Keep your style smelling great with leave-in conditioners.
#25. Box Braids with Highlights
Give your blonde box braids a little flair with pink highlights. A few highlights in a pastel color is fun enough to satisfy your craving for something new yet tasteful enough to sport at the office.
#26. Chunky Plait
The extra-long box braids look fantastic when they are styled in a funky chunky plait. Throw your plait over to one side and pin it in place for a particularly contemporary look.
These braids go from dark to light as the hair tumbles down. Although these purple-pink braids look great, you can choose an ombre look in any color that you want!
Best Braid Hairstyles For Black Women
#28. Knotted Head Scarf
Wrap your box braids up with a colorful piece of fabric. This is a traditional hair style and will take you back to your African roots.
#29. Crowning Glory
Twist and plait your braids around across the front of your head to create an off-centre crown of hair. You can leave the rest of your hair down or pin it up.
#30. Purple Box Braids
If you are having extensions put in your hair, then you do not have to choose a "natural" color. These punky purple braids are eye-catching, fun and vibrant.
#31. Shaven Sides
Keep your box braids long in the middle, but shave the sides of your head for a striking look. Keep it plain shaven or shave a pattern into your hair.
#32. Bandana and Big Braid
Take a large section of hair from one side and sweep it around your head like a bandana. Hold the bandana section in place by styling it into a chunky braid at the rear centre of your head.
Popular Waterfall Braid Hairstyles to Try
#33. Go Wild
If you are going to go wild with green hair, you can add another twist by accessorising your hair with a crown of flowers. Bright white and pink flowers offer the perfect contrast.
#34. Alpine Plaits
Put your box braids into two classic alpine plaits. These plaits only take a few minutes to complete and they will help to keep your hair away from your face and eyes.
#35. Chunky Braids
Rather than getting tiny braids put into your hair, choose a chunkier option. It is often easier to do chunky braids with natural hair than it is to do smaller braids.
#36. Contrast
Choose a color which completely contrasts your own natural shade. You will only see the contrast at your roots, but the effect will be striking.
#37. Knotted Chignon
This beautiful take on classic chignon looks really good with thick box braids. Sweep over the top section of your hair to give the style a contemporary look.
#38. Plait Crown
Separate the front section of your hair from the back section. Leave the back section of your hair down. Use the front section of your hair to make a plaited from that follows the natural curves of your head.
#39. High Bun with Shaved Sides
If the underside of your hair is shaven, you can put your hair up into a high bun on the top of your head to emphasise all of your features. If you have really long hair, you can leave a section down coming out of your bun.
Best Fishtail Braid Hairstyle Ideas
#40. Chunky Braids with a Top Knot
If you have chosen a medium length haircut you can add to the style by pulling your hair up into a high top knot close to the front of your head.
#41. Space Buns with Pig Tails

Separate your hair into two sections and bring each section up onto the very top of your head in a bun style. Rather than using all of your hair to create thick buns, let some of your hair flow down instead.
#42. Simple Side Sweep

This hair style is super simple but it looks great. Bring your hair up into a top pony tail, and then allow your hair to fall freely over to one side of your hair.
#43. Box Braids with Undercut
Create a bun style with a cinched middle to give a classic bouffant look, but then give your bouffant style a contemporary twist by wearing it with undercut.
#44. Bob with Side Fringe
Box braids do not have to go all the way down to the floor. A bob is a classic hairstyle which is low maintenance but also the height of fashion. Mix it up a little bit with a side fringe.
#45. Jacob's Ladder
Keep most of your hair flowing freely but take three strands from each side. Pull individual strands round from each side and pin them together in the middle. Allow them to waterfall at the back.
#46. Top Pony Tail

Pull your hair into a top pony tail and then fan out your hair so that it falls evenly around your head. Some people achieve a better top pony tail by hanging their head upside down.
#47. Middle Parted Box Braids
A lot of styles look great with slightly chunkier braids. Try a half up and half down hairstyle if you are looking for a style which is suitable for work and for every day.
#48. Down 'Do
Let your box braids do all of the talking by choosing a simple down do style. All that you will require to create a style like this is a few pins to keep your hair out of your eyes.
#49. Chocolate and Caramel
Create gorgeous box braids by braiding two different colors of hair together in one. Mixing two colors will help to enhance the textured appearance of the braids.
#50. Dread Effect
Some rough braids look like dreadlocks. Keep these braids as fine as possible for a rough but delicate look.
#51. Classy High Pony Tail
For a simple yet effective style, sweep your hair around into a high pony tail and let it fall naturally. This style can be worn for everyday or it can be worn for glamorous events.
#52. Box Braids + Side Parting
Create an extreme side parting by sweeping the majority if your hair over to one side of your head. This will give you a funky style that is very easy to maintain.
#53. Cute Bob

Box braids look perfect as a cute bob. This style is short but very sweet.
#54. Knee-Length Box Braids
Whilst you may not want them to go ALL the way down to the floor, you can still make your hair pretty long if you have extensions put in. It is worth remembering that very long braids can weigh a lot.
#55. Half up Half Down Box Braids
Separate your hair into a top and bottom section. Draw the top section together and pin it up at the back of your head. Leave the bottom section of your hair down and flowing freely.
#56. Two Tone Box Braids
With a dip dye effect hairstyle, your hair is a different color at the ends than it is at the roots. This effect is particularly striking when the colors really contrast.
#57. Waist Length
To get your hair to this length naturally you might need hair down to your knees before it is braided. The great thing about using artificial braids is that you can have them as long as you would like.
#58. Combed back Fringe
If you are worried about keeping your hair out of your face, then you can comb your fringe back to keep it out of your eyes. Loosely pin it back to prevent it from falling down.
#59. Thin Hair
Even if you only have thin hair, you can still have it plaited into natural box braids. Some people with very thin hair may prefer to pad out their style with extensions.
#60. Side Swept
To give yourself and edgy look, sweep all of your hair over to one side of your head. This style looks particularly edgy if the underneath of your hair is shaven.
#61. Short and Chunky Braids
This short and chunky style is great for those who do not want long hair or delicate braids. Despite its simplicity, it also has an elegant and regal appearance.
#62. Blonde with Light Coloring
Twist a few different strands of color into your hair which you are creating the braiding to give your hair a very subtle rainbow effect.
#63. Hair Wraps
Leave a few thin sections of your hair unbraided and then encase these sections in colorful fabric hair wraps.
#64. Punky Box Braids
Whilst most box braids extensions are carefully woven in, these braids make a featured out of their messiness. Plenty of loose strands of hair coming out near the top give the style a cool, punky look.
#65. Diagonal Cornrows
Rather than having completely straight cornrow, have your hair braided so that your rows are on a diagonal slant. This is particularly cool if you put your hair up with a twisting style that goes in the opposite direction to your rows.
#66. Large High Bun
If you have thick hair, then the volume of box braids can be quite high. Twist them up on to the top of your head to create a 60s-inspired big bun.
#67. Wrap Around Fringe with Flowing Locks
Create an extreme side parting in your hair and then sweep most of your hair from one side over to the other to create a wrap around fringe. Finally, pull it back round and over your shoulder again.
#68. Top Knot
Pull your hair vertically upwards from the crown of your head and then twist it round into a tight high bun. Leave some of your hair down if you want an up-down style.
#69. With a Beanie
For a relaxed yet stylish look that you can wear when you are out and about, top your look with a comfortable but cool beanie.
#70. Pink Plaits
For a delicate difference, try adding subtle pink hair wraps or plaiting in pink strands. This looks beautiful when teamed up with rosy skin tones.
#71. Black and Red
Black and red are known for complementing each other well, and hair colors are no exception. Mix these too hair colors for a fun and passionate look.
#72. The Mane Event
Unplait your box braids to get amazing crimps. After being held in such tight plaits for a long time, your hair will frizz out and give you a fantastic looking crimped mane.
#73. Box Braided Mohawk
This androgynous style looks fantastic and is great for any occasion where you need to impress. It is the perfect option for those who want something that is masculine yet soft.
#74. Double Slanted Crown
Separate your hair into four chunky sections and bring these up and over from the back of your hair. Twist these sections together in pairs and bring them around the front of your head into a crown. Pin your "crowns" at the back.
These box braids have been inspired by traditional Mexican hairstyling techniques. The style looks fantastic with a dramatic eye and a gorgeous red lip.
Remember no matter which box braids you choose, you'll be spending a bit of time in the chair getting them done and they'll last between four and six weeks. Make your look reflect your personality with colors, beads, and highlights. You're sure to love the final result!