Whether you have short, medium, or long hair, invisible micro braids can always enable you to turn the odds in your favor! Either by adding extensions for the extra volume, or going with your natural hair this design is guaranteed to be exactly what you need for a whole new innovative and efficient look.
Why Are They Called Invisible Micro Braids?
Basically, invisible micro braids get their name from the fact that they are extremely tiny braids. To an extent that you would not even be able to tell that the hair is braided. Not even from a closer look! The braided sections look like normal strands of hair because they are braided for only 1 – 2 inches. Meanwhile, the rest is left loose to blend with the rest of your unbraided hair section.
What Type Of Hair Does It Go Best With?
Despite the fact that with the proper professional help, you can end up with any style you want. This style suits girls with relatively short hair. Otherwise, styling would be more time-consuming. However, the outstanding outcome is totally worth it!
Get The Look with Micro Braids
The Secret Behind The Success Of Invisible Micro Braids
Get Full Voluminous Curls. Because evidently, braids give your hair the extra puff it needs.
Great Manageability and versatility. Whatever up-do, ponytails, undercuts, side swept styles etc… you might have in mind get a more visually attractive factor.
Low maintenance and high durability. This style can withstand up to 2 months without minimum to no maintenance whatsoever.
Your Complete Guide To Invisible Micro Braiding
As intricate and complex as micro braids might look, mico braiding is not as hard as you think. And with these youtube video tutorial, your struggle becomes approximately non-existent. So, grab a pen and paper and take whatever notes you find necessary to take advantage of every tip and trick these tutorials can offer you. But first of all, make sure you have all the tools you required.
Youtube Tutorial Videos That Might Help You Kick It Off
These videos are your guides towards mastering the basics of micro braiding because they have everything you need featuring the styling steps from A to Z.
Required Tools:
Rat's tail comb to separate sections that you want to braid.
Hair clip to section out the hair that is not included in the braiding process.
Hairpins to pin the braids in place once you are done braiding.
Fixative hairspray to avoid any accidental flyouts.
Invisible Micro Braids to Get Noticed
Since behind every successful hairstyle is the marvelous most delicate details, here are the top 5 best invisible micro braids. Since surfing the internet can consume a great amount of your time, we have gathered the top notch designs that will definitely suit every taste and every occasion. So, feel free to copy whatever you like from our digital catalog below!
#1. Curl And Braid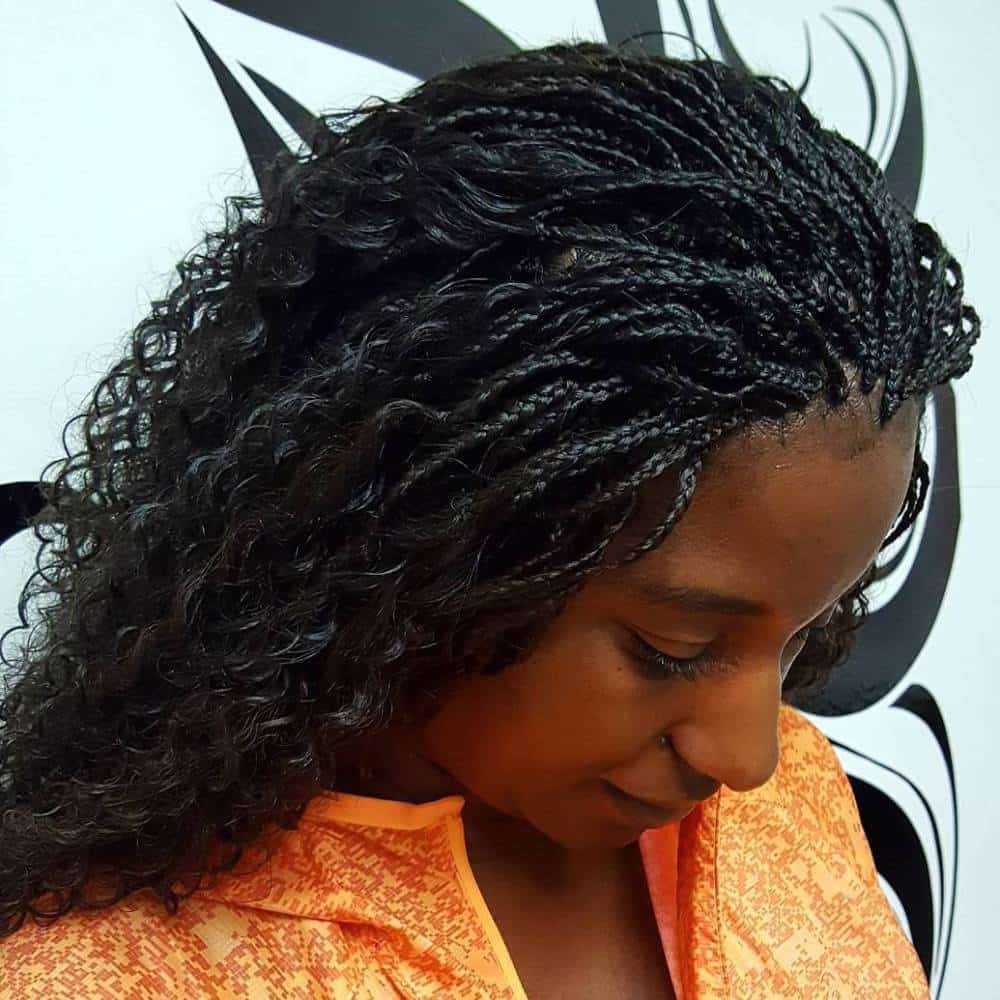 Mixing up any style with curls can be tricky. Because with such a voluminous design, everything else cannot compare. However, invisible micro braids prove that theory wrong by enabling you to transition from 2 inches of tiny braiding into full loose curls. It helps keep your hair out of your face for the rest of the day while offering you the look of the year.
Micro Crochet Braids for Fashionistas
#2. The Power Of Synthetic Hair

Another approach to this design can be done with synthetic hair if you lack the long healthy hair needed for this design. Or if you are looking for a protective temporary design while your natural hair grows out. After all, nowadays high-quality synthetic hair locks look more realistic than ever. You can't even tell the difference from a close look.
Quick Tip: A dab hair gel or mousse can help keep your curls fresh, glossy, and voluminous.
#3. Behind The Scenes Of Unusual Hair Colors
Don't you just love unusual hair colors? This season contrasting bold highlights like the red ones shown in the picture above are a must – have! The colors are striking and bold, which might just be what you need to get back your confidence and feel like the most beautiful and appealing woman on the planet.
#4. The Micro Afro Style
Refusing to braid all of your hair doesn't only save you a lot of precious morning minutes. But is also considered as thinking outside the box by simply braiding the frontal section. So, this design enables you to mash up two of the most popular hairstyles: micro braiding and curly afros to end up with one complete masterpiece.
Tip: This design best suits girls that have neither patience nor intention of devoting hours for hair styling.
#5. Flowing Curls
There is nothing sassier than naturally flowing curls that end up to rest on your shoulders after fulfilling the task of framing your face and adding to its silhouette. So, don't be shy and show off those sexy natural curls to the world and rock those summer vibes by looking as healthy and glamorous as possible.
Amazing Micro Braids with Curls & Weave
In conclusion, for better chances of higher manageability and more flexible designs, nothing can serve you better than invisible micro braids. After all, no other style can provide you with a sassy yet elegant touch like that.