Adding purple highlights to blonde hair is a fun way to shake up a normal style and enjoy a bright and unexpected pop of color. Women who want blonde and purple highlights have a few great options when it comes to styling their highlights and their hair for a unique look that is fun and is sure to attract a lot of attention.
Tips to Style Purple Highlights on Blonde Hair
Blonde hair looks great with any kind of highlights, but women who want a funky and fresh look and are brave enough to try something different will love the way that purple looks and how it makes them feel.
Keep It in the Back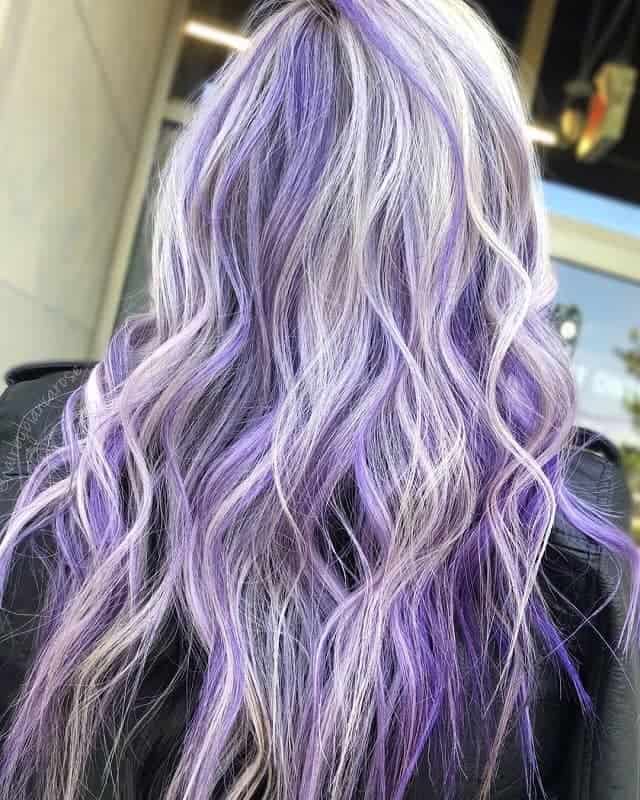 One new way to style blonde hair with purple highlights that a lot of people may not have seen before is to add the purple highlights to the back of the head instead of the front.
While most people think of adding highlights to frame the face and add some interest to the front of the style, this is a fun and different way to add a pop of color.
It's almost hidden until the woman turns around, at which time the blonde purple hair will really pop. Adding this back highlight to a long angled bob is a fresh take on this old style.
Go Strategic with Color
One beautiful thing about the blonde with purple highlights is that many different shades of purple can be used to make hair look amazing.
Rather than opting for just one color of purple, using a few different shades makes the look appear much deeper and more interesting. Adding a few different shades to light blonde hair and then curling the long locks with a large-barrel curling iron creates a dazzling look.
This allows the shades of purple to all blend together, adding a lot of depth and volume to the style and resulting in something completely unique.
Pixie cuts are a great way to grab attention, and adding blonde and purple highlights makes this style stand out even more. Since these cuts are so short, it's important to load them with purple highlights that will really show up when the cut is styled.
Adding a lot of saturated color to the cut allows the woman with the pixie to style it in a variety of ways and still show off plenty of purples. The end result is a fresh take on a pixie and will grow out quickly, which is great for women who aren't fully committed to having purple hair.
Wear the Hair Medium and Straight
Women who have medium straight hair will love the way that blonde hair with purple highlights looks on them. Wearing medium hair straight and loose can look ethereal and refreshing, especially when the long strands are highlighted with faded purple hair.
Adding purple highlights helps even long blonde hair look updated and refreshed. This is a wonderful option for women who want something new but aren't willing to make the commitment to cutting their hair.
Add Color to the Tips
Deep purple on the tips of a lob or chin-length bob will draw attention and can make the hair really pop. Rather than making the style look weighed down, which can happen when darker colors are added to the bottom of a shorter look, the purple is a welcome change from deep brown or darker lowlights.
This blonde and purple highlighted style looks great when the hair is allowed to dry naturally, but curling it or adding some waves to the hair makes it really pop and ensures that medium bob has a lot of volume in the style.
Add Small Details
Women who can't commit to a huge change in their style can still enjoy blonde with purple highlights. Rather than adding thick and chunky highlights on the head, women can sneak in some smaller highlights that peek out from a style.
These peek-a-boo hair look great when pulled back into a bun or when the hair is styled in a bob. Adding lighter highlights to the bangs and at other areas around the head makes this look very fun and is a great way to contrast with some lowlights in the style.
Women who want to refresh their look and enjoy something new will want to consider adding purple highlights to their blonde hair. This updated style will give any woman a boost of confidence when wearing it and will help her look and feel her best. No matter how long a woman's hair, this is a great blonde and purple highlights look that will have her looking and feeling amazing.