Can short grey hair be trendy? It most certainly can! All you have to do is look at it from a different angle. Grey and silver colors are no longer associated with age and lack of style. Today, grey locks are conquering the beauty magazines and adorn the heads of models and actresses.
The fear of looking older is long passed. The new grey hues offered by hairstylist and beauty product manufacturers all over the world show that grey can be beautiful if you try hard enough to reach the goal.
What to Wear With Short Grey Hair?
Once you change your hair color, you need to think about changes to makeup and wardrobe. While it's obvious that the makeup for gals with silver locks should be brighter to outline the youth and beauty, the wardrobe question remains open. Here are some tips to help you choose your next outfit.
Take Advantage of Black and White
If you don't know what to wear, stick to black and white styles. Black top, white bottom, and vice versa is the perfect way to match your new hair color. Don't forget that black and white look respectable but may lack a little zest. Spice up your style with some red heels!
Avoid Parrot Colors
If you are into bright and spicy colors that make you look like a rainbow, then short grey hair may not be what you should be choosing. Silver locks allow you to have a calm and quiet demeanor without sticking out of the crowd too much. If you must have a bright color in your wardrobe, stick to just one piece, such as shoes or bag.
Go For Red
Red looks perfect with black and white so it's bound to outline your grey hair. Red dresses, shoes, and bags should become an integral part of your new wardrobe. Even if you thought that red doesn't match your style before, it surely does now. Give it a try!
Check Your Closet
The stuff that used to look great with your old hair color and hairstyle might not be so amazing now. Take some time to check the closet and try on your favorite things. Perhaps you need to get rid of some of them or stuff them in the back to wait for you to change the hair color again.
Best Grey Hairstyles Ideas of Different Lengths
Best Short Grey Hairstyle Examples
If you think that short grey hair is for you, we prepared an exciting list for you to check out. These 30 options include different styles that you might want to try for yourself. Take a close look at face shapes and hair types of women on the photos. They can help you make the right choice for yourself.
If you are over 50, you can benefit from getting these exciting colors without going through too much bleaching. Gals with naturally silver hair now have a whole new world to take advantage of.
1. Gray Pink Pale Hair
A short grey ombre hairstyle with pink accents will suit your bob cut like a glove. Keep your roots in their natural shade, and you'll capture everyone's heart.
2. Asymmetrical Bob
Short platinum grey hair with mauve accents can make any girl with fair skin and blue eyes become a glamorous queen. Opt for a long asymmetrical pixie and get all the attention with red lipstick.
3. Platinum Mauve Pixie
This short silver-grey hair can look both elegant and sexy. Short hair is trendy, easy to style, and it regenerates faster. Tousle your hair and get that messy aspect.
4. Platinum Gray Highlights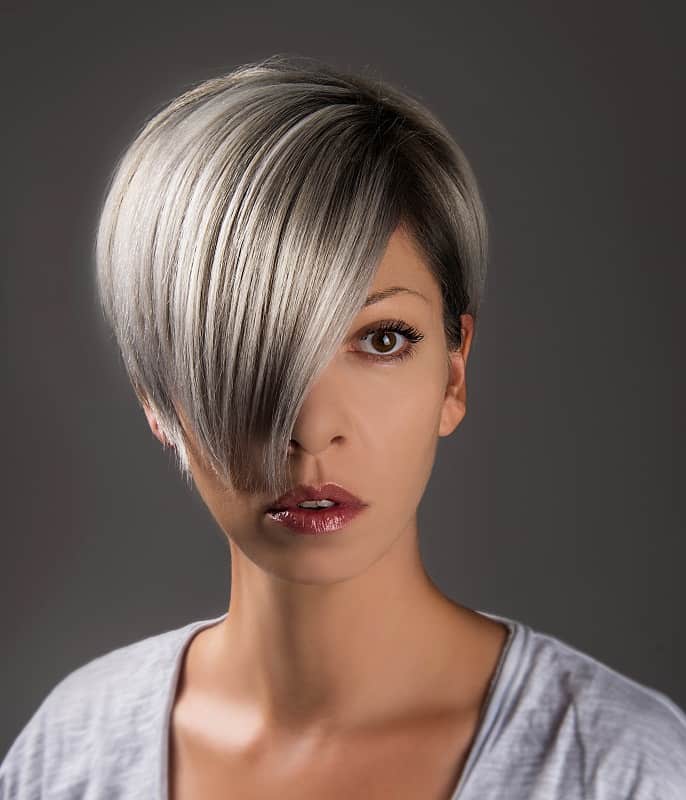 If you love exquisite nuances, get a short grey hair with highlights and dark roots. A pixie cut with long bangs tossed on one side, covering one of your eyes, will be quite a splurge for you.
5. Blonde Comb Over
When you have fair skin and blue eyes, a short grey blonde hair is a compulsory look. You can style a cleek comb over for your pixie, and you'll have a look that is perfect for fall.
6. Black roots
While black roots may look like a faux pas on some of the dyed hair, they appear amazing with short grey hairstyles. A silver bob with grey roots makes you look younger and more exciting so you can delay the touch ups.
7. Purplish highlights on Gray
This beautiful short grey pixie looks even more amazing with the purplish highlights. Grey and purple look just as good together as silver and blue so if you want to add some oomph to your hairstyle, a purple highlight is key.
7. Gray asymmetry
When you are thinking about dyeing your hair grey, you have to remember to keep up a hairstyle. Meaning a standard and boring haircut looks terrible with gray hair. This color requires something modern and stylish.
Glamorous Medium Curly Hairstyles
8. Bright & Short Grey Hairstyle
Adding just one bright strand to the gray hair can completely change the way your mane looks. Since purple is the most famous choice for women with silver hair, you can use it. But any other bright hair color will look just as well.
9. Purple hues
Mixing gray and purple is always a no-lose option. If you are a little afraid of the way the short gray hair may impact your appearance age-wise, adding purplish hues is a simple way to put these worries to rest and enjoy the hairstyle.
You can also watch the below video tutorial:
10. A-line bob
Silver hair looks great with an a-line bob. If your hair is naturally graying and thinning, a wonderful way to make it look stylish is to get the right haircut. If you have slight waves, they can provide the much-needed volume.
12. Naturally grey
If you have naturally graying hair, there is no need to do anything about it. Allow yourself to relax and enjoy the style as it comes to you. The only advice we can give is to get a short haircut. A nice pixie will do just fine.
13. Color mix
Whitish gray locks with a lower layer of purplish or bluish strands can create a real masterpiece. On their own, these colors look ordinary but when mixed together you get a hairstyle that makes you stand out of the crowd.
Stunning Blonde Balayage Hair Looks
14. Gray and curly
Short gray hair may add some age to your face if you don't know how to style it. Curls is a perfect way to remove the age off your appearance. If you have natural curls, you can readily experiment with all shades of gray.
15. White and gray
Mixing white and gray is a great idea especially if at least one of these hues appears on your head naturally. A very short pixie with long bangs can give you a stylish look while keeping the maintenance to a minimum.
16. Rainbow shine
If gray hair seems boring to you, you can proceed to experiment with different hues. Honey blonde, brown, blue, and dark silver can look great as just one additional strand or as full-blown grey highlights. Give them a try!
No matter how many options you sort through, short grey hair looks best in a pixie. Add some volume by stacking the pixie in the back and reduce the age by adding bangs in the front. Your grey pixie will make you shine!
18. Dark gray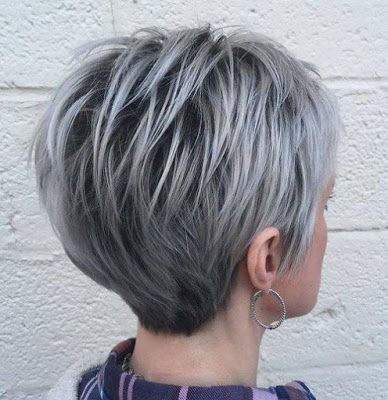 Dark gray is just as wonderful as the lighter shades of this color. You can enjoy the way it looks on your silver locks without trying to add highlights or any more colored strands. Keep it dark, keep it real. You can remove color from grey hair following this process.
19. Shortest hit
The shortest pixies look amazing when gray, silver or white. If you are after lighter colors, make your hair even shorter. For older gals whose hair may be slightly thinning, this short stylish gray pixie is a wonderful way out.
20. Gray bangs
If you want short grey hair but don't feel like bleaching and then dyeing the whole mane, you can settle for the bangs. It's been proven that people notice only the front part of your hairstyle so why bother with the rest?
Every Teenage Girl Loves These Short Hairstyles
21. Gray Afro Hair
If you are a bold older woman who likes being in the spotlight, you can beautifully style that salt and pepper Afro hair with a mind-blowing hairstyle that has height and texture.
22. Gray Curly Pixie
If you want to give your pixie hairstyle an elegant feel, use the wand to create some well-defined curls. For that undercut, you can also make a temple fade that will give you that urban sexy look.
23. Tight Gray Curls
A sexy short grey hairstyle can be completed with a pair of glasses. Get a bob haircut and an ombre that keeps the natural color of your roots.
24. Purple Gray Pixie
This pixie haircut is full of complexion thanks to that astonishing mauve gray nuance. Toss the long top on one side using quality hair spray, give your hairstyle height and dimension.
25. Pixie Cut With Undercut
Suppose you want a fabulous makeover, a pixie haircut with a marvelous wavy top. Dye those long strands in a platinum silver color and the undercut in black shade. Also, don't forget about the accessories.
26. Gray Hairstyle for Older Women
When you are an Afro American woman with gorgeous coils, you don't need to hide those gray hairs because they will beautifully blend with the rest of your black strands. Use hair gel to give them more bounce.
27. Gray Hair for Asian Women
As an Asian girl, a short bob haircut with bangs tossed on one side and layers, gray hair color will suit you like never before. Make sure you also dye your eyebrows.
28. Gray Faux Hawk
A short grey hair with a faux hawk will amazingly suit those thick black-framed glasses. Play with purple and silver nuances if you want more depth for that high top.
29. Gray Pixie for Women Over 60
A short grey hairstyle is an excellent option for a woman over 60 who wants to capture all the glam. Layer your pixie and wear those bangs on the forehead and slightly tossed on one side.
30. Pale Green Pixie
Who said you can't look feminine with a short cut? Get a pixie with an undercut. Create a contrast between the long top that you dye in a silver color with metallic green reflexes and the short brown cut.
If you still have doubts about the real beauty of short grey hair, we recommend going over the above options again. Your main goal is to get a suitable hairstyle and choose the shade of grey. Once done, you'll be amazed at how stunning you look.