Purple balayage is magical. Balayage itself is a wonderful way to control the color added to your hair. Stylists who do balayage can add the faintest, subtlest streaks, not to mention their ability to blend the color with your base hue or natural shade.
Purple itself shows up in every new fantasy hair trend. You see it in unicorn hair, mermaid hair, the peacock style, and the oil slick trend. It's having a much-deserved moment, so why not make the royal shade the focus of your hair?
How to Slay with Purple Balayage Hair
You will slay with purple balayage hair. You just have to take the first step. You won't believe how much more confident you feel or the sheer number of compliments you'll receive.
People love fantasy hair, as it turns out. First, think about what hue you like best. Do you love amethyst? Are you wild for wine?
From smoky blue purples to bright electric shades, just choose what complements your skin tone and then hit up your hairdresser.
1. Light Purple Balayage
Rather than choose a harsh color for your baby face, opt for a light shade of purple for balayage. On a medium length blunt-cut hairstyle, it's all the style you need.
2. Purple Balayage on Blonde Hair
Ready for a major change of color? If your hair is already blonde, you're all set for a dark purple balayage with light pink to add additional fun. Load up on curls and you're good to go.
3. Dark Purple Balayage Hair
Katy Perry once rocked dark purple balayage on a curly short haircut and so can you. Worn straight or with lots of volume, it's a head-turning look.
4. Purple Balayage on Brown Hair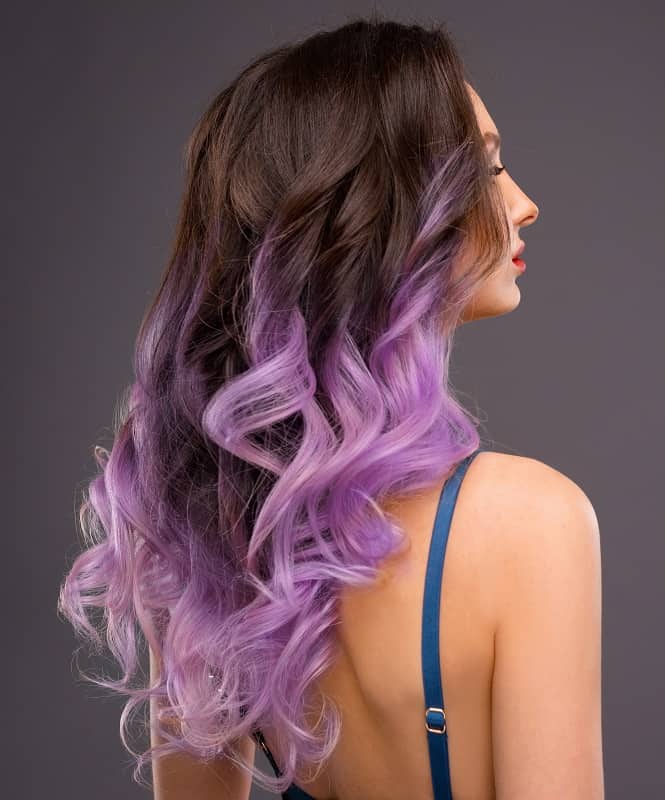 For women with naturally brown hair, just add a balayage of light purple for instant gorgeous color. Use a wide curling wand for large waves like this or pull hair into a half updo to show off the color.
5. Curly Purple Balayage
One of the best ways you can show off natural curls is with color. This medium purple graces tight kinky curls and looks even better as half updo with tendrils to frame the face.
6. Straight Hair with Purple Balayage
If you're used to wearing your hair straight or it's already straight, you'll be able to wake up and go after your stylist adds purple balayage. Keep the middle light and ends dark to switch it up.
7. Purple Balayage on Black Hair
You might think no color shows up on black hair but take a look at this purple to be proven wrong. A short straight haircut wears it well and combing it back makes it edgy.
8. Short Purple Balayage Hair
For light blonde or brown hair, add purple balayage that leaves the middle its natural color and top and ends the funky shade. A slightly messy style is effortlessly cool.
9. Pink and Purple Balayage Hair
Why go with one shade when you can have two? Combine pink and purple for funky style and a nod to those days when you used only Lisa Frank folders for homework.
10. Silver Purple Balayage Hairstyle
When growing out natural hair, a straight protective weave is one way to keep flaunting your personality, especially with several shades of purple and a streak of white to fashion it up.
11. Dark Purple Balayage on Long Hair
Have you been favoring bohemian styles lately? Along with those faux flowers, add dark purple to your long flower-child hair. Pull the top half back to emphasize length and focus the attention on the purple.
12. Two-Tone Purple Balayage for Dark Hair
Can't decide which shade of purple you like best? Wear your two favorite shades at the same time to play up long hair. You'll always be Insta-ready.
13. Medium Purple Balayage for Thin Hair
Not a fan of your thin hair? Distract from it by asking your stylist for medium purple. Thin and wispy locks won't look frail anymore!
14. Ultraviolet Tips
Because the stylist paints on the color when doing purple balayage, she or he has more control over where it goes and how long it sets. That gives you the opportunity to experiment with eye-popping shades, such as this vivid ultraviolet. Doesn't it blend beautifully with her dark roots?
Best Balayage Hair Colors On Short Hair
15. Sugarplum Streaks
There's something so delicious about this color. It fades slightly as it reaches the tips of the hair. Near the root and crown, it looks like there's a bit of coral mixed in, as well—well done, if so.
16. Wisps of Wine
A rich, dark purple shade complements brunette hair beautifully. The balayage technique allows the stylist to go for a subtle streaking pattern.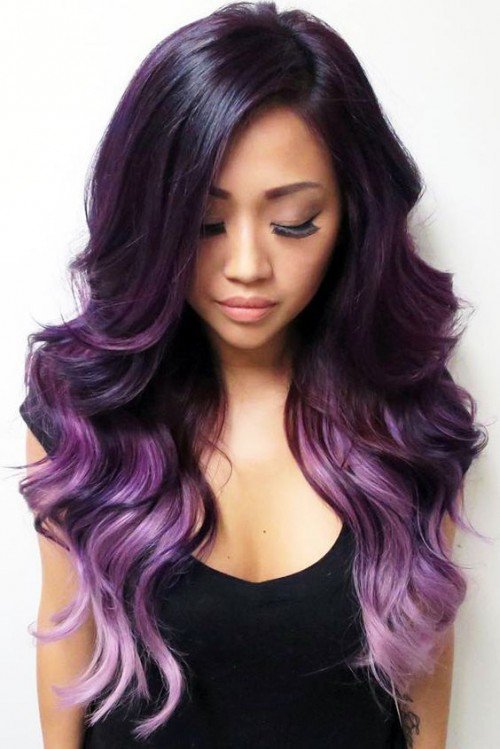 Here, purple balayage meets purple ombre. The color is carefully painted on in the balayage subtle but look at that stunning color fade. Deep, dark streaks of the indigo mix in with violet, plum, lavender, and pale, icy lilac.
18. Super-Toned Violet
Violet, wine, and mahogany come together to create this subtle purple hue. This is a smart way to sneak purple streaks into your hair even if you work in an office environment that frowns on fantasy tresses. Protip: this trick works best on dark hair, otherwise the balayage stands out a bit too much.
19. Lilac Locks
The lilac here is so icy and lovely. It's so subtle that it's almost ashy. Incidentally, if you ask for mauve balayage—a shade of purple, don't you know—you can also slither past any workplace restrictions on hair color. If you have a curly hair, here are some gorgeous hairstyles ideal for women with curly hair.
20. Iris and Periwinkle
The blue tones in this purple balayage are everything. The paint is light and faint up close to the crown, but the ends are a gorgeous smoky purple shade that mixes iris and periwinkle to stunning effect.
Red + Blue + Purple Hair Color Ideas
21. Amethyst Balayage
Look at her hair. Look at those colors, in particular. Those locks resemble a genuine amethyst stone—like the crystals you find in curio shops and the like. The fading and blending are both flawless. She owes her stylist a world of praise.
22. Heather Hair
Heather purple is ridiculously pretty. It's like a softer, more purple variation of lavender. It still has some blue, but not nearly as much. Actually, it looks like Heather and Amethyst meet and fall in love in this cute coiffure.
23. Purple Spectrum
The purple balayage here resembles the oil slick technique but rendered exclusively in the purple spectrum. Violet, Ultraviolet, indigo, lilac, raspberry—every shade is beautifully represented. Would you ever want this much purple in your hair?
Ultimate Short Haircuts for Girls
There's a reason purple balayage is all the rage right now. What color purple would you pick if you could dye your hair any shade?