Achieving the best hairstyle doesn't require you to go to your salon. But the issue arises when it comes to warming up blonde hair at home. Luckily, getting all the supplies you need to warm your blonde hair is easy.
Warming your blond hair can make your complexion more vibrant. Warmer tones help make your hair more lively and energetic. Warm blonde tones have become very popular, but most people don't know how to tone their hair correctly.
Read on to learn "How to warm up my blonde hair at home."
Things To Consider When You Add Warmth to Your Blonde Hair
Before considering adding warmth to your hair, it's crucial to understand warm tones. These are colors or hues such as:
Gold
Sunny
Yellow
Red or copper
Other considerations you have to make when deciding to add warmth to your hair are:
Your skin tone
Product
The tone you want to achieve
Skin Tone
Go for a tone that will help accentuate your skin tone and undertone. Your skin's undertone does not change, and it is usually:
The best way to determine your undertone is by checking the color of your veins. Veins with a green hue indicate a warm undertone, while those with a purple or blue hue have a cool hue. Veins with both colors indicate a neutral skin undertone.
Warm blonde hair will pair up with a warm skin undertone. Cool skin undertones compliment people with cool skin undertones well. A good example is Billie Eilish, whose ash blonde hair compliments her skin undertone.
You can also choose to warm your blonde hair to contrast your undertone. That can help cool down or warm up your skin's complexion. Incorporating different tones can help you achieve the best results.
Products
Choose products that will make the warming-up process much easier and protect your natural hair. For instance, if you warm your blond hair, use a shampoo and conditioner that can hydrate your hair. These products will protect your hair from damage and moisturize it after the treatment.
If you consider your hair too warm and want to cool it down, use products for lighter hair. Look for products that can neutralize yellow hues. Consult your hair stylist if you are not sure what products to use.
Tone or Color You Want To Achieve
Warm tones don't have to be extremely vibrant. Choose a color pattern that is delicate and effective. Also, consider your hair's health depending on previous chemical treatments. The color pattern you choose should depend on how warm you want your hair to look.
Here are a couple of warm blonde hair types:
Buttery blonde
Creamy blonde hair
After selecting a style you feel comfortable with, it's time to prepare the toner. Consider your natural shade of blonde before settling on the above or other tones. You can consult a hair stylist to determine what tone of blonde best suits your natural color and shade.
You should also consider your hair's color depth before warming it up. For instance, if you have naturally light hair, you should include gold colors in your toning formula. You can also use chocolate gold if you have naturally light blonde hair.
If you have ashy or icy blond hair, you can use Violet or some gold colors when making the toner. Consult your hair's colorist or stylist if you are unsure about the tone that works best with your hair's natural color and depth.
How To Add Warmth to Your Blonde Hair at Home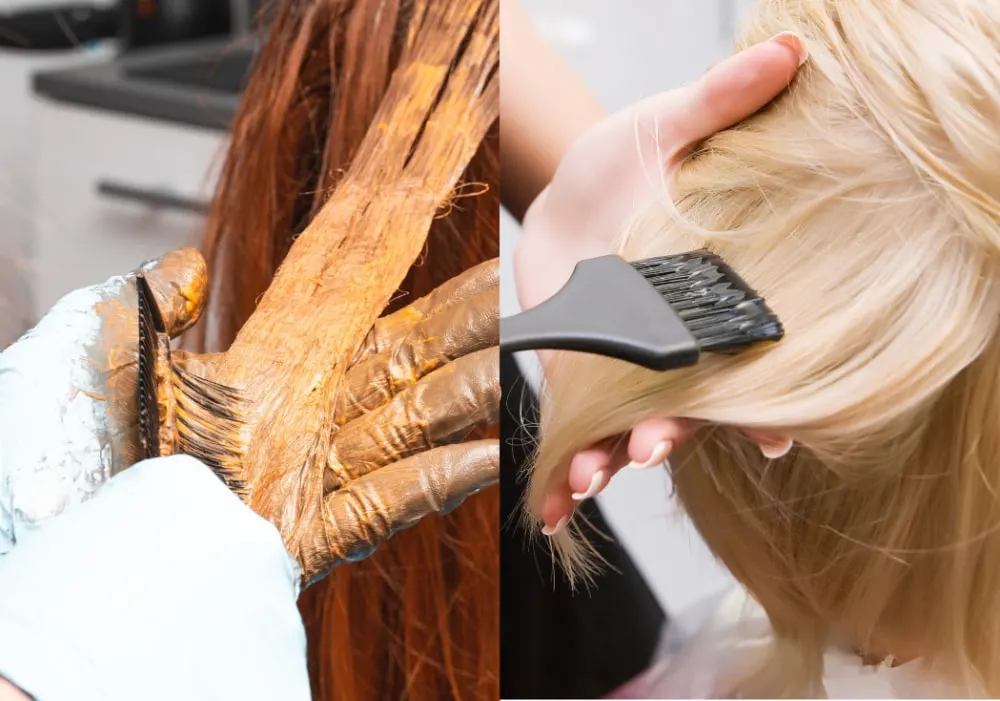 The detailed process of warming up your hair at home can include the following steps:
Prepare the toner by following the instructions on the packaging.
Ensure you use gloves while handling the toner and other chemicals involved.
Prepare your hair by ensuring that it is dry. Divide it into 4 or 5 parts and hold it in place with hair clips.
Make sure the hair is detangled by combing it first before applying the toner.
Apply the toner to the back sections first, then slowly move to the sides and finish with the front.
Apply the toner from the hair's root to its end and leave it on for approximately 20 minutes or the time indicated.
Use shampoo and conditioner to rinse your hair.
You can use a base gloss to add depth and warmth to your hair, wait five minutes, then rewash the hair with your shampoo.
You can apply conditioning products to detangle and condition your hair.
Finally, blow dry and comb your hair. You can also use any moisturizer of your choice.
How you apply toner to warm up your hair should also vary depending on your unique situation. For instance, shampoo your hair twice if you bleach it before applying the toner.
Additionally, you may need to get a volume developer if you use a salon toner. Mix the volume developer with the salon-level toner in a 2:1 ratio.
When Is the Best Time To Use Toner To Warm Up Your Blonde Hair?
Warming up blonde hair is best done during summer. But toners often last approximately 30 days. A great time to apply a warming-up toner is when you are in-between salon appointments.
Applying a toner every month can help keep your colors vibrant. Remember, toners don't function the same as hair dyes. Thus, using a toner every month doesn't change your overall look; it only adds vibrancy and warmth.
So, How Can You Warm Up Your Blonde Hair at Home?
Warming up your blonde hair at home is a simple process. First, decide what tone you want to achieve, then choose colors that suit your skin's undertones.
The procedure involves preparing the toner, detangling and dividing the hair into sections. Then apply the toner from the root to the end of the hair. Leave the toner for approximately 20 minutes before washing out with shampoo and conditioner. Additionally, you can use a base gloss to add depth and warmth to your hair.
You can adjust the procedure based on your unique condition and preference such as shampoo the hair twice if it's bleached before applying the toner.
Always follow the instructions as written on the products. If you get stuck, consult your hair stylist or colorist. You can warm up your blonde hair once every month to maintain its vibrancy.
FAQs
Can toner warm up my blonde hair?
Yes, toner can warm up your hair. Use a toner that can accentuate your hair's existing base color. If your blonde hair is naturally warm, a toner can brighten it up and make it appear more vibrant.
Does ash blonde suit a warm skin tone?
Cool ash-blonde hair often looks best on cool undertones. Ash-blonde will often suit people with fairer skin because it compliments their undertones. But it won't suit a warm skin tone. Warm skin tones look better with warmer tones.
Does purple shampoo take away warmth from blonde hair?
Yes, purple shampoo does take away warmth from blonde hair. It often gets used to neutralize orange and yellow tones when dealing with blonde hair. Purple shampoo helps prevent brassy hair and can help you maintain a cool blonde tone.
Related Topic