Are you finding thick hair a challenge to deal with when it comes to styling? These good-looking short hairstyles are ideal for men with thick hair. The right haircut by a seasoned barber changes an entire head of hair from unmanageable to modish look.
Men's Popular Short Hairstyles for Thick Hair
With plenty of hair, there are many styling options than any other hair you can imagine. Thick hair is often coarse and straight, allowing for high volume styles like pompadours or spikes. That is not forgetting this years' hottest textured looks. They are coming with lots of definition and height, the comeback of the faux hawk like you have never witnessed before and fringe throughout the entire head. So, browse on down on these pretty beautiful photos of 15 best short haircuts and hairstyles for men with thick hair.
1. Short Thick Sculpted Textured Hair
This is the fast-growing trend that is hitting 2018 in full force adding some texture to the top. It was first seen from barbers in North Ireland and UK, and it is making its way to the US for the fashion hit. It is characterized by a classic long on top, with back cut and trimmed sides. It can be styled in different ways.
2. Hard Part +Choppy Hair on Top+Skin Fade
Beautiful short haircut for men with thick hair is a contrast of clear horizontal lines and vertical texture. At the top, the hair is styled into choppy spikes. It is kept modern by regular application of matte product and maintaining the spikes choppy rather than defined. The hairstyle is made to look unique by a razor fade that lengthens the hairline for a defined detail.
Try Long Hairstyles That Turn Heads
3. Wide Faux Hawk
Fauxhawk is one of the most preferred short hairstyles for men with thick hair because it makes them look handsome. The height at the center is versatile and flatters most face shapes, especially men with round faces. Fade and pomp trends influence this design of 2020. The faux hawk is accentuated at the center of the head with a broad base. Rather than adding spikes, the peak is pulled back so that the silhouette looks like a slick hair.
4. High Fade+Thick Textured Hair
This is an excellent haircut for men with curly thick hair. The sides are trimmed short leaving the top extended. This style is easy to maintain. It is a hairstyle that encompasses most of the hair's natural texture by incorporating some volume and touch with the matte product.
5. Thick Curly Hair with Wild Textures+Hard Part
This men's short hairstyle for thick hair elevates texture to a higher level by creating a pool of thick vertical curls. On either side, a high fade is intercepted by a thick razor part that prolongs the hairline almost to the rear part of the head.
Going bigger and beyond the borders is the only way to enhance the vintage pompadour. As they say, the bigger, the better. The men with thick hair can only achieve this look. This bigger pomp gets dimension and holds from products as well as blow drying.
7. Mid Skin Fade + Medium Textured Thick Hair
The texture trendy is only preserved for the men with thick hair. The only thing you will need is a perfect cut and some definition. Don't forget; the sides ought to be faded.
8. Side Hard Part + Coloured Hair + Thick Textured
Many guys are ignorant of the fact that color is the only way to make your haircut stand out. The composition of electric blue, neon green and navy illuminate against the dark hair.
This is a totally unique way to boost texture innovatively. The extended hair at the topped is sectioned into four parts and twisted into a cylinder. The front mane is allowed to cascade down over the forehead with a hold of curl.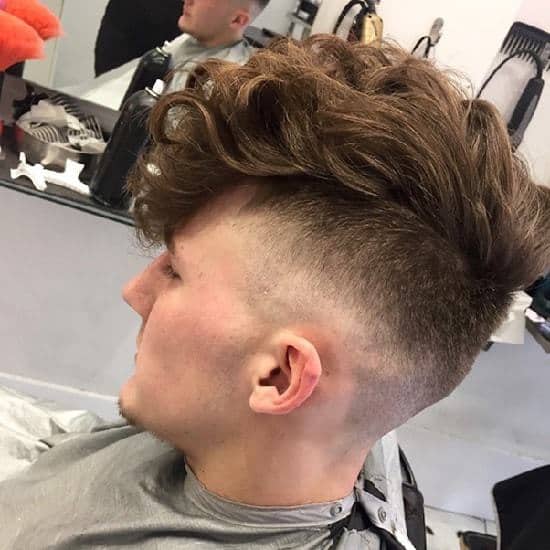 This standard men's short hairstyle for thick hair is a composition of the previous images for curly hawk with subtle bald fade. It may not be everyday wear, but it is incredible men's cut. Or you can try the disconnected undercuts.
11. Clean Fade +Textured Coloured Hair
The combination of blur and lines, short and long, black and platinum give you this gorgeous men's haircut. At the top is a spiky faux and an impressive clear line-up defines the forehead.
12. Hair Design +Thick Pomp
This design shows what is given birth to when the old meets new. A brushed cut at the top and the angled hairstyle at the sides characterize this haircut. It is a design that shows off barber skills on an ultra-thick hair.
13. Thick Hair Undercut +Long Fringe
This is another short hairstyle for thick hair that you will regularly see in 2020. The hair is styled to the front with tousled texture. At the forehead, curls drop down.
14. Long Hair on Top + Short Sides
As opposed to most men's hairstyles which are messy, this one is a clean version. Hair is styled back with enhanced volume. Subtle parts are further pinched into curls.
Short on Sides and Long on Top Haircuts for Men
15. Thick Long Hair Styled with Comb
While this long haircut is styled to one side, the added height and volume gives it a new look.
if you have been asking yourself about some of the best hairstyles for men with thick hair, we hope your question has been answered, and you will try one of these hairstyles for your next style.