The stacked bob is known for its rounded shape, which it gets from having graduated layers. They start long in the front and get shorter as they near the back of the head.
Bob can be worn with or without bangs and can be short or mid-length, all depending on the woman wearing it.
Because of the many ways it can be styled, it will never go out of style, so you can be confident you'll be on-trend when you come out of the salon rocking this new look.
What Is a Stacked Bob?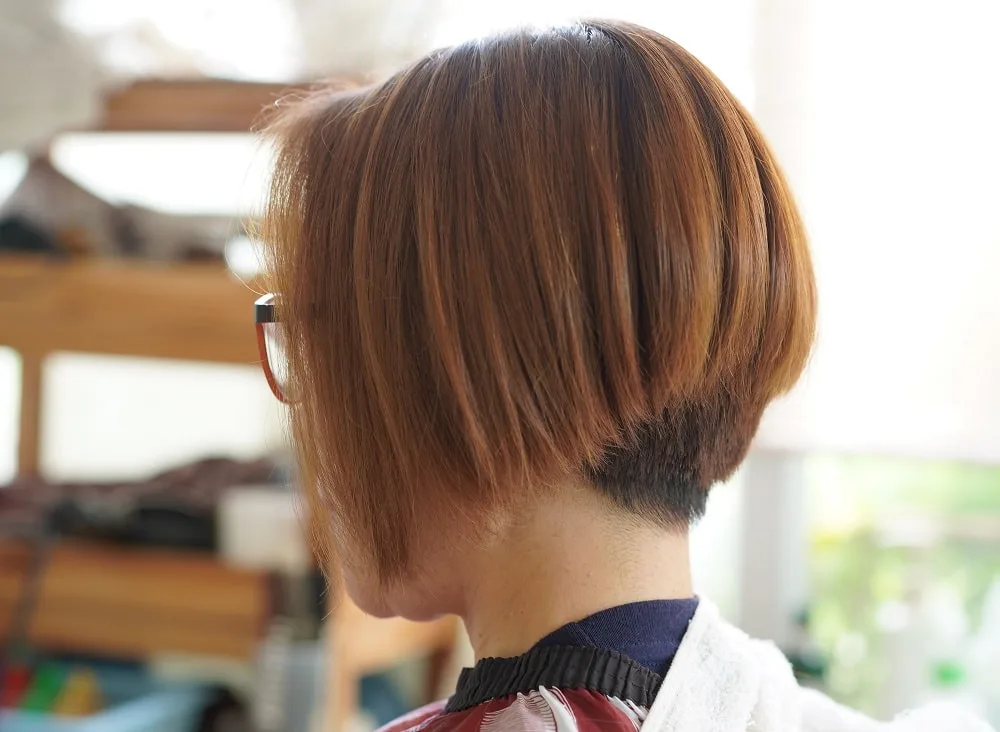 The stacked bob first became popular in the sixties; thanks to its timeless charm, it remains fashionable today.
While a traditional bob is typically cut to the same length in the front and back, a stacked bob is angled such that the front is longer than the back.
The "stacked" part of the name refers to the way that the hair is cut in stacked layers at the back.
Stylish Stacked Bobs
You'll love all 27 of these stacked bobs so much it'll be hard to choose your favorite!
1. Stacked Bob with Blue Bangs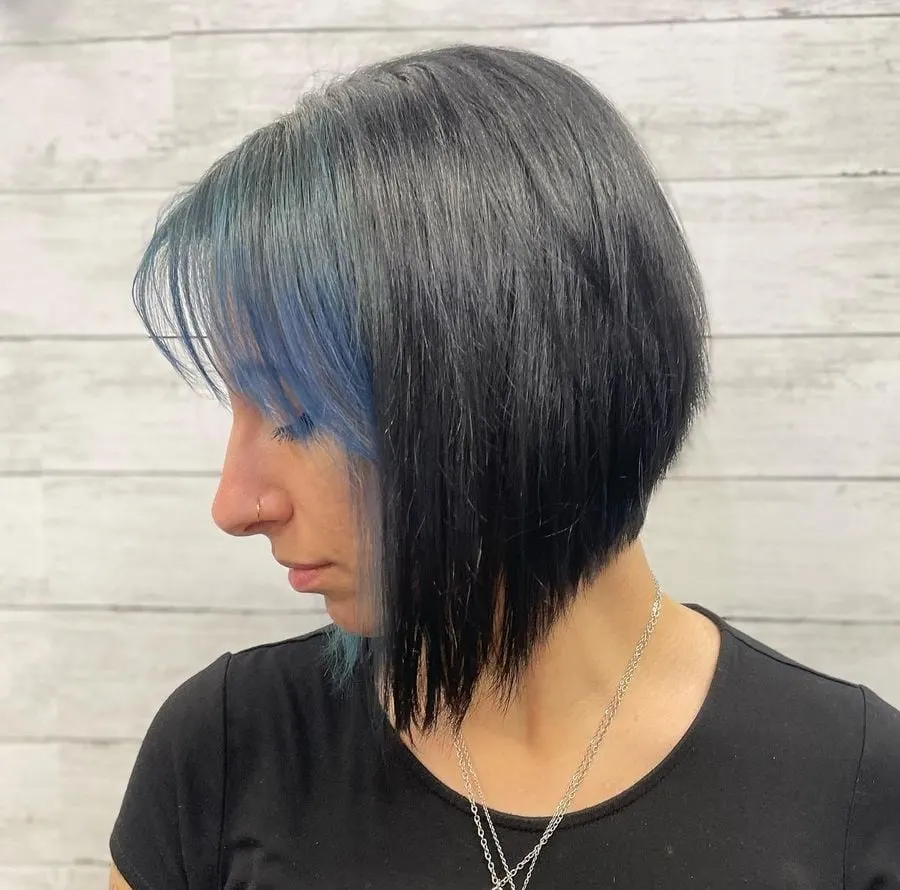 Stacked bobs are the best way to make your hair look more voluminous, and they are a perfect hairstyling choice when you have fine hair.
Recreate this hairdo by creating bangs, bleaching them, and painting them with a pale blue semi-permanent hair dye.
2. Multicolored Wavy Bob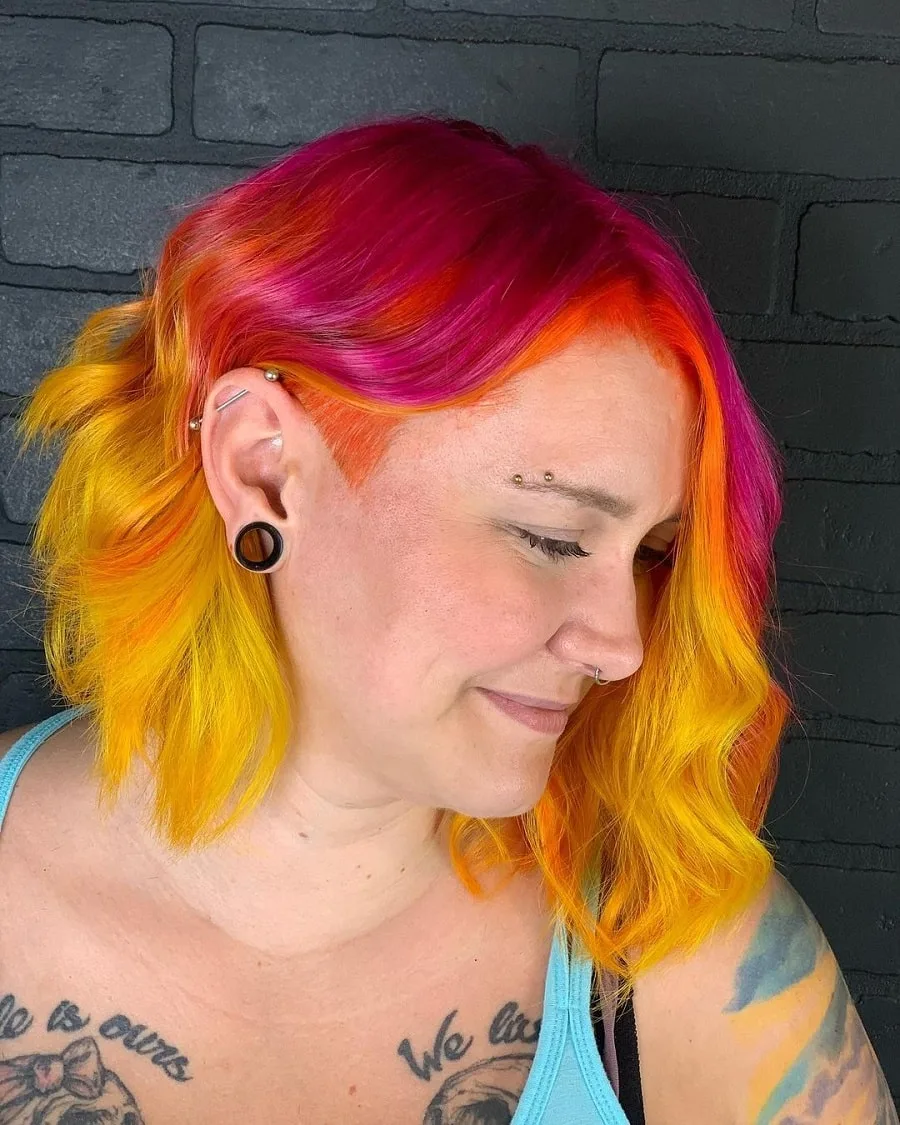 Combining bright colors will definitely make anyone stare and admire your new hairstyle, especially when it involves using electric red, pink, orange, and yellow colors. Style your bob in waves and do a side undercut in the temple area.
3. Natural Gray Bob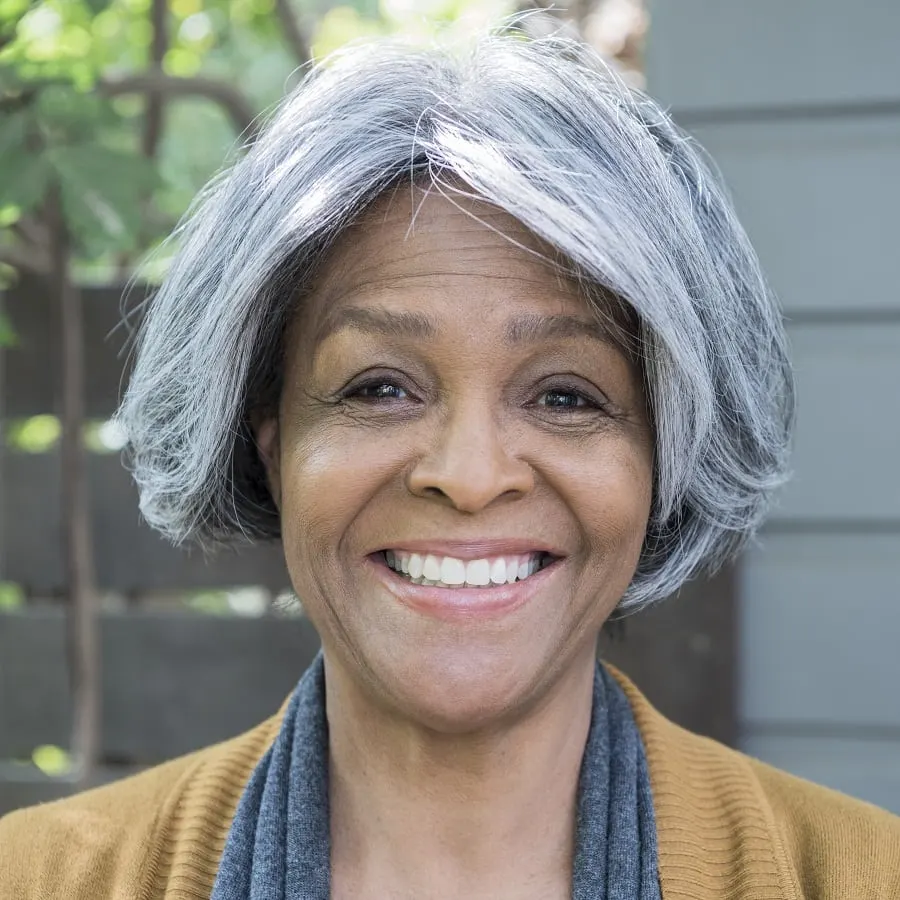 Your hair will look fantastic and will gain a lot of dimensions, especially when you layer the tresses and give them a bob shape.
The hairstyle works well with a side part or a middle part and flatters women of all ages, even those with visible white threads.
4. Waves and Braids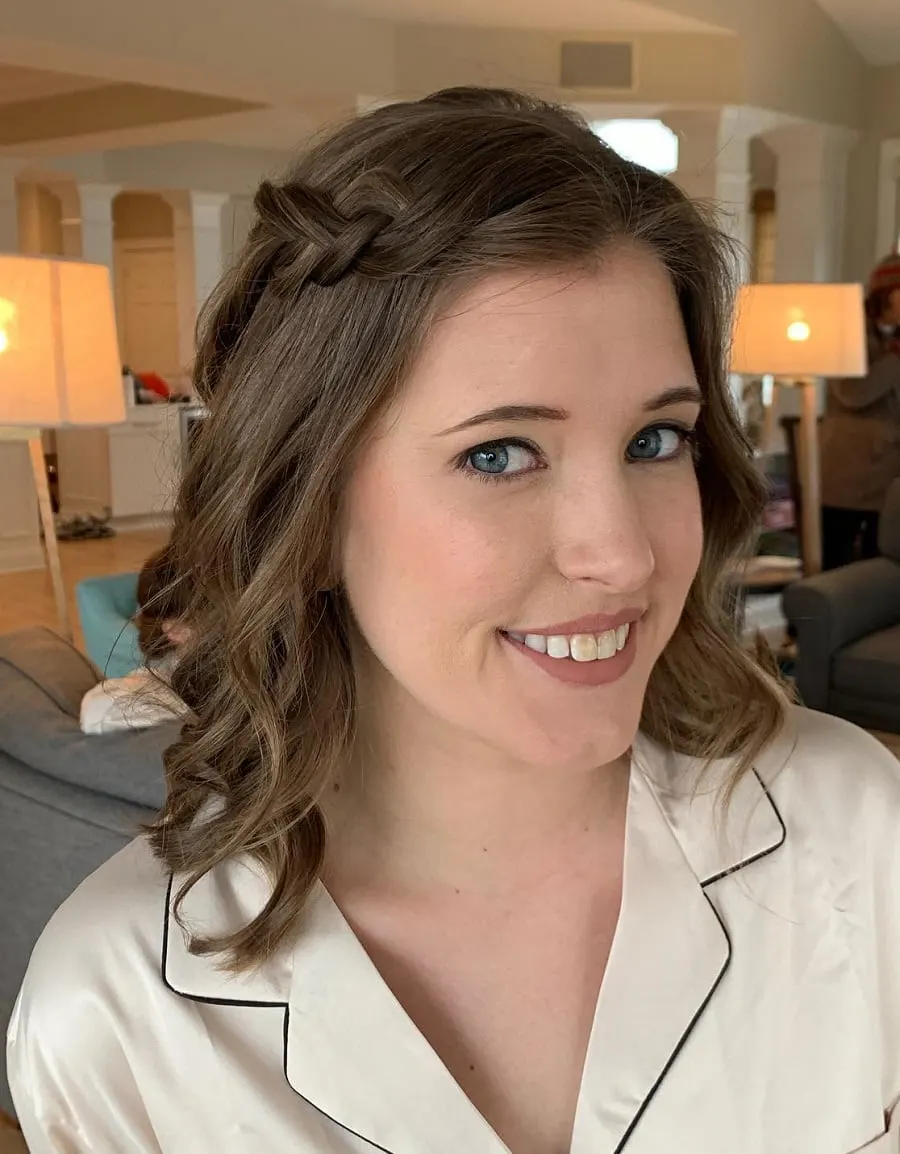 Channel your romantic side with a stunning stacked cut. Give your bob more texture by using a heated device like a triple iron.
Do a middle part and use one section from the forehead. Braid the hair loosely and pin the knit on the back of your head.
5. Copper Stacked Bob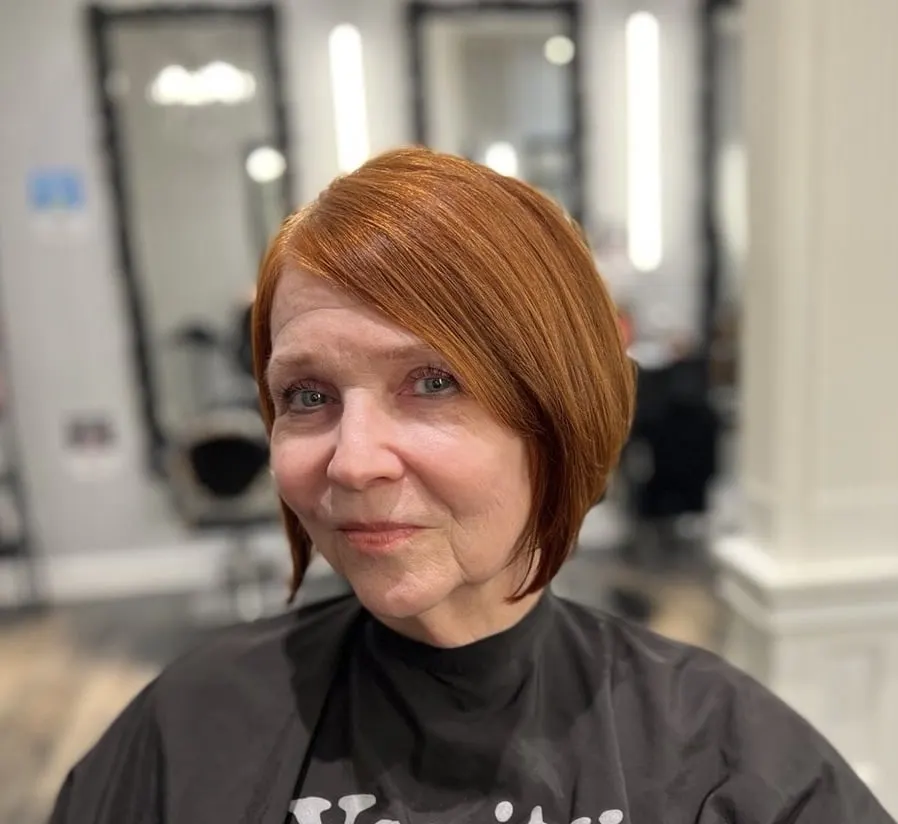 As a woman over 50, we are sure you are looking for a hairstyle that makes you look modern and younger. And a copper-stacked bob will certainly help you achieve your goal.
Face-framing tresses in front are undoubtedly going to suit your needs as they have that fresh touch. Also, get side bangs that you will toss to the opposite side.
6. Classical Bob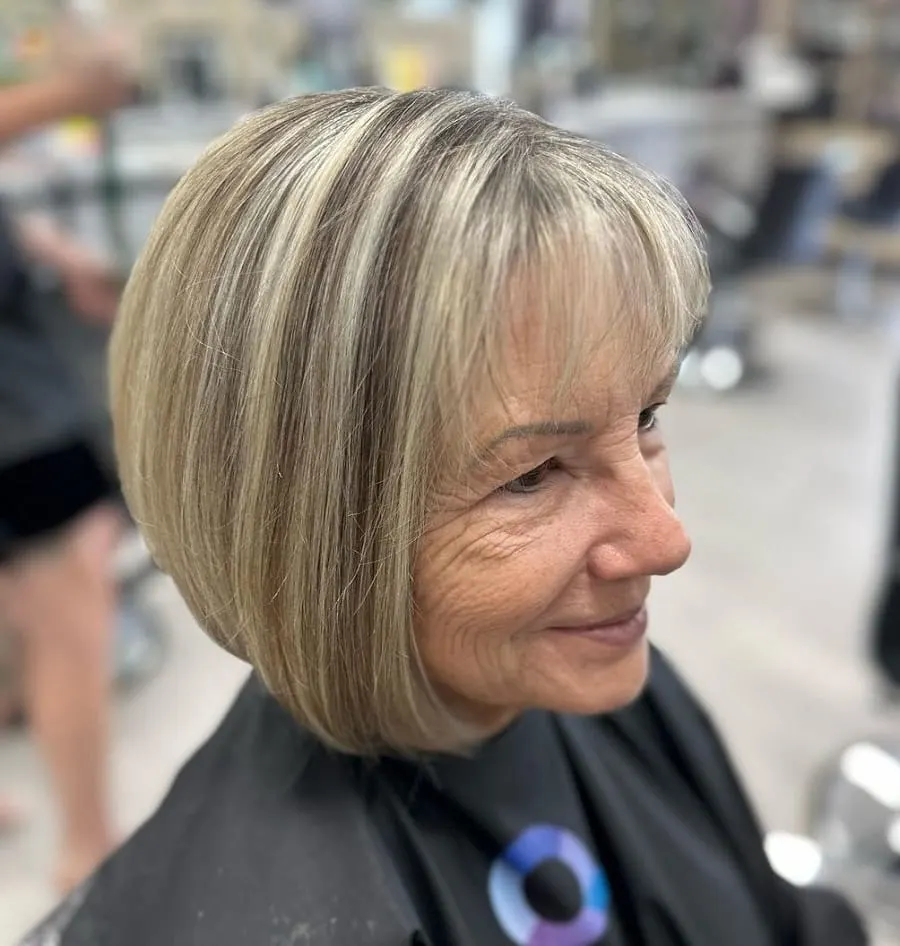 Some women are into a more classical look with an outstanding twist. For your new hairstyle, consider switching to the blonde team.
Get a medium bob haircut, style bangs and give them bounce and shape with a rotative brush. Don't forget about those darker lowlights because they will be "la piece de resistance".
7. Red-Stacked Bob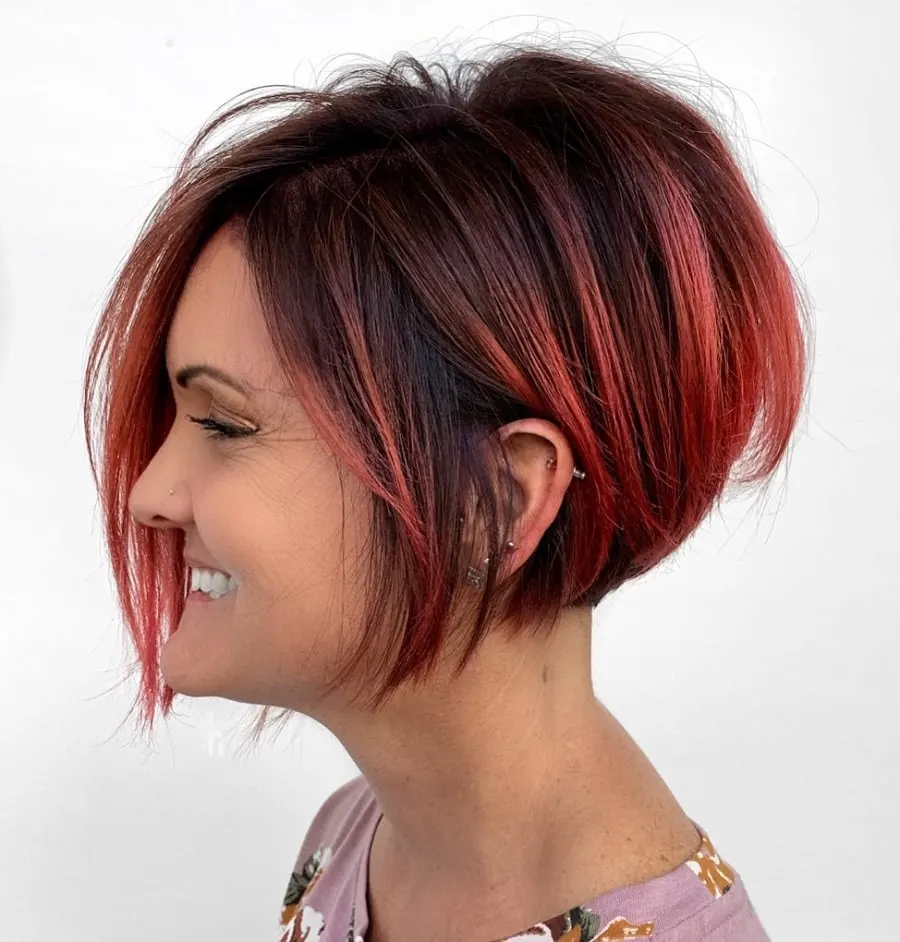 Messily stacked bobs are fresh, unique, and easy to style and wear. You can adapt them for any occasion, and they don't require too much care.
To get that volume, you should focus your attention on the back, and lift up those roots. On the sides, flip your hair over the ears, but keep the sideburns in front.
8. Blue Lowlights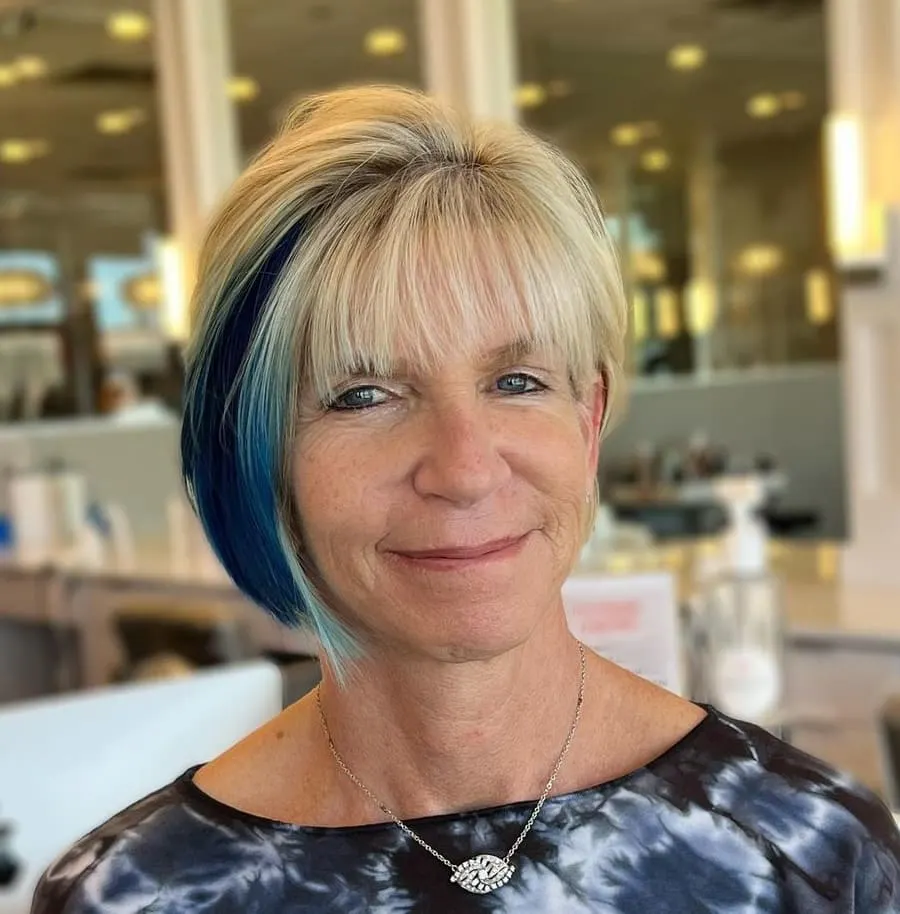 Who said you couldn't sport colorful hairstyles or electric colors as you get older? Prove them wrong with this amazing hairdo! Get a medium bob haircut and dye your tresses a light blonde color.
This nuance will diminish your wrinkles, lighten your face, and make you look and feel younger. Get bangs and, on one side, sport a thick lowlight in a bright blue shade.
9. Burgundy Nape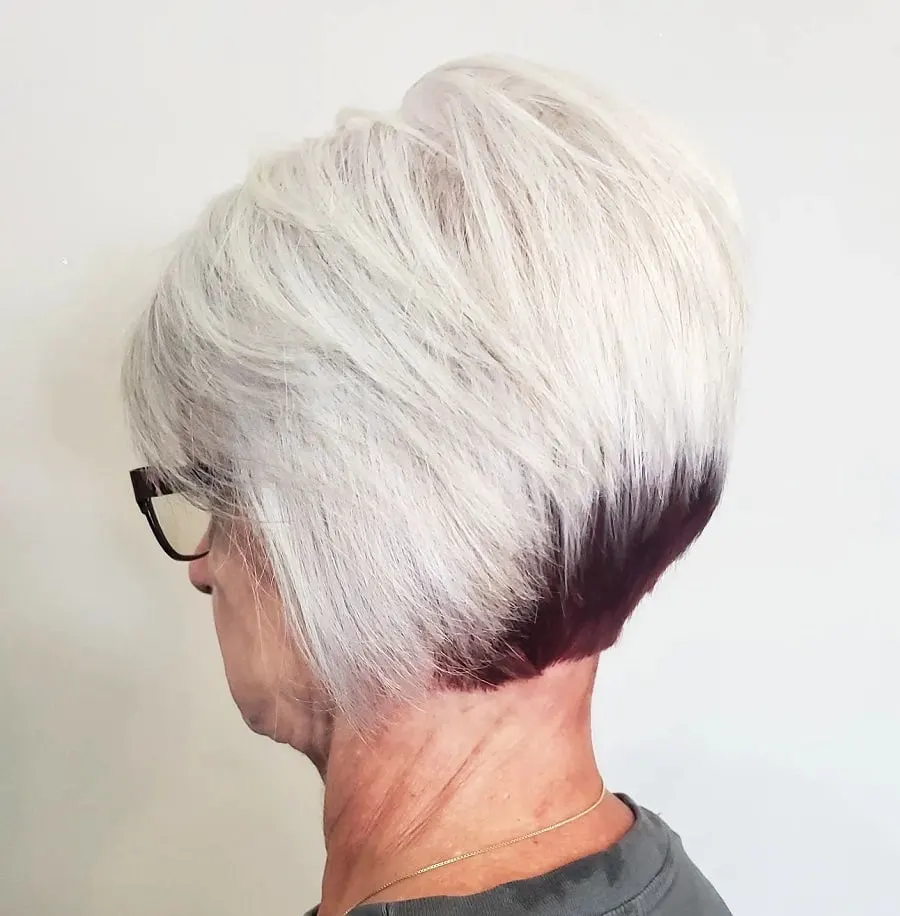 Stacked bobs work hand in hand with contrasting colors. We recommend you combine a white icy dye for the top and, when the stacked layers are built, paint those short pieces in a burgundy or brown shade, like the image above. However, any contrasting color will do as long as your main color is lighter.
10. Short-stacked Bob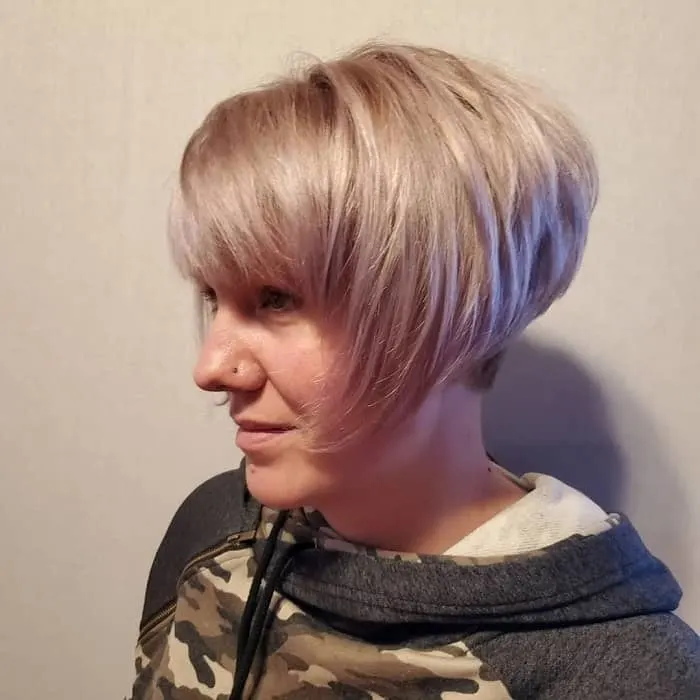 Soft straightened side bangs accompany a blonde stacked bob. The longer pieces at the sides can easily be pinned to the sides for a more fancy updo.
11. Long Stacked Bob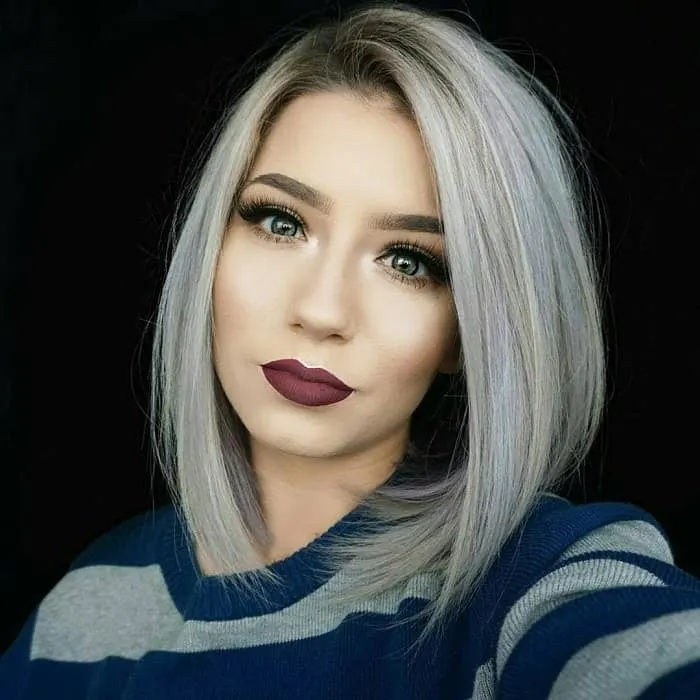 Light gray and blonde blend to create an unusual color combination for this long stacked bob. To keep it chic, straighten locks. You'll want to run your fingers through your hair all day.
12. Medium Stacked Bob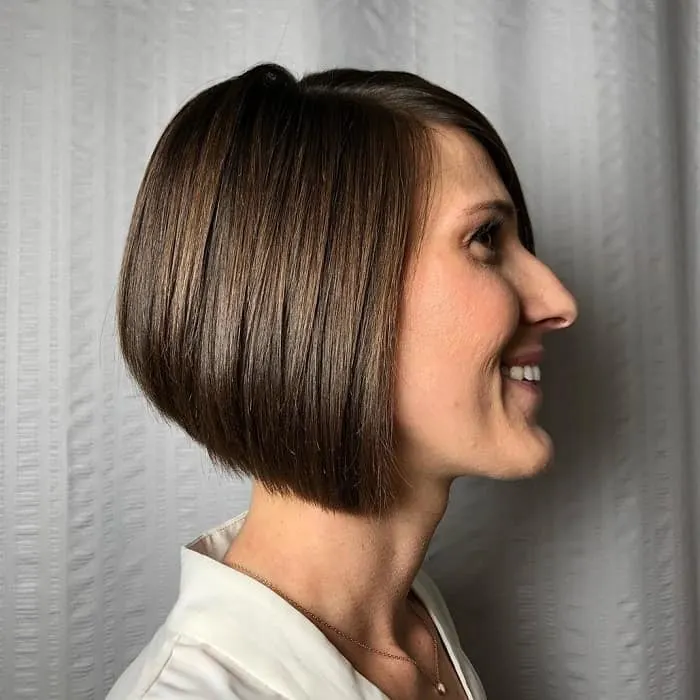 This medium stacked bob is super professional and work-appropriate. You'll look and feel like a boss with straight brown hair and an off center part.
13. Stacked Bob with Layers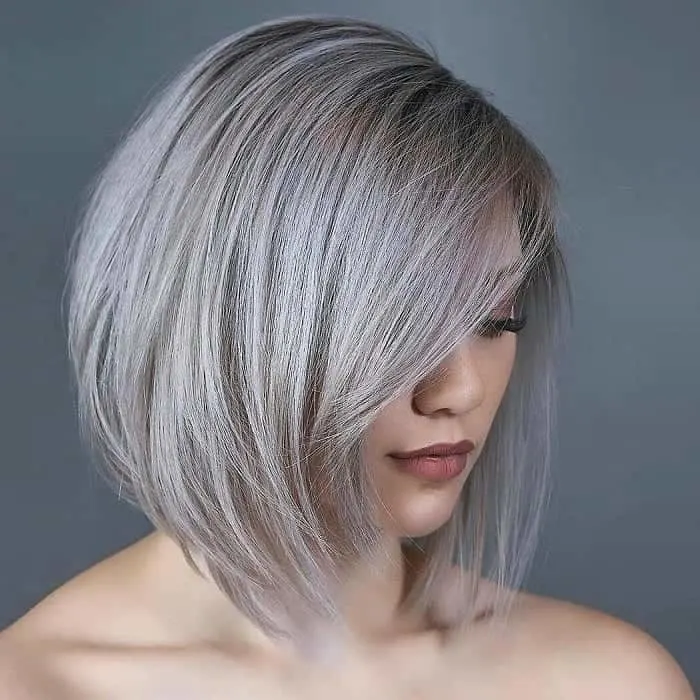 Stacked bob with long layers creates a wispy windblown texture. Top it all off with light grey and brush bangs to the side for a modern hairstyle.
14. Curly Stacked Bob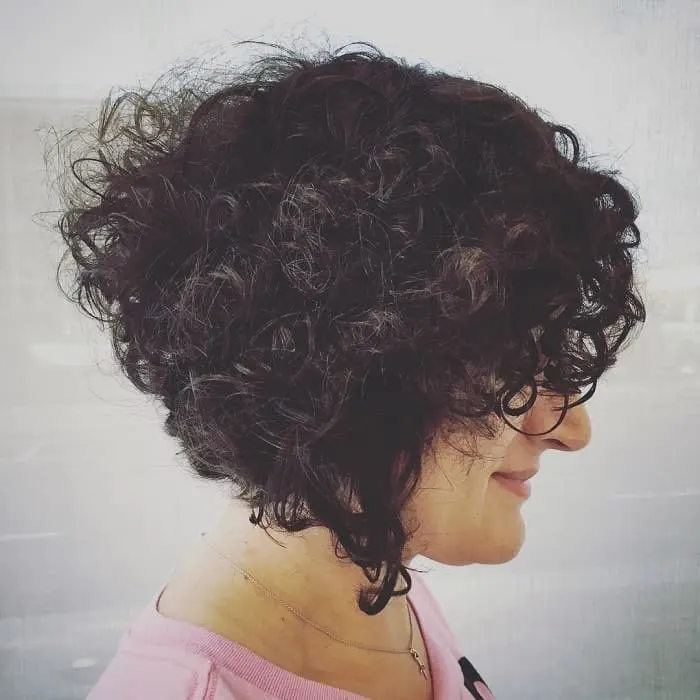 Need a new look for your curly hair? A stacked bob will take control of unruly tresses and give it a new shape.
Add in a couple shorter layers near the face for bangs you can sweep to the side or pull back altogether.
15. Wavy Stacked Bob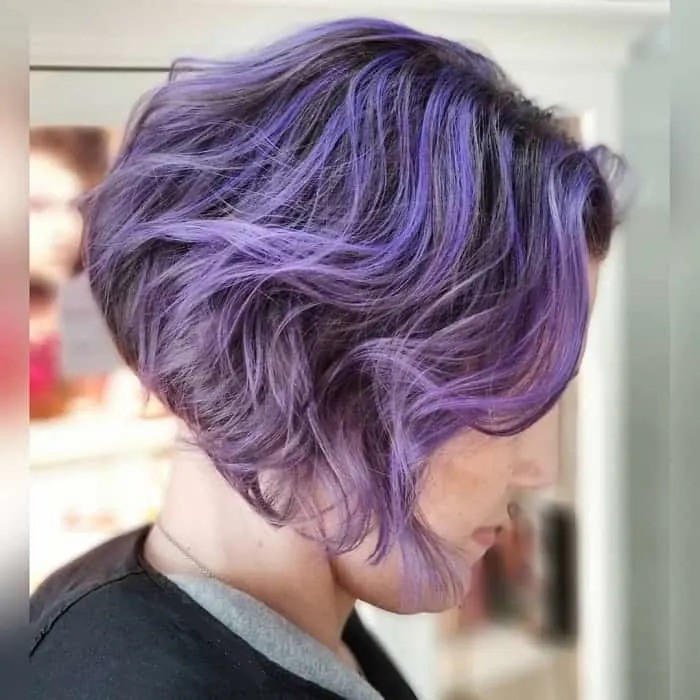 Purple hair color isn't just for Halloween – wear it on a wavy stacked bob for a little pop of something unexpected. Don't want all-over color? Even a couple highlights are enough.
16. Stacked Inverted Bob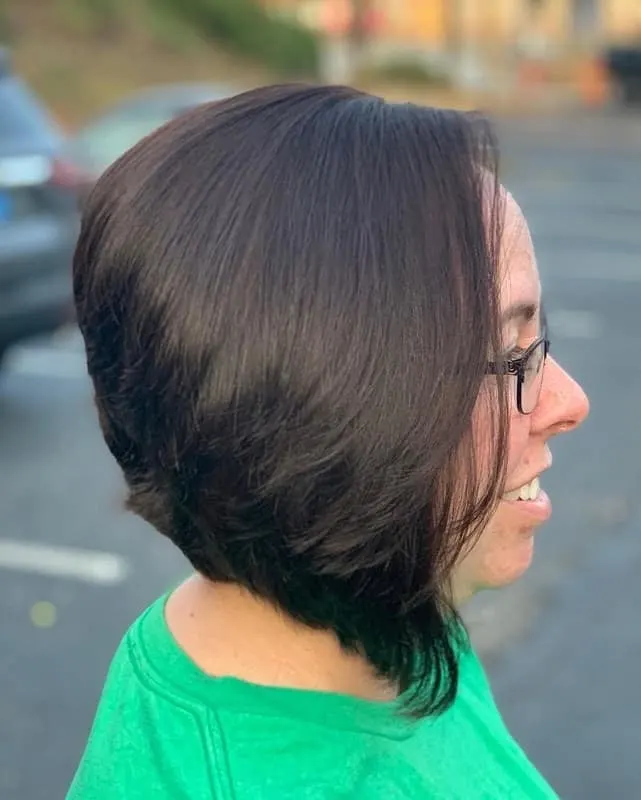 For fine straight hair, a stacked inverted bob with layers creates a feathered appearance at the ends. When hair is up in a ponytail, you'll still look like a rockstar.
17. Stacked Bob with Bangs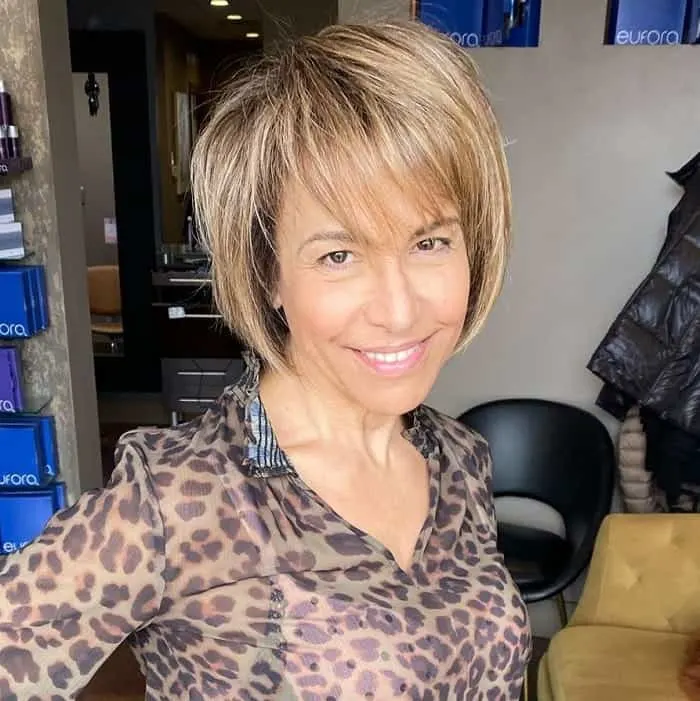 Bob with bangs is one of the trendiest haircuts seen these days. Older women tend to like the way bangs look with short haircuts.
A bob that stops at the jawline pairs well with long straight bangs and a heavy part for texture. Spritz with hairspray for all day hold.
18. Stacked A-Line Bob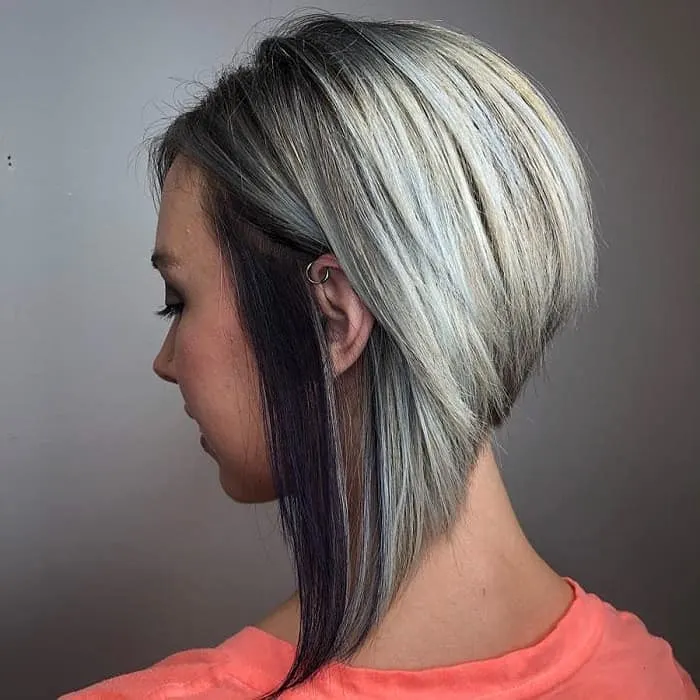 A stacked A-line bob has noticeably longer hair to the front. Add a streak of dark color that contrasts with the blonde. This is a fresh gorgeous hairstyle any lady will love.
19. Stacked Angled Bob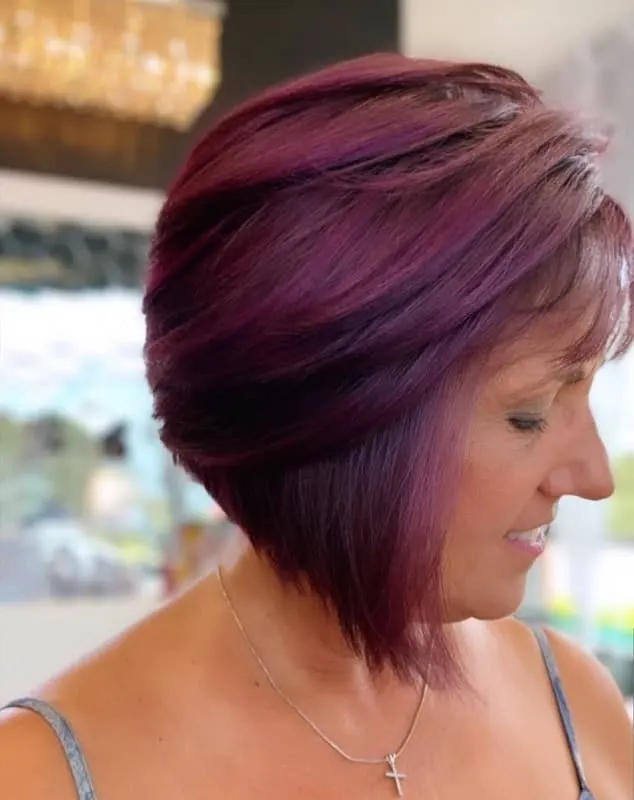 For an angled bob, lots of long layers create an enviable body. Dark and light purple hair colors are two gorgeous shades that complement a dark skin tone and feathery bangs don't distract from the overall look.
20. Stacked Short Thin Bob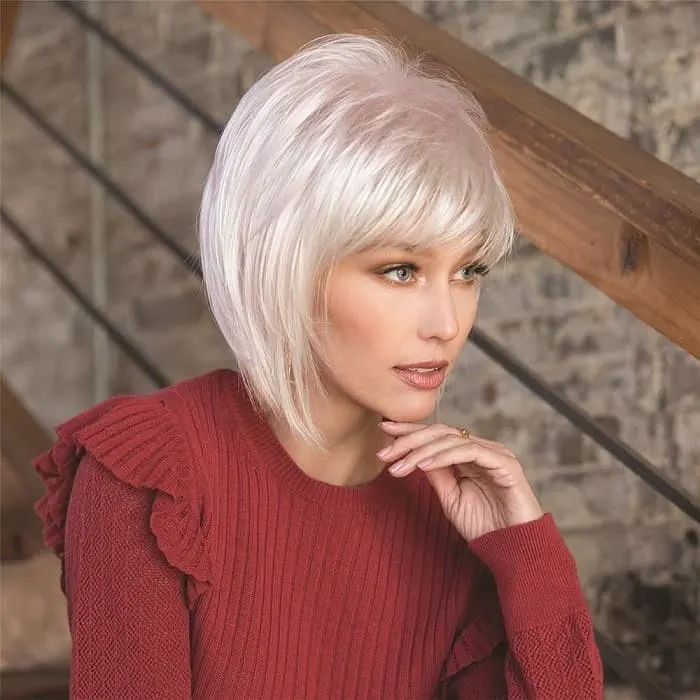 This short thin stacked bob is an updated take on Marilyn Monroe's coveted style. Short piecey bangs and the all-over platinum color top off this sexy cut.
21. Asymmetrical Stacked Bob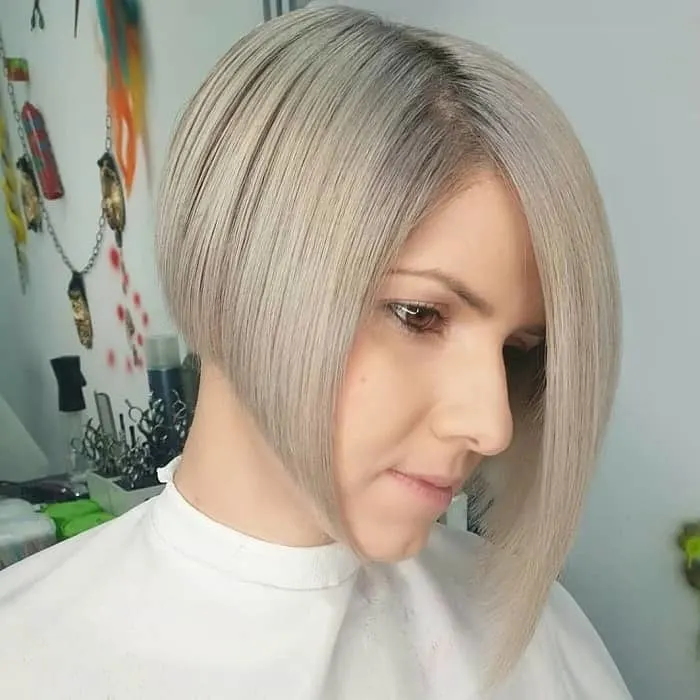 A light blonde asymmetrical blonde complements light skin tones and long face shapes. Flat iron hair straight and part off center for the final result.
22. Stacked Pixie Bob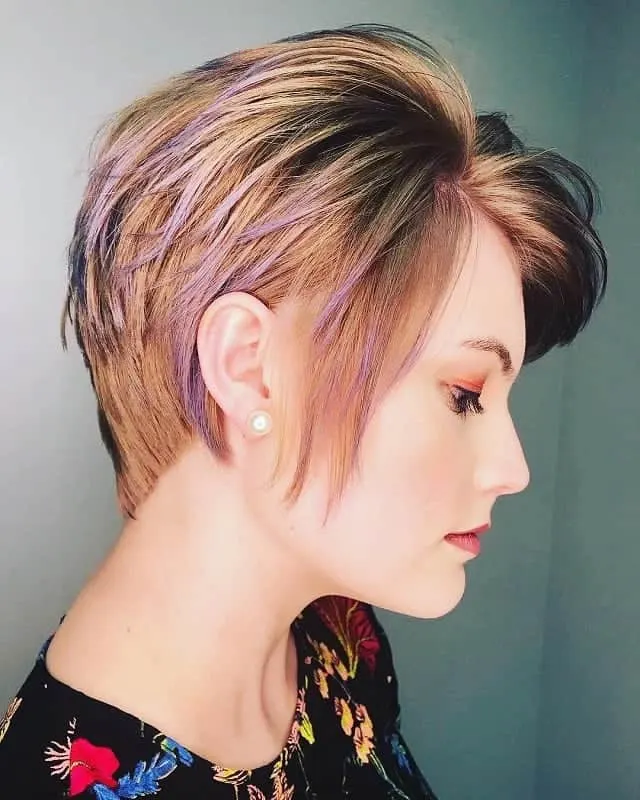 Stacked pixie bobs are perfect for women with perky personalities. Style the hair backward if you like more body in your style. By adding purple highlights you will achieve a more artistic style.
23. Stacked Bob for Women Over 50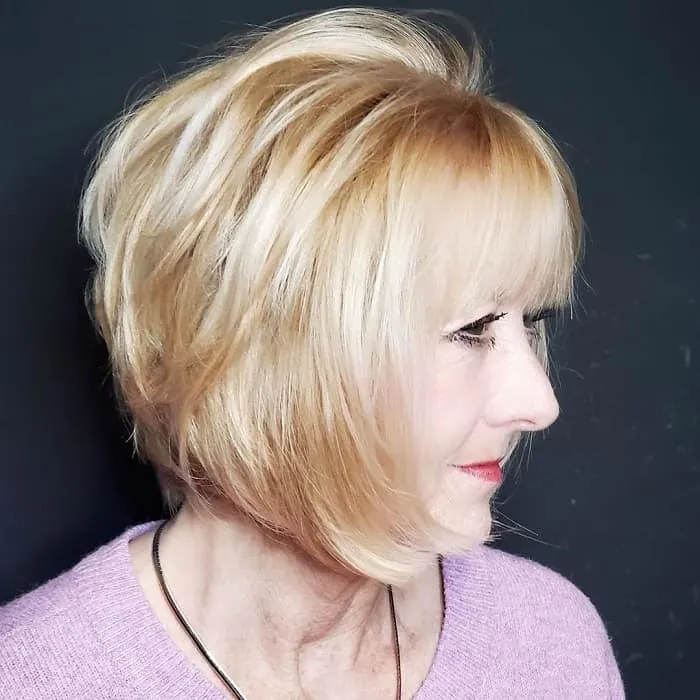 For women over 50, a lighter blond stacked bob with a bit of a wave will have you feeling young again. Straighten your bangs for a neat contrast to the curl.
24. Stacked Bob with Undercut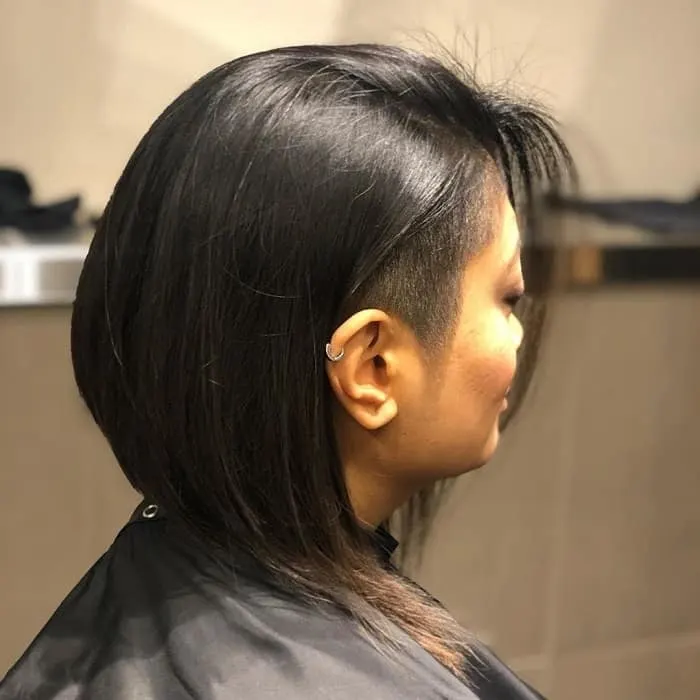 To add some edge to your stacked bob, shave in an undercut and a fade. The contrast will be feminine and give you a rocking vibe.
25. Stacked Chin Length Bob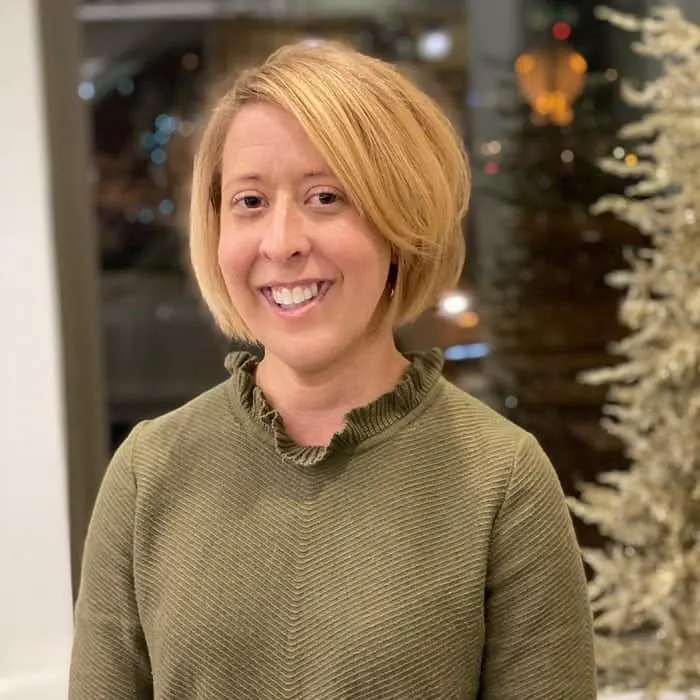 Stacked chin-length bobs are popular for the way their layers fall gracefully in all directions. A simple comb-through in the morning is all you need.
26. Stacked Bob for Round Face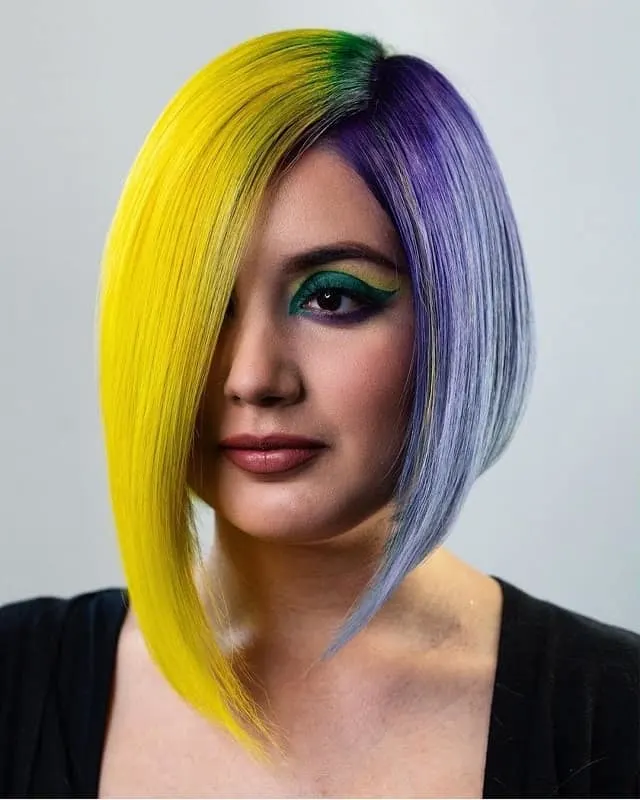 Another stacked bob with long face-framing pieces, this one is decked out in bright yellow and a medium purple. It makes for a truly artistic hairstyle.
27. Tapered Stacked Bob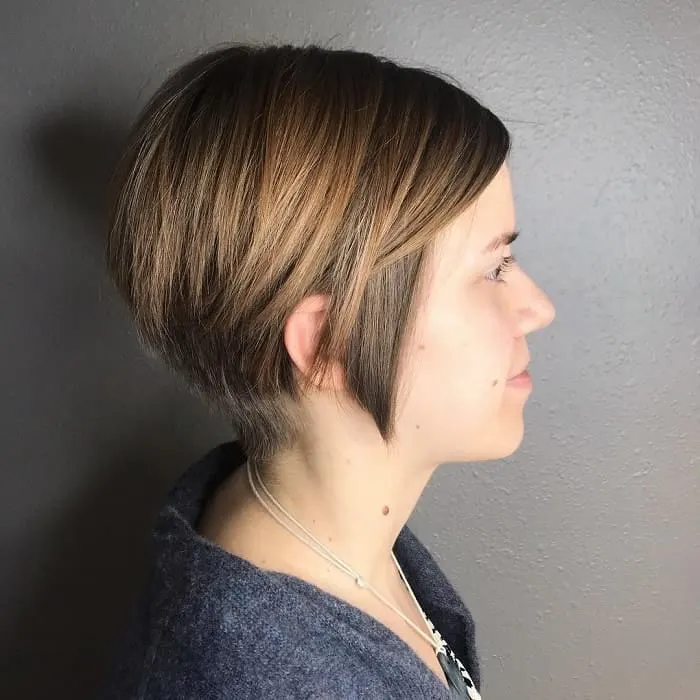 This tapered stacked bob has adorable pixie layers. Wear it just like this for an already sweet look or pin back front pieces with sparkly clips to dress it up.
While many stacked bobs are usually styled with straight hair, a lot of them can obviously be worn with wavy or curly hair as well. And with or without bangs, the stacked bob hairstyle is a classic. No matter how you choose to wear it, you'll look amazing.
FAQs
Here are some questions that people commonly ask about the stacked bob.
Are a graduated bob and a stacked bob similar?
"Stacked bob" and "graduated bob" are two names for the similar hairstyle.
What's the difference between a stacked and layered bob?
A stacked bob is a type of layered bob. Think of it this way: not all layered bobs are stacked bobs, but all stacked bobs are layered bobs.
Should I get a stacked bob if I have fine hair?
Yes! The graduated back of a stacked bob can add a lot of volume to fine, straight hair. Avoid shaggy layers, however, as this style can make fine hair appear wispy and damaged.
Which face shape is suitable for a stacked bob cut?
A stacked bob can come in many different angles and lengths, so it can be adapted to flatter almost any face shape. Ask your stylist for advice on making the stacked bob work for you.

A longer front can complement a square, oval, or round face shape nicely, while a short front with a shallow angle looks very retro chic on a diamond- or heart-shaped face.