In 2023, bangs hairstyles are again skyrocketing the trends, and there is a specific type of fringe that all celebrities and supermodels will have on the red carpet: curtain bangs.
One of the biggest perks about these bangs is that they're low maintenance. They're also ideal for women with long foreheads. Another type of fringe you'll see in 2023 is long bangs covering the forehead and eyebrows.
There are so many hairstyles that work with a fringe, from short cuts like pixie hairstyles to long glossy hair that falls down your back.
Types of Bangs
Okay, so you've decided to try bangs, but what kind? Not all bangs are equal, there are different types, such as:
Micro or baby bangs – roughly-chopped bangs sitting an inch or higher above your eyebrows
Wispy bangs – long, face-trimming bangs
Curtain bangs – long, face-trimming bangs separating in the middle
Side bangs – long bangs, side-swept layers
Blunt bangs – heavy, straight strands of hair grazing the eyebrows
Curly bangs – choppy bangs, curly brow-grazing layers
Asymmetrical bangs – hair normally comes from the top of your head and is cut so strands finish asymmetrically
Arched bangs – similar to blunt bangs, but cut straight across the forehead; arch-shaped and follow the face curve
Bottleneck bangs – shorter straight hair falls down on the parted center, frames the forehead
Bangs for Different Face Shape
Before you get inspired by hairstyles with bangs, it's useful to learn what types of fringe are suitable for specific face shapes. That way, you'll get the most out of your hairstyle. If you have a round face, go for thick, side-swept bangs cut at a strong angle. Women and girls with round faces should avoid straight bangs.
If you have an oval face, consider yourself lucky because you can rock just about any type of bangs and look fantastic. On the other hand, girls with square faces look best with long and heavy bangs pushed to the side or parted down the middle. Short bangs are a no-no.
Women with long faces and high foreheads should go for longer bangs or a choppy style. Avoid micro or baby bangs. Heart-shaped faces call for layered side bangs. If you have a heart-shaped face, you may want to avoid full-fringe bangs.
Preferable Bangs Style for Heart Shape Face
Bangs Hairstyles
How should you style your bangs? Although it may not seem that way, you have plenty of options. These 60 bangs hairstyle ideas will inspire you for sure.
1. Short Hair with Bangs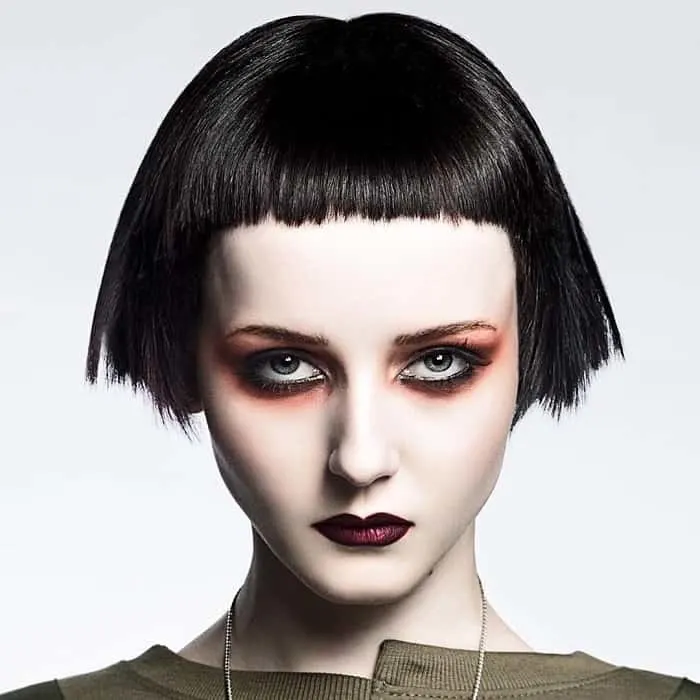 Choppy straight hair that slightly covers the ears will work fabulously with short, neat bangs. Baby fringe became very popular in the last years, and if you crave a trendy look, this hairdo is a marvelous option.
2. Wavy Bangs
If you want to obtain a gorgeous hairstyle for your wavy hair, go for bangs that are slightly curled and spread across your forehead. Opt for a grain blonde color and layer the mane. It will beautifully work with pale skin and blue eyes.
3. Bangs for Thin Hair
When struggling with thin hair, get a bob haircut. Style waves, and opt for long wispy bangs that cover the eyes.
4. Thick Hair Bangs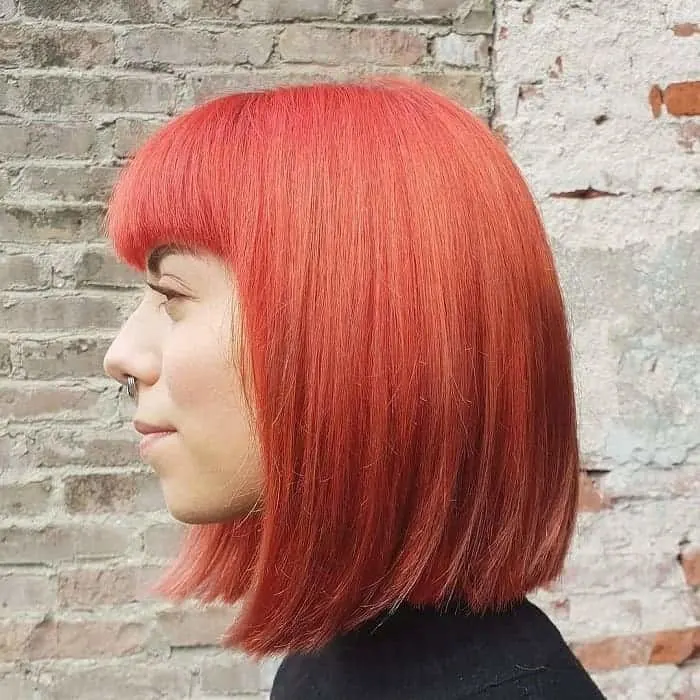 When styling a bob haircut with straight bangs that go just above the eyebrows, your thick hair will work to your advantage. It will naturally provide dimension and texture, and a pale red shade will beautifully complete your look.
5. Black Hair with Bangs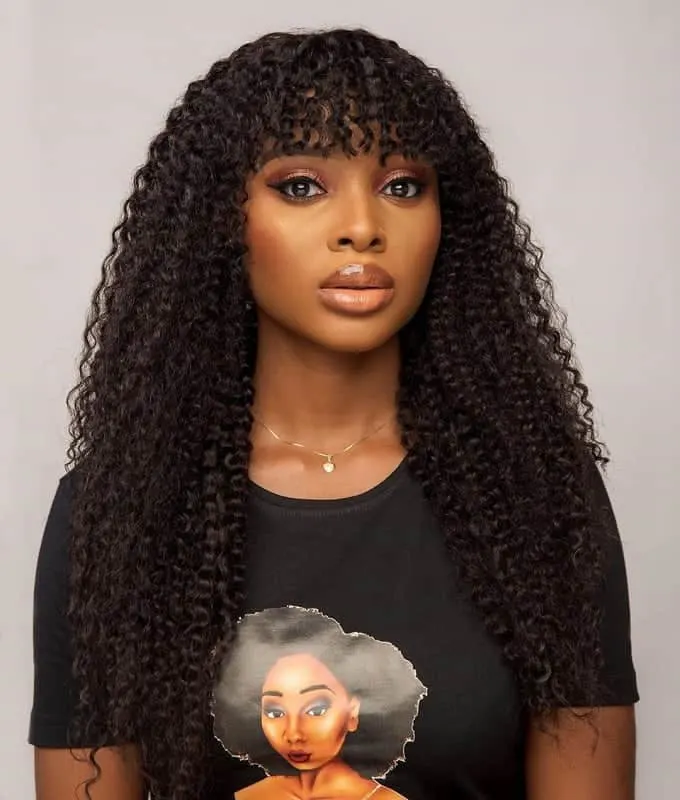 If you want beautiful bangs for your black natural curly hair, visit your favorite hairstylist. If you're going to cut them at home, make sure you perform the cut on wet hair and a few inches longer than necessary. This way, when the ringlets are forming, they won't be too short.
6. Brown Bangs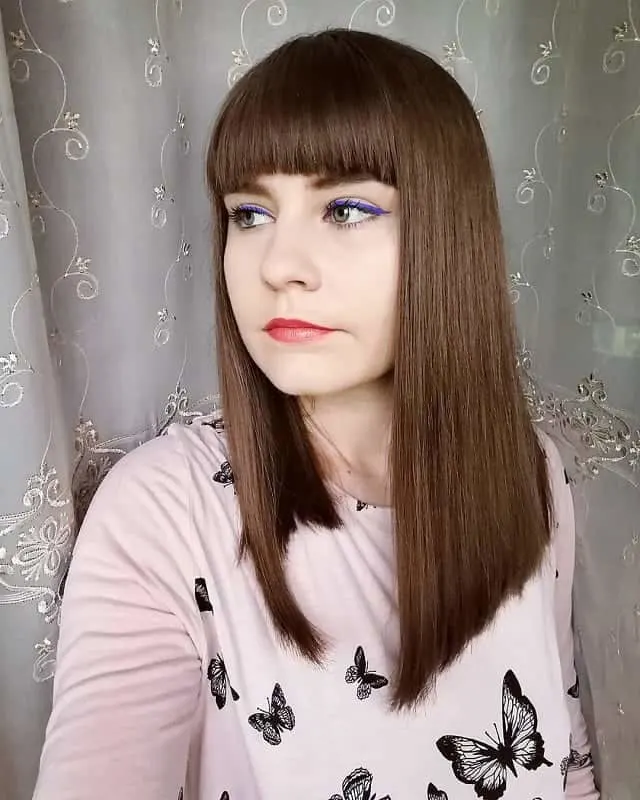 If you have a long face, straight bangs that cover the eyebrows are the perfect choice for you. Get a marvelous auburn shade and keep the hair in an inverted lob hairstyle for gorgeous face framing.
7. Wispy Bangs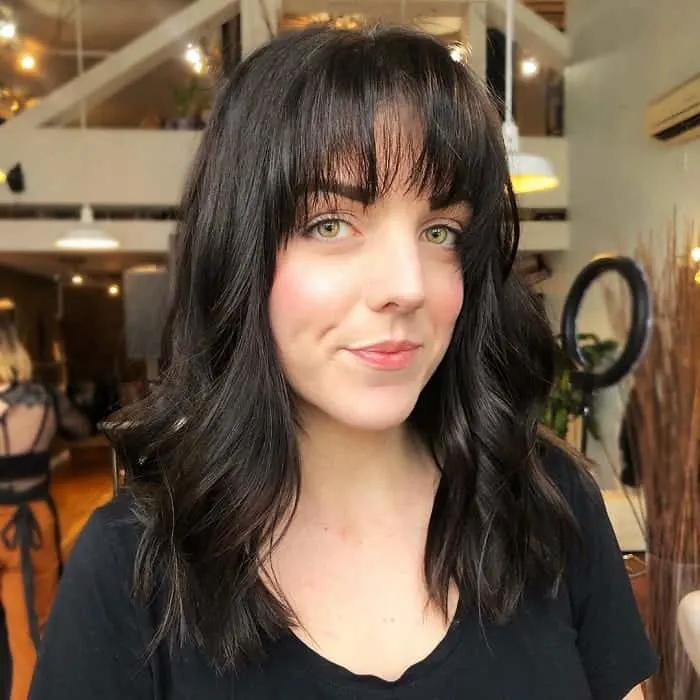 Wispy bangs that are slightly parted in the middle and that are longer in the temple area will beautifully cover your forehead. Keep the mane long, style wide waves and curls to get more bounce and dimension.
8. Bangs for Round Face
Rounded bangs that are longer at the corners will give you an excellent face frame. For the mane, opt for a dark shade; it will provide beautiful contour for the face and will blur those prominent cheekbones.
9. Asian Hair with Bangs
Every time you want to pull off a ravishing look, consider getting a fringe that lies across the forehead. Keep some strands longer in the temple area and opt for a dark red ombre.
10. Choppy Bangs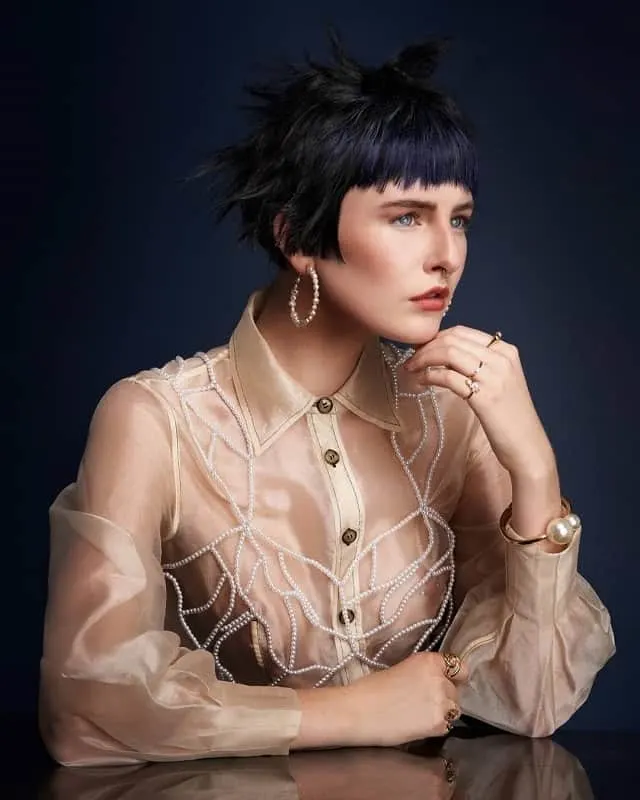 Choppy baby bangs that spread on half of the forehead will look ravishing. Maintain the rest of the hair short, slightly covering the ears, and create stylish spikes using hairspray and gel.
11. Older Women Updo
When you're working with thick bluntly-cut bangs that come to your eyebrows, choose an updo that isn't too high. A bun secured at mid-height is soft and inviting.
12. Bangs with Headband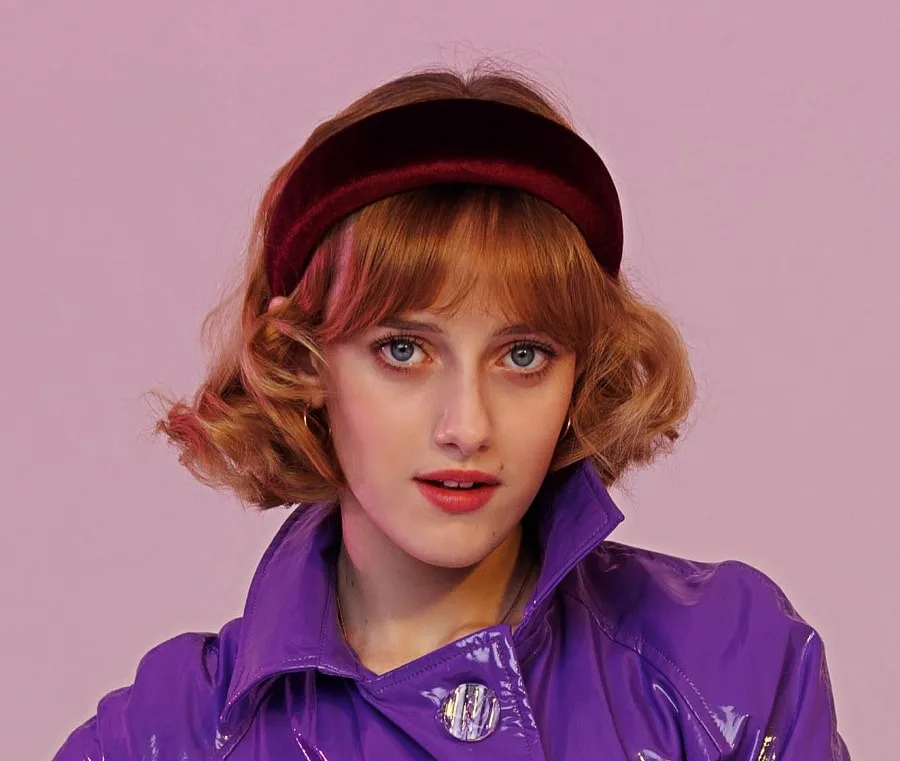 A thick, dark red velvet headband is the perfect accessory for drawing attention to the fringe on a short curly bob. Neatly comb your bangs to complete this chic and stylish look.
13. Bow Updo
If you're going out somewhere fancy and have a little more time to style your hair, we recommend this intricate bow updo. Style it with long straight bangs that stop at the eyebrows and finish your look with a bold cat eye.
14. Long Blunt Bangs
A side ponytail is the playful hairstyle every girl needs in her life. Enhance any curly texture you have before making the ponytail, then just comb your long straight bangs neatly for perfect face framing.
15. Space Buns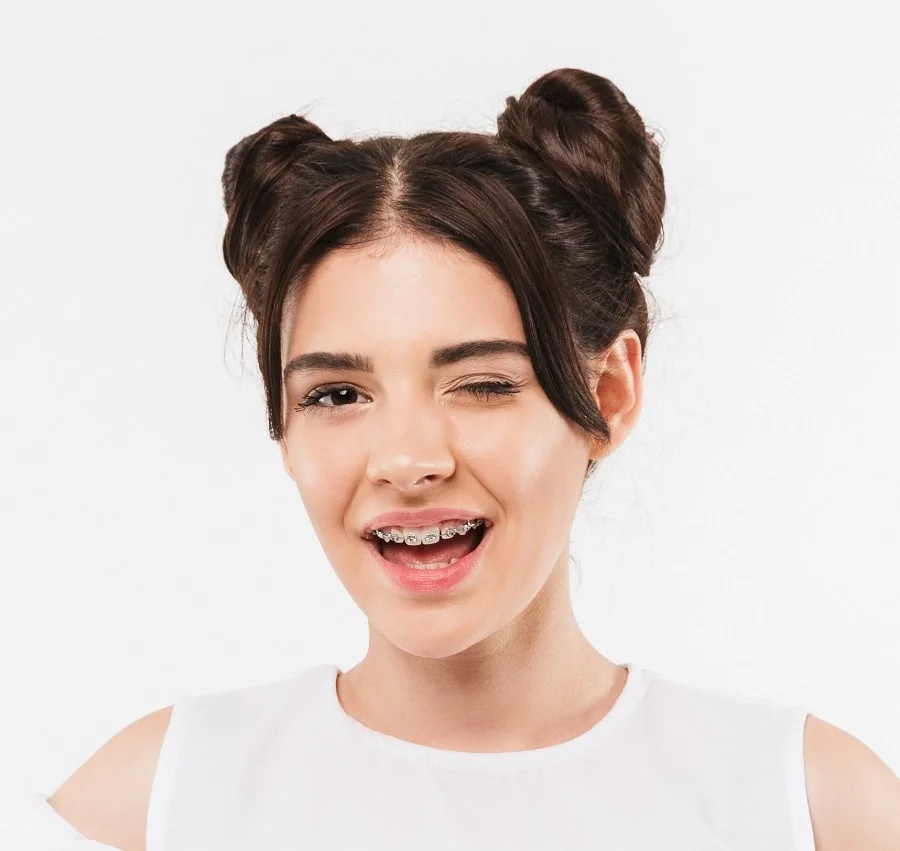 Another playful hairstyle great for young women? Space buns take only a couple minutes to pull together. They work beautifully with curtain bangs or side-parted bangs. Use a little hair product to keep them together.
16. Half Up Buns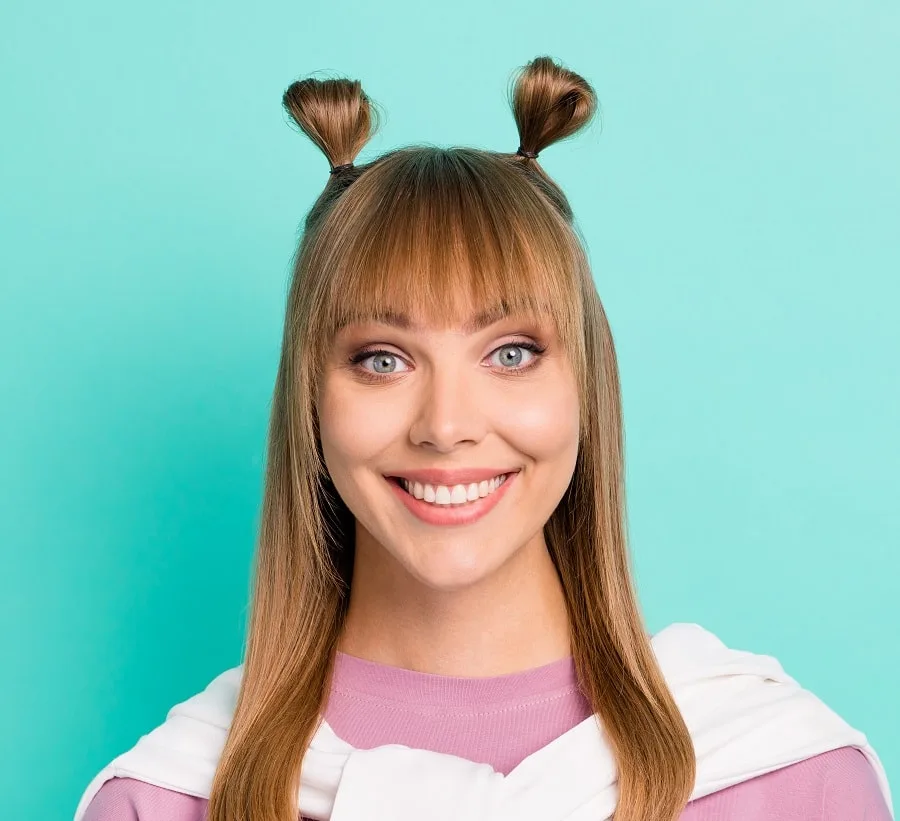 Are you working with long, straight and thin or fine hair? These half up buns are a quick style you can do before heading out with friends. Their fringe just requires a quick run-through with a flat iron.
17. Messy Bangs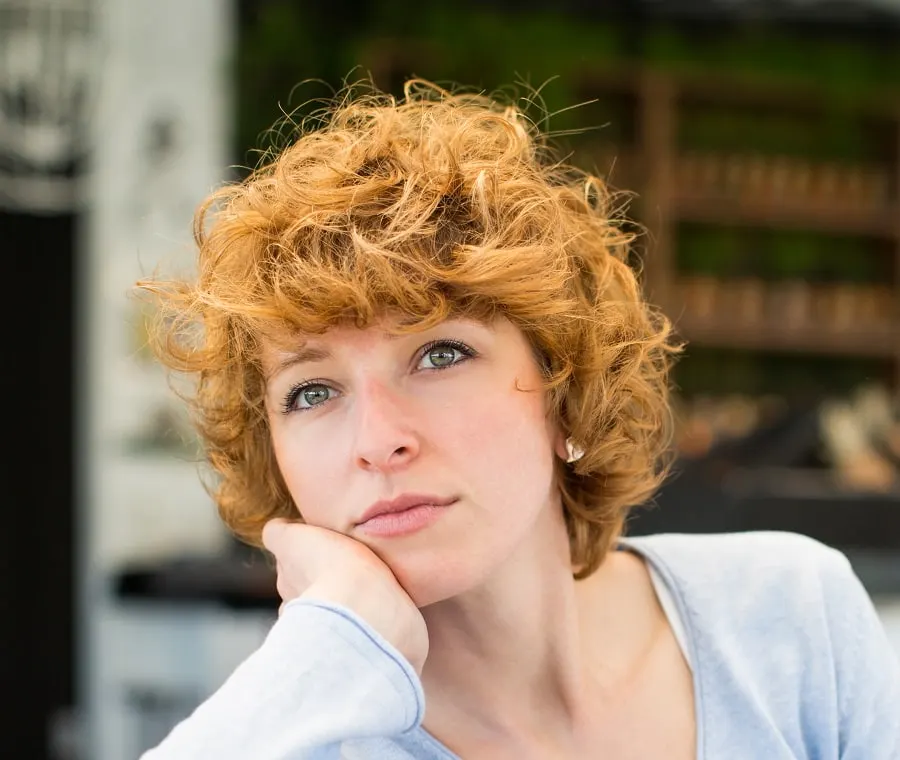 For women with short curly or wavy hair, it's easy to get these cute messy bangs. Prevent frizz and get the perfect shape by using a little hair mousse or curl cream on your fingers.
18. Pixie with Bangs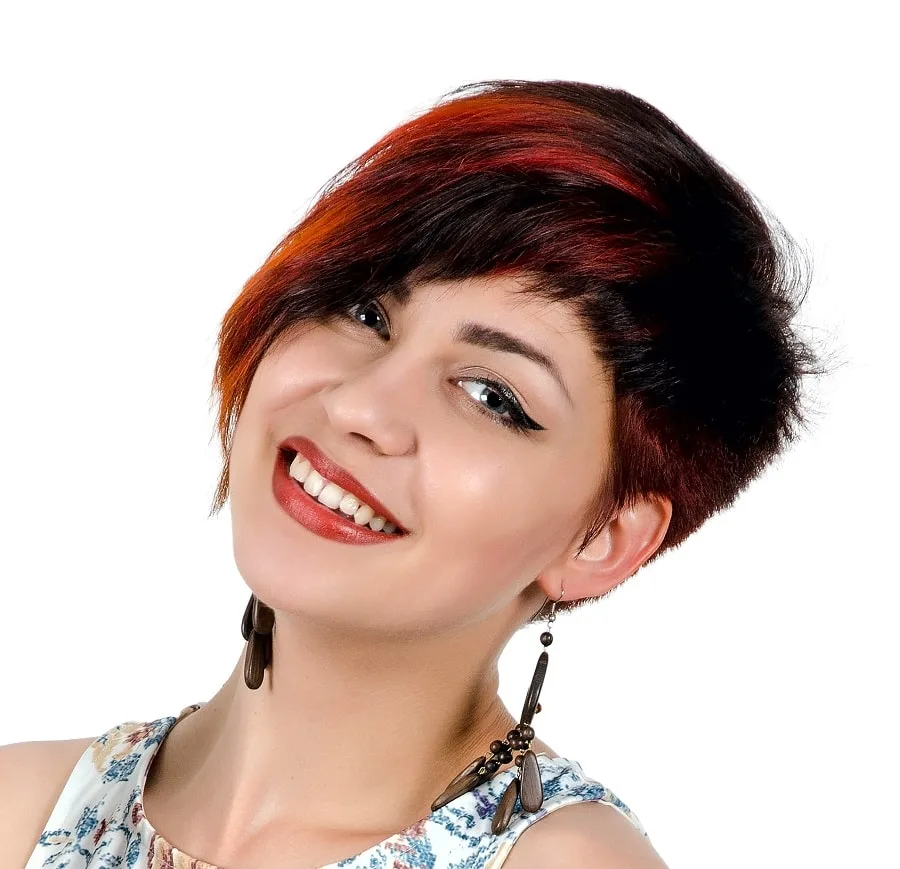 Pixie haircuts are already a peppy hairstyle. Put an edgy twist on it easily with bold red highlights. An angled bang is the best pairing and it will nicely flatter almost every face shape.
19. Rockabilly Bangs
Throw your look back to the 50s and give it some edge with rockabilly bangs. These red ones are cut into a v-shape, which look perfect with a smooth, slicked back low bun updo.
20. Bang Highlights
Instead of placing highlights throughout your mane, try adding them just to your bangs for a punch of color. This long straight hairstyle features equally long curtain bangs in a vivid orange-blonde color.
21. Thin Bangs for Older Women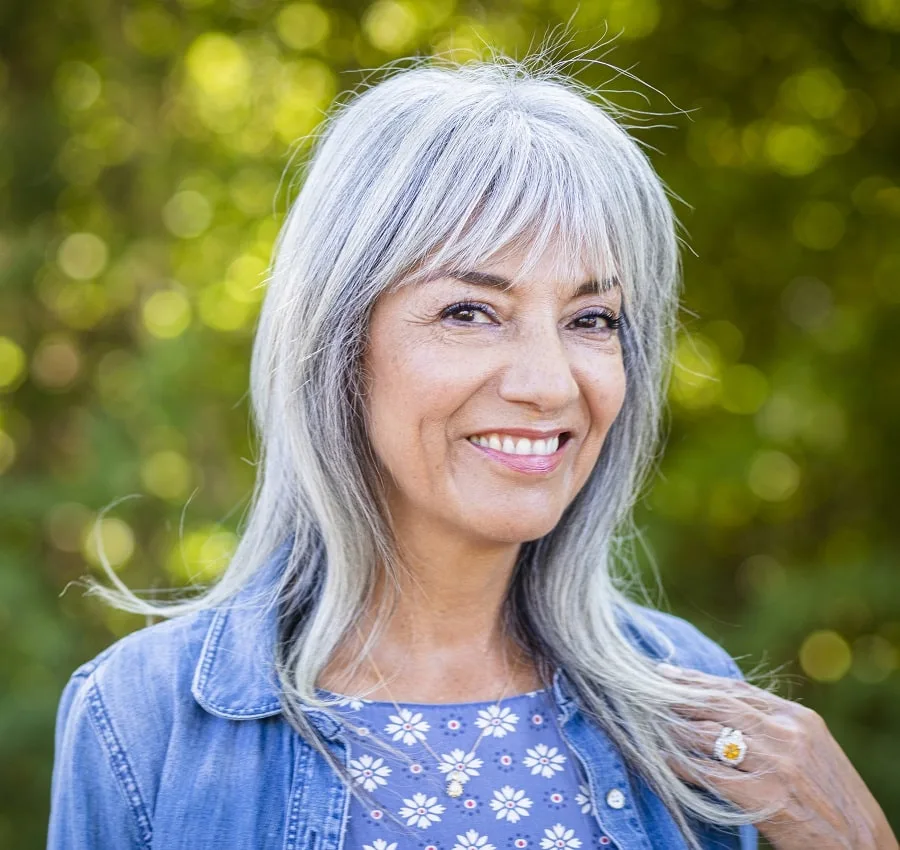 For women over 50 who have thin or fine hair, your texture will be perfect for making these wispy bangs. Have your stylist cut them dry so they don't turn into baby bangs.
22. Braided Bangs
Do you love braided hairstyles? Make a braid along your hairline, including the hair from your bangs and connect them to an elegant updo like a bun or a chignon. Finish with a red lip and you're set!
23. Face-Framing Bangs
If your natural hair color is dark, consider face-framing bangs in blonde or caramel. The shade will brighten up your complexion and give your hairstyle gorgeous depth.
24. Wedding Hairstyle with Bangs
Do you know that saying "less is sometimes more"? In this case, you can look glamorous with a high ponytail styled with waves and a pair of choppy baby bangs. To make this hairstyle suitable for a wedding, add a diamond crown on top of your head.
25. Curtain Bangs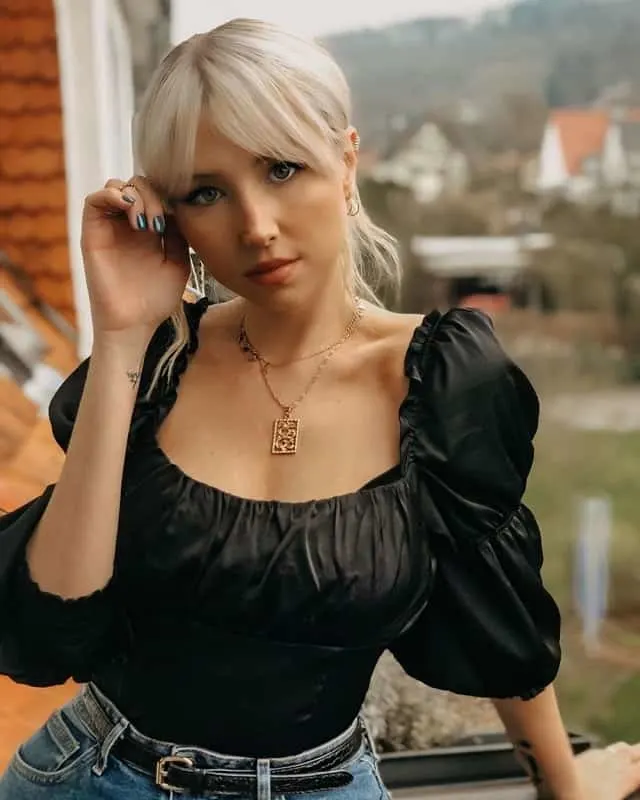 As we previously mentioned, curtain bangs are a big hit in 2023, and if you want a highly fashionable fringe, this is the option for you. They look perfect with bobs, long hair, and even ponytails, just give them a try!
26. Balayage Hair with Bangs
A balayage is never out of fashion, and it makes a great team with some straight bangs. Maintain them long, covering the forehead, and you'll love this new chic glossy look. Also, you can wear your mane on the shoulders and not on the back.
27. Ombre Hair with Bangs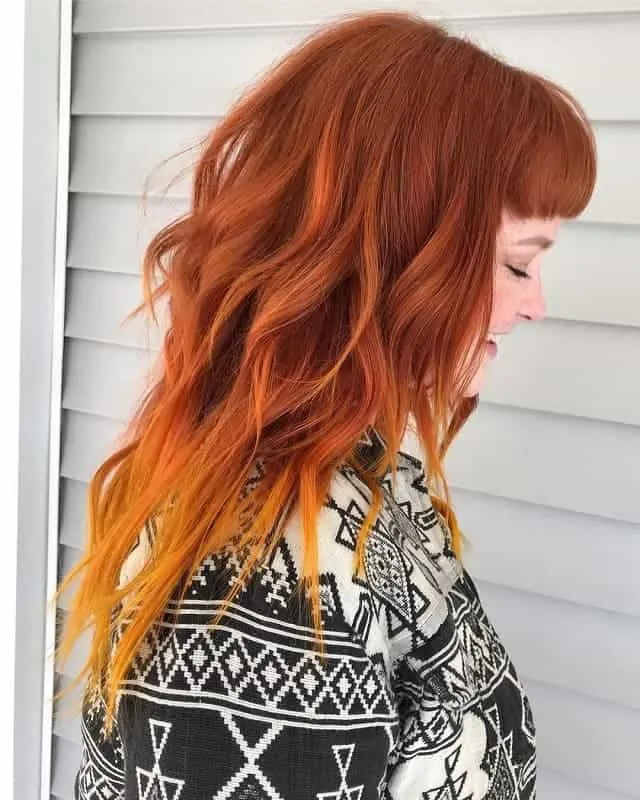 Such a gorgeous ginger ombre! Start from the roots with a darker shade and end up at the tips with and yellow-orange shade. The bangs must be short, one finger above the eyebrows. Create layers and style waves to give each strand its own personality.
28. 80s Bangs Hair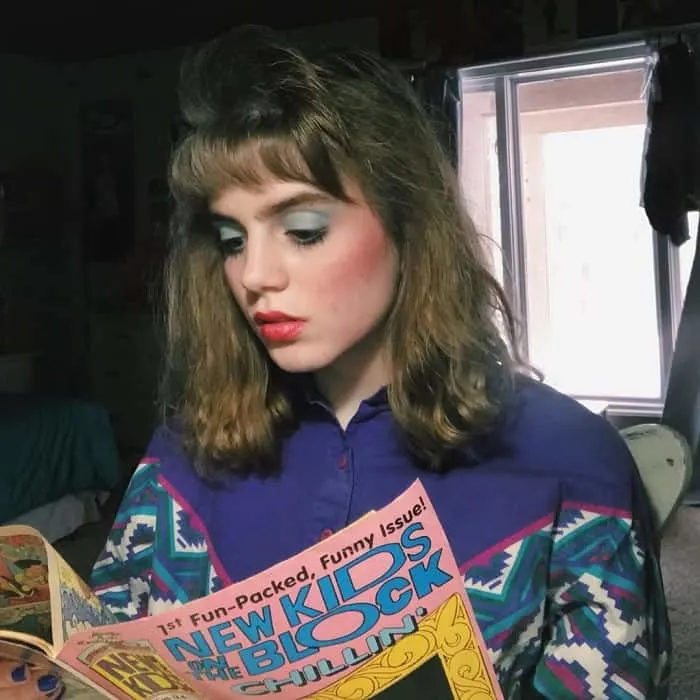 If you love old fashioned looks that never go out of style, this 80's look is perfect for you. Cut the hair in a bob shape and style short bangs. Use a conical iron give the fringe a rounded shape and take the top hair and toss it on one side.
29. Chinese Bangs
Chinese bangs are bluntly cut and sit right above the eyebrows. They're better for women with a wide face because of their thickness. Neatly comb them and wear with your mane down or up in a pony.
30. Crochet Hair with Bangs
For Black women with a wide forehead, you can easily distract from it by making piecey bangs. Cut those spirals to an inch above the eyebrows and arrange them across your forehead for flattering face framing.
31. Feathered Bangs
Feather cutting the hair results in wispy layers. It's a beautiful way to create natural-looking bangs. This off-center long hairstyle is a perfect example of how this type of bang can nicely switch up your face dimension.
32. Bangs for Frizzy Hair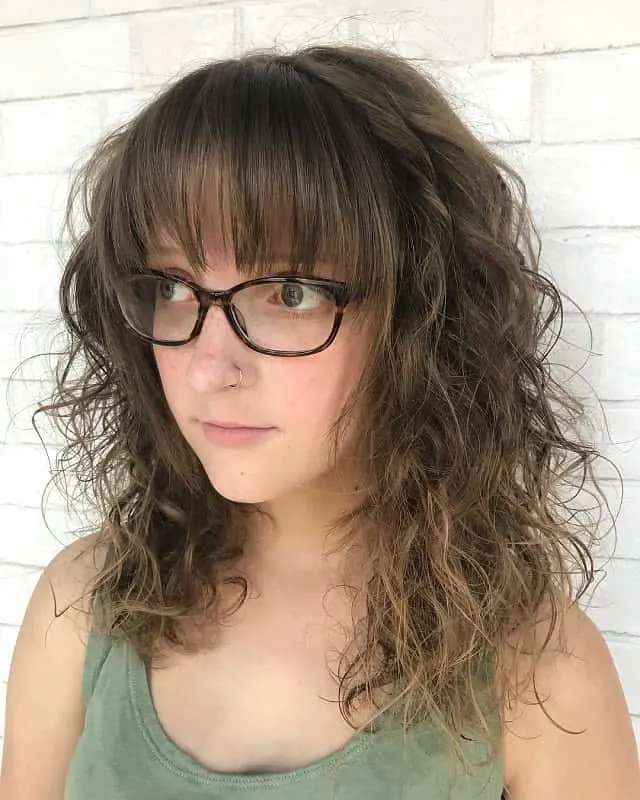 Struggling with frizzy hair? Tame it with a bit of mousse or curl cream to seal the cuticle and tame your texture. Then straighten your fringe for the best contrast. With your mane worn down or up in a ponytail, your bangs will look great.
33. Bangs for Small Forehead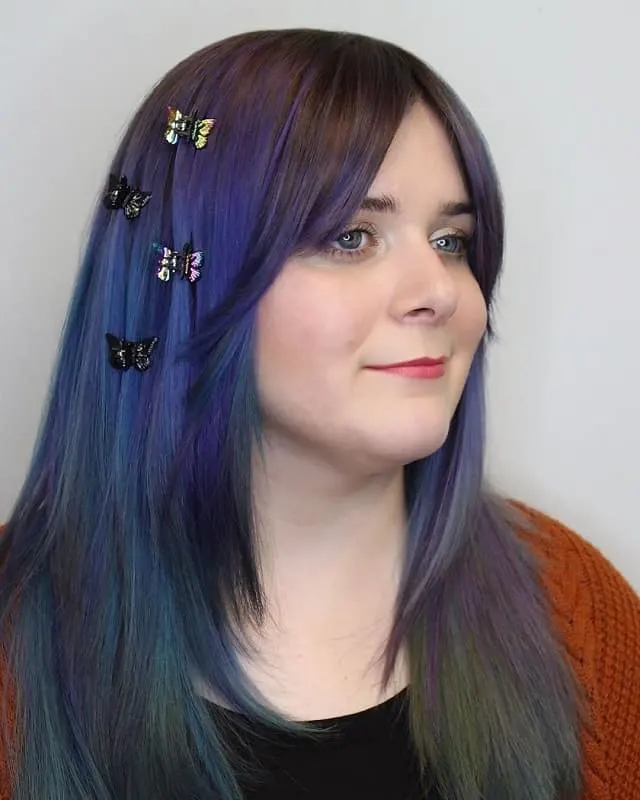 When you have a small forehead, you don't want a thick bang that emphasizes your face shape. Instead, choose a long curtain bang with face-framing layers. You can even have fun with the hair dye like this hairstyle shows.
34. Bangs Hairstyle with Glasses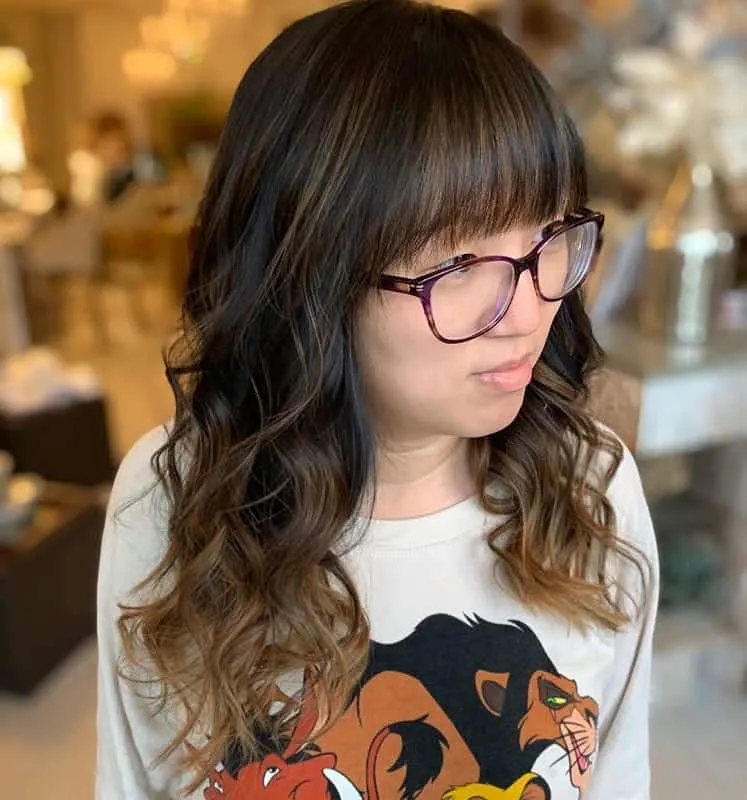 Another great hairstyle option for women with a large forehead and who also wear glasses are these long straightened bangs cut bluntly. If you have dark hair, consider some blonde highlights as well.
35. Bangs Hairstyle for Over 50
The best way to rock bangs when you're over 50 without looking like a child is by opting for side bangs. Keep them somewhat long so you can keep them away from your eyes. A bob would be a great short haircut for this type of fringe.
36. Blunt Bangs
When choosing a short haircut for a smaller face, we recommend a chin-length bob with low-maintenance blunt bangs. They'll sit slightly above your eyebrows, helping to highlight your eyes.
37. Emo Bangs
A bold combination of bright pink and light blue makes for hot emo bangs. Make them short and bluntly-cut and style with either medium or long straight hair.
38. Medium Hair with Bangs
Probably the easiest way to achieve the sweet, simple, and romantic look is through gentle, blunt and wispy bangs paired with shoulder-length hair. Blow dry your hair for a sleek, yet sophisticated look and let the bangs frame your face. This is also the easiest style to try with bangs haircut.
39. Long Hair with Bangs
A great way to introduce some change to your long-haired look is to cut bangs. The dramatic change in your appearance will also channel some good vibes. The contrast in length shapes your face perfectly and softens your face contour for a youthful appearance.
40. Blonde Bangs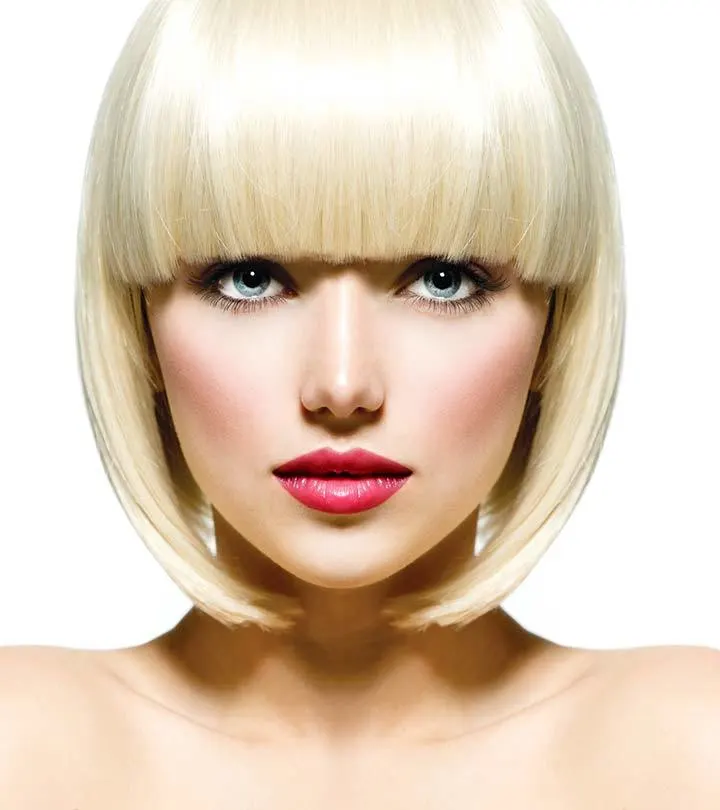 Classy and futuristic, helmet look has always been one of the most interesting blonde bob hairstyles with bangs. Sleek bob paired with symmetrical, ironed, and kind of strict bangs make this style ideal for girls and women who are empowered, know what they want and aren't afraid of going for it.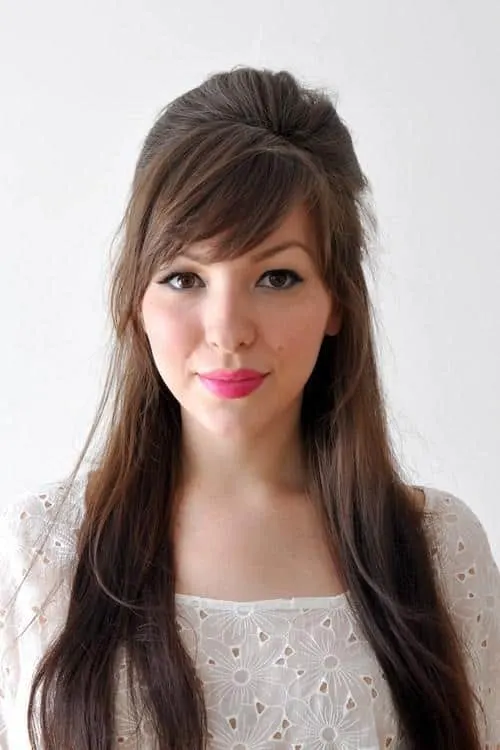 For a somewhat retro look, you may want to try side-swept bangs combined with long straight hair gently flowing over your shoulders. Carefully tuck hair behind your ear. You can also use bobby pins to add more volume and gently lift up hair on the crown of your head to add more structure to your look.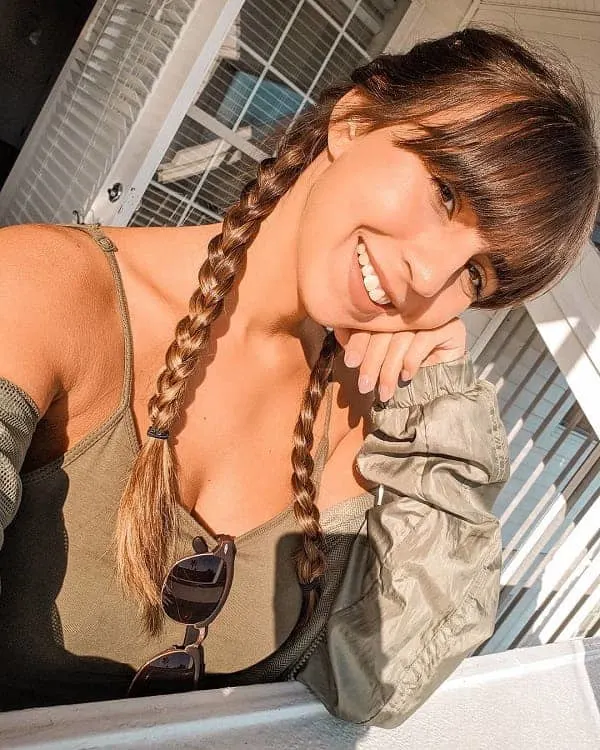 Girls with long hair can also make braids which are also a great match with your bangs style. Make two braids and let them flow over your shoulders. If you want this hairstyle with bangs to be "extra," then add a cute bandana, and you have a proper festival look for the upcoming season.
Warm weather is just around the corner and chances are you want to make a few changes in your hairstyle. Perfectly understandable! It's time to try out a style that brings warmth and good vibes.
A simple way to make it happen is to have longer bangs that you'll part in the middle and pair them with blonde highlights and beachy locks.
Grey hair is a huge trend among girls and younger women. Use a few shades to create contrast, create longer waves for a more sensual look and frame your face with longer, asymmetrical bangs. Your bangs haircut will look outstanding, and it's needless to mention you'll appear softer and more youthful, seriously.
Girls with curly hair often feel like they'd never be able to pull off bangs or fringe. Wrong! You can definitely rock this hairstyle with bangs. And you know what? You'll look super cute and fierce at the same time. Let your curls loose for a liberated and powerful look.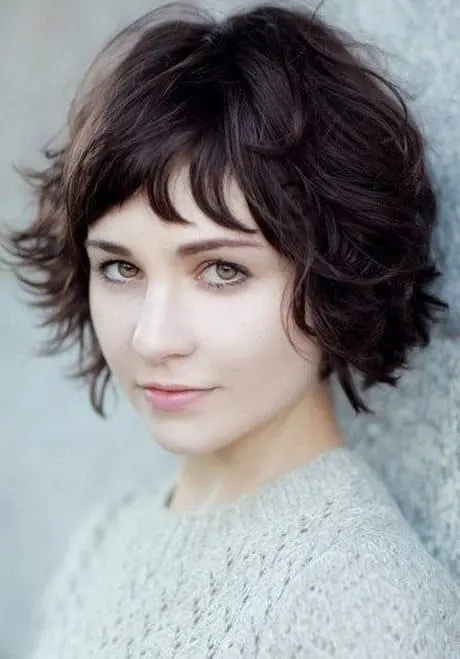 Have you ever wanted to achieve that Parisian chic style? All of us have at one point or another. You don't just want to dress like a Parisian, but you also want to have hair just like one of those girls.
Well, this short hair with bangs is a great way to make it happen. One of the cutest bangs styles involves tousled waves and shaggy hair for an effortlessly chic effect.
47. Straight Hair with Bangs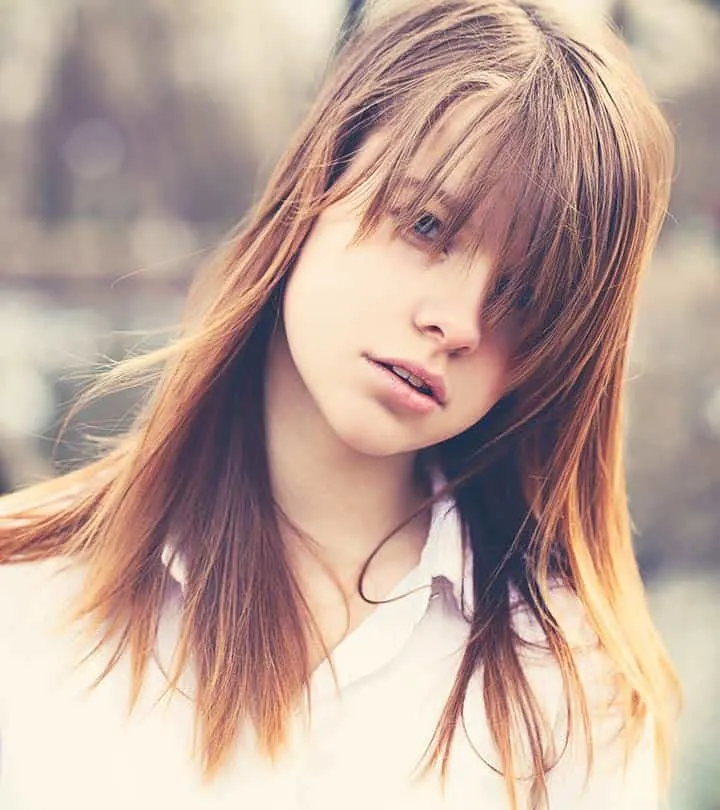 Styling your natural hair bangs don't necessarily need to avoid getting specific hair length or whether you should keep it straight or wavy. Instead, you can use accessories such as hats to achieve the desired effect. Use a hat to put your bangs on display but also to frame your face.
Complimentary Bangs for Round Faced Women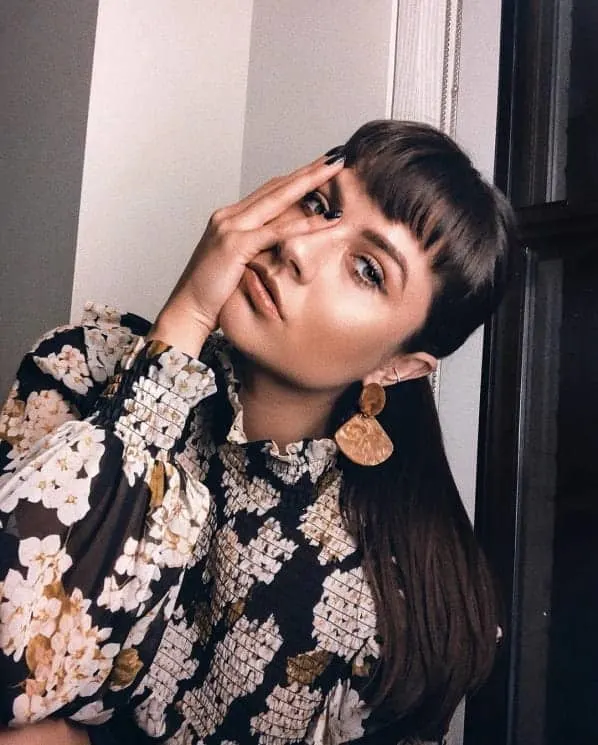 Don't be afraid to try out baby bangs hairstyle on long hair. Some girls are reluctant to cut their bangs that short out of fear they won't look good, but these cute micro-fringes can revamp your image and shape your face in a unique way. Style your baby bangs with a long ponytail for a dramatic effect.
49. Updo with Bangs
When it comes to styling hair all you need is a little bit of creativity. Dare to experiment and explore your imagination to create bangs that will be a perfect match to your personality.
If you're into classy, yet casual, and chic dos, then you may want to try using a scarf or bandana and tie them up right above your bangs. This bangs hair option works for both short and long hair.
50. Uma Thurman Look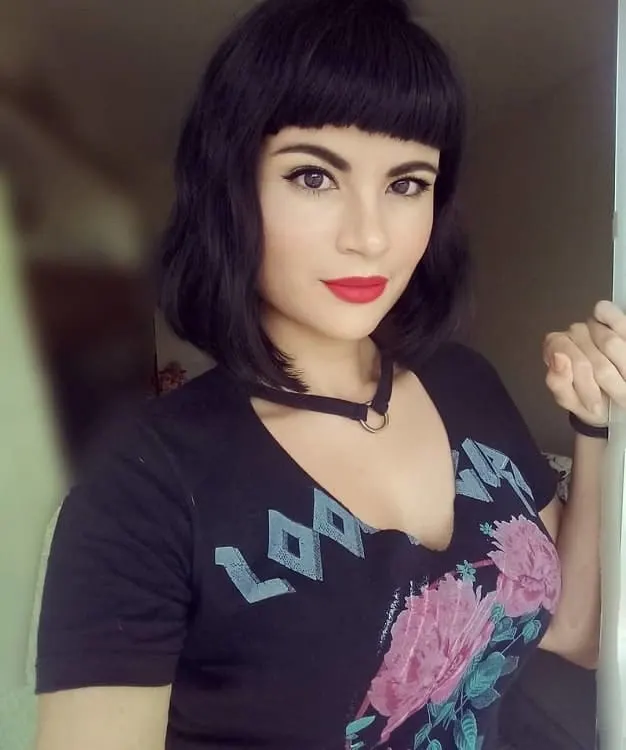 Have you ever seen Pulp Fiction? If not, you should definitely look it up and watch. In the movie, Uma Thurman wears one of the most recognizable hairstyles in the movie industry – bob with bangs. Channel your inner Uma with this super cute hairstyle.
51. Pink Bangs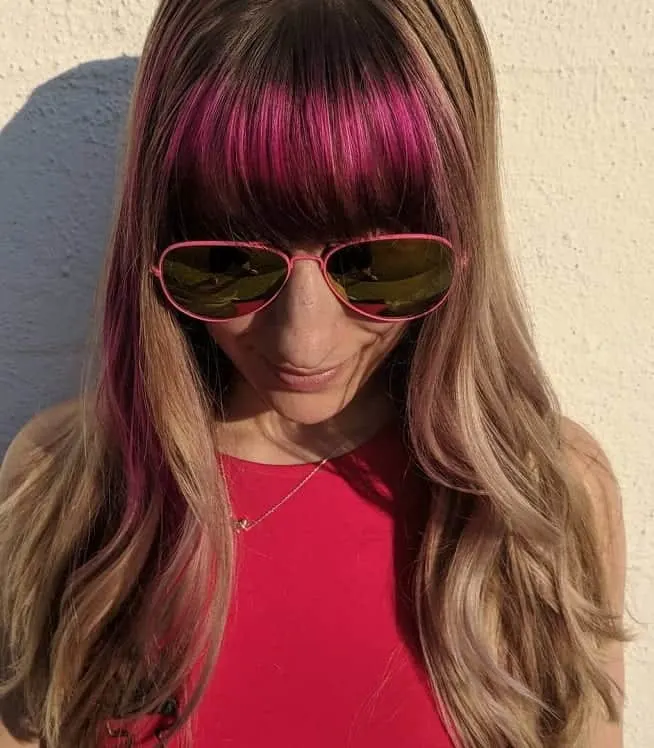 Fun and quirky girls will definitely love this hairstyle. Your long hair will match bangs dyed in pink perfectly. How unique! Rocking this hairstyle allows you to stand out instead of blending in the crowd. The best thing of all, you can still pull this style off even if you have short hair. So, get your pink on and have fun.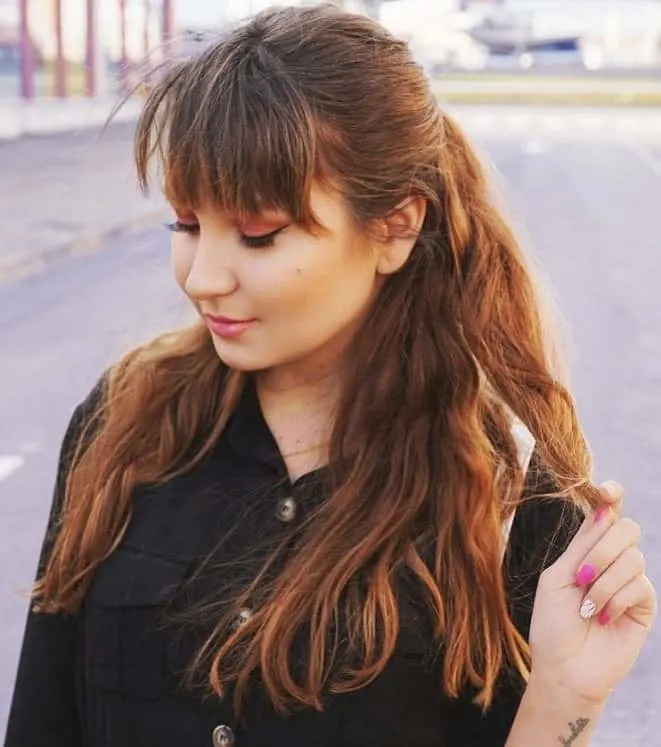 There's something unbelievably cute about bangs and ponytails, especially when your hair is long or you add more volume to it with extensions. You can either create a "messy" or effortlessly chic style for your long hair with bangs, or you can opt for a sleeker alternative.
A common misconception is that bangs are hard to style as they always need to be perfectly straight and somewhat strict. Not necessarily! Keeping your hair (including bangs hair) a little messy can be very cute and romantic. Pull your hair up in a high bun, let your bangs gently frame your face and pull out a few strands of hair to create the "bed head" effect.
Bandanas are back IN, and it's time to rock them. A great way to pull off bandana in your hair is to place them right above your Korean style see-through bangs and let your luscious locks look for liberating sensation. Such a casual style like this is also able to look pulled together and quite chic when you plan your outfit right.
55. Pin-Up Hairstyle
Emulate your inner pin-up girl with middle-length dark hair and baby bangs for a super sexy look. Blow dry your hair and straighten it for a sleek, elegant, and disciplined style. Beautiful and chic bangs hairdo.
Long layered hairstyle looks amazing with uneven voluminous bangs. Uneven bangs create a mysterious look while the long hair adds to the style. Long layers with red bangs bring some volume to the hairstyle and the help to keep it.
Short hairstyle with long bangs has always been considered a winning combination. Long bangs do wonders for outlining the facial features, while the short cut elongates the neck. Such hairstyle is great for creating a younger look.
Suitable Bangs Hair Ideas for Women with Square Face
This bangs hairstyle was made popular by Jessica Alba. It does wonders for emphasizing the heart-shaped face type and draws the attention to the eyes. Large formal curls are always a great choice for any occasion
59. Asymmetrical Bangs
You don't follow the rules, but break them? Then this hairstyle is perfect for girls like you. While there are many asymmetrical types of bangs, this is the most adventurous kind. Cut off your bangs short, i.e. to baby bangs length on one side and gradually increase the length of hair as you're going to the opposite side for a super asymmetrical look.
Looking for a style that is both casual and elegant at the same time? For girls who are looking for a hairstyle with bangs that they can create for different occasions and events, this is an ideal suggestion. Make a bun and sweep your bang to the side for a rockstar look.
Bangs Hairdo That Are Perfect for Oval Face Shape
How to Style Bangs in an Easy Way
While it may seem like bangs hair doesn't give you too much freedom, you can still style them in different ways. You just need to know what to do and how to style them properly. You can iron and elongate them for a super sleek look.
If you're aiming for a more relaxed appearance, then side-swept bangs are your go-to style. You can also use hairpieces to pick them up and create a "bangs-free" appearance whenever you want. Options are truly endless.
Watch The Following Tutorial to Know Easy Ways to Style Your Bangs
How to Style Short Hair with Bangs And Layers
Girls and women with short hair can rock bangs too. You also have plenty of options to style them. For instance, you can pin the bangs back with bobby pins or use headbands of different designs.
Other options are to go for a "bed head" style that will give you a lively and vibrant look, or you can opt for a sleek bob for a classy style. Of course, there's also an option to add extensions or weaves to add length and fullness to your hair.
Check Out This Video to Know about How to Style Short Hair with Bangs
FAQs
Here are some frequently asked questions about getting bangs.
What should I consider before getting bangs?
Once you've considered things like face shape and hair texture, there are a few other things to keep in mind before getting bangs. Perhaps the most important thing to remember is that bangs will be the shortest hair on your head.

Growing them out takes quite a while; for some, it can take several years. Make sure you're committed to the style and have a good stylist before making the cut.
How long it takes to grow your bangs?
Let's say you have bangs and are wondering when you can expect them to grow out. Generally speaking, it depends on the length and thickness of your bangs.

Of course, it also depends on the hairstyle and how long it usually takes for your hair to grow. In most cases, you can expect your bangs to grow in three to four months.
What face shapes look good with bangs?
Almost any face shape can look good with bangs if they choose the right style. A stylist can determine what bangs will bring out your eyes and frame your face best. In general, bangs should help create the illusion of having an oval face.
Is there any difference between bangs and fringe?
People use these words interchangeably, which is acceptable, but bangs are usually a little longer and include more than one length. For example, bangs might be longer on one side of the face than the other, whereas fringe is usually cut straight across.
Can over 50 women have bangs?
Yes, women of any age can enjoy bangs. The most important thing is to pick a style that suits her face and hair. If the hair is starting to thin, she can choose a wispy, asymmetrical style. Plus, bangs are great for covering up fine lines and wrinkles across the forehead.
Will layers go with bangs?
Adding bangs to a layered haircut is a great way to freshen up the look. Curtain bangs will flow seamlessly into the style. Blunt, straight bangs, on the other hand, can create a bold frame for your face.
Will bangs make me look slimmer or fatter?
The answer to this question depends on what type of bangs you choose and the shape of your face. Blunt bangs will make round, and square faces appear even wider, which creates the illusion of extra weight.

To hide this, many women will opt for asymmetrical or curtain bangs, which make the face appear longer and slimmer.
Layered and choppy bangs are they same?
No. Layered bangs are, basically, wispy bangs that melt into long, face-framing layers in a seamless manner. These bangs aren't formed in a straight line, some strands are longer than others, and they're usually swept to the sides.

On the flip side, choppy bangs are formed by a technique called point cutting which involves trimming the bangs at different angles to form a "V" shape. At the end of the hair, uneven points are created. While both hairstyles are a tad asymmetrical, they're not the same.
Can I try bangs with curly hair?
Yes! When it comes to bangs hair, it's a common misconception that it's only reserved for women with straight hair. Not true! You can even try bangs with long curly hair. You can either iron them or let your curls loose for a super cute effect.
Bangs are chic, romantic, and always in style. This article showed different hairstyles with bangs to keep you inspired and help you pick and create the perfect look. Now that you have seen all the lovely suggestions you can proceed to try them out.
You May Also Like