Long angled bob hairstyles are very fashionable. They have been gaining a lot of momentum lately among young women. If styled correctly, such bobs look great on any type of hair. They will look especially well on women with oval or round faces. However, girls with triangular, heart and square-shaped faces can also choose the right angled bob for themselves. These bobs go from wild and outrageous to strict and professional. All you need to do is take your best pick.
Modish Long Angled Bob Haircuts & Hairstyles
Whether you are a fan of long angled bobs or just decided to take a look at them, you have come to the right place. We prepared a list of 55 amazing long angled bob hairstyles for you to browse and choose from. Pay special attention to your face and hair type. Girls with triangular faces should go for shorter angled bobs, while ladies with round faces should consider longer ones. Remember, that the asymmetry is in style, so take a look at the asymmetrical bobs, which can make you look really fashionable. Also you can check other bob haircuts and hairstyles here.
1. Long and side swept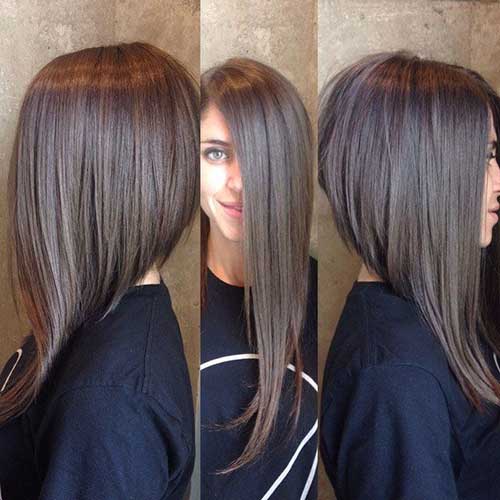 This long angled bob style is great for women with round faces. The hair is cut very short in the back, while one long angled part is created in front. The back hair is layered. Styling such bob is complicated, but the result really makes a long-lasting impression.
2. Shoulder length bob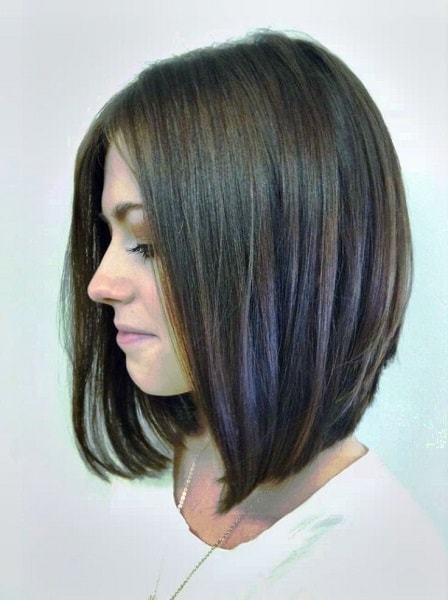 This is one of the most popular angled bob hairstyles. The hair is cut a little shorter in the back and becomes longer toward the front. This style is great for straight hair, regardless of its thickness. Daily styling is recommended.
3. Asymmetry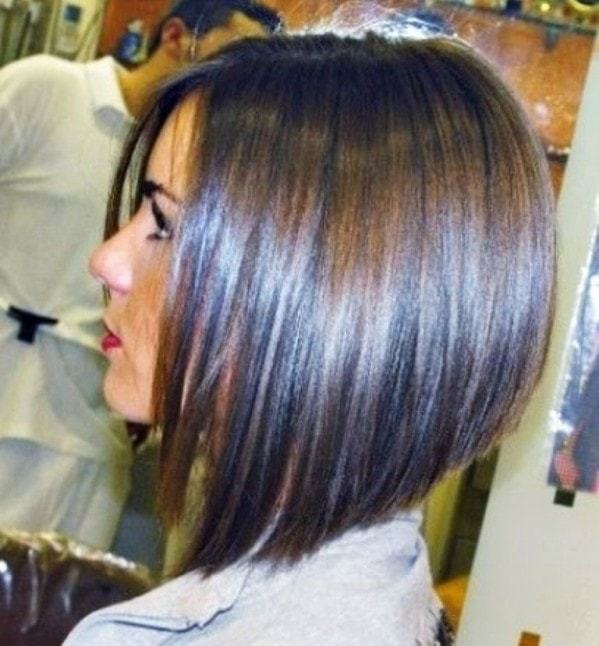 Classical angled bobs are shorter in the back and gradually become longer in front. There is also an asymmetrical variation. Several frontal strands are cut short in order to create a triangular look. Give it a try!
4. Ombre
Ombres look fantastic on any hairstyle. So, why not give one a try on the long angled bob? Dye your bangs and lower strands with darker color than the rest of your hair and your bob will get a fresh new look.
5. Burgundy and fabulous
Experiment with the color of your new angled bob. Burgundy bobs look fantastic on women, whose natural hair is dark. Colored hair usually gets drier, which can make it easier to style. Keep your burgundy bob neat with special hair cosmetics for dyed hair.