Long angled bob hairstyles are very fashionable. They have been gaining a lot of momentum lately among young women. If styled correctly, such bobs look great on any hair type. They look especially good on women with oval or round faces. However, girls with triangular, heart and square-shaped faces can also pick angled bob.
Long Angled Bob Haircuts & Hairstyles
Whether you are a fan of long angled bobs or just decided to take a look at them, you have come to the right place. We prepared a list of 80 amazing long angled bob hairstyles for you to browse and choose from.
Pay special attention to your face and hair type. Girls with triangular faces should go for shorter angled bobs, while ladies with round faces should consider longer ones. Remember, that the asymmetry is in style, so take a look at the asymmetrical bobs, which can make you look really fashionable. Also, you can check other bob haircuts and hairstyles here.
1. Angled Bob
Who doesn't love a good angled bob that slims your face and creates that gorgeous face frame? It looks best with a one-side part, but that doesn't mean that you can wear it with a middle part. It's so easy to blow dry it and so low maintenance.
2. Red Inverted Bob
Love being bold and making a statement wherever you go? So why not go for a full fierce red long angled bob hairstyle? It's cool, vibrant, and a real mood and personality booster. Just remember that before picking this color, you get some shampoo and conditioner supplies for colored hair. You're gonna need them!
3. Bob for Thick Hair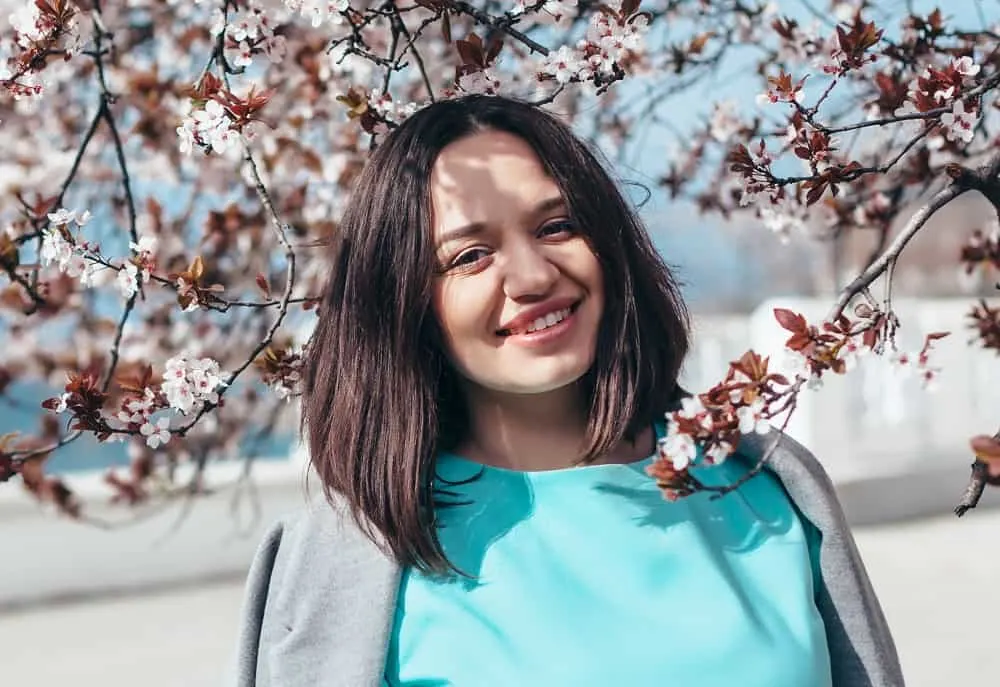 Keeping it simple is always a choice, especially when you have such beautiful thick hair. You know that saying "Less is more" and in your case when it comes to hairstyle, that is a very good approach.
4. Pink Ombre Bob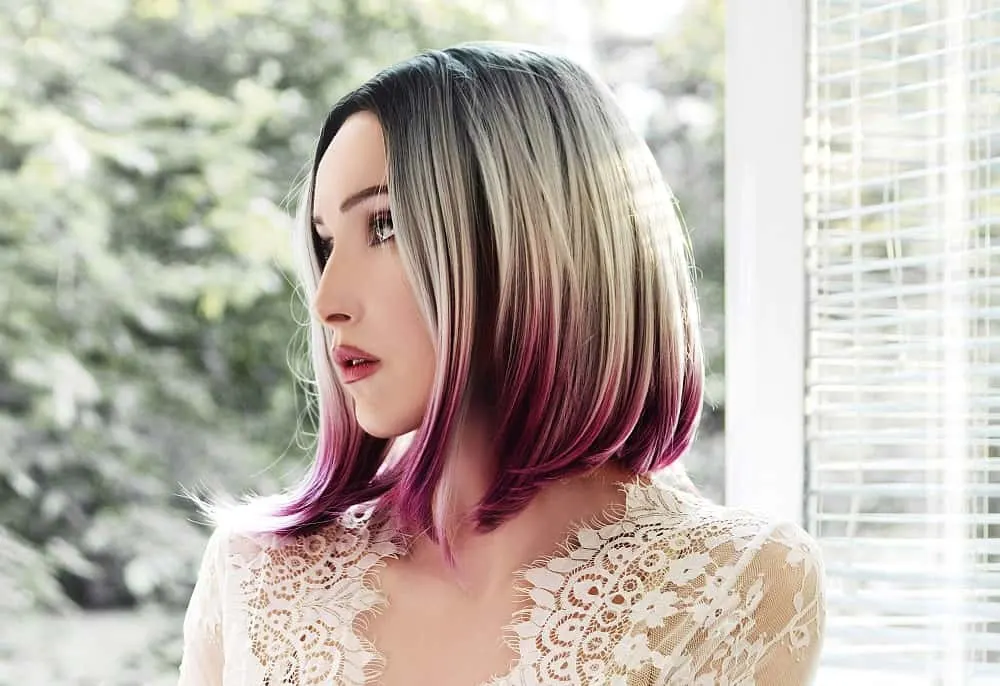 Big fan of ombre, blondes, and color mixes, but at the same time, tired of damaging your hair with bleach? Dear, there are so many ways you can achieve a flawless long angled bob hairstyle that is so beautifully colored. And a wig might solve your need in a blink of an eye.
5. Long Bob for Kids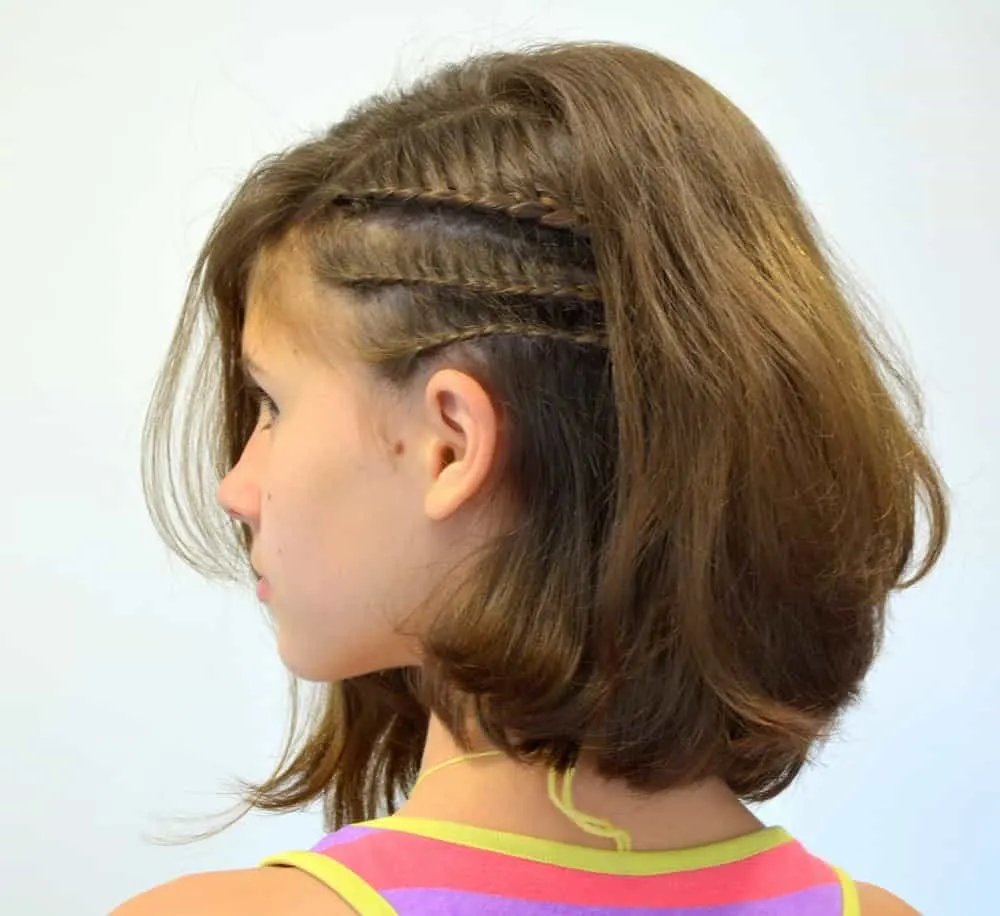 A long angled bob hairstyle also looks fabulous on little girls. To make the hairdo look youthful, proper for a little lady, swipe the top and bangs on one side and build braids on the other. Opting for this hairstyle will highlight the knits.
6. Platinum Blonde Long Bob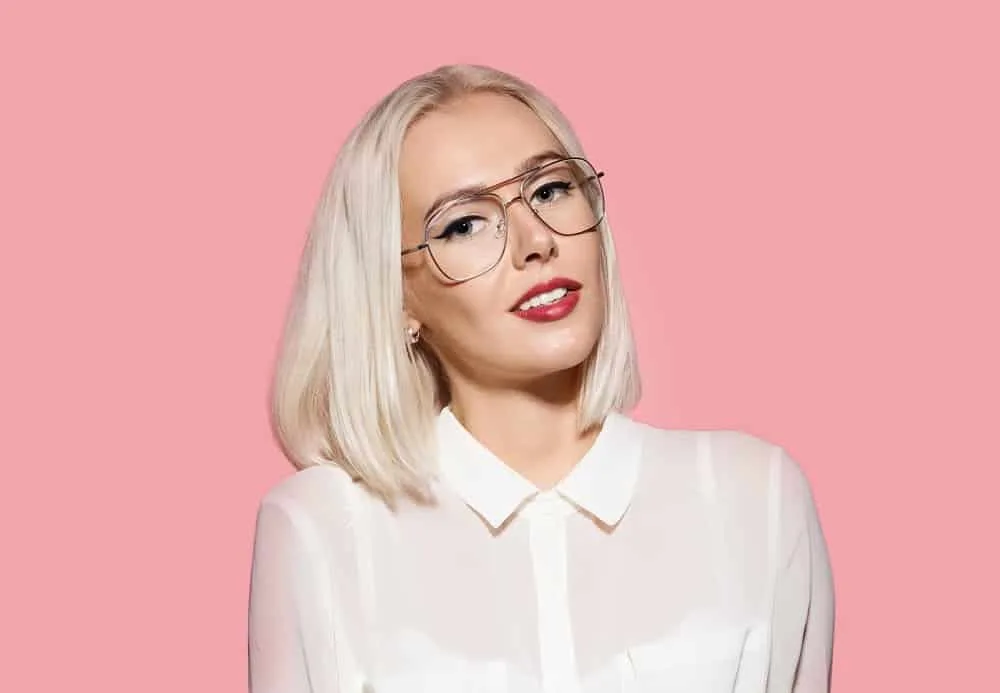 For all the fair-skinned girls out there, this long platinum blonde angled bob hairstyle is for you. You might think it will look washed out, but instead it highlights your facial features and eye color. Also, if you love wearing complex makeup, this hairstyle will put it in the spotlight.
7. One-Sided Bob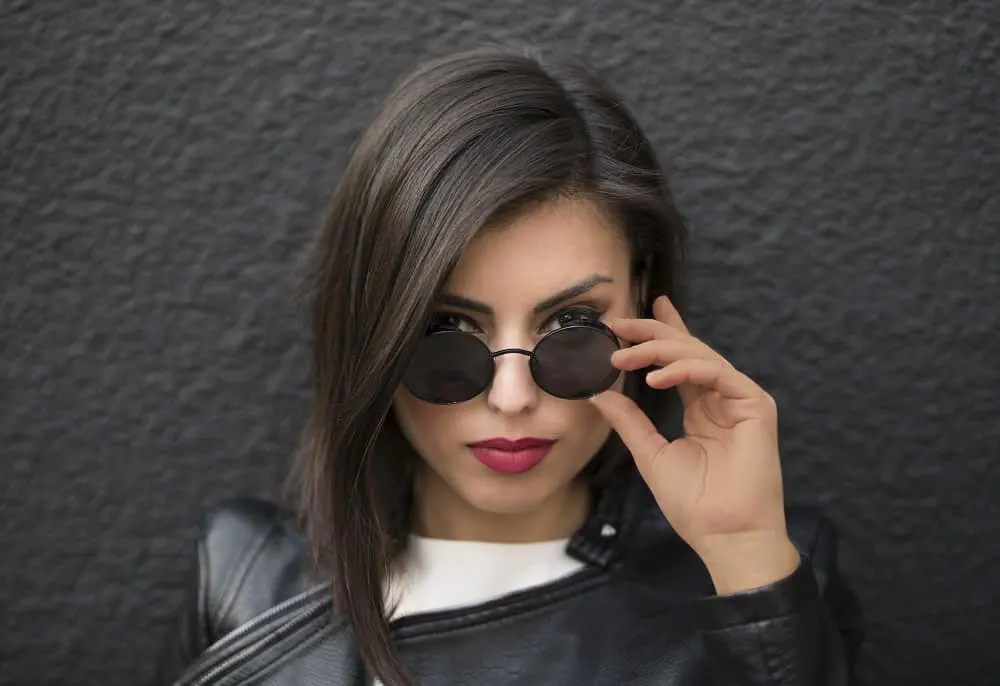 Want a hairstyle that is low maintenance but at the same time a great pick for a rounded face? A long angled bob hairstyle will easily check all your needs. It allows you to curl the hair and wear it perfectly straight, depending on your outfit, the event you're attending, and even your mood.
8. Purple Long Bob with Bangs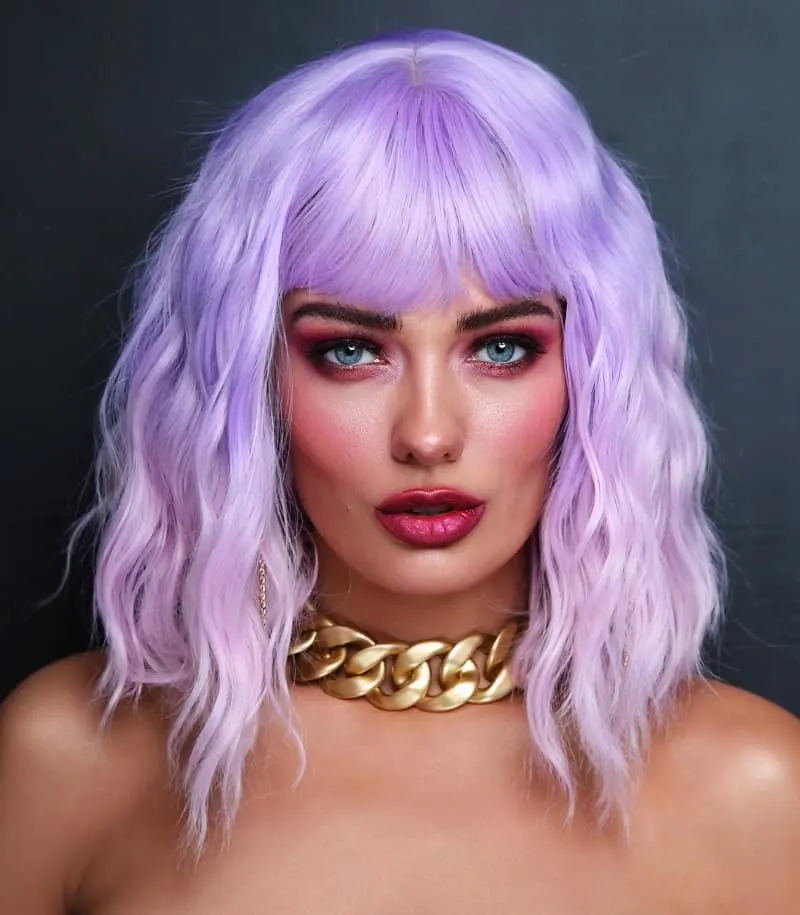 Wigs or natural hair? No matter the option you pick, the haircut must suit your face shape, and the color should be the right nuance for your skin tone. For an elongated face figure, opt for a long angled bob hairstyle and wave the hair to get more texture.
9. Multicolored Long Straight Bob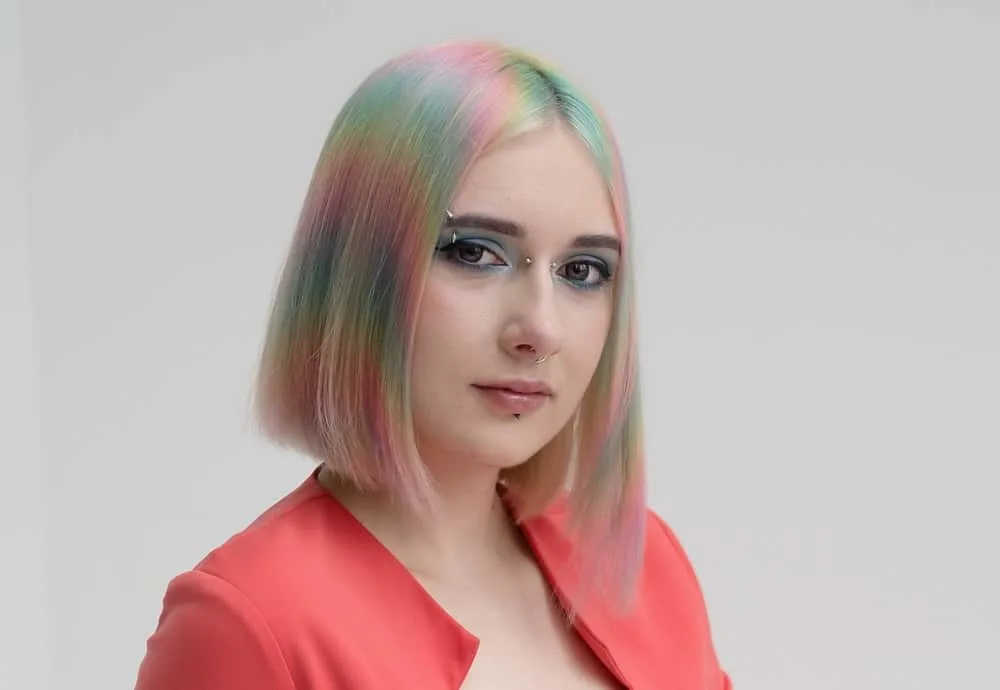 For you, it's all about the colors and the way they blend, right? A long blonde angled bob hairstyle can be your canvas! Create this rainbow hair by combining all these colors. If you want to succeed with this look, we recommend you to see a professional colorist.
10. Bob for Thin Hair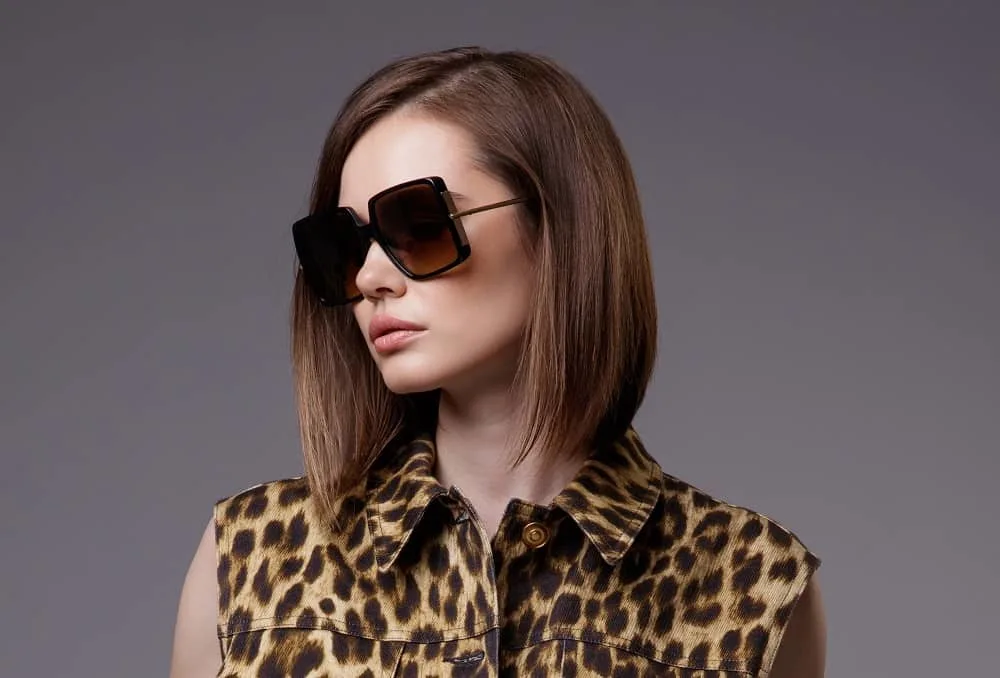 Do you hate your thin hair and feel like you're out of hairstyling options? Long angled bob hairstyles are perfect for this fastidious hair. If you cut it blunt, it will make your hair look thicker and with more volume.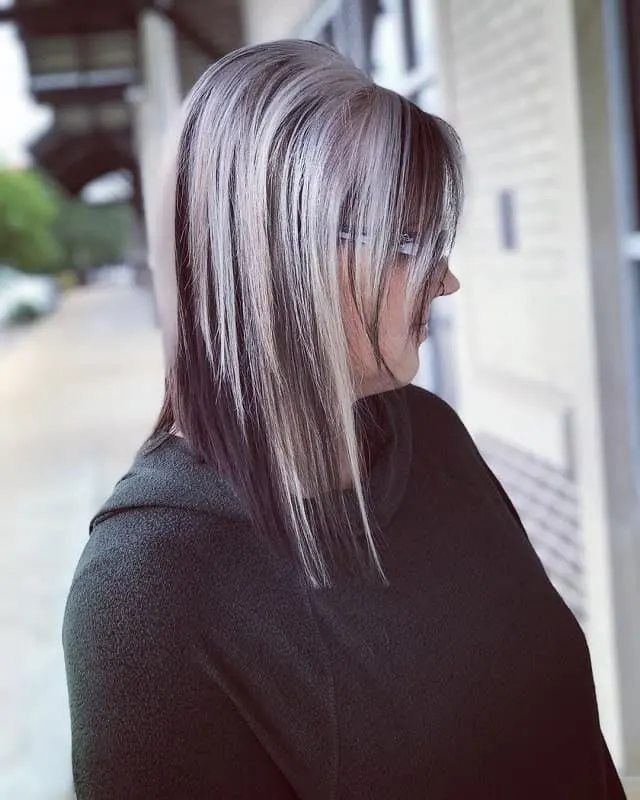 This angled bob haircut looks fabulous, mainly thanks to that stunning color mix. Style a black base and create full white highlights that will amazingly blend with the darker shades. Also, you can create some bangs to cover a part of your forehead.
12. Long Angled Bob with Bangs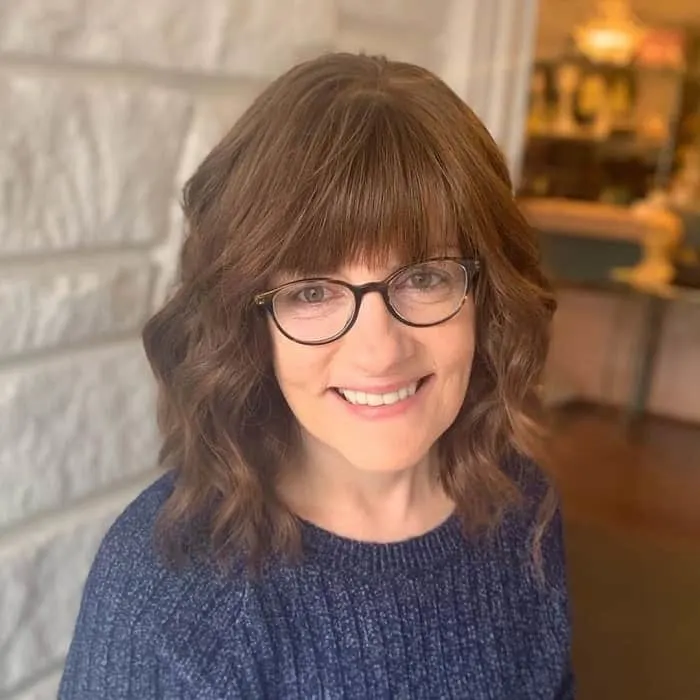 A long angled bob with bangs is ideal for older women who want to look casual but stylish now and then. Let your bangs cover your forehead and create some waves for your bob. Also, this angled bob works so well with glasses.
13. Angled Lob with Side Bangs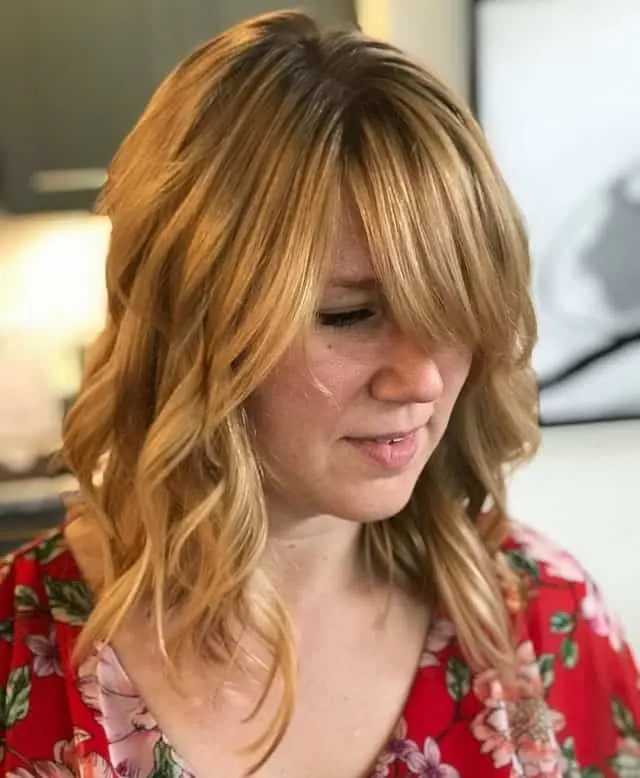 An angled bob makes a stunning pair with some smooth curl that you can reproduce by wrapping the strands of hair on your straightening iron and slightly pulling the hair out. They will look so natural and will outstandingly complete the hairdo.
14. Long Angled Stacked Bob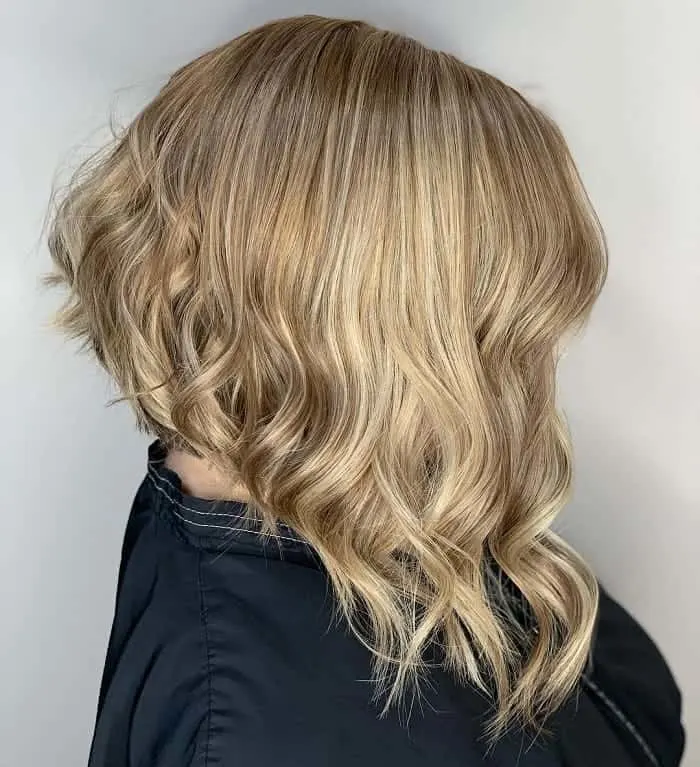 Angled long bobs with stacked layers will offer your hair tremendous volume and texture. If you want to take this hairstyle to the next level, highlights are precisely what you need. Also, if you opt for loose curls, you'll probably get the best hairdo you ever had.
15. Long Angled Blonde Bob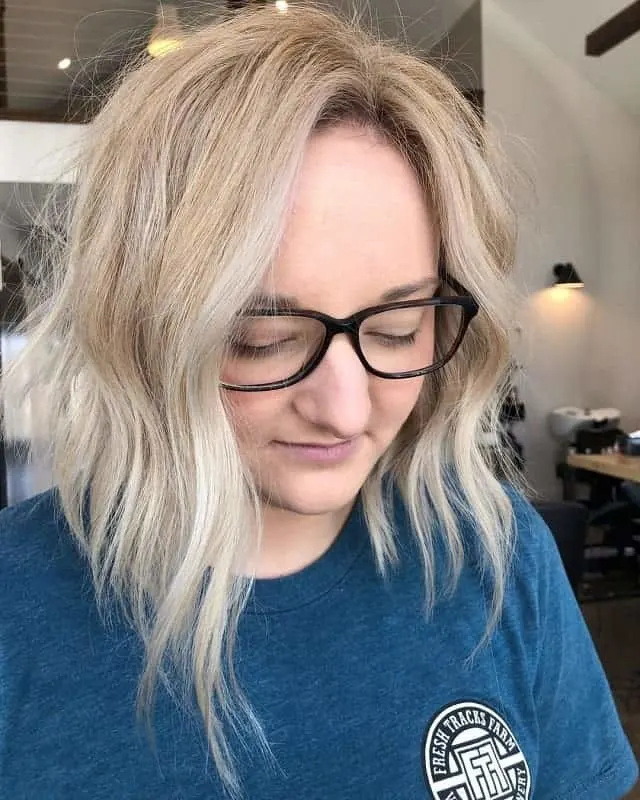 For this angled bob, you need two appropriate shades of blonde that will astonishingly blend into an ombre. This warm combination of colors works so well for women who have black thick-framed glasses.
16. Angled Lob for Thin Hair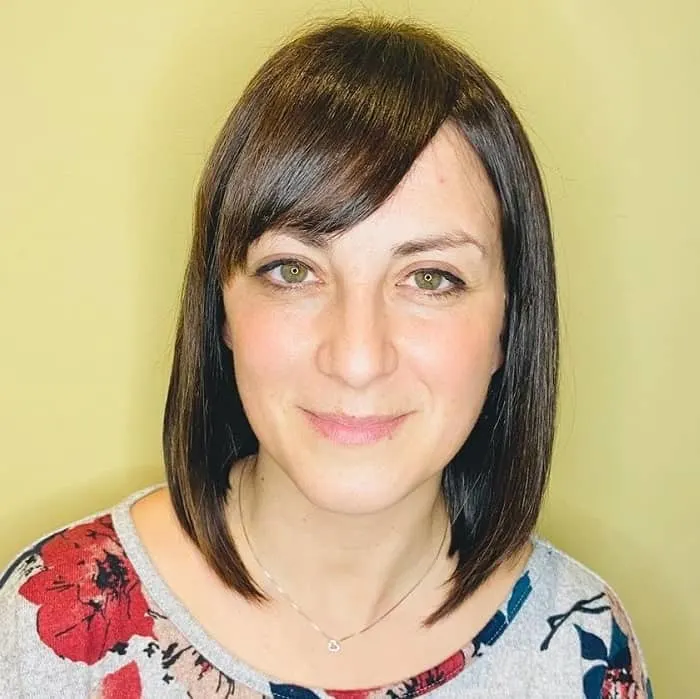 Thin hair always needs little enhancements, even if we're talking about highlights or layers to add volume. For this angled bob, bangs swept on one side are a thing you must choose, and so are those thin blonde highlights that give your hair texture.
17. Thick Angled Lob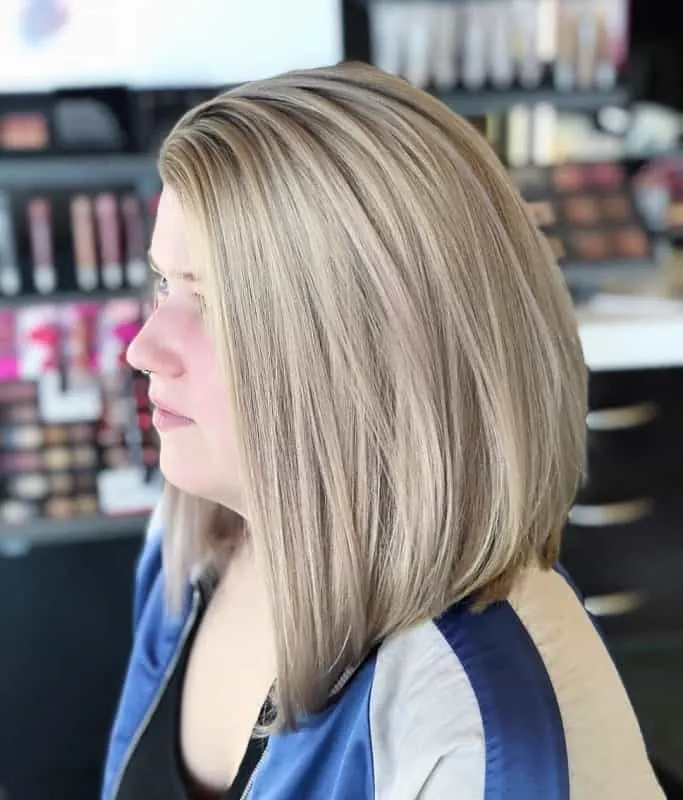 Thick hair makes your mane look like it has its personality. Style an angled bob in an ash blonde color. Turn the tips slightly inwards to create a stunning appearance.
18. Long Angled Curly Bob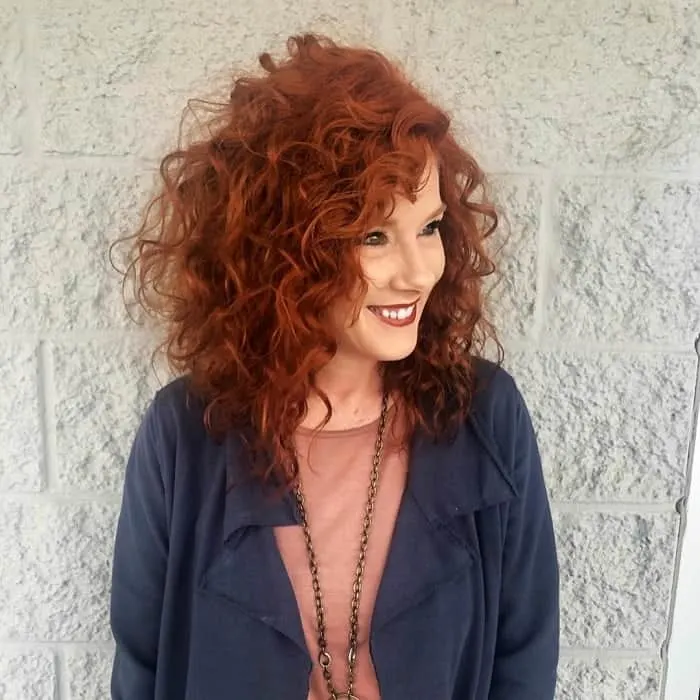 A long, angled bob is suitable both for straight and curly hairdos. In this case, choose a red ginger color and keep your long bangs swept on one side. Curl your hair and give it a big tousle to separate the strands into thinner curls.
19. Straight Angled Lob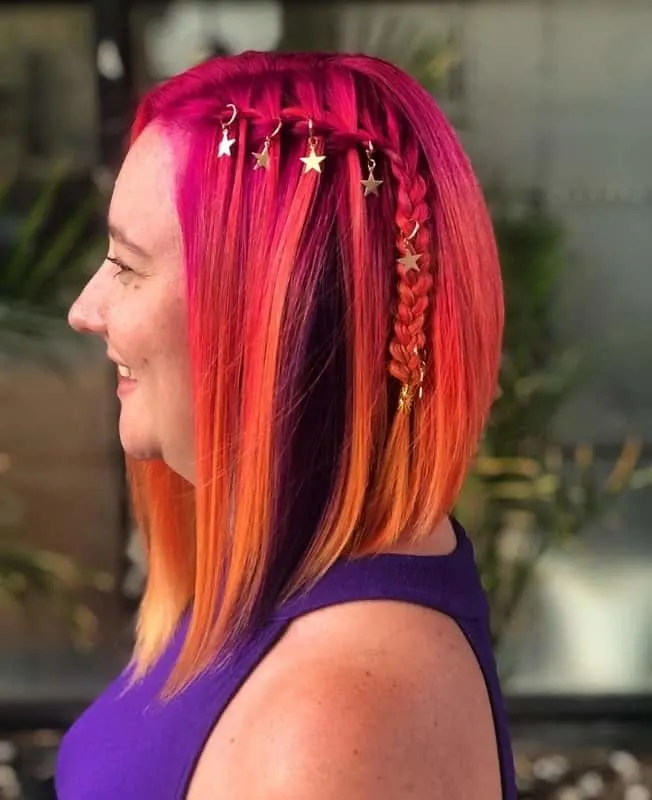 A straight angled bob gives you a lot of opportunities. You can create an outstanding ombre that starts from a pink fuchsia color for the base and ends in a fruity orange hue. Create a stunning unicorn look by braiding a strand on one side of your head and decorating it with some gold stars.
20. Angled Long Wavy Bob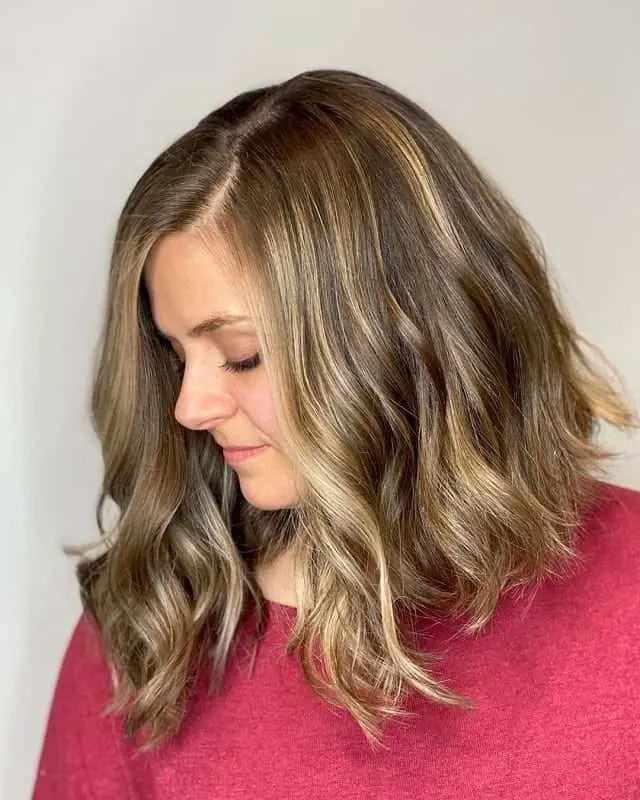 Highlights can transform any type of hair into a mesmerizing mane with a lot of texture. If you already got yourself an angled bob, this mix and match will also gorgeously combine with some curls for the tips of the hair.
21. Brunette Long Angled Bob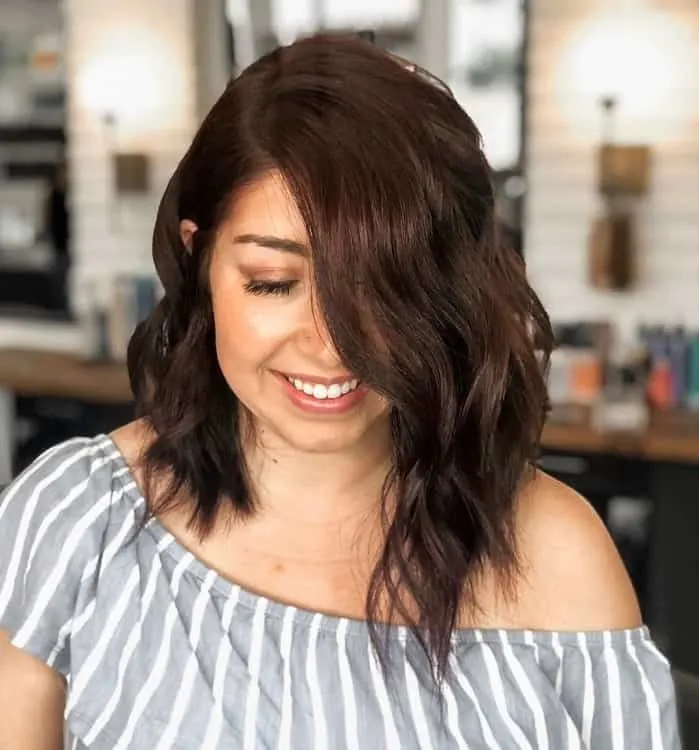 This angled bob can quickly become an asymmetrical bob just by flipping your long bangs on one side. Create some stunning waves, and that volume will totally transform this haircut.
22. Angled Lob for Round Face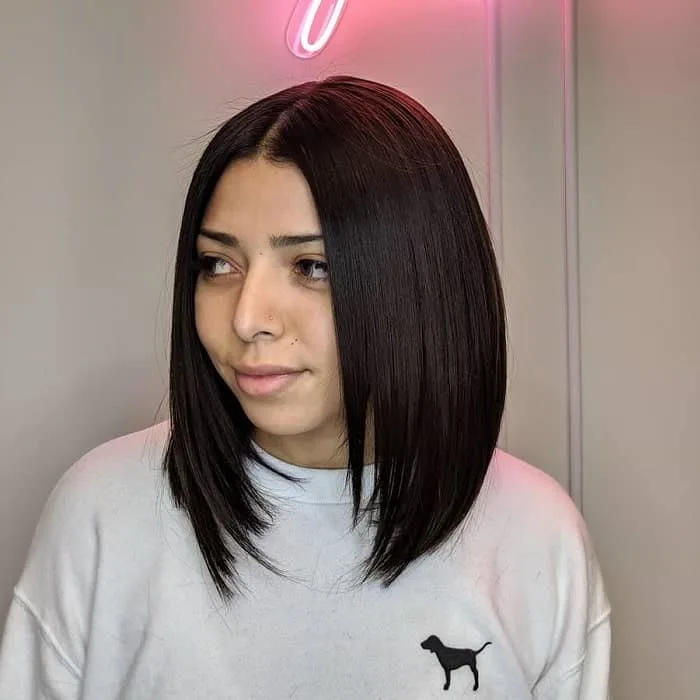 If you have a round face, all you need is a good framing. The best way you can do that is to choose a dark color that will make your face look slimmer as your middle parted bangs fall on sides.
23. Long Angled Inverted Bob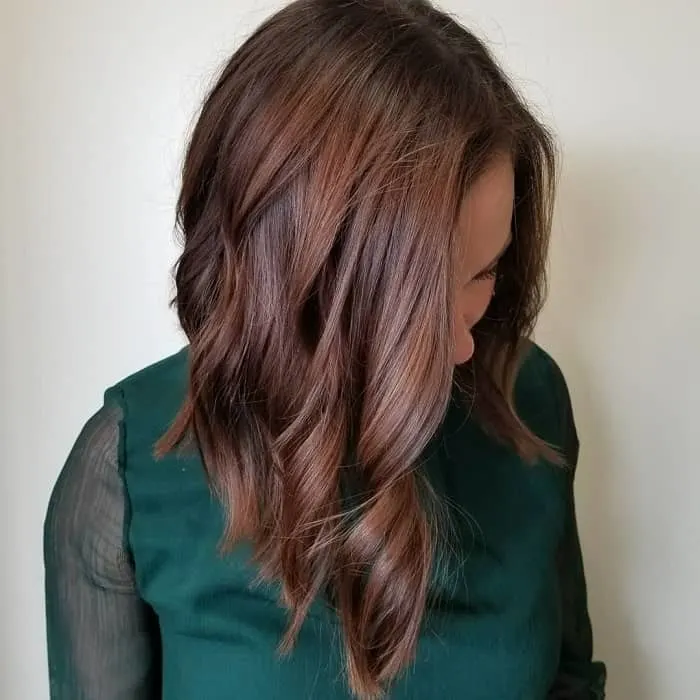 Choose a chocolate brown color and style some stunning vast waves. Your swept bangs will look astonishing, and you'll get such a nice framing. Let the fringe reach your shoulders for a fantastic effect.
24. Angled Lob with Weave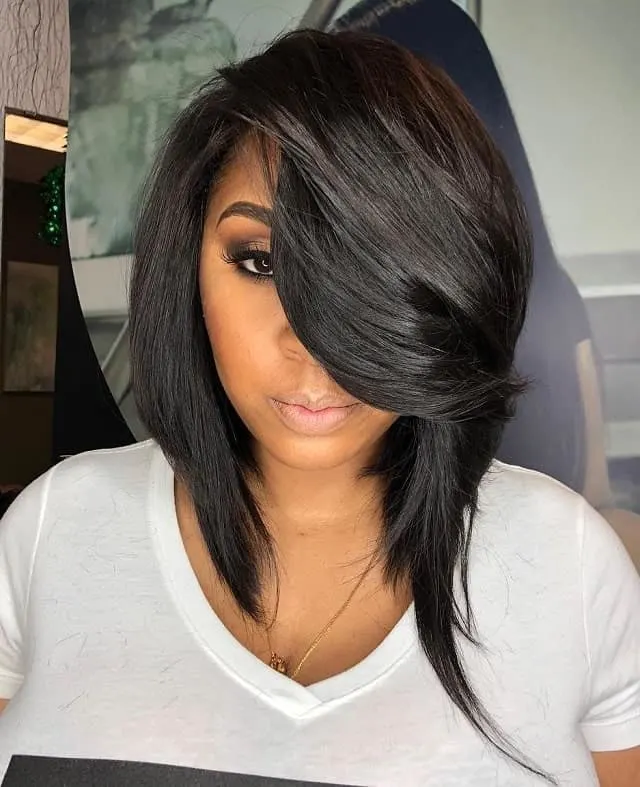 Give your hair a fabulous texture with a black hair dye and loads of layers. For your very long bangs, you can style excellent huge waves using your rotative brush. Keep your bangs in one place with some hairspray.
25. Long Shaggy Angled Bob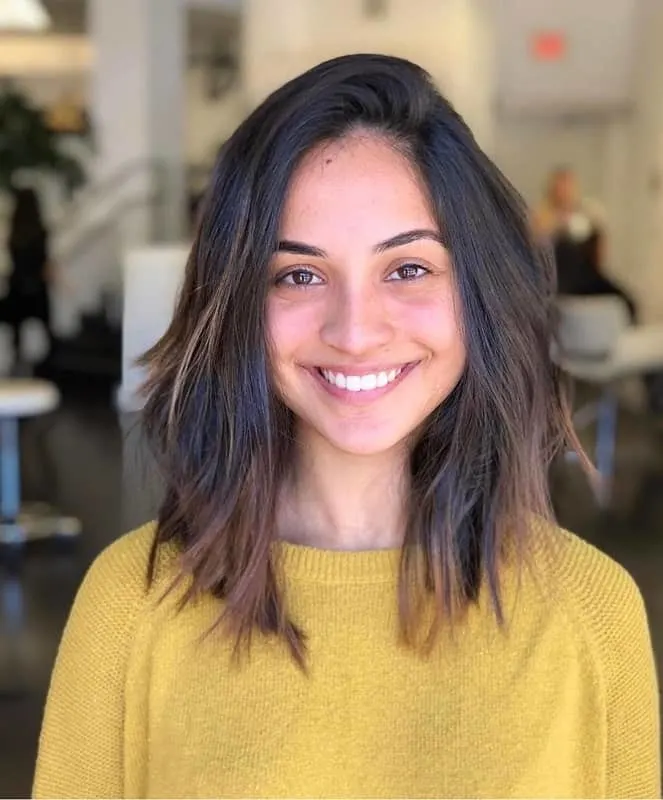 Every time you want a casual romantic look, a long angled bob hairstyle is always something you should consider. Create a low ombre only for the tips of the hair and flip the bangs on one side. And not least, don't forget to smile!
26. Long and side swept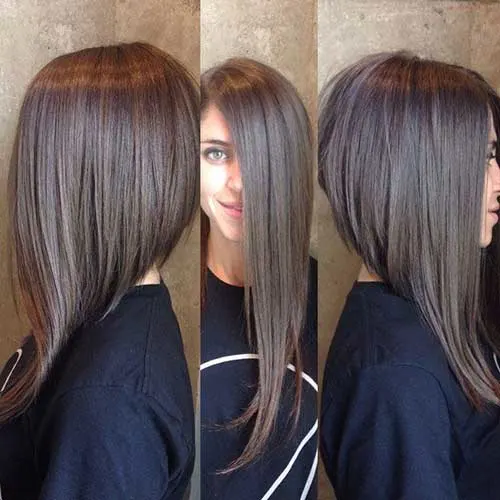 This long angled bob style is great for women with round faces. The hair is cut very short in the back, while one long angled part is created in front. The back hair is layered. Styling such bob is complicated, but the result really makes a long-lasting impression.
27. Shoulder length bob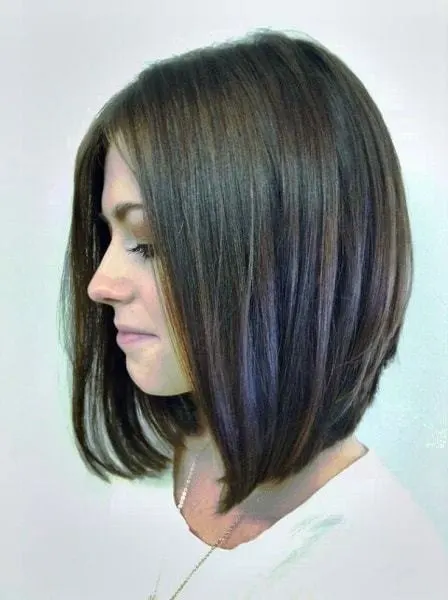 This is one of the most popular angled bob hairstyles. The hair is cut a little shorter in the back and becomes longer toward the front. This style is great for straight hair, regardless of its thickness. Daily styling is recommended.
28. Asymmetry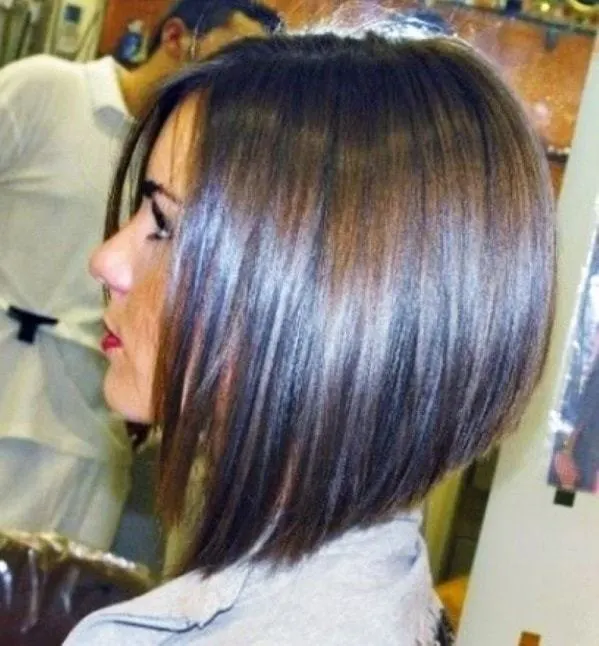 Classical angled bobs are shorter in the back and gradually become longer in front. There is also an asymmetrical variation. Several frontal strands are cut short in order to create a triangular look. Give it a try!
29. Ombre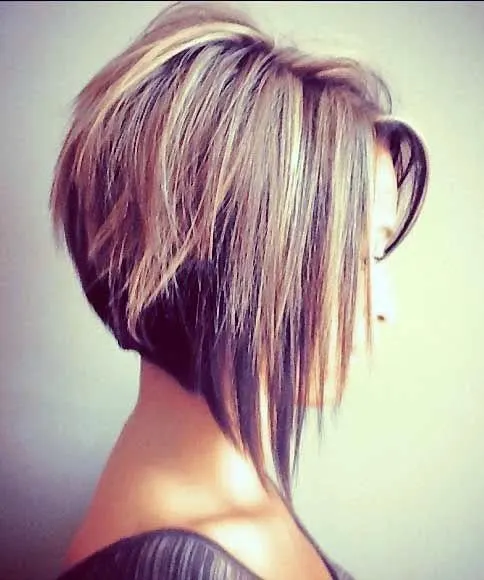 Ombres look fantastic on any hairstyle. So, why not give one a try on the long angled bob? Dye your bangs and lower strands with darker color than the rest of your hair and your bob will get a fresh new look.
30. Burgundy and fabulous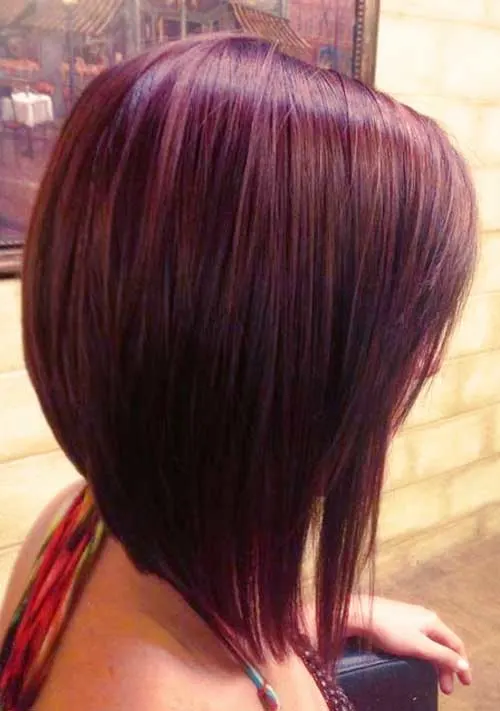 Experiment with the color of your new angled bob. Burgundy bobs look fantastic on women, whose natural hair is dark. Colored hair usually gets drier, which can make it easier to style. Keep your burgundy bob neat with special hair cosmetics for dyed hair.
31. Blond and long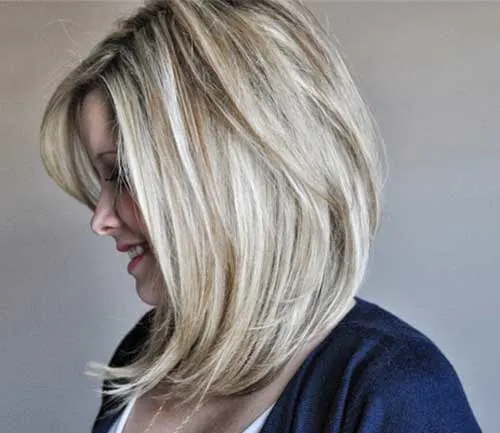 Blond is a great choice of color for many women with long angled bob hairstyles. Usually this color adds volume to the long bobs and makes the hairstyle easy to manage. Add some bangs to your bob to make it look even more fantastic.
32. Raven black with bangs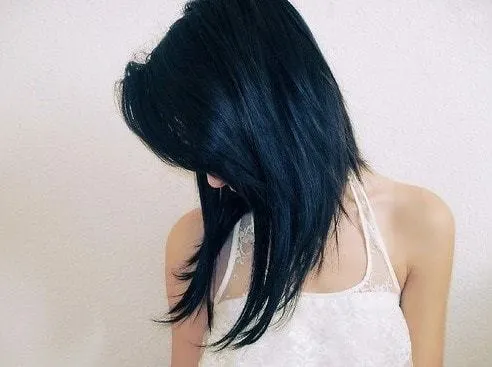 Messy raven black hair is considered very sexy. So, if you are going for a long angled bob, raven black will be a great option. Bobs are hard to keep neat. The choice of color frees you from this responsibility.
33. Creative highlights

If you want to make your angled bob really stand out of the crowd, go for creative highlights. Such bobs are often picked by girls who want to make a statement, so wild highlights are a great choice. Experiment, experiment, experiment!
34. Various angles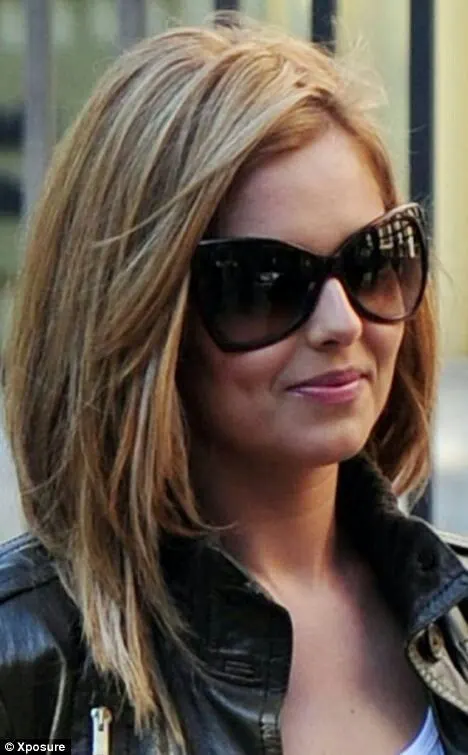 If you are a big fan of angeled bobs, but don't really like managing them, take a look at this hairstyle. This messy look is achieved by alternating angles. Even if you forget to brush your hair, it will still look amazing.
35. Outlined bob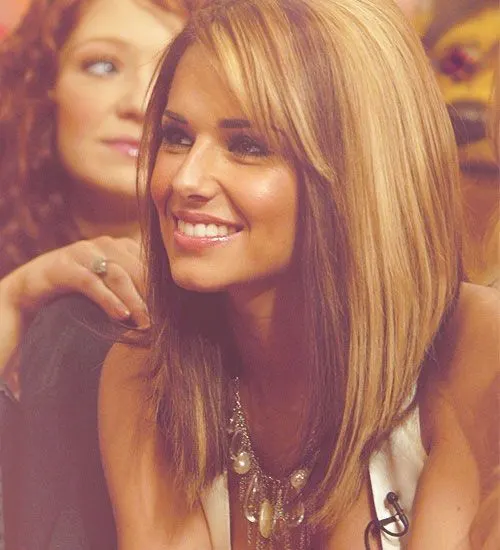 If you want to outline your angled bob, go for special highlighting. Dye the frontal strands of your bob with a darker color than the rest of your hair, as shown in the photo. You will get a truly unique look, which will keep some heads turning.
36. Slight angles
Girls with thick hair can go for a slightly angeled bob. There is no reason to make a sharp angle to make this hairstyle look fashionable. Thick hair will look great with oblique angles. The longer the hair, the better it will look.
37. Straight and brown
Your natural hair color always looks fantastic. A long angeled bob will look amazing on naturally colored straight hair. Make sure to brush it often. This hairstyle looks great only when its neat. If you are not a fan of brushes, you need to go for other variations.
38. The classics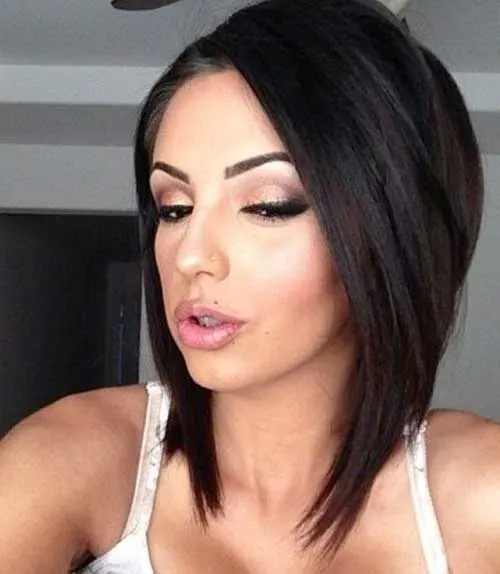 This classical long angled bob hairstyle is great for women with straight hair. There are no bangs and the angles are sharp. It looks best on dark hair, but can be a good idea for blonds as well. Don't know which style to choose? Go for the classics.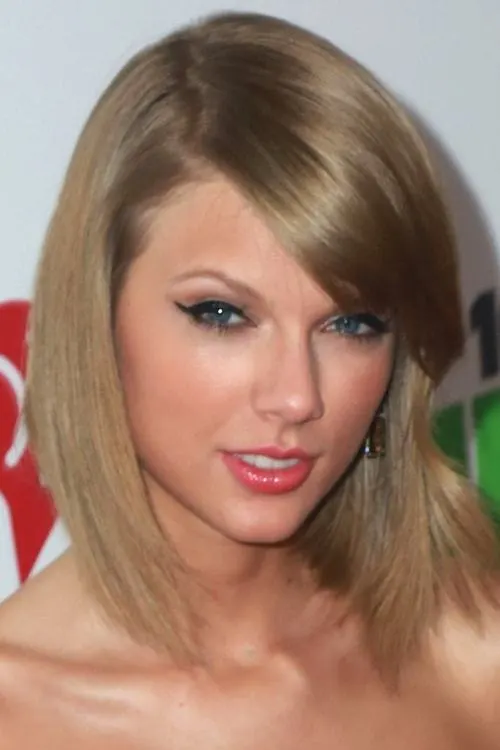 Long angled bob with bangs looks great if they are side swept. However, bangs still take the attention away from the angles. So, if you want to emphasize the angled part, try to avoid long and voluminous bangs.
40. Wispy bob for thin hair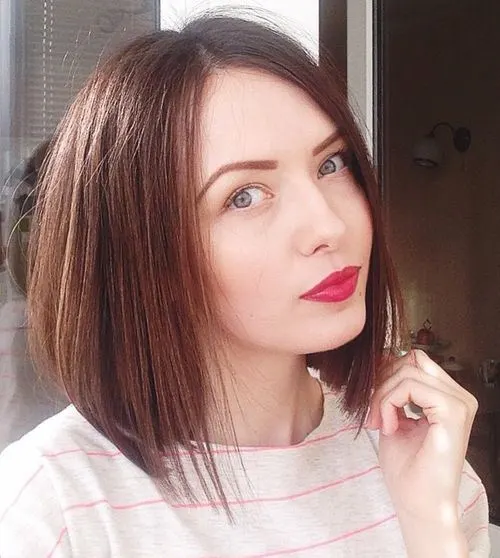 If your hair is thin, you can go for a wispy angeled bob. Style your hair to have more volume by using a round brush and a hair drier. Don't make the angles too obvious, otherwise the thin hair will stand out.
41. Add some volume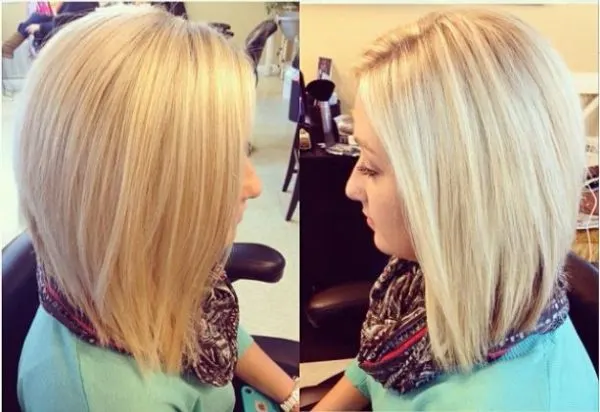 Angled bobs look great with straight hair. However, they look even better with some volume. Make sure your stylist makes several layers on the back part of your hair. This way you can easily create volume by just using the hair drier.
42. Asymmetrical levels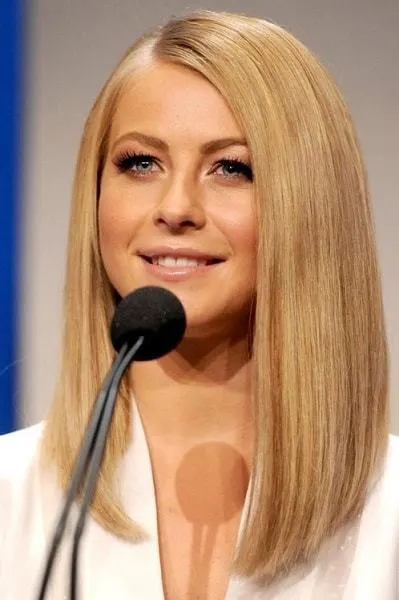 Nowadays fashion equals asymmetry. So, when you have a chance to go asymmetrical, take it! Angled bob hairstyles look fantastic when the sides are different in length. The difference can be rather obvious or not too eye catching. Take your pick!
43. Layers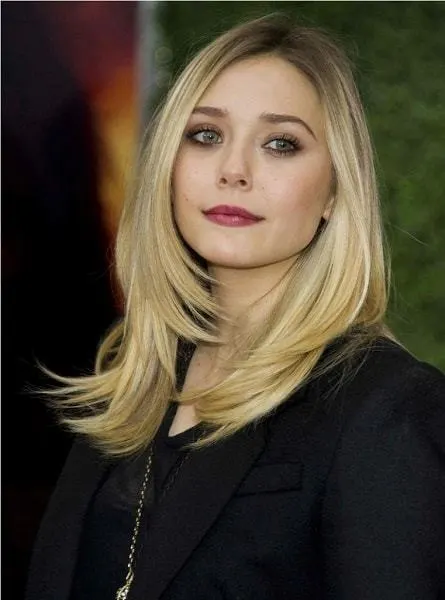 Layered long bobs look fantastic on women with any hair type. However, such hairstyle is quite tough to keep neat, so be ready to spend some time in front of the mirror. You will surely like the result.
44. Long eye-covering bangs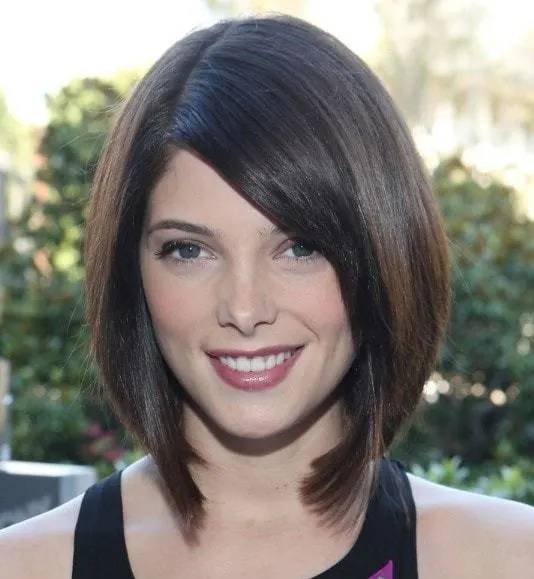 Eye-covering bangs create a sexy look for any angled bob hairstyle. If such bangs don't make you feel uncomfortable, you should definitely try them out. You can always side sweep the bangs away from your eyes, once you get tired of this hairstyle.
45. Rihanna style
This bob became popular thanks to Rihanna. It has all the qualities of a fashionable long angeled hairstyle. There is some asymmetry and neat wispiness. If you want to look stylish, follow Rihanna and you won't regret it.
46. Soft Waves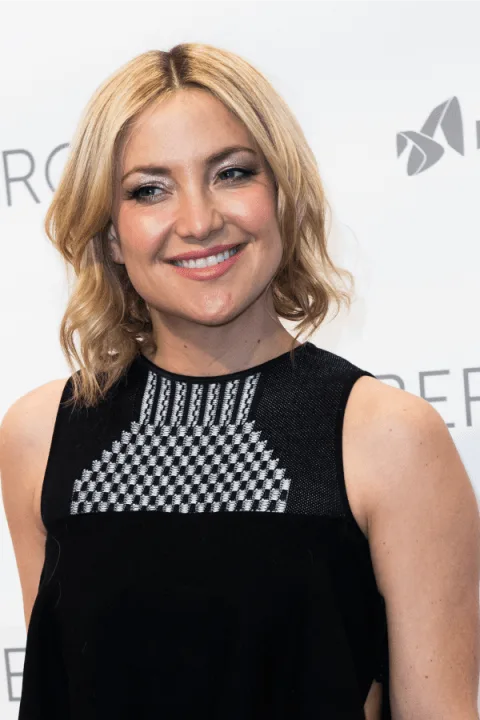 These soft waves look totally gorgeous. All you need to do is curl your hair with curling irons and then run a comb through the curls before adding any holding spray. This will give your curls a natural look.
47. Gorgeous Curls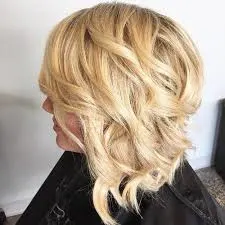 These salon-fresh curls look gorgeous with an angled bob cut. To get your curls to look this good, you will need to use heated irons on small sections of your hair. Curl for a few seconds, take your hair off of the iron, then set the curl with holding spray immediately.
48. Barely There Waves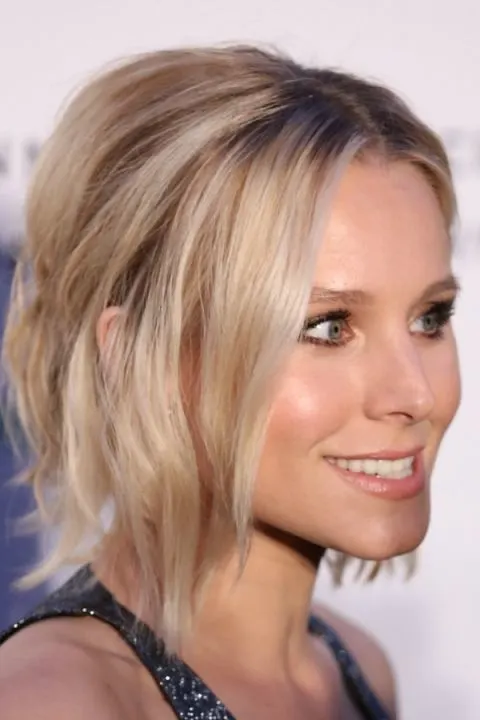 This style only has the smallest hint of a wave. A small wave helps to give thinner hair a little bit of texture and volume which can help it to look less lifeless.
49. Dark and Stormy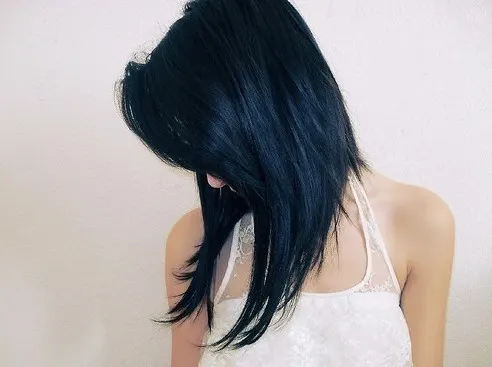 Dark hair really suits an angled bob style and it is a beautiful choice next time that you visit your stylist. Have a few "stormy" layers chopped in to give your bob a little bit of texture.
50. Heavy Layers with a Side Fringe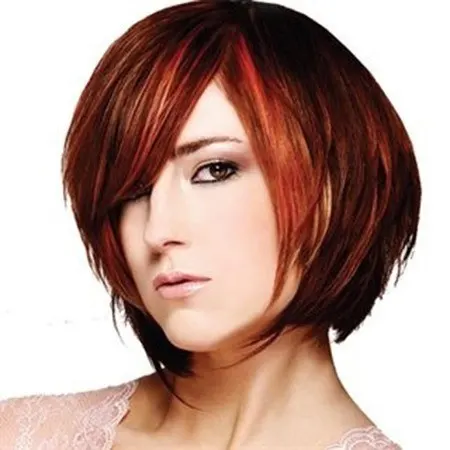 Heavy layering around the side of your bob will help to curl your hair in towards the side of your head to create a trendy helmet style. Enhance your style by parting your hair to the side and then sweeping your fringe across from one side to the other.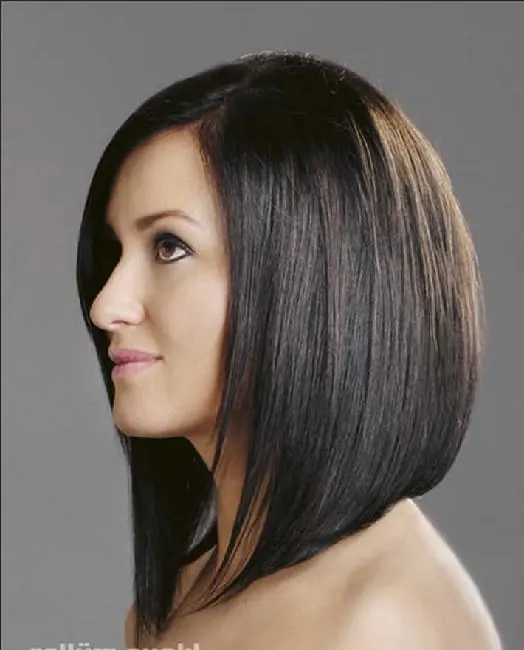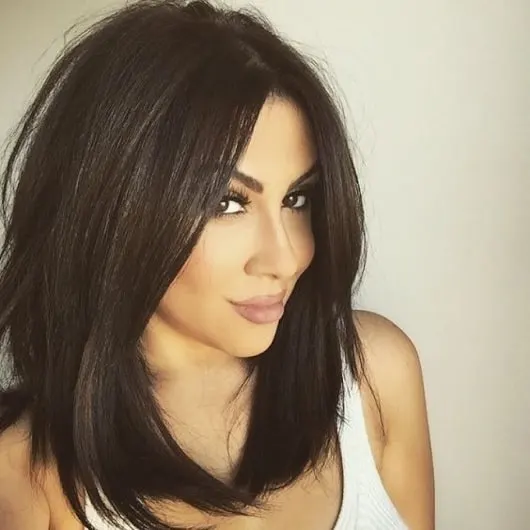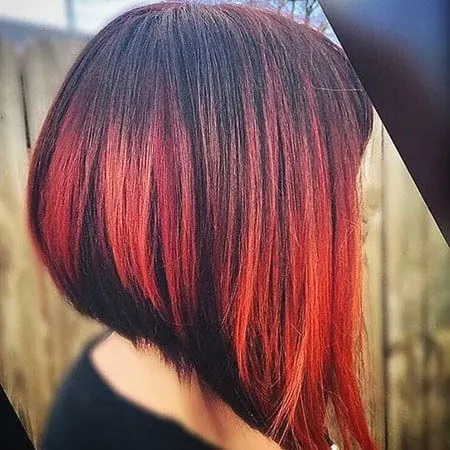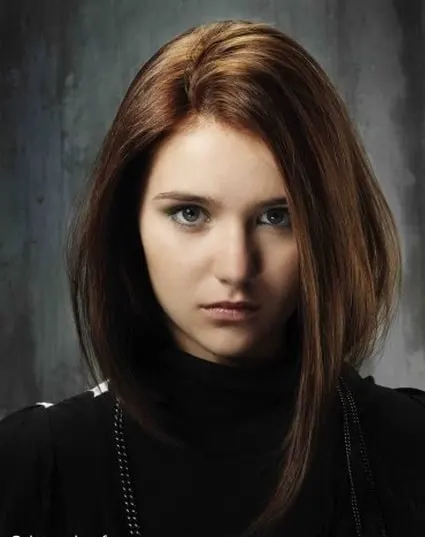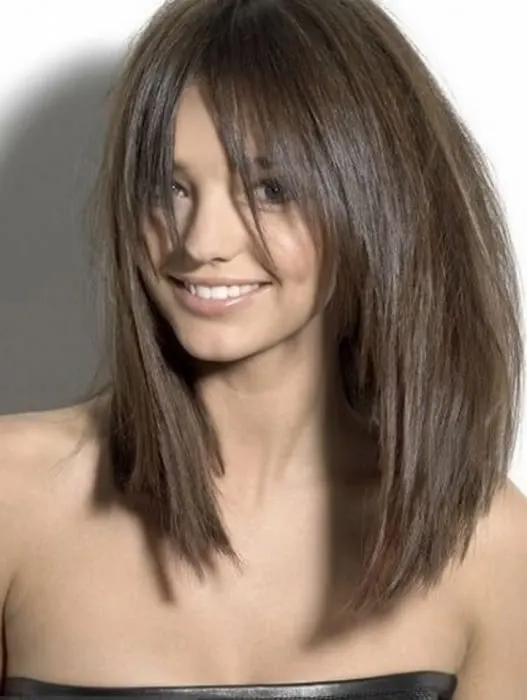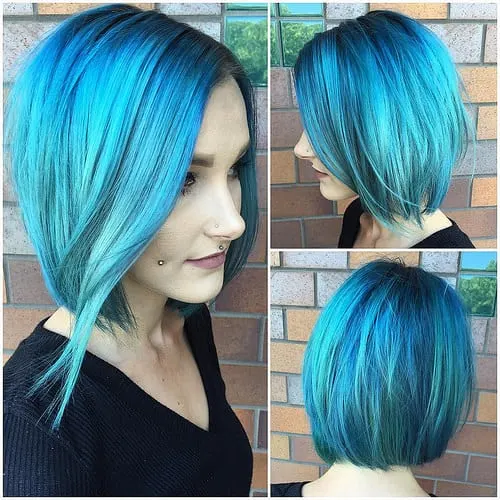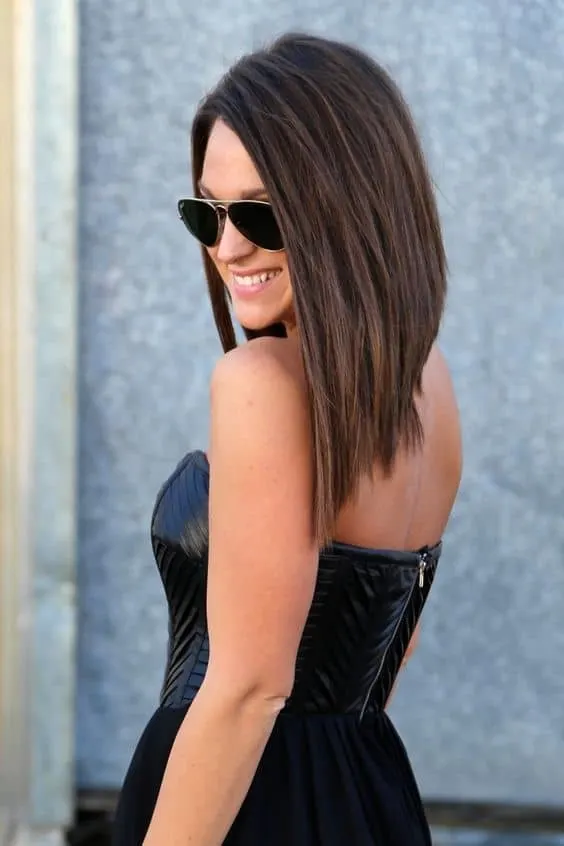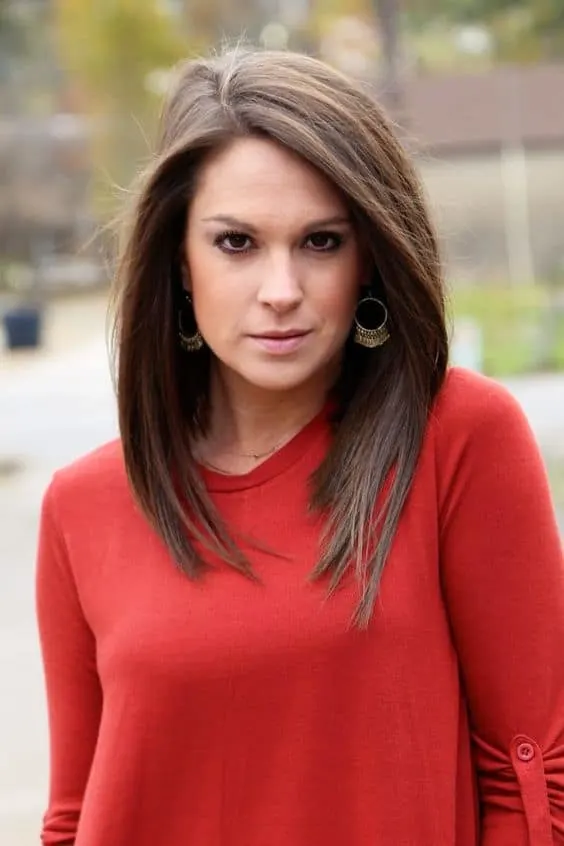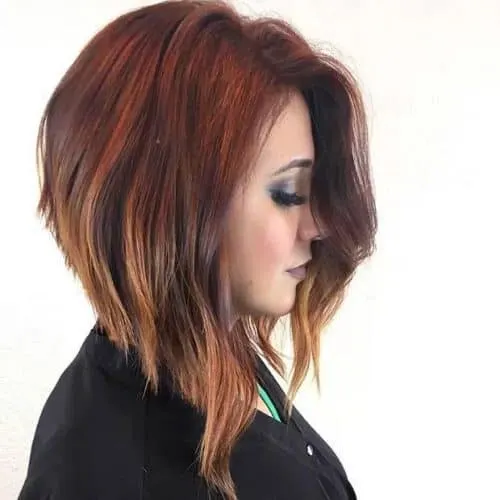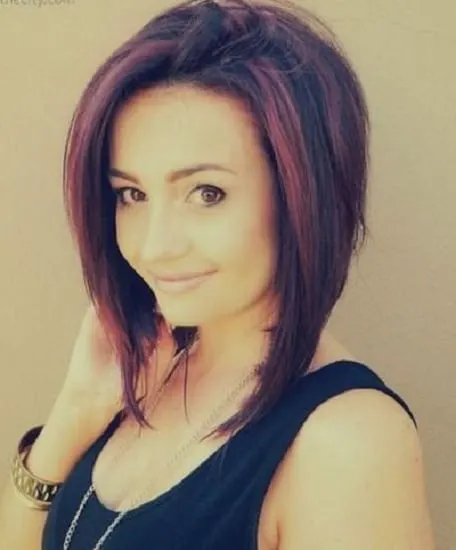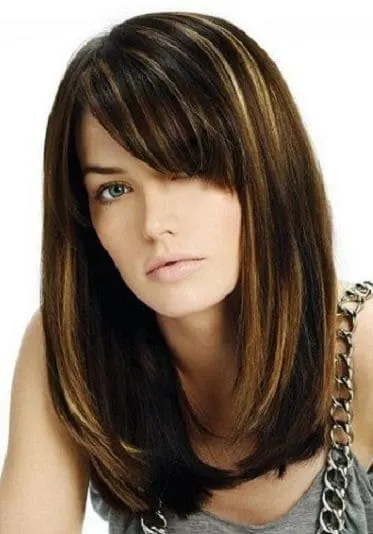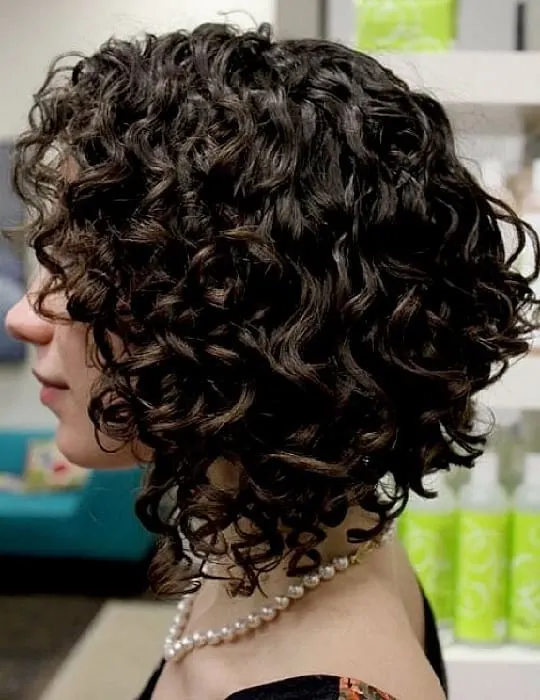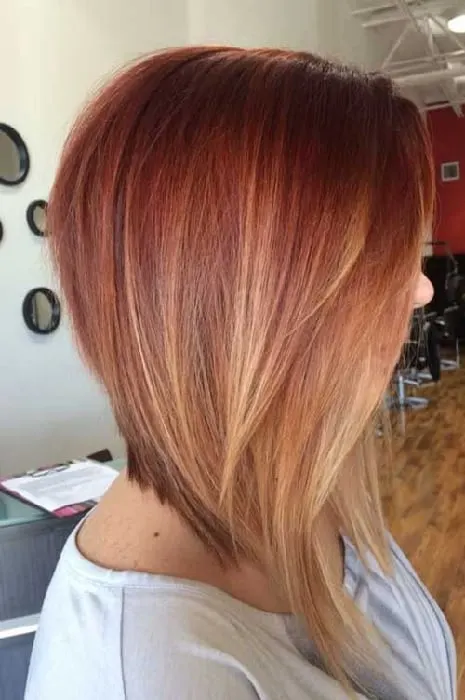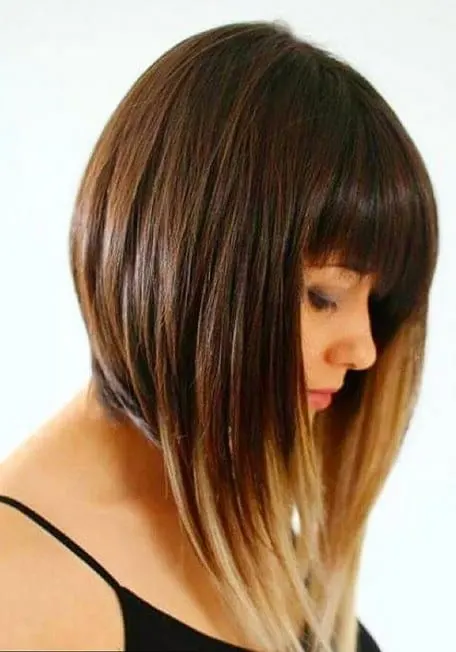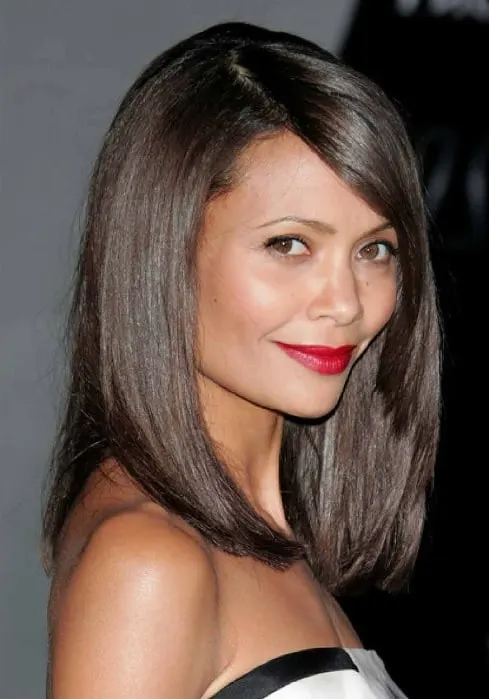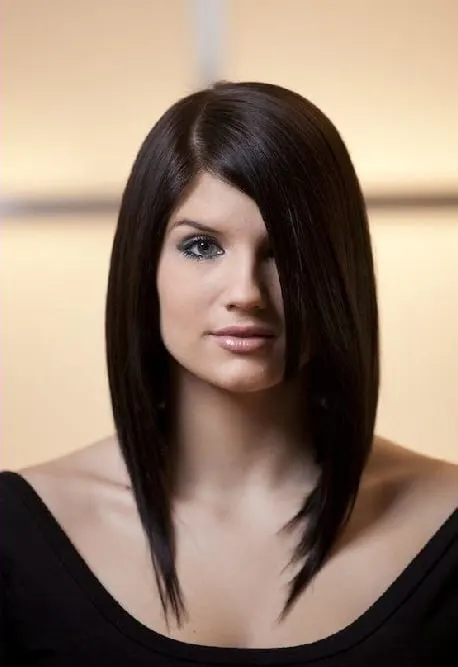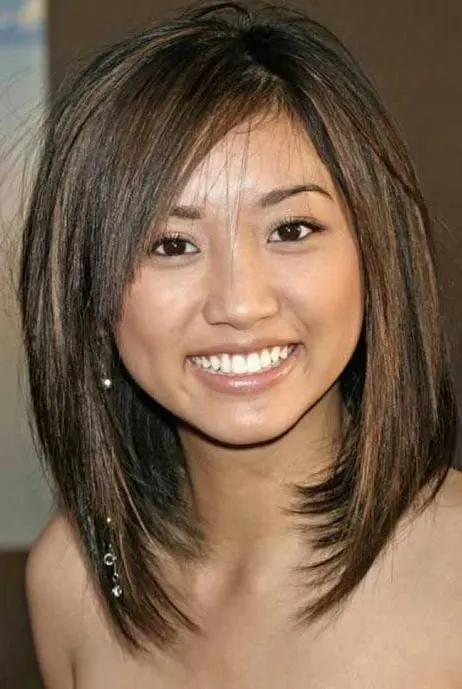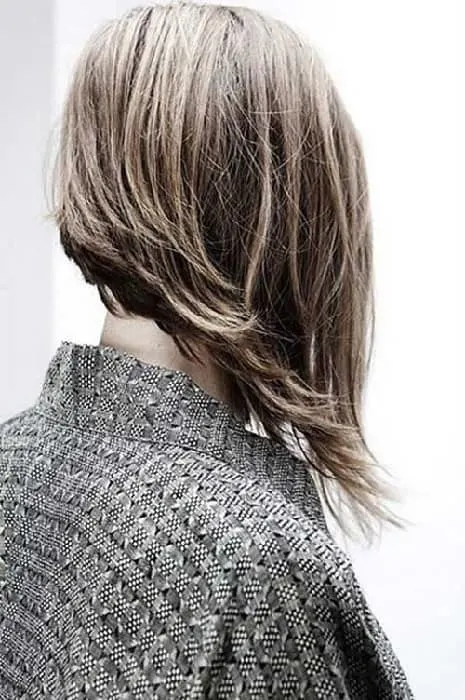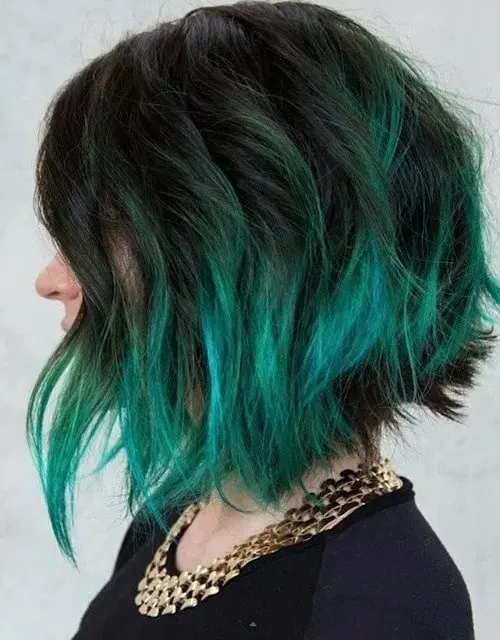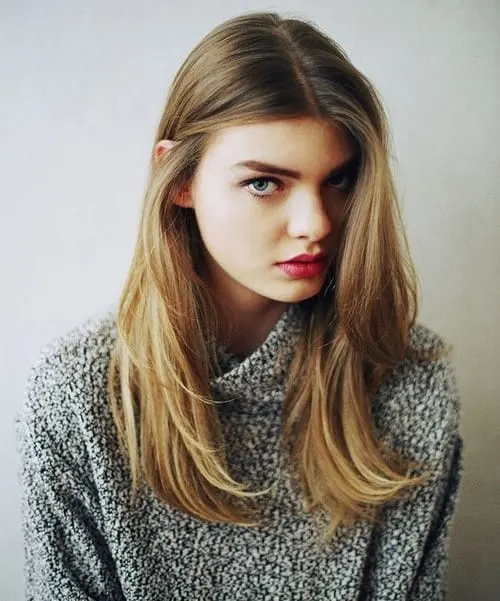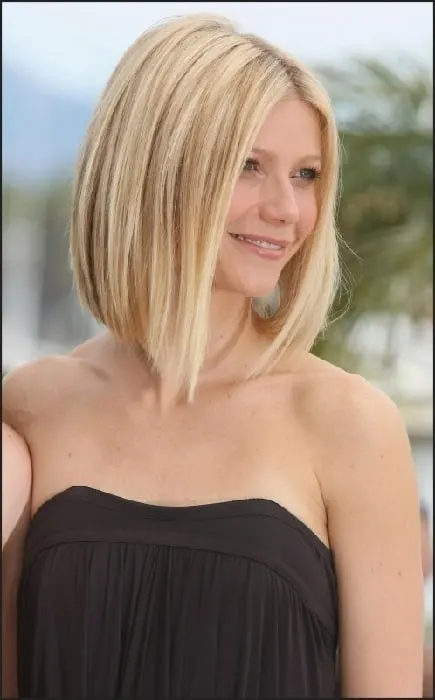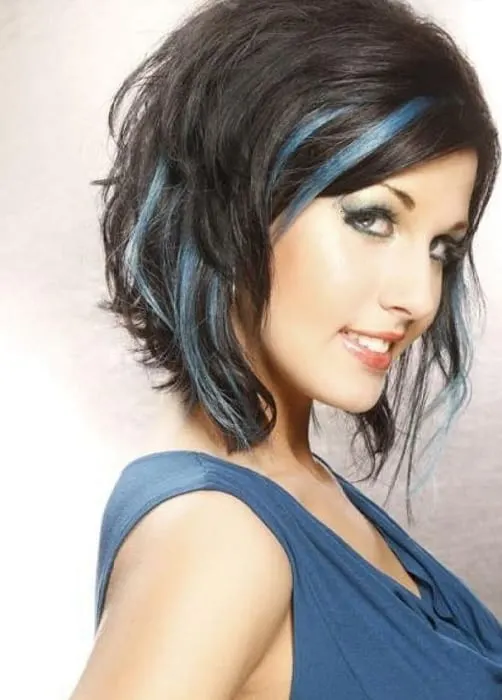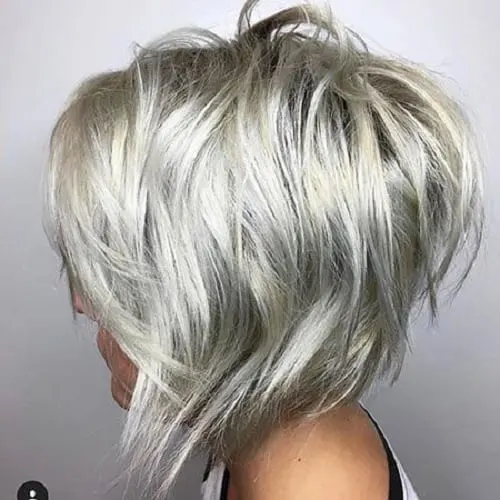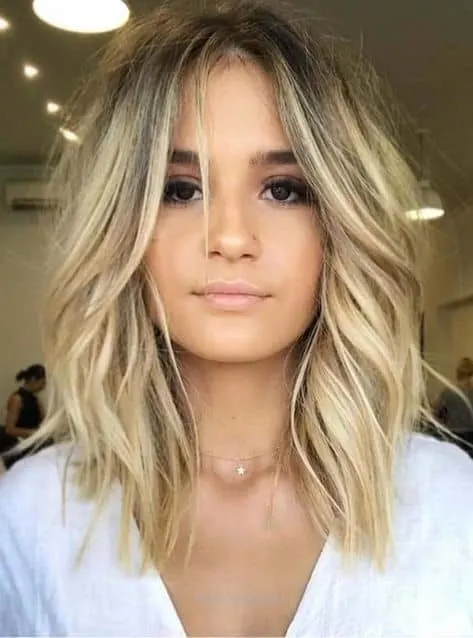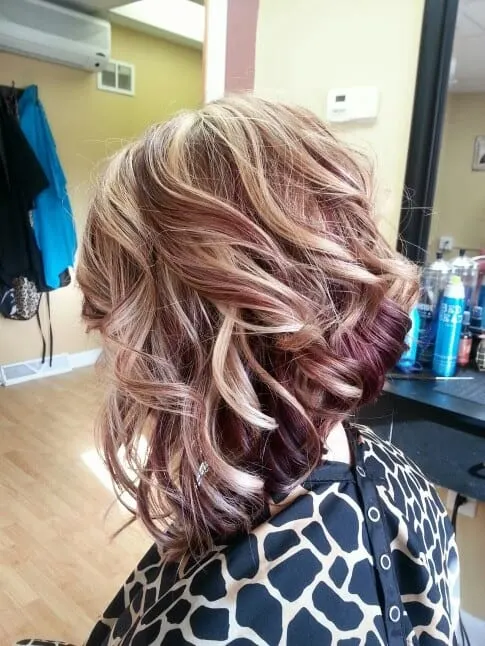 After taking a close look at popular long angled bob haircuts and hairstyles, you are ready to choose one for yourself. Show the picture of your favorite bob to your stylist and get ready to look fantastic. Remember, most of these bobs require regular maintenance.