Even if tempted to think that you can't get too much out of a pixie haircut, this article will make you reconsider that. These hairstyles are highly adaptable and provide a lot of styling options, and at the same time, they are quite low-maintenance.
After all, isn't what we all want? A haircut that looks good even if we're not in the mood to arrange our locks but does its magic when rightly approached.
Who Should Try A Pixie
A pixie haircut can be adapted to any face shape, skin tone, or personality. Even if most of them seem ideal for women who adore tomboy looks, you can easily transform this hairstyle into an elegant and even romantic hairdo. You can also juggle between the two based on your mood and outfit.
So the question isn't about who should wear a pixie, but more about what to do to make a pixie suit you. It's all about face shape, bone structure, and personality. If you have an oval, round, or heart-shaped face, the pixie was made for you. In other cases, talk to your stylist, and he will come up with some ideas that will make this haircut suit you.
Pixie Cuts
There are so many types of pixie haircuts out there for you to choose from. Long pixies, with bangs, for natural hair, short and very short hairstyles, all there for you to explore. So if you really crave for one, scroll down to find your inspiration!
1. Blonde Pixie with Curly Bangs
A long pixie hair is extremely versatile because it can be styled in so many ways. If you have pale skin, go for a blonde shade for the top and a brown color for the sides and back. Pull off that Marilyn Monroe ravishing image by curling the longer strands and wearing black eyeliner and red lipstick.
2. Short Pixie Haircut for Black Women
A pixie haircut for black women requires less time spent in the mirror when you choose to straighten those African American coils. Pull off a smokey-eyes makeup, and you will obtain a feminine appearance that will make you look fierce.
3. Blonde Pixie for Women Over 50
If you are a woman over 50, a short haircut that can be styled in only a couple of minutes can be a real blessing for you. This pixie haircut for older women will look fabulous and will save you a lot of time.
4. High Top Pixie for Women With Long Faces
When you have a squared or rectangular face, the ideal pixie for you is a boyish style. The pixie haircut for square face will also look gorgeous with a pair of rounded glasses that will soften your appearance.
5. Curly Pixie Cut with Designs
This edgy pixie looks fabulous, especially to thanks to that gorgeous small faded part design. Style it on one side and curl your top hair with a conical iron. Obtain a wet look by using a small amount of hair wax.
6. Messy Asian Pixie Haircut
This Asian pixie hair looks ravishing and is ideal for women with long faces. Go for a short trim with bangs that only cover half of the forehead, and that can be tossed on one side. Obtain a feminine look by wearing long red and white earrings.
7. Brown Pixie Hairstyle with Glasses
If you want a casual hairstyle, opt for this pixie haircut with glasses that is perfect for students or long days at the office. Select a dark caramel hair color, and don't forget to also dye your eyebrows.
8. Shaved Side Pixie
When you have feminine features, a boyish pixie with shaved sides hairstyle is a look to go for. Make a temple fade and create two razored line designs. For the top, opt for a warm brown ombre that covers the gray strands and style a few curls.
9. Purple Pixie Haircut
A purple pixie hairstyle will certainly make you look outstanding wherever you go. Keep a long fringe that you can wear on one side, covering your forehead. If you want to look even more extraordinary, pick an unusual color for your lipstick like this dark blue metallic shade.
10. Blonde Pixie Haircut for Thin Hair
When you have thin hair, a short hairstyle can help more than you know. Opt for a thin pixie that keeps the hair short, layered with asymmetrical bangs spread on the forehead. A beautiful ashy blonde color will even lighten the face, and you will never have to care about all those fine hair struggles.
11. Very Short Pixie Hairstyle
Are you tired of investing so much time in hair styling products and hair masks and spending a lot of time washing, conditioning, arranging your hair? A very short pixie is the answer to all of your problems. It is fresh, modern, low maintenance and not least, gorgeous! You just need the courage to do it!
12. Pink Pixie Bob Hairstyle
When you are a passionate woman, you want to express that through all your pores, especially using your hairstyle! In this case, you can opt for a pink ombre pixie bob hairstyle with pale mauve highlights that will undoubtedly place you in the center of attention.
13. Blonde Pixie with a Fade
Who said faded parts are only for men? Girls who love tomboy looks will adore this hairstyle because it is low maintenance, and the top provides a lot of styling options. Pixie hair with a fade is undoubtedly a hairstyle to go for!
14. Red Auburn Pixie
Every time you want to look elegant, you should consider getting a pixie haircut. Even if it's short, it will make you look fabulous, especially if you build stacked layers for the back and opt for a marvelous color like this red auburn shade.
15. Rainbow Pixie Hairstyle
When you are a woman who loves to express her bubbly personality through her hairstyle, this pixie cut is the gem you've been searching for. Go for a rainbow undercut and colored peekaboo highlights for the longer top. The fringe and the rest of the hair should be in a pale blue hue to complete the hairstyle.
If you'd like to draw attention to your long neck while keeping it away from thin hair, the very short pixie is the best choice for you. Keep the bangs short as well to maintain the style. The best advantage of this pixie cut is that it's low in maintenance.
17. Straight Haired Pixie
If your hair is thin and straight, pixie for straight hair is the best choice for you. Leaving the bangs a little longer and keeping some hair over the ears is a great way to make this pixie cut looking different from the popular short one.
Exclusive Hairstyles for women in 2022
18. Windblown Pixie
A windblown look is the best way to give your short pixie hairstyle some volume while keeping it looking charming. Long bangs and thick hair are great for a pixie look. Windblown cuts are low in maintenance and suit many women.
Old-fangled haircuts trending back again
19. Textured Pixie with Long Fringe
Textured haircuts are great for those women who want to add a little volume to their hair. Textured hair is easy to manage and always looks great regardless of the weather conditions. However, this textured hairstyle needs frequent barbershop visits.
A very short pixie haircut can easily be turned into a stylish pixie with side swept bangs. Short fringes don't mean that nothing can be done about them. Brush your bangs to the side to open up your forehead and create a new and improved look.
21. Natural Pixie with Side Part
Making a side part is a great way to change the shape of your pixie. This type of hairstyle fits women with thick short hair and a small forehead. Natural pixie with side part reduces the unnecessary volume and draws the attention away from the forehead.
22. Highlighted Pixie
Proper highlighting will add a lot of style to any pixie. If you go for a textured pixie, like the one on the picture, make sure that your highlights don't add too much unnecessary volume to the haircut. Keep the pixie neat so the highlighting can do its job.
Coolest emo styles for young girls you will love
23. Shaggy Pixie Haircut
Mixing a shag haircut and a pixie might seem bold, but the result is truly fabulous. This somewhat messy pixie is a great choice for those women, whose hair is too thin to provide enough volume or too thick to make a classical pixie.
24. Short Pixie with Copper Hues
Adding some color to your pixie is a great idea. Copper hues are the most popular coloring option for the short pixie haircuts. Make sure that this color looks good with your face type. If not, choose something less bright.
25. Super Straight
For a result resembling the above type of women pixie cuts, you'll have to use a lot more of hair moisturizer. Once you do it regularly, you'll get hair smoother in no time.
26. Boyish pixie
There are many women out there who prefer having a boyish style. It is usually suitable for younger women, however, women over 50 can look great with boyish hairstyles as well. Try this boyish pixie to freshen up your look.
Long layered fringes look great with any hairstyle, however, they are especially noticeable on a pixie. Play around with your bangs to create a style you like the most. Layered bangs give you a lot of different options.
Asymmetrical pixie looks very charming, especially when its created with thick hair. The more asymmetry you do the better. Add some asymmetrical bangs to complete the look, and you'll get a fabulous short pixie hairstyle.
29. Classical Short Pixie
Classical short pixies are always a great choice for any woman. If you have thick hair there will be a little more volume on top which will elongate your neck. If your hair is thinner, then make longer bangs and they will draw more attention to your eyes.
30. Creative Pixie
If you are tired of the classical pixie with straight bangs, the time has come to get creative. Make differently leveled bangs and keep the heads turning. Such creative pixies are wonderful for special occasions and can easily be turned into the classics later on.
31. Neat Pixie with Long Bangs
Making a neat pixie is a great idea for women with round faces. No volume allowed here. Just a straight out classical pixie with long bangs. The fringes add some special flavor to this simple pixie. You can style them any way you want.
32. Textured Pixie with Asymmetrical Bangs
This pixie is actually a mix of two different styles and that's what makes it so special. Do some texturing on the back and keep the hair asymmetrical in the front. It is a funky and vibrant short pixie hairstyle, which will make you feel much younger.
33. Tapered Pixie with Highlighted Bangs
Asymmetrical highlighted bangs are a great way to diversify you pixie. Leave one part of the bangs long enough to reach your ears and highlight it with a different color. This style looks very festive and is bound to turn some heads.
34. Blond Messy Pixie
Blond is always a great color for almost any woman. So, if you are bold enough to go blond, take your bravery farther and make a messy pixie. The little messed-up look is a great way to make your pixie look different and make you feel fabulous.
35. Spiky pixie
A short pixie might seem boring, but there are many ways to make it look more vibrant. Style your short pixie to have a spike on top and you will get a completely different look in just a few seconds.
36. Messy Pixie
This pixie looks great on women with thick hair. The messy look is always a hit with the boys and requires little to no maintenance. Make sure to choose the right clothing and accessories to emphasize this wild style.
Our list of best long hairstyles for women
37. Undercut pixie
The undercut pixie is a great way to catch some attention. The boyish undercut is complimented by the girly bangs and proper highlighting. This style requires some serious work by your hairstylist, but the result is so amazing, you won't want to change it.
38. Wavy pixie
Making soft waves on your pixie is an excellent idea for any hair type. It is a way to diversify the simple straight-haired pixie, which could have gotten a little boring over the years. Wavy pixie looks great on women of any age.
39. Stylishly textured pixie
The textured hair on top looks very stylish. This short pixie haircut is a great idea for women with blond hair. Actually, it looks the best on blonds. The style and vibrancy of this haircut are unbelievable.
40. Curls on top
When you make a pixie, make sure that you leave some longer hair on top. This will allow you to play around with many different styles. Making curls on top is a great idea for a special occasion. Such style will really make you stand out of the crowd.
41. Cute disheveled pixie
Keeping your short pixie a little disheveled will add it some wilderness and style. Short pixie haircuts may seem too simple to some women, so adding some interesting changes is a way out. Forget the brush and go for disheveled!
42. Sleek and textured
Mixing the sleek and textured style is a great way to come up with an outstanding pixie which will look great in any color. Try the blond first and go from there. Make your pixie interesting by cutting bangs very short.
43. Smooth layers and long bangs
This smooth and sweet look will leave any man breathless. Make sure to keep the layers short and the bangs long. This way you'll come up with a unique style which will keep the heads turning. Don't forget to keep it neat.
The short haircuts we find most attractive
44. Thick and curly pixie
If you are a lucky owner of thick and curly hair, this pixie is a great choice for you. The short haircut will keep your curls manageable, while long bangs will allow you to show some of the beautiful waves. Keeping this style in check is a little complicated.
45. Tousled undercut
The undercut is another way to keep the thick hair manageable. Letting the hair be a little tousled is another great way to create a fabulous short pixie hairstyle. Keep the bangs long and straight to outline the facial features.
46. Romantic Blond Layers
Romantic blond layers is a good choice for any short pixie haircut. The layers will need some daily styling, especially if your hair is not completely straight. But the dreamy and romantic look they produce is definitely worth it.
47. Platinum Pixie with Asymmetrical Bangs
Platinum is a color of choice for many movie stars. A platinum pixie looks amazing on almost every woman out there. This style is quite low in maintenance, however, it requires regular visits to the barber shop.
48. Wash and Go Pixie
This is a great short pixie hairstyle for those girls who don't want to spend too much time in front of the mirror. All you need to do is wash the hair and brush it just a little. If you add some hair gel, you will get a stylish wet look.
49. Fohawk Pixie
The fohawk pixie is an outstanding hairstyle which will keep the heads turning. Leaving enough hair on top to produce a spiky fohawk, while keeping the rest short, is a great way to create a hairstyle which will leave others breathless.
50. Long Layered Pixie
For those girls, who don't really like short hair, but still want a nice looking pixie, will appreciate the long layered pixie haircut. The hair stays short and easy to manage, while some long elements are added in front and over the ears to allow a little longer as well.
51. Cropped Pixie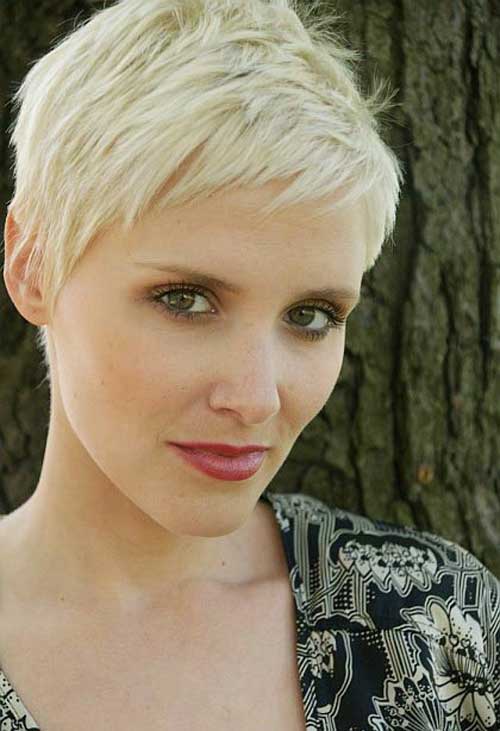 A cropped pixie is a great idea for women with oval face shape. It gives an impression of a little volume on top, while the asymmetrical sides cover the ears and give the face a little more roundness.
52. Highlighted Spike
Adding a spike is a great way to diversify a short pixie. Highlights give this pixie cut a special cold look, which might be appreciated by serious women. A spike can easily be turned back into a regular pixie.
53. Sleek and Sexy
This sleek cut does wonders for accentuating facial features. The sexy look is created by adding some gel and keeping the volume down. This way the attention is drawn to the eyes and the lips, which will need proper makeup to complete the look.
54. Black and Wild
Make your pixie raven black and you will definitely get a lot of attention. Add some messy wilderness and men won't be able to keep their eyes off you. This style might look simple, but it does require some daily maintenance.
55. Curly Pixie
A curly pixie is a wonderful way to create an adorable look which is always a great hit. Curls will need some managing, but the effect they create is definitely worth it. Play around with some colors to create a perfect style.
56. Windblown Messy Pixie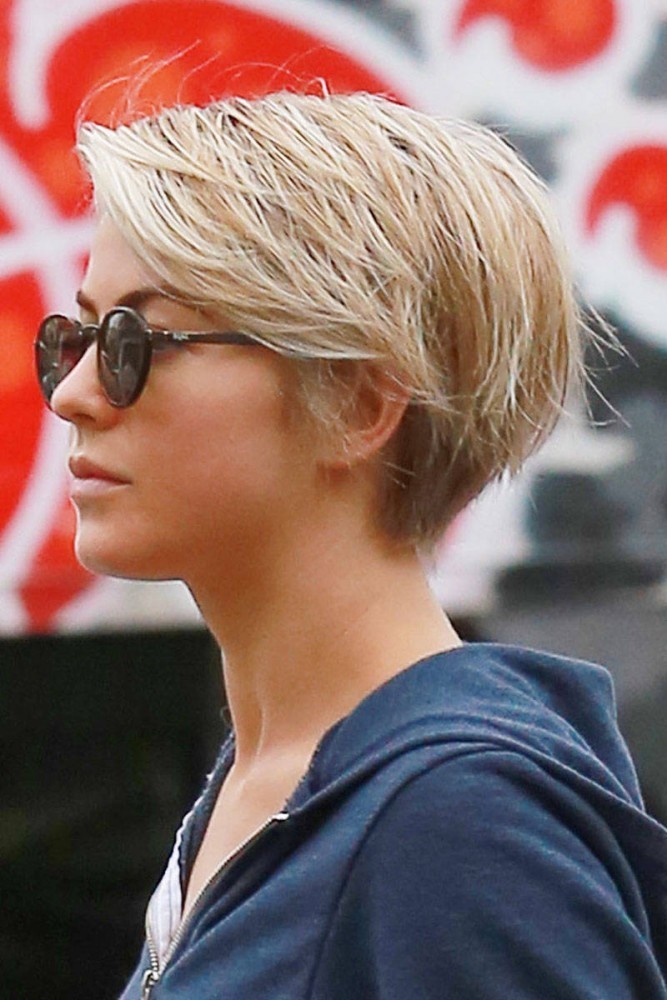 A windblown and messy pixie cut will become a favorite with the women who don't care much for hairbrushes. This style looks great when you just get out of bed and keeps its cool for the rest of the day. A little highlighting is a great addition to any pixie.
57. Soft Pixie
Such pixie will look the best with thin blond hair. The way the hair is arranged produces a soft and smooth look, which any woman will love to have for special occasions. Choosing the right shade of blond will depend on the skin color.
58. Punky Pixie
Punky looks are always in style and this pixie cut with a spike and shaved sides is not an exception. If you are bold enough to sport this hairstyle, you will really appreciate the feeling of vibrancy this pixie will give you.
59. The Messy Top
Creating a mess on top of your head is easy, right? Wrong? It is actually a complicated hairstyle. This pixie might look simple, but it is actually a carefully created style, which will make you stand out of the crow and feel fabulous!
60. Sleek and Shiny Pixie Cut
The sleek pixie is always a great choice for women with short hair. Making it shiny is a great bonus. Such pixie needs some hair cosmetics and will not hold up for more than 1 day, but it is so adorable that it seems worth all the effort.
61. Thick Layers
Lucky owners of thick hair will appreciate this thick layered pixie cut. If you are tired of the unmanageable thick hair, a pixie is a way out! The thickness on top will add your pixie a lot of style instead of looking messy as it did with long haircuts.
62. Short Diversity
Pixies might seem simple, but there are some of them that are far from being just that. This particular pixie is created by making different length layers. The diverse asymmetry of this pixie is what makes it so different from the others.
63. Devilish Pixie
Devilish looking pixie is a great style of choice for those girls who really want to make an impression. No need to take out your brush. Just use some hair gel to keep your hair high and messy.
64. Curly Spike
A curly spike is a very cute way to diversify your regular curly pixie. Keeping it in place might be a little complicated, so make sure to use some quality hair gel. When shaped this particular way most curls look really vibrant.
65. Charming Pixie
In order to make your pixie look charming, leave long bangs and longer hair on the sides to cover your ears. Choose proper highlighting to make your hairstyle look as bright as possible. This pixie doesn't require any hair cosmetics to stay in place.
66. Miley Cyrus Pixie
If you are aiming for drastic changes and willing to completely change your whole look, then the Miley Cyrus pixie might be the one for you. But how can we do that? It's easy! Because all you need to do is let the barber do his magic. So, tell them to:
Trim the edges short but not too short, just short enough relatively to compliment the top.
Use a round brush and comb your hair backward.
Dip your fingertips in some hair gel and run then through the top of your hair t0 make sure it stays in place.
67. Contrasting Sides

The element of surprise is not just tailored for plot twists in good books and exciting movie clips. Because imploying a surprising element in your hair design can make you look even more attractive. And the easiest way to do that is by going with the Kristen Stuart look above. Therefore, tell your barber you want contrasting side bangs in length and you will be good to go.
68. Pixie Wedge
Finding pictures of some women pixie cuts can guarantee that your barber gives you exactly what you need. So, here's a picture you can show your barber if you're aiming something untraditional. Therefore, you can conclude that longer sides and tops can add a lot more volume and shape to your pixie design.
69. Inner Bad Girl
Go rough and fierce with a pixie undercut. Because it's the current trendy way to both bring out your inner bad girl while still maintaining your lady like side and feminine characteristics.
70. Custom Made
For a haircut that only suits you, you can tell your stylist how you normally comb your hair so that they know how to divide your hair asymmetrically. So, to duplicate the above design all you need to do is blow dry after a wash and comb sideways with a tooth comb for extra neat effect.
71. All these Little Things
Small changes done to a classic pixie haircut can make you gain more fashion points than you think. Because small changes like keeping the sides and tops long instead of trimming them can change your whole look. But, how? Because it lingers near the borderline and that is what made it a successful option.
72. Two Tone Undercut
Characteristics Of This Cut
This disconnected women pixie cut is more age-specific to the youth category rather than extreme working professionals.
The contrast in the texture between the top and side is what makes it even more sassy and less mainstream.
Tip: Use hair pomade in order to add the glow feature and enrich the desired texture.
73. Classical Short Pixie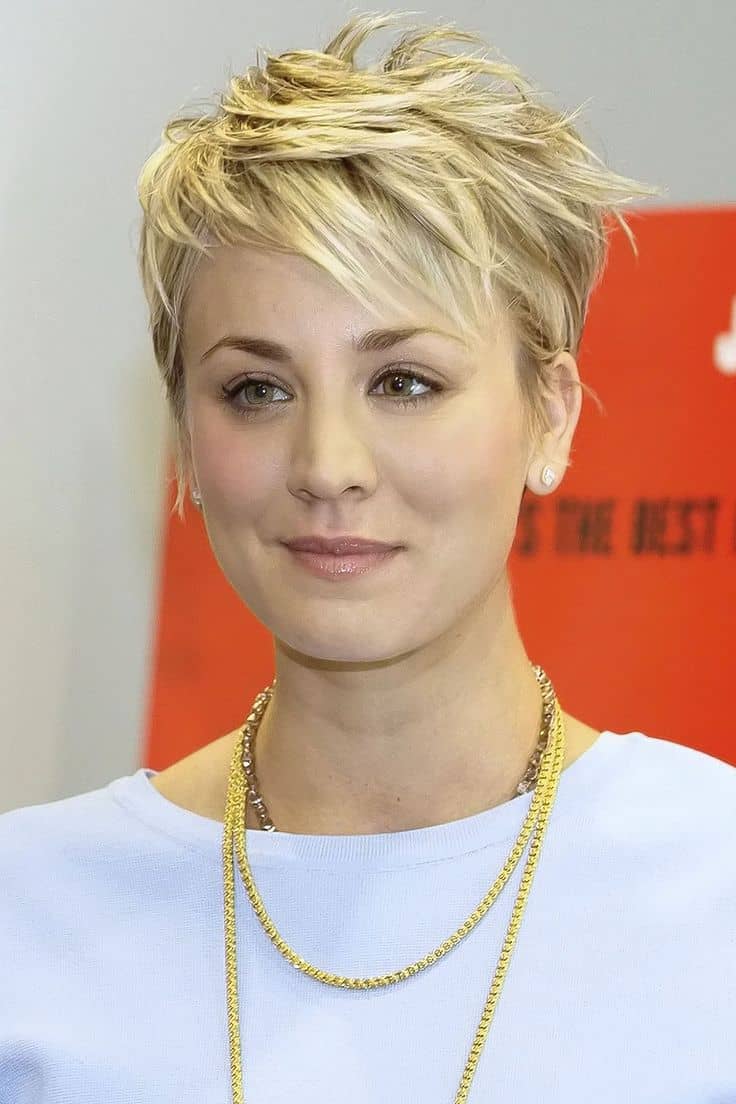 This is one of the edgy haircuts that goes perfectly with long shaped faces. Because pixie cuts with bangs can hide the oversized forehead and draw attention away from it. So, it directs the focal point toward your facial features like your dreamy green eyes or cute piercings. Moreover, you can get creative with the bangs and make them side swept like it is shown in the photo above.
74. Brunette Brace
If you've got a brunette classic pixie cut, yet you feel like you need something to spice things up what should you do? Because the cherry color is booming with raging success, why not try cherry colored hair extensions or highlights? Therefore, you'll definitely stand out as the fashionista who is going with the flow of hair trending options.
75. Tapered Pixie Cut

For a less extreme yet short haircut, you can go with a tapered pixie to reveal your confident look. Because it can give you a softer touch as it blends with the whole side swept neat look like the one shown in the example above.
76. Contemporary Cuts

Having a picture to show your stylist before you get yourself ready for the trim is a wise step. Otherwise, you will be surrendering to the mercy of his scissors and risking ruining your whole new contemporary look.
77. Wider Color Span
Having longer hair in the front and shorter in the back with women pixie cuts can be set in your favor. Because it can give you the opportunity to play and experiment with wider color options.
78. Color Enhancement
There are infinite ways to enhance your mane and make it the focal point of your whole look. However, a daring color choice can profoundly enhance its movement. Moreover, it can reflect your bold and fierce personality. So, try out one of the Rihanna's hit techniques to catch some of her popularity.
79. Disconnected Hair Design

This kind of women pixie cuts work for every face shape. However the pinkish pastel tones in the bang work best for girls with a cool complexion. So, the more comfortable with your pixie the more you'll rock it. But how can you style it?
Use a styling product with hold enough to build a foundation.
Apply another soothing style product for the tips to prevent split ends.
Blow dry.
Use a texture product like wax to help maintain its hold.
80. Go With Highlights
When in doubt, you can always go with highlights yo spice things up. So, don't hesitate and kick it up a notch with the paired up layering technique and highlighted hair strands. What are the advantages of this cut?
It works for both long and short women pixie cuts.
It is very catchy and would take a few years off your age.
If you decide to grow it out later, it will maintain it's asymmetrical appeal as an edgy and unique look.
81. Tapered pixie with long bangs
Tapered pixies have a great and wild look. Even though they need frequent maintenance, the result you get is truly unbelievable. Such pixie is a great way to keep thick hair tamed. Long bangs add a little extra flavor.
82. No Limits
Short hair length doesn't mean limited hair options. On the contrary, it wides your choices and desired styles because shorter hair means less time growing it back out in case it turns out differently. Therefore, you can go for the mod and messy or classic and elegant or whatever you have in mind.
83. The Business Woman
Who said that working women can't be on the verge of every fashion trend? Here's how business woman wear pixies that are both effortless and sassy. So, all it takes you is a 30-second comb round in the morning and you'll be ready to head out before office hours start.
84. Round Face Shapes
Again about the versatility of women pixie cuts and how they can suit each and every lady out there! We can never talk enough about it, so without further talk, here's how pixies can look great for women with round face shapes!
85. Outlined
Sometimes drawing out a silhouette for the edges of your pixie cut can give it a neat and organized effect for those who hate the messy designs.
86. Best of Both Worlds
You can keep the color fresh and the design up to date with a fashionable yet everyday manageable pixie cut. Because, even though you want to look on point, you still got to fulfill your everyday wear requirements which probably include minimum efforts. So, all you need to do is go with the simple maintenance step below:
Apply a toning shampoo for something less demanding than regular highlighting your hair.
Don't forget the hair conditioner. Because belive it or not, stress can hold back your hair growth acceleration. And before you know it, you'll experience less voluminous hair.
87. Finely Chopped Pixie
For girls with fine thin hair types who are worried that their wispy hair wouldn't hold a long hairstyle, your hair- locks will certainly accommodate to this kind of bold pixies. So, all you have to do is stop worrying so much and try out this layering technique which is proven to add structure and layer to your whole look. Therefore, making you forget all about the fact that you are the owner of thin hair.
88. Featuring Your Face
Shorter hair gives you the opportunity to focus on something other than your hair that usually takes up most of the view. So it enables you to show off your flattering facial features like your eye color that seems to be complemented by your hair color.
89. Maximum Versatility
How can we reach maximum versatility with women pixie cuts? All you have to do is find the right:
Styling product that suits your hair type like curl enhancing shampoo for those who seek perfect curly hair.
Degree of the hold with the help of hair pomade or gel to help you maintain flawless hair throughout the whole event.
Hair finish that goes with the width of your forehead to bring out your dreamy eyes.
90. Disconnected Women Pixie Cuts
For an edgy and hardcore look, a disconnected long, razor-cut top section from a relatively shorter undercut might be just the solution for you. Because texture and dynamic movements in hair styles are what make them so unique and attractive in any look. So, this style will help create the first impression of a rebellious gal.
91. Vintage And Modern
If you want to achieve a completely successful pixie cut, you have to get both the color and the cut to work together. Therefore, their harmonious mixture will result in a style that is soft, fresh, and contemporary.
92. Just Combed
Haircuts that take minimum maintenance, check-ups, and preparations are probably the most demanded nowadays. Because we live in the age of technology where a lot of things can happen in the flash of a second. Therefore, we need to make use of every minute we have got and employ it to do something more important. So, instead, you can go for this pixie that requires nothing more than 10 seconds combing every morning.
93. Hair Straightening
Another idea for being a little different is the straight and smooth edged side bangs for pixie cuts. In addition to being unique, the smoothness of the edges gives your girly face a little boost.
94. Messy Women Pixie Cuts
An advantage for waking up with a messy pixie cut is that messily is in style! Therefore, you can devote more time for dressing up and go out with your messy hairdo without any effort whatsoever!
Quick Hairstyling Tip: Running a dab of hair pomade through your hair takes up to maximum thirty seconds and takes the " bed – head" look into a whole new level.
95. Marvelous Pixie
Question: " What factor makes a pixie so exceptional and marvelous?"
Answer: " Natural waves, messy textures, genuinely swept hair, and fewer hair products make women pixie cuts looks legendary and out of this world."
96. Flicked Back
On the other hand, a girl doesn't need tall her to look feminine. Because right now she can look strong, sleek, and independent with a relatively short pixie cut. And the flicked back design is a simple style to wear it to her everyday events as well as the formal ones. So all she has to do is:
Comb hair with a tooth comb after washing it.
Use a dab of hair pomade to flick back the short bang and fix it in place.
Use wax if your hair is thick enough to bare the powers of hair pomade.
97. Afro Curls
Another thing to make you so smitten about the pixie haircuts is their versatility. Because you don't need to stick to one cliché like everybody else. And there's always room for freestyling! For example: with the help of some hair pomade you can scrunch your hair with your fingers and voilà! You've got new cute and curly women pixie cuts to adore.
98. Why Highlights?
Highlights can always bring out the best in your facial expressions. In addition to that, they can spice up any kind of haircut and turn them from dull to daring in a matter of seconds. However, if you don't want to stick to a certain highlight color for more than just the evening, there's always a solution. Because you can go for hair chalk and change between colored highlights whenever you would like to.
99. Chick Undercut
When choppy women pixie cuts are short enough they are practically chick undercuts. So, the ingredients to make this flashy style is a creative stylist with the vision for this kind of designs. Let them go crazy on the barber shop floor!
100. Platinum Blonde Chopped Pixie
If you ever think about getting a chopped disheveled pixie, then you might want to go for it while pairing it up with a blonde hue. But why? Because it's practically a scientific fact that short blonde hair looks it's absolute best when it's cut in with a sharp razor to bring out every strand.
101. Silver Blonde Pixie Cut
When you think about short hair, a pixie cut is what automatically pops into your head. However, if you want to think outside the box and grab everybody's attention, then you can always go with the timeless silver blonde dye or any other color of your choice!
102. Golden Glow
On the other hand, picking the right color for your design can bet the key to a happy ending. And since picking out the color hue is so perplexing, we introduce the new golden blonde. It looks rich and has the inner glow you need to shine in the spotlight.
103. No Side Bangs
If you're seeking a haircut that is both airy and comfortable for hot days, yet you don't want to give up looking stylish as ever, here's the "no side bangs" women pixie cuts to make your dream come true. Thus, simply ask your stylist to trim the sides to a minimum while maintaining a relatively long top to get this look.
104. Ravishing Treatments
If you are planning on going short, you should invest in some hair enhancing masks to keep your hair strands from getting dry and brittle. Especially if you are someone who likes to experiment with color options from time to time.
105. Short Hair + Long Earrings
In addition to its stylish and edgy appeal, women pixie cuts have a wide span of advantages. For example, having a short hair design will enable you to finally try out the long earrings and show off your taste in piercings. Because now they can actually appear instead of hiding behind your hair strands.
Now you know that pixie comes in all shapes and sizes. You have all the tools to make the right choice. Keep in mind that pixie haircut will accentuate your neck and draw the attention to your face. Make sure to choose the right colors to improve the pixie style you choose for yourself.