Women with lush, thick hair are lucky in the way that they have plenty of haircut and hairstyle options to try out. However, most women with thick hair often feel burdened by their hair. They do not realize that a low-maintenance haircut, such as a layered haircut, can make their thick hair more manageable.
Thick hair opens up several possibilities including several low-maintenance haircuts which will allow you to flaunt your hairstyle without having to worry too much about styling and maintaining it. To make your job easier, we have come up with this list of the top 18 low-maintenance haircuts for thick hair!
1. The Straight Sleek Look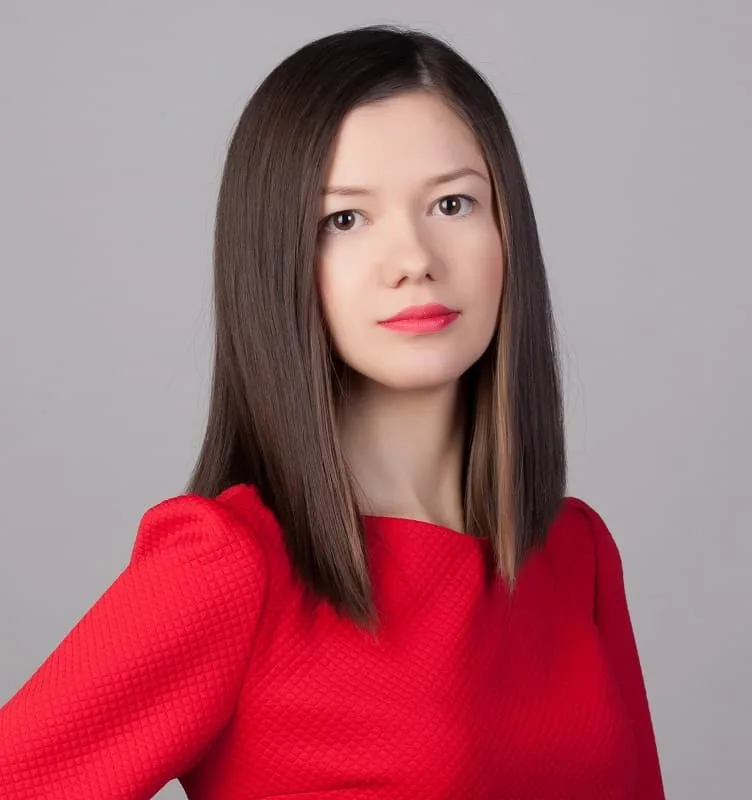 If you are a busy professional with zero time for styling your hair on a daily basis, we recommend this effortless straight haircut for thick hair. This simple look can be achieved by asking your hairstylist to give you a straight, sleek cut with the length ending at the same height for the hair in the front as well as the back. All you need to do is partition your hair as per your preference every morning.
If sassy, cool, and fun is how you would describe yourself, then your haircut should also portray the same! This golden blonde, layered shag is the perfect haircut for women with thick hair who would like to look like a million dollars with minimal effort. The layers will give your haircut an illusion of being weightless.
A pixie haircut is one of the most suited hairstyles for women with thick hair. This haircut beautifully reveals the thickness of your hair and requires minimal styling and maintenance. You can play around with the length a bit here and make it more feminine by adding in some side bangs.
4. Multiple Layers with Flicked Out Ends
The key to having a low-maintenance hairstyle for your thick hair is to get the right haircut. Layered haircuts are an ideal option for women with thick hair, given that some of the excess volume can be downgraded easily with this cut.
In this easy-to-maintain haircut, the layers are of different lengths with the ends gently flicked out. The layers with varying lengths look beautiful, no matter how you style your hair.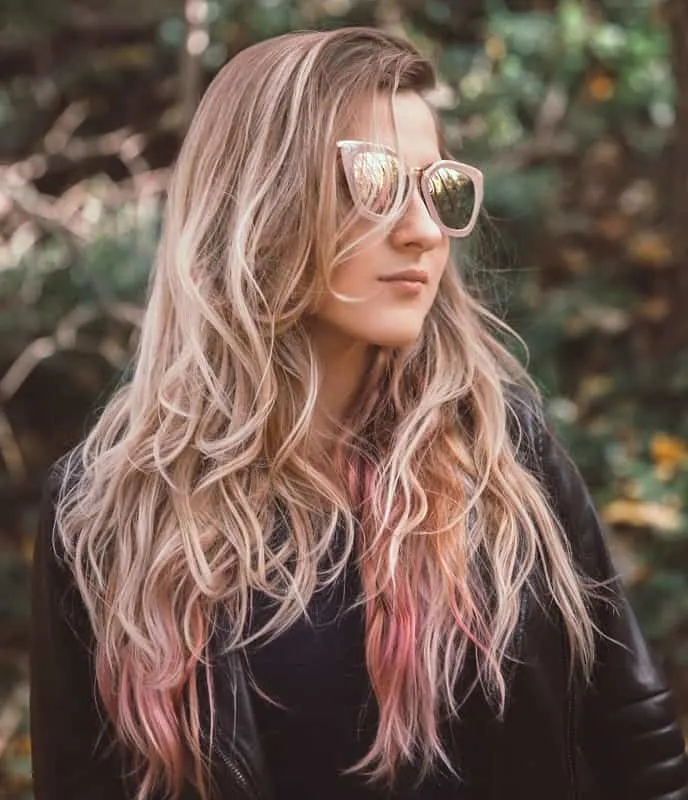 If you have thick, long, wavy hair and want to maintain the length, we recommend you to opt for some highlights on the lower ends of your hair strands.
Here is a beautiful combination of classic blonde with pink highlights at the ends. Get a layered haircut and you are all set to flaunt your stunning, wavy hair with highlights.
6. Classic Tight Curls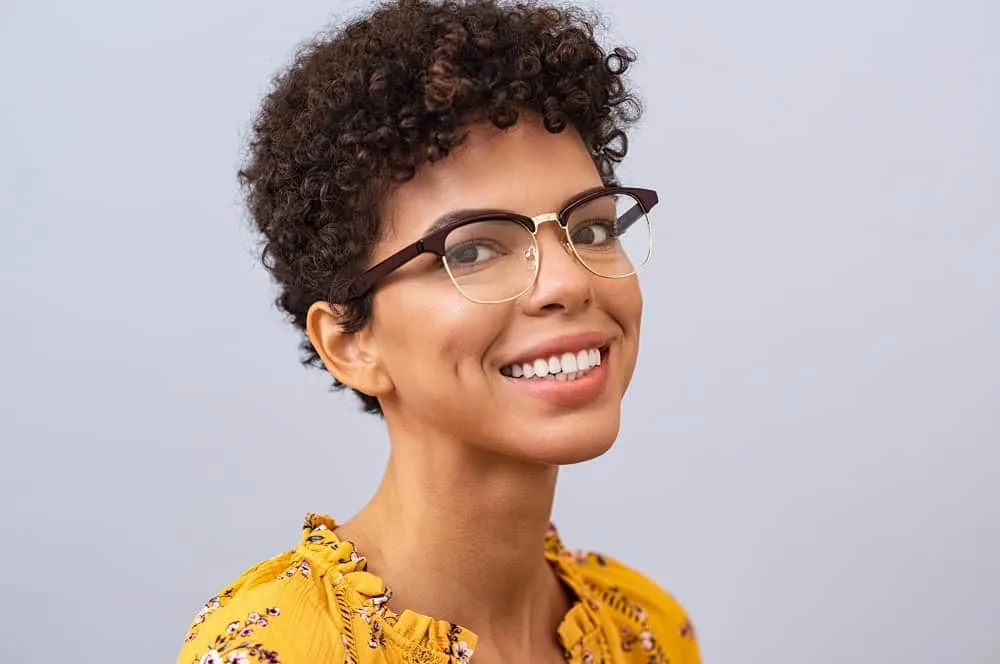 If you have thick and naturally curly hair, it can be quite daunting for you to style and manage them on a daily basis. If you are looking for an ideal inspiration for your thick, curly hair, get this super cool, classic pixie haircut. Ask your stylist to leave more hair volume on the top and less on the sides and at the back of the head.
7. Long Hair with Bangs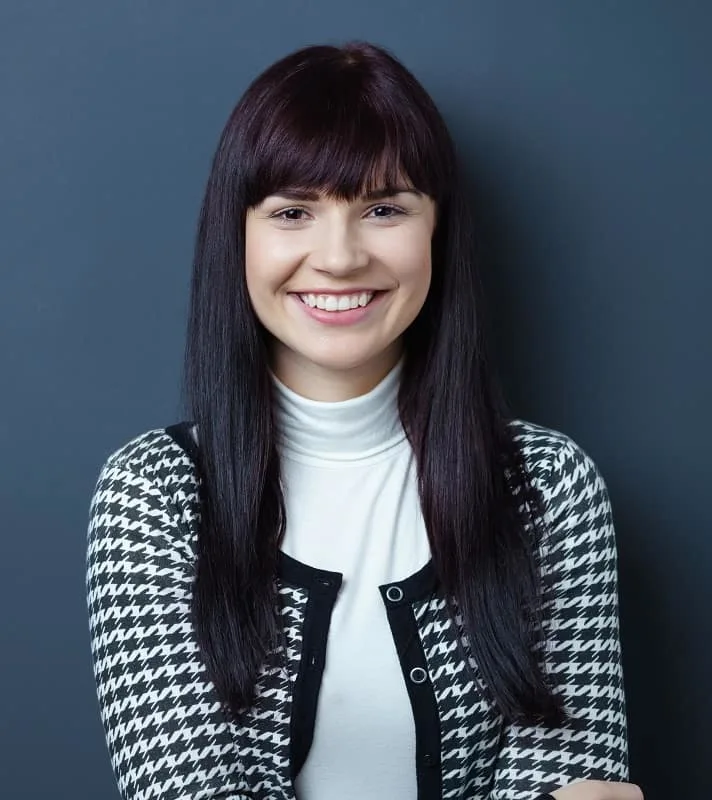 This is another great option for women with thick, long hair who do not want to compromise on the length. In this low-maintenance hairstyle for thick hair, all you need to do is get some beautiful long bangs and have equal hair length on all sides. The bangs are the USP of this look!
8. The Swept Back Vintage Bob
Bob haircuts are one of the most popular choices when it comes to maintaining your hair easily, irrespective of your hair volume. As you can see here, the vintage bob haircut has been styled beautifully by simply combing back the hair, and keeping it sleek and sexy. This effortless look allows your face to be the focus!
9. Simple Layered Haircut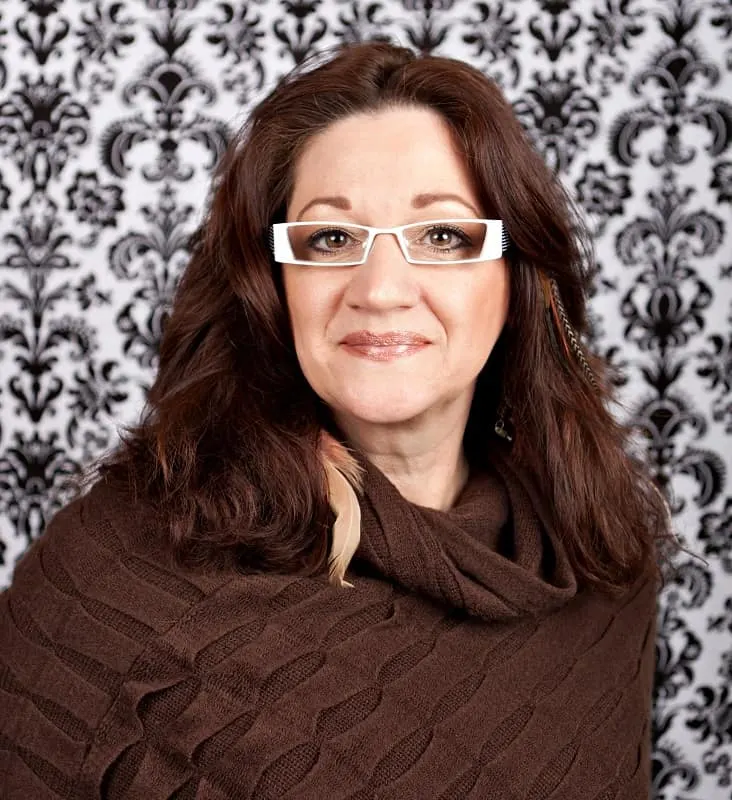 Older women with thick hair may not be willing to spend as much time in styling and maintaining their hair as they used to do in their 20s and 30s. If you are one among them, then the best low-maintenance haircut for over 50 is to get some beautiful layers – that's it! Keeping it simple is the key here.
10. Sleek Inverted Bob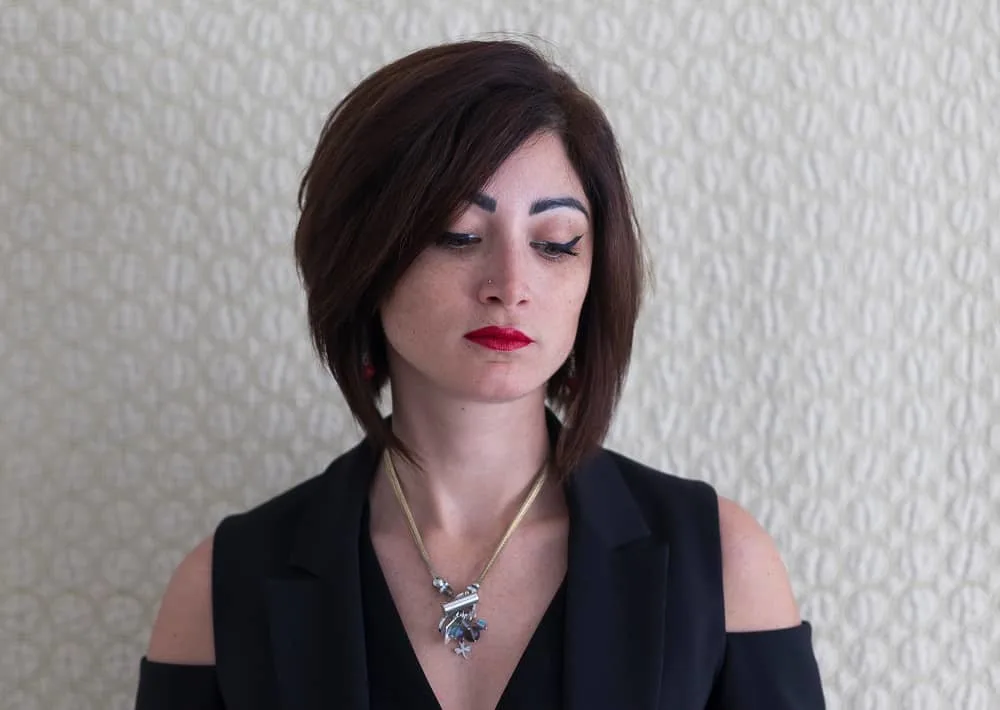 This inverted bob haircut is not only one of the sexiest haircuts for women with thick hair but also one of the easiest to maintain. In this haircut, your hair will be longer on the sides with the ends almost grazing your shoulder while the hair on the back will be cut short. Ideally, the hair at the back ends at the nape of your neck to create the perfect inverted bob.
11. Classic Step Cut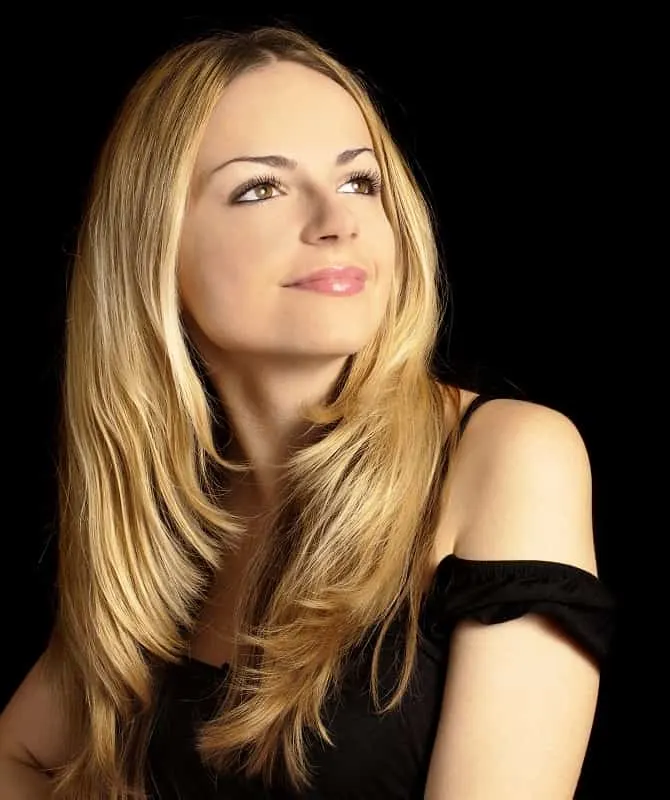 If you love classic haircuts, you must definitely try this simple step cut! It is a beautiful haircut for women with thick hair who do not want to spend more than a couple of minutes styling and maintaining their hair. The 'steps' look truly mesmerizing and can be further jazzed up with some highlights, if you like.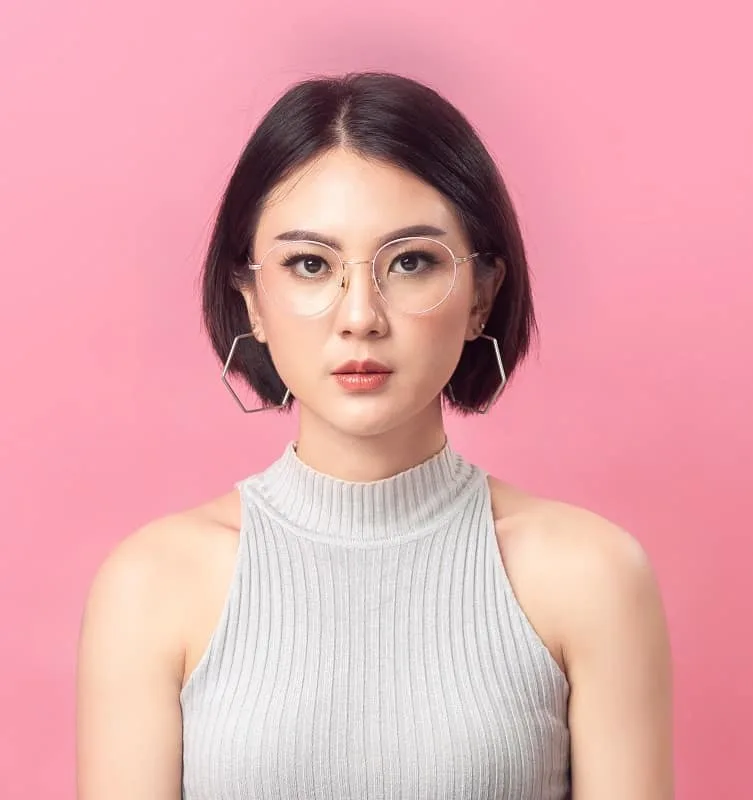 Rounded bob haircuts look fantastic on women with most face shapes. This is one of the cutest short low maintenance haircuts in our list and definitely easy to maintain. With this short bob with its rounded ends, it will take hardly a couple of minutes for you to get ready. It looks beautiful with both formal and casual outfits.
13. Simple Lob with Textures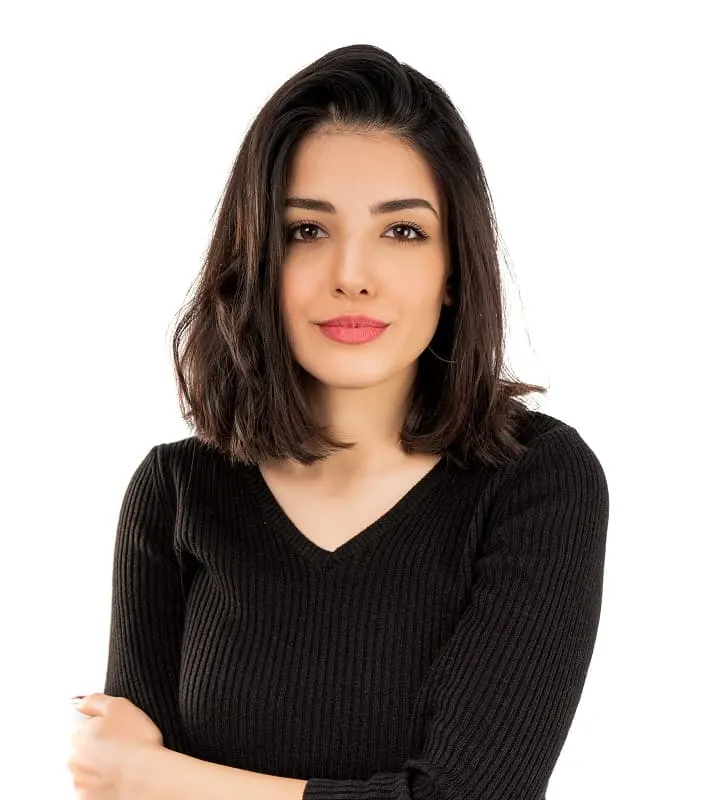 A simple lob is an ideal choice if you have thick hair and don't feel like compromising too much on their hair length. As you can see here, the classic lob looks truly stunning with its equal length all around. All you need to do is run your hairbrush a couple of times through your hair to set it in place.
14. Two-toned Medium Hair with Side Fringe
A beautiful low-maintenance haircut for older women with thick hair. This long hairstyle is quite basic with the ends styled inwards but it is enhanced because of the simple side fringes.
Having the two-toned hair color combination of grey and black further enhances the look. Run your fingers through your hair a couple of times to let your salt and pepper combination fall over your shoulders naturally and beautifully.
15. Rounded Bob with Long Bangs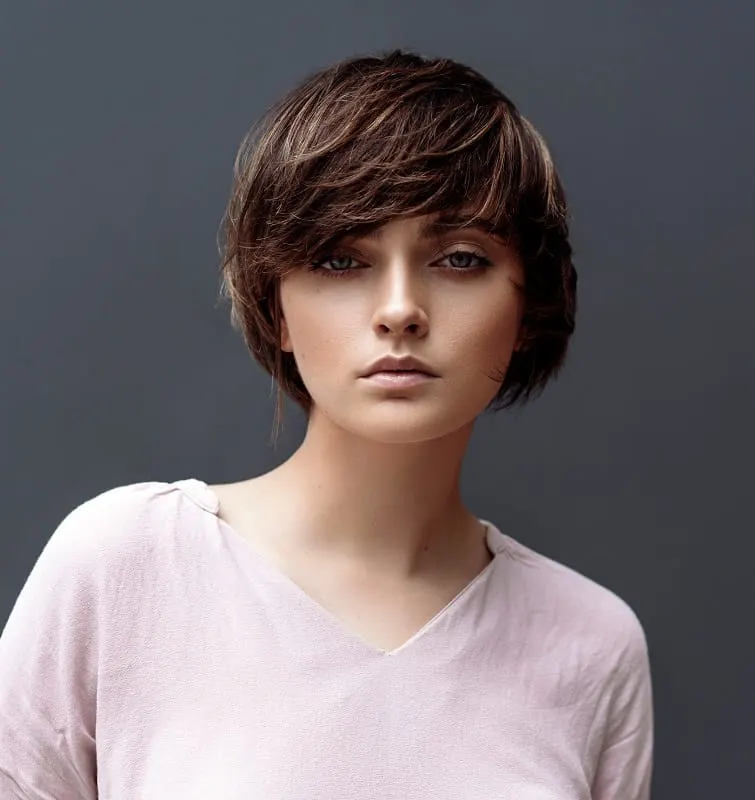 Bangs are one of the most flexible styles which suit thick hair as well as fine hair. To achieve this hairstyle, ask your hairstylist to give you a rounded bob and bangs across your forehead. You will hardly require any effort to keep this hairstyle in place.
16. Long Layers with Babylights
The right highlights can completely transform the way you look! Here is a stunning layered haircut for women with thick, brunette hair. Though the haircut in itself is quite appealing, it oozes more oomph because of the baby highlights. This is an easy look to achieve by simply creating a deep side-partition and brushing your hair a couple of times.
17. The Sassy Pixie
This sassy pixie gives off a strong 'rock chick' vibe and is undoubtedly one of the popular haircuts for thick-haired women. An absolutely effortless look, the short spikes on the top can be styled with the help of a hair gel or mousse.
If you have naturally wavy hair, half your job is done! As you can see here, this simple wavy bob with its layers looks naturally stunning because of the subtle natural waves. The short length is long enough to frame your face tastefully.
Don't be afraid of trying different hairstyles if you have thick hair as the options are limitless. The above low-maintenance haircuts and hairstyles will make you look nothing short of a celebrity within a couple of minutes if you pick the right style! Don't forget to keep this list handy for your next haircut.