#21: Onward and Upwards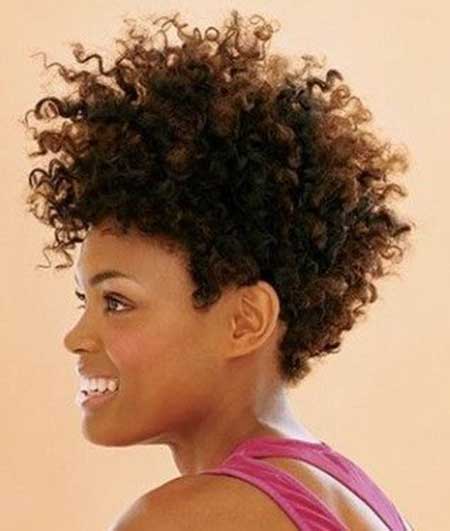 This black short hairstyle is all about height and teasing your hair upwards, rather than outwards. Keep your hair relatively short at the sides but long enough so that you can pin sections up to create upwards volume.
#22: Straightened Crop
This androgynous crop is stylish and sexy. Straighten your hair then cut it so that you have shorter sections near your crown and longer sections at the front which you can use to create a sweeping fringe.
#23: Beginner Cornrows
Even if you only have very short hair, you can start to tease your hair into very simple rows. Once it grows a bit longer, you will be able to create more defined rows.
#24: Bob with Corkscrew Curls
Corkscrew curls look amazing when styled as a bob. To give your bob a rounded shape, you will need to add layers into your hair and part from the crown.
#25: Hairlines
If you want to add a funky twist to any short hairstyle for black women, ask your stylist to shave in a line or two. These lines add an amazing, modern twist to classic styles.
#26: Short-Medium Afro
The bigger that your afro gets, the more maintenance that it will need. Use special afro care products and shampoos to help to keep your style looking and feeling soft.
#27: Crop with a fringe
Enhance a short curly crop by putting in an asymmetric sweeping fringe. Bring in hair from all across your head to add volume. This type of fringe will allow your facial features to shine.
#28: Cornrows with Shaven Sides
Braids and cornrows have been a popular choice for natural hairstyles for black women for centuries. This high fashion look provides a modern twist on traditional cornrows by having only a small number of statement braids. The shaven sides will help to enhance high cheekbones.
#29: Caramel Crop
A short crop in caramel will look great, even when your roots start to show. To maintain this tight crop, simply have your hair colored again every time you have your length restyled.
#30: Beginner Afro
This beginner short afro looks amazing on young black girls. Even though it is a beginner afro, you don't need to wait for it to grow at all, because it already looks amazing. At this length you hair is more likely to grow upwards, rather than outwards.