French braids for black hair are easy and simple to do and can be worn by black women of all ages. Although they once used to be associated with kids and school, the cute hairstyle has evolved to become suitable for different ages and more occasions than going to kindergarten.
They are no-fuss and easy to make, so you can actually pull off doing it yourself. But if you don't know how to braid hair, it would be a barrier to doing it on your head. So, we are going to teach you how to do it.
How to Do French Braid Hairstyles
Learning to French braid your hair yourself is quite easy. Although there are many different French braid styles for black hair that can be created, there's a basic pattern every style makes use of which you must learn.
To make each braid, you need to work with three strands at a time.
Select three strands at the top of the sections you want to braid
You take one strand on the left
Move it under the middle strand and over the third strand on the right
This puts the strand that was previously on the first left on the third right
Repeat the process with the new strand on the left, under and over, all the while taking some more hair underneath until you reach the base of your neck or wherever you choose to stop.
For easy remembrance, doing the French braid is basically taking the first of three strands of your hair under the second strand and over the third strand repeatedly.
Smart eyes would notice that French braids are usually done on long hair, but, it seems black women with short hair can do French braids too. Although that is technically right, you don't need to have long hair because there are packs of braiding hair that can do the trick so long as your own hair is long enough to be held with the braiding hair.
Watch The Following Video About How to Do French Braid in Natural Black Hair
Popular French Braid Styles for Black Hair
There's a technique to using braiding hair so your hairstyle doesn't end up looking tacky. It's often best to do this with the feed-in braids technique rather than starting with a big bunch of braiding hair and adding it randomly.
For the neatest feed-in braids, start by braiding your own hair, and then add small sized bits of the braiding hair secretly as you take a strand of your hair under and over like you learned some moments ago. It might feel confusing at first, but once you get the hang of it, you'll be able to do it neater and faster.
If you'd rather not go through all these, the fastest route to getting neat feed-in braids is by getting it professionally done. Below, 15 best french braid styles are discussed for the black hair: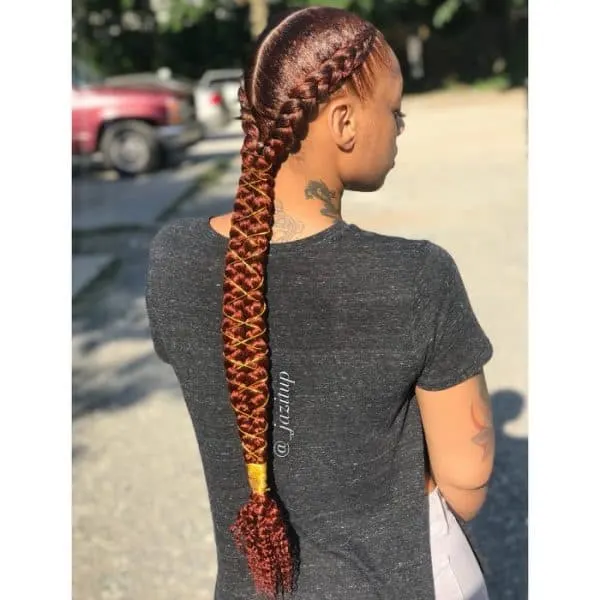 These French braids for black hair are like goddess braids but even cuter.
How to:
Get a long braid hair in a color that you like.
Section your hair in two parts
Hold one part down with an alligator clip
Apply edge control to the edges of the loose section
Brush it down so it lays flat.
Use your braiding hair to braid all the way down as taught.
Repeat these steps on the other section.
When done, tie a golden twine stylishly around both pigtails to make it one.
Wrap it at the base and feel like a goddess.
Sometimes simple is the way to go. To make the classic French braids hairstyle on black hair, just follow the steps in number 1 without using a gold twine to bind the two braided tails together. This classic 'do can be worn as a casual look to school, outdoor events, a day at the beach or work, depending on the industry you are in.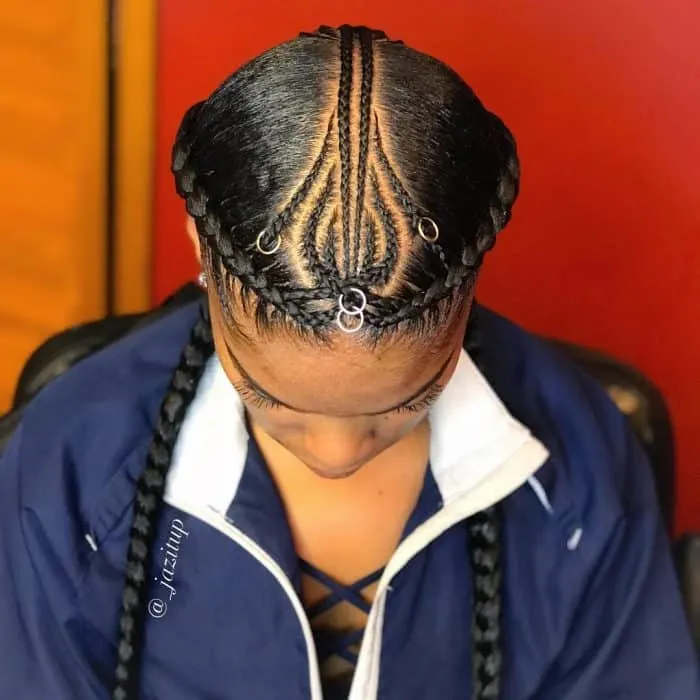 An intricate braid work like this is good for adding more flair to your French braids. But this isn't something to DIY except you are very adept at self-braiding.
4. French Mohawk Braid
For this hairstyle, your existing ombre will add a lot of value to your braids. Section the hair into two pieces and use the upper section to get a French braid and secure that hair.
Now prep your hair for the lower hair section by adding a detangler and properly combing your tresses. Use the rest of the hair to style a different type of braids, the twists.
5. Half-up Braids
Starting from the center of your forehead, create a braided oval shape that is crossed by a thicker straight braid.
From the corners of the forehead and sides, style other braids and gather them in the top back. Keep the rest of the hair unbraided and curl it.
6. 3 C Curls
Instead of braiding your hair from the top, knit them by starting from the hairline, directing your braids to the apex. This way, you will have a great pattern.
Pin the remaining hair on the top and use a curling mousse to better define the shape of your curls. You can even add a few metallic golden beads as decoration.
7. French Braids with Twisted Knits
This braided hairstyle for kids will look marvelous if you create French braids out of twists. Instead of using small, simple hair strands, create two-strand knits for each piece you want to braid.
Get these unique cornrows and secure them in the top back of the head. This will allow your girl's hair to form curls and build height.
8. Side French Cornrows
If you have such curly hair, it would be such a shame not to take advantage of this amazing volume and texture. Part your top from the back and section it again with a middle part.
Use each side to build two French braids. If you have back highlights, be sure they will stand out. Use some texturizing products that emphasize the shape of your curls.
9. Ultra Long Braids
These stunning black French braids can gain more thickness if you feed in the knits with hair extensions. Split your mane into two sections, using a middle part. Firstly, create two parallel small braids above the ears and set them aside.
Start from the forehead and build your big braids, then add the side knits.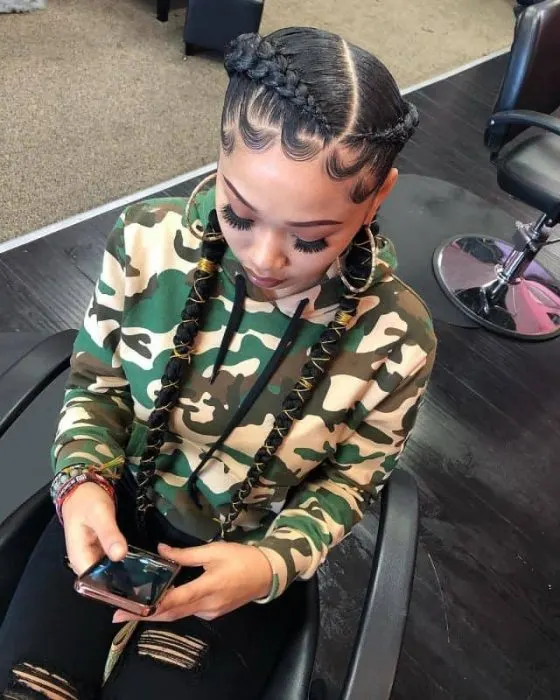 Double braids are usually made down the center, but this side-parted one is just as cute and classic as the center-parted ones.
To do this French braid style for black hair you only need to part your hair down the side of your head and play around with edge control on your hairline to create those fancy baby hairs before proceeding to braid it all the way down.
11. Four-In-Two Braids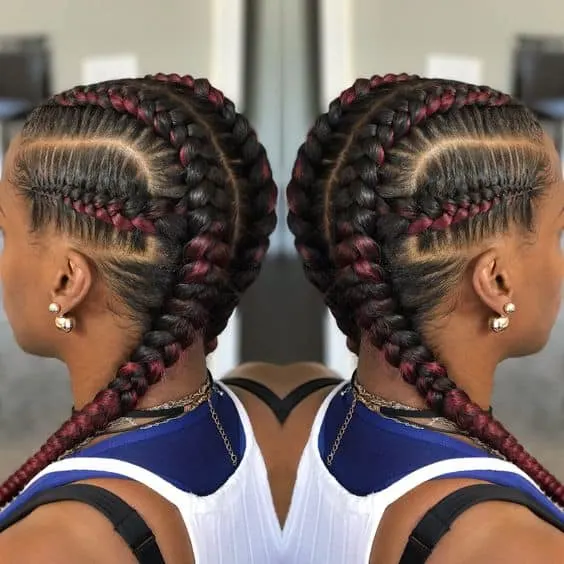 French braids hairstyles for black women never have to be boring. Try something different like this 4-in-2 braids French braids.
To get this:
Section your hair in two parts like any French braids hairstyle.
On each side, section out a small bit above your ears
Braid it down and secure it with a hair grip or hair band to keep it from unraveling.
Braid the main section down towards the nape of your neck
As you get closer to the first braid above your ears, join both braids into one and braid it all the way down
Repeat the same thing on the other side, and feel fabulous.
If you couldn't get this done, you just bookmark this page and show your stylist the picture of this look so they can get it done in a jiffy.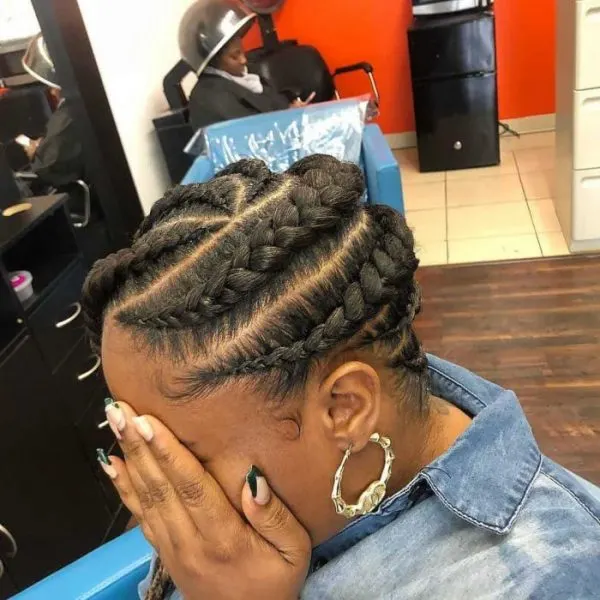 Who says black women's French braids only have to be woven all the way down? Feeling like a rebel? Then braid them to the side of your head, and add a couple more than two while you're at it. You could choose to pack this is a bun on the side or just let it fall.
13. French Braids with Weave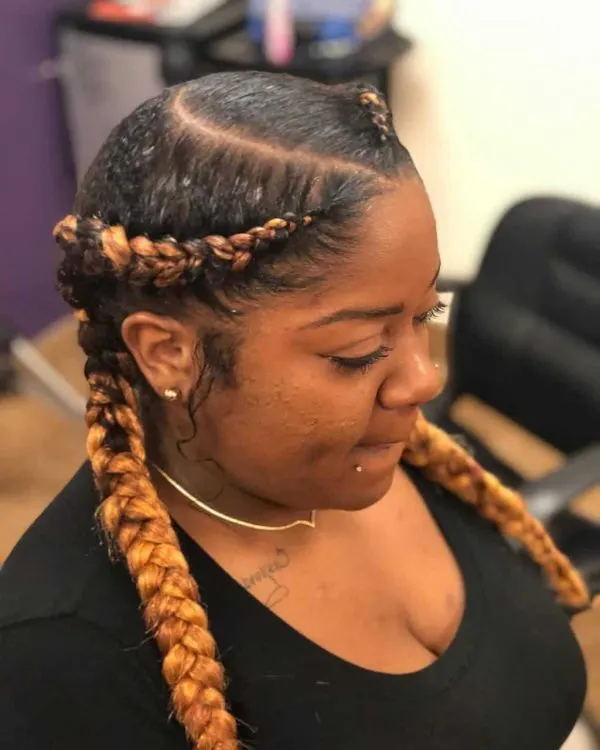 You don't always have to use braiding hair that's similar to your hair color for. Using a color that's different creates a cool contrast braid. For two-toned French braids for black women, try a braiding hair that's different from the color of your hair. This would create a contrast, giving it a double tone.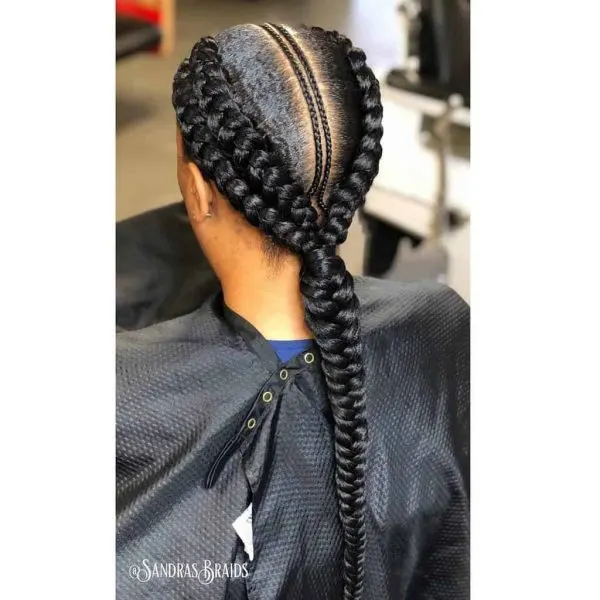 What's better than a pair of French braids, two pairs of French braids. everything about this look is Eccentric. From the twin braids on each side to the mini sized cornrow braids in the middle and how they all culminate into a single braid.
How to achieve this French braid hairstyle for black hair:
Section your hair into three parts, keeping the one in the middle small
Divide the middle section into two
Braid each all the way down
Divide one on each side into two more sections
To get the braids close to each other like in the picture, brush your edges towards the middle of your hair and braid it down
Brush the second braid from the middle of your hair towards the first braid and weave it down. Join the closest middle braid into the big braids as you get closer to your nape
Repeat this on both sides
At the nape of your neck, secure all 4 braids with a hair band
Pick a small bundle of hair and wrap it around the hair band to conceal it
Do a fishtail braid on the tail of your hair
Feel good as you look at your reflection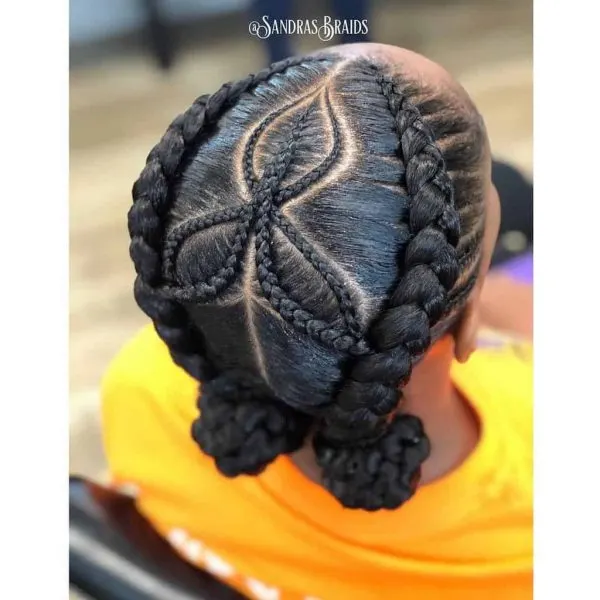 Another cool and different French braids style for black women are these chic ones with intricate braid patterns in the middle and instead of pigtails, they end up in braided buns. This isn't quite the one to DIY so you need to visit a stylist for this.
So, do you like the ideas of these beautiful French braid on black hair? Try out one for your next hairdo among these hairstyles and rock!