With women becoming more conscious of products and chemicals being introduced to the body, natural ways of perming hair are preferred.
If you've been wondering how to perm hair naturally without chemicals, here are five ways to do it. Read on to learn how you can keep up with the latest hair trends without using harsh chemicals.
Can I Perm Hair Naturally Without Chemicals?
Yes, you can perm without chemicals using natural methods. You could use organic perms, which are free of ammonia or natural oils, and readily available tools to perm hair. The results are still as good as perming hair with chemicals, except it might not last long.
Traditional perms last approximately six months if you stick to a good hair care regimen. However, if you have dry, damaged, or highlighted hair, it's best to perm hair without chemicals to avoid breakage or further damage.
How to Perm Hair Naturally Without Chemicals
If you've desired a curly hairstyle without the damage that comes with traditional perms, here's how to get a perm without chemicals:
1. Use Finger Coils
Black hair may have 3c, 4b, or 4c textures, making it naturally curly. As such, simple finger coils can bring out curls quickly. They provide an excellent way of training your curls naturally. Here's how you do it:
Wash your hair and pat dry it. You can also work on damp hair for more defined curls
Apply a moisturizer and sealant
Apply the curling cream
Divide the hair into sections and twist them with your fingers
Let them air dry, then style the hair
2. Apply an Organic Perm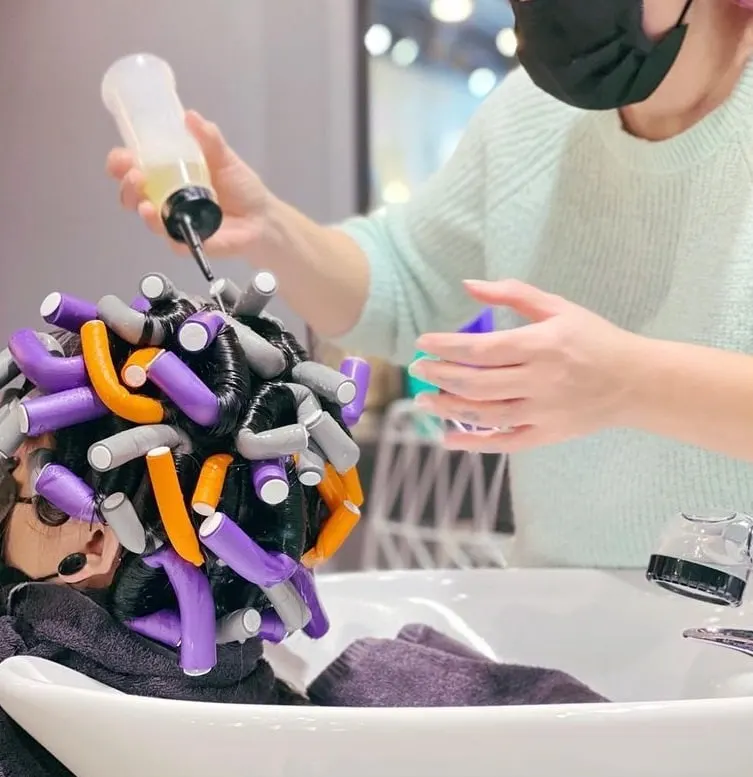 Organic perms are similar to traditional perms, except they're free of harsh chemicals like SLS, Ammonia, Ammonium Thioglycolate, and SLES.
The substances are replaced with natural ingredients like wheat protein, soy protein, and chamomile, which are gentle on the hair and the scalp. The process is pretty similar to using traditional perms:
Wash the hair with a shampoo to remove dirt and oil residue.
Dry the hair with a soft towel.
Divide the hair into three sections.
Create smaller parts for each section and wrap the hair around curling rods.
Wrap a cotton cloth around the hairline, tucking away the rods.
Apply the organic perm in small, circular motions.
Rinse the hair without removing the rods and allow it to dry. You can use a hair dryer to hasten the process.
Then remove the rods and style the curls with your fingers.
3. Use a Curling Iron
If you don't mind heat styling your hair, curling hair may be just the tool you need to perm your hair. Depending on your preferred curl size, you need to pick out a curling iron.
A 5/8″ and 3/8″ curling iron is ideal for tight, bouncy curls, while a 1.5″ and 1.25″ curling iron is suitable for large, fuller waves. Here's how to do it:
Wash your hair to remove dirt and oil buildup. You may use a regular shampoo or a volumizing one to increase your hair's body.
Rinse and apply a curl-enhancing product while the hair is still damp. The product helps the hair to hold the curls longer.
Divide the hair into sections.
Then curl each section using the curling iron. If you want to achieve a wavier look, start curling it mid-way but if you're big on creating long-lasting curls, start from the bottom and work your way to the top.
Then comb out the curls using a wide-tooth comb, spray them, and you're good to go.
4. Wear Flexi Rods
Flexi rods are an excellent alternative if you don't want to use heat-styling tools. They're available in different sizes allowing you to achieve the best curly hairstyle (big bouncy curls to medium or small curls).
Flexi rods are convenient for those who love more defined curls. Here are steps to help you achieve the look:
Choose the ideal flexi rod size based on the curl size you desire.
Wash the hair and allow it to dry. You may work on damp hair for more defined curls.
Comb the hair and remove any tangles.
Appy a leave-in conditioner or styling gel to lock the curls into place.
Divide the hair into sections and wrap them around the flexi rods.
Repeat the process on all sections.
Let the hair rest, then remove the flexi rods.
5. Make Bantu Knots
This method protects your hair from heat styling and is stylish enough to wear outdoors. Bantu knots also give the most defined curls and are versatile enough to wear on varying hair lengths.
Women with longer hair can braid longer knots, while those with short hair can part hair into smaller sections. Here's how to do it:
Wash the hair and pat dry it.
Comb and remove tangles.
Divide it into sections, twist and wrap them around the base of the scalp.
Secure the ends with a hairpin or fold them close to the scalp to prevent them from coming loose.
Let them rest for a night and untwist them in the morning to reveal the natural curly look.
Is Non-chemical Perm and Organic Perm the Same?
Non-chemical and organic perms aren't similar. Non-chemical perms are free of chemicals that alter the hair's structure and permanently curl hair.
Organic perms, on the other hand, contain chemicals that are ammonia-free. The ingredients are primarily natural oils.
Is Non-chemical Perm Safer Than Traditional Perm?
A non-chemical perm is safer than a traditional perm because it's free of harmful chemicals. Traditional perms contain toxic chemicals like ammonium thioglycolate, boric acid, alcohol, and hydrogen peroxide, which open up the hair cuticles, altering its structure.
As a result, the hair develops permanent changes that can be challenging to reverse, in this case, permanent curls. The effect of traditional perms is grave on dry or highlighted hair as it damages the hair further.
Finally, you don't have to worry about damaging your hair to get that curly look. Traditional perms contain harmful chemicals that leave the hair dry and delicate. However, natural alternatives allow you to perm your hair without chemicals.
You can perm without chemicals by using flex rods, applying an organic perm, twisting hair into Bantu knots, using a curling iron, or finger coils. If you're unsure about the best method, you can always consult a stylist.
FAQs
Here are the commonly asked questions about how to perm hair naturally without chemicals.
Can I get curly hair without a perm?
Yes. There are plenty of ways to get curly hair without a perm. You can apply an organic perm, use finger coils, a curling iron, wear flexi rods, or Bantu knots.
Can hair be curly naturally?
Yes. Women with black 3c, 4c, and 4b hair have curly hair. Also, an increase in androgen hormones in the body can cause a change in the hair texture, i.e., from straight to curly.
What makes hair curly naturally?
The shape of your hair follicles determines if you'll develop curly hair. People with round follicles tend to develop straight hair, while those with oval follicles produce curly hair.
How do I keep my hair curly?
You can keep your hair curly by twisting the strands together or finger-coiling them. It's best to try each method separately to find out what works best for you. Also, applying a leave-in conditioner helps curls last longer.