Black women who love short hair know the beauty of a sexy pixie cut. These short and sassy lengths make hair easy to maintain and even easier to keep hydrated and styled to perfection.
From curly ringlets to straight layers, finding the best pixie for your black hair is not only easy but can also be a fun challenge.
Finding The Perfect Pixie Cuts for Black Women
Below are 31 different pixie haircuts for Black women that will give you endless sources of inspiration.
1. Pixie Cut with Side Bangs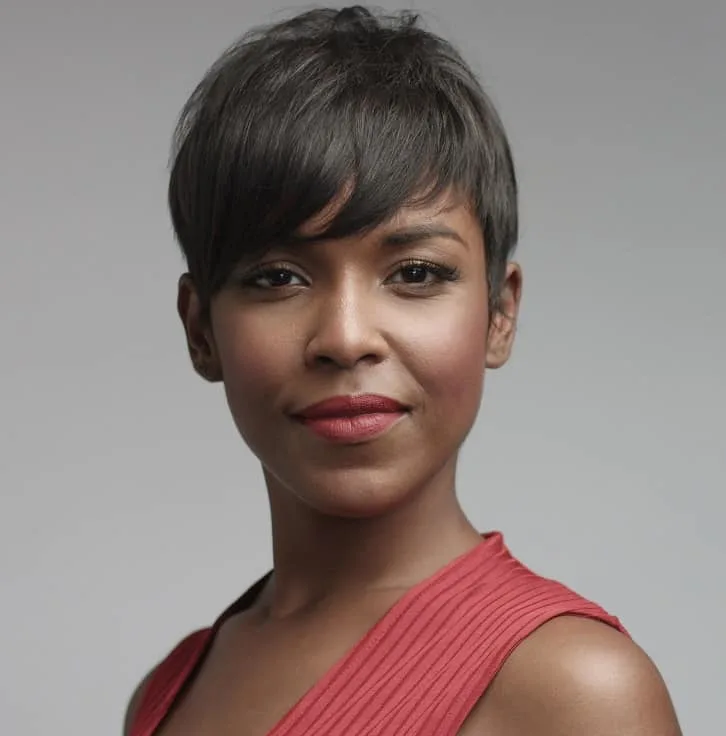 Layers are the best tool you can use to shape your short pixie hair for black women. Short layers at the crown add irresistible height, and piecey, side-swept bangs and long sideburns frame your face while adding interest to your look.
2. Long Side Bangs
Compromise between a short cut and a bob style with a pixie bob. This long pixie uses longer elements, like these full bangs, to emphasize cheekbones and create a little more coverage around the face.
3. Pixie Cut for Thick Hair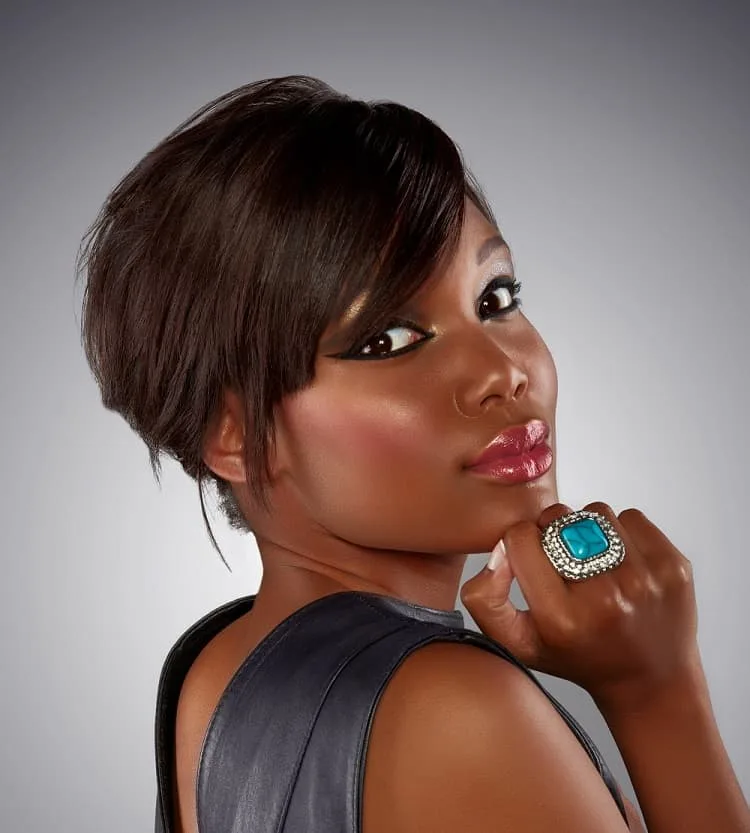 If you're working with thick hair, then you're in luck! Long layers create beautiful movement on a thick pixie for Black hair. Add a side part and sweep hair over to one side for an elegant vibe.
4. Curly Tapered Pixie Cut
Make those springy ringlets pop with a tapered pixie haircut. The undercut of this style wraps all the way around the head to draw attention to the rounded shape of the hair up top.
5. Pixie Cut with Highlights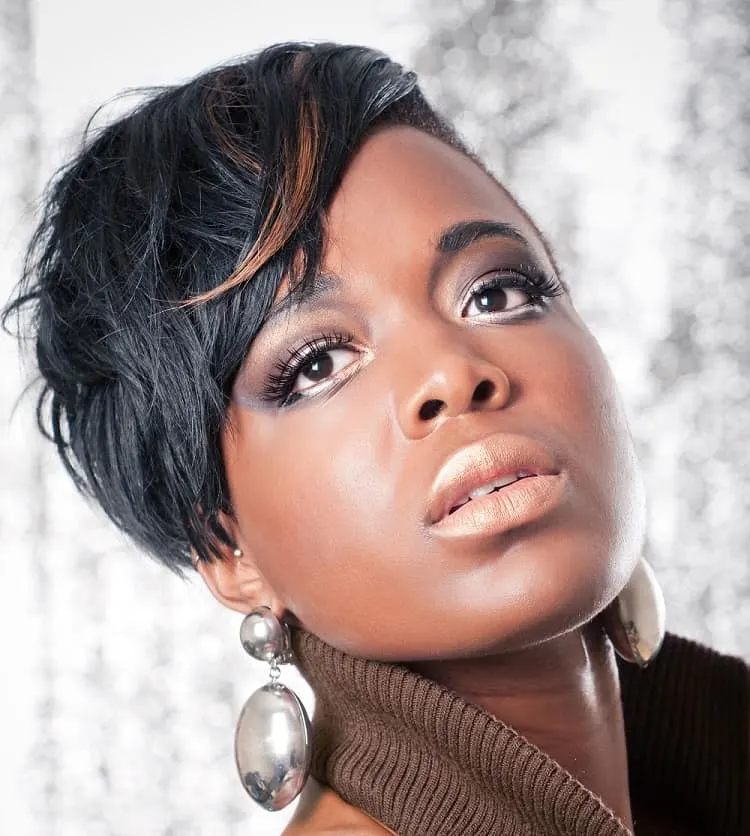 Add a touch of uniqueness to your new style with dynamic color. This Black pixie hair with highlights uses a few artful strands at the forehead to add interest without too much commitment to overall color.
6. Pixie with Side Bang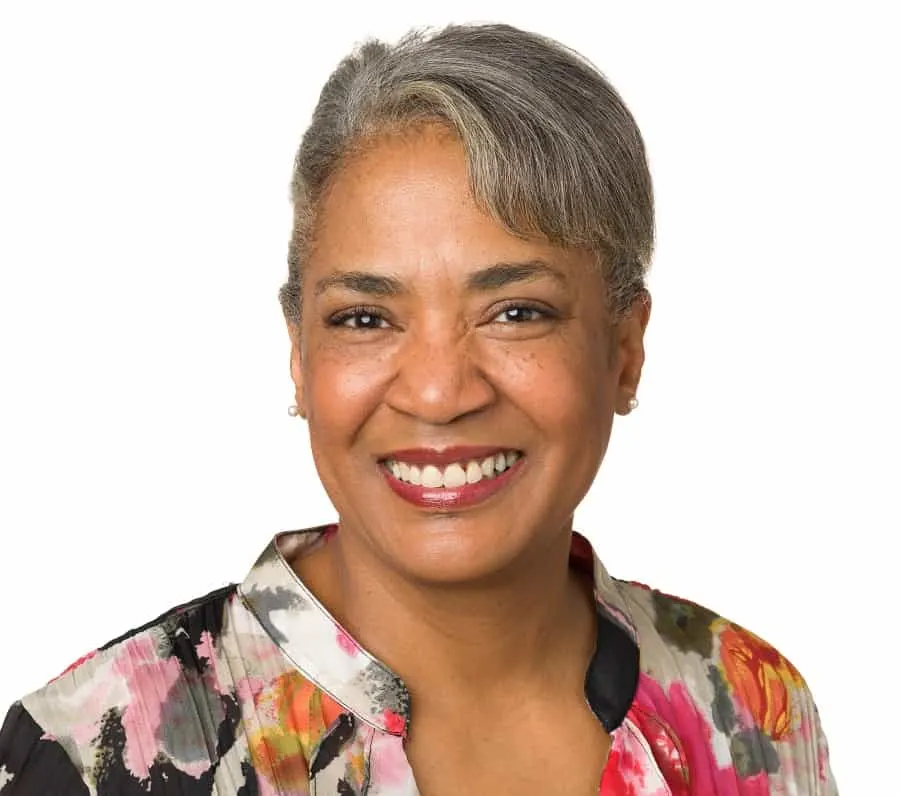 Pixies come in all styles, including this softer version ideal for Black women with a preference for chic cuts. The short side bang features a slight wave that is also easy to pin back for formal occasions.
7. Swooped Blonde Pixie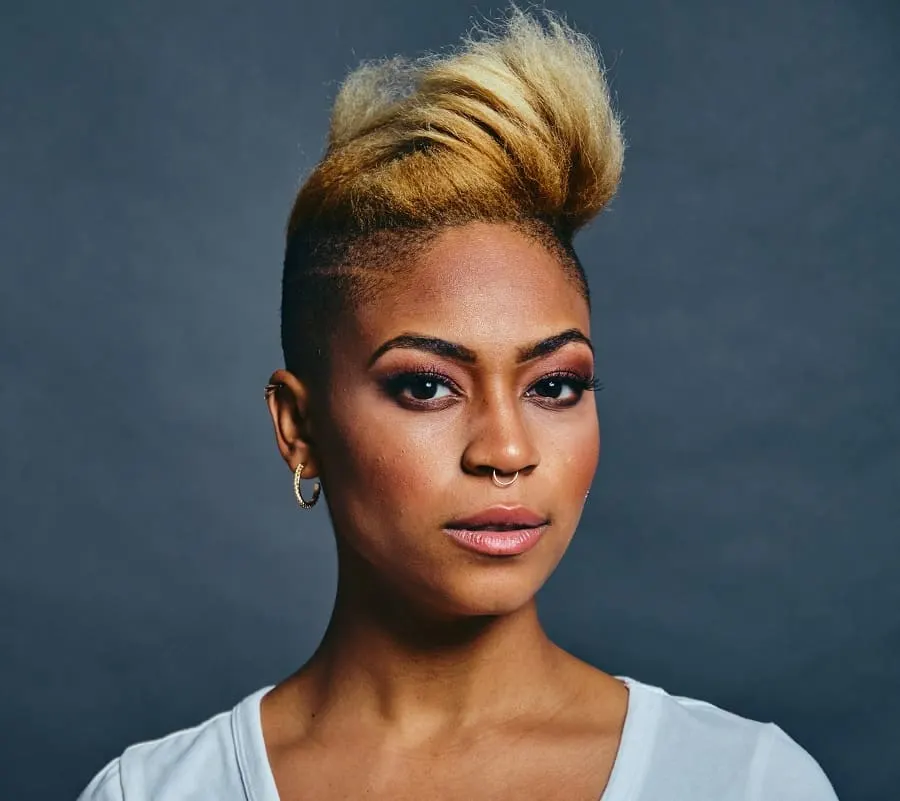 From the light blonde and copper coloring that complements a dark skin tone to the faded sides that frame an extra-long pixie cut, this style is packing a punch of detail. If you love playing with texture, this lengthy hairdo and its swooped shape is for you.
8. Afro Pixie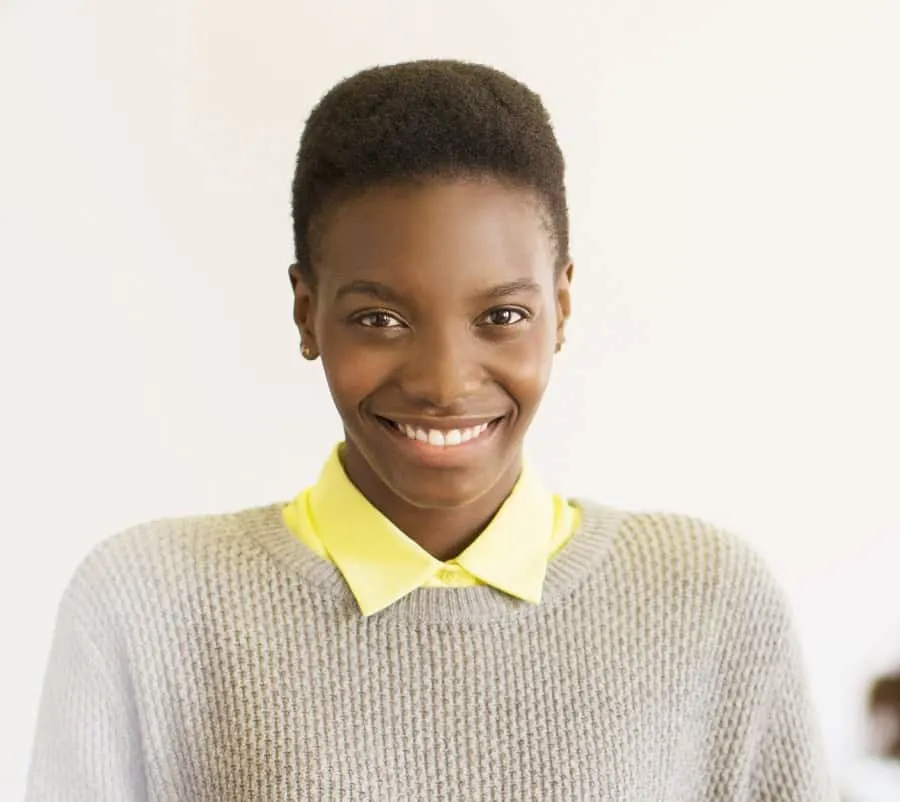 Is your hair thick and afro-textured? A pixie cut will show off the enviable body in a short but smooth and rounded shape. It's certainly one of the more low-maintenance versions of a pixie.
9. Thick and Curly
Curls can be a girl's best friend if they're styled correctly. A short haircut can be just as elegant on older women and it will definitely display your curls beautifully. Just tease your hair before perfecting curls to get this gorgeous thick look.
10. Wavy Half Pixie
Love your length but still curious about a short hairstyle? If you're up for something completely new and bold, we recommend this extra-long half-pixie. One side is full of thick waves while the other is buzzed short.
11. Springy White Curls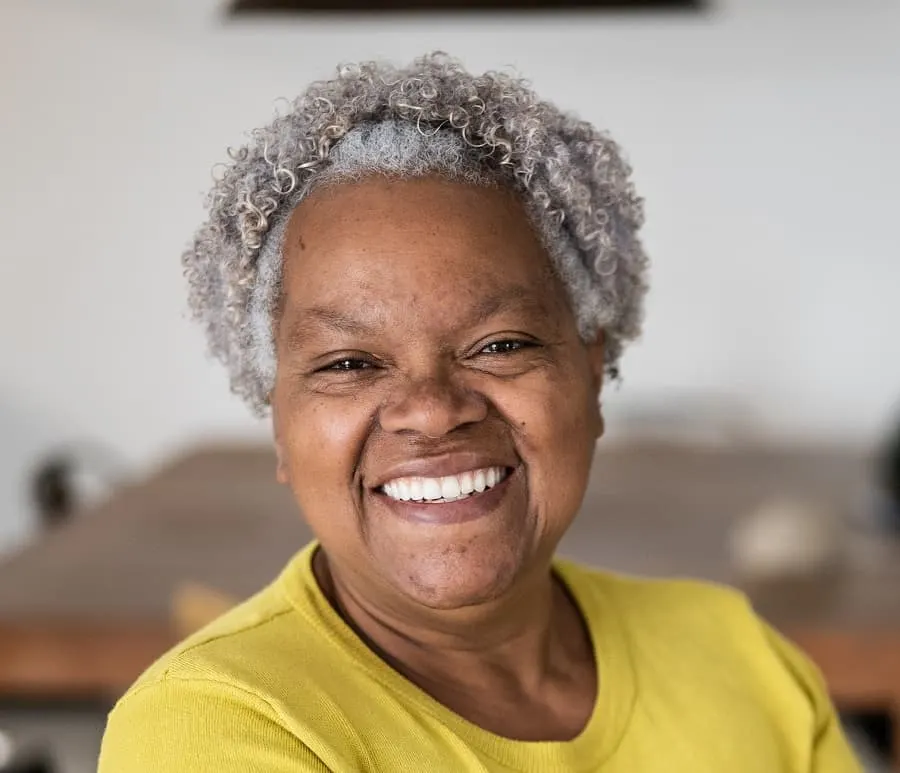 On round or oval face shapes, get quick style for your springy curls by using a headband to sweep hair back away from your face. Even older women with white or gray hair will feel youthful with this hairdo.
12. Hard Part Shortie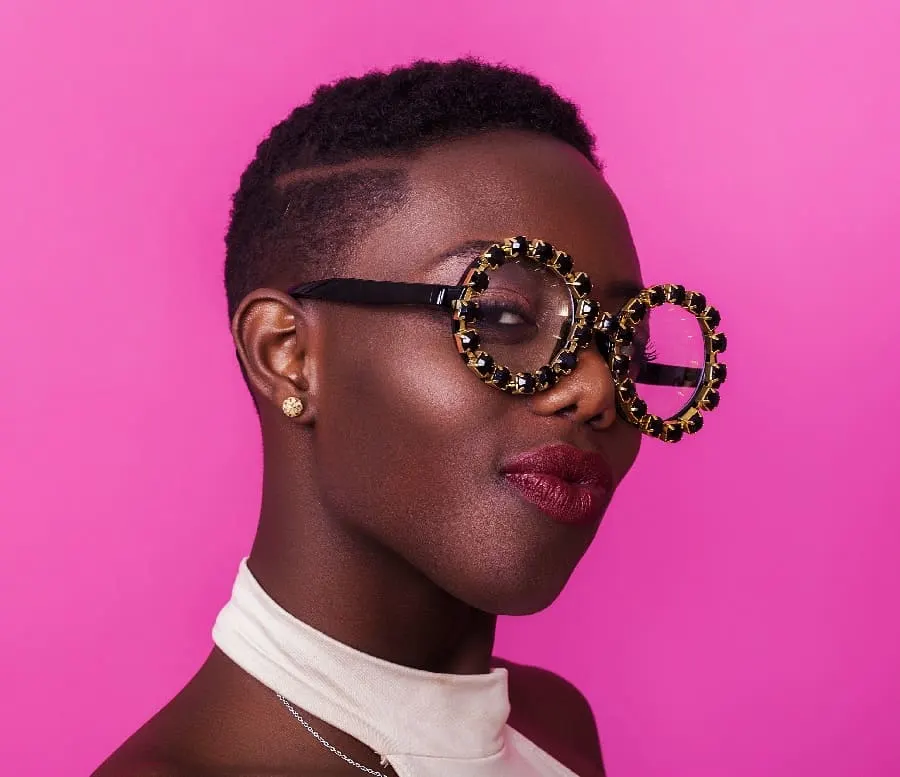 Bald is beautiful and you'll find out soon enough when you go nearly bald! A super short length is versatile in that you can add a hard part for an edgy touch, but go heavy on the makeup for a more flirty and feminine result.
13. Short Blonde Curls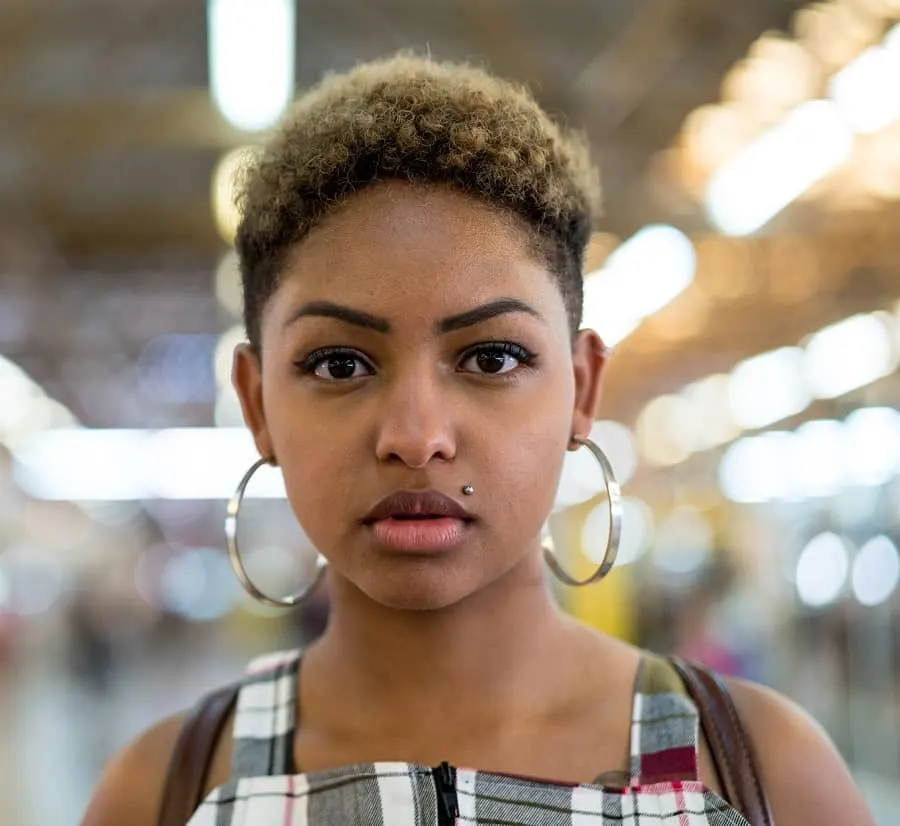 Light blonde gives a misting of color to these short curls. You don't even need to color all of your hair blonde – the black base color will peek through beautifully.
14. Undercut + Curly Pixie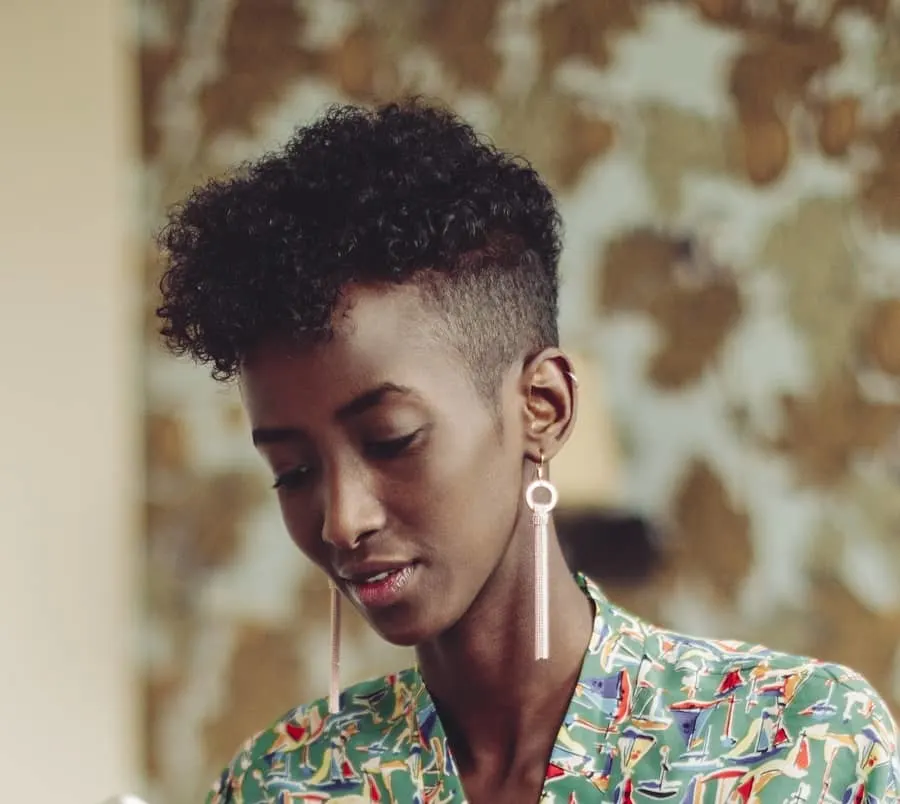 With any face shape, an undercut is a great hair technique to accentuate your angles or curves. These long springy curls are less thick and bulky, and more shapely with a pixie cut.
15. Straight with Red Highlights
If you do decide to go with a short pixie cut, you can always make it appear longer by straightening your hair.
These short choppy layers are more noticeable when straightened and with beautiful red and purple highlights.
16. Blonde and Brown Curls
For glam and dram, we love a pixie with extra large curls. With short layers, the blonde highlighted curls are beautifully shown off, especially because the bottom half of the hair is shorter and not curled.
17. Blonde and Pink Pixie
Black women often choose blonde haircuts and it's easy to see why. The lightness is a great complement to dark skin tones and it also beautifully rocks a hot pink streak, although any color will stand out awesomely.
18. Tri-Color Highlights
Black hair is another color that makes a great base for rocking bright colors. Pick your three favorite colors and use them to highlight a straight-textured pixie cut with long bangs.
19. Red Thick Layers
If bold and bright is your goal for a hairstyle, you can't go wrong with bright red. Let its fierceness catch everyone's eyes and draw attention to thick short layers in a pixie.
20. Pixie With Shaved Detail
Shaved details provide interesting contrast on a curly pixie for Black hair. If you decide to shave just one temple, make sure that the bangs fall over the eyebrow on the other side of the head. Soft layers are best for this look.
If you're above 50, here are some suggestions:
21. Blonde Pixie
Looking for a new color but want to make sure you complement your skin tone? A blonde pixie for a black girl is perfect for skin with warm undertones that contain hints of yellow, gold, or pink.
22. Layered Pixie Cut
Layered Black pixie cuts give you the chance to play with styling. Create stunning pin curl waves with your layers.
This looks focused on the bangs, but they can easily be pushed to one side or the other if a heavy fringe isn't for you.
23. Purple Pixie
Okay, you definitely don't have to rock purple hair, unless you want to, of course! Bold colors look great on a very short pixie but so do natural colors as well. This simple cut bares it all to reveal your beautiful face underneath.
24. Side Swept Bangs + Pixie Cut
Perfectly swept side bangs are the best tool for effectively framing your face. These bangs are short and precise to help highlight gorgeous eyes and eyebrows in an elevated way.
25. Black Older Woman with Pixie Hair
If you're an older woman with white or graying hair, show the world you aren't afraid of your age by rocking a cute pixie cut! The longest part of this style is in the middle, which is emphasized by the shorter sides.
26. Short Black Pixie
These tight ringlets are extra bouncy in a shorter length. To get the look, go short on the sides and pump up the volume in the top middle with a little product to enhance texture.
A major highlighting trend is an ombre pixie cut for Black hair. Seamlessly add color like this light caramel honey hue to the lower portion of the hair for a relaxed, grown-out feeling. Focus the color on the front of the sweeping bangs to make it pop.
28. Wispy Pixie With Undercut
Play with texture and volume with this incredible pixie cut. The undercut portion of hair should ground your look, while a small back portion and a large front portion use wispy layers to create volume and a fun, carefree feeling.
29. Frizzy Pixie Cut
Embrace your beautiful frizzy texture and utilize height to make a statement. If your face is round, then this sky-high look is perfect. Give your hair some direction by sweeping it to your preferred side for balance.
30. Deep Side Part Pixie Cut
Parts in hair can totally change the appearance of your face. This Black pixie hair for round face uses a deep side part to lengthen the appearance of a round face shape. These rust-colored bangs are side-swept and springy for a surge of interest.
31. Layered Caramel Pixie Cut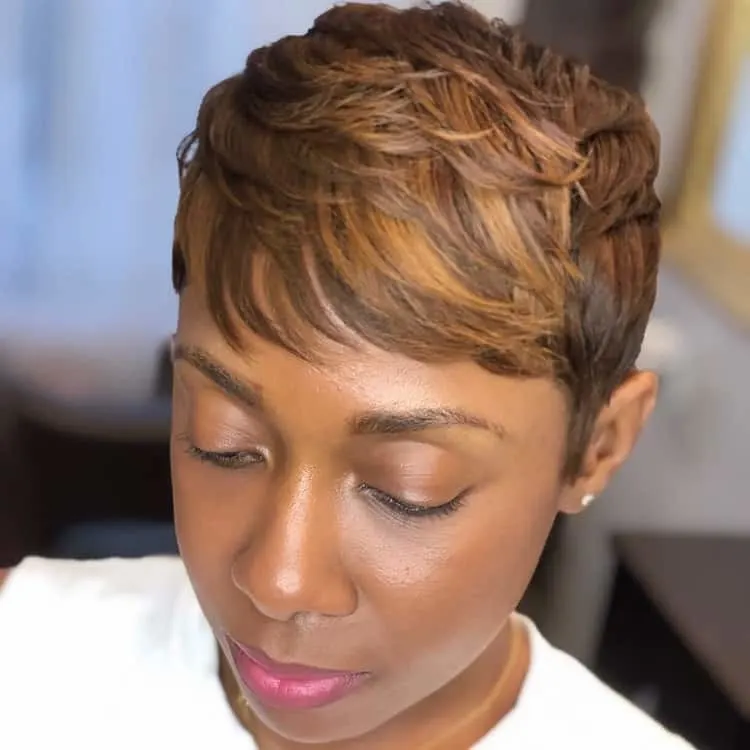 Layers are perfect for bulking up thin hair and adding interest to hair that would otherwise fall flat. These short layers start at the back of the head and move the energy forward before culminating in a short, soft fringe.
There are so many ways to rock short pixie styles. Go for a pixie bob, play with short or long bangs, and show off mounds of stunning curls. Which pixie for black women will you choose for your next cut?