When talking about braids that suit short black hair, there are so many options to pick from. Using weaves and Jumbo hair, you will be able to replicate almost any medium and long hairstyle without having to wait for your natural hair to grow.
Braids for Short Black Hair
From cornrow or box braids to long ombre hairstyles and even mohawks, short black hair will not be an obstacle in your way to a ravishing hairdo. Find out below some inspiring short braided hairstyling ideas for black women.
1. Bob for Short Black Hair
If you have short black hair, you will undoubtedly look mind-blowing with a blonde braided bob. Are you wondering how to obtain that? Platinum blonde Jumbo hair will be your aid in this journey of creating a stunning face-framing hairdo.
2. Mohawk for Short Black Hair
Cornrow braids that go upwards will create a gorgeous mohawk that will flatter any black woman with short hair. Make the knits as thin as possible and use curly hair extensions to extend the mohawk.
3. Short Box Braids for Black Girls
Short box braids can be styled in so many ways, suiting any black girl. Did you know that you can also transform your poetic justice braids into a layered hairstyle with bangs, just like the example above? Give it a try, girl!
4. Yellow Hair Crown for Short Hair
A crown curly braid will properly place any black girl into the spotlight. If you want something that really catches everyone's eyes, go for a bright yellow shade.
5. Short Braids for Kids
Short braids for little black girls can be styled upwards and pinned in two ponytails or a bun. It is quite hard to make your kid stand in one place every day while you fix her hair, so a knitted hairstyle is a thing you need to make those busy mornings bearable.
6. Crocket Curly Braids
It doesn't matter if you have short hair, crochet braids can totally transform your look. Go for an undercut on sides and use a curly weave to build three knits on top of the head. You'll pull off a chic hipster look that will win anyone's heart.
7. Twisted Braids for Short Black Hair
Short twist braids make any African American woman feel like a queen. All you need is a few packs of jumbo hair or braids that are already twisted and attach them as close to the scalp.
8. Cornrows for Black Women
Short feed in braids are a suitable alternative for black women who don't want to waste their mornings styling their Afro hair. Once your braids are done, make sure that overnight you wrap the knits in a scarf and sleep on a silk pillow.
Before you part your hair in two, detangle it with a wide-tooth comb or brush and use your favorite jam to make it easier to manage. Knit two braids for your short hair, and you'll get a hairstyle for black girls that keeps your strands in one place for the whole day.
10. Reversed Braids for Natural Hair
Create twisted feed in braids because they are a mind-blowing option for black women with short natural hair. Knit them upwards so they will end up in a mohawk on top of the head.
11. Lemonade Braids
Beyonce inspired so many women to wear lemonade braids, even if they had short black hair. To pull them off, you only need your hair to be 2 inches long. Use Jumbo hair to build them, and you'll feel like a real R&B queen.
12. Thick Cornrows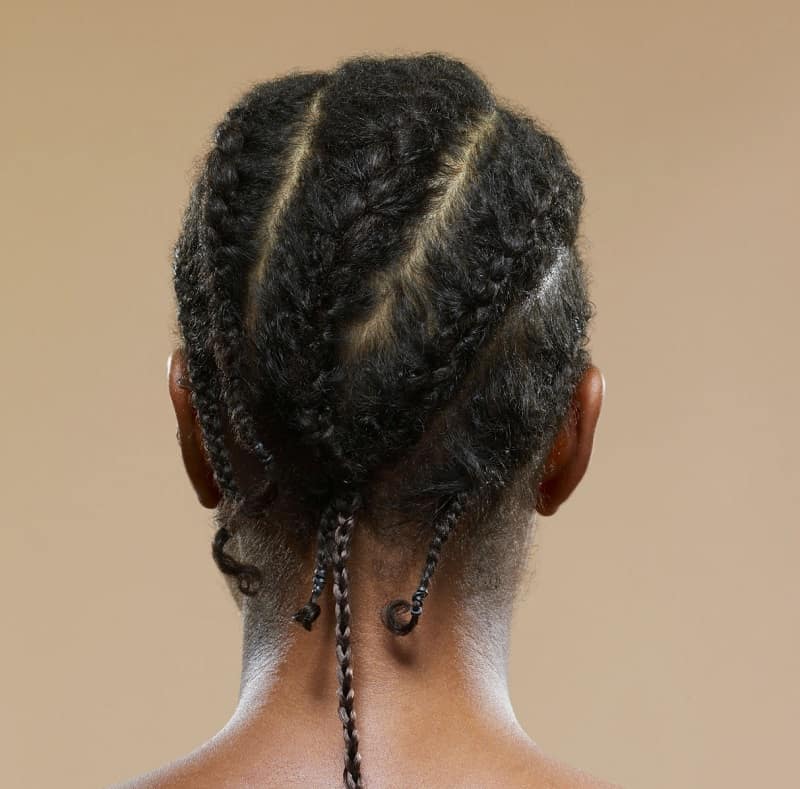 Part your hair in five equal sections and braid these locks following the hairline. Once you've reached the bottom, extend the knits with some hair extensions.
13. Half Cornrows
A half up half down braided hairstyle is such a marvelous choice when you have short black hair. Create cornrows only for the top hair and straighten the lower strands.
14. Braids for Afro Hair
You'd be tempted to think that there are not so many short black braided hairstyling options, but you're mistaken. Split your mane into multiple sections and create feed in braids and secure them at the bottom.
15. Afro Braided Mohawk

Afro hair has a lot of volume because the coils are somewhat frizzy and less curly. This type of hair is quite hard to style, and it requires a lot of maintenance. To create a hairstyle that will help you tame it, braid your sides upwards to build a mohawk.
Related Styles:
No matter what your plans are for the day, it would be best if you had a hairstyle with short braids. Believe us; they are the perfect match when having black hair that seems impossible to tame. Choose from a wide variety of ideas and use the one that suits and makes you feel more comfortable than ever.