Layered haircuts are a go-to option for women these days, especially women who have thick hair. Layering the hair simply means hair is cut at different lengths. It cuts down on bulky hair and creates swoon-worthy movement you'll fall in love with. Plus, layers work with all hair types! So what are you waiting for?
What Is a Layered Haircut?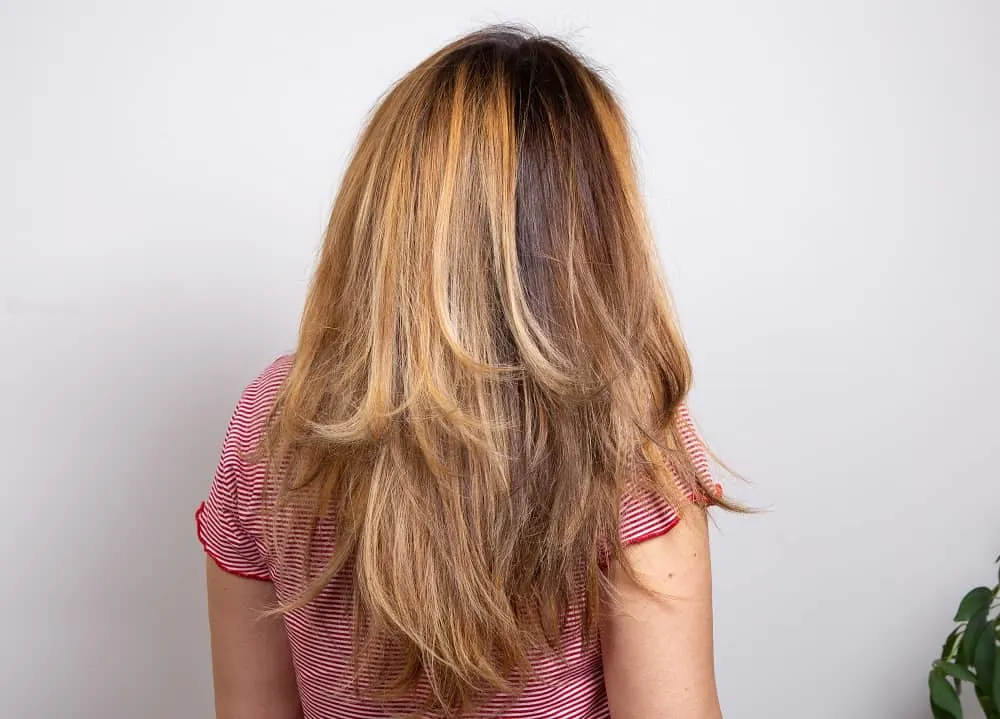 The meaning of a layered haircut is clear from its name. Getting your hair layered essentially entails cutting sections of your hair at various lengths. By doing this, the ends of your hair fall at different points of your head.
Typically, the section closest to your neck is the longest, and the layers get cut shorter as they get closer to the top of your head.
Getting layers can give the illusion that your hair is longer and more voluminous than it is. This is why many people choose to get this style of haircut.
When getting your layered haircut, you have some options. You could get short layers, which means that the distance between layers is rather short.
You could also get long layers, which create a more choppy and dramatic look since the layers are farther away from each other.
Long Layers Vs. Short Layers: A Quick Guide
Who Should Get Layers in Their Hair?
Anyone can get layers if they want them. They work for both thin and thick hair. However, you'll receive different benefits from the style depending on your hair type.
If you have thin hair, getting a layered haircut can make your hair look significantly more voluminous. If you have thick hair, getting layers will help reduce the heaviness of your hair.
Wearing a ponytail with thick hair can feel like it's pulling on your scalp and can cause headaches. Layers will help reduce that feeling. Getting layers in thick hair will also give your hair a little more movement.
How To Cut Layeres
Here's how to cut hair into the layered style:
You'll want to wash the hair first and leave it damp. Hair is much easier to manage and cut when it is damp.
Start dividing the hair into sections. You should have two sections at the front of the head, two in the middle right above the ear, and two towards the nape of the neck.
After you have the sections pinned back or up in hair ties, let one section at the nape of your neck loose. Grab a good pair of hair-cutting shears and hold them at a 90-degree angle. Trim the section to your desired length. Match this length with the other nape section. These two sections will be your longest layer.
Once you have your bottom layer at the length you want it, untie the next two layers. Still holding the shears at a 90-degree angle, trim these sections of hair evenly. They should fall a little above your bottom layer.
Now, you should have the two top sections left to trim. Let one section loose and hold it diagonally across the face between two fingers. Trim the hair at a 90-degree angle. This will help to frame the layer around the face. Do the same thing to the other side section.
Another way to do this would be to let one side section loose and cut it at a 45-degree angle. Then repeat this on the other side section. There is no crossing over the face with this method.
The final step would be to even out the layers if they aren't already.
Watch the Following Tutorial to learn How to DIY Cut Layers on Your Hair
Lovely Layered Haircuts
This list of 35 layered haircuts will leave you with plenty of options for updating your current hairstyle.
1. Long Layered Hair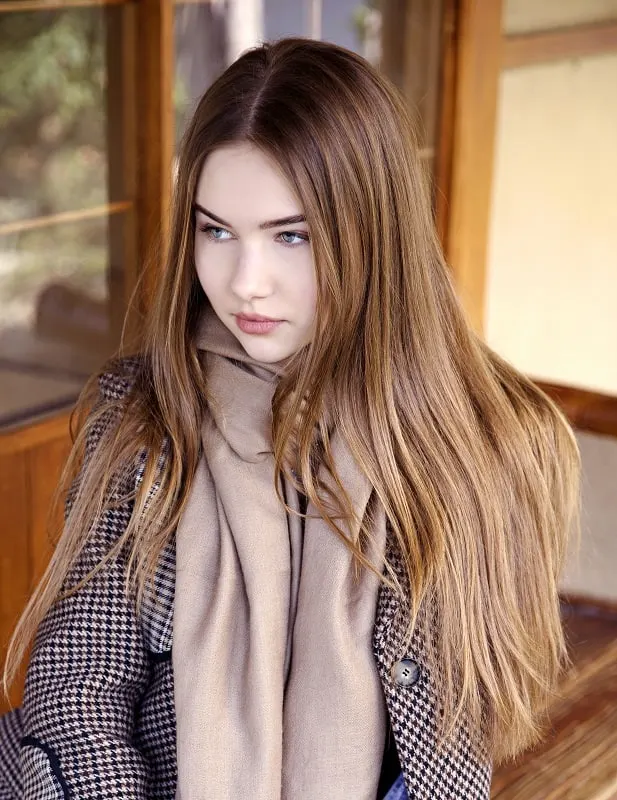 Sure you could wear your long hair all at one length, but a better way to style it is by adding layers. These are long layers so the first level of layering doesn't start until the shoulders.
2. Short Layered Hair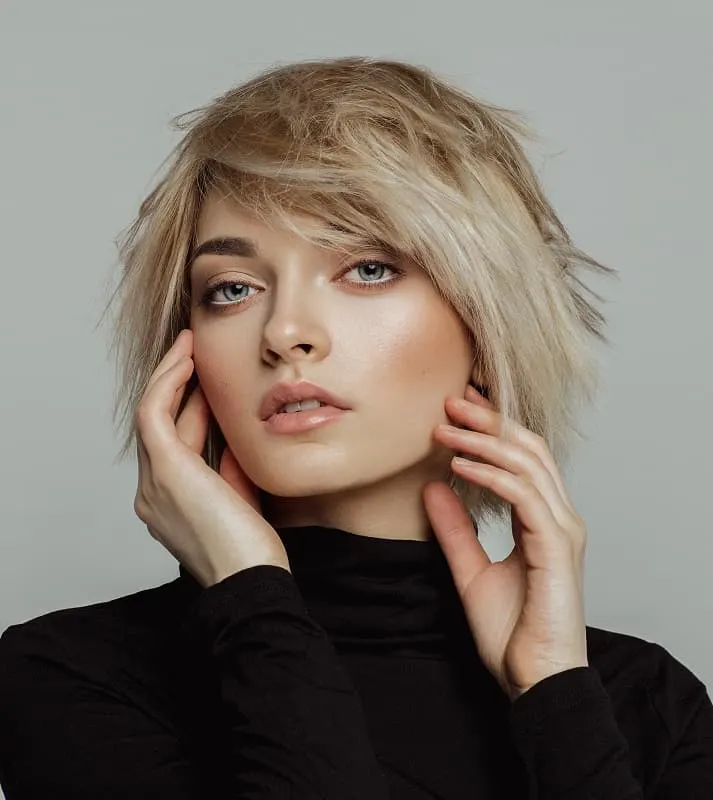 Do you have a short haircut you want to liven up? Short layers start closer to the scalp so not only do they create shape, they add texture up top you can easily manipulate with fingers.
These blonde layers begin at chin level and really pop when hair is straightened and draped over shoulders. When you have layers, you need only add a center part to finish off your look.
4. Layered Curly Hair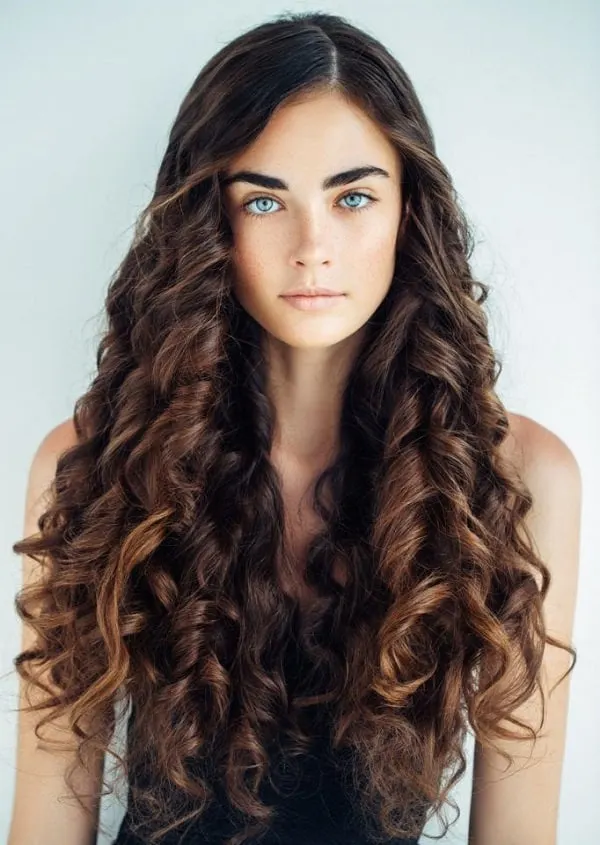 Curly hair tends to get thick and bulky, sometimes even messy if it's not tamed the right way. Whether you have natural curls or use a curling wand, adding layers is the best way to whip them into shape.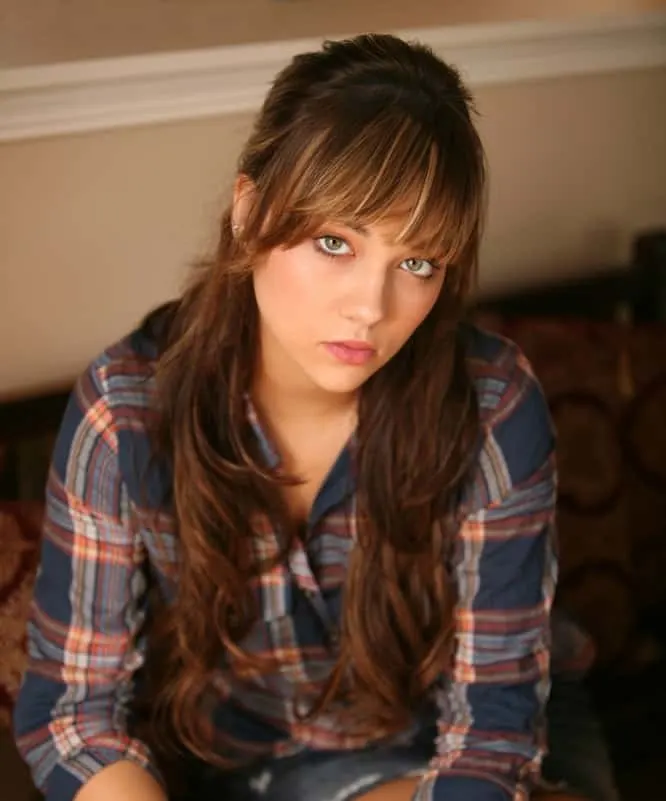 A half updo with straight bangs looks even better with layers. On brown hair with caramel layers and waves, layers add a slight feathering to help hair stand out hanging over shoulders.
6. Layered Straight Hair
For women with naturally straight hair, a layered look is very work-appropriate. This style features a slight blonde balayage, helping the look stand out even more.
Wear your layered hair loaded with waves and a statement headband to feel your best. Whether it's a wedding, date night, or you just want to look cute for work, this style will do it.
8. Choppy Layers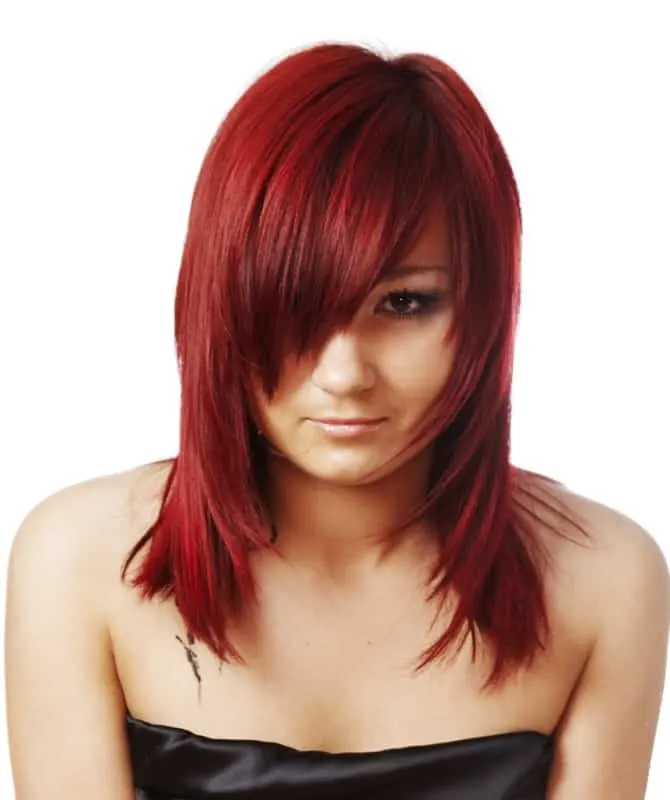 Choppy layers mean the hair is still cut into layers but unevenly. Many women choose these to add a rocker edge to their hairstyle, like this straight dark red look.
9. Layered Thick Hair
For my thick hair, layers are the key to keeping it manageable. If yours is as thick as mine, you'll love the amazing things layers do for making it easy to style.
10. Thin Layered Blonde Hair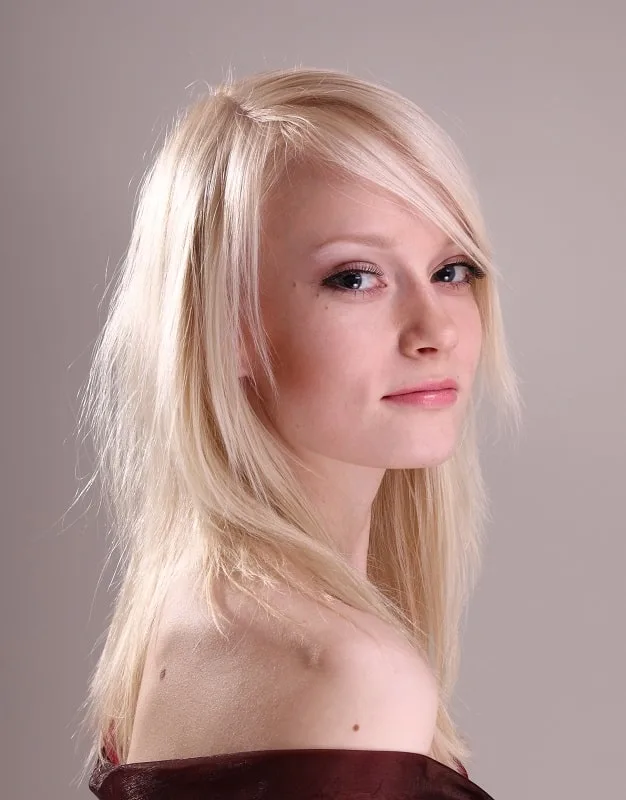 As if platinum was the only way to make thin hair angelic-like, adding layers will help to give the illusion of thicker locks. On straight hair, they're especially noticeable for their piecey appearance.
11. Face-framing Layers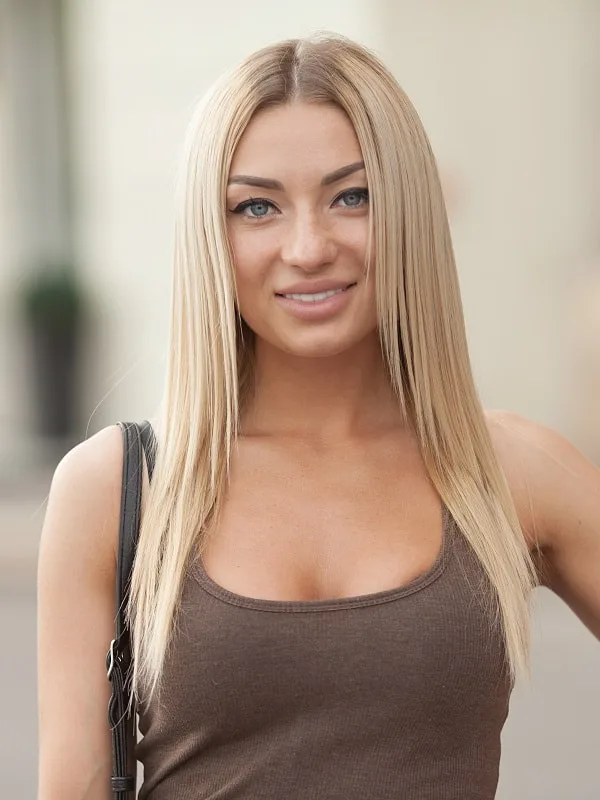 Layers that frame the face will never go out of style. Whether it's a round or oval face you're trying to flatter, layers that begin at cheekbones will give your face a whole new look.
12. Layers and Bangs
Amp a simple shoulder-length hairstyle by trimming it into layers starting near the jaw while covering the forehead with wispy eyebrow-skimming bangs. A hand tousle is enough to keep the layers in shape. Middle-aged women can add platinum blonde babylights for a detailed look.
13. Edgy Pixie Cut
This wonderfully layered pixie is the haircut to go for in 2023. Lighten the hair to a warm blonde hue and chop it off into layers with a longer side-swept fringe at the front. The subtle blonde babylights add an instant glow to the face.
14. Black and White Appeal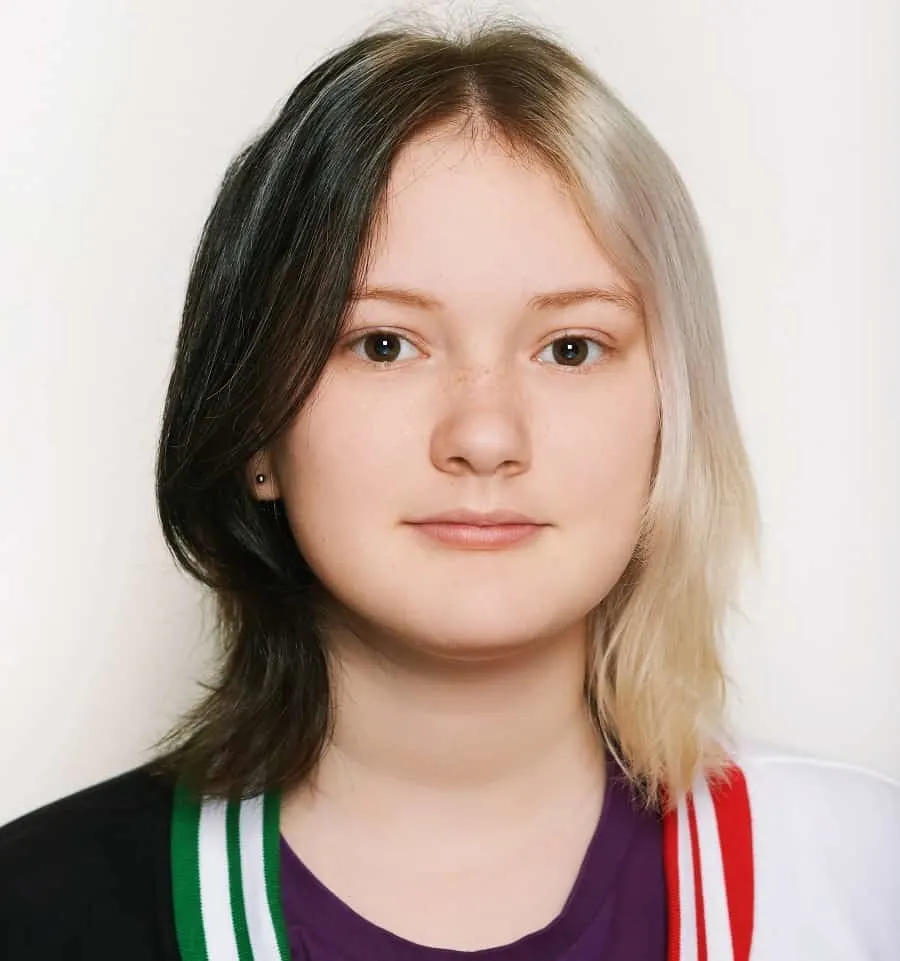 Young girls can keep all the eyes on themselves with this two-toned look. Half of the hair is dyed black while the remaining is in an icy platinum hue. The layering starts near the ears and continues to the ends with the lob sitting on the shoulders.
15. Layered Pigtails
Tired of your long mane but don't want to chop it off? Try adding connecting layers to dark brown locks that will enhance the volume of the hair while livening up your look. Style the hair in middle-parted pigtails to recreate this hairstyle exactly.
16. Feathery Look + Peekaboo Highlights
Ladies with naturally straight hair can also get layers on medium-length hair. Ask the hairstylist to start the layers near the crown and continue to the ends that are curled up to create a feathery appeal. The blonde peekaboo highlights will turn around many heads.
17. Highlighted Tips
Make those long layered tresses noticeable from a distance by dying the tips of the chocolate brown strands in a warm caramel hue. Add curls and style the hair in a messy updo with some strands loose and an embellished crown for an elegant appeal.
18. Blonde Balayage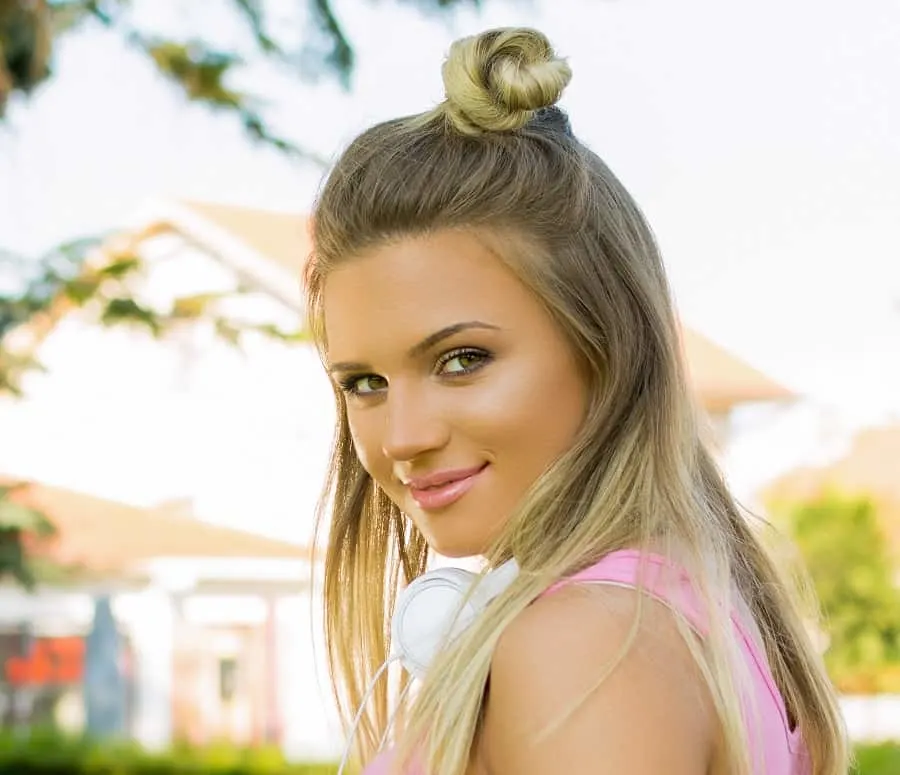 A balayage looks gorgeous on long layers and is an ideal way of lightening down the hair without dominating the natural base hair shade. Create this look by melting the light ash brown top into a vanilla blonde hue. Flaunt the two-toned hair with a top knot hairstyle.
19. Dark to Light Gradient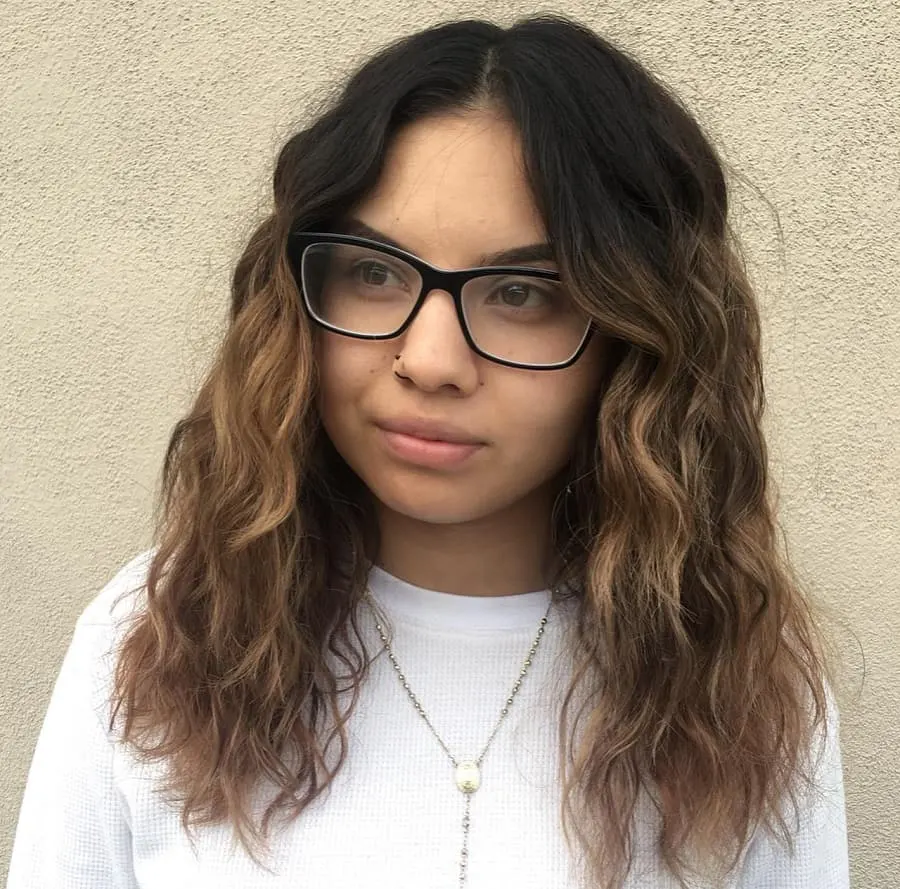 Show off your natural curls by clipping the medium-length hair in choppy layers with the dark roots merging into the blonde hue midway to the ends. Babylights add further detail to this look that is easy to maintain as the growing roots accentuate the hairstyle.
20. Curtain Fringe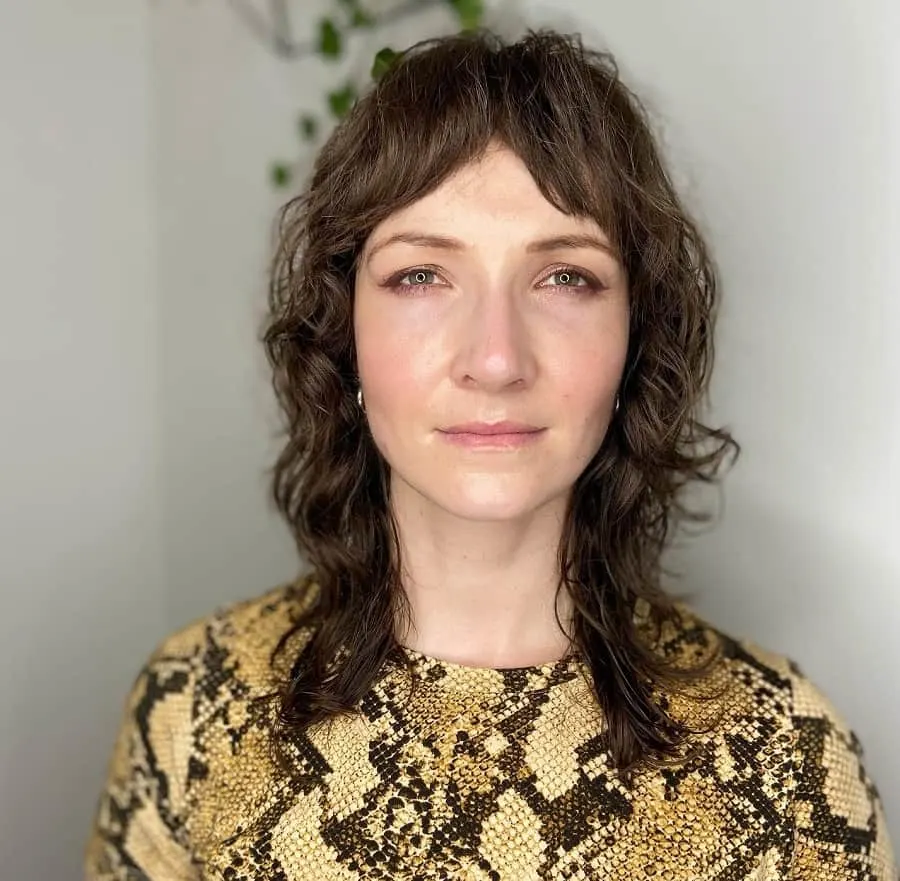 A curtain fringe covers a wide forehead and goes perfectly well with curly layered hair. This haircut is ideal for women with fine curls as it imparts some volume to them. The middle-parted fringe gives this style a chic appeal. Finger brushing is enough to style this easy-going haircut.
21. Short and Sassy
This lovely layered haircut is perfect for women over 50 to flaunt their greys while young ladies can pull it off too. Get as many layers as possible all over the head. This haircut is low-maintenance and a hand-tousle is enough to style it.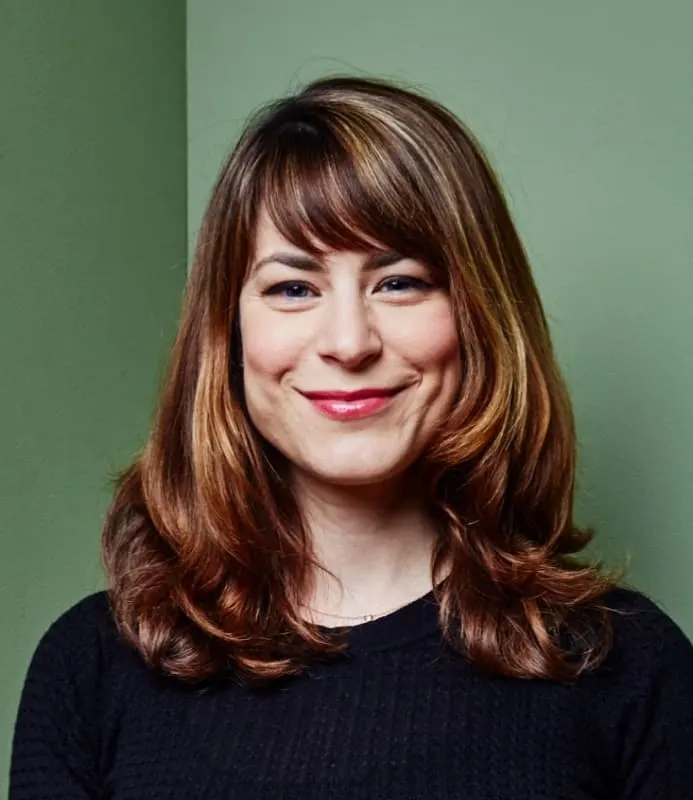 Why let your hair lie limp against your head when layers will give the body some shape? Worn with soft side bangs, this short style with waves is a great hairstyle for any woman.
23. V-Cut Hair with Layers
To create a V-shape with your hair, you'll want to start layers at least 5 inches up from your hair's ends. Slowly add in longer layers and brush hair straight for the most noticeable effect.
24. Layered Blonde Hair
A blonde haircut is definitely for the girl-next-door and you can make it even more attractive with layers. Worn straight with curtain bangs and your favorite dress, it's super chic.
25. Layered Hairstyle for Black Women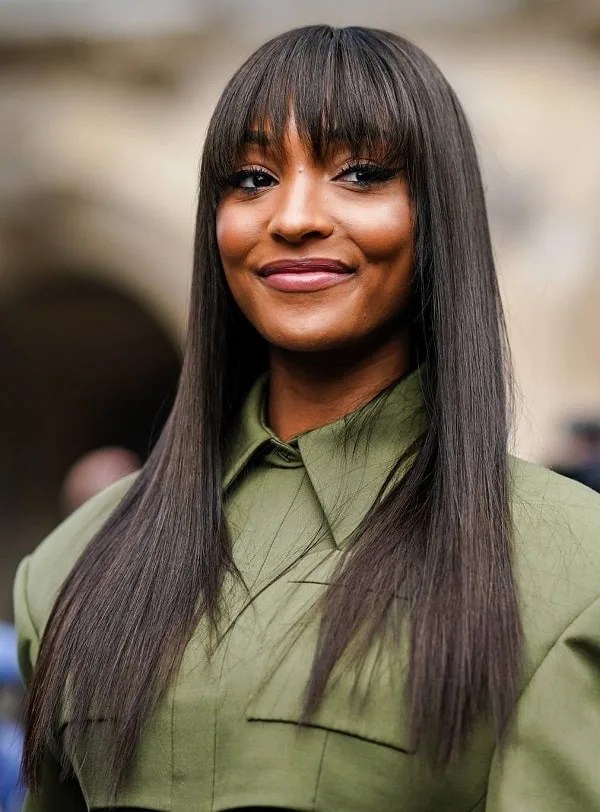 In between haircuts and want something simple yet stylish? A straight black weave with layers and long straight bangs takes only minutes to style in the mornings, so you can look good in a flash. If you prefer shorter hair, go for layered bob.
26. Layered Bob
Avoid the boring rounded shape a bob haircut can look like and add layers. With bouncy curls for body and a cut that stops at the jawline, it's the ultimate flattering short haircut.
27. Layered Brown Hair
Against light or medium brown hair, highlighted layers stand out beautifully. It's a classy style for the woman who prefers chic traditional cuts.
28. Asian Girl With Layered Hair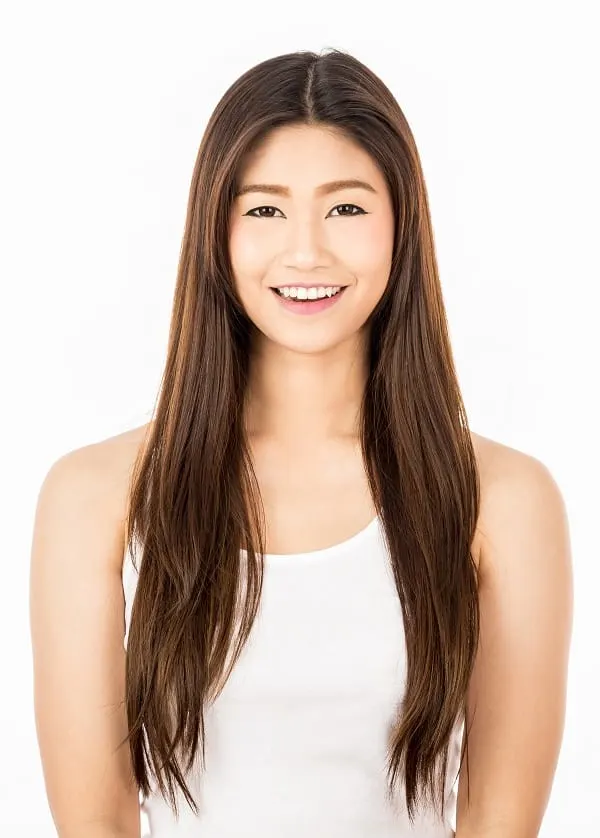 Many Asian women tend to have straight hair. Since this texture of hair is easy to work with, adding layers will only make it easier. Try a rich chocolate brown for even more beauty.
Prefer thick luscious locks for your short hairstyle? A bit of teasing and layered curls will bring all eyes to you. Part hair in the center and add blonde highlights to make your curls pop.
30. Feathered Layers
The crown of this hairstyle is teased to add volume while the layers are feathered to create wispy ends. A rich chocolate brown color pulls it all together.
31. Shaggy Layers
Avril Lavigne once rocked shaggy layers and girls went crazy. It's back in style and you can get it by asking your stylist for slightly messy, razor-cut layers.
32. Layered Hair with Highlights
Another great thing about having a layered haircut is you can easily create a beach babe look. Give your hair a heavy part to create blonde highlighted tresses that are lusciously voluminous.
33. Layered Hair for Round Face
A round face needs a shaped hairstyle in order for the face not to look even more round. Start your layers at the cheek so that whether you wear hair parted in the center or off-center, your locks will flatter your angles.
34. Layered Hair into Ponytail
While layered hair looks beautiful worn down and loose, it looks equally as pretty gathered into a ponytail secured at medium height. Wrap a section of hair around the base to disguise an ugly elastic.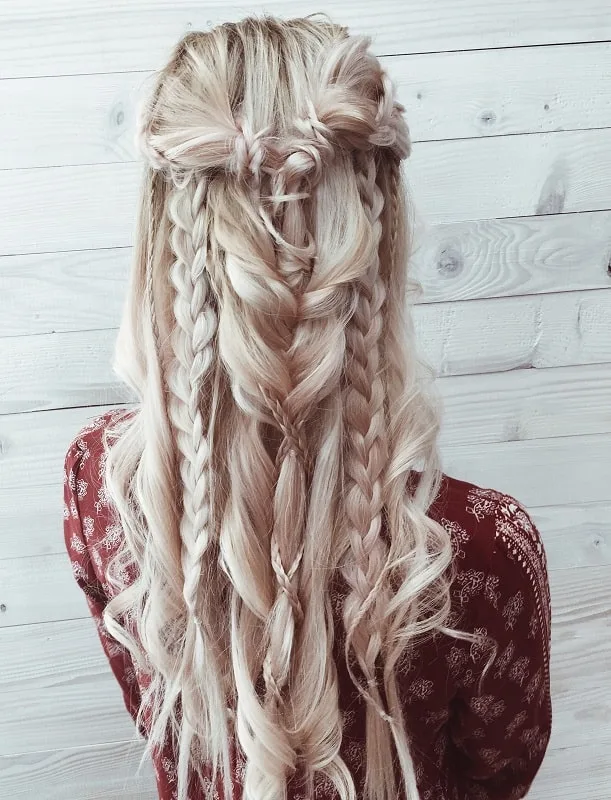 This dressed-up formal hairstyle for layered hair features braids of varying sizes intertwined with waves and curls, perfect for a wedding or date.
Layered Haircut Vs Feather Cut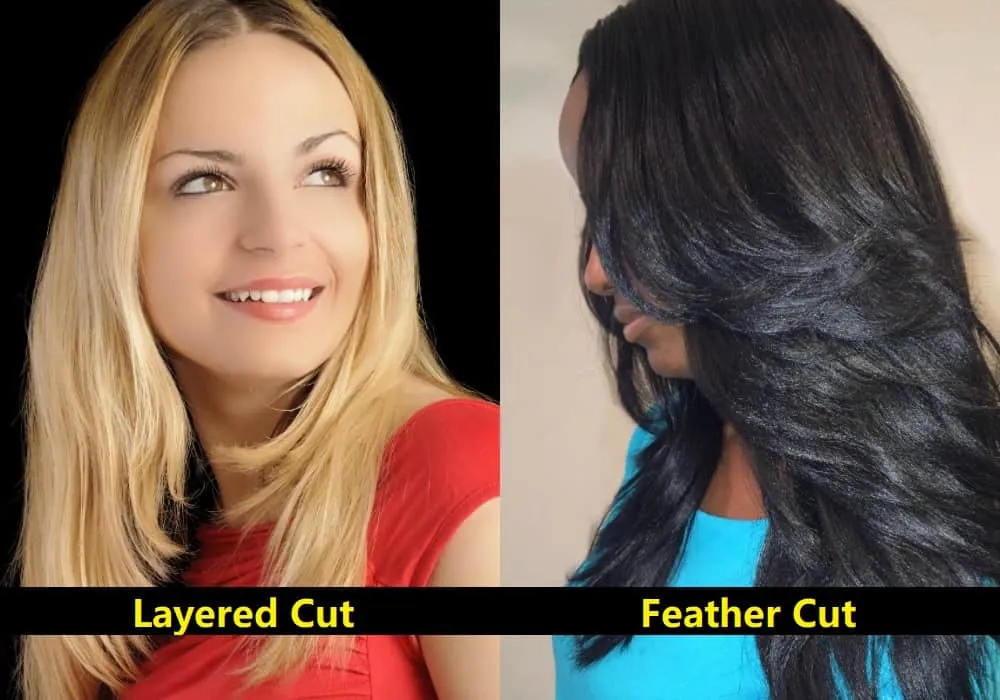 While a layered haircut requires cutting sections of hair at varying lengths, feathering is a technique that is typically done to layered hair. A feather cut is a way to shape and texturize the ends of your hair.
To feather the ends of your hair, a hairdresser will typically hold the hair-cutting shears at about a 45-degree angle and cut the ends of your layers. Once the hairdresser finishes, the ends of your hair will look like wispy feathers. This is where the cut gets its name.
The feathering technique will look good on any type of hair, as long as you have layers.
FAQs
Here are some commonly asked questions about layered haircuts.
Does a layered haircut suit wavy hair?
Yes! If you get layers with wavy hair, it will give your waves substantially more dimension. One-length haircuts tend to make your hair look a little triangular. Layers will break up that triangle and give your hair a dynamic shape and accentuate your waves.
Is a layered haircut good for thin hair?
Yes! Thin hair can significantly benefit from layers. Thin hair naturally looks quite flat. But, when you add layers to thin hair, they make it look voluminous and give it more lift. Layers will essentially make thin hair look a little thicker and fuller.
Are layers easy to maintain?
While layers are not completely maintenance-free, they are quite easy to maintain. You'll need to visit the salon about every one and a half to two months for a little trim. If you don't go during this time frame, the layers will grow out and might start looking a little uneven. Doing this will keep the dead ends at bay too.
Layers or one-length – which one should I choose?
This depends on what you're looking for when it comes to your hair. If you want more volume and definition in your hair, then layers are your best bet. If you want to lighten the weight of your hair, layers are also a good option.

But, if you're looking for maintenance-free and want to keep your hair thick, then cutting it at one length is better. One-length haircuts only require you to go in for trims a few times a year and will keep your hair at the same level of thickness all over your head.

Here's a summary of things to remember when choosing between layers or one-length styles:
● Layers are best for increasing the volume
● Layers help to lighten the weight on your head
● One-length haircuts are maintenance-free
● One-length haircuts allow for uniformity in hair thickness
What are the benefits of layering my hair?
Layering will give your hair more shape, volume, definition, and movement. Layers can also be flattering because they act as a frame around your face. Another perk of having layers is that your hair will be easier to style.
Can layers cause split ends?
No. Layers don't cause split ends. Damage is the cause of split ends. Constantly straightening, curling, or dying your hair is one of the main reasons people get split ends.

Heat and chemicals essentially break down the layers of your hair strands. Even simply being in the sun for too long or towel-drying your hair can cause split ends.

Normal wear and tear and damaging styling techniques are the causes of split ends. This is why it is crucial to get haircuts. To keep your hair healthy, you must get your split ends cut off about every three months or they will continue to split and cause further damage.
Can I fix choppy layers?
Your best options when trying to fix choppy layers are to either let your hair grow out or try to trim the layers to even them out. A professional hairstylist can help even out your layers if you are uncomfortable doing it yourself.
Be honest: how many of these layered haircuts did you fall in love with? If your answer is all of the above, start today with your favorite and try them all!
You May Also Like