The hipster hairstyle is all about taking something ordinary and making it extraordinary. Almost any haircut for men can be turned into something hipster by adding a cool and unusual twist to it. A lot of people take their inspiration from men's fashion magazines and then add their own style changes to it, to help to reflect their personality.
The Most Elegant Hipster Hairstyles for Men
A lot of people associate hipster hairstyles with plentiful facial hair, but you don't need to have a beard or a mustache to pull off a hipster hairstyle. Many of the hipster hairstyles that you will see in the list that follows look great with or without facial hair. You can even try mixing your hairstyle up with a really unusual style of facial hair.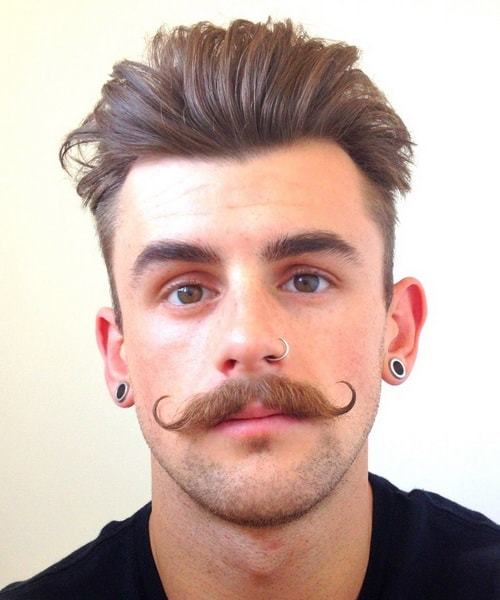 A handlebar mustache is the ultimate hipster accessory. Enhance any hipster hairstyle by teasing your mustache into thin handlebar curls.
#2: Hair Raising
Run styling gel through your hair with your fingers so that it is quite stiff. Comb upwards from the roots and carefully remove the comb so that it stands straight on end to create a hair-raising hipster hairstyle.
Best Blowout Haircuts for Men in 2020
#3: Spikes with Full Beard

A hairstyle which integrates a full beard is a common part of the hipster look. For a trendy style, keep your sideburns to a mid-length whilst growing your hair and your beard thicker and longer.
#4: Tousled Hair with Side Parting

Put a small amount of styling product in your hand. Start from one side of your hair and run your fingers across and upwards to give your hair a touchable tousled look.
#5: Choppy Tousled Peaks
Cut different lengths into your hair and then use styling gel to pull it up into spikes. You may need to use quite a lot of gel to make sure that your peaks hold their shape.