Even though some guys think that long hairstyles for men are too complicated to bother with, they are not going out of style. There are still many men out there who are ready to take care of their locks in order to look stunning. In fact, there is nothing hard about maintaining a long haircut especially when it becomes a habit.
There are many different long hairstyles to choose from. Some of them require just a few strokes with your hairbrush while others need a more serious approach. Whatever hairstyle you choose for yourself, men with long hair always look romantic yet manly. A guy with long hair is often associated with knights in shining armor from the era when long hairstyles didn't surprise anyone. So growing hair long is a great way to boost your self-confidence!
Men's Long Hair: Yes or No?
The definition of long hair varies in different societies and cultures. Many prestigious groups such as upper-class Americans don't accept it well and consider it as contradictory to social standards.
Also, long hairstyles are less suitable in the conservative workplace so it's better to avoid it in this corporate life. But all workspaces are not the same. Keeping long hair does not seem to be an unusual or troublesome thing for the man who works in a counterculture industry. Also, it can be seen that almost every punk rocker loves to style with long hair which has now become a trend.
So, whether a man can keep long hair or not totally depends on him and his culture. Because men in various sectors may have separate priorities and choices.
It's true that short hairstyles are easy to style and need less maintenance. Also, a man with short hair doesn't have to face any negative reactions as sometimes the long hair may seem to be annoying to some people. It's also the fact you can style your hair more if you own long hair and it's damn attractive to most girls! So why care if you like long hairstyles! Go for it.
Long Hairstyles for Men in 2021
There are a lot more different approaches to long hairstyles for men than there are for short ones. Every year, new trends are being created and some old ones are being improved. 2021 is just in and guys with long hair are working on impressive new options. So if you already have long locks or are planning to let them grow, you'll find these 50 styles useful for your future look. Here is a list of 50 men's coolest long hairstyles to get inspired.
1. Let your long hair down
Not many guys are brave and patient enough to grow hair below their shoulders. But if you are one of them, make sure to wear it down. Flaunt the length but don't forget to keep it neat.
2. Windblown bob
This amazing messy long hairstyle for men will make girls turn their heads your way. However, this haircut requires some maintenance. Keeping the ends styled to create a windblown appearance might be a hard job.
Wanna Try Something New? Try Trendiest Fade Haircuts
3. A loose bun
Keeping your hair down is complicated since it requires constant brushing and a lot of hairspray. Consider sweeping it backward and creating a loose bun. Just make sure to find a thin elastic band so it's not too obvious.
4. High ponytail for men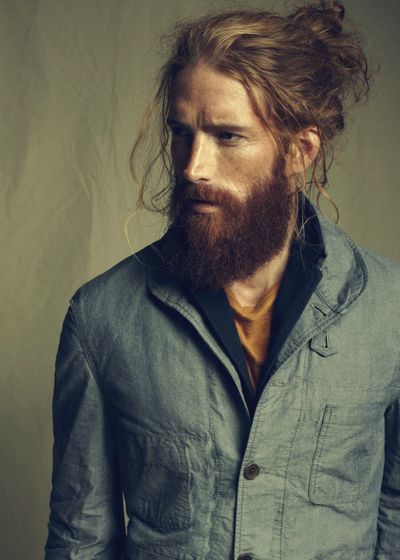 A high ponytail is a quick fix hairstyle that you can use whenever you just want to make your hair stay out of your face. But take a close look at the front strands. Leaving them loose is a sexy approach.
5. Tight high bun
A high and tight bun is a hairstyle that suits any occasion. In fact, it makes you look as if you've got a short hairstyle. So whenever you need to go to some formal event, a high bun is a good choice.
6. Messy Long Bob
Bobs create an appealing romantic image you always wanted. A messy bob will add some mystery to your appearance. Create this hairstyle by using some hair gel and running fingers through your hair lightly.
7. Growing long pixie
This is the simplest way to go about a long hairstyle for men. All you need to do is keep your favorite hairstyle but grow your hair just long enough to create some locks for combing over.
8. No bangs
Bangs are probably the hardest part of a hairstyle to deal with. That's why if you don't have a high forehead, you should avoid creating bangs. Bobs without bangs look fantastic on their own.
9. The Men's Wet Long Hairstyle
One of the simplest ways to go about styling a long hairstyle is to use a lot of hair gel. Apply it with your fingers and brush your mane backward. You'll forget about the touch-ups for the whole day.
10. An ombre
If you have long hair, you can take advantage of the most popular hair coloring techniques such as an ombre. Try to keep the colors you choose for your hair close to natural.
11. Eye-covering bangs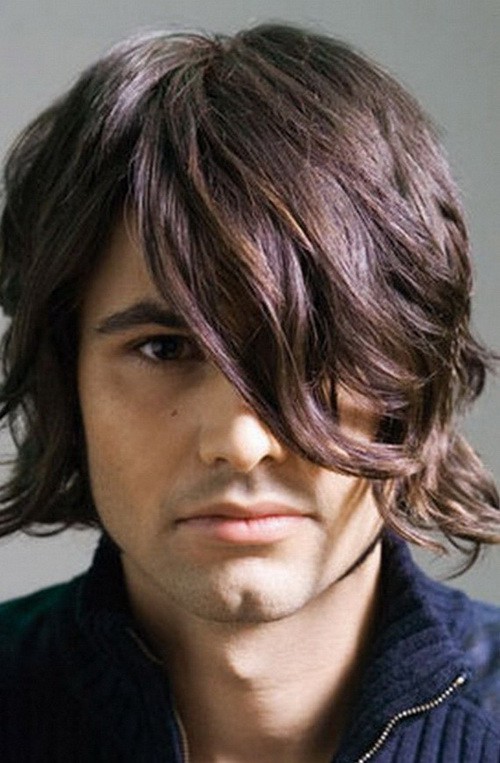 Eye-covering bangs are trendy but need a lot of care. If you have straight locks, long bangs are a good choice. But if your tresses are thick and wavy or curly, get ready for a fight.
Haircuts for Men With Round Face
12. Side part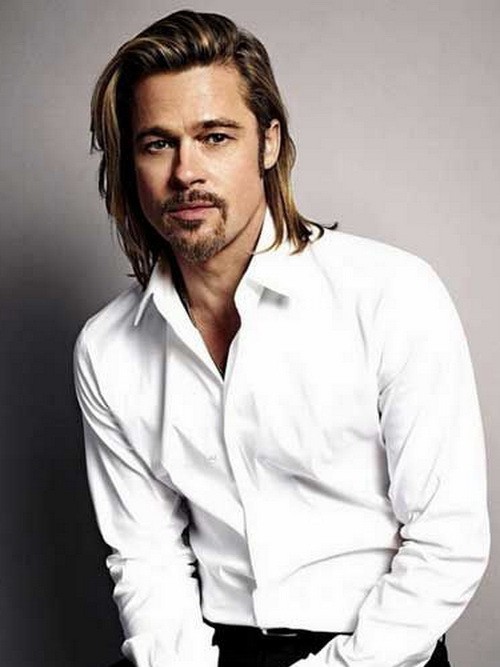 A side part and a comb over make any long hairstyle for men look attractive. It looks as if you carelessly brushed your hair to one side. But it takes some more effort than it might seem at first.
13. Pixie shag
If you like to flaunt your thick and wavy locks but don't want to take care of very long hair, consider creating a shaggy pixie. Leave the hair long enough on top to style and short on the bottom to avoid frequent touch-ups.
14. Side swept bangs
If you have long bangs, there are many ways to play around with them. Consider messy side swept fringe that covers your eyes just a little. You will love the mysterious look you'll get.
15. Long and curl
A large and curly mane can scare some guys of so if your hair is long enough to try it, you can get a unique look you always wanted.
16. Neat and long
There is no reason to forget that long hairstyles for men can be neat. A guy flaunting such a hairstyle can look very respectable. Just make sure to keep the hair brushed and apply hair gel every day.
17. Long Layers
Growing long hair isn't simple. You need to cut the ends every few weeks to keep it neat. Consider creating a layered haircut. It will look much neater than just simple long strands.
18. The obvious decision
The easiest way to grow long hair is to just leave it be. Your locks will grow long on their own but don't forget to take good care of the bangs. Neat bangs will create a cared-for image.
19. Curly and tough
Wavy and curly locks are hard to take care of. So if you are a lucky owner of beautiful curly tresses, you need to get ready for complicated maintenance. But the results will be stunning.
20. Longish bob
Longish layered bob is one of the most popular long hairstyles for men in 2021. If you have straight or slightly wavy hair, this bob will look great on you.