Slick back hairstyles are the ultimate way for a gentleman to stay trendy. They are so versatile, come in so many amazing shapes and forms. Available for long or short hair, the slicked-back hairstyles are here to make your whole appearance so much better.
How to Slick Back Hair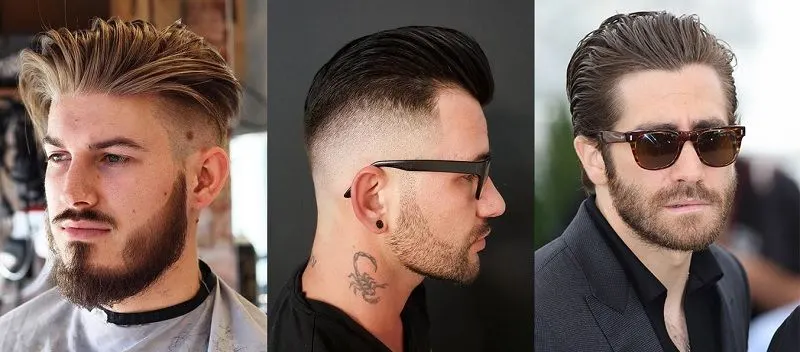 Achieving that slick back look can be hard in the beginning. With the right tools and products, you will very soon do it like a pro. The only thing you have to know is that you can either use a hair comb, to perfectly sleek the surface of the hair, or fingers for a messy ending. When it comes to products, there are several types.
The hair pomade comes as water-based for a natural finish, or oil-based for a glossy, shiny look. Waxes, clays, and sprays are less strong compared to pomades and perfect for everyday use.
How To Achieve a Perfect Slick Back Hairstyle
If you don't like all kinds of hair products, you'll need to make friends with at least some of them. Your new best buddies are hair gel, hair pomade, and a comb. But, before you start making a slick back hairstyle, remember that it's almost impossible to make a mistake. So please take a deep breath and go for it.
You don't have to wash your hair right before making this hairstyle. It looks even better if you haven't washed your mane since yesterday. The hair styling products seem to settle easier on not-so-clean hair. That's why this hairstyle can become your favorite quick save in the morning.
Dampen Your Hair
Use hair gel, styling cream or pomade to dampen your hair. You have to cover all of your hair with the styling product, not just the part you will be combing back. This way, the entire hairstyle will be uniform.
Combing Back
Use a simple medium-tooth comb to brush the hair backward. You should start at the front hairline and proceed until the nape's hairline. Thrust the hair backward and apply the pressure in a straight line. Follow the contour of your head to make straight strokes.
Be Consistent
The first stroke you make should start in the middle of your forehead. This way, you'll have something to follow. Once the middle strand is slicked back, you can proceed with the consistent strands on the sides. Ensure you get all the strands under control, and no stray hair is sticking out. You might need to apply a little more pomade.
Be Gentle
The slicking process is done by applying gentle pressure on the comb as you run it carefully through your hair. You can angle the comb backward to make the slicking easier. Then flatten the hair as you wield the comb through it.
Don't Forget the Retouches
Once you finish the main process, you should take a long look in the mirror. Next, take another mirror to check out what you have in the back. If the hair doesn't look uniform all around your head, you'll need to do retouches. The locks must follow the contour of your head perfectly. If there are any bumps or stray strands, re-slick the hair. You won't even need to add hair products most of the time. You can fade the sides to get a sharper look.
Best Slicked Back Hair Ideas
1. Long Slick Back Haircut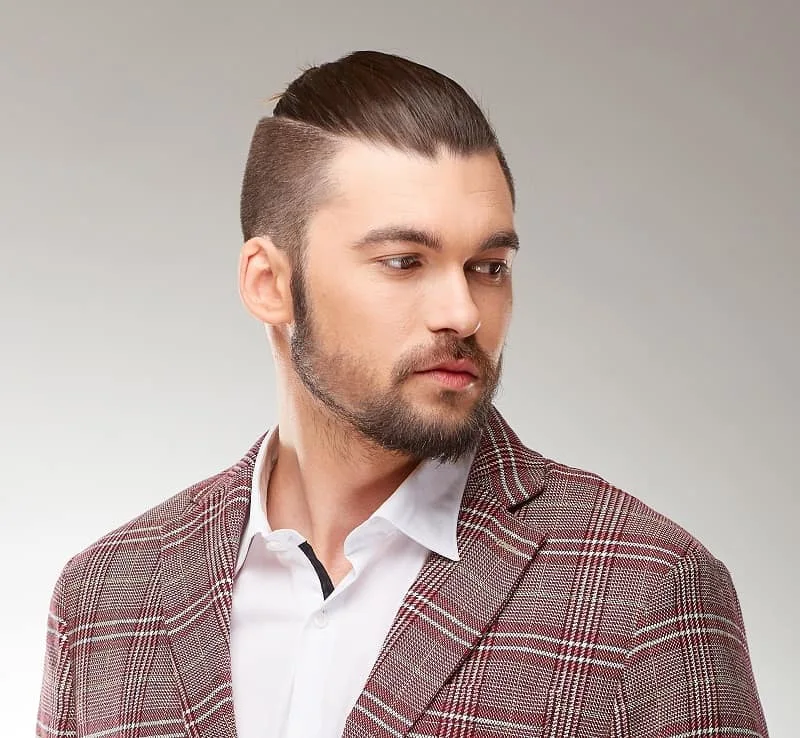 The top of this men's hairstyle is long and slicked back into a small man bun or ponytail. The sides are short and kept, matching the facial hair for a fresh look.
2. Slick Back Braids for Men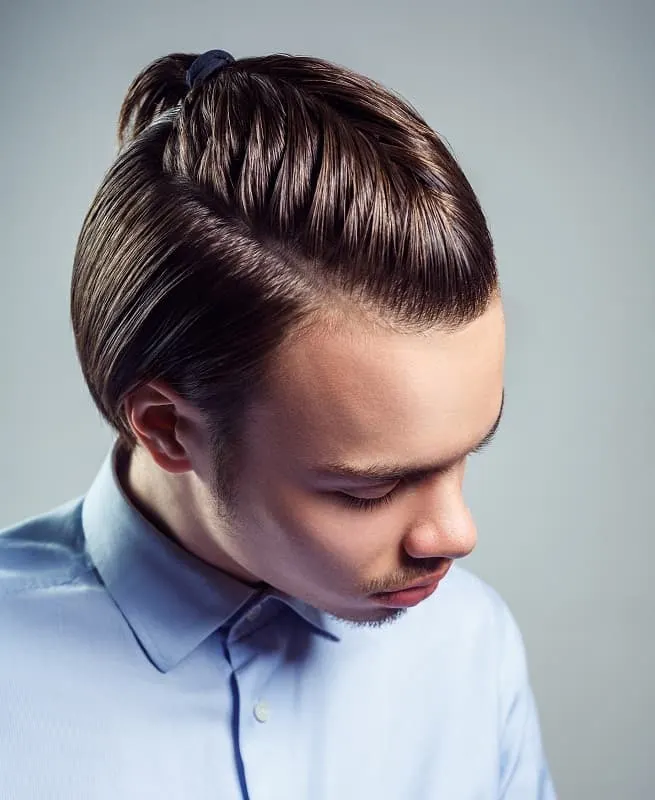 Braids aren't just for women, and this long slicked back hairstyle proves it. Braid the top long hair back into a ponytail and leave sides long and smoothed down.
3. Slick Back Hairstyle with Skin Fade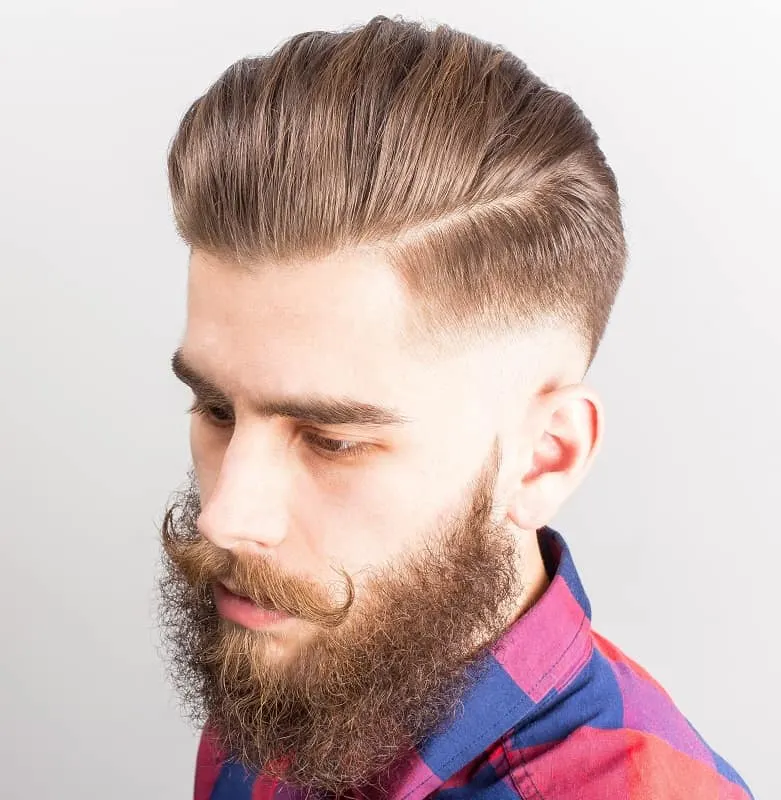 The contrast of a bushy beard and skin fades along with a long top that is slicked back to one side with a hard part is very edgy and unexpected.
4. Slick Back Undercut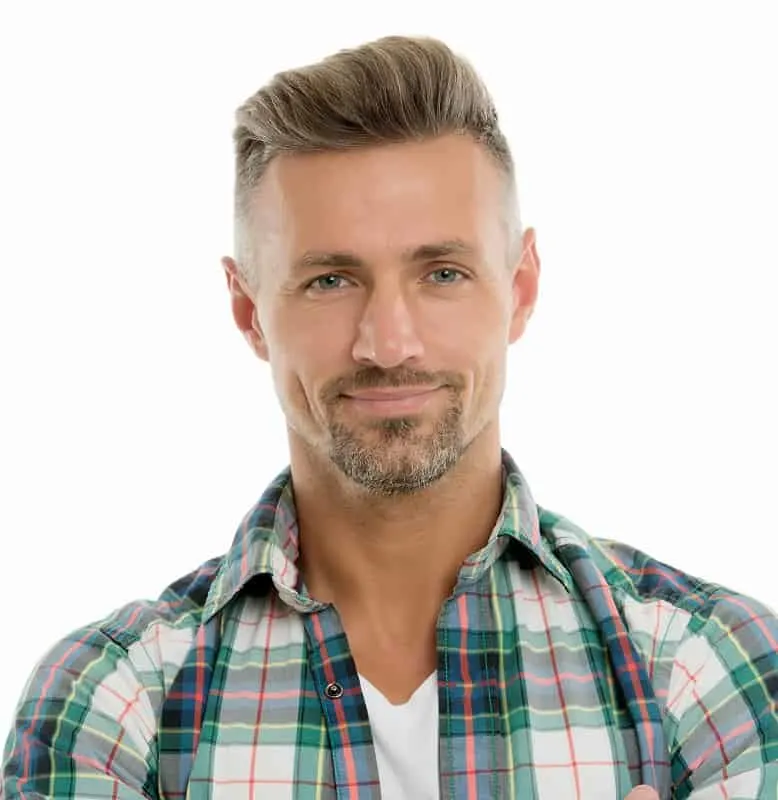 Another way to accentuate a long top is by slicked it back to emphasize volume. Add an undercut to keep your hairstyle low maintenance.
5. Slicked Back Rockabilly Hairstyle for Men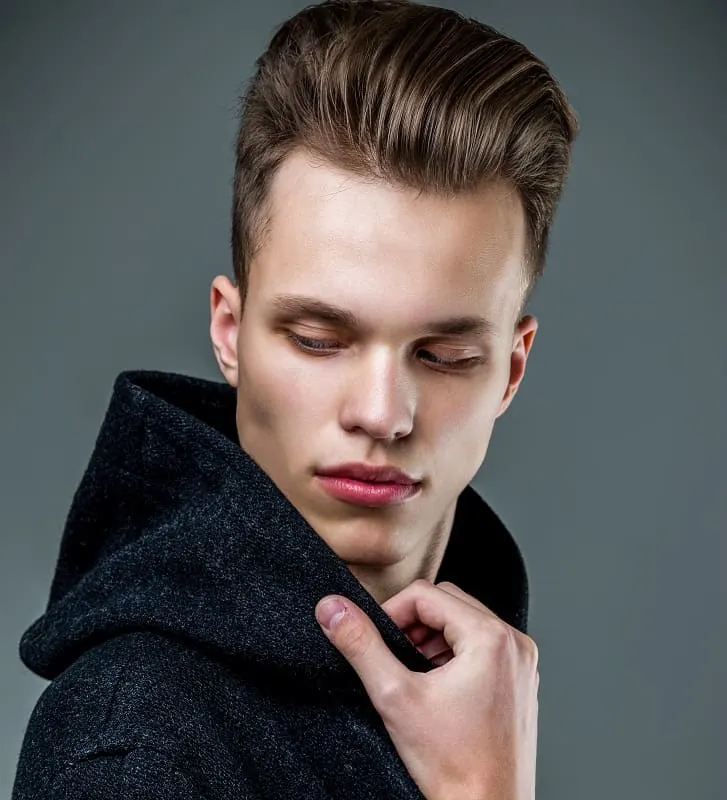 Rockabilly hairstyles are all about volume and drama. For men, you can slick back the top and secure its style with hairspray. Short sides add an updated dash of edge.
6. Black Men's Slicked Back Hairstyle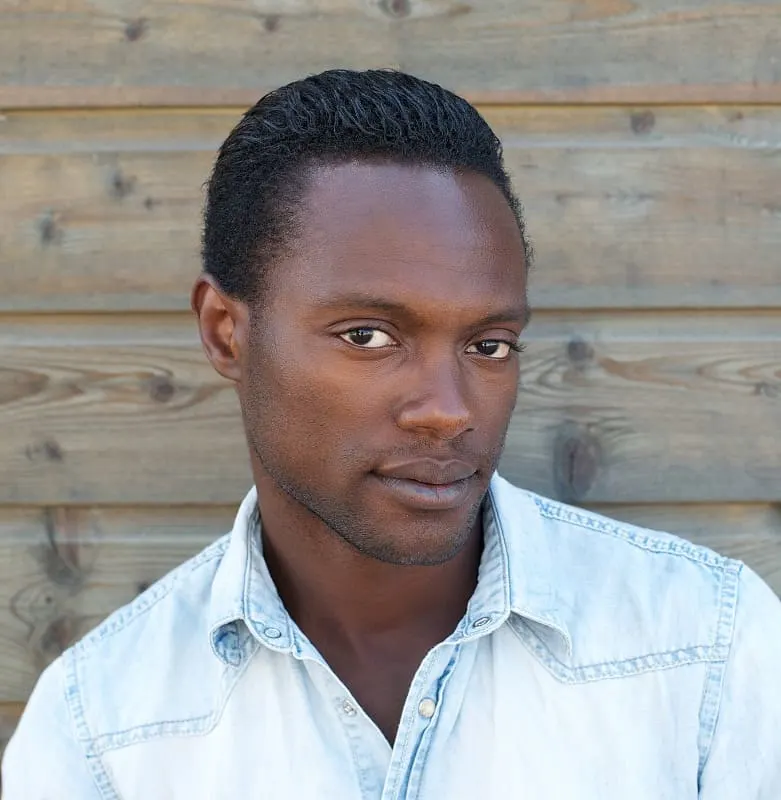 For black men with short to medium hair length, slick back the top to accentuate curly hair texture. Short sides will draw all attention to the top.
For Asian men with medium to long hair, a slightly messy slicked back hairstyle is very handsome. On this look, a ponytail is gathered with a few tendrils loose around ears.
8. Slicked Back Hairstyle for Older Men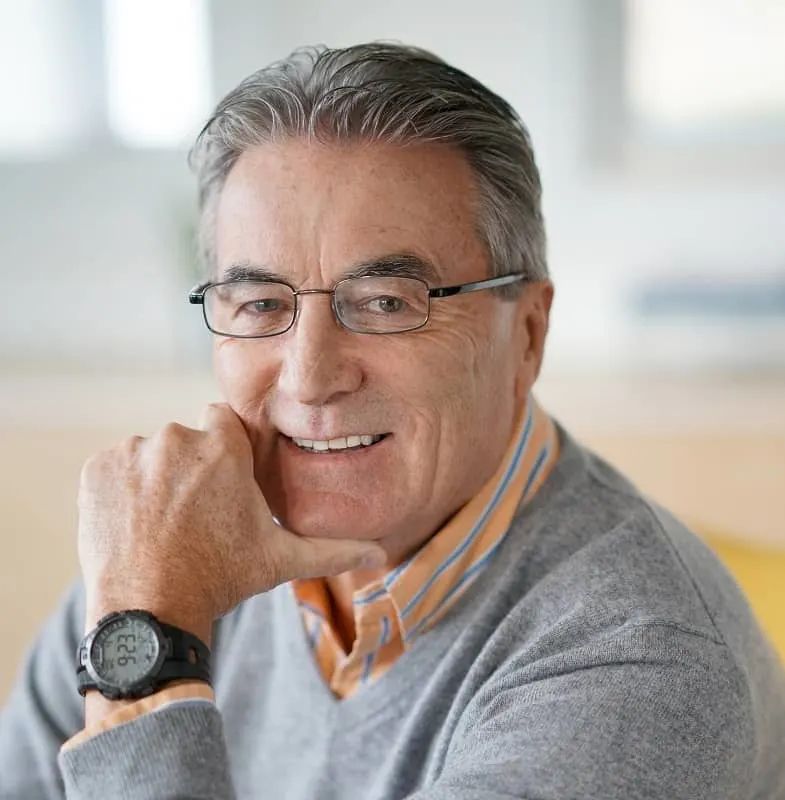 If you're an older man with hair to slick back, you can still pull off a subtle middle part. Simply comb back the sides and smooth with hair product.
9. Curly Slicked Back Hairstyle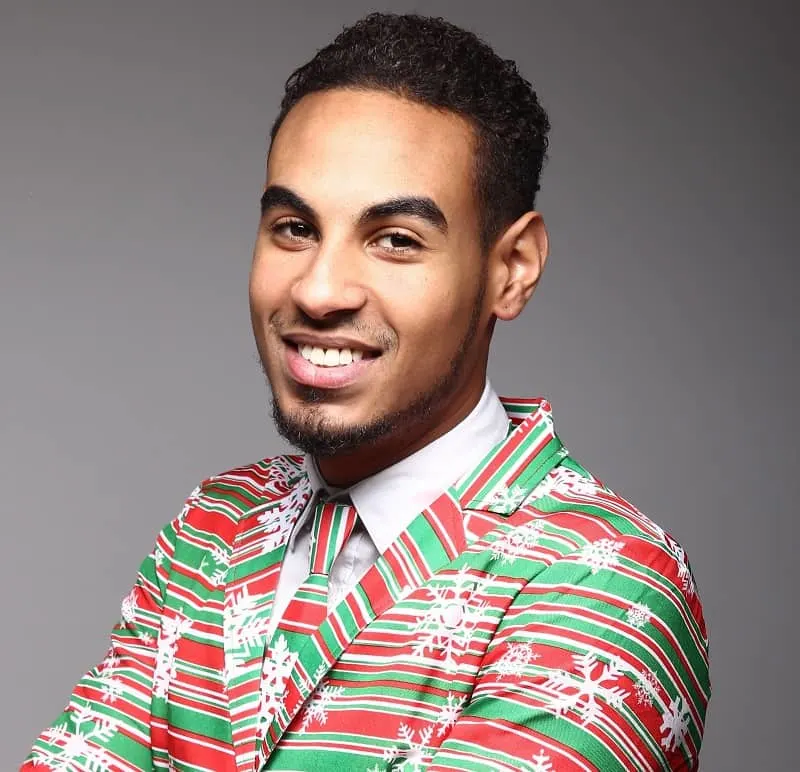 Curly hair texture is even more noticeable when a bit of men's hair product is thrown in to slick it back. Keep sides short to draw attention to the top.
10. Slicked Back Ducktail Hair
A ducktail haircut is just that: named because of the appearance of a ducktail. It's a great slicked back hairstyle for men with somewhat long hair.
Trendy Short Slick Back Hairstyles
The following are our favorite short slick back hairstyles for men.
11. Classic Short Slick Back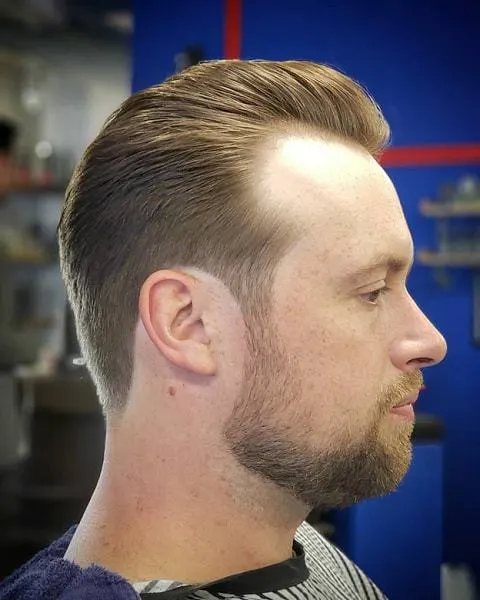 Guys who prefer to keep their hair short usually don't have a problem with getting this smooth slicked-back hair.
Ideal for: oval, diamond.
How to Style: When the hair is short, it can sometimes be hard to tame, especially after a haircut. That is why you should use a strong pomade and a comb to get the classic short sleek mane.
12. Short Slick with Low Fade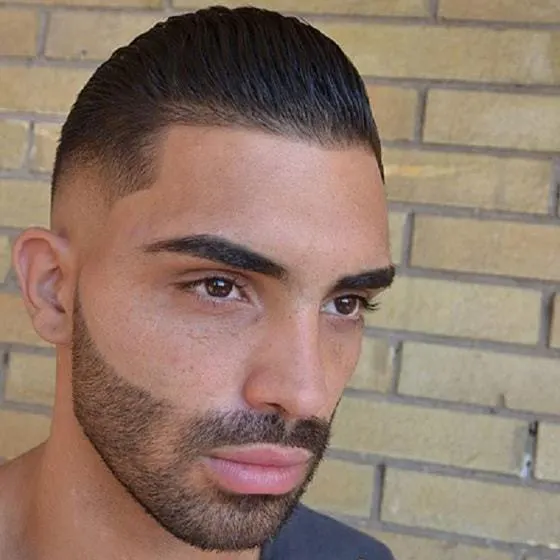 A cool low fade is the best option for long face shapes. You can easily match it with a longer top and slick the whole hair back.
Ideal for: diamond, triangle, oval, oblong.
How to Style: The low fade definitely looks better with a shiny, perfectly smooth slick top. This is when you should take out your finest comb and oil-based pomade.
13. Short Slick Back Haircut with Braids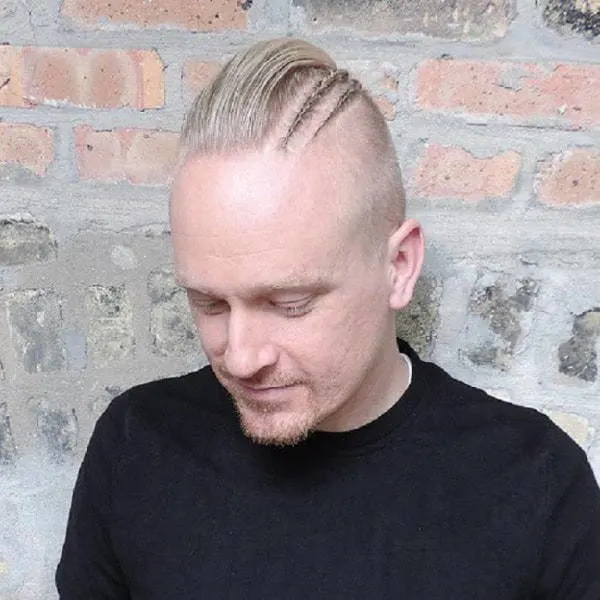 What a cool hairstyle! If you feel bold enough and love experimenting with different looks, give this one a try.
Ideal for: oval, oblong, diamond.
How to Style: The best choice is definitely a hairstylist. If not, first learn how to braid. Then take two sections of hair, and braid them into mini thin braids. Use a hair wax to sleek the rest of the hair to the back.
14. Short Slicked Back Hairstyle with A Side Part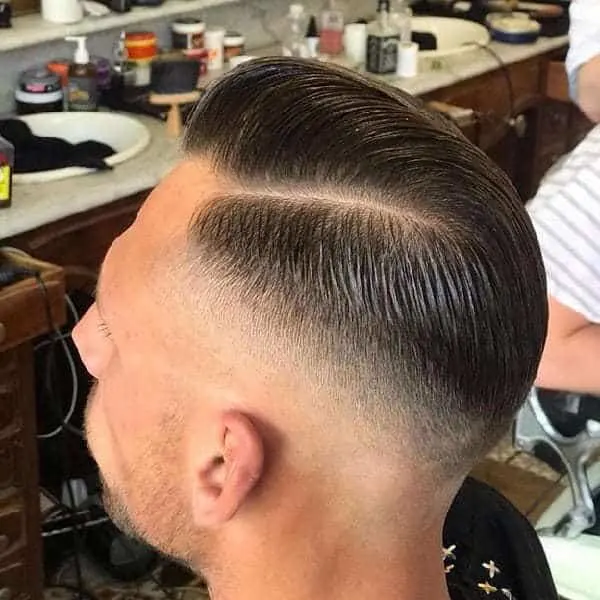 A lot of men who are obsessed with slick back hairstyles decided to include a fierce side part. It makes things much more interesting for a change.
Ideal for: round, square, heart, diamond.
How to Style: Start by grabbing your oil-based pomade and comb. Once you add the product, start combing the hair, making sure that the side part is visible.
15. Short Slick with Beard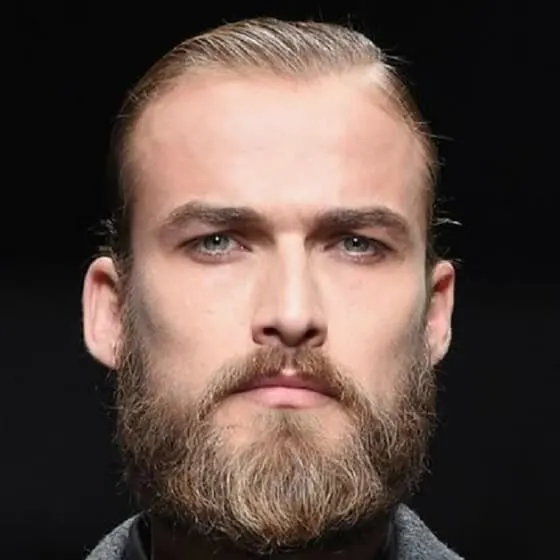 Beards and smooth hairstyles are so fabulous together. All of the cool celebrities you follow have joined this trend, and so can you.
Ideal for: rectangular, round, oval.
How to Style: When you are also growing out your beard, you have to be very meticulous in taking care of the short hairstyle. Slick it back with a comb and hair clay for a natural finishing touch. You don't want it too sleek and shiny.
Ideal Short Hair with Beard Combination
Popular Long Slicked Back Hairstyles
Slicked back hairstyles for men with long hair are also available. Have a look.
16. Long Slick Back Hair with Side Part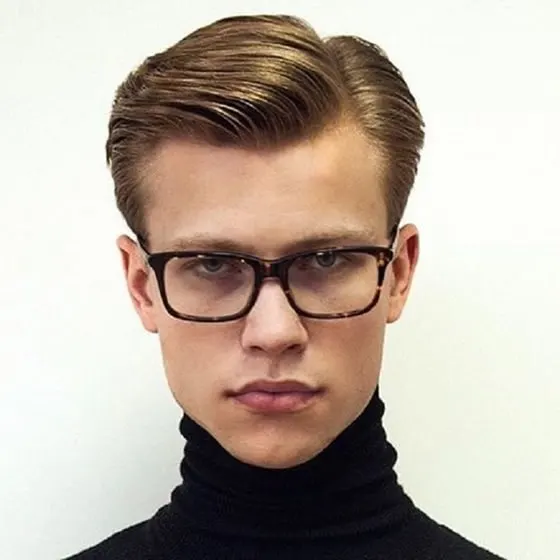 For all the men brave enough to have longer hair, this is the most sophisticated slicked back hairdo ever.
Ideal for: square, oblong, diamond.
How to Style: You will definitely need a strong hair pomade to achieve this look. All you have to do is get some product on your fingers, slick back the hair and tame it down with a comb. With a fine comb create that fierce side part.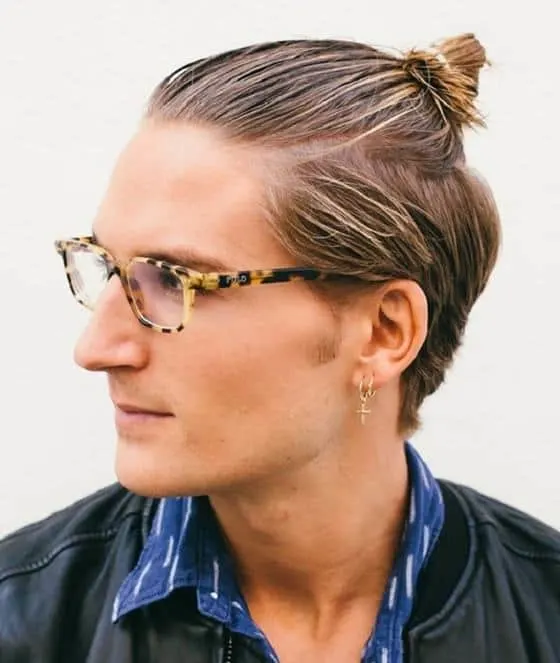 Man buns are so popular right now, and the best solution for long hair.
Ideal for: oval, triangle, diamond.
How to Style: It all depends on whether you want to keep it messy or perfectly sleek. For the messier version, you will find it very easy to style it. All you need to do is use the blow drier and a brush to pull the hair back, and do the bun with a hair tie.
The super-smooth version will require a fine comb, strong hair pomade and a hairspray. Once you have the bun under control secure it with a hair tie.
18. Messy Slick Back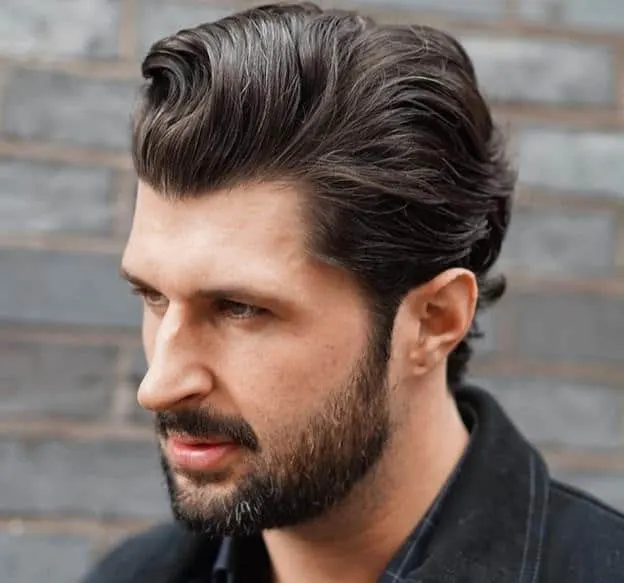 Once your hair reaches a certain length, you will find it so easy to do the messy slick back hairdos, since they won't take too much of your time.
Ideal for: square, oval.
How to Style: Spray the hair with sea salt product, which keeps it wavy while it's still wet. Use a dryer and a big brush to dry it pulling it towards the back. Use a quality wax with high strength to do a medium slick once it's dry.
19. Long Top With An Undercut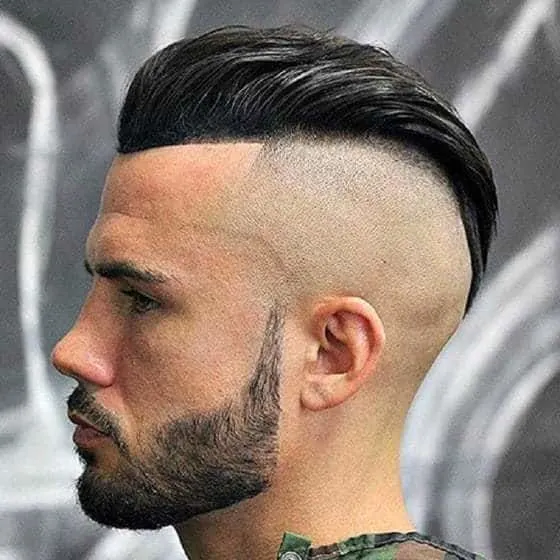 The more dramatic the undercut is, the cooler your slicked back hair will look.
Ideal for: oval, round.
How to Style: These slick back haircuts are extremely easy to style. You only need to take care of the top part. The best way to do it is to try a high-strength natural pomade or a wax. Go over the hair with a comb or a fine brush to make everything even smoother.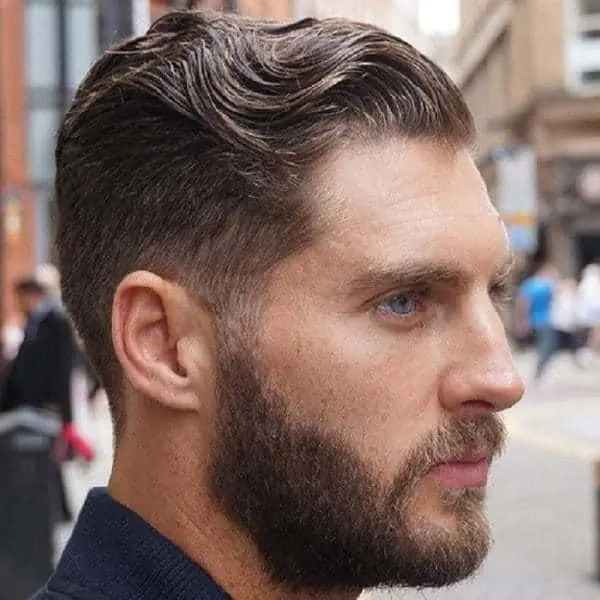 This is another super-trendy way to style a longer haircut. If you still haven't decided whether you want to completely grow your hair, you can leave the top longer and wavy and opt for a taper fade on the sides.
Ideal for: oval, round.
How to Style: Since this hairdo should look very natural, you should style it with your fingers. Clay is the product you need to try and all you have to do is brush the top part in messy waves towards the back. It really doesn't have to be perfect, that's the whole charm of it.
Latest Low Fade Slick Back Haircuts
Top 5 low fade slick back haircuts for men around the world.
21. Low Fade Slick Undercut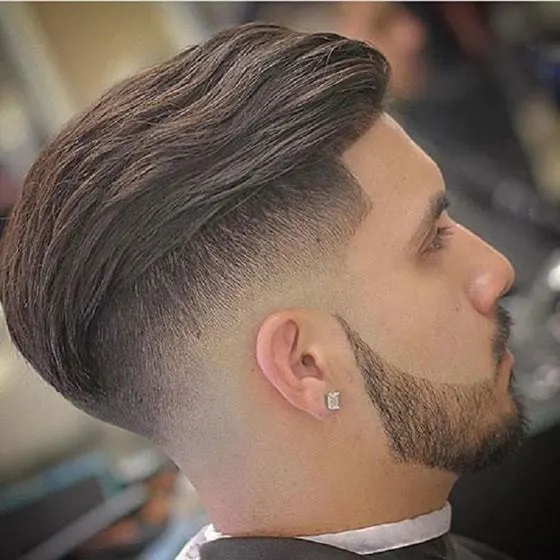 A low fade looks amazing with a low fade undercut! Once you get that sleek and smooth top part, you'll want to keep this hairstyle for quite a while.
Ideal for: diamond, oval, square.
How to Style: The longer the hair is, the harder you'll find to style it. Make sure that you have a quality blow dryer, and start drying the hair towards the back with a brush. Add a pomade on the top part to slick it backward. For this slicked back fade, you will need to use a comb.
22. Low Drop Fade with Slick Back Top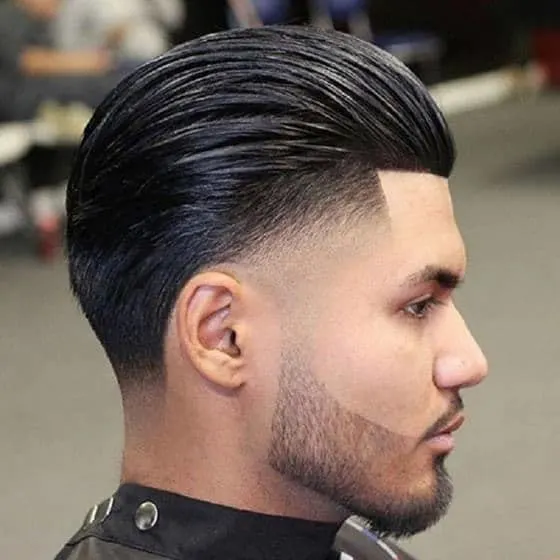 Shiny slick back on faded hairstyles are not meant for everyone. They do require a lot of work, but that doesn't mean that you shouldn't try one.
Ideal for: oval, diamond, oblong.
How to Style: Get a quality hair pomade that will help you achieve that super-shiny look. Oil or water-based products are the ones that give a finishing shine to the do. End with a strong hairspray that will keep every single hair on its place.
23. Bleached Low Fade Sleek Hairstyle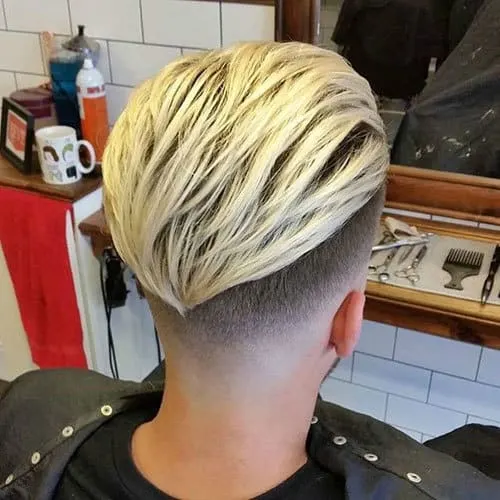 The boldest fade with slicking the hair back is reserved for guys who love to experiment with hairstyles. Once you add that sleek, shiny moment it will help you stand out.
Ideal for: oval, oblong, diamond.
How to Style: When you style it, it depends on which look you are aiming for. If you are all about perfectly smooth dos, use a wax, pomade, and a comb. For messier versions go for the fingers with a clay.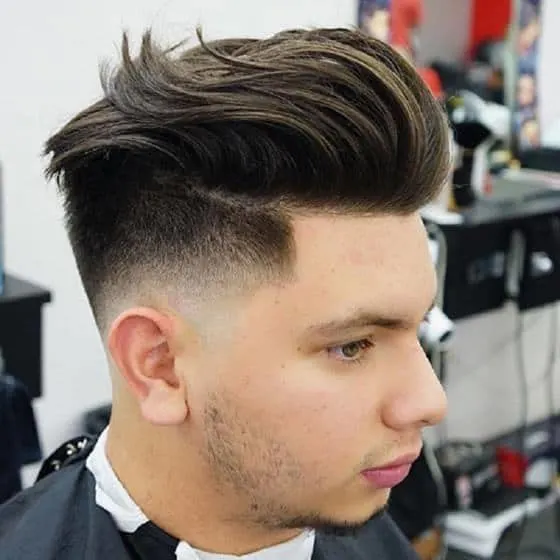 The infamous pompadour can now be combined with a chic low fade thanks to the latest trends.
Ideal for: oval, diamond.
How to Style: To get that fabulous pomp on top you need to dry your hair with a large brush for volume. Get a strong water-based pomade and add it to the hair with fingers. It doesn't have to be perfectly sleek. That way it will look cooler.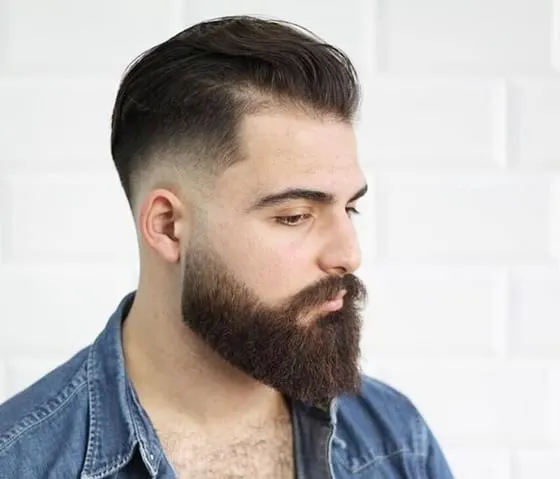 It seems that lately, the beard is the perfect addition to every single hairstyle. The low fade separates the slicked back hair with the beard, achieving an amazing balance.
Ideal for: square, oval, heart, round.
How to Style: You have to style both the hair and beard. For the slick back moment, you can definitely use a wax for an effortless vibe.
Best High Fade Slick Back Hairstyles
These are the amazing high fade with slick back hairstyles ideas for you.
26. High Fade with An Undercut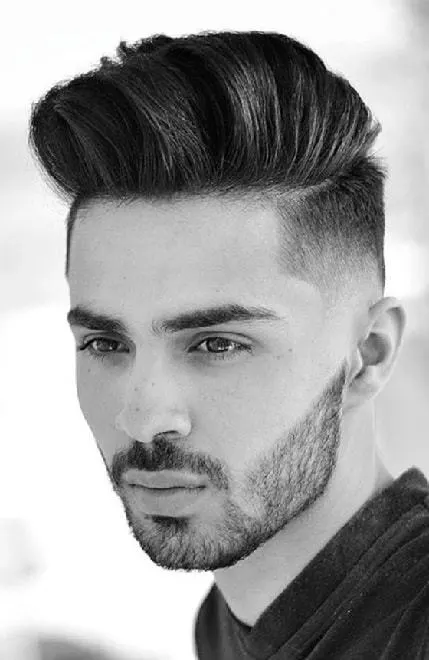 The high faded slick back with an undercut is a very exciting hairstyle. Men love it because it captures that drama factor, especially if the top part is long.
Ideal for: square, diamond, round.
How to Style: You will have no trouble styling the slick back with fade if your hair is shorter. That means only a little clay or wax will do the job. Once it grows longer, you will have to opt for a pomade and some hairspray on top.
27. High Fade with A Twist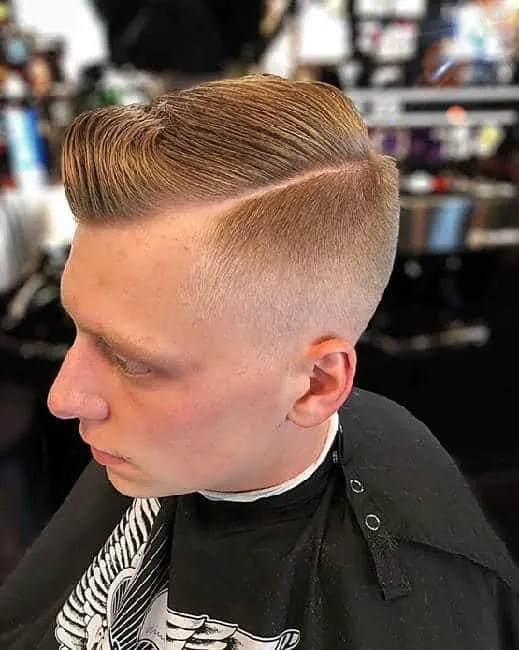 That whole slick back moment might get boring at times, so you can always get creative. Add a fun twirl in the front and make sure that it stands out from the rest of your shiny do.
Ideal for: square, diamond, round.
How to Style: For this back slicked haircut, we recommend that you go for oil-based hair product, for a shiny finish. They are perfect for all hair types including thick and thin. Once you slick the top part, grab a small portion from the front and create a twist.
28. High Fade with A Side Part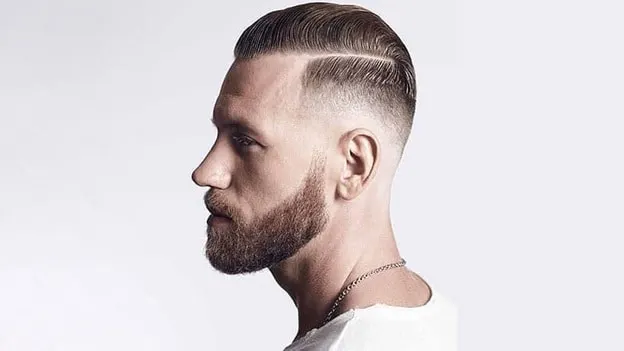 The dramatic side part is all you need to stand out in the crowd this season. Combined with a sharp high fade, you will be the coolest gent on the block.
Ideal for: oval, triangular, oblong.
How to Style: With this slicked back fade, you want to keep the hair short, so that it's much easier to style it. Grab a fine comb and an oil-based pomade to create a perfectly sleek and shiny do. Accent the deep side part with the comb.
29. High Fade Temp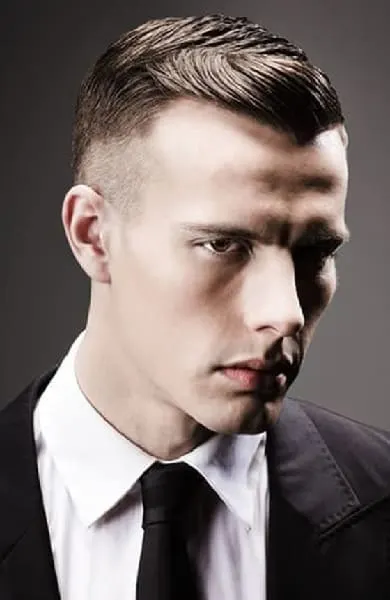 The high temp fade creates a very chic angular shape right at the area of the temples. Find yourself an experienced stylist if you want to copy this slick fade.
Ideal for: square, round, rectangular, oval.
How to Style: Style the top part with a strong pomade that provides a glassy finish. If you have fine hair, you can always go for a hair clay instead.
30. High Fade Sleek with Beard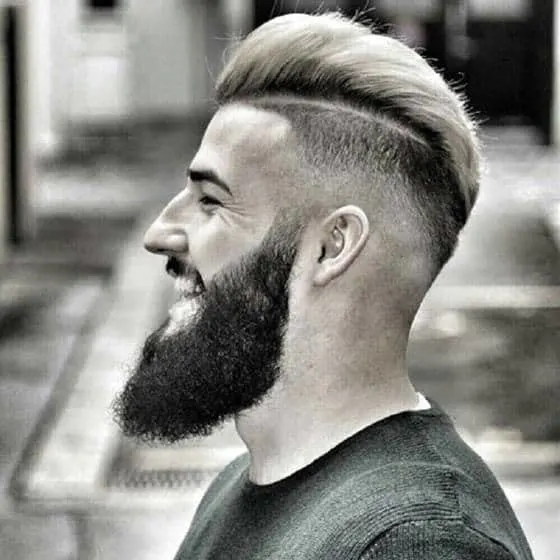 Officially the coolest slicked back fade at the moment! Both men and women love beards, so why not give this high fade a try. Also, it looks amazingly chic with bleached hair.
Ideal for: diamond, rectangle, triangle,
How to Style: You style it just like any of the other slick back haircuts. For the messy style try your fingers, and for a perfectly sleek do use a comb.
Cool Slick Back Taper Haircuts
You can incorporate Taper fades into your slick back styles too. Get inspired with our top 5 picks.
31. Messy, Bleached Taper Hairstyle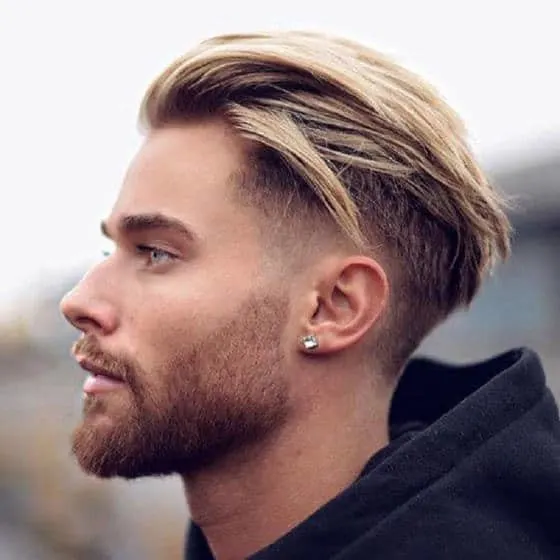 A taper fade has never looked better. Those blonde highlights and the messy finish are without a doubt such a statement combo.
Ideal for: oval, triangular, oblong
How to Style: Put your fingers to use, to achieve the trendy and messy do. Slick back hairstyles such as this one need a product for a matte finish. Get a little product with your fingers, pass it through the hair and off you go.
Best Taper Fade with Beard Hairstyles
32. Slick Back Everything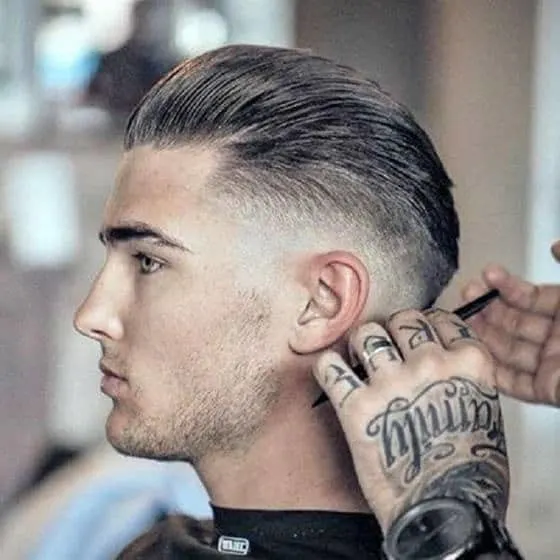 Because the taper hairstyle gradually fades, you can use this moment to slick back the whole hair. This is an elegant do perfectly for special occasions.
Ideal for: oval, triangular, oblong, heart.
How to Style: Grab an oil-based pomade to get that glossy finishing touch. Dry the hair towards the back of your head, to make things easier. Once it's dry, use the pomade and a fine comb to sleek everything to perfection including the sides.
33. High Volume Taper Slick Back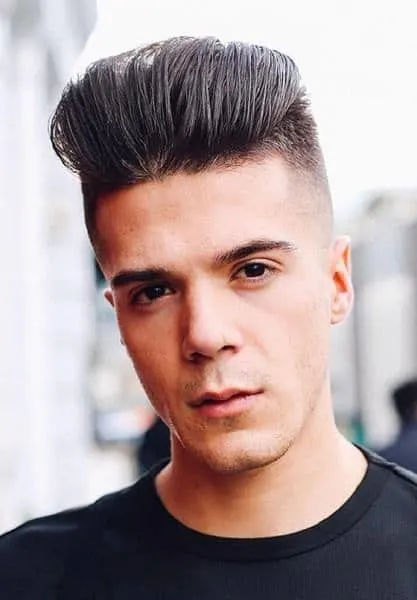 They say the higher the hair, the closer to god. It's time for you to leave a strong impression by trying this high voluminous taper hairstyle.
Ideal for: rectangular, oval, diamond.
How to Style: It might sound strange but a little back-brushing or teasing can be very helpful to add volume, even for men. Grab an oil-based hair pomade with high strength, to sleek the top part towards the back. Spray a little hairspray at the end. Always do it with a comb.
34. Pompadour Taper Slick Back Hairstyle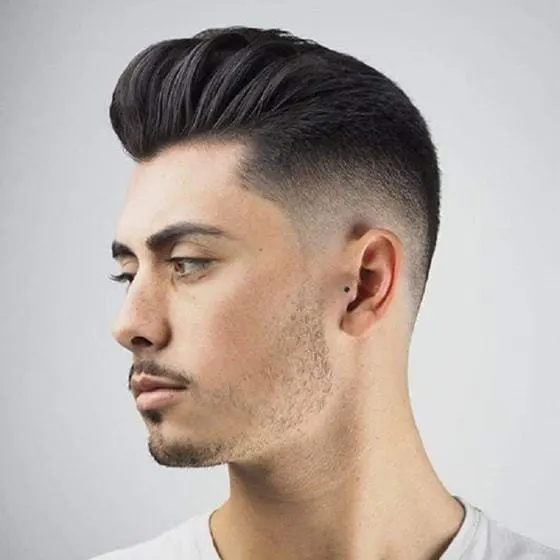 This slick back with fade is one of the most popular men's hairstyles of all times. Gents have been obsessed with the pompadour for quite a while.
Ideal for: square, triangular, oblong.
How to Style: To style your statement pompadour you will need to find the perfect hair wax or clay. That means, buying a product that fits your hair type. The wax and clay will help you get a smooth surface that doesn't look too shiny or gelled up. The other thing you need is, of course, a good comb.
35. Swept Up Taper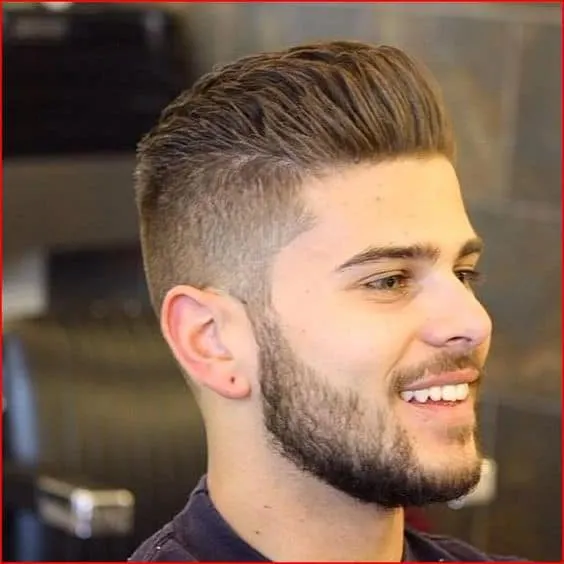 A basic swept up taper is flattering for so many face shapes and hairstyles.
Ideal for: heart, square, triangular, oval, diamond
How to Style: Take it up with a brush, while you are drying your hair. Add some styling wax and sleek it with a comb in the end. It will all look smooth, but natural at the same time.
Famous Comb Back Fade Hairstyles
Following are the latest comb back fade for slick back hipster hairstyles for men.
36. Short, Simple Comb Back Fade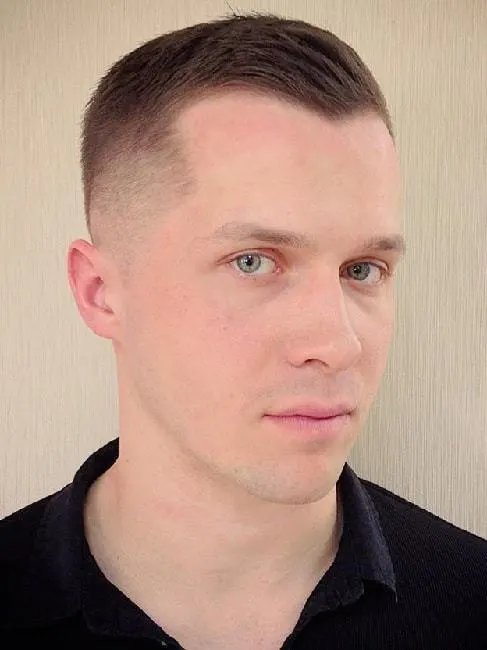 Well, this one was invented for guys who don't want to spend too much time styling their hairdo. Comb over with a taper fade is so simple and doesn't require more than five minutes. Perfect for everyone!
Ideal for: oval, rectangular, diamond, oblong.
How to Style: Ask for a short haircut with a fade from your hairstylist. Comb it with a fine comb to the back and sleek it with a wax or clay for a natural finish.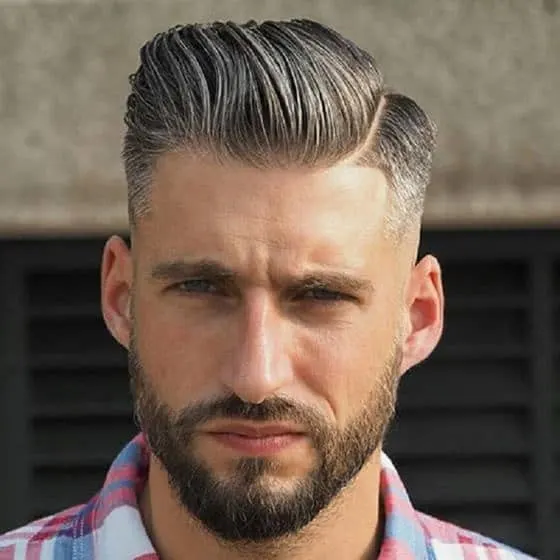 A beard matched with a comb back fade is the two things every single man has to try in their life. This is one of the best slick back hairstyles for modern gents who have a nine-to-five office job but still want to add some edge to their look.
Ideal for: diamond, triangular, rectangle.
How to Style: If you decide to grow a beard and keep your slick back hair in a fancy come back to do, you will need some extra free time on your hands. Both of them require special care and quality products.
38. Skin Fade Comb Back Haircut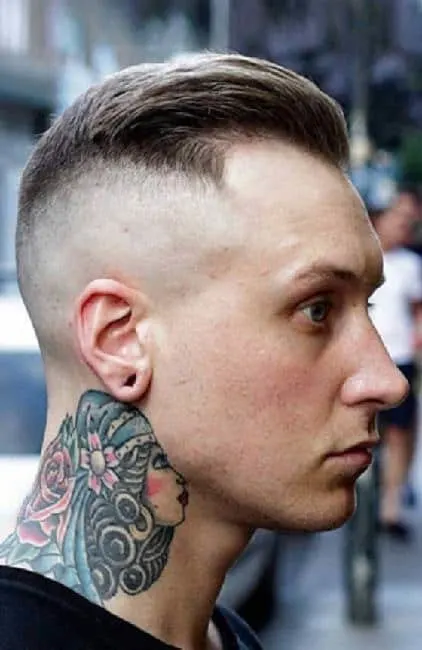 Get ready to try out the easiest faded slick back in your life. A very chic option, meant for busy guys on the go.
Ideal for: square, heart, round.
How to Style: This one is so easy to style, that you can literally use only a little hairspray. Comb your hair to the back with one hand, while spraying with the other at the same time. Men with thick hair might need to use a clay or wax.
39. Classic Comb Back with Side Part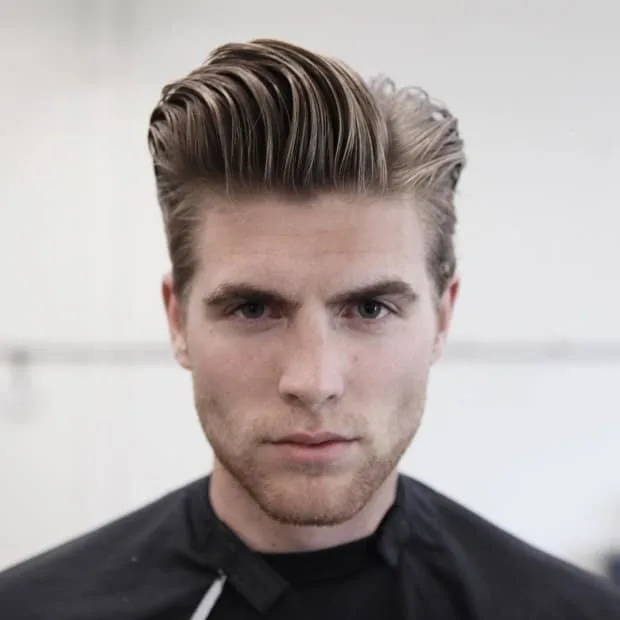 Isn't this one of the most perfect slick back hairdos? It's such a messy one, but it looks so well put together.
Ideal for: square, oval, round.
How to Style: If you are planning on getting this haircut, get ready to learn how to style it. You will need the help of your fingers, a comb, and a styling pomade. You can add some pomade to the fingers and comb it to the back. Add a statement side part with a comb and use it to slick everything once again.
40. Mid Skin Fade Comb Back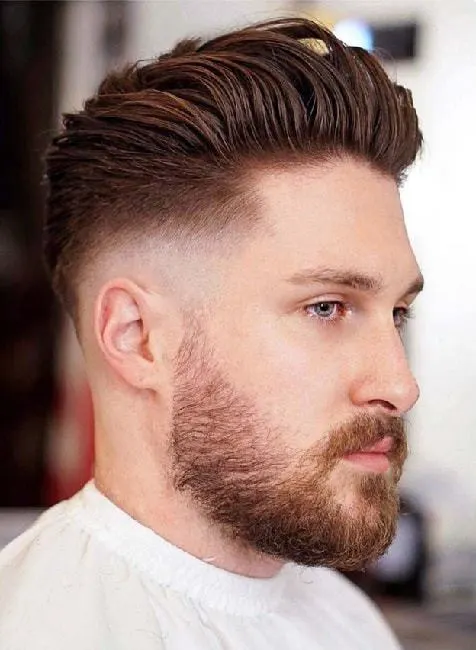 With the mid fade, the top part of the hair has to be longer. This comb-back hairdo will look much better if you decide to keep it messy.
Ideal for: heart, square
How to Style: Style it with your fingers, for an effortlessly cool comb back. You can definitely use a thick comb at the end to perfect the details. The products you should opt for are a water-based pomade, clay or wax.
Learning how to slick back hair is not that hard. You might make a few simple mistakes at first, but they are very easy to fix. If you don't like the way your hair looks, wash it and try again. Don't hesitate for a minute before choosing your favorite one. You will definitely be getting plenty of compliments.