We all know about hipster culture, but there is a reason why so many gravitate towards it. To create a true hipster style, it's important that you follow your true tastes, embrace natural texture, and worry solely about expressing yourself.
Oftentimes, these styles feel retro and play on decades past. Experiment with proportion, texture, and volume to create an incredible hipster style.
Men's Hipster Haircuts
Check out these awesome 45 hipster styles to reveal the real 'you.'
1. Hipster Quiff
This short hipster haircut may be neat, but the retro feeling it gives off is certainly artsy. Flip hair up and away from the forehead for a quiff that closely resembles a pompadour. Rock it on clean cheeks or with facial hair.
2. Long Wavy Texture
Bring out your inner Beatle with this long hipster haircut. Shoulder-length locks became the rage in the late 60s and 70s and many guys still love to rock it today. To create this style, a little texturizing spray for some grit goes a long way.
3. Quiff with Hipster Mustache
A quiff may be rather polished, but it's the unique facial hair that draws this look into the artistic realm. A hipster haircut with beard is certainly cool, but it's the curled-up ends of this mustache that makes this style intriguing.
4. Edgy Haircut for Older Men
We love to see a hipster haircut for older men because so many dudes at this age either don't have enough hair or simply don't care about style. This look is so easy to maintain and shows off some seriously gorgeous facial hair.
5. Fade Style for Long Hair
Reminiscent of a mohawk, this hipster fade haircut would make any guy stand out in a crowd. A bald fade on the sides of the head feels sharp while a pushed-back long style reveals beautiful hair and interesting personal style.
6. Hipster Hair with Bold Color
Perhaps your new look involves hipster hair color for guys as opposed to unique style. Who needs traditional hues like brown and blonde when you can take on a fun electric blue? Choose your favorite color and head to the salon for the best results.
7. Honey Blonde Dreadlocks
Dreadlocks may be a traditional Rasta style, but this hipster hairstyle for black guys uses dynamic color to make a statement. Dirty honey blonde color draws attention to the hair while complimenting warm skin tones.
8. Hipster Retro Flair
This old school hipster haircut has a truly retro flair that feels like it's just stepped out of a time machine. A short and sleek comb over recalls generations past while a thick and curled mustache adds the right amount of whimsy.
9. Pompadour Comb over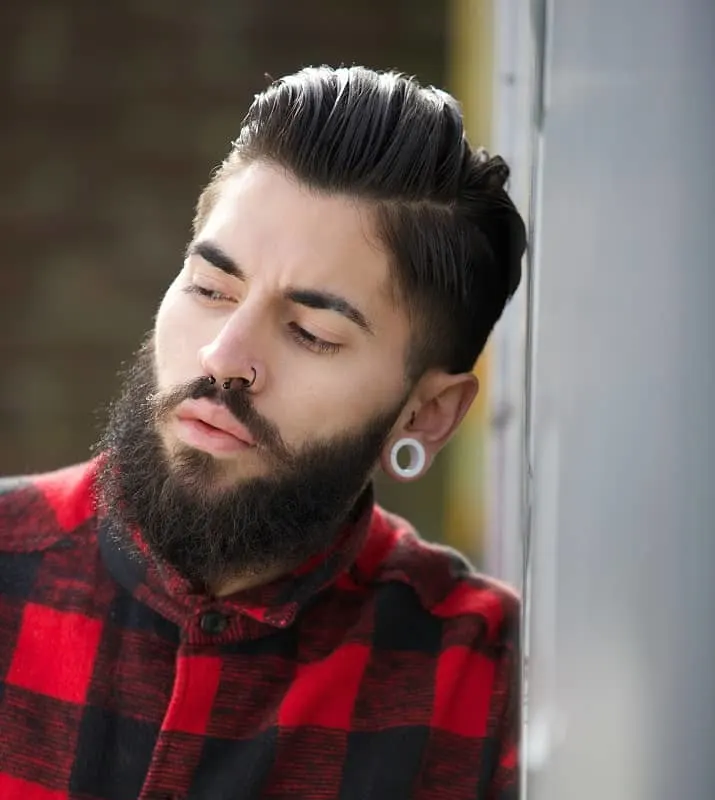 Combined with a pompadour, this hipster comb over hairstyle will make any guy look cool. Ideal for hair with at least 3 inches of length, this look has some serious height and just the right amount of slickness. Be careful not to overdo it with the gel, however.
10. Medium Length Hipster Hair
Many of these styles are short, but hipster hair can most certainly be medium-length. Cut cheekbone-length layers around the front of the head for long bangs that feed seamlessly into the hair tucked behind the ears. This look has just the right amount of shine to give off that rugged, greasy vibe.
11. Man Bun with Beard
Sure, you can rock a man bun without a beard, but most of the time, you'll find the two together. This look is particularly hot with hair closely cropped along the sides of the head.
12. High Pompadour
This look is all about revealing gorgeous texture by creating a lovely shape on the hair. Work a bit of pomade into long hair and use your fingers to direct it upwards when blow-drying.
13. Hipster Hair with Handlebar Mustache
A handlebar mustache is the ultimate hipster accessory. Enhance any hipster haircut by teasing your mustache into thin handlebar curls.
Best Blowout Haircuts for Men in 2023
14. Spikes with Full Beard
A hairstyle that integrates a full beard is a common part of the hipster look. Keep your sideburns to a mid-length whilst growing your hair and your beard thicker and longer.
15. Messy Side Part
Put a small amount of styling product in your hand. Start from one side of your hair and run your fingers across and upwards to give your hair a touchable tousled look. A beard style like stubble will give you a clean look.
16. Choppy Tousled Peaks
Cut different lengths into your hair and then use styling gel to pull it up into spikes. You may need to use quite a lot of gel to make sure that your peaks hold their shape.
17. Textured Top with
Short Beard
Keep your beard to a mid-short length but cut the hair on the top of your head a little longer. Give your hair a little bit of texture by running your fingers through it backwards.
18. Long Tousled Hair
Give your long hair a touchable tousled look by combing upwards from the roots. If you want a fluffier look, make sure that you only use a small amount of styling gel.
19. Square Fringe
If you have a natural side parting, frame your face by styling your hair into a square fringe. This style also works well if you have a natural double crown.
20. Short Back and Sides with Quiff
Keep your hair very short at the back and sides. Gradually cut your hair longer and longer the further forward that you go. Use a tooth comb to style to longest front sections into a perfect quiff.
21. Tintin Quiff
Trim the majority of your hair so that it is just a little bit longer than stubble length. Leave a patch of hair much longer at the front of your head. Use a little styling gel to tease this hair into a "Tintin" style quiff.
22. Side Swept hair with Side Parting
If your crown is off to one side, use this natural feature as part of your style. Sweep all of your hair from one side to the other. This style looks great if you have a lose natural wave.
23. Twisted Quiff
Hipster hairstyles always need a twist! Comb your hair up into a normal quiff with a little styling gel, but twist the comb slightly as you are running it through your hair.
Most Popular Undercut Hairstyle Ideas
24. Soft Spikes with a Loose Wave
To give your hair soft looking spikes, run a small amount of styling gel though your hair with your fingers. Once the gel is beginning to dry, run a comb upwards through your hair in different directions.
25. Tousled Waves
To create a style that other people will be desperate to run their fingers through, all that you need to do is run your fingers upwards through your own hair with a little bit of gel on them.
26. Preppy Mohawk
Make sure that you do not have a hair out of place with this super manicured preppy mohawk. Keep the sides of your hair shaved closely.
What is the difference between taper and fade cuts?

Brush your hair until it is soft and then pull it back into a man bun. Secure the bun in place with a hair elastic. This is the perfect hipster hairstyle for a guy with long hair.
28. Floppy Spikes
To get soft and slightly floppy spikes, you need to make sure that you use as little hair gel as possible. Run your fingers upwards through your hair, but pull to one side as you go.
29. Tousled Preppy Hair
Give yourself a preppy hipster hairstyle by creating a very square cut. Your hair should look like it goes straight upwards from your jawline. Brush a few hairs out of place to change the look a little.
30. Short Back and Sides with Choppy Spikes
If you choose to spice up your hair, you do not need to make all of the spiked sections the same length. Choppy spikes can make your hair look more textured.
31. Toploaded Hipster Hairstyles
Topload your hipster hairstyles by building up the volume towards the front of your hair. This looks great when teamed up with a little thick beard.
32. Hair Raiser

If you have a square jaw, hair-raising styles such as this one can look really striking. The vertical lines of your style will enhance the shape of your face. And vice-versa.
33. Up and Over
Run a lot of styling gel through your hair and then use a comb to create this "up and over" look. Comb upwards from the roots and pull your hair back and over so that it follows the shape of your head. Starting from the roots will give the look more volume.
34. Messy Man Bun
If you have long hair that you struggle to tame, a messy man bun will be the perfect choice of hipster hairstyle for your needs. This style looks great with a rugged beard.
35. Soft Curls
If you have curls, you may want to use a special shampoo to the them from frizzing up. Leave your hair long enough so that your curls can show their shape.
36. Big Brushed Back Hipster Hair
Give your hair volume by pulling gently up from the roots with your hands. Use a little styling gel to brush back your hair as you run your fingers through it.
37. Homage to Elvis
Style your hairstyle upwards and forwards to pay tribute to the King. Leave a few floppy bits of hair falling around your eyes for a true vintage take on the hipster hairstyle.
38. Preppy Side Swept Hair with Beard
Carefully brush your hair to one side to create a hipster style side swept preppy look. Complete the style by wearing your hair with a well-kept trimmed beard.
39. Tousled Man Bun
Sweep your hair back with your hands and pull it into a man bun at the back. Pulling your hair back with your fingers will give it a touchable tousled look whilst it sits in its bun.
Team up slicked back hair with a full bushy beard for a look which is both well-kept and rugged. This look works well when you are out and about, as well as when you are at work. Try these slicked back hipster haircuts.
41. Slicked Back Faux Hawk

Leave your hair to grow longer and pull handfuls of your hair up from the side into the middle of your head. Use holding gel to pull your hair backwards into a slicked back faux hawk.
42. Short Hipster Spikes
Comb your hair up from the center to give your style massive volume. Set the hairstyle in place with a little bit of soft hold hair gel. Clean straight lines make this a really sharp short hipster haircut.
43. Hipster Haircut With Small Quiff
Use your hands to pull the front of your hair up into a small quiff. Use a little bit of hair gel to keep it in place. To emphasize your hipster quiff, leave the rest of your hair flat.
44. Floppy Spikes
For short hipster haircuts with floppy spikes, you need to be careful about the type and amount of hair gel that you use. Use as little as possible for this effect. Use your hands to create the distressed floppy spikes.
45. Short Waved Spiky Hipster
Wavy hair can be pulled up into short hipster spikes too, but this hair type normally needs much more hair gel to control it. However; the waves will give your hair a gorgeously touchable texture.