A side-swept hairstyle is simple yet gorgeous enough to lift any man's appearance. Regardless of your hair length, you can easily adapt this style to complement your hair texture.
It works perfectly with different hair types and face shapes, creating an overall flattering visual effect. Further, you may even combine side swept with different hairstyles too.
Don't just take our word for it. Over the years, many celebrities rocked this hairstyle. For example, Leonardo DiCaprio, David Beckham, and Zac Efron have styled this look on different occasions.
So, if you are eager to bring out the sophisticated version of yourself, consider giving the side-swept hairstyle a try.
Classy Side Swept Hairstyles for Men
There are many hairstyles for men but sweeping hair to one side never goes out of fashion. After all, this is a classic style. Check out the side swept hairstyles below.
1. Fluffy Side Swept
You can get the fluffy top by using a blow dryer while sweeping hair to one side using a hair brush. It combines volume and texture on the top.
The short sides create contrast with the long top that is swept to the right side. The clean face combined with this style highlights the facial features.
2. Comb Over Sweeping
The front part of the hair is styled upward and then combed over to the side, creating an attention-grabbing effect.
The addition of blonde highlights gives a sharp contrast with the natural hair. This hairstyle looks great on men with a diamond face shape.
3. Wavy Swept Undercut
It's a sharp side swept undercut hairstyle with a textured wavy top. The sides are trimmed with a number 2 trimmer which helps to give all the attention to the long voluminous top. The lengthy top is skillfully brushed to one side and creates a messy appearance.
4. Medium Sided Hair
This style has parted hair that is swept to one side and allows the hair to gracefully drape over the ear. The hair is long enough to cover the ear partially making it suitable for both formal and casual occasions.
5. Redhead Sleek Hair
The defining feature of this hairstyle is the simple swept hair. The cleanly cut red hair looks elegant and the full beard creates a balance between rugged and neat that makes it perfect for the go-to choice for formal events.
6. Diagonally Swept Long Bangs
The diagonally straight bangs sweep down to one side of the cheek and frame the face with a gorgeous flair. It gives boldness with long bangs and sleekness with shorter sides.
7. Dyed Sweep Over
The purple dye on the side swept crew cut hair gives a bold and distinctive style for men in their late 30s. You can style it with some glossy hard gel on top to have a sticky appearance.
8. Up and Side Sweeping
The upward spiky sweep elegantly embraces the natural greying process for men in their 40s. Further, the nicely trimmed sides give youthful age with a dynamic appearance. However, applying soft hair gel is a must to get this exact look.
9. Side and Back Swept
This style combines curvy and spiky edges with close-cropped sides. The longer top makes the hair form natural waves.
The side-swept hairstyle is great for those men who want to add a bit of edginess to their overall appearance.
10. The Majestic Waves
Style the hair into a side part while creating a messy blonde textured effect both in the front and on the sides.
Put a reasonable amount of hair gel on your hair and then use a blow dryer for volume and lift. The hair gel ensures that the style remains in shape and holds throughout the day.
11. Dread Sweep + Undercut
This style contains short dreadlocks that are swept and hung gracefully to one side. Combining this with an undercut gives a rugged and edgy appearance.
You may add white highlights to some of the dreads on top to get more attention to the hair.
12. Spiky Swept with Short Sides
If you want a side-swept hairstyle that gives a unique contrast between the top and front portions of the hair this style is for you.
The top part is styled to appear spiky and messy and results in a voluminous effect while sweeping on the side. On the other hand, the front part is sleekly swept to the side.
13. Blonde Bangs
This hairstyle contains neatly trimmed short hair on the sides that creates a sharp contrast with the longer top.
However, the most attractive feature of this style is the combed side parted hanged down blonde bangs. It gives a polished appearance as the bangs fall over the eyes.
14. Up and Sweep on Colored Hair
Are you looking for a unique and eye-catching appearance? Why don't you color your hair with blue color? Then swept the hair upward and combed it back to get a voluminous appearance highlighting the blue shades.
15. Messy Side Part
If you are looking for an effortless swept hairstyle you can try a tousled texture with a carefully styled side part.
Add some hair cream to your hair and use your fingers and palms to achieve a chic appearance that displays a laid-back charm.
16. Side Part for Receding Hairline
The side part hairstyle is a good choice for men who have just started facing a receding hairline. You will need to part the hair to one side and then sweep over in an angled upward direction. You can try this style for any hair length or type.
17. Shear Comb Over with Side Part
This hairstyle combines modern sensibilities with classic elegance. It requires a precise side part to create and structured look.
The top part of the hair remains slightly longer so that you can comb over in upward and side directions. However, you need to apply hair cream before you start combing.
18. Comb Over + Short Sides
This hairstyle contains longer hair on top, which is combed over and gives a swept look with sleekness. The short sides and backs give a sharp contrast, emphasizing the clean lines of the style. It looks great on men with a rectangular face shape.
19. Silky Sweep Over
The silky sweep over has a smooth and lustrous texture, giving a neat appearance. The longer hair on top is swept over to one side with a natural flow and creates a harmonious balance between neatness and elegance.
20. Swept Pompadour
Men in their early 20s may find this side sweep hairstyle attractive. The classic pompadour gets a fashionable touch with the addition of cropped sides that create a sharp contrast with the top part. The longer hair is tousled upward and side to emphasize the pompadour's elegance.
21. Sleek Pomp
The hair on top is styled to achieve a high, sweeping effect using hair gel and a comb. The sleek finish resembles the perfectly groomed attention to detail.
22. Swept Bob
This distinctive hairstyle has a bob that is swept to one side, cascading down to shoulder length. However, the other side of the hair is trimmed short. This asymmetrical look blends the length and texture with a sleek finish.
23. Choppy Swept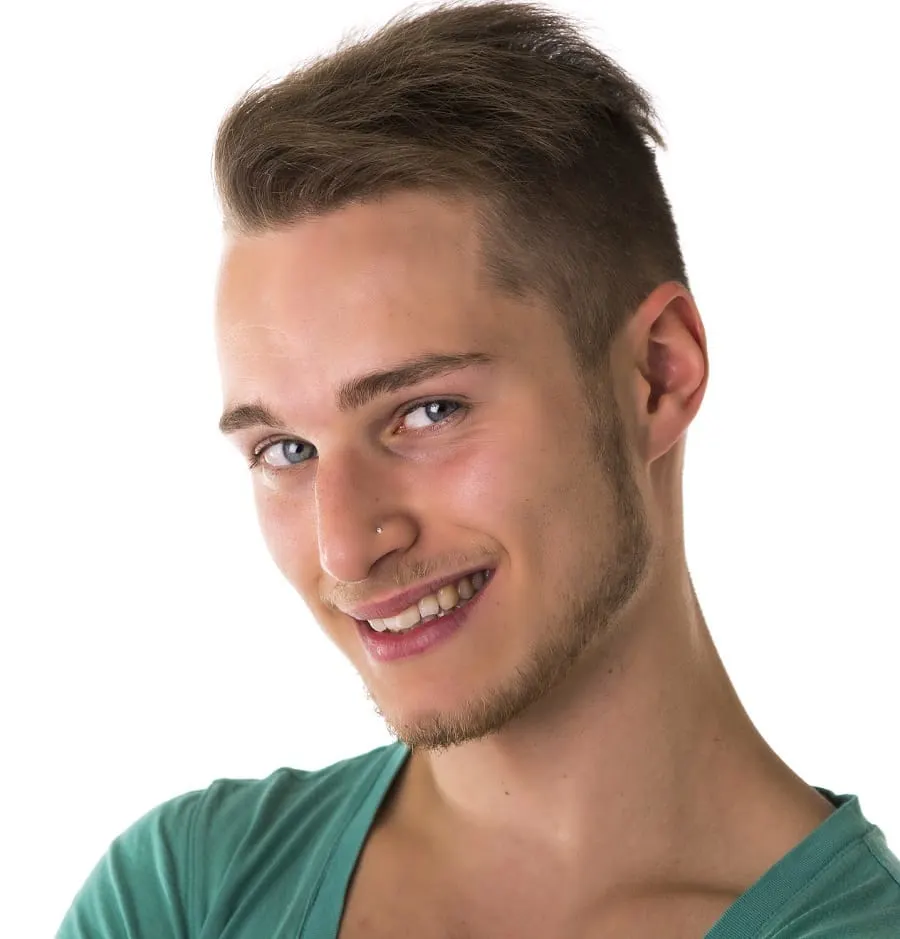 To get this style, you will need to brush up the front part and sweep back, which slightly gives an unkempt appearance.
It adds volume to short hair and gives depth. For a balanced appearance, the sides are trimmed with a number 2 trimmer and give a neat contrast.
Side-swept hairstyles suitable for most hair types and face shapes make it a go-to choice for men of all ages. So, sweep your to the side and make a smooth sophisticated impression.