Not all men like to stand out in the crowd. Some men prefer clean haircuts to look polished and boost their personality.
But that doesn't mean it's boring or lacks enough styling options. Clean cuts feature short to medium-length hair that is styled with precise lines and shapes.
Whether you prioritize a simple style or a bold one, you can choose from hundreds of easy-to-maintain clean hairstyle ideas.
Best Clean Cut Hairstyles for Men
From fine swept hair to buzz cut, there are many clean cut hairstyles for men according to age, face shape, or even lifestyle. Check out the styles below and choose your favorite look.
1. Clean High Top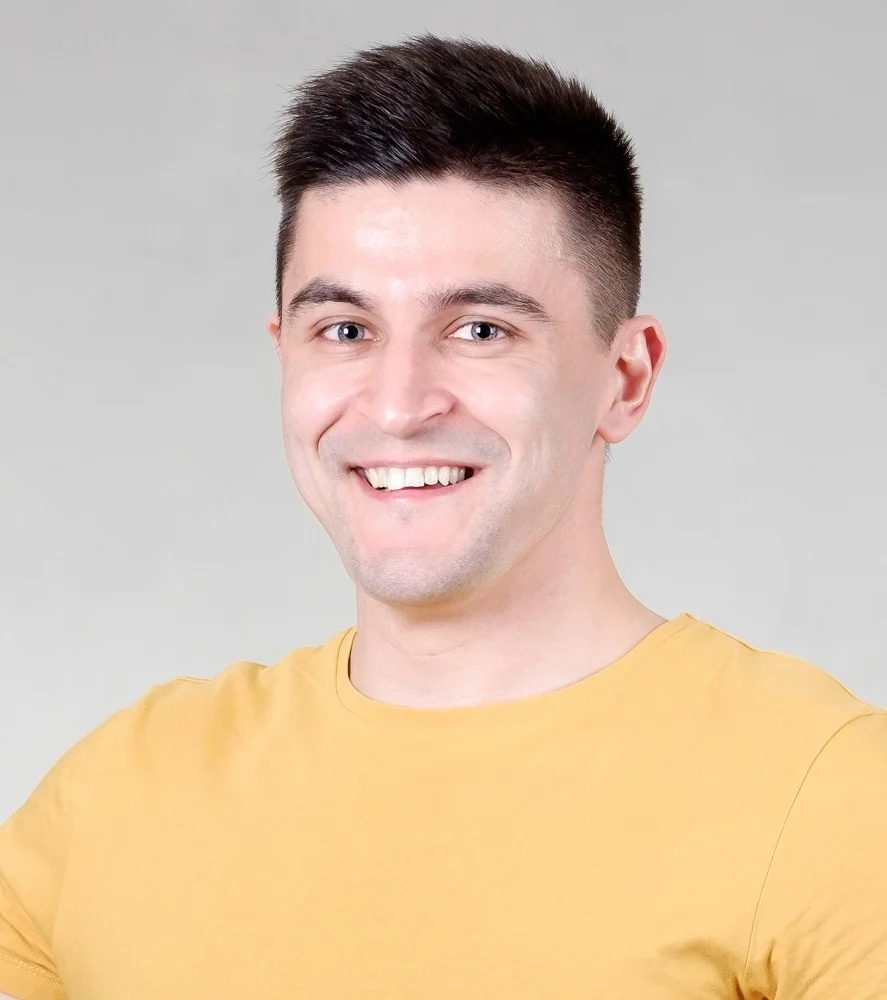 This clean cut hairstyle is suited for men with fine hair, and the magic of this cut lies on the top as it is carefully brushed and angled. The result is a textured spiky appearance.
In addition to that, the longer high top is elegantly contrasted by shorter sides.
2. Wavy Curls
The wavy tousled curls are a carefree look embracing the natural texture. It features gently cascaded curls in an upward direction, and it keeps the hair away from the forehead.
The medium-length hair covers half of the ear, which makes it easygoing for any man.
3. Fine Sweep Over
This simple hairstyle's charm lies in its ease, as you can achieve it by simply sweeping over to one side.
However, when it comes to length, there are flexibilities that make this clean haircut ideal for formal events and everyday wear.
4. Layered Brush Back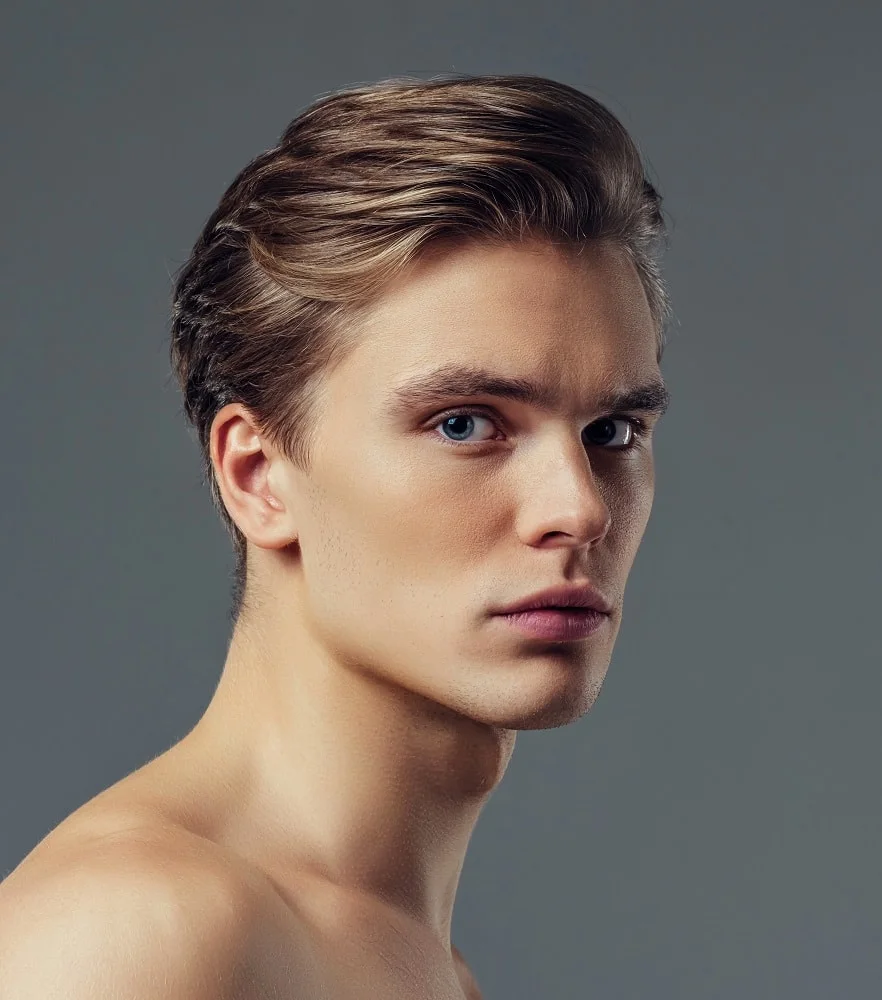 This eye-catching clean haircut for men with fine hair has an elegantly brushed back style that resembles a pompadour look.
The layered style on the sides gives a dynamic and energetic feel. However, the top part gives volume and movement.
5. Clean Buzz Cut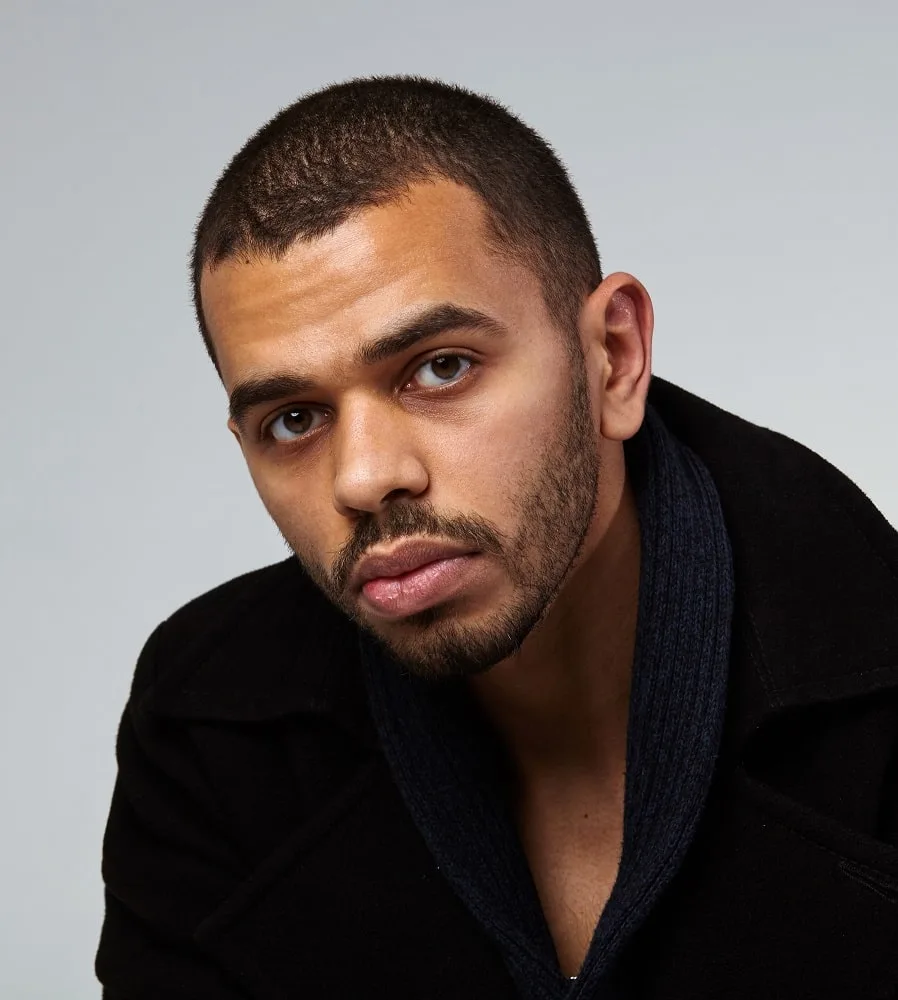 This timeless look requires trimming the hair in uniform length around 3.2mm to 9.5mm, all over the head. Clean buzz cut is well suited for black men with an oval face shape.
Additionally, it is also great for men experiencing a receding hairline as the short hair minimizes the thinning hair appearance.
6. Pointy Quiff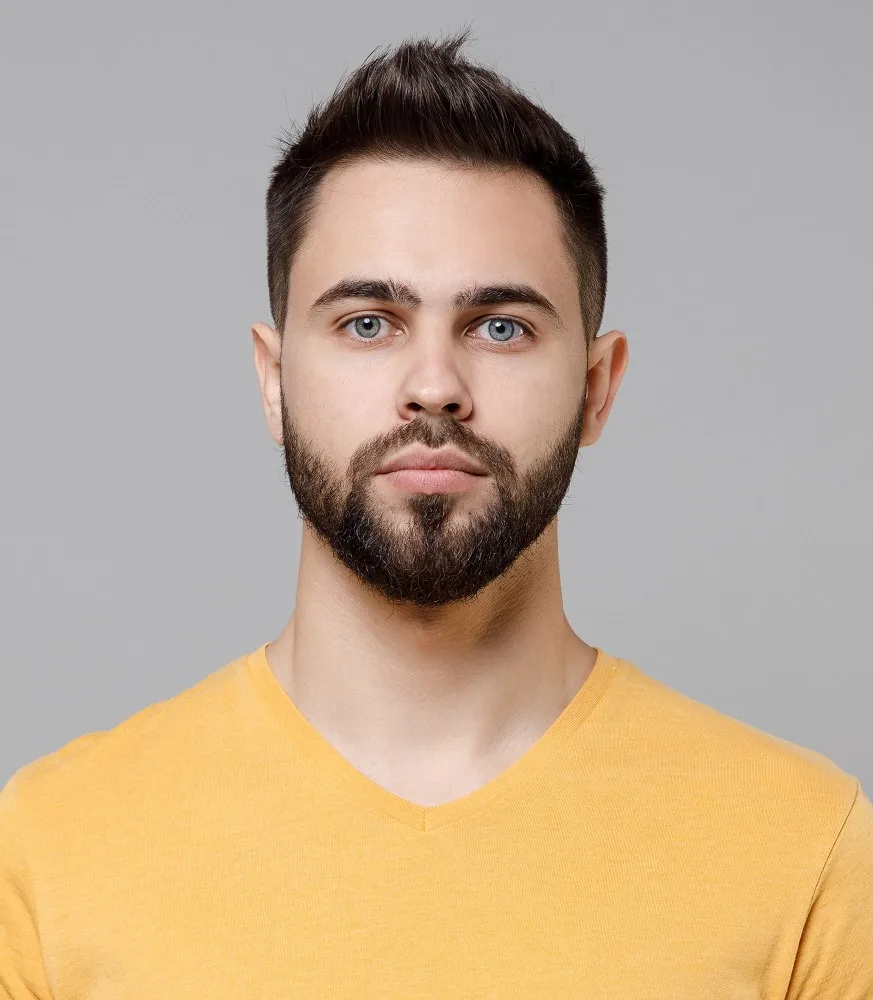 Unlike a regular quiff haircut, this style is brushed upwards from the sides and front, which makes a pointy top. However, the sides are trimmed short and make a sharp contrast with the longer spiky top.
7. French Crop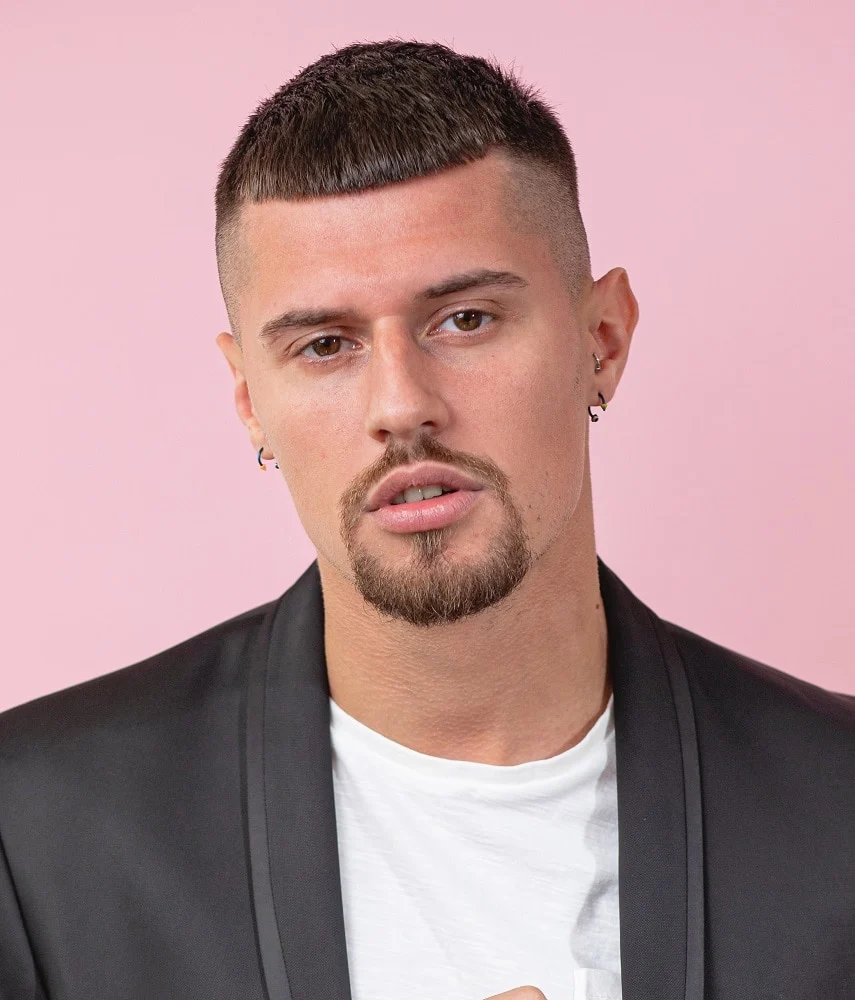 This stylish clean haircut for men features short and textured hair on top with neatly cropped on the front. The temple fade creates a seamless transition from shorter sides to a bit longer top.
8. Curtain Haircut
The hair is split into two parts with neatly styled using hard-hold hair gel to look more smooth and polished.
The curtain effect is the special part of this style as a few strands of hair hang down on both sides of the face.
9. Tapered Cut for Receding Hairline
Men with receding hairlines will find this clean tapered cut hairstyle suitable for them. It features a gradual decrease in hair length from the top to the sides as well as the back.
The front and top parts are brushed in an upward manner and give a subtle puffiness.
10. Fluffy Waves
The medium-length fluffy haircut gives a classy touch to the overall appearance with a moderate part on the side. You will need a hairbrush to gently create the waves on dry hair.
11. Side Swept + Shaved Sides
Here is another bold clean cut for you. This hairstyle has a puffy top brushed to one side. The sides are trimmed with zero size guard to the scalp, creating a sharp contrast with the fullness of the top.
This specific haircut is great for both formal and casual dress-ups.
12. Pompadour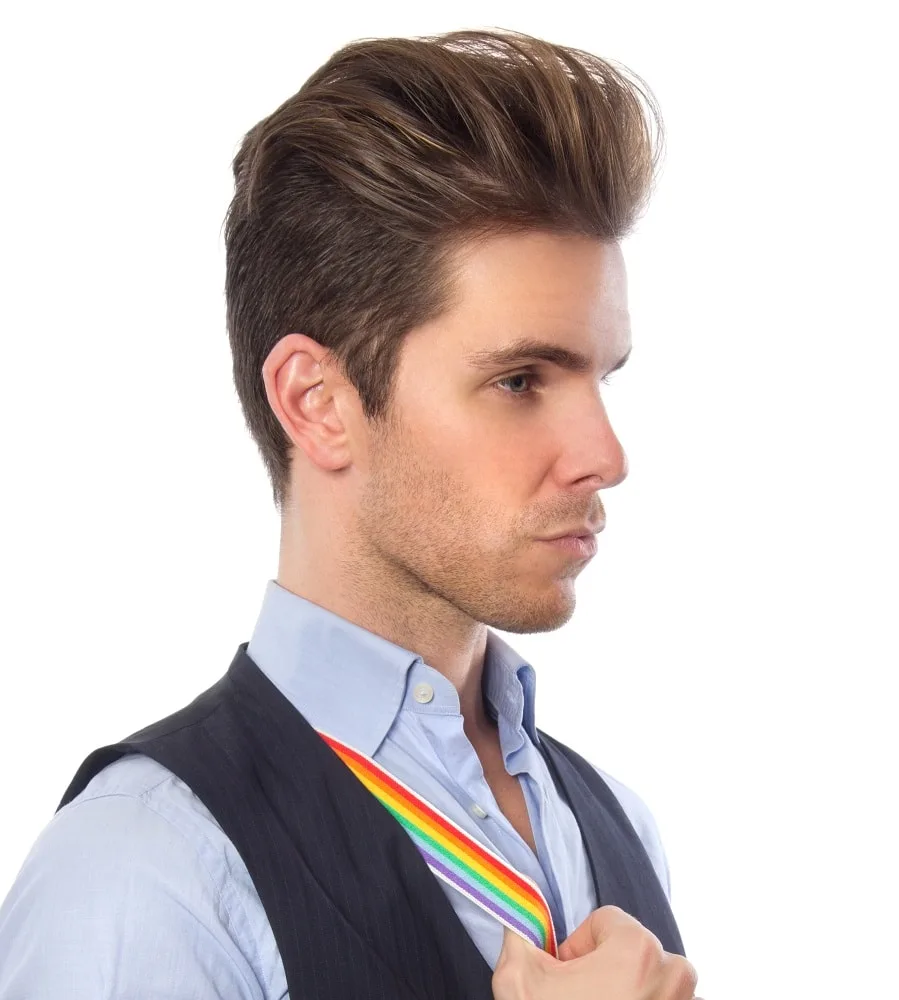 The clean pomp has a neatly styled puff of long hair on the top of the head. On the other hand, the sides and back are kept short compared to the big top.
You must use some hair gel before you style it with the brush.
13. Afro Top
The clean afro top showcases the beauty of natural curls, with the voluminous curly top being the main attraction of the look. With the short sides, the curls give a lively, dynamic texture.
14. Two Blocks Parted on Side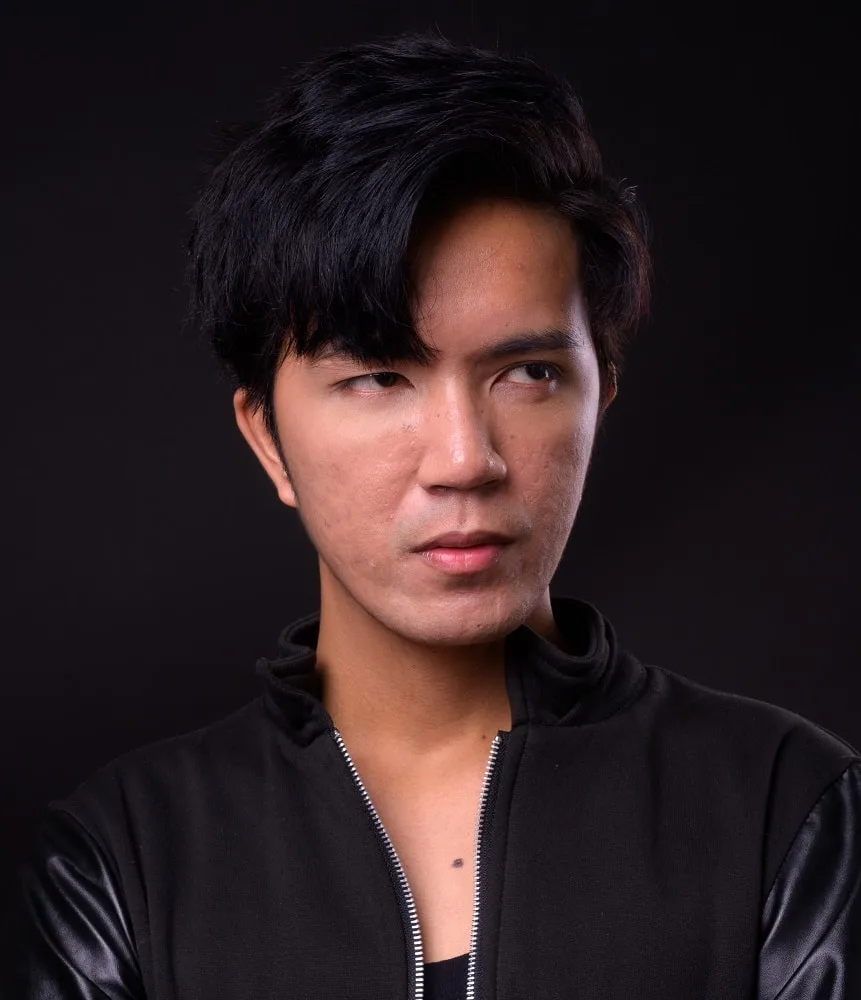 Two Blocks has been a timeless clean haircut for Asian men. As the hair remains much longer on top of the head, it creates two distinct sections.
The top part is considerably longer, while the sides are kept short with a seamless transition using a side part.
15. Brushed Salt and Pepper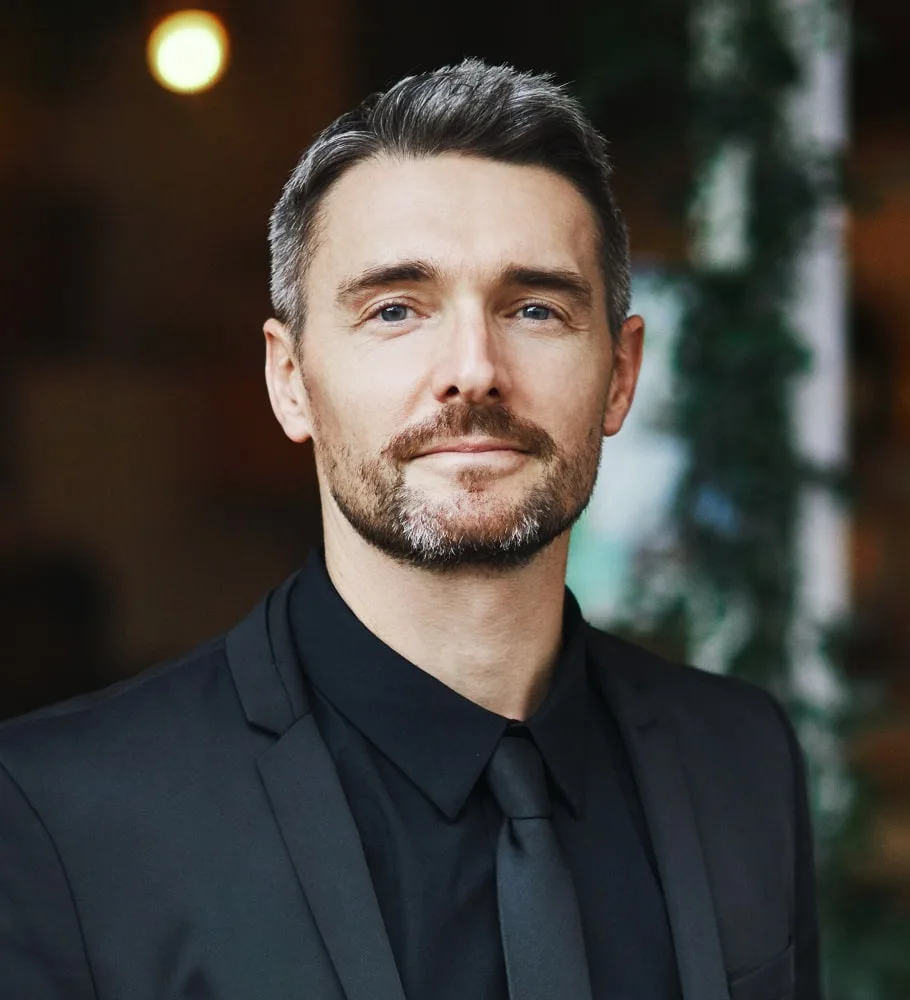 This hair is neatly brushed with a subtle spiky feature, creating a clean look. Parted on the sides, the style accentuates the structure of salt and pepper hair and contributes to well groom finish.
16. Sweep Over Undercut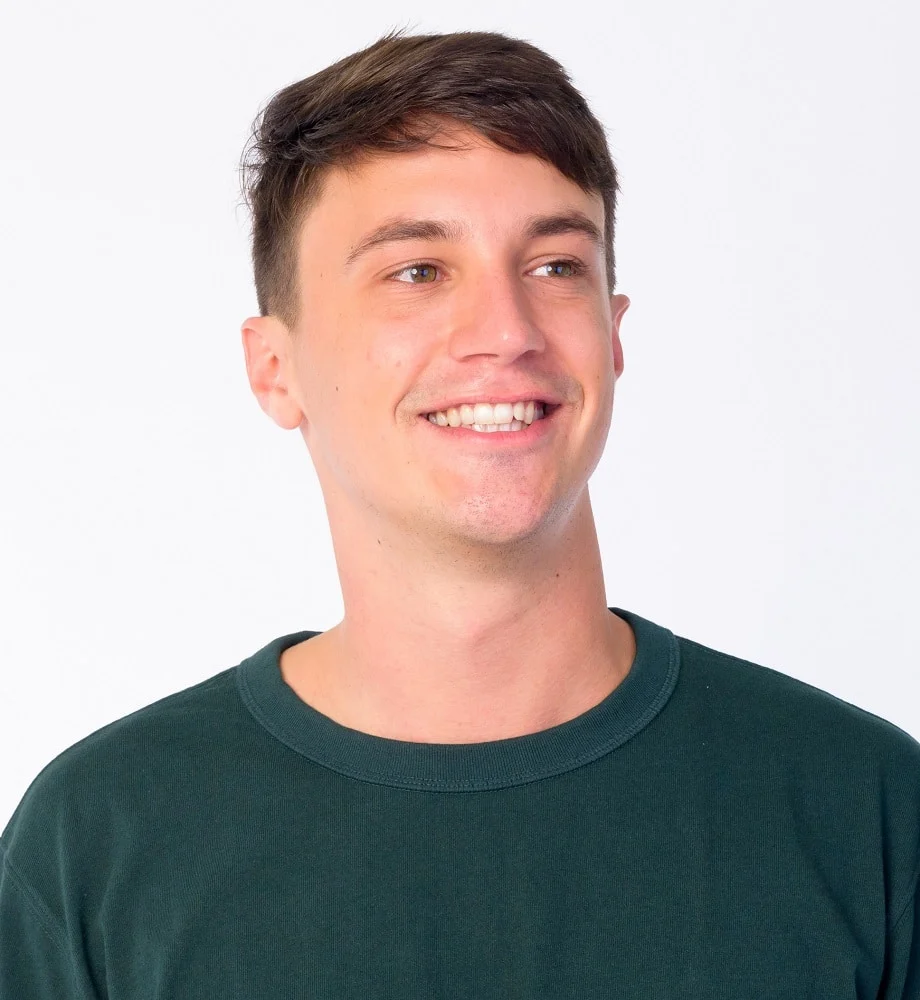 The top part comprising the fine hair is left longer so that you can sweep it from one side all the way to the other side of the head.
However, the closely trimmed sides give an undercut effect. While it gives a fashionable look, this haircut also suits various face shapes.
17. Salt and Pepper Crew Cut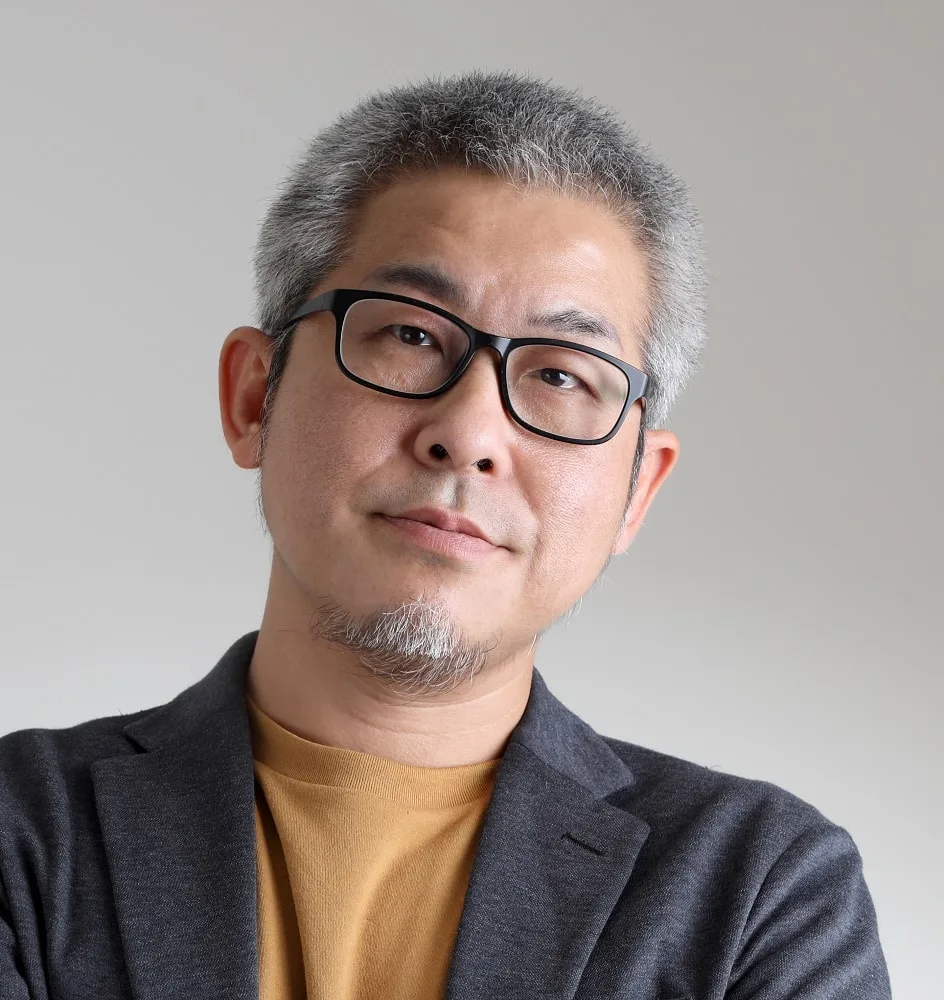 While this style is slightly different than a regular crew cut, it has a uniform length all over the head. This haircut on salt and pepper hair gives elegance to men in their fifties.
18. Angled Brushed Back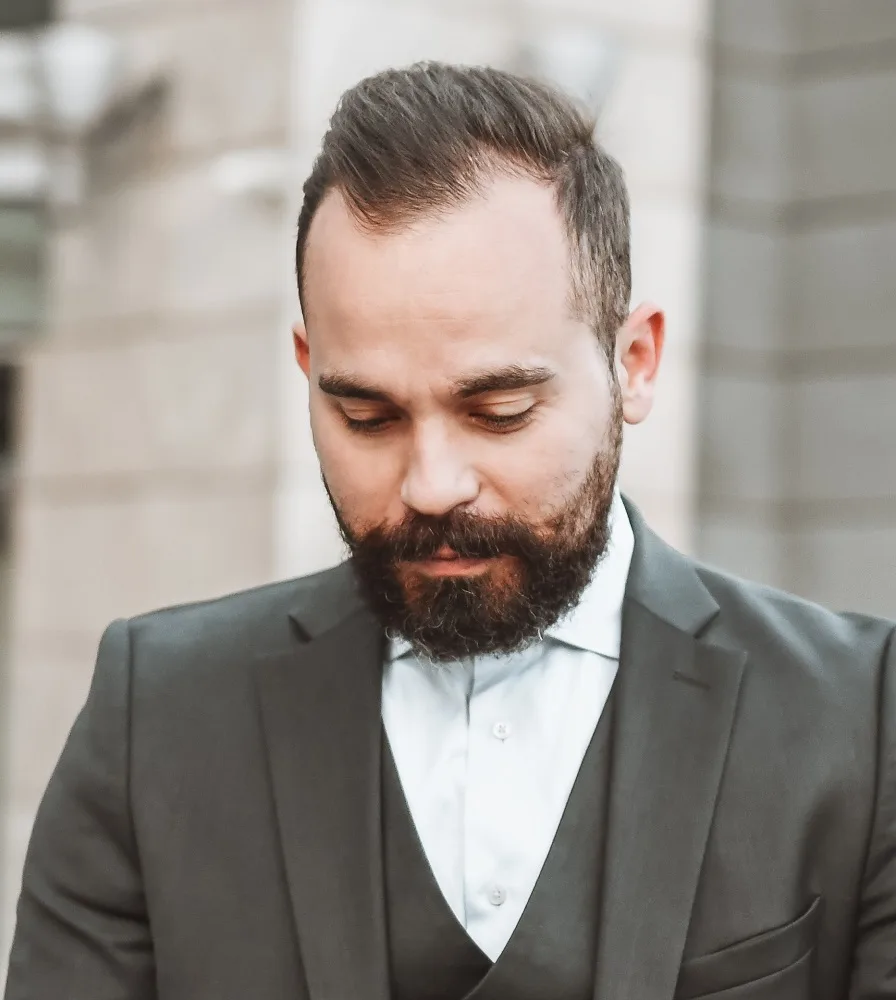 If you are having challenges with thinning hair, you can try angled brushed back. The brushing back adds some volume and takes attention away from the receding hairline.
The angled style creates a seamless flow from the front to the back.
19. Swept Bangs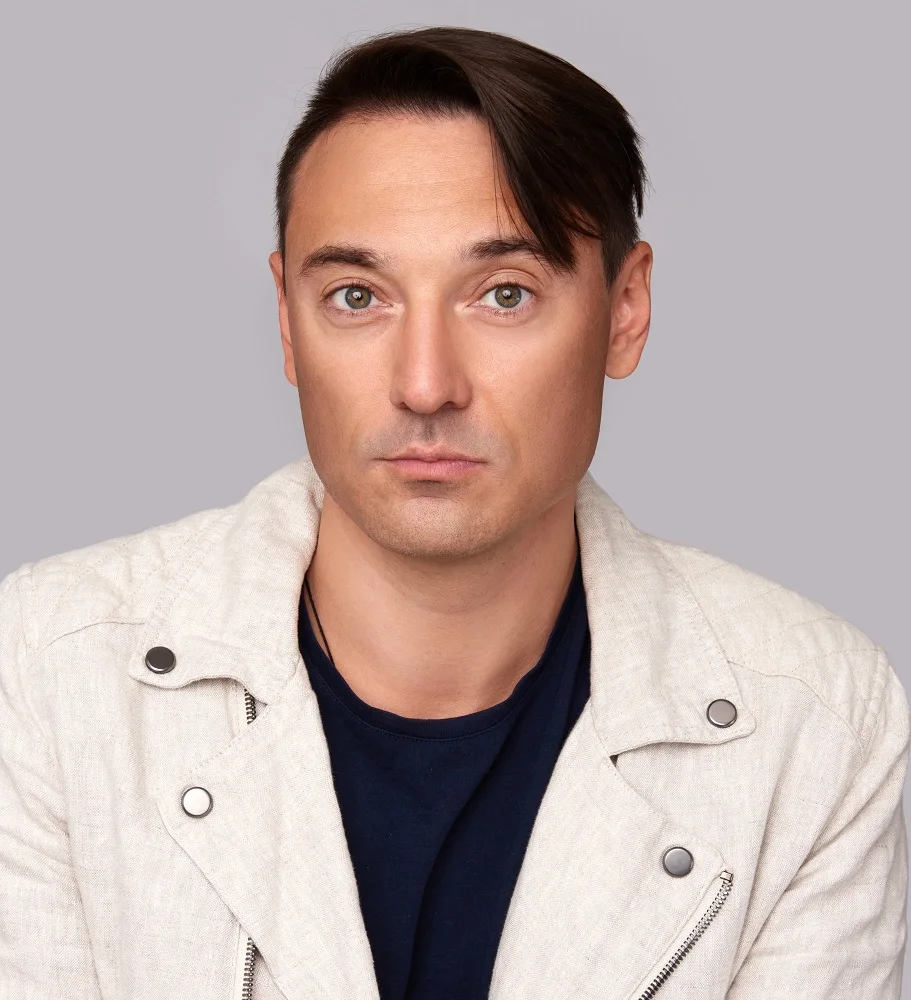 This is an elegant chic look on straight hair that complements the natural smoothness of silky locks.
Further, the hanged bangs on one side of the forehead give a clean finish, bringing attention to the eyes and cheekbones.
20. Wavy Upward Haircut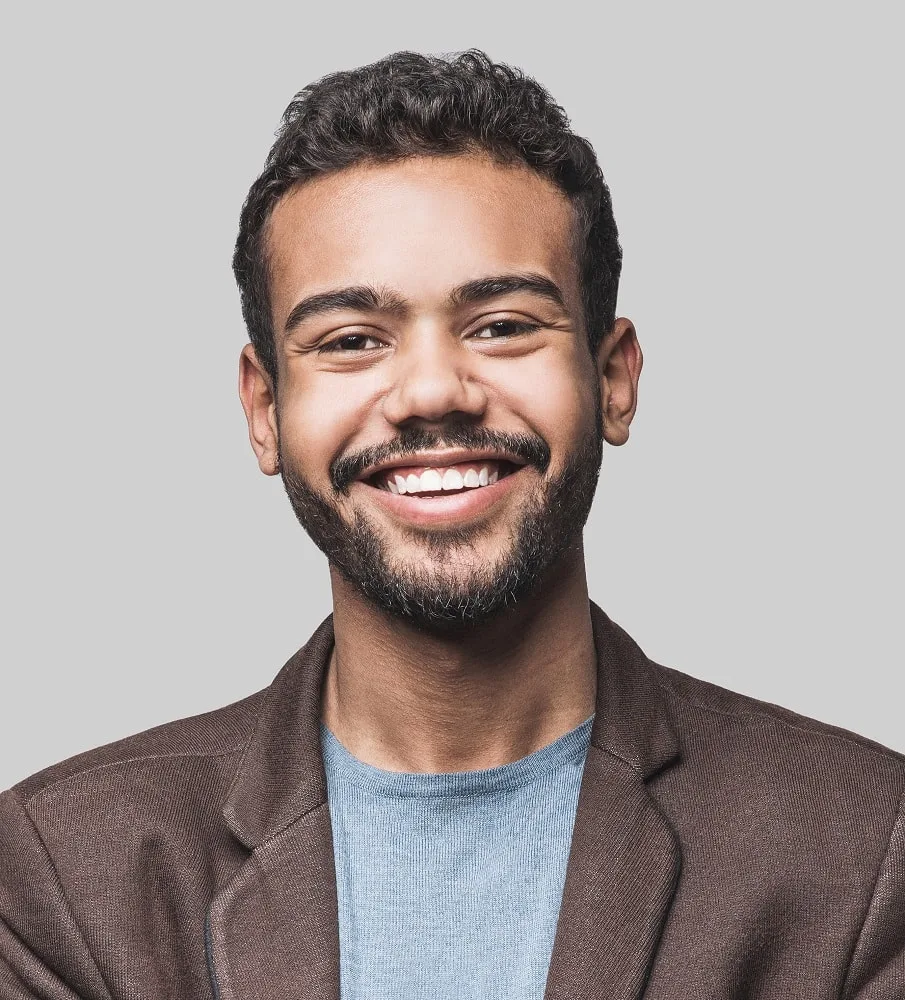 The short wavy top is the special part of this clean haircut. However, shorter sides make a clear difference from the top. It suits best for men with natural dry wavy hair.
21. Brushed Back with Hard Line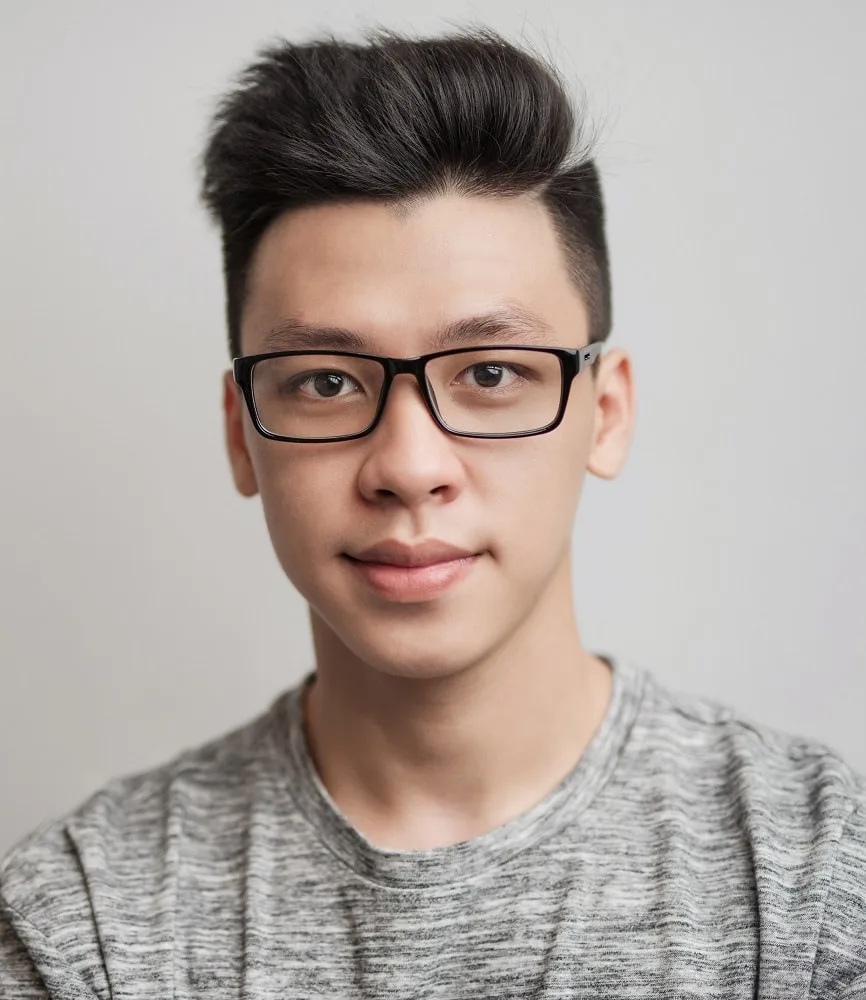 Here is a brushed-back style on bouncy hair that creates some volume on the top, giving a relaxed vibe. Meanwhile, the sides are smoothly trimmed with a hard line creating a distinct side part.
The sharp division between the neatly trimmed side and the voluminous top gives a clean haircut that is easy to maintain.
22. Layered Wavy Sweep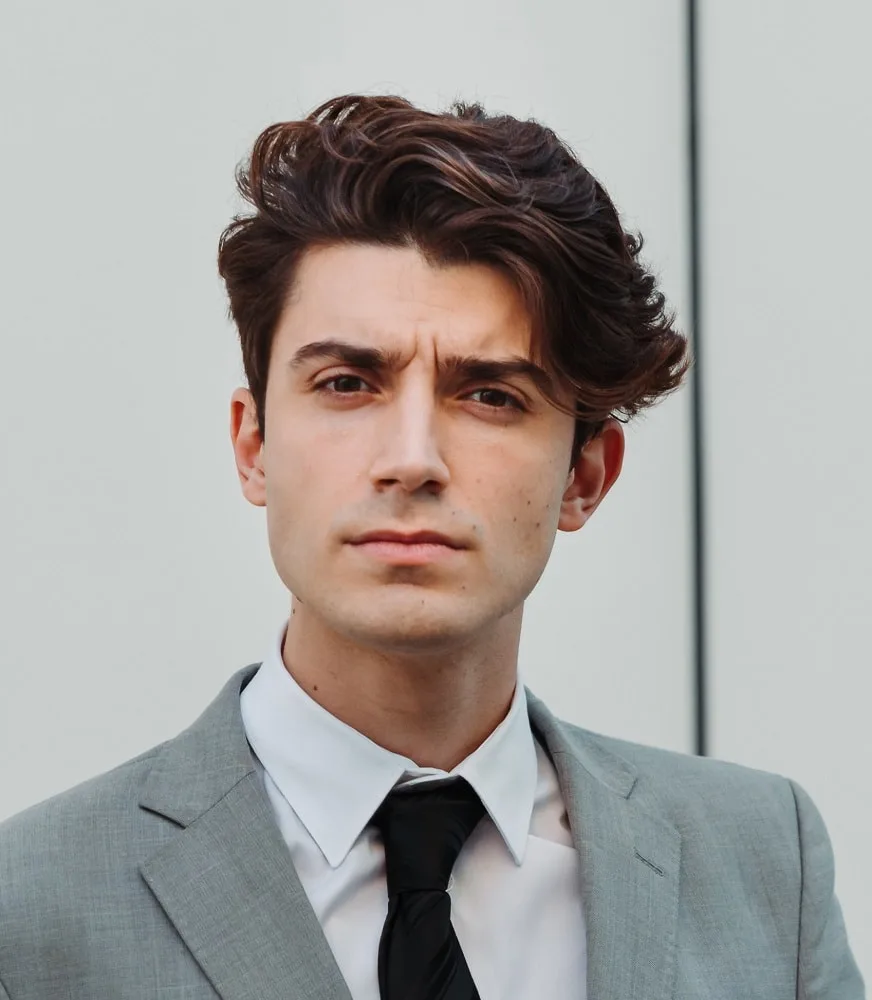 The hair remains considerably long and cut in layers. Hence, it makes the waves flow nicely to the sides. It is styled in a swept-up manner and transitions smoothly from swept up to gently falling to the side.
You can also add a minimal highlight to get a shiny look when you are out under the sunlight.
23. Ringlet Fringe
If you are blessed with natural ringlet-type hair, you may carefully style it to frame the forehead.
While most of the ringlet hair is styled in a puffy manner, the tightly coiled fringe gives uniqueness to the overall appearance.
24. Salt and Pepper Wavy Sweep Over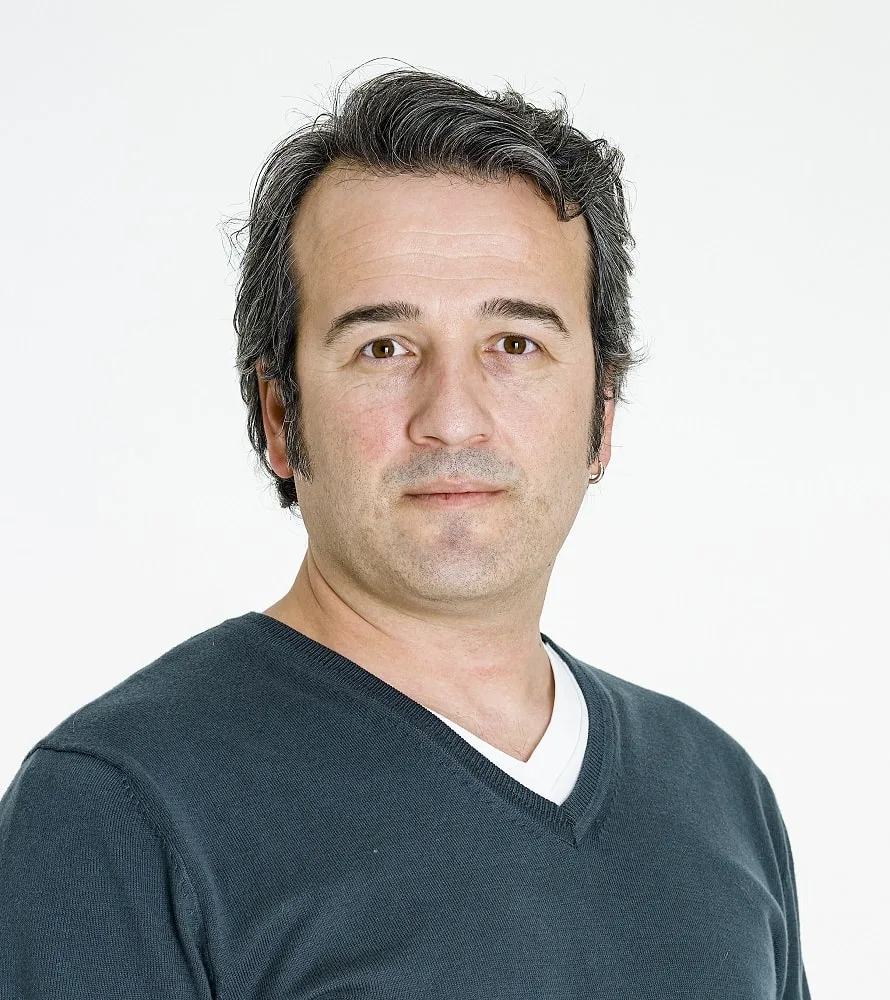 Men with salt and pepper hair often get confused about styling their hair gracefully. If you are one of those, you can try the wavy sweep-over style.
You can style it with a side part to camouflage your receding hairline.
25. Brushed Side Sweep
To get this style, you will need to add some hair spray and then use a brush to comb the hair upward.
After that, swept the upward part to the side to get a clean haircut. This style mostly looks good on a rectangular face shape.
26. Side Part on Golden Hair
This clean haircut best suits individuals with thin hair. The swept-over nicely hides the receding hairline and makes it a side part. Further, the brushed back sides add natural beauty to thinning hair.
27. Classic Buzz Cut
The classic buzz cut is a perfect clean haircut for men who have just started getting a receding hairline but still have a significant amount of hair all over the head.
28. Clean Faux Hawk
This style features short sides that gradually blend into the longer hair on top. It gives a mohawk-like illusion without shaving the sides, making it popular among fashion-forward young men.
29. Puffy Combed + Tousled Haircut
This style combines both a combed and tousled look, making it perfect for men with a rectangular face shape.
While the puffy top enhances the volume and texture, the trimmed sides balance it and give a well-proportioned look.
30. Messy Middle Part + Faded Sides
To copy this look, you can just add hard-hold hair gel and then tousle the hair using your fingers to create a middle part, which gives a curtain-like effect. The low faded sides give a clean appearance.
31. Caesar Cut
The Caesar cut with faded sides bears a resemblance to a crew cut. The faded sides provide a seamless blend with the shorter top, and it complements men with a diamond face shape exceptionally well.
Although a clean haircut is simple and easy to get, it can still enhance the style game for any man. With the right style, you can certainly impress anyone. So, why not try a clean haircut?