A long hair undercut combines two universes – short shaved locks and long tresses, which can be styled in a variety of ways. All men know how tough it is to deal with long hair. However, some of them are always ready for experiments.
This hairstyle is exactly what you need to enjoy the best of both worlds. If you are not afraid of a little hair hassle, you have a chance of making an amazing impression on your peers, coworkers, and loved ones. When you have a few strands of long hair, you can let your imagination run wild. Make friends with hair gel and go for it.
Who Should Try Long Hair Undercut?
It's true that undercuts aren't for every man. Some men prefer a simple classy style like a crew cut or hard part for their locks. An undercut is for men who like their medium to long hair and want to throw in a dash of edge to their current style.
There isn't a certain age bracket perfect for the undercut, which is why it's such a great look to try. From young men going against the grain with medium hair to older men embracing their age with long locks, an undercut will bring a spark to your style. It's also worth it to know that if you have facial hair, it typically looks pretty good with an undercut style. So when you're ready for that pop of a special something under your hair and ready to see what this technique might do for your personality, give it a try!
Long Undercut Looks for Men
Long hair undercuts vary in length. If you've never had a long hairstyle before, you can start with fairly short locks on top. You can shave the sides of your hair higher too. This way you won't have too much hair to deal with on a regular basis.
When you learn how to work with slightly longer locks, you can proceed to grow them a little more. The most amazing and impressive hairstyles are created with very long hair. Here are 40 such undercut hairstyles for men with long hair.
1. Bushy Beard Undercut
If your current long hairstyle is all about rock, edgy vibes, you'll love that an undercut looks ruggedly handsome with a scruffy beard. Feel free to let your locks go wild to match.
2. Side Swept
Cut down on styling time by maintaining the length on one side of your head, but choosing a fade and undercut for the other half. A full beard contrasts great with a smooth head of hair.
3. Natural Black Hair
For men with natural black hair, an undercut takes your look up a notch. Opt for braids or cornrows at the top half of your head in a bun to show off the shaved bottom.
4. Slick Man Bun
For both work and date nights, a man bun half updo is perfectly suitable when slicked back. An undercut makes this look a manageable one but also ultra trendy.
5. High Man Bun
Just a little more than half of this head of hair is full and thick. Gather it up in a man bun with an undercut when heading to the gym or out with the guys.
6. Punk Undercut
For the guy whose style is more punk and emo, an electric blue and an undercut do wonders for long hair. Wear it straight and slightly over the face for the moody vibe.
7. Long Braid Mohawk
When summer comes, it's no better time to rock a mohawk and it just wouldn't be complete without an undercut. Braid the hair at the end of your mohawk to touch it up.
8. Undercut Design
Men who prefer edgy details will find an undercut isn't complete without an amazing design. Initials or whatever your stylist is inspired by will liven up that area.
9. Long Hair and Glasses
This long hair men's haircut features a perfectly smooth shaved undercut. The precise level of detail leading up to the top long hair makes it one fresh look.
10. Undercut and Connected Facial Hair
An undercut looks more seamless and trendy when connected to facial hair. Do this by skipping the trim around the ears.
11. Easy Start
This is a great starting point for men, who want to try long hair undercuts. The hair on top is just about 3 inches. You can style it with a small amount of hair gel by creating spikes with your fingers. Takes only a few seconds to do!
12. Hidden Undercut
If you already have long hair, you can go for a very popular hidden undercut. You can shave the sides but hide them under your long hair. When you want to show off your striking hairdo, all you have to do is make a high ponytail.
13. Slicked Back Mohawk
One of the most popular approaches to long hair undercuts is called a mohawk. It requires shaving the sides AND the back. Not enough men are bold enough to create such a hairstyle so if you do it, you'll definitely stand out of the crowd.
14. Cornrow Bun
If you have cornrows, you can go for this interesting mohawk styled undercut. All you have to do is apply a little hair gel to keep the hairstyle upright. This bun will definitely surprise everyone who'll see it for the first time.
15. Skunk Highlighting
Do you want to make a really cool impression? Use blonde and black hair colors to create a skunk's tail on top of your head. You'll definitely become one of the most stylish men on the block.
16. Curly Locks
If you have curly hair, you can enjoy an undercut just as much as guys with straight tresses. All you have to do is apply some hair gel to brush the hair backward. Otherwise, the coils might get frizzy and fall on your face.
17. Half and Half
This is a classic long undercut hairstyle for guys with straight locks. You can easily style the hair this way at home as long as you have some patience. Don't worry, a few stray strands will only give your hairstyle an extra charm.
18. Fresh Prince
Black guys with unruly and thick hair can benefit from this Fresh Prince hairstyle. You'll have to find a professional barber to shape your hair. But once the job is done, you'll need a minimal effort to keep it styled.
19. Curly Bangs
Most guys prefer brushing their hair backward in order to minimize the styling hassle. You can stand out of the crowd by letting your wild curls fall down your forehead. Use some special curl styling products to make the coils more prominent.
20. Messy Waves
A long hair undercut doesn't have to be styled in the most fashionable way. You can just shave the sides and allow the hair to fall down in waves. It's a great choice for men, who don't mind slightly messy hairstyles.
21. Shaping Up
Using geometrical shaving to give your hairstyle a great form is a wonderful idea when you decide to get an undercut. You can leave the hair on top really long and style it in a convenient ponytail or a bun.
22. Up and Down
If you are not a big fan of slick hairstyles, you can allow your long locks to fall any way they prefer. However, you need a least some styling with a curling iron or hair mousse in order to avoid messiness and frizz.
23. More Hair
You don't have to shave the sides to create a long hair undercut. Just the opposite, you can cut the hair on the sides very short and leave the locks on top slightly longer. While it might take more time, the result is priceless.
24. Wild Mohawk
If you have really long tresses on the top part of your mohawk, you have a lot to play around with. If you are getting ready for a special occasion, don't forget to curl up your hair to create impressive bangs.
25. Up and Away
Macho man don't bother with hair gel and accessories. They can create a stunning undercut just by seeping their impressive tresses upwards and creating a high bun or a ponytail. No hair cosmetics required!
26. Comb Over
This is a simple and fast way to sport a long hair undercut without too much hassle. This hairstyle takes only a few minutes to make and suits men with straight or curly hair. The hair length may vary depending on your preferences.
27. Go Crazy
Want to shock everyone? Cut your long hair very short on the sides and leave it as long as possible on top, When you don't make a ponytail, this hairstyle looks very voluminous and impressive.
28. Slick and Stylish
A long hair undercut can look very slick even when you wear a suit. All you have to do is keep your hair is neat as possible. Ponytails look great when the rest of the hair is smoothed by hair gel.
29. Posh Asymmetry
Asymmetry is always in style and this hairstyle can make you look very fashionable. Consider dyeing your hair a lighter shade of blonde to make an even better impression.
30. Slightly Shaved
You don't have to go all out when it comes to shaving the sides. You can just shorten them slightly while leaving all the rest of the hair intact. When you make a ponytail, you can show off your grand style.
31. Curly Mohawk
A thick curly head of hair is super handsome in an edgy way with an undercut. The sides are faded only halfway up which cuts down on your time taming hair.
32. Straight Hair
A piecey look can be created through layered straight hair. After gathering it into a man ponytail or bun, it's sure to show off that undercut.
33. Braided Mohawk
Feeling completely over your current hairstyle? A braided mohawk undercut is a bold look that'll put some pep back in your step.
34. Design and Color
When it comes to shaved details and hair color, who says you have to pick one or the other? These box braids feature a splash of dark blue that liven up the man bun.
35. Fade and Braid
From the slick hair combed straight on one side to the braid that separates hair from a bald fade and undercut, this men's hairstyle is nothing short of wow.
36. Hipster Undercut
Complete your hipster look with long rainbow hair (or just pick two colors) and an undercut. Wear the look with a pair of spiffy specs for the complete vibe.
37. The Brad Undercut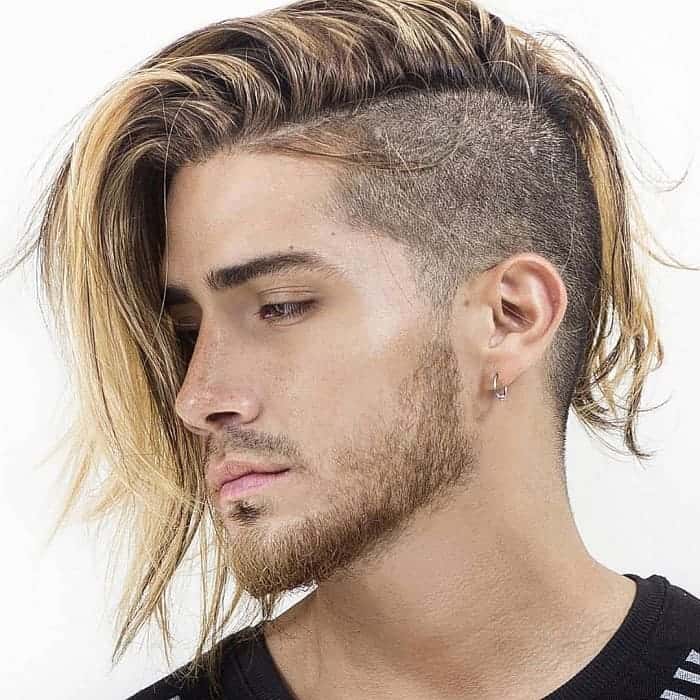 Take a hint from Brad Pitt's famous blonde tresses and copy them but putting your own personal touch on it with an undercut. It's ruggedly handsome.
38. Long Dreads
Do you have a head full of dreads? Cut half of them off in a trade for an undercut. The style will look great whether the dreads are loose or gathered in a man bun.
39. Textured and Shaved
If it's not the long voluminous textured hair and bushy beard that makes this undercut hairstyle super hot, it's the angled shaved details in the fade.
40. Long and Loose
If you prefer to wear your hair down, an undercut will do its part in helping you show off length. Straighten and comb it neatly for a snazzier look for special occasions.
We hope this long hair undercuts gave you a good idea of how simple such hairstyles can be to maintain. If you have long hair, this is one of the simplest ways of mixing long and short together.