Full beard style gives bold and gorgeous looks to every man. It turns you into a manly look from a kid one while unbeatable grace gives add confidence in personality and boost the swag.
The full beard is also good for those whose skin gets irritated with a shave or don't have time for a shave. The flexibility of style and compatibility with different face shapes prove it a versatile beard style which also requires a little maintenance.
What Does Full Beard Mean?
Full beard means long and thick facial hair with no or little-trimmed sideburns. The selection of mustache and its length also depends on the beard style. Long chin hair is an essential part of a full beard while the width of sideburns and whiskers can vary from style to style. Thick hairs are good for full beard style but thin hair can also opt for a few styles.
What is the Length of Full Beard?
Beard style with more than 3-inches length falls in the category of a full beard. Full beard also includes thick jawline, long chin hair, and sideburns. You can shave mustache only if you want but don't shave other parts of the facial hair. Hairstylists suggest the simultaneous growth of mustache and beard if you really want to enjoy the essence of full beard style.
What Does a Full Beard Look Like?
A full beard doesn't give soft and kind looks rather it portrays strong, grisly, and beastly appearance. The pure manly looks are suitable for adventure lovers and gym guys who have strong bodies and want to cast a strong impact on the viewers. No doubt, it looks awesome when you choose the right style according to your face shape and the latest trend has made it the most awe-inspiring beard style.
When does Will My Full Beard Grow?
The certainly depends on your genes and age of puberty. However, after the initial shaves, you can't expect to grow a full beard because it suits only when you have thick hair all over your jawline. So wait till 22 years to maintain a full beard style.
How to Grow a Full Beard?
As I said earlier that the growth of full beard was depended on your genetics. The color, thickness, and direction of hair also determine the beard shape. Some people go for fillers and different kinds of medication to grow more facial hair. Avoid all kinds of unnatural ways of hair growth and only go for natural ways.
Don't shave hair for six weeks! Yes, don't shave also includes plucking, trimming, and shaving of hair from chin hair to cheeks hair and from neck hair to collarbone hair.
Decide the direction of whiskers and beard style. Choose a style that accentuates the positive features of your face. You may face itching problem at first but don't bother and keep carry on. It happens due to the absence of regular shave that exfoliates the skin and clears out the dead skin cells.
Regular use of beard shampoo and conditioner keep the beard clean and remove dust and sweat. High-quality moisturizers and oils are very effective for the growth of facial hair. Trim the beard and give it desired style when you get the desired length of hair.
What Do Women Think About Guys with Full Beard?
To answer the question, I will refer the survey made by Quora and Esquire where women voted in the favor of full beard style and preferred it clean shave. Women termed mature and strong to men who had a full beard and also wanted one for their husband/boyfriend.
Tips to Maintain a Full Beard
Resist to frequent trim and cutting. Let it grow and don't trim more than an inch. Keep the beard orderly with proper combing.
Apply oil to keep it shiny and maintain the growth of facial hair. The oil will protect the skin underneath and keep it soft and moisturized. Use essential oils and apply conditioner once a week. Never use shampoo for the beard as it dries out the skin and causes itching.
A good wax is extremely important for the desired shape of the beard while it helps to straighten the tangled hair and nourishes them as well.
The Best Full Beard Styles
The long beard styles are having different forms and one can select hairstyle and beard style according to the face shape. Here we have collected a list of 30 full beard styles you'll definitely love.
1. Bandholz
This full beard style was introduced and named by the founder of Beardbrand Eric Bandholz. His brand offers beard oils and combs for the growth and maintenance of facial hair.
You need a minimum of 6 months to grow this beard while this beard is suitable for oval, diamond, triangular faces. Don't shave or even trim this beard until you get the desired length. More maintenance is required for this beard style and proper oiling can help to grow hair faster.
2. The Boss
It's a popular full beard style that you can get by fading sideburns. The best part of this beard style is that it suits every face shape.
To prominent the minor details of the beard, you need to trim the sideburns from outside and give them a thin shape. It's simple and elegant beard style. Pair it with a stylish haircut to get a modish look.
Grow mustache with a beard and keep them connected. Choose the length of the mustache as per your convenience.
3. The Two Tone
Tow tone beard style is for middle-aged men who want full beard style as well as want to maintain decent looks. If your face shape is oval or round, then this beard style is perfect for you.
Let your beard grow until its length gets 4-5 inches. Male a pointed goatee and color the middle strip. Make sure that you color only a certain part of the beard and don't spread it at the jawline.
Trim the black hair and let the white hair grow. Don't bleach the roots or start bleach by leaving an inch from the top if you want a grayish tone.
4. Bush and Coif
Bush and coif beard style are long and oval faces to give them round look. The wilder look of this beard is perfect for adventure lovers. Start off with a shorter cut and fade the sideburns.
Give a uniform look by trimming the lower part of the beard and give a square shape. Handlebar mustache matches well with this beard style while you need fade hairstyle and sideburns to make your beard prominent.
Men's Top 50 Beard Styles (Different Types)
5. Garibaldi
This is a popular choice for youngsters who want to attain real manly looks. The round shape of this full beard style distinguishes it from other beard styles. Trim your mustaches and let the beard grow as much as you want.
Garibaldi is ideal for oval and rectangular faces but not suitable for thin facial hair. Trim the mustache and cheeks area and give it a round look when you get the desired length. The maintenance is easy while a trimmed mustache doesn't make eating and drinking difficult.
6. The Warrior
Fierce appearance and uniqueness you get when you opt for 'The Warrior'. It's an incredible and unconventional beard style that requires an unusually strong commitment to growing facial hair.
No need to cut or trim beard hair, mustache, and sideburns. Let them grow freely and depart it into two parts when it gets 15-18 inches long. Make two braids and tie the endings with a rubber band.
\This beard style is amazingly awesome and turns every head. Regular combing and oiling keep hair soft and straight while the maintenance of the beard also becomes easier.
This isn't a beard style in actual but this mustache shape looks fantastic when gets paired with a long beard. Any face shape opts for this beard style. Grow the length of the beard and mustache.
To give handlebars shape to the mustache, increase the length up to four inches and wax them to make collar shape. Proper waxing will convert it into W shape. Curly hair and pointed shape of the beard lift the edges upward and this well-kept shape looks positively magnificent.
Long beard and handlebars mustache answer to the needs of every face shape and you achieve a real manly look.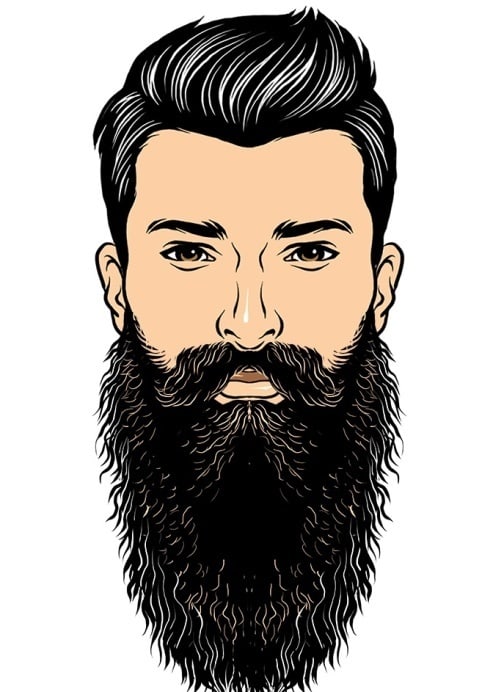 This beard style looks cool and refreshing. Curly facial hair is ideal for full flowing beard style while you need to balance the soft and wild look with proper trimming and side fading.
Allow the beard and mustache with the same length and let mustache fall on the lips. The fade hairstyle and thin sideburns make the best combination. Let the bead grow in its natural way and give it uniform shape later.
This noble beard style is for old people. No restriction of face shape while shaved mustaches make maintenance easy. Let facial hair grow without bothering about the shape of a beard.
The strands of beard will flow freely and you can shave the cheeks if any hair presents there. Young boys can also grow this beard style and later they can change it if they want to get a modish appearance.
Shampoo the beard and keep it clean especially in the summer season to avoid skin problems if you have thick and curly hair.
10. Old Dutch Beard
This beard style gives fantastic looks to oval and diamond-shaped faces. The beard style is similar to the lumberjack look. Grow the sideburns and don't disturb their width. Grow the beard and sideburns outward and keep a balanced flare.
Dutch doesn't need any mustache so you can shave it and keep your focus on the beard only. Grow hair present under the lower lip and give it a rectangular shape. You can bleach this part to bring variation in the overall style.
11.
12.
13.
14.
15.
16.
17.
18.
19.
20.
21.
22.
23.
24.
25.
26.
27.
28.
29.
30.
Full beard style brings an amazing change in your personality by giving you a great look. Consider your personality, profession, and patience before selecting a full beard style for you. Ignoring these factors will disappoint you later when you will fail that get an exclusive look due to your impatient nature.