When you are getting ready for a wedding, you browse through millions of different hairstyles. Did you ever think of wearing your wedding hair down? Yes, it seems as if it can be hard to keep neat, but if you've got long and luscious locks, you just must flaunt them. Many women are trying to create an image of a princess on their wedding. Down hairstyles are a great way to complete that image. If you'd like to use this idea but don't know where to start, you can take a look at few modern and interesting way to go.
Wedding Hair: Up or Down?
Should I wear my wedding hair up or down? This question is one of the most popular among brides. Making a choice is easy.
Wear it down if you have long and thick hair.
Wear it up if your hair needs volume.
Wear it down if you have a stylish cut.
Wear it up if your hair is hard to manage.
Wear it down if you are not afraid of frequent touch ups.
Wear it up if you want to forget about your hair for the whole day.
Unique Hair Down Ideas for Your Wedding
Wearing your wedding hair down is a rather bold move. You need to get ready for frequent touchups. But the overall impression you'll make will be so stunning that you'll thank yourself for the effort. The best wedding photos are created when the bride wears her long locks down. If you have medium-length hair, don't be afraid to flaunt it either. There are so many ways to create stunning wedding hairstyles without lifting the hair up. You can take advantage of a few we've chosen for you.
1. Side swept waves
This simple option is perfect for girls, who have long thick hair. You need to add your locks a little wave with a curling iron and sweep them to one side. This hairstyle is hard to keep in place, so it's usually created for photo shoots.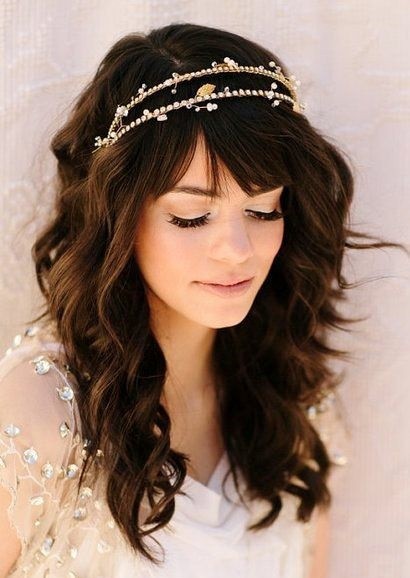 Long wavy hair is a perfect opportunity to sport blunt bangs. You have to give your hair a wave while leaving the bangs straight. The contrast is fabulous. You can add any hair accessories, such as a tiara or headband.
Best Wedding Hairstyles for Long Hair
3. Floral wreath
If you want to wear you natural wedding hair down, you can appreciate a floral wreath. It won't just look fabulous and make your image more natural, it will hold your hair in place and eliminate frequent touchups.
4. Tied strands
If you want to wear your hair down but wish to keep the windblown look to a minimum, you can use a simple trick. Tie two frontal strands in the back to sweep the side locks backward. You'll save yourself a lot of hassle. You can check out the trendy wedding hairstyle ideas for brides with short hair.
This princess hair down wedding styles is also a popular options:
You can wear your locks down but keep them tied a little in order to avoid a messy appearance. Make a loose ponytail in the back and hang it over one shoulder. You'll create an appearance of down hair.