Looking for short hairstyle inspirations for your wedding day? When the special day is near, every woman like you hopes to look at her very best. For centuries long manes were considered the sign of utter beauty. However, the time has changed and modern fashion dictates its rules.
Right now short hairstyles are very popular among women for the special wedding day. They are comfortable, easy to maintain and make girls feel sure of themselves. When the time comes to choose a way to style their hair for a wedding day, many girls are still faced with options for long-haired ladies.
However, there is no reason to fret. There are many very fashionable, amiable and stunning short wedding hairstyles out there. All you need to do is look. Browsing options for short hair are, even more, fun. Long hairstyles might look pretty but they are often a hassle during the special occasion when the bride needs to be the center of attention for a very long time.
That's why girls with long hair often pull it upwards. Women with short hair won't have to bother so much. Their short locks will look amazing as part of the stunning wedding day image.
Short Wedding Day Hairstyles for Brides
If you have short hair, there is no reason to think you won't find a perfect wedding hairstyle. There are many options out there. If you are having trouble doing long and tough research, we will help you out. This very special day will be remembered for the rest of your life, so girls want everything to be absolutely perfect.
We have selected the 125 most amazing short hairstyles for brides. Take your time choosing the one you like best and go for it. You can try several of them before your wedding day, to be completely sure that you made the right choice. Good luck!
If you have a simple short bob and don't know what to do with it on your wedding day, this hairstyle is for you. Soft waves will add your look a lot of romance. A nice white headband with or without flowers will complement the look.
Wanna try Wedding Hairstyles with Long Hair? You'll Love These
2. Simple stacked bob
Sometimes it is not the hairstyle that's important. In many cases, color plays a huge role. This is why we love this beautiful short wedding haircut. If you have a simple stacked bob, dye it blond! Blond brides always look very impressive. But if you don't go too far with the hairstyle, don't forget to sport some bright accessories and jewelry.
3. Soft curls
A gorgeous curly wedding hairstyle with short hair. If your hair is curly, use hair gel to make it as neat as possible. Your curls will look soft and natural. Add some wedding accessories to make your special hairstyle more impressive. Opt for large white bows and netted veils.
4. Wild waves with a side part
If your hair is not naturally curly, a wedding is the best occasion to make amazing waves. Just make sure your hairstylist does his or her best to allow them to stay intact all day long. Blond waves look very bright and don't even need any hair accessories.
5. Semi bun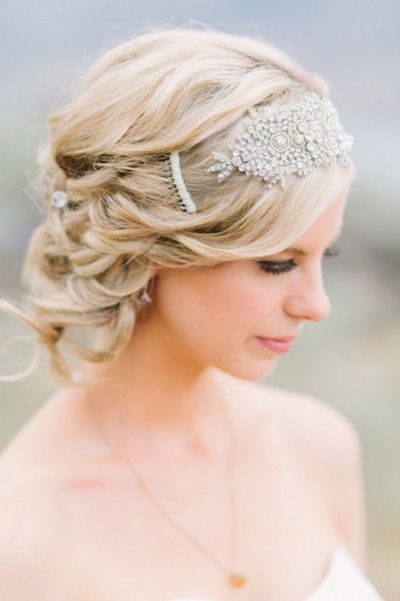 If your mane is not long enough to make a bun, but you really want a hairstyle that seems voluminous, this semi bun is a way out. Curls your hair and gather it in the back with various pins. You can even use a net to make sure it stays in place.
6. Wedding Hairstyle with Braids and flowers
Who said girls with short hair can't have braids? You can make as many as you wish on top of your head. Intertwine flowery pins with the braid to make a real wedding hairstyle. You can also lift up your bangs and secure it with the same pins. The hairstyle will be truly impressive.
7. Curly pixie
If you've got a pixie, you can make the most amazing short wedding hairstyle. Curl the hair on top to make soft and short waves and then attach a bridal veil in the back. This hairstyle will look as if you lifted your long hair on top and hid it with a veil.
Ideal Black Bride Wedding Hairstyles
8. Asymmetrical curly bob with accessories
We love this wedding hairstyle with short length hair. Asymmetrical bobs are in style now. But how do you make a wonderful hairstyle out of them? Very easily. Make curls on both sides. Then tuck the shorter side behind your ear and secure it with some wedding accessories, such as bows.
9. Teased bob
If you've always wanted to look like a queen, a wedding is the best occasion to do it. Find some special regal looking accessories to use as a headband. Tease your hair or perm it to make a little wild and sexy impression. You will look fantastic, your majesty!
10. Permed and greased
If your hair is short and fine, you've got your work cut out for you. One way out would be to get a perm. This will help you make sure that your wedding hairstyle will not fall apart during the day. Add some gel to make it even neater.
11. Amazing highlights
One of the greatest ways to deal with short hair on a wedding is to get proper highlights. Blond is the trendiest color for most brides. But pure and platinum blond is somewhat outdated. Make bright highlights to really stand out. Don't forget about the curls!
12. Straight stacked bob
Straight stacked bob will become the most amazing short wedding option if styled correctly. Make the back part as high as possible, while leaving the frontal strands long. A real hair styling professional will apply enough hair products to make this amazing hairstyle last.
Are You a Wedding Guest? Try These Hairstyles
13. Be natural
Being natural is another great trick brides with short hair should learn. If your hairstyle is very short and fashionable all on its own, perhaps nothing needs to be changed. This especially goes for girls who are not after classical wedding dresses.
14. Fohawk
Want to stand out of the crowd for just one day? Make a fohawk! This will really impress your wedding guests. The main advantage of this hairstyle is that you can easily change it back into a regular pixie. The fohawk impression is made by braiding the hair on the sides and pulling it backward. The bangs are styled into a comb over.
15. Combed over bangs
If your hair is not long enough to experiment, your bangs can be. Create a great and impressive combed over bangs hairstyle by arranging your fringe across your forehead. You will get a neat and romantic look that can be complemented by large earrings and a necklace.
16. Long weave
If your hair is short but you've always dreamed of a princess Jasmine mane for your wedding, get a weave. The wedding is a wonderful occasion to try a weave for the first time. You will really feel special sporting long locks.
17. Headbands and veils
Girls with short hair should take full advantage of such accessories as headbands and veils. Any woman will look truly amazing with well-chosen accessories. Opt for long and high veils and thick headbands to compensate for short hairstyles.
18. Get creative wedding hairstyle with short hair
Getting creative for a wedding is one of the best ideas you can come up with. If your hairstylist can't offer you any wild advice, try this one. While being totally unique, this haircut is very practical and seems absolutely appropriate for a wedding.
19. High hair from 1960's
Girls with medium-sized bobs and thick hair can opt for this 1960's hairstyle. It will make an impression of a lot fo volume and will look truly special. Who said 1960's are outdated? Fashionable hairstyles never go out of style.
20. Hide under a veil
If your hair is truly short and you don't want to spend a long time reviving it or getting a weave, your best option would be to hide under a veil. This a great idea for girls with dark hair. The contrast between hair color and a white veil will be fantastic.
21. Curly ponytail
This short wedding hairstyle might seem complicated, but in reality, it is very easy to make. All you have to do is make a high ponytail and curl separate strands. Intertwine different flowery accessories into the strands and pin the ends to the base of your hair in order for the hairstyle to last.
22. Lift it up
Girls with short hair can emphasize the volume on top. Curl your man and lift it upwards to make a high hair impression. The result will be amazing if you dye your locks blond. This will create a true princess like look.
23. Go red
Hair color is very important for your wedding image. Blond is very popular, but red makes for a great contrast. All those white accessories, veils, dress and shoes will look truly amazing against this red background. Give it a try!
24. Large flowers
If you are not about to go crazy about a hairstyle and want to settle for simple curls, go for large accessories. A large flower attached to a headband will look wonderful on your short hairstyle. Just don't over do it. One is more than enough.
25. Short pixie with wispy bangs
A bride with a short pixie and wispy bangs will look really impressive with the right choice of hair accessories. Consider getting something impressive clipped to one side of your mane. Add large earrings to complete the look.
26. Slight waves
If you have short and thin hair but still want a priceless hairstyle, consider the wavy approach. Make the waves as large as you can and add a big hair accessory, such as a flowery headband. Make sure to style the bangs accordingly.
27. Leave it natural
This short wedding hairstyle is amazing due to its natural look. If you have a short bob, all you need to do is style it as usual and add one large bow on the side. Revealing at least one ear lets you sport the pretty earrings.
28. Clipped veil
Pump up the volume of your short bob with a curling iron and enjoy as much volume as possible. In order to keep your hair looking neater, consider purchasing a clip with a small veil on it. The effect is priceless.
29. Power of ribbons
If your a-line bob seems like the best wedding hairstyle for short hair, all you have to do is add just a small accessory to outline it. You can consider getting a headband styled as a small ribbon.
30. 1920's style
If you are into interesting and unique solutions, you can choose this 1920's hairstyle. You'll need to create small curls all over you short mane and clip a large ribbon with a jewel on the side. The look is fantastic!
31. Pixie fun
Girls with pixies will appreciate this hairstyle. If your hair is straight, you can keep it as neat as possible by adding a voluminous headband. This option looks especially well with black hair and sparkling white accessories.
33. Lift it up
Lifting your hair up allows you to forget about the hair getting into your face. So even if your hair is not too long, you can still clip it upwards and enjoy a worry-free wedding day without touchups.
34. Special flowers
Whatever colors you choose for a wedding, you can purchase the flower accessories to match them. If you have a bob, you can lift the hair upwards a little a clip it with the flowers. Consider adding a small braid on the side.
35. Asymmetrical bangs
If you have a short hairstyle, don't hesitate to experiment with the braids. Such wedding haircut for short hair is priceless since it's stylish and allows you to outline your facial features, especially the eyes.
36. Large hair clips
Girls with short hair still want to lift it up so it looks neat. Create an impression of a beehive by lifting the hair up and clipping it with a large clip. You'll need additional small clips to keep the hairstyle intact.
37. Natural wave
Experiment with your pixie by brushing your hair upwards and creating a natural wave. This is one of the most attractive short hairstyles since it looks natural and doesn't require any special attention.
38. Curly bun
If you think that after cutting your hair short the buns are out of your reach, you are wrong. You can create an appearance of a bun by curling the ends and lifting them up in a special way. Ask the hairstylist for some guidance.
39. Hair twists
These twists might look plain at first, but only imagine how they will shine with the right accessories! By clipping a flower to each twist, you can create a truly amazing wedding hairstyle that you'll remember for years to come.
40. Wavy bob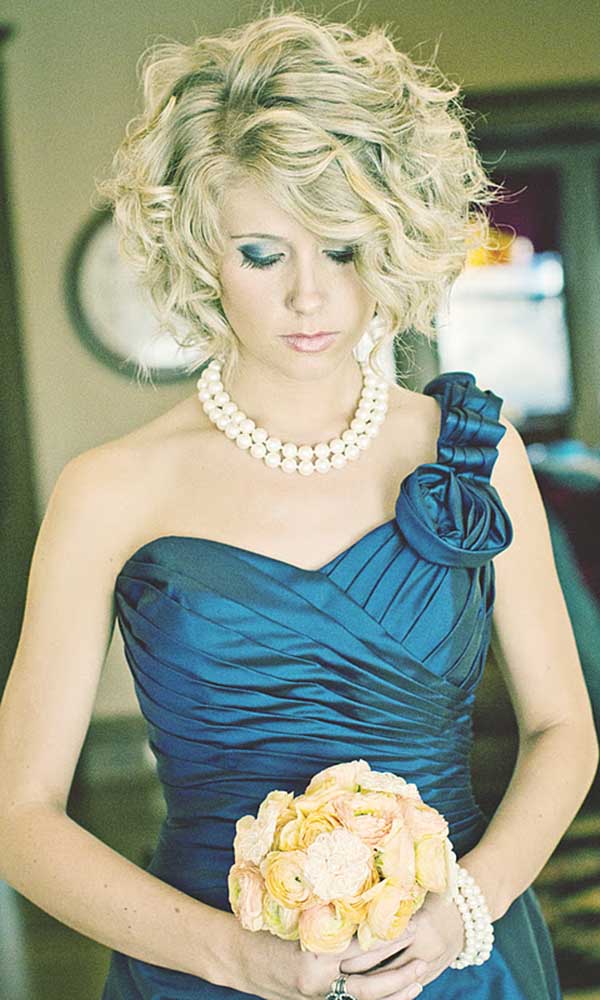 Waves are often considered to be a compulsory part of a short wedding hairstyle. Take advantage of this occasion to sport the most amazing hair. Use the waves to pump up the volume as much as you wish.
41. Twist'em
This simple twist looks elegant and it's easy to create. You need to add your hair a little wave and twist it to one side. Keep it intact with the hair clips. Cover up the clips with a large hair accessory.
42. Leave them be
Sometimes it's better to just leave your hair down instead of doing something special about it. If your locks are thick and beautiful, you can just style them as usual and add any accessory you wish for decorations.
43. Silver choice
If you want to stand out of the crowd, you can use the special occasion to dye your hair the popular silver color. A bride with silver locks will look truly outstanding and unique. Give it a try!
44. Starry tiaras
Girls with short hair have a big choice of accessories to go with their short wedding hairstyles. However, not all of them are created equal. Take a look at special starry tiaras that will give your image a futuristic feel.
45. Soft image
If you are going for a princess-like appearance, you don't need to have long locks. All you have to do is focus on making your image softer. Make a few simple waves on your bob and add a flower for a boho style.
46. Sweep it back
Sweeping your hair back by using an accessory is a wonderful way to free up your forehead and outline your eyes. You can create small waves on the back part of your hair while keeping the front straight.
47. The wet look
Not many brides prefer the wet look but it's a great way out if your hair is hard to manage. Use the hair gel to allow your hair to take the shape you want it too. Make sure to style the bangs as well.
48. Stray strands
There is nothing more romantic than a girl with a neat hairstyle who has stray strands hanging down her face. This is an ideal image for a bride and an easy-to-make short wedding hairstyle. Give it a try!
49. Messy volume
Pump up the volume of your locks by using a hairbrush and some hairspray. This approach to the hairstyling is popular and can make your image truly stunning. Add a delicate headband for contrast.
50. Stacked bob
Low stacked bobs look fantastic for any occasion especially if they are styled the right way. Keep all the strands neat and close to each other to create a classic look. Use any accessory you wish.
51. Simple approach
If your hair is thin, try not to torture it with too much styling. In the end, you might get a terrible result. Opt for leaving it down and add large accessories on the side. The flowers are a perfect choice.
52. Straight bangs
Mixing and matching curls and straight hair is a perfect choice for a wedding hairstyle for short hair. You can keep most of your locks curled while the bangs will stay straight. Add some asymmetry to your fringe for extra style.
53. Asymmetrical pixie
An asymmetrical pixie is a perfect hairstyle all on its own. There isn't anything that needs to be done about such a pixie. You can add accessories or a veil but keep the hair straight and neat without any curling.
54. Close wave
If you want your hair to stay neat all day long, you can consider this close wave. Each wave is carefully arranged on top of your head and kept intact by some hair gel. You can use a headband to help keep it down.
56. Fresh and free
A freshly cut pixie can be everything you need for a perfect short wedding hairstyle. Flaunt your amazing short hair and don't bother with too many clips, headbands, flowers, and etc. Be natural!
57. Burgundy drive
While the wedding day is not a perfect time for experiments, you can still consider choosing a new hair color for the special occasion. A rich burgundy shade is exactly what you need to make a great statement.
58. Blonde waves
Blonde is the most popular color for the brides all over the world. Waves are the most popular style. So why not mix the two together? Have fun creating a soft princess-like image and enjoy it.
59. Twist the ponytail
If you have a long bob, lift your hair up and make the small coils. Outline them with bright flowery clips and your hairstyle will truly shine. Consider making a few highlights as well.
60. Side part
If you have thin hair and a short bob, consider outlining your bangs by making a pretty side part. Then decorate the short side with a large accessory, such as a bow or a flower. You'll love the result!
61. Vintage approach
Vintage 19th-century hairstyles are not becoming less fashionable with time. So your pixie can shine just like decades before. This short wedding hairstyle is exactly what you need to minimize the wedding hassle.
62. Impressive stacked bob
If you have a high stacked bob, you should definitely take advantage of this wedding hairstyle for short hair. The longer part of your hair should be curled while the back stays straight and stacked.
63. Swept back curls
This complicated hairstyle is exactly what you need for short hair. The strands are swept back to create a ponytail but they are clipped half way to make an impression of a bun. The ends are curled.
64. Colored tips
You can create an impression of volume by sweeping the hair back and tying it loosely. Additional volume can be made by dyeing the tips a lighter color for stunning contrast.
65. Add some gold
Bright golden headbands look perfect with brown or honey blonde hair. Whether you have a short pixie or a long bob, a well-chosen golden accessory can outline any wedding hairstyle for short hair.
66. Neat arrangement
Even if your natural hair is straight, you can still create charming curls and arrange them neatly around your head. Neatly arranged curls don't even require any accessories but you can use a few if you wish.
67. Side swept bangs
A short wedding hairstyle that doesn't require any styling is one of the most wonderful choices for a bride. Consider creating a short bob with side swept bangs. You can decorate it with a small veil.
68. Red and stunning
Dark red hair dye is exactly what you need to make an impression at your wedding. If you want to add a little extra oomph to your image, consider experimenting with more wild colors, such as violet or pink.
69. Curly strands
Even if you are not a fan of curls and want to keep your hair straight, allow yourself to curl at least one strand. One curly strand is all you need to keep your image festive, romantic, soft, and magnificent.
70. Jeweled headband
A jeweled headband can make even the simplest haircut shine. So if you are not into too much styling, curling, and arranging, you can just allow yourself to choose a stunning accessory and flaunt it.
71. Eye-reaching bangs
Eye reaching bangs look perfect with any wedding hairstyle for short hair. They cover up your forehead and divert the attention from your head to your face and mostly your eyes. This is perfect for a bride.
72. Fishtails
Fishtail braids are always a great addition to any wedding hairstyle. If you have short locks, you can use two frontal strands to create a braid in the back. You can go further to decorate it with flowers.
73. Long veil
If you are planning to have a voluminous veil, you should avoid creating anything extraordinary on your head. A long veil is a perfect excuse for the absence of a complicated hairstyle. Use it!
74. Flower mix
Don't be afraid to experiment with large flowers. If you have a voluminous dress, you can easily use large real flowers on your hair. You can either attach them to a headband or to hair clips.
75. Comb over
Comb the hair back from your forehead and secure it with a headband. This simple yet elegant style can help you look amazing at your wedding without spending too much time on styling your hair.
76. Twisted bun
If your hair is not long enough to create a braid, consider twisting it on the sides. Such approach is a bit complicated since it's hard to keep it intact, but in the end you'll get a wonderful short wedding hairstyle.
77. Short and sweet
If your hair is so short that it just can't be styled, don't touch it. A simple short haircut can become a wonderful choice for your wedding image. It opens up your face and allows others to enjoy your eyes and smile.
78. Teased and wet
Teased and wet approach can give your short hair a voluminous look. This is a good choice for girls whose hair is slightly wavy but not thick enough to produce sufficient volume. A sizable headband can be a great addition.
79. Tied back
Sweep your hair backwards to keep it out of your face. If it's too short to be tied in a ponytail, you can keep it intact with hair clips or a well-chosen headband. This approach creates an impression of long hair tied upward.
80. A weave
If you are not a fan of wedding hairstyles for short hair, you can turn your short locks into a voluminous mane. All you have to do is get a weave. You can make all your hair dreams come true at once.
81. Fashionable haircut
Instead of looking for the best hairstyle for your wedding, you might want to consider getting a fashionable short haircut instead. A special haircut can be better than any styling and doesn't require any decoration.
82. Stringy waves
Stringy wave is a hairstyle you can make at a barber shop. Such waves add plenty of volume to your short hair and make your overall image appear unique. This is a great choice for girls with all hair types.
83. Military style
If you really want to make an impression at your wedding, you can go for outrageous options that can keep you guests gasping until the ceremony is over. Look at how natural such military haircut looks.
84. High undercut
If you are ready to dye your hair platinum or bleached blonde, you can take advantage of this white undercut that looks absolutely perfect for a wedding. No veils or clips are required!
85. Princess Diana style
Looking like a famous person is always a great idea. So become a copycat to create one of the most popular short wedding hairstyles on the planet. The closer you come to the original, the better.
86. Asymmetry blast


An asymmetrical hairstyle can make your wedding image special even without any extra styling. All you have to do is turn your simple bob into an asymmetrical a-line bob or a long pixie. Add some color too!
87. Wispy bangs

Bangs are often the main part of the short hairstyle, so play around with the way you cut them. A very short pixie with wispy bangs can add a lot of zest to your image. While a very short fringe can open up your forehead.
88. Modern approach

Wispy haircuts are a fun way to outline your face and make your image amazingly unique. Ask your hairstylist to help you achieve this style and you'll definitely be satisfied. The downside is frequent touchups.
89. Feathers

Adding feathers to your short wedding hairstyle can turn your image from sweet too elegant. Play around with different sizes and numbers. You can come up with your own unique style.
90. Hidden tiara

Brush your hair up to make a tiara look hidden among your locks. This approach adds your hair some volume while making the accessory shine even brighter. This is a great choice for girls with long bobs.
91. Simply blonde

You don't have to go all out to achieve a stunning wedding hairstyle for short hair. All you can do is just add little curls to your bob and dye your hair platinum blonde. This simple option can make you look fabulous.
92. Curl it up

This seemingly complicated hairstyle is actually very simple. All you need to do is curl your locks, lift each strand up and clip it with a hair clip decorated with a flower. The volume depends on your hair thickness.
93. Low veil

If you are planning to attach a low veil, you can make a small ponytail in the back. This way you'll keep the hair away from your face and make the image simple, soft, and stylish.
94. Side braid

If you have a bob, you can always create a side braid that can be swept backward to become a part of a low bun. All the clips and elastic bands should be decorated with small flowers, real or artificial.
95. A white rose

A large white rose can be everything you need to create a perfect short wedding hairstyle. Any bob, pixie or military-like hairstyle will look amazing if you attach a large white rose.
96. A little mess

A wedding hairstyle doesn't have to be neat. Any bride can choose the level of neatness she prefers. Tousled, windblown, and messy hair is a wonderful choice for girls who are wild at heart.
Enthralling Short Bridesmaid Hairstyles
97. Backward sweep

If you have enough hair to be swept backward as you see in the picture, you can create an impression of a long mane. All depends on how skillful your hairdresser is and how neat the back part looks.
98. Cover it up

If you are not a fan of the complicated styling, you can leave your hair just as it is while adding some voluminous decorations, such as hats, veils, large flowers and etc. It's a perfect way to avoid too much hair hassle.
99. Intricate patterns

Creating intricate patterns with your hair is not an easy task. You'll need to find a good hairstylist to create something unique. Or you can ask him or her to copy what you see in the photo.
Braided bangs are a perfect addition to your hairstyle, don't be afraid to have fun with the long parts of your short haircut by braiding and twisting them. The results can exceed all expectations.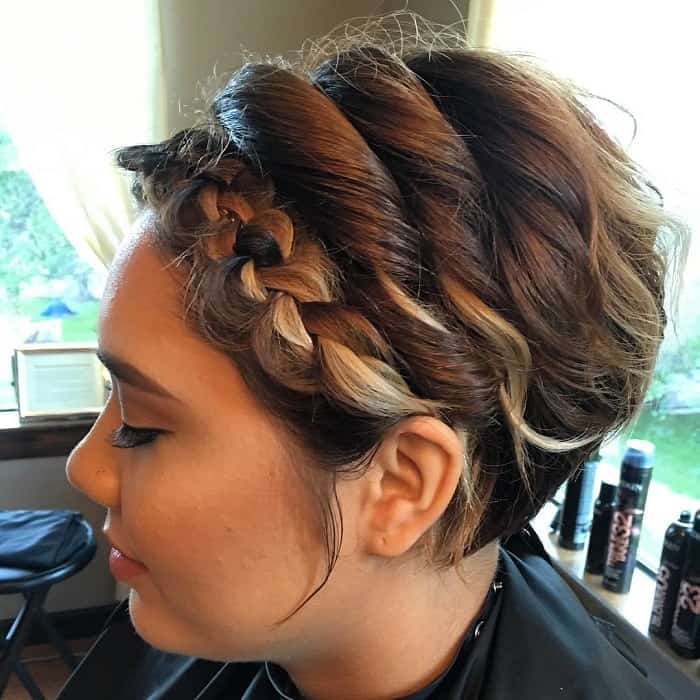 Now that you've browsed these useful options, go over them again. A wedding is a very special occasion that needs careful preparations. You will remember this day for a long time, so choosing the right hairstyle is imperative.
Hope you have enjoyed the above short wedding hairstyles for brides to look special in the special event. Let us know which one of them you like the best!