Vintage hairstyles never go out of fashion. These styles are perfect for weddings as they are different from what you wear on a daily basis.
If you are a retro-loving bride-to-be who is looking for a nostalgic hair look to take you back to the good old times then you are at the right place as we have brought you the best retro and vintage-inspired wedding hairstyles for brides that have stood the test of time.
What Are Vintage Wedding Hairstyles?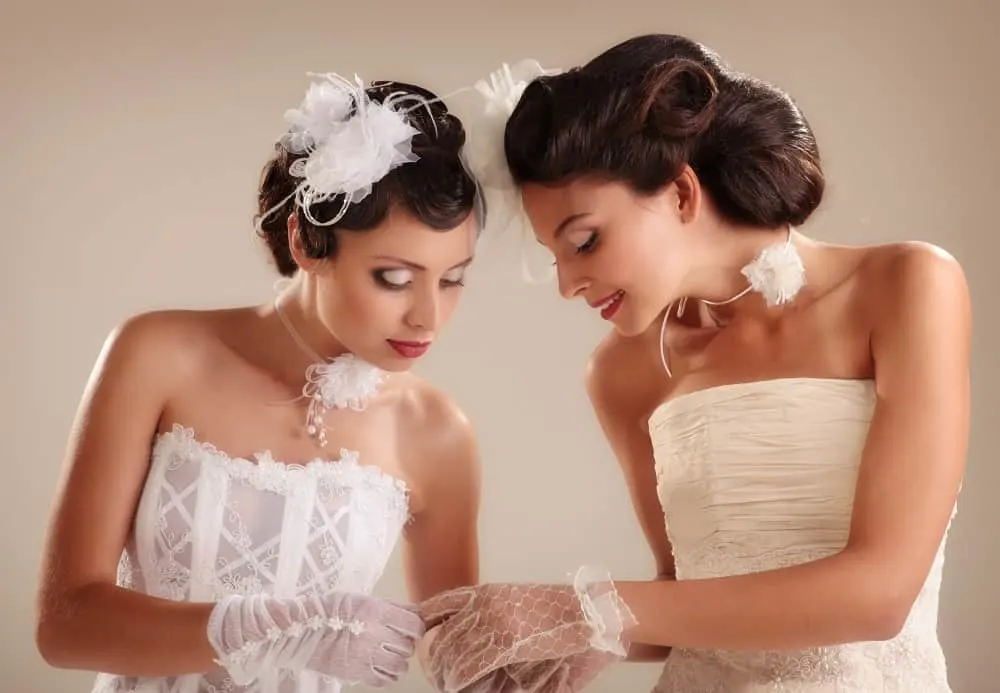 A vintage wedding hairstyle evokes a hairstyle from an earlier time. There are various vintage hairstyle options: some wedding hairstyles get inspiration from retro looks from the mid-twentieth century, and others come from a romantic Edwardian aesthetic.
Popular old-school wedding hairdos often utilize curling and teasing techniques to create voluminous and glamorous styles. Wearing a vintage hairstyle for your wedding is a great way to create a bridal look that sets itself apart from how you typically wear your hair.
Tips for Styling Vintage Wedding Hairstyles
If you want to wear a vintage wedding hairstyle for your big day, here are some styling tips to keep in mind.
When picking a retro hairstyle, think about what fashion era inspires you. If you love Jane Austen and nineteenth-century romance, look for classic updos with face-framing curls. More bohemian brides might want to take notes from the dreamy long hairstyles of the late 1960s and early '70s.

As you develop a styling plan, focus on your desired silhouette. Think about where you want the most volume in your hairstyle and how you want the hairdo to look from the front, back and sides.

Typically, the best way to get a vintage-inspired hairstyle is to copy the styling techniques that people during that era would use. Research the way people would tease and curl hair during the period from which your hairstyle comes.

Always incorporate your veil into your wedding hairstyle plan. If you intend to wear a veil, think about how you will anchor it to your hair. You can also look for retro and vintage veil styles that complement your wedding hairstyle best.

You will also need to consider the comfort and durability of your vintage wedding hairstyle. Whichever hairstyle you choose will need to hold up through a ceremony, dinner, and a night of dancing.
How To Get Vintage Waves in Wedding Hair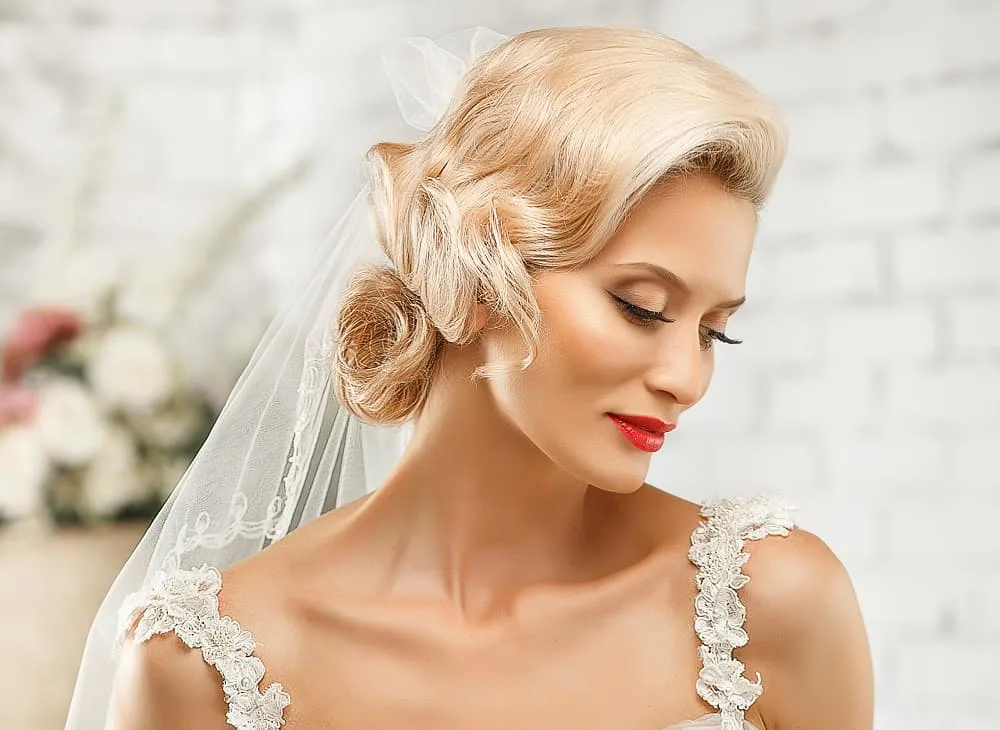 Glamorous finger waves are an excellent wedding hairstyle. There are a couple of ways to achieve retro waves. You can opt to use a traditional pin curl method or replicate the style with modern heat styling tools.
If you want to create authentic vintage waves with pin curls, you will need to start with wet hair. When it is dried, part the hair how you want it to be, and then start forming your curls.
Take sections of the hair and curl them into circles. You can then secure the curl with a hairpin, either anchoring the entire curl to your head or just at the base of the curl, depending on the desired look.
Once you've pinned all of your curls, let your hair air dry. Wait until your hair is fully dry, and remove the pins. The curls will be tight at first, but you can gently brush your hair out until you have soft, shiny waves.
Pin curls will give you the most authentic Hollywood waves, but they can be time-consuming. For a quicker styling method, use a blow dryer and curling iron.
After you wash your hair, dry it with the blow dryer so that it is dry enough for heat styling. Then use the curling iron to create tight ringlets. You can comb out the ringlets to create soft waves. Be gentle when combing out curls made with a curling iron, as they can easily lose their shape.
Watch the following video to learn how to style vintage waves wedding hairdo.
Vintage Wedding Hairstyle Ideas
1. Classic Beehive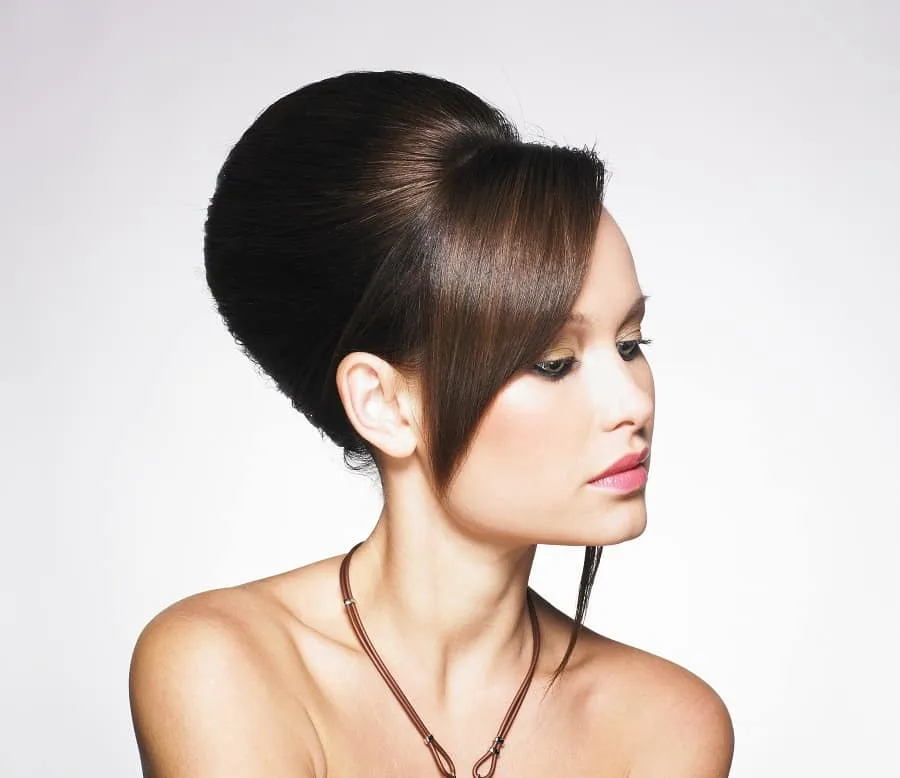 The classic beehive look is still very popular. Brides wanting to tame their hair in an elegant yet classy manner can go for this polished look that requires some hair teasing. The sleek side-parted fringe at the front sets off the style.
2. Retro Finger Waves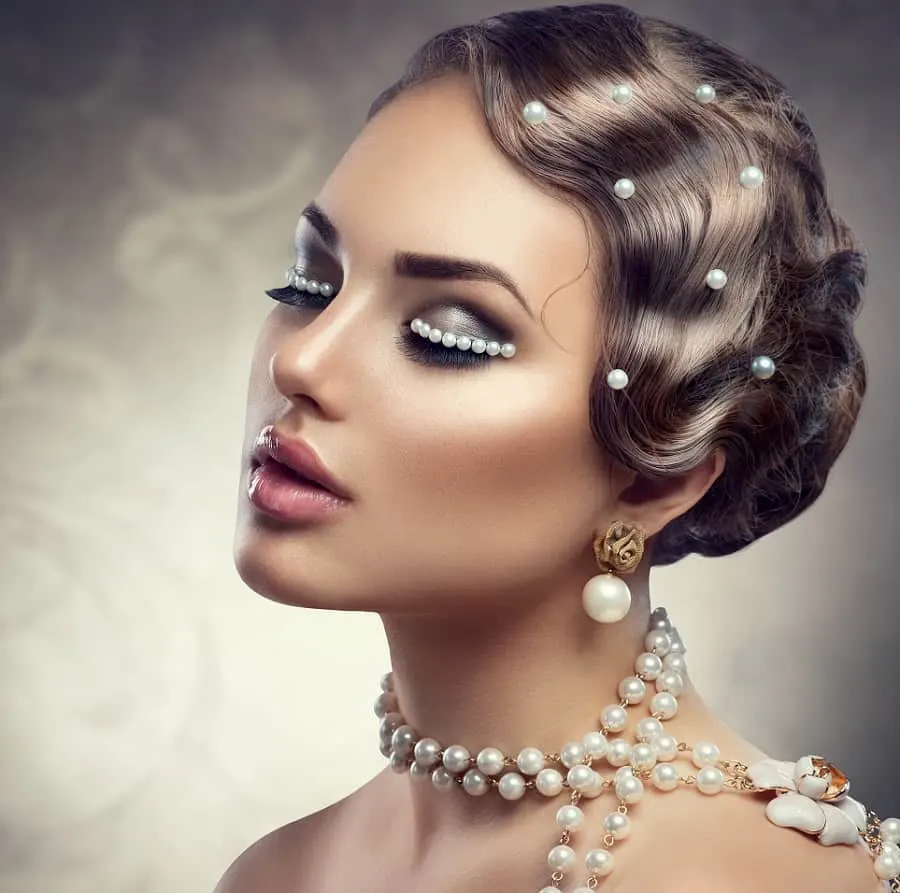 These classy finger waves will make it seem like you have come straight from the 1920's. Use gel to create subtle waves and secure them in an updo with a side parting at the front. Finish off the look by adding white pearls to the hair and eyes.
3. Vintage Hat + Victory Rolls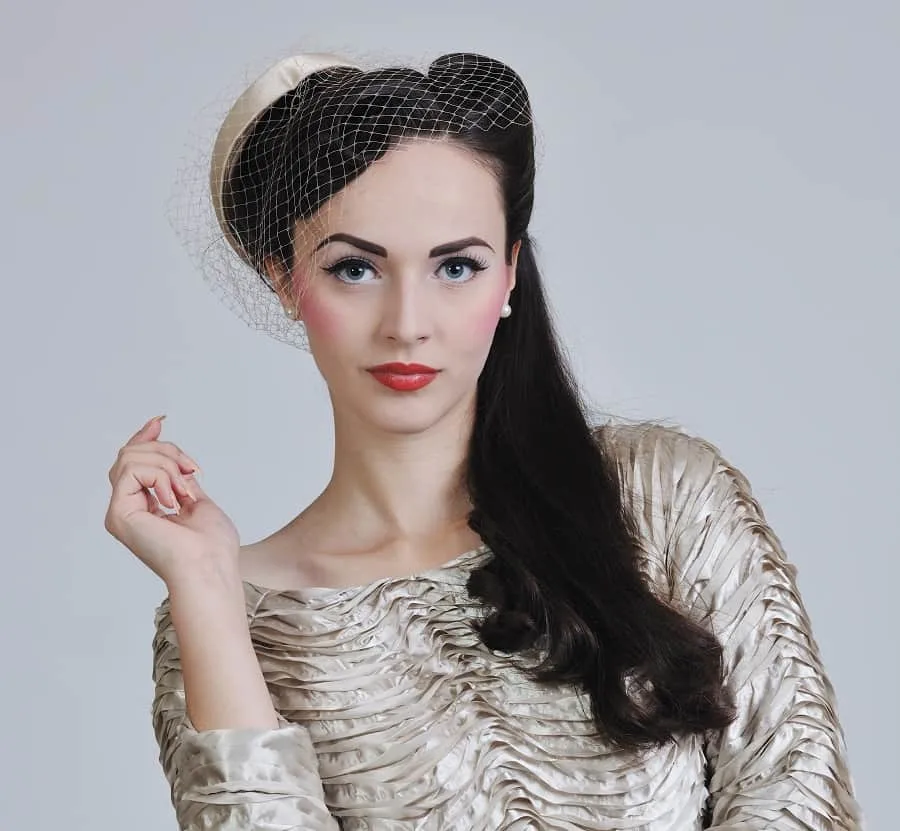 Any bride will look like royalty by wearing a vintage pillbox hat on her big day. With a side part, roll the front strands in opposite directions creating victory rolls. Leave the remaining hair loose while the vintage hat and veil sit flawlessly on the head.
4. Get Creative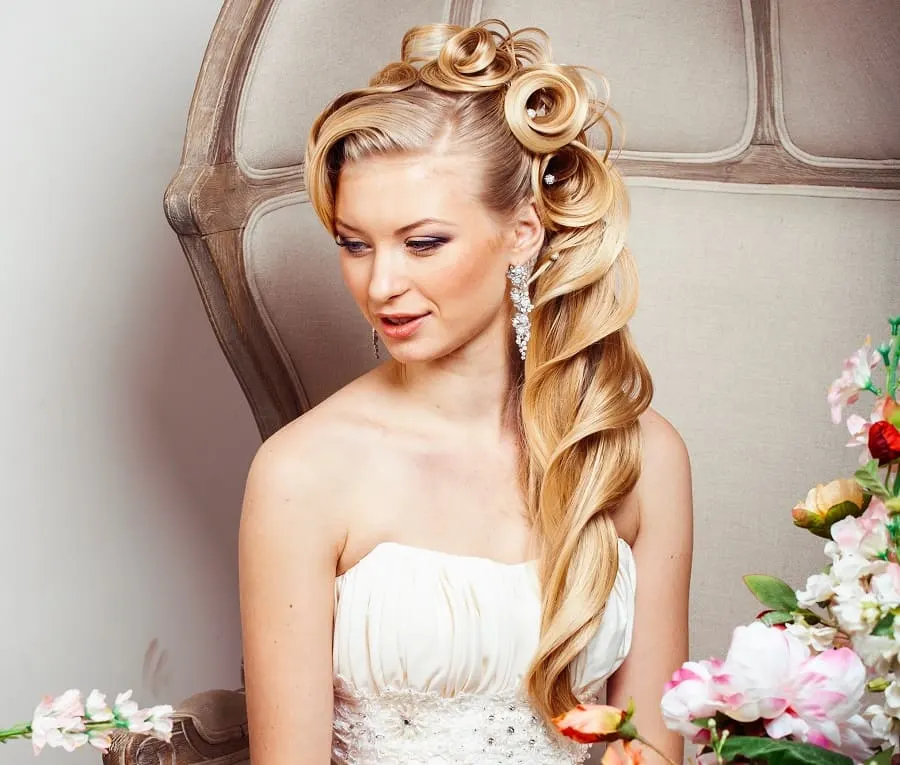 Get creative and experiment with waves and curls to construct a detailed hairstyle. This look is all about twisting the hair into spirals and pulling out some strands here and there to create beautiful loops. With some effort and patience, this style will surely turn around some heads.
5. Timeless Fishtail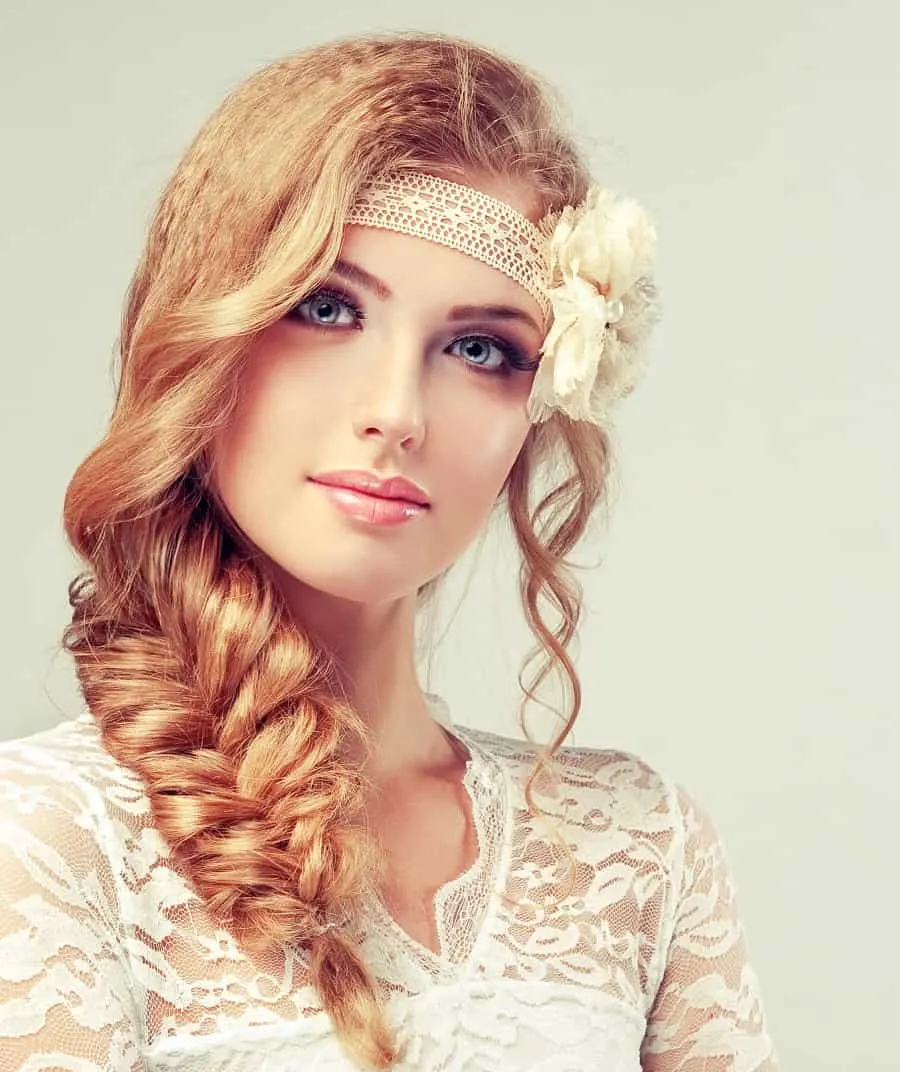 Who knew a simple fishtail braid can amp up a wedding look? The shoulder-length locks have a deep side-parting and are crimped at the top while the remaining hair is intertwined into a loose fishtail braid. The pulled-out wavy strands and floral headband complete the look.
6. Embellished Halo Braid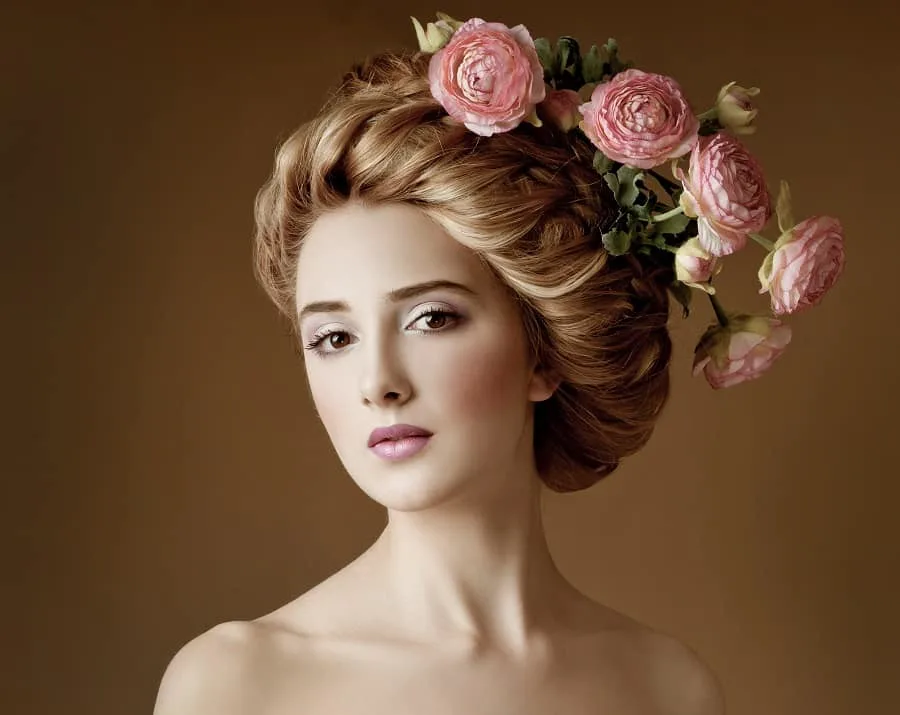 This is another retro-inspired wedding hairstyle for a bride that will make her look like an ethereal goddess. The blonde locks with light blonde strands are braided all around the head and topped off with real flowers. Use hair extensions for achieving some extra volume.
7. Classic Wavy Lob
For the ones who want to keep it simple nothing will seem classier than a long lob with loose vintage waves. Top off the style with a white feathery retro hat at the front and white pearl jewelry. This look is ideal for women with shoulder-length chocolate brown hair.
8. Detailed Updo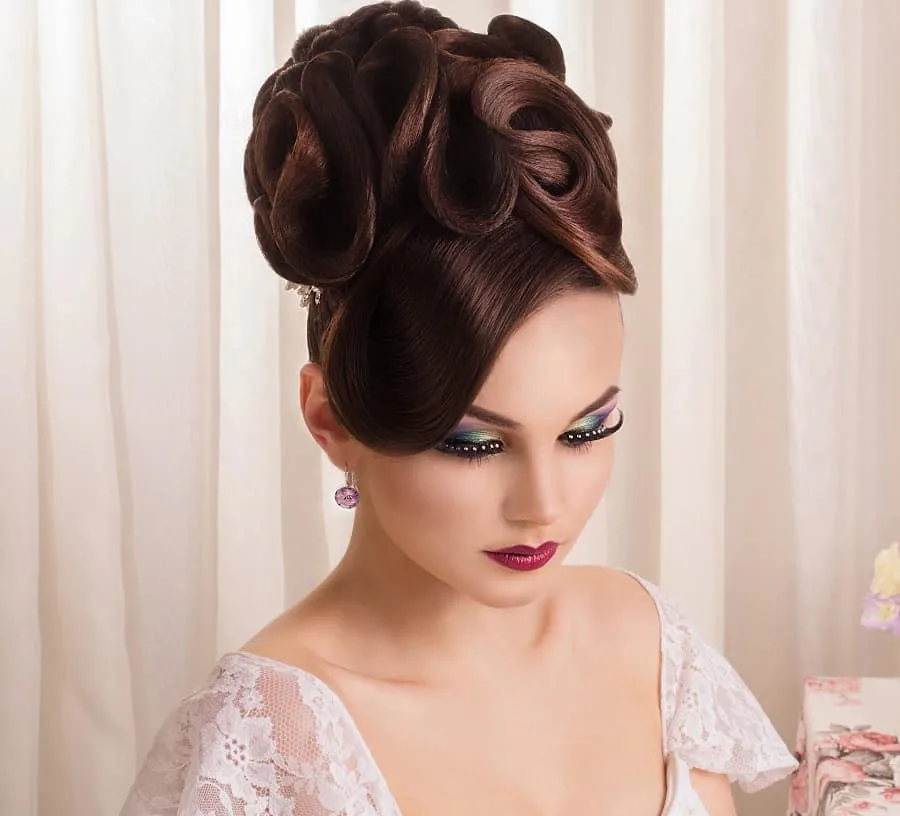 While some brides like to keep it simple others are fond of a more detailed hair look. This style has a sleek fringe with the remaining hair secured in a high updo. The strands are turned in S-shape to create oversized loops that won't be ignored.
9. Gothic Chignon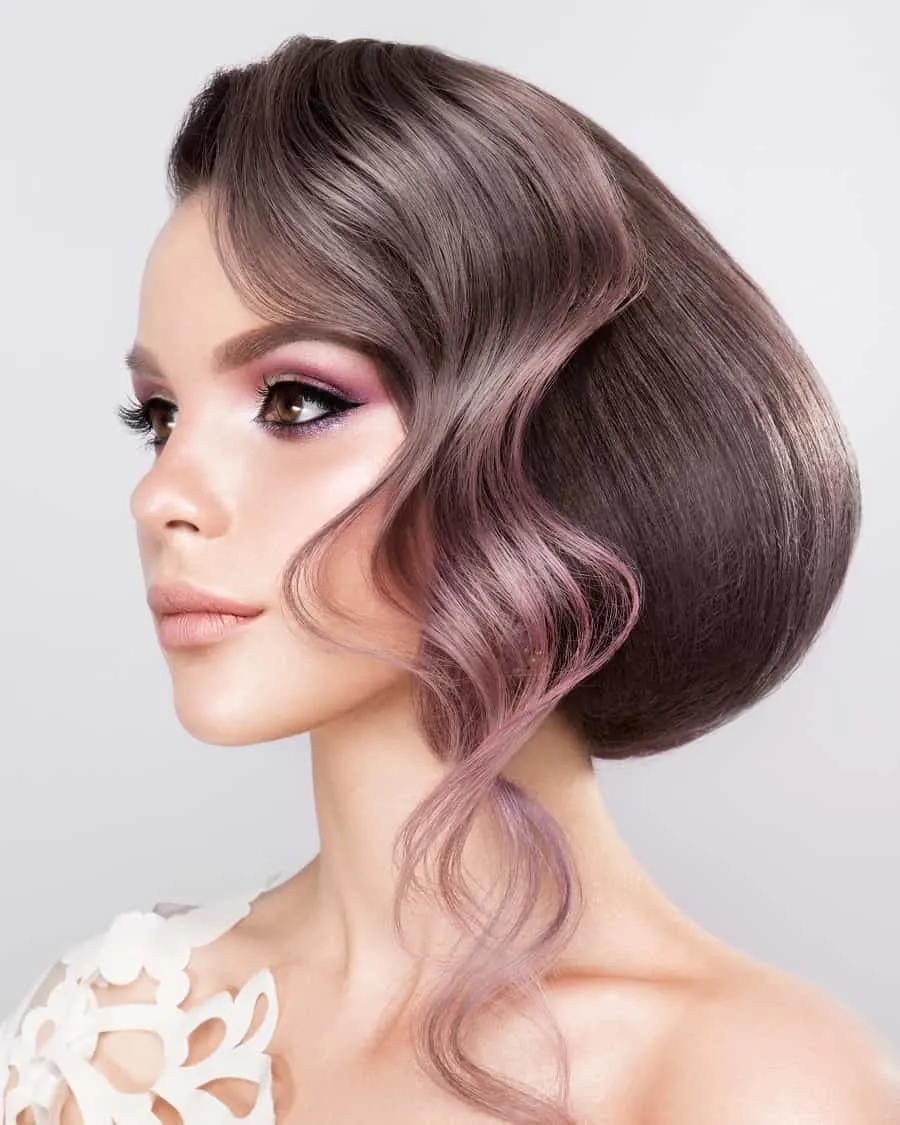 Women who are not afraid to express their gothic personality can opt for this hairstyle at their wedding. The hair is dyed in a dull lavender hue and teased to create an inverted chignon. The wavy chunk of strands at the front contrast with the sleek back beautifully.
10. Curly Ponytail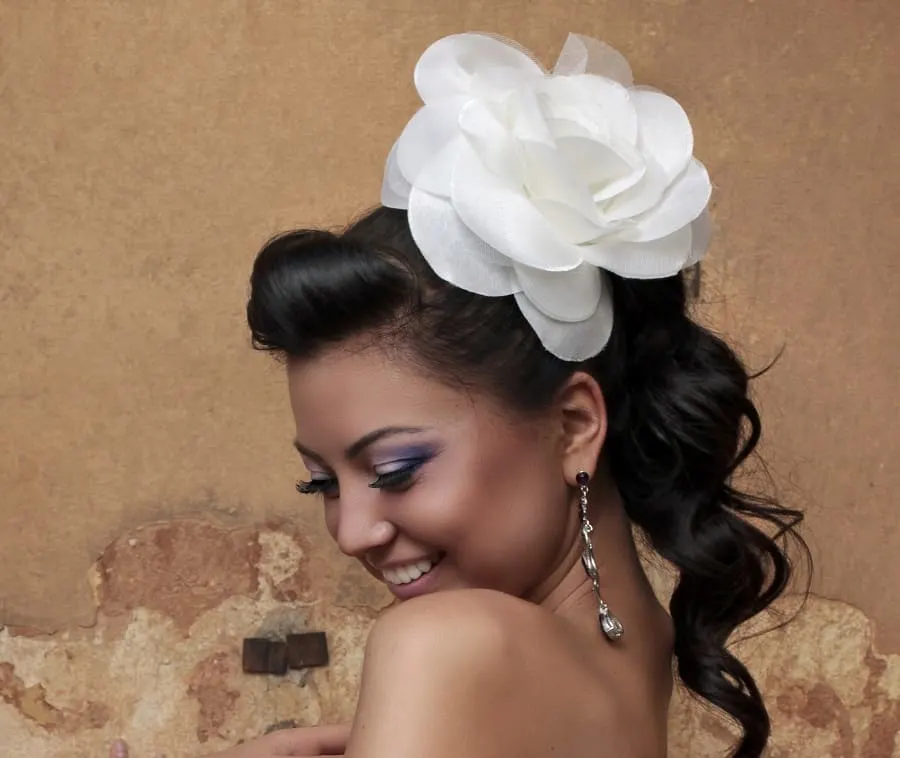 Look different by flashing a curly ponytail on your matrimony rather than a usual updo. Curl the strands and tie them in a high ponytail with a puffy front. The oversized white rose hair accessory is what sets this look apart from others.
11. Bohemian Braided Headband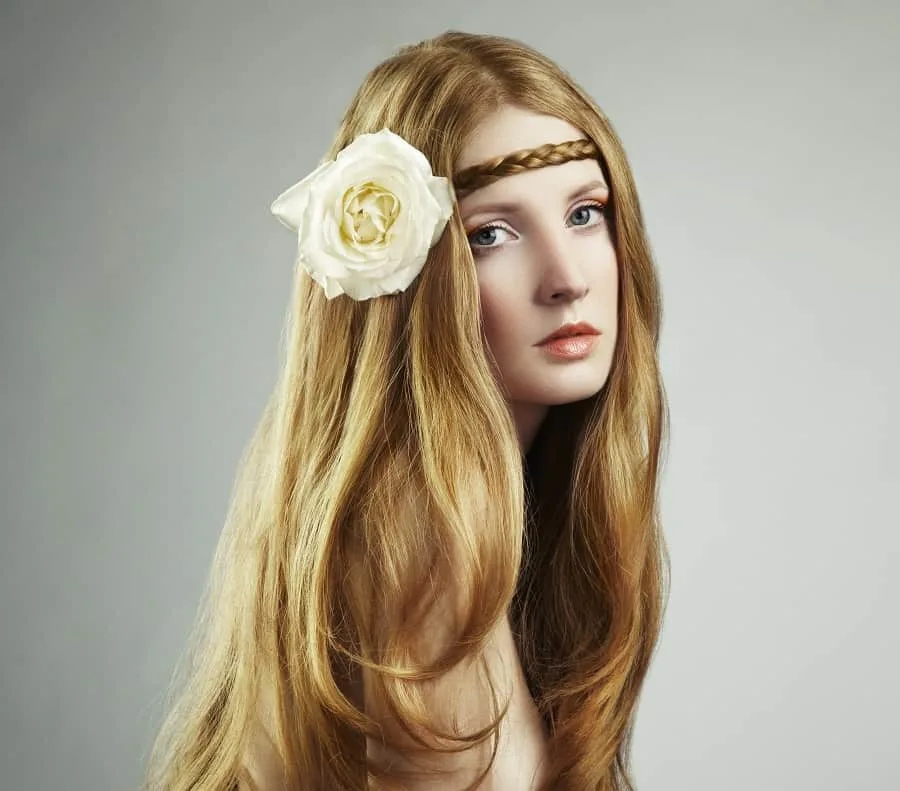 Here is a bohemian bridal look that will keep all the eyes on you. The luscious blonde locks are left loose to sway with the wind. Accentuate them with a braided headband on the forehead and a jumbo white rose on one side finishing off the style.
12. Messy Look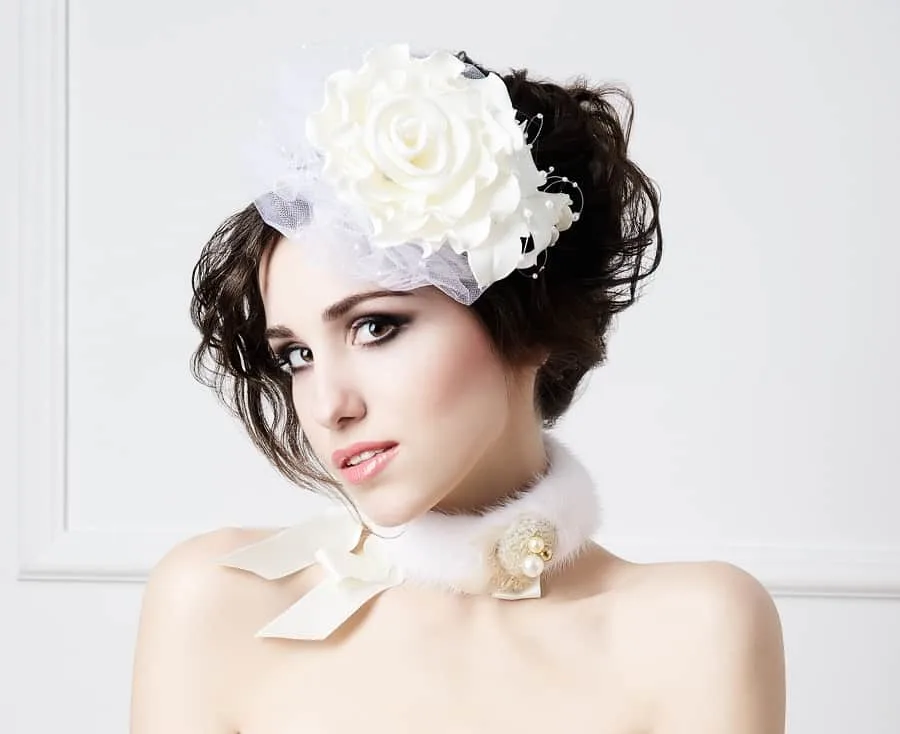 Curly waves can be styled wonderfully into a messy hairstyle without paying a visit to the hairstylist. The strands are secured into a loose updo with a side-swept curly fringe reaching the chin. An oversized floral headpiece takes this carefree look to another level.
13. Teased Coif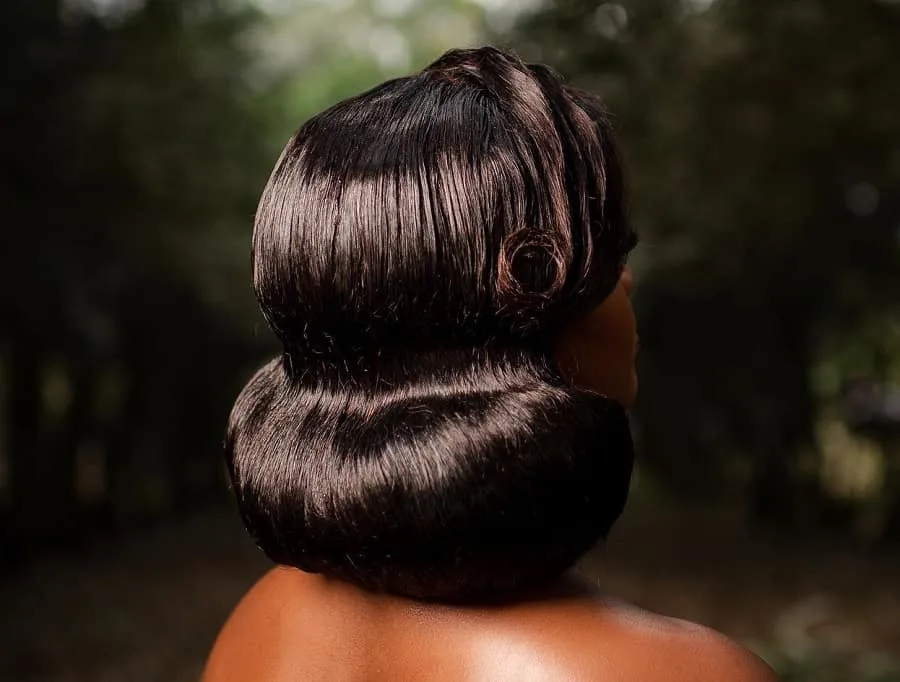 Stun your close ones on your wedding day with this look that is not for the weak-hearted. The front is styled into a single side-parted pin curl while the back is teased to create an unusual look. Hairstyling gel will keep the hair in place.
14. Vintage Waves + Micro Bangs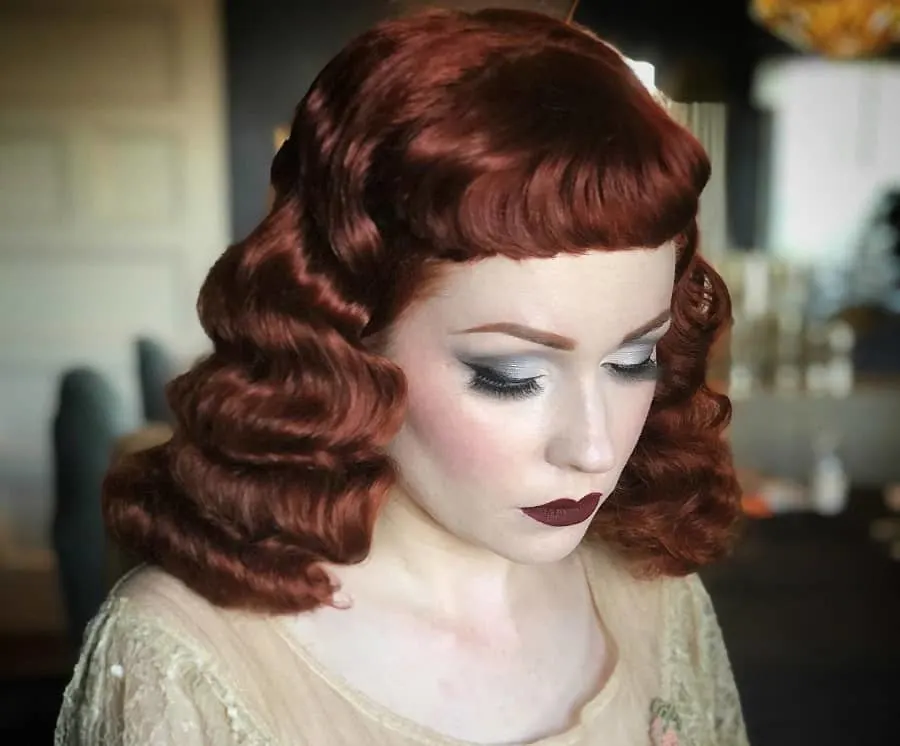 A timeless vintage-inspired wedding hairstyle for brides who are fond of old Hollywood waves. Use a styling tool or the conventional pin curl method to create these robust waves that are in line with each other. Micro bangs complete this copper-red hair look.
15. Hairstyle with Birdcage Veil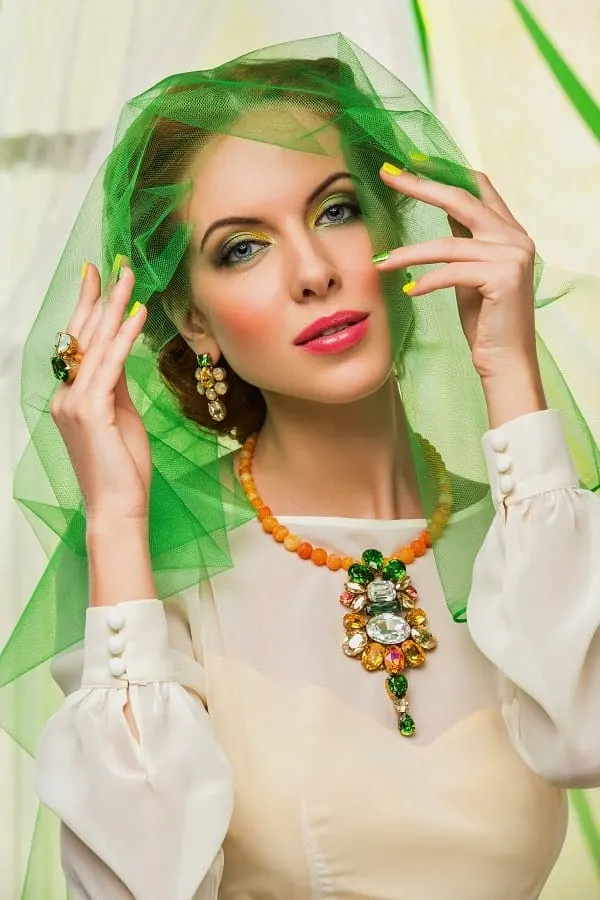 Pair up a simple elegant hairstyle with a vivid green birdcage veil and colorful jewelry contrasting with the white dress for a chic bridal moment. The hair is middle parted and braided on both sides while the remaining is secured in a low bun.
16. Vintage Short Hair Look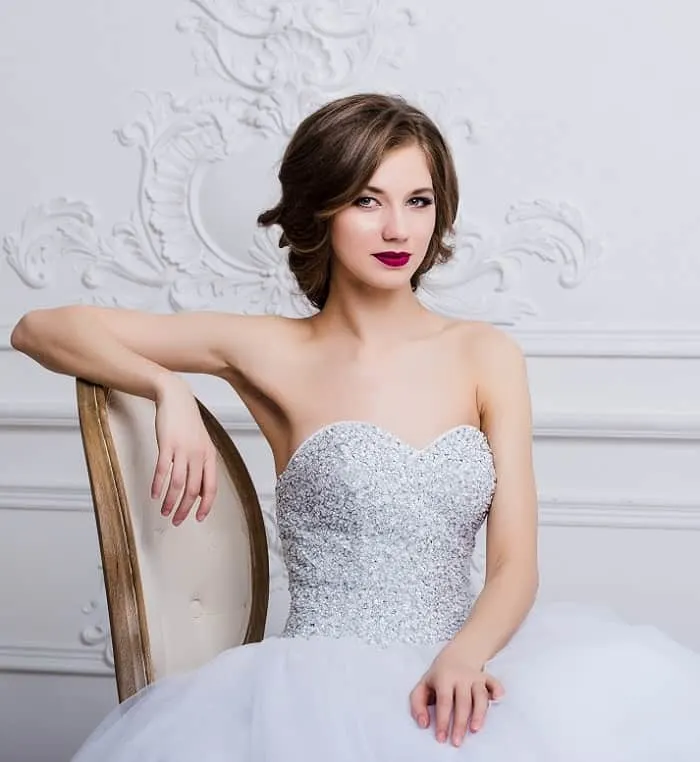 Add subtle waves to short hair and pin it in a loose bun lying on the neck for a vintage appeal. The side part with blonde babylights peeking through the brown hair glorifies this look. Don't forget to use hairspray to keep the hairstyle intact.
17. Vintage Curly Wedding Hair Look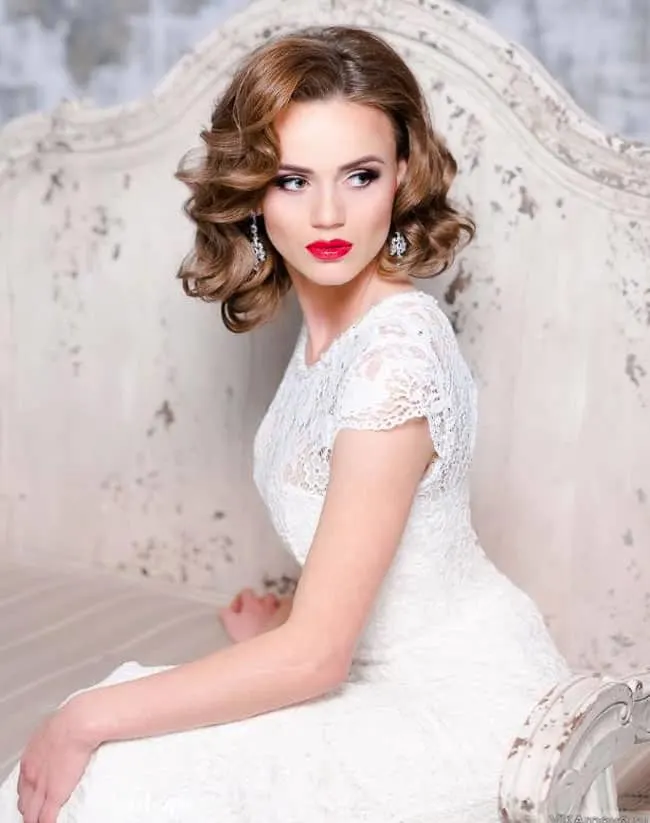 Bring your retro look together by flaunting bouncy waves. Add curls to a shoulder-length bob cut and brush them to create a wavy pattern. This look is easy to achieve and needs nothing more than a finger brush to maintain it the entire day.
18. 1920s Vintage Wedding Hairstyle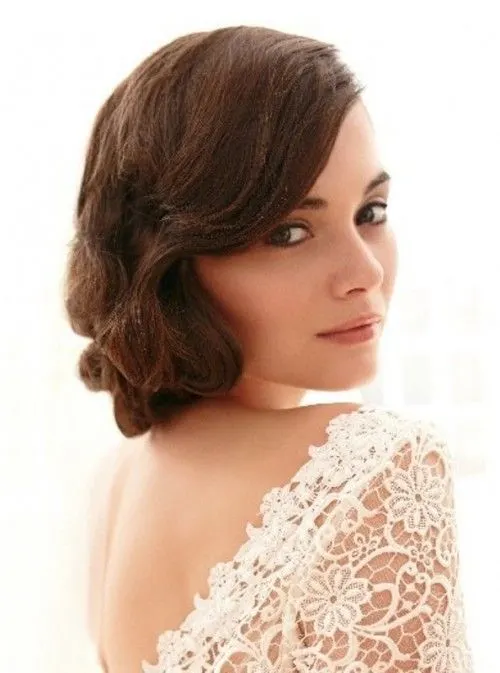 This amazing 1920's hairstyle is great for girls with short hair. Neat waves are created with the help of a flat iron and are kept intact by hairspray. Use some pins to secure the bottom part in order not to bother with touch-ups during the day.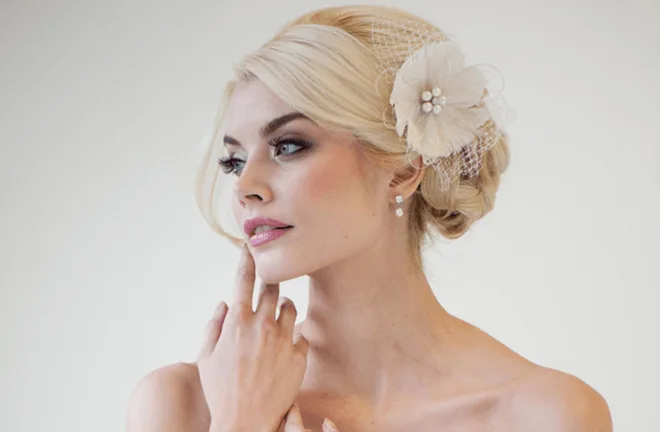 A braided bun makes a great vintage wedding hairstyle for women when coupled with long and straight bangs. You will need to make a ponytail, curl it and then arrange it into the bun. Fringe needs to be straightened out and styled in a side part.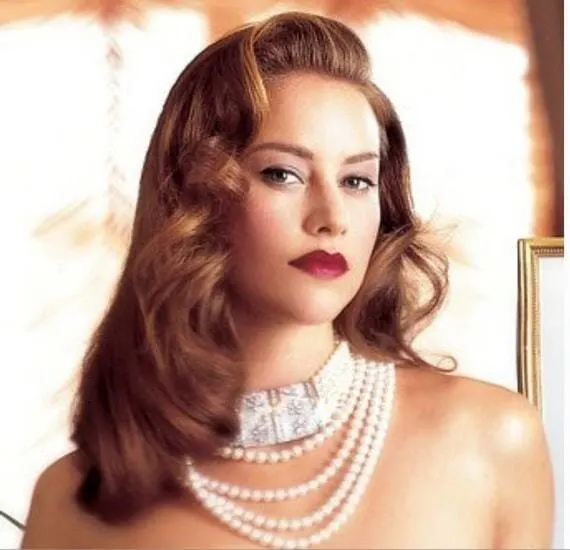 This 1950's wedding hairstyle looks very regal, but there is really nothing hard about making it. The neat waves are made with a flat iron and the bangs are lifted up. Add some vintage accessories and your image is complete.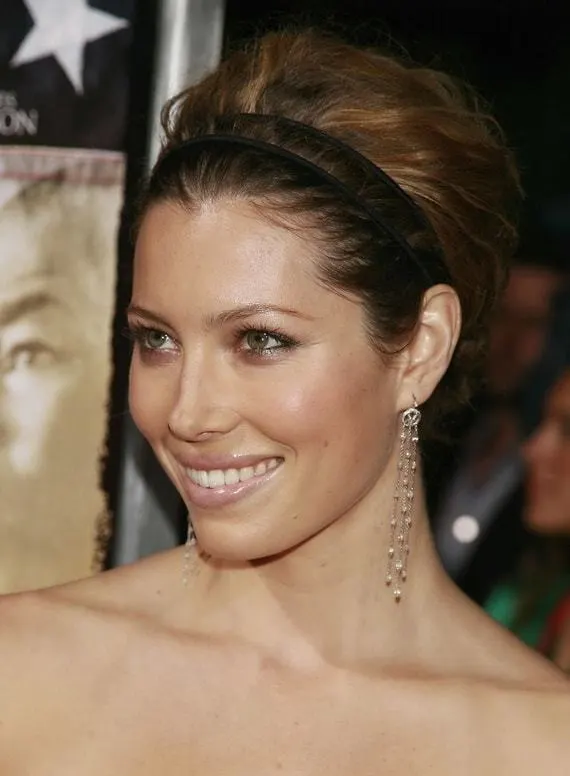 Turn a simple short pixie into an amazing 1960's vintage wedding hairstyle by using a wide headband. Any color will do, as long as it suits your dress. Brush the hair backwards and pull over the headband. This simple look will make you a real queen.
Beautiful Long Hairstyle Ideas for Brides
22. 1930s Vintage Hair for Bride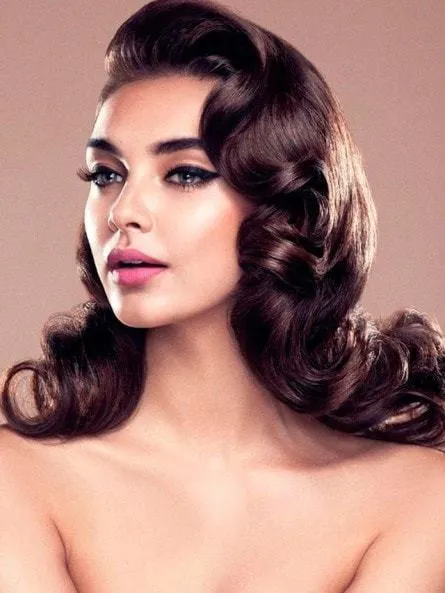 This amazing 1930's wedding hairstyle will make any girl look fantastic. Arrange your hair into large waves and lift up the bangs. You will be the most amazing and beautiful bride! Use a lot of hair gel to avoid frequent touch-ups.
23. Loose Wavy Bun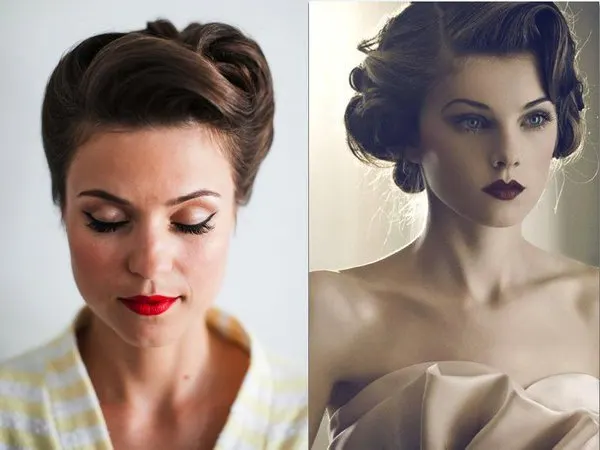 This wonderful short wavy bun hairstyle is a great idea for a wedding. Make soft waves and arrange them into a low bun in the back. This voluminous look will make any girl with fine hair enjoy her moment in the spotlight.
Cutest Wedding Hairstyles for Black Women
24. Permed Hair Look With Curls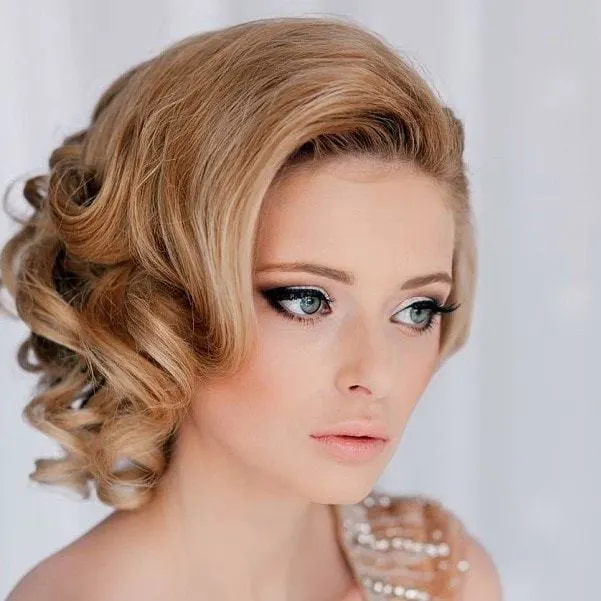 High hair will take you back to the middle of the 20th century and its popular music and movie stars. Brush the top part of your hair upwards to create a voluminous effect. Curl the rest and arrange it into a very loose ponytail. Use a lot of pins to help it stay together.
The Hottest Hair Down Styles for Brides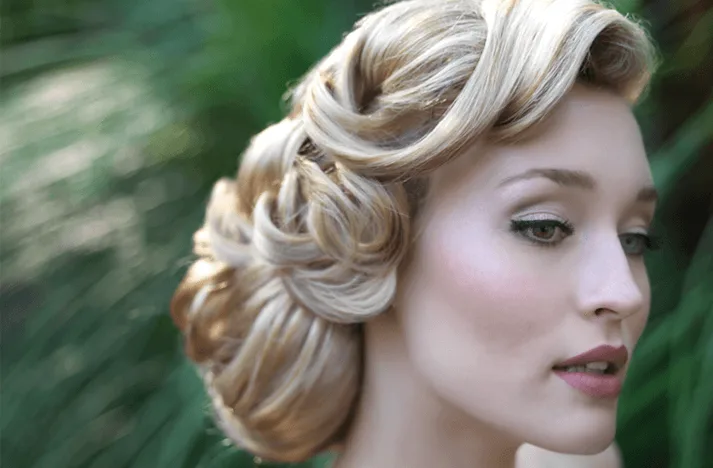 Curls used to be an essential part of vintage wedding hairstyles, just as they are nowadays. You will need to curl all of your hair and then tie it into a side bun. Make sure the bun is not exactly in the middle, so it can be visible on full-face photos.
26. Side swept waves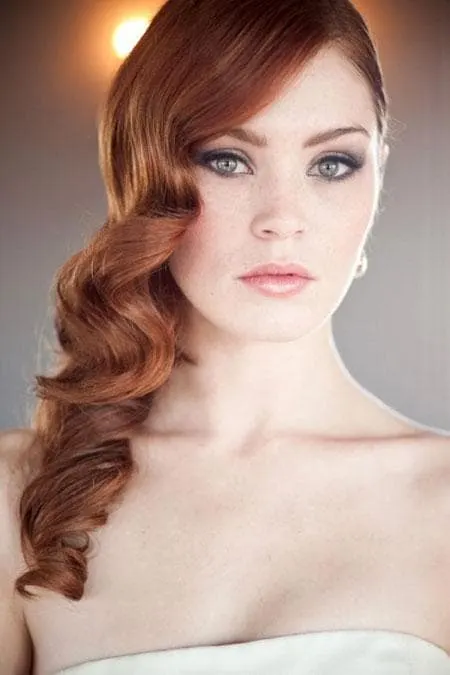 This vintage wedding hairstyle is very easy to make, but quite hard to keep intact. The hair is curled and swept to one side to fall over the chest. It is pinned in the back to stay in place. However, you will need to touch it up during the day.
Wedding Hairstyle Ideas for Women With Short Hair
27. Vintage Wedding Hair Look With Accessories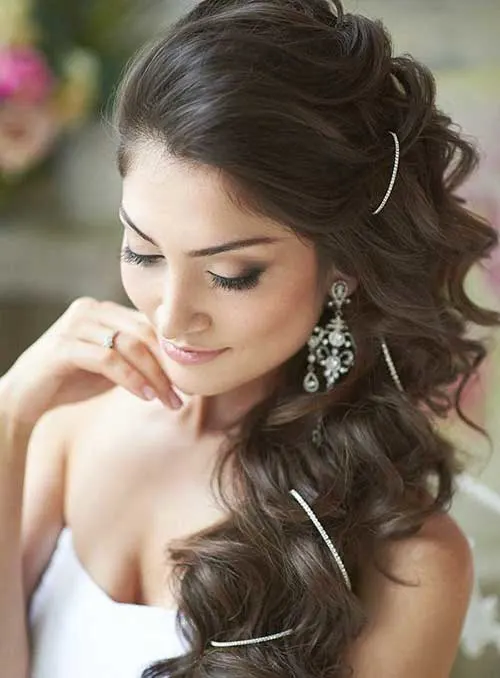 If you want to look like a real princess for your wedding, you can use some jewelry as hair accessories. Tie them into your loose braids or side-swept waves and you will really make a great impression. Accessories can also help keep your style intact.
Frequently Asked Questions
Here are some answers to the most frequently asked questions about vintage wedding hairstyles.
Should I wear my vintage wedding hair up or down?
Whether you wear your hair up or down depends on personal preference and the style of your dress. If you want to emphasize your facial features, wearing your hair fully or partially up is a good idea.

An updo is also advisable if your wedding dress has details that you want to be fully visible on the back. On the other hand, wearing your hair down can look sensual and luxurious. It can also give a sense of effortless style.
What are the best accessories for vintage wedding hair?
Many bridal hair accessories work well for vintage wedding hair. Headbands and large clips are good options if you want a campy, retro style. Delicate floral and jeweled accessories create a nice romantic effect for a truly old-fashioned look.

In terms of veils, a short veil or birdcage veil is fantastic for a retro hairstyle. For styles that evoke the nineteenth century, look for a long, dramatic veil with lace embroidery.
What size rollers for vintage wedding hair?
You can use various roller sizes for vintage wedding hair. The bigger the hair roller, the bigger the volume. Many brides will want to use larger rollers at the front of the hair to create a more dramatic and voluminous style and then switch to smaller rollers in the back for well-defined curls.
What is the classic length for vintage hair?
You can do a vintage hairstyle on any length of hair. Long hair works best for dramatic updos, while hair that is shoulder-length or shorter works well with curled styles.
Vintage wedding hairstyles will take you back to the era when fashion was completely different, but women still went out of their way to look as incredible as possible. Try out some of these hairstyles to look like a real princess from the past.