Vintage wedding hairdos help modern brides stand out of the crowd with the very special looks their mothers and grandmothers created.
Vintage Wedding Hairstyles
You won't find vintage wedding hairstyles in modern magazines. That's why we came up with a shortlist of interesting old-fashioned hairstyles for brides that can make you look special.
Take a look at these fresh vintage wedding hairstyle ideas.
1. Vintage Wedding Hairstyle with Birdcage Veil
2. Vintage Short Hair Look
3. Vintage Curly Wedding Hair Look
4. 1920s Vintage Wedding Hairstyle
This amazing 1920's hairstyle is great for girls with short hair. Neat waves are created with the help of a flat iron and are kept intact by hairspray. Use some pins to secure the bottom part in order not to bother with touch-ups during the day.
A braided bun makes a great vintage wedding hairstyle for women when coupled with long and straight bangs. You will need to make a ponytail, curl it and then arrange it into the bun. Fringe needs to be straightened out and styled in a side part.
This 1950's wedding hairstyle looks very regal, but there is really nothing hard about making it. The neat waves are made with a flat iron and the bangs are lifted up. Add some vintage accessories and your image is complete.
Turn a simple short pixie into an amazing 1960's vintage wedding hairstyle by using a wide headband. Any color will do, as long as it suits your dress. Brush the hair backwards and pull over the headband. This simple look will make you a real queen.
Beautiful Long Hairstyle Ideas for Brides
8. 1930s Vintage Hair for Bride
This amazing 1930's wedding hairstyle will make any girl look fantastic. Arrange your hair into large waves and lift up the bangs. You will be the most amazing and beautiful bride! Use a lot of hair gel to avoid frequent touch-ups.
9. Loose Wavy Bun
This wonderful short wavy bun hairstyle is a great idea for a wedding. Make soft waves and arrange them into a low bun in the back. This voluminous look will make any girl with fine hair enjoy her moment in the spotlight.
Cutest Wedding Hairstyles for Black Women
10. Permed Hair Look With Curls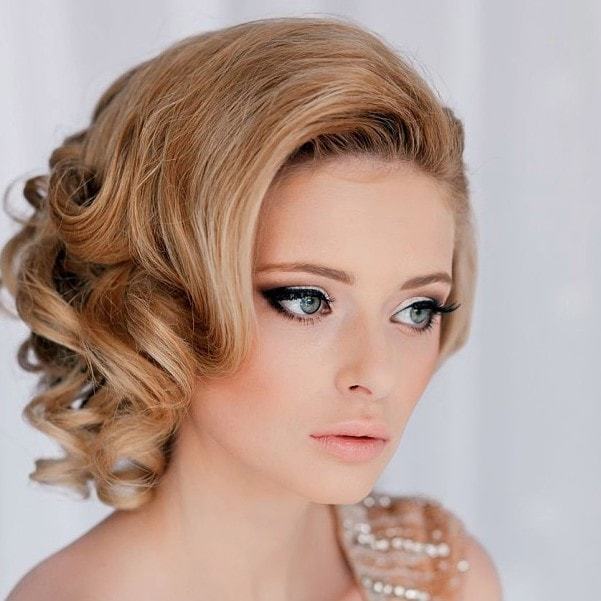 High hair will take you back to the middle of the 20th century and its popular music and movie stars. Brush the top part of your hair upwards to create a voluminous effect. Curl the rest and arrange it into a very loose ponytail. Use a lot of pins to help it stay together.
The Hottest Hair Down Styles for Brides
Curls used to be an essential part of vintage wedding hairstyles, just as they are nowadays. You will need to curl all of your hair and then tie it into a side bun. Make sure the bun is not exactly in the middle, so it can be visible on full-face photos.
12. Side swept waves
This vintage wedding hairstyle is very easy to make, but quite hard to keep intact. The hair is curled and swept to one side to fall over the chest. It is pinned in the back to stay in place. However, you will need to touch it up during the day.
Wedding Hairstyle Ideas for Women With Short Hair
13. Vintage Wedding Hair Look With Accessories
If you want to look like a real princess for your wedding, you can use some jewelry as hair accessories. Tie them into your loose braids or side swept waves and you will really make a great impression. Accessories can also help keep your style intact.
Vintage wedding hairstyles will take you back to the era when fashion was completely different, but women still went out of their way to look as incredible as possible. Try out some of these hairstyles to look like a real princess from the past.