When a bride's hairstyle is done, her make-up is flawless, and the wedding dress looks amazing, one significant detail remains – a veil.
It is the quintessential symbol of every bride. The traditional final touch for your bridal hairstyle is a veil, which comes in second only to donning your stunning gown.
If you love veils, there is a crucial matter to solve before you proceed down the aisle: How will you style your hair with a veil on your big day? Here are 25 wedding hairstyles with veils that you'll love.
Bridal Hairstyle Ideas With Veil
Nearly all bridal hairstyles may be worn with a veil, but placement is crucial, so brides need not worry. There really aren't any steadfast rules that you have to follow.
And today, we've rounded up lots of inspiration, whether you're considering an updo with your veil or want to highlight your lengthy tresses.
1. Side Swept Pony Tail With Long Curls And Bangs
There's nothing prettier than a side-swept ponytail with big curls, wispy bangs, and a veil placed in the middle of the back of the head. Placing the veil low doesn't overpower the bride allowing her radiant beauty to shine.
2. Voluminous Veil For Short Hair
If you have short hair or want to wear a full updo, then this veil is for you! A 2-layer circular cut veil with lots of volume creates a romantic and traditional look.
3. Gorgeous Ginger Locks With Updo & Big Curls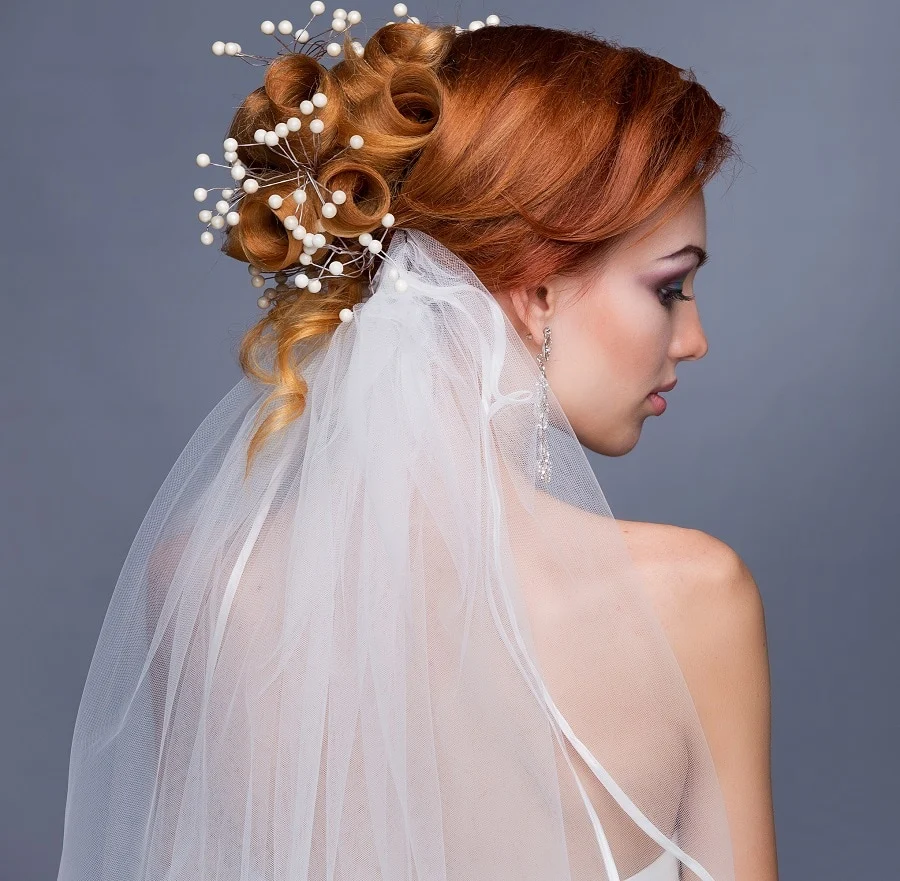 When you have gorgeous ginger hair, you don't want to wear a veil that covers it. Embrace your beautiful red hair with a classic updo and some large curls, and place your veil under the updo. Doing this allows the veil to cascade gently down the back or gently sit on the edge of the shoulders.
In this example, the bride wears a 2-layer veil with a ribbon edge.
4. Vintage Updo With Low Veil Featuring Floral Appliques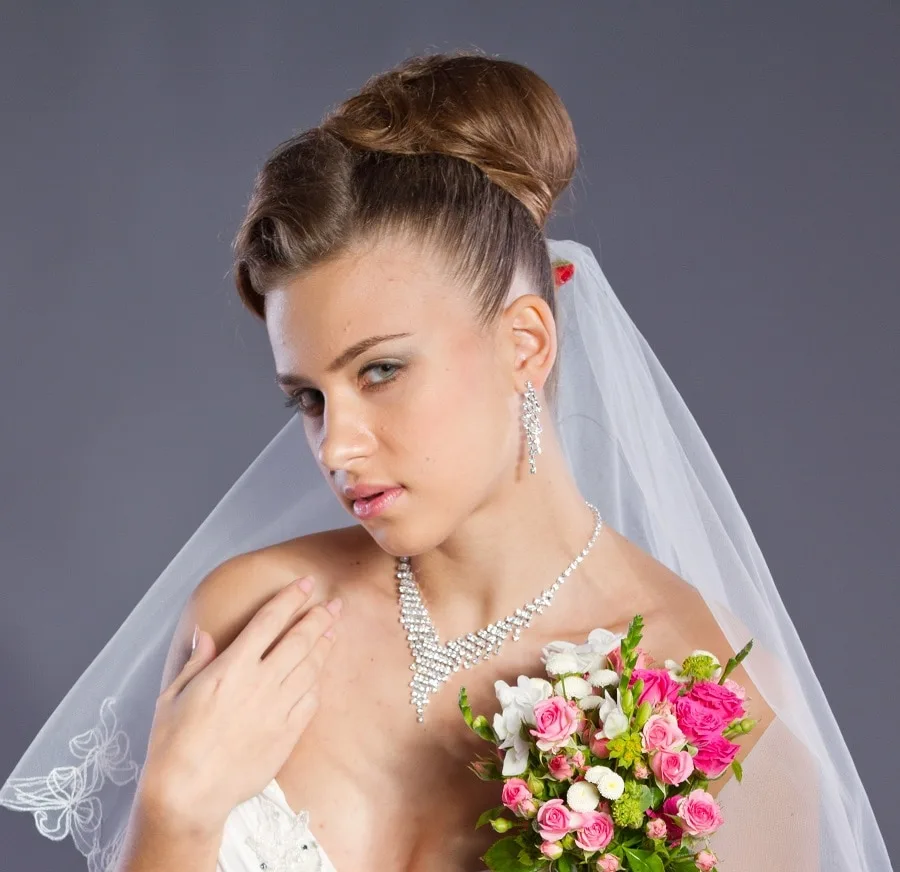 For a little extra drama and vintage style, wear your hair in a bouffant updo with the front swooped to the side in waves. It's a beautiful look, and since the hairstyle is so pretty and unique, you'll definitely want to wear the veil low.
This bride chose a circular cut veil with delicate floral applique along the edge.
5. Face Framing Veil And Side Ponytail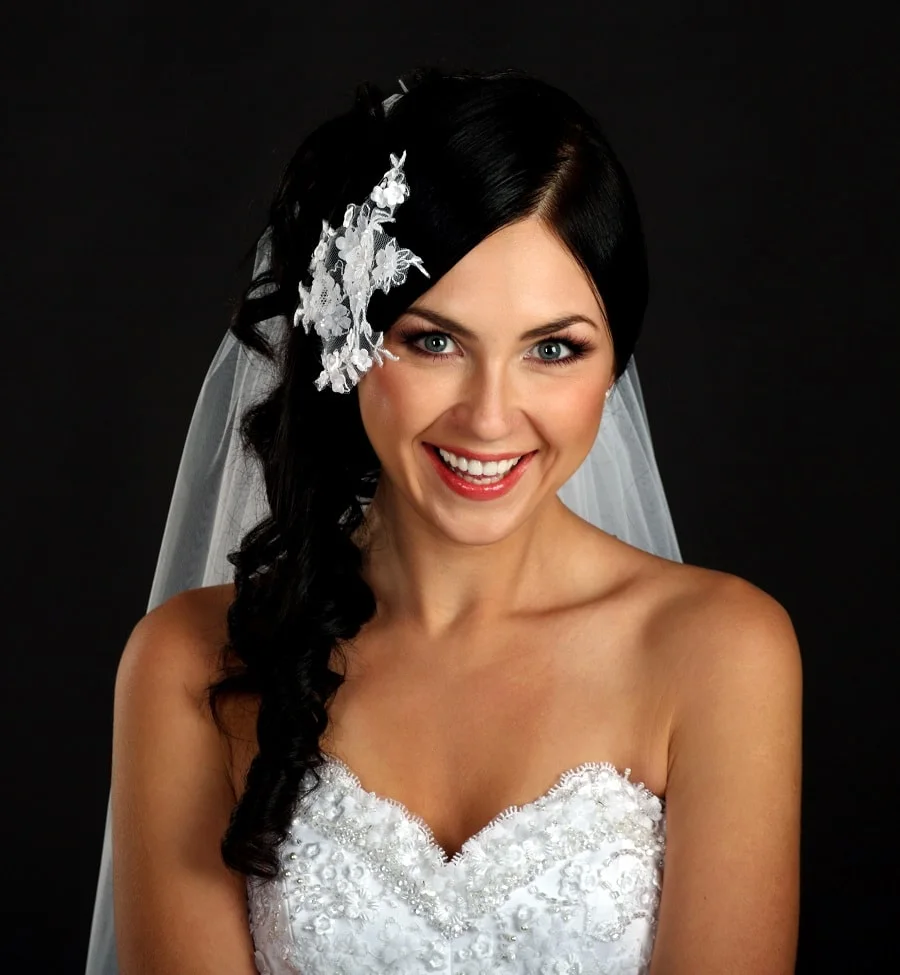 A classic and romantic bridal hairstyle featuring a timeless side part and long curls swooped to the side. To finish off the look, the bride is wearing a lace hairclip and veil placed towards the top of her head, allowing it to flow gently while framing her face.
6. Short Cut With Straight Bangs And Dramatic Veil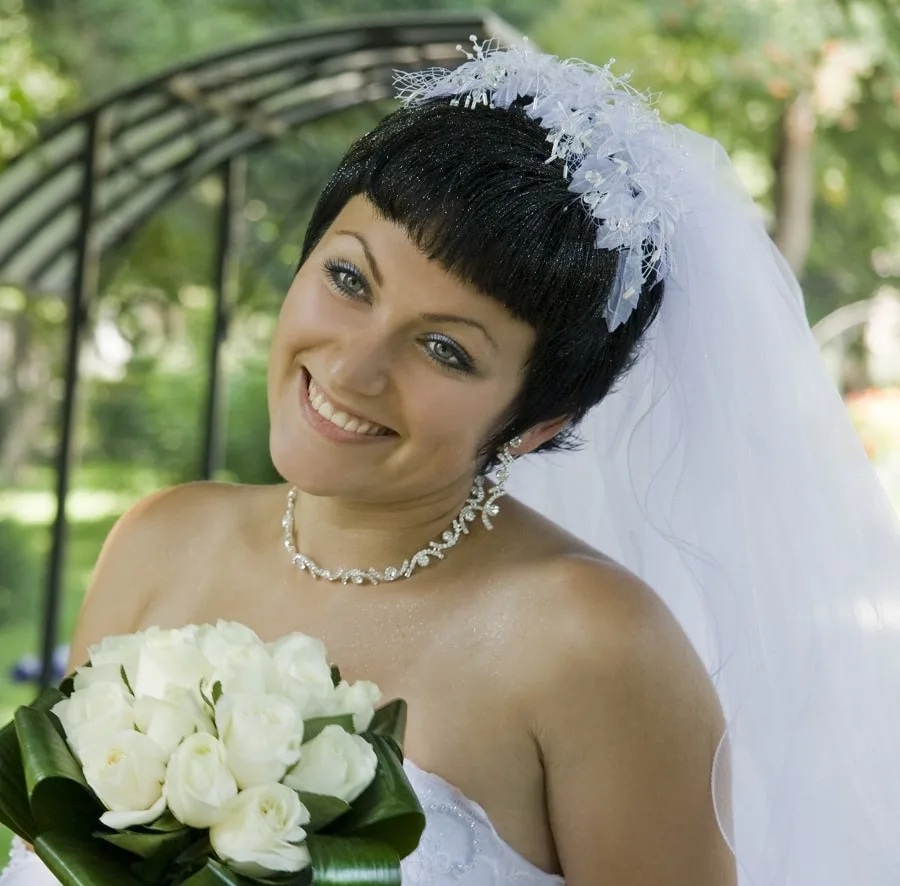 Choose a veil with several layers, a funky hair accessory, and a ribbon edge for a fun and flirty look with your short hair. It's dramatic, fun, and ultra-romantic.
7. Half-Up, Half-Down Wedding Hairstyle With Side Swept Bangs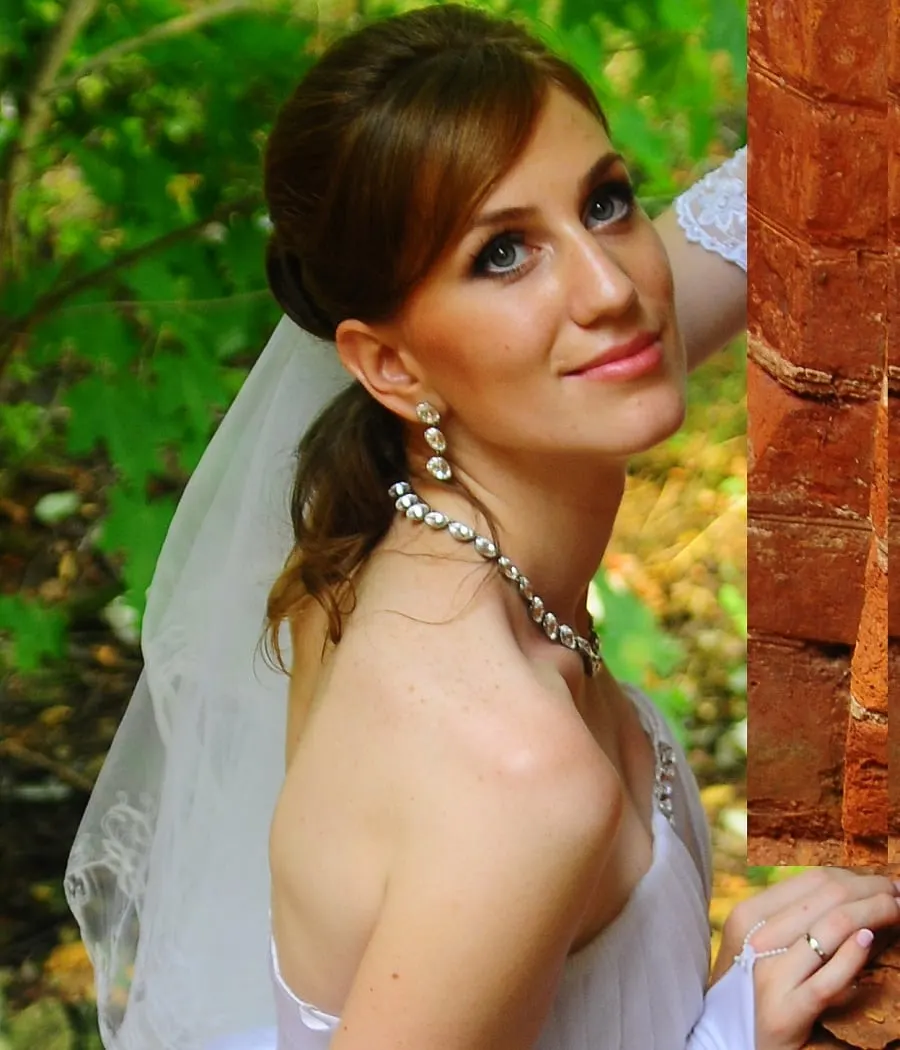 We love this classic wedding hairstyle for medium-length hair. Side-swept bangs and side part, a little volume on top, and a half-up, half-down wedding hairstyle are perfectly accented with a low sheer veil.
8. Gorgeous Updo With Lace Edge Veil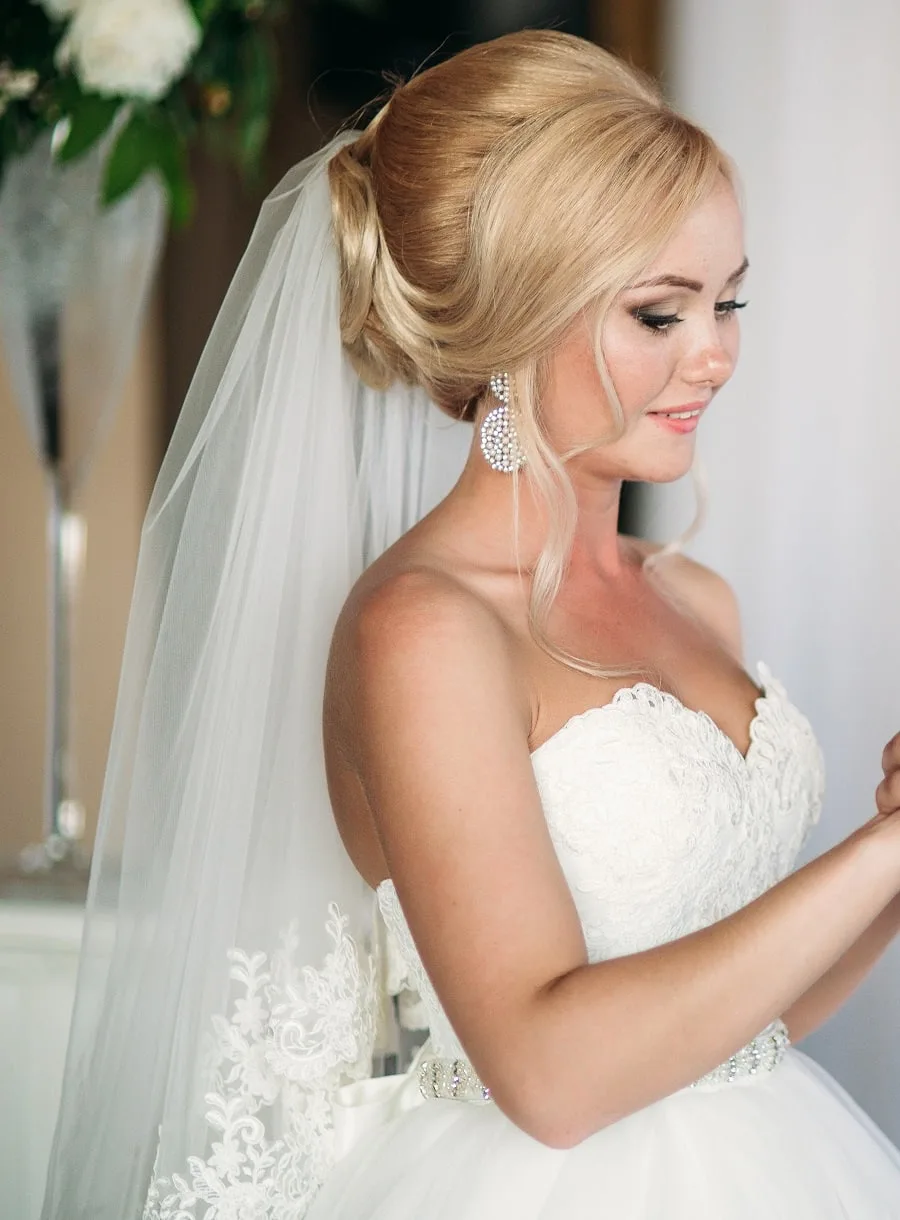 Oh, yes! This wedding hairstyle with a lace veil is GORG! A classy updo with wispy hair framing the face and a romantic and traditional veil placed above the bun allowing it to cascade down the bride's back. It creates an ethereal look.
The bride chose a ballgown wedding dress with a lace top and then accented it perfectly with a long 2-layer veil with beautiful wide lace along the edge. Absolutely stunning!
9. Voluminous Side Braid With Veil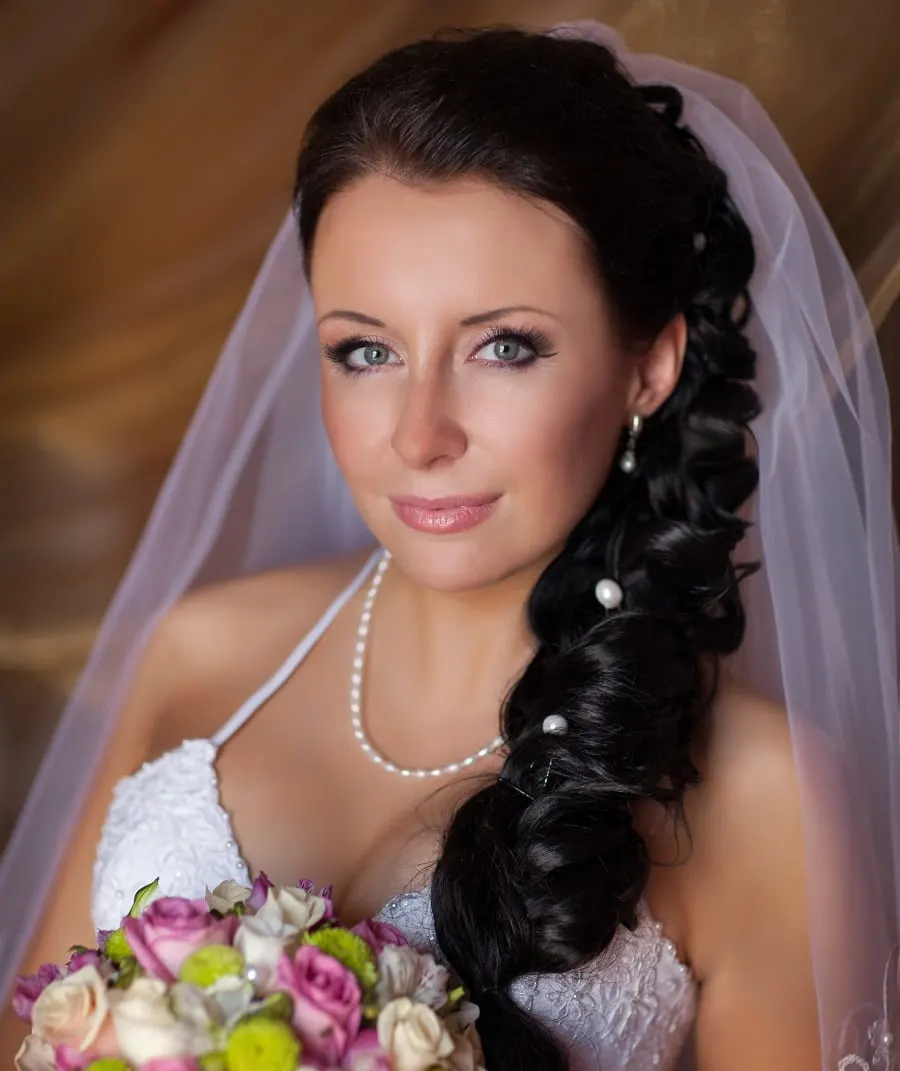 Keep it classy and sophisticated with a voluminous side braid, accented by pearl hairpins and a romantic 1-layer veil placed at the crown of the head. It creates a beautifully romantic look.
10. Elbow Length 2-Layer Veil With Bob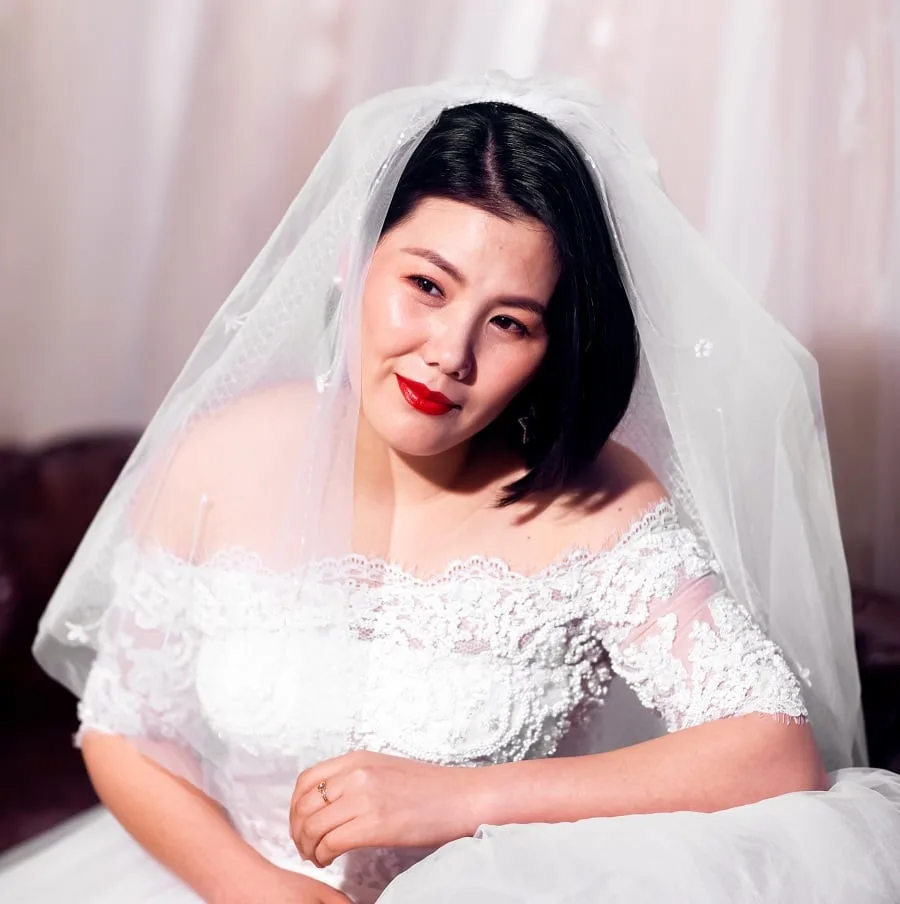 Wearing an off-the-shoulder wedding dress allows you much flexibility with your veil. This bride has a beautiful bob haircut, so she chose a 2-layer veil will delicate appliques creating a traditional and romantic look.
11. Short Hairstyle With Full & Fluffy Veil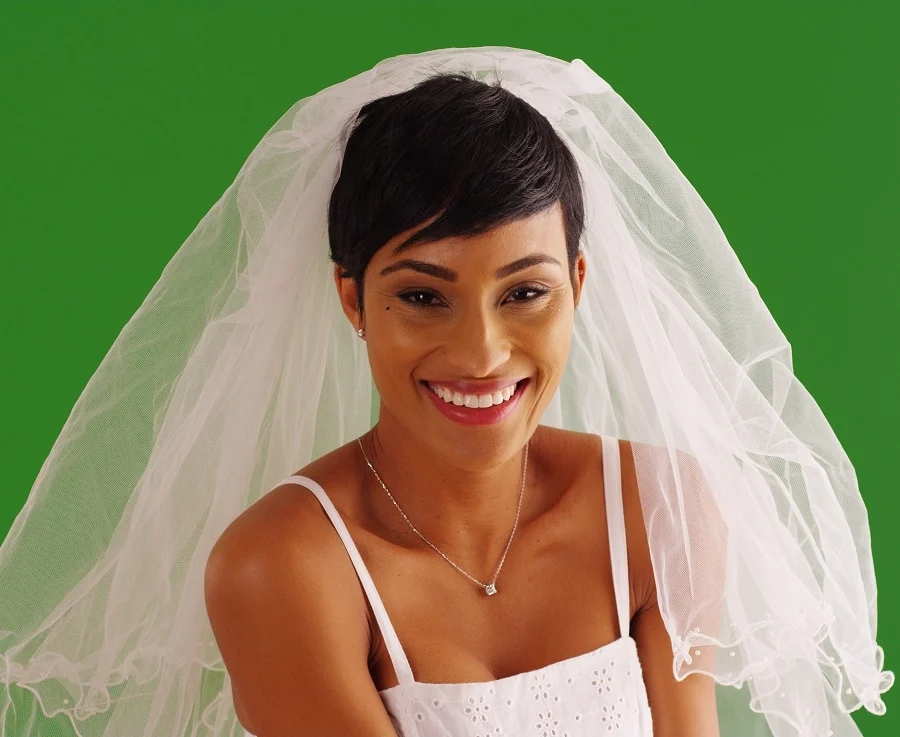 When you have super-short hair, you may want to opt for a fluffy multi-layer veil for your wedding day. We love this super-short and sassy haircut because it's fun and flirty, and we think the bride's choice of the veil is perfect!
Many women want to grow their hair out for their wedding day to allow for a glamorous or fancy hairstyle or wedding day look. But it's absolutely not necessary.
This bride embraced her short hairstyle and added length and glamour with her veil-a beautiful 2-layer, fluffy veil with dotted pearls on edge.
12. Glamorous Half-up, Half-Down With Flowers & Veil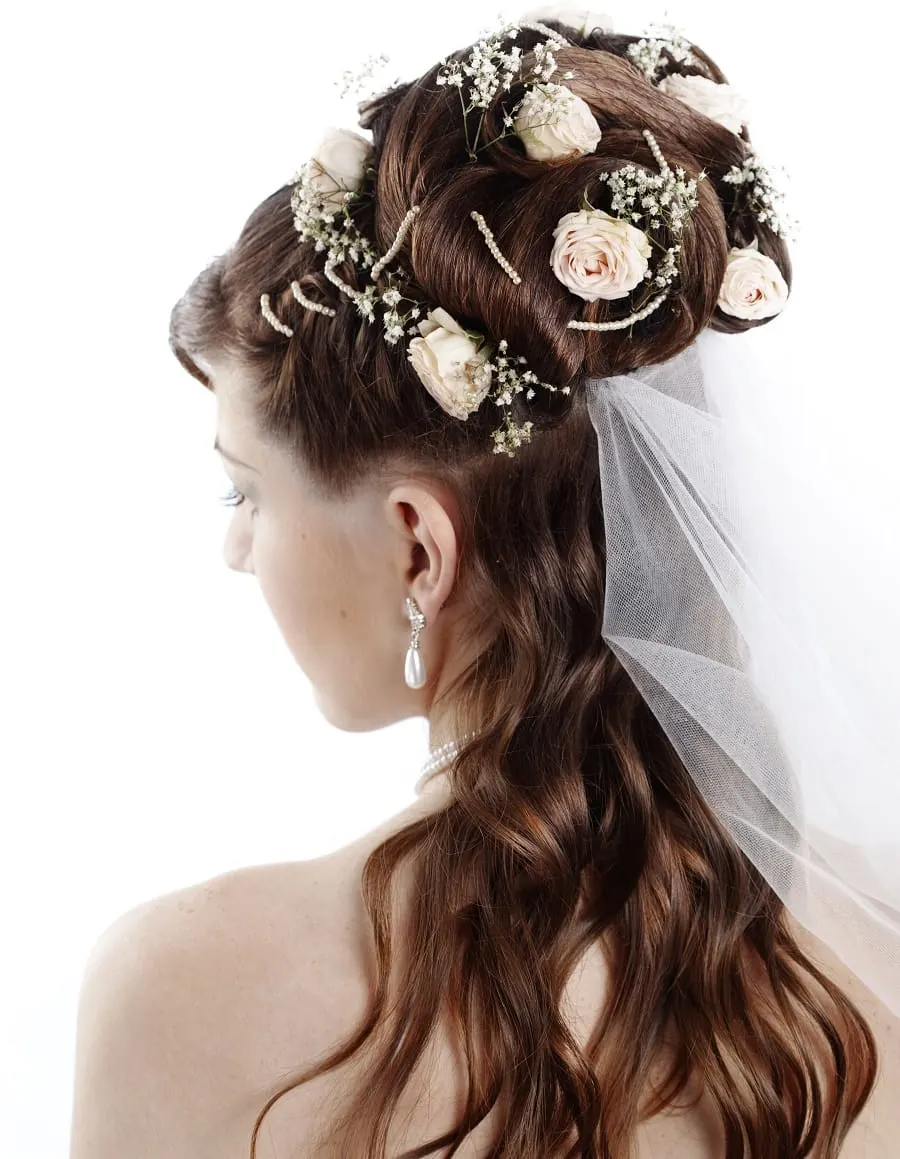 All you need is a beautiful half-up, half-down style, some flowers, and the perfect veil for a whimsical, garden-fairy-style wedding hairstyle.
We love how full and voluminous this look is, with large curls pinned at the crown of the head with the veil placed underneath for a beautiful look.
13. Glamorous Half-up, Half-Down With Flowers & Veil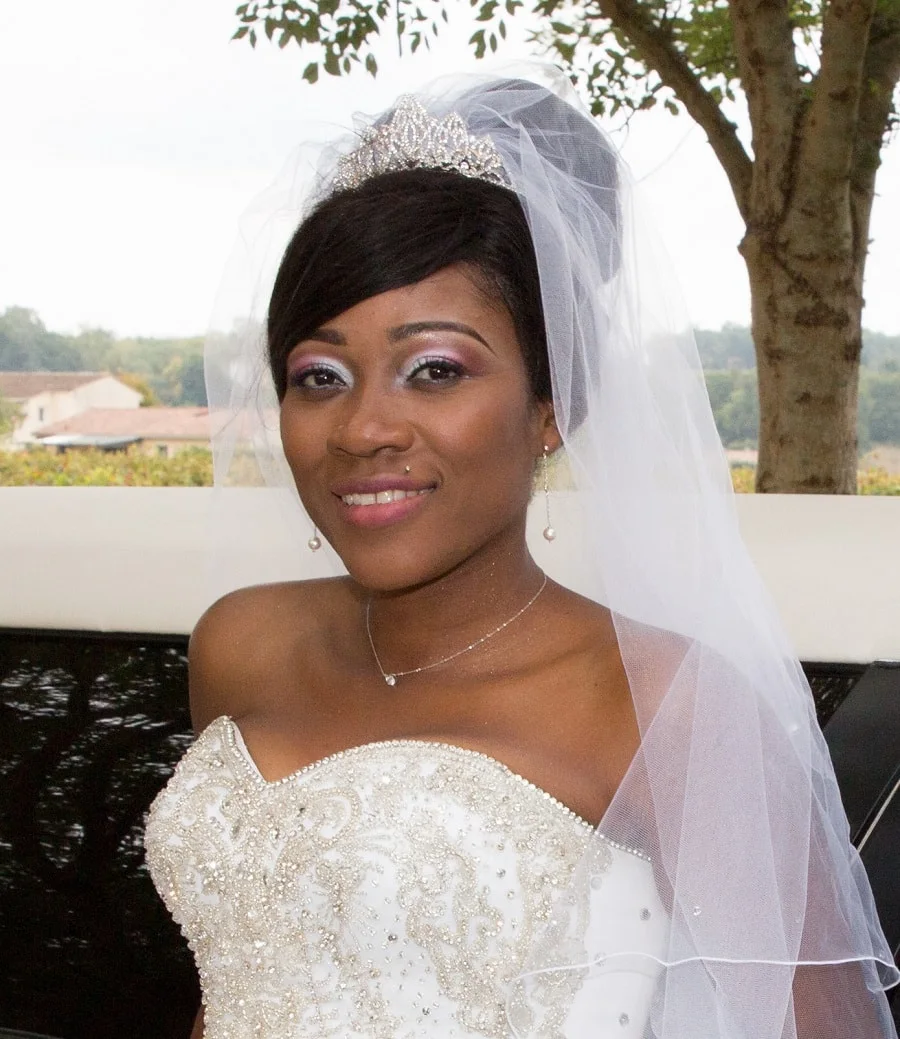 A high bun, beautiful makeup, a grand tiara, and a 1-layer sheer veil is all this bride needs to complete her wedding day look. This is one of the best classic wedding hairstyles with veils.
14. Beach Wedding Hairstyle With Veil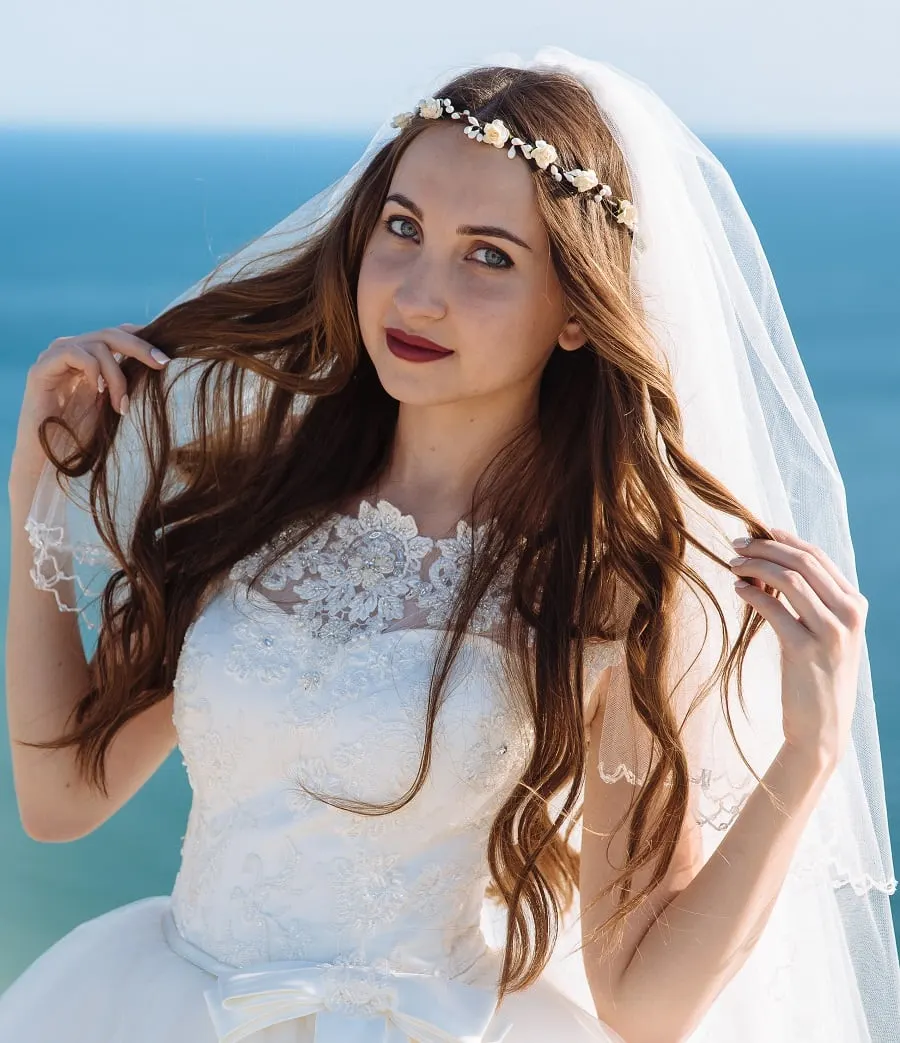 Ok, when it comes to beach wedding hairstyles, you may think it's best to keep it neat and tied down because you know…it can be breezy. But the truth is, your long hair is lovely and should shine on your wedding day.
So, add some gentle waves, a fluffy veil, and a floral headband, and Voila! The perfect wedding day look.
15. Glamorous Updo With Tiara & 2-Layer Veil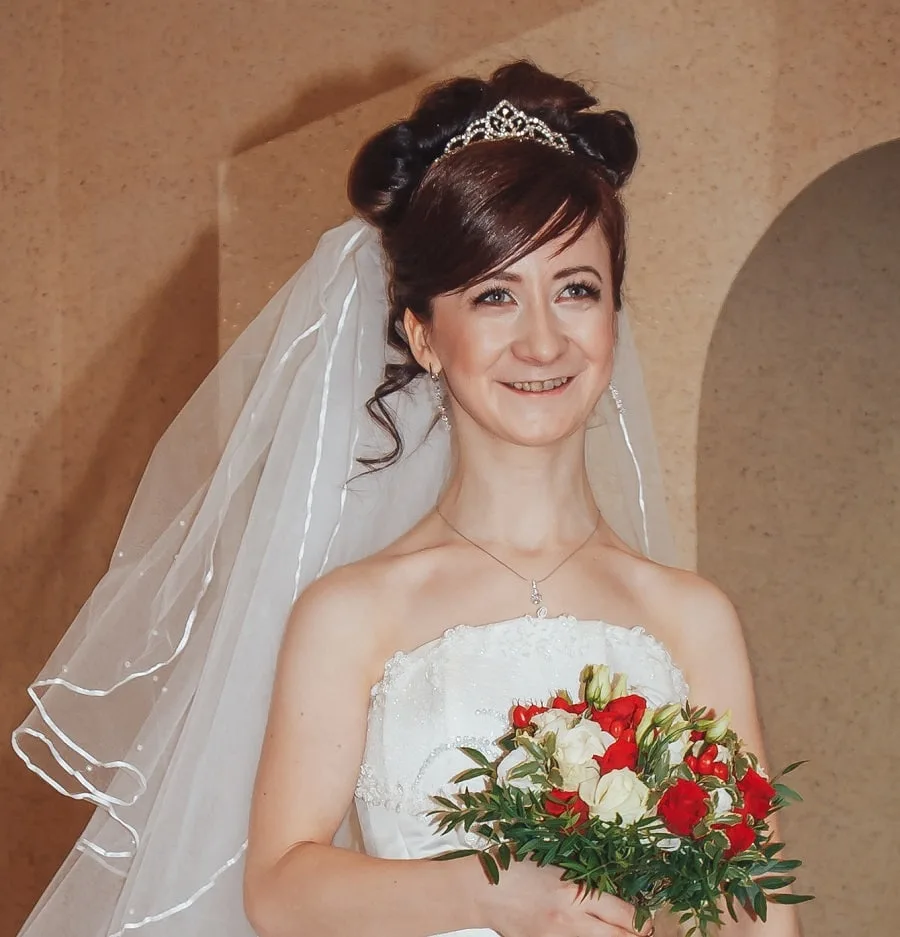 For a glamorous and classy wedding hairstyle with a veil, go for a fancy updo with side-swept bangs and large curls pinned high at the crown of your head.
Finish the look off with a beautiful tiara and a romantic 2-layer veil with a ribbon edge. It's a classy and breathtaking wedding day look.
16. Simple Wavy Wedding Hair With Lace Mantilla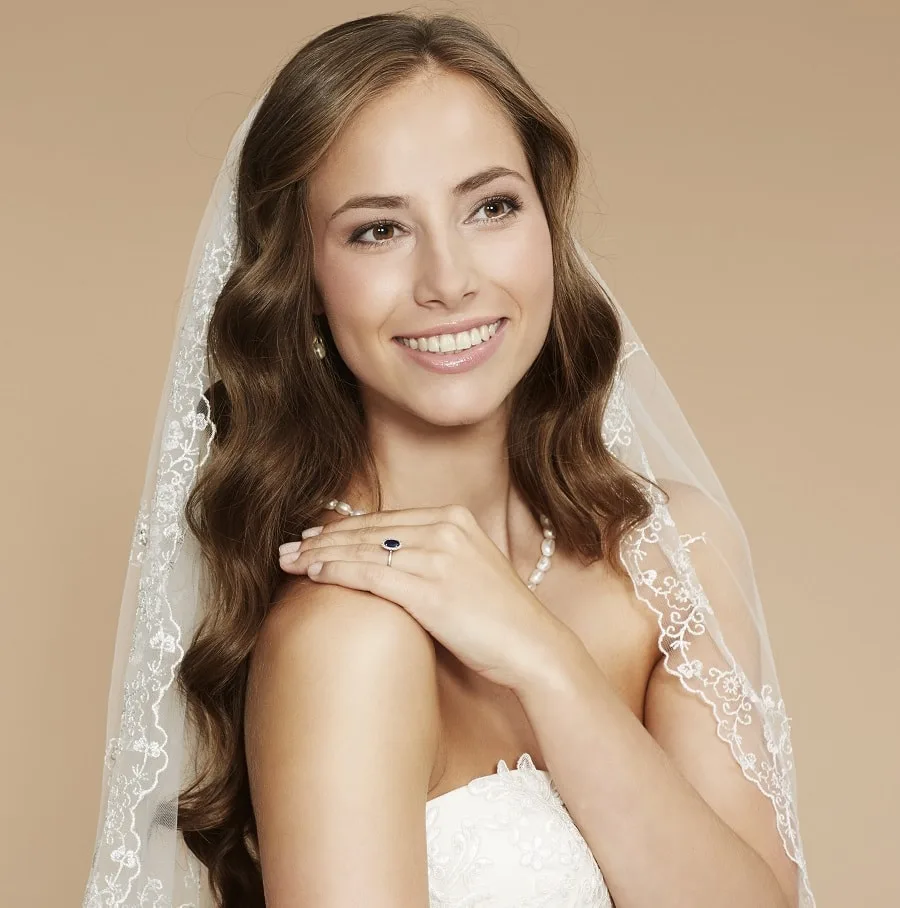 Sometimes less is more, right? We absolutely adore this wedding hairstyle. Simple and sophisticated waves cascade down her beautiful long brown hair, minimal makeup that's soft and romantic, and the perfect lace mantilla. It's a classic wedding day hairstyle that's easy to achieve.
17. Side Ponytail With Face Blusher & Fascinator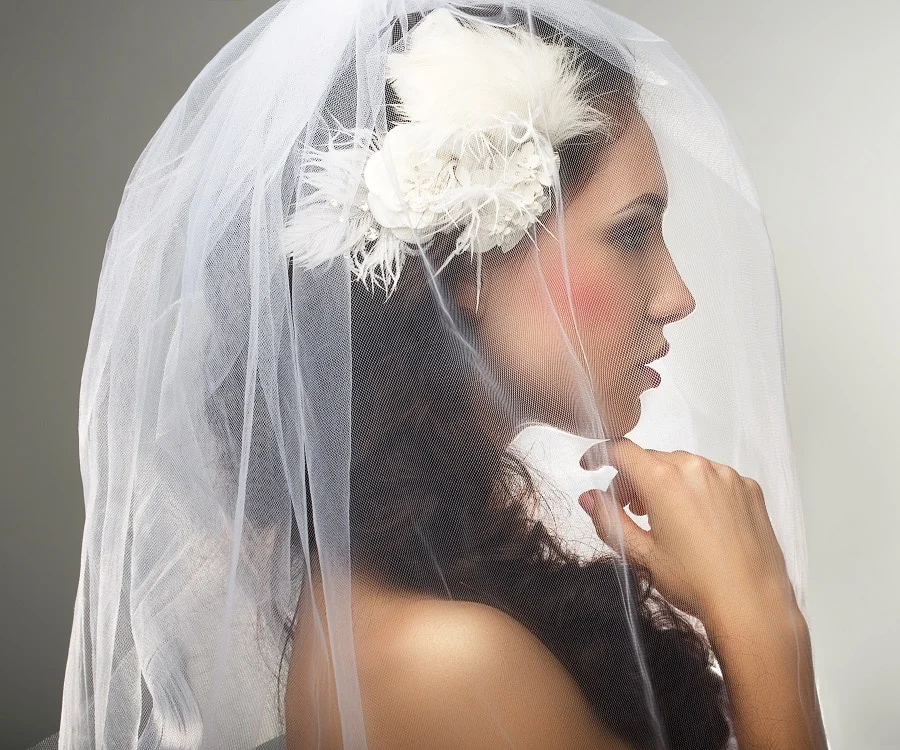 Here's an example of the bride wanting to stick to the tradition of covering her face with the veil as she walks down the aisle. She chose a beautiful side ponytail with large curls, a 2-layer sheer veil wearing the blusher part over her face, and a fancy wedding fascinator (a fancy term for wedding hair accessory).
This is a glamorous wedding hairstyle that's also romantic and traditional.
18. Vintage Wedding Hairstyle With Veil & Lace Headband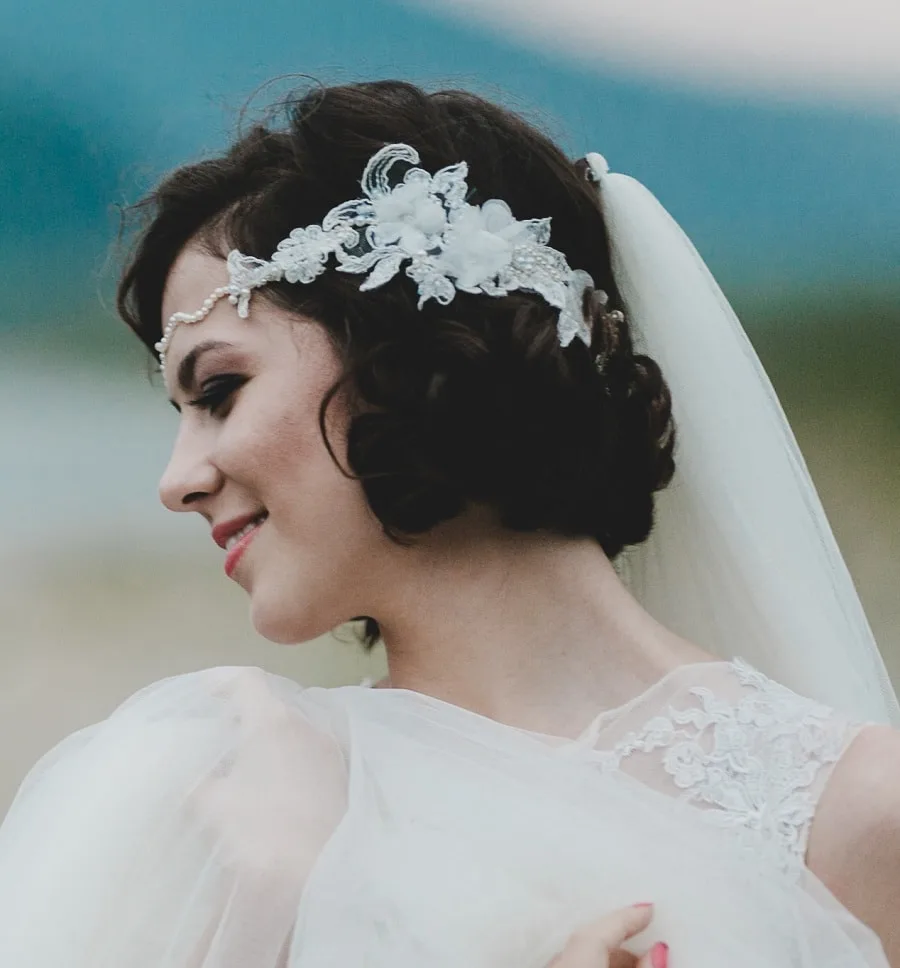 Wow! We love this vintage wedding hairstyle. The short and sassy hairstyle has a side part and has been curled for volume. Then accented with a vintage lace headband worn across her forehead and the veil in the back. It's a beautiful and classy wedding hairstyle.
19. Romantic Wedding Bouffant With Small Tiara & Lace Mantilla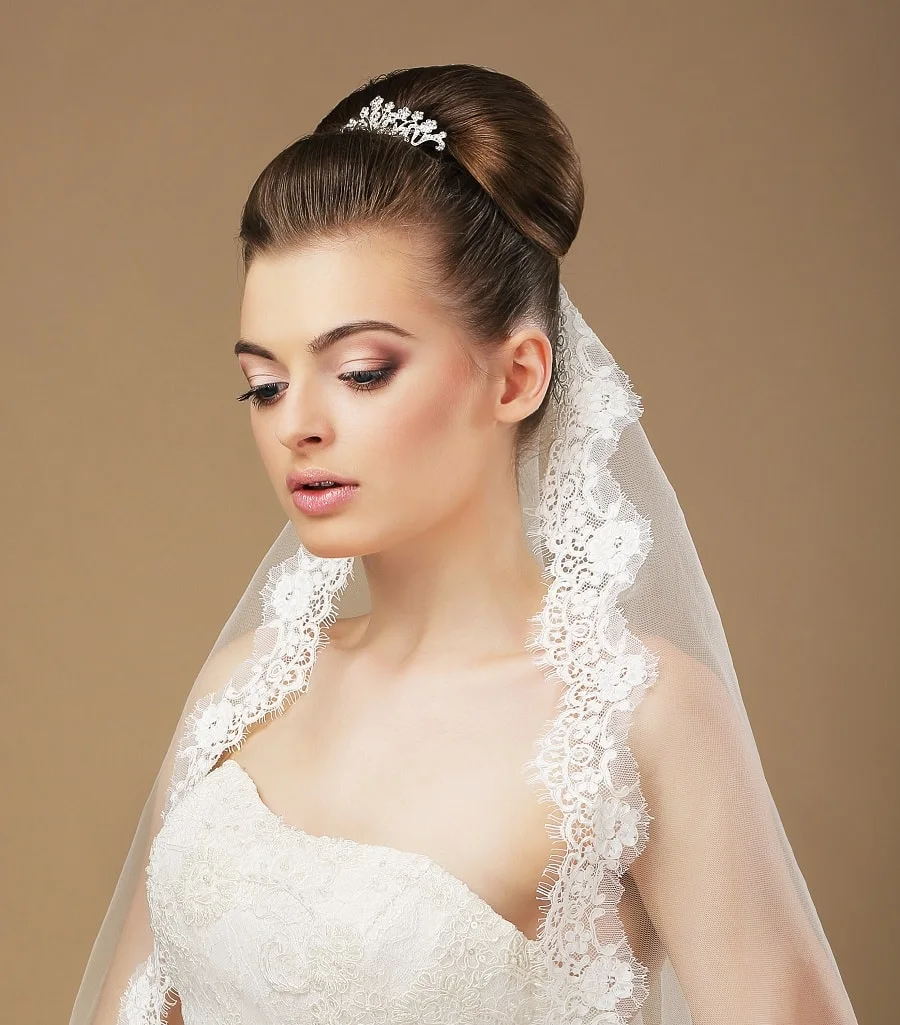 This bridal hairstyle and makeup are simply refined elegance. A soft and romantic makeup palette and a grand wedding bouffant hairstyle blend together beautifully to create an ethereal look.
And to finish the look, she added a dainty rhinestone tiara and lace mantilla that matched her dress placed under her bun and draped over her shoulders. When it comes to finding the best wedding hairstyles with veils, this is it!
20. Beautiful Half-Up, Half-Down Hairstyle With Veil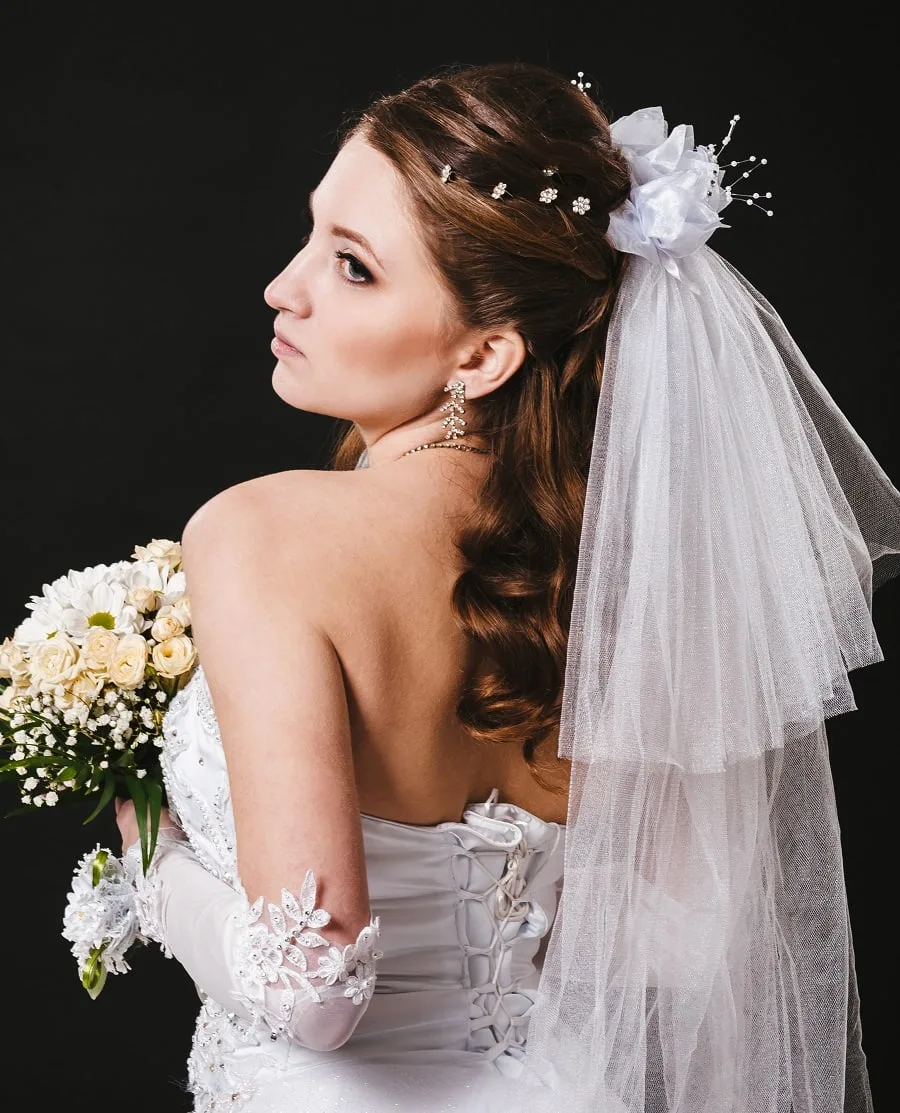 You can never go wrong with a beautiful half-up, half-down wedding hairstyle with long curls, dainty floral hairpins, and 2-layer fluffy veil with flowers on the comb. It's a stylish and traditional wedding day look that will never go out of style.
21. Fun & Flirty Updo With Unique Veil & Hair Accessories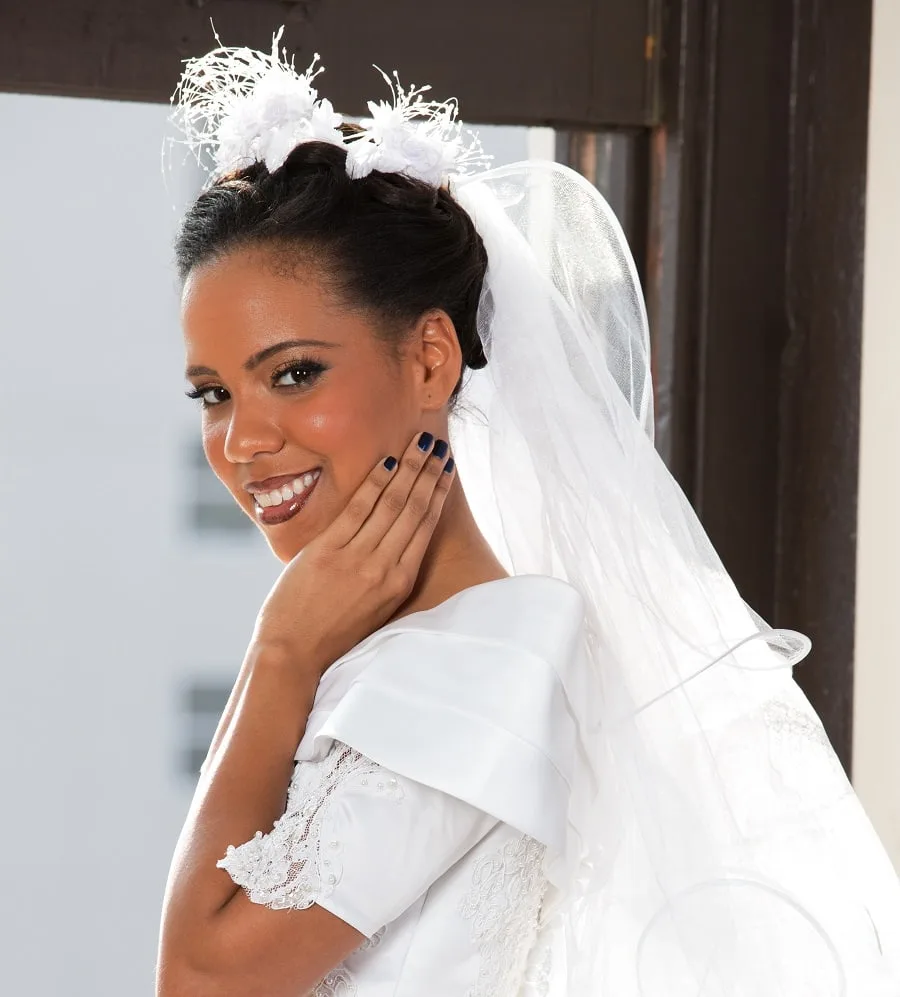 Let all your beauty shine on your wedding day with a full updo. It's a simple and classy hairstyle that's jazzed up with a fun hair accessory or what's called a wedding fascinator and a unique veil that has piping along the edges to create a curled look. What a fun wedding day look.
22. Romantic Updo With Flowers & Low Veil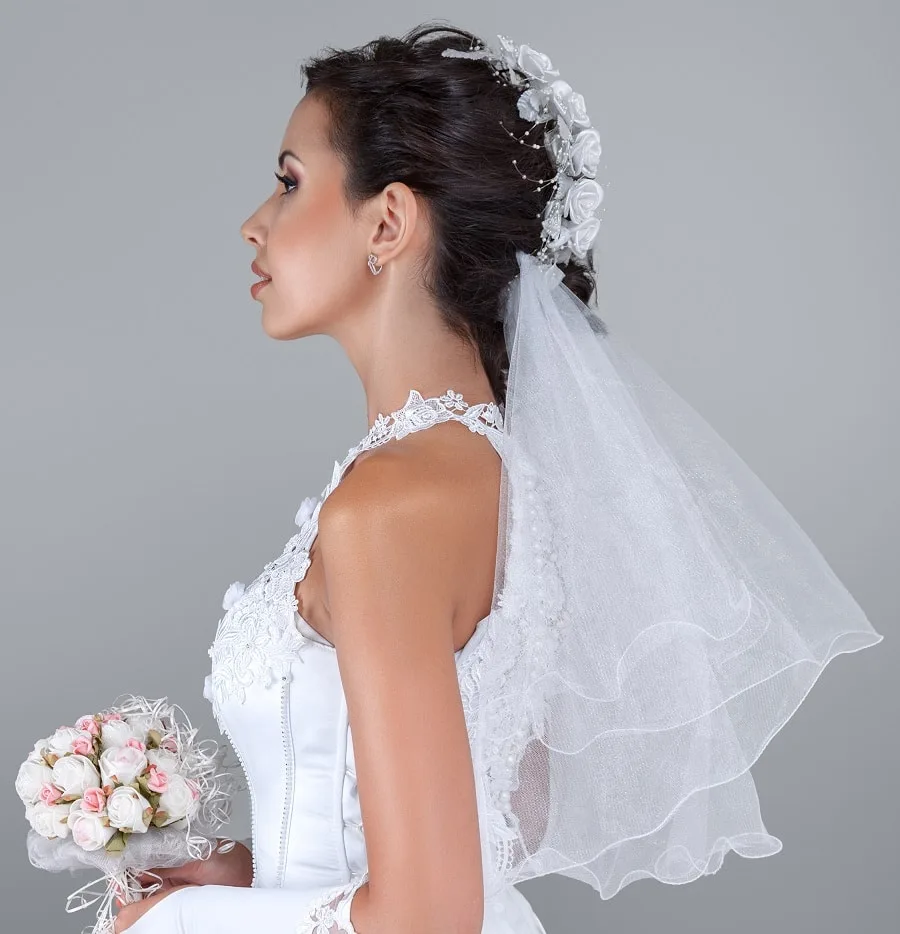 To create this look, the hair has been pulled back away from the face loosely with some volume. Then, large white flowers are added vertically from the top of her head to the nape of her neck, where the veil is also placed.
23. Effortless Updo With Flower Headband & Low Veil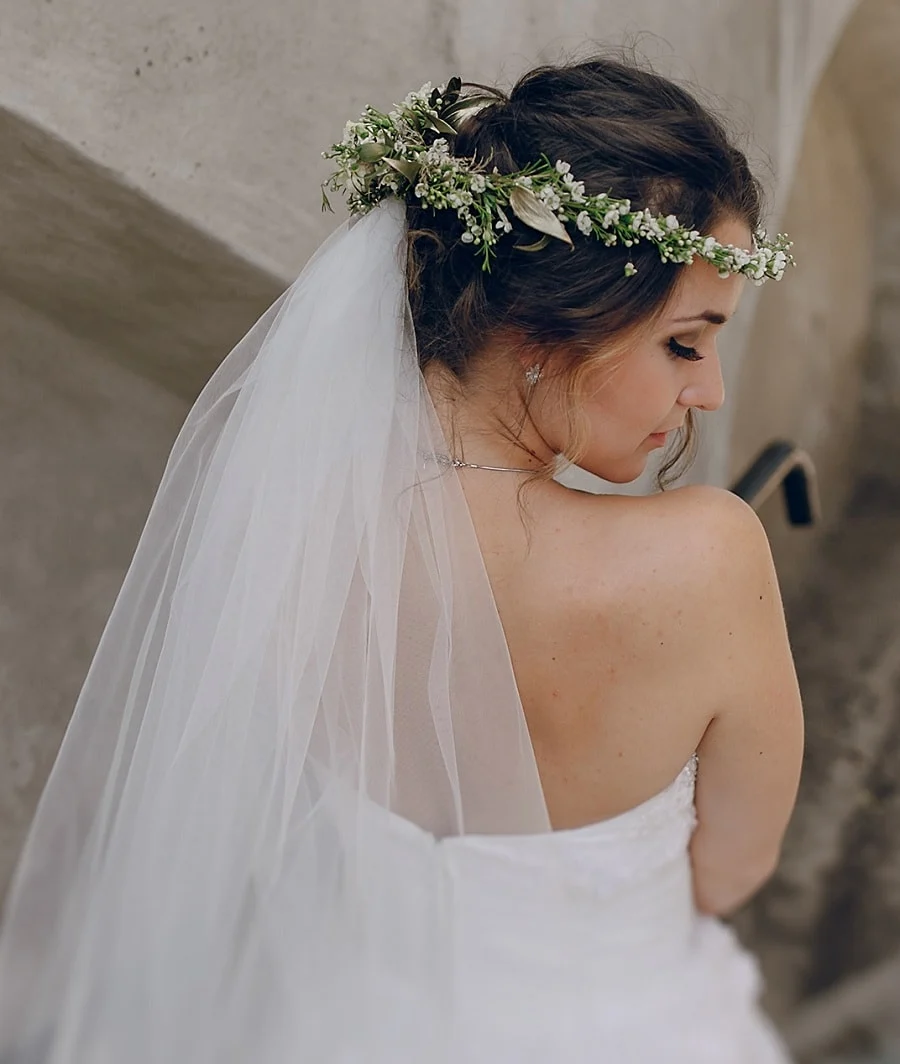 This wedding hairstyle is perfect for a garden, outdoor or boho-themed wedding. Her hair is loosely pinned up with wisps of hair around her face, and a beautiful flower and greenery headband and low veil complete the look.
24. Shoulder Length Hair With Barrel Curls & Veil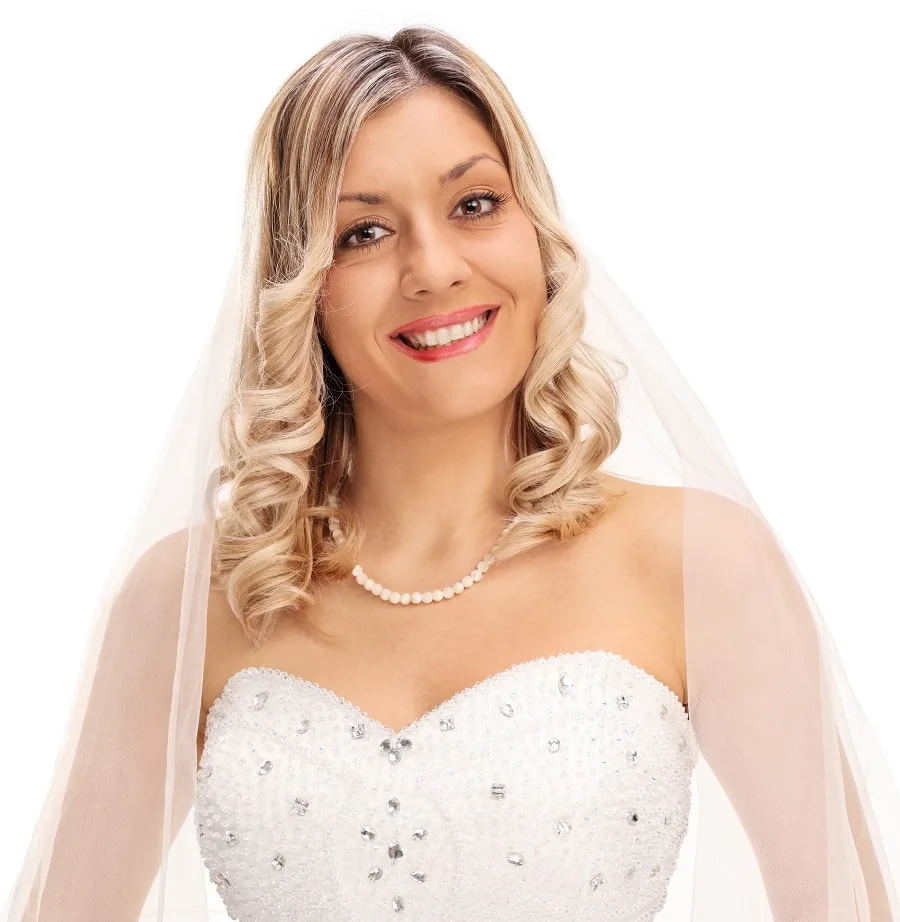 For a simple and elegant wedding hairstyle, wear your hair down, add large barrel curls and finish the look with a sheer 1-layer veil placed at the crown of her head. It may be simple, but it's so pretty.
25. Romantic Wedding Hairstyle With Forehead Necklace & Veil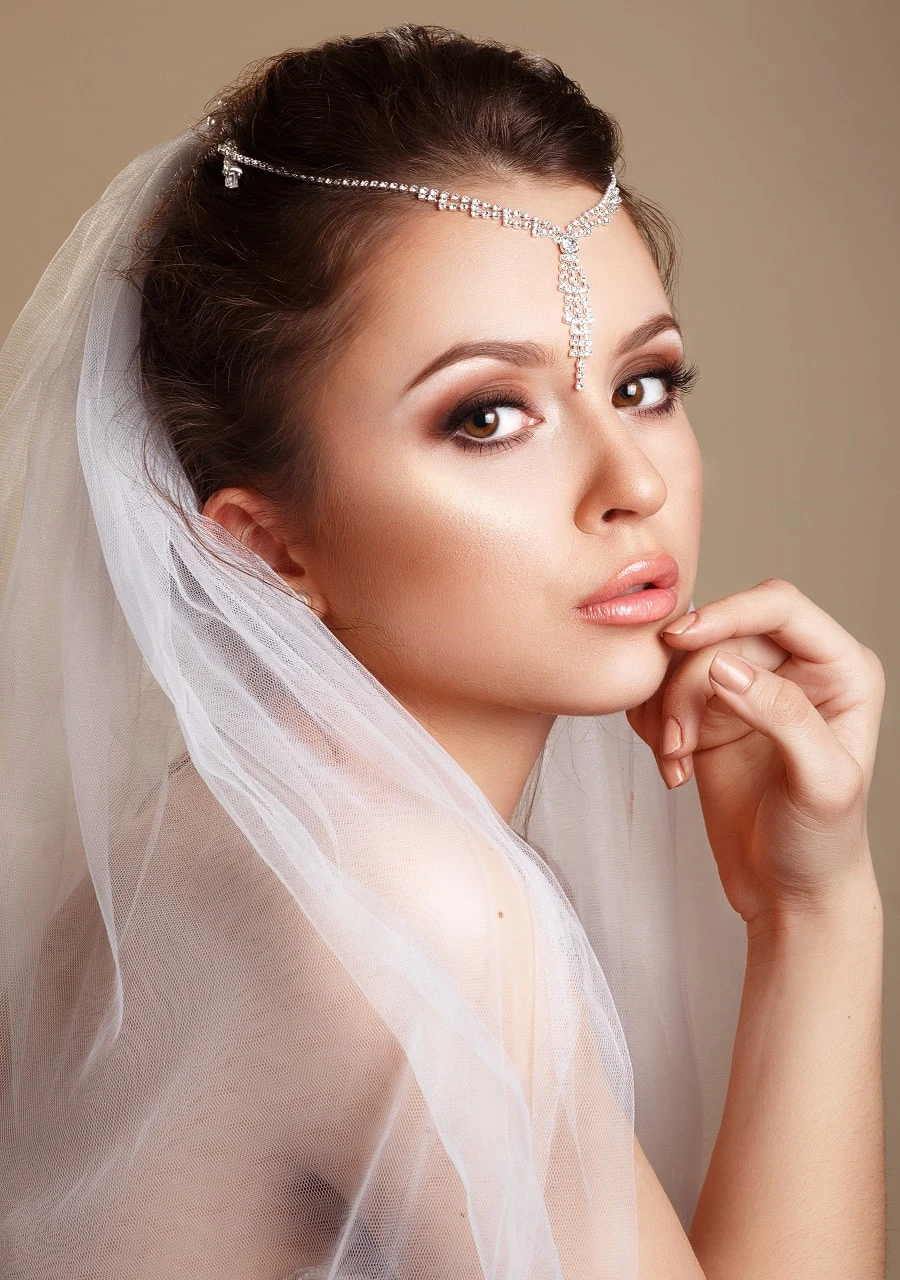 This is another example of a simple updo with a little volume on top, decorative rhinestone jewelry as a headband across her forehead, and a simple veil that completes the look.
That's it! The top wedding hairstyles with veils; we hope you look gorgeous on your big day!