By far, the wedding day is one of the most important moments in any woman's life and if you want to look mind-blowing, a wedding hairstyle with long hair will make your guests look up at you with so much admiration.
We know you invest a lot of time searching for the perfect dress but your hairstyle also needs the same attention because it must perfectly match the gown.
Wedding Hairstyles for Long Hair
Most women want wedding hairstyles that make the long hair look thicker, with more volume and dimension. From intricate braids and buns to long wavy or curly manes, there are practically infinite ways to create a ravishing appearance. Discover your best option on the list below!
1. Bun Wedding Hairstyle for Long Hair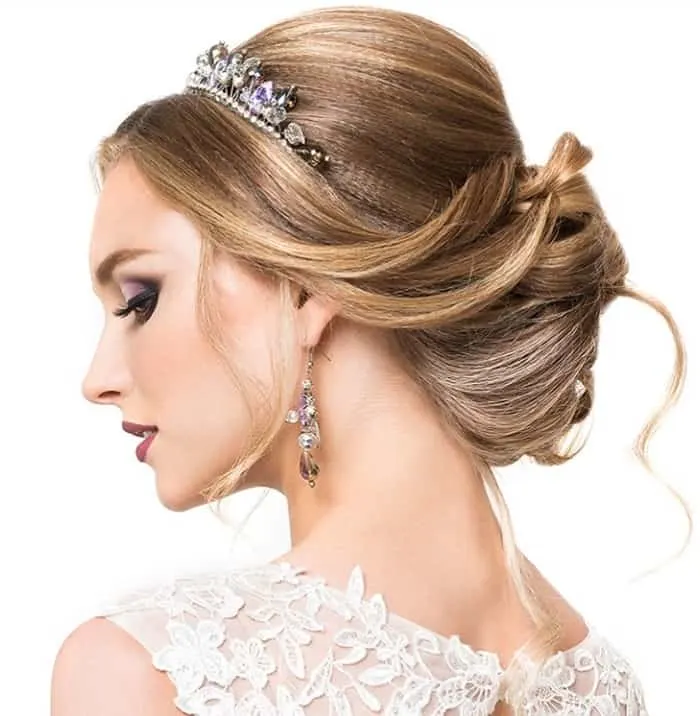 This wedding updo for long hair looks so marvelous and can be your ticket to a mindblowing hairstyle. Wear a fancy diadem on your head and also go for matching earrings and makeup.
2. Braided Hairstyle for Long Hair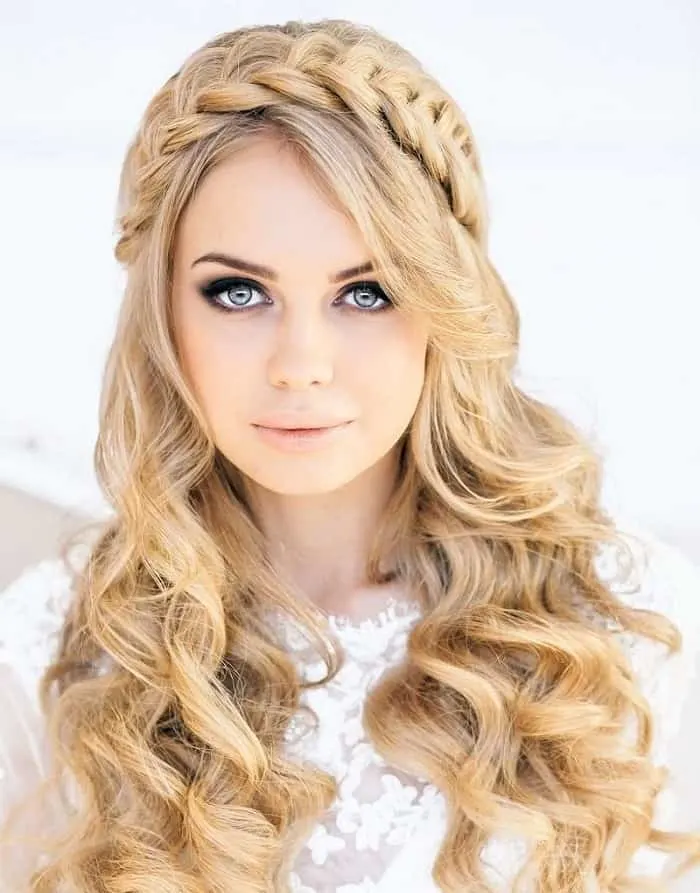 This half up half down long hairstyle with a crown braid will reek sophistication at your wedding. Give your hair volume by curling it with a wand and knit your top hair to look like a future bride queen.
3. Long Wavy hair for Weddings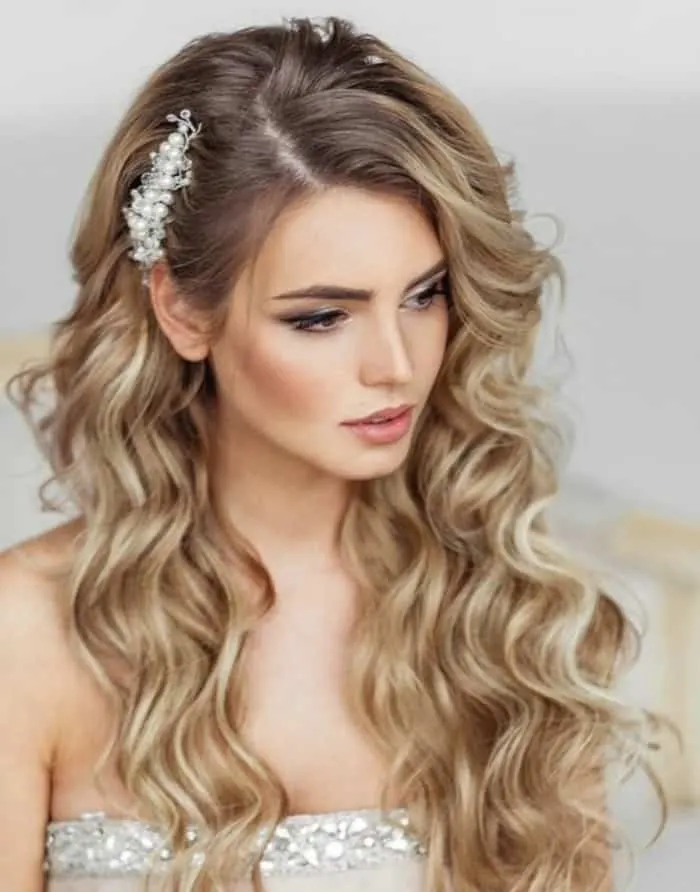 Create a long blonde ombre hairstyle for your wedding and use a silver pearled decoration to pin your hair on one side. Wave those long locks and you'll look like a princess during one of the most important days of your life.
4. Long Hair Down for Wedding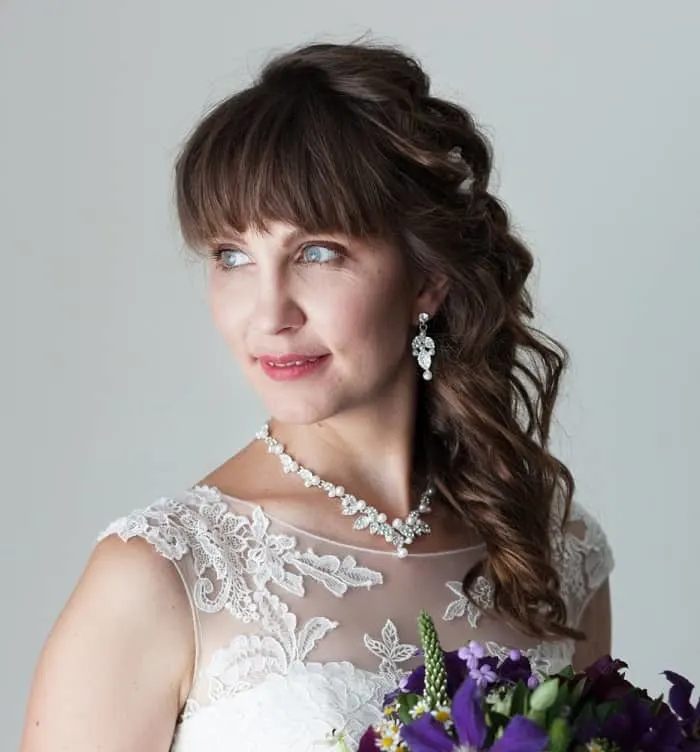 This beautiful style will make you feel like you are a princess. Curl your long hair in gorgeous waves and side sweep them to the side you desire and pin them in place. A full fringe will top off this style and you are ready for your big day.
5. Fishtail Hair Crown for Wedding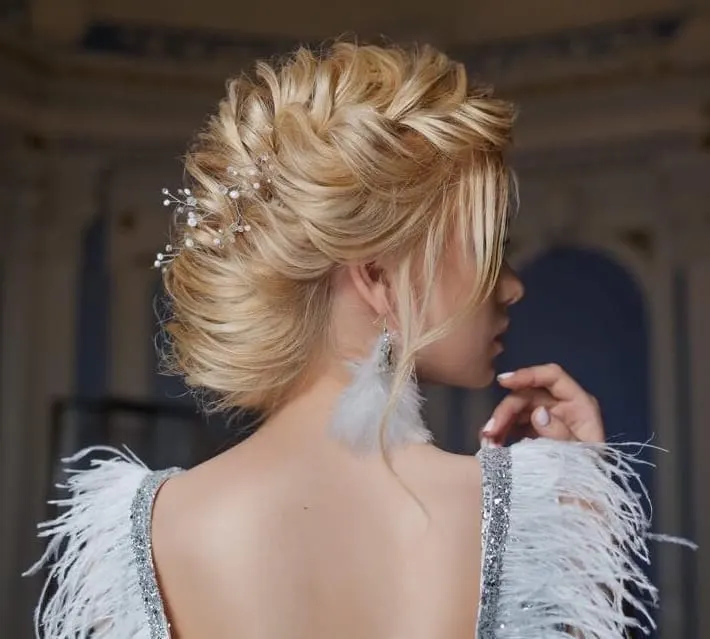 This fishtail updo makes you feel like you are from a fairytale. Make sure that the braid isn't too tight and pull some strands of hair to frame your face. Adding a delicate hair accessory helps finish off this beautiful style.
6. Braided Hairdo for Long Thin Hair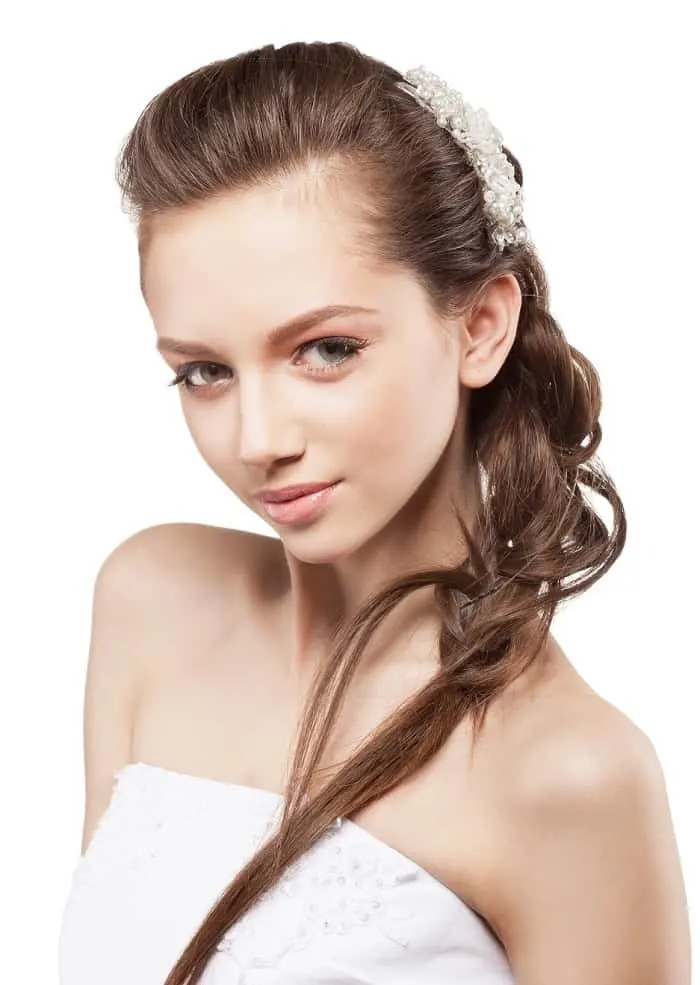 A long braided hairstyle for thin hair can make your mane look gorgeous for the wedding. As a future bride, you want the best outcome when it comes to your hairdo, and you can glorify yours with a pearled decoration on one side.
7. Wedding Bun For Wedding
Get your inspiration from a 50s wedding hairstyle that still inspires women to opt for retro looks for their long hair. Go for finger waves for the bangs and pin your hair in a low rolled bun. Complete the look with a floral decoration and a small veil.
8. Soft Updo with Veil for Wedding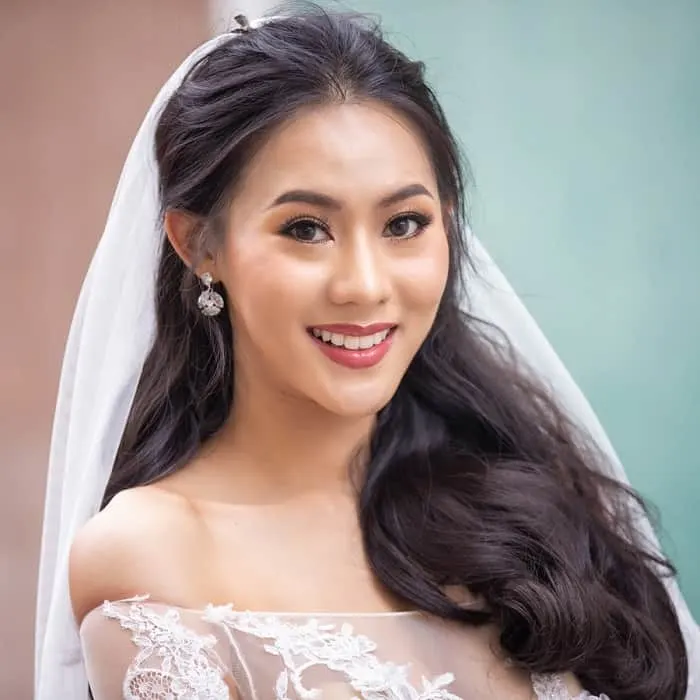 Long wavy hair is a sophisticated choice for wedding hairstyles that must include a veil. Opt for relaxed curls, pin the top hair in a soft updo so the vail can be placed in the hair to not fall out and attach la piece de resistance.
9. Long Curly Hairstyle for Wedding
A long hairstyle will work its magic for a black bride, especially if you opt for rich curly hair extensions. This is your moment to glow and you should take advantage of it. Make sure you create layers because you want more volume and length, not look like Cousin Itt.
10. Intricate Viking Style with Wavy Ponytail for Wedding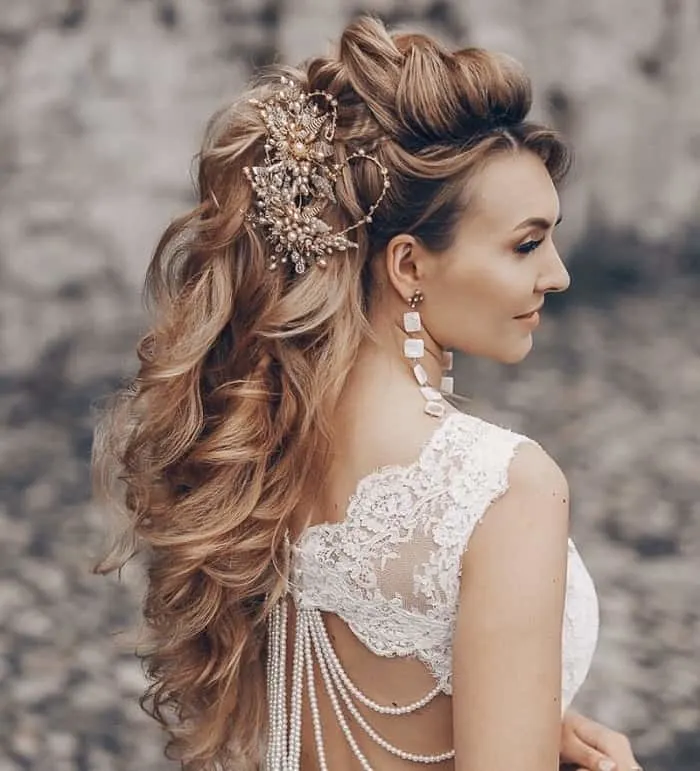 For brides, the preparation routine is as important as the wedding itself. Like this beautiful Viking style. This will take you back to an era where the intricate hairstyles were mind-blowing.
11. Top Bun for Long Hair
Asian girls with long hair will look mind-blowing at their wedding with a sophisticated top bun and relaxed wavy bangs flipped on one side.
Diamond earrings will give the whole hairdo an elegant glow, and nobody will be able to keep their eyes away from the jaw-dropping look.
12. Three Buns with Back Undercut Design for Wedding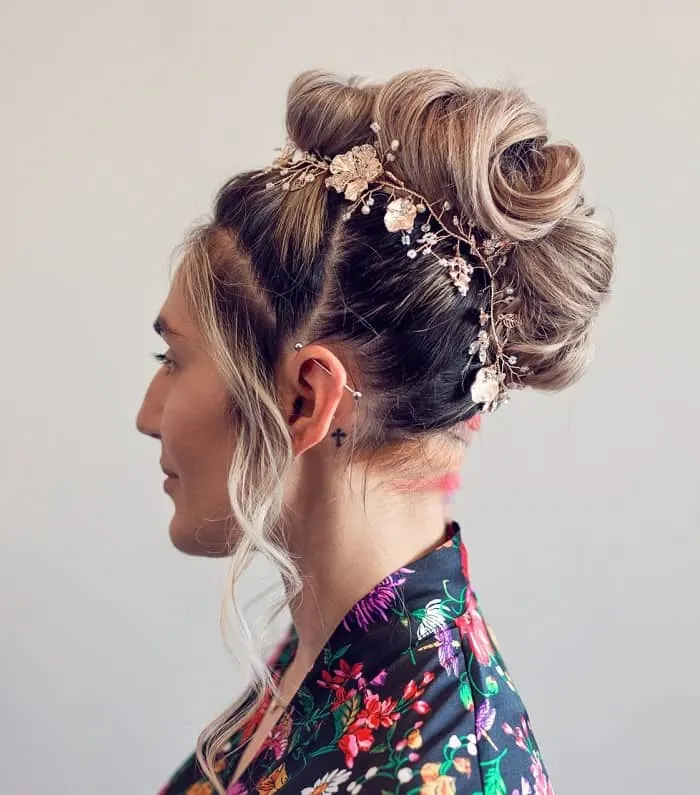 Your wedding day should be all about you! If you fancy undercuts, why not appear with one? Style three voluminous buns that look like a mohawk and decorate its base with a piece of golden hair jewelry.
13. Long Braided Ponytail with Flower Crown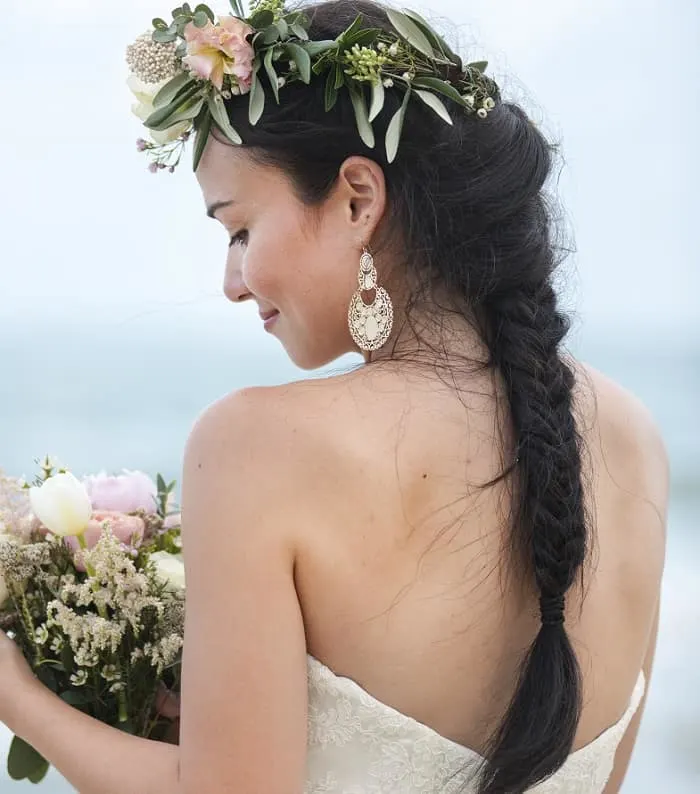 If you are planning to organize a relaxed wedding on the beach, you must go for a straightforward boho look. Simply braid your long hair and put a flower crown on your head.
14. Low Bun for Wedding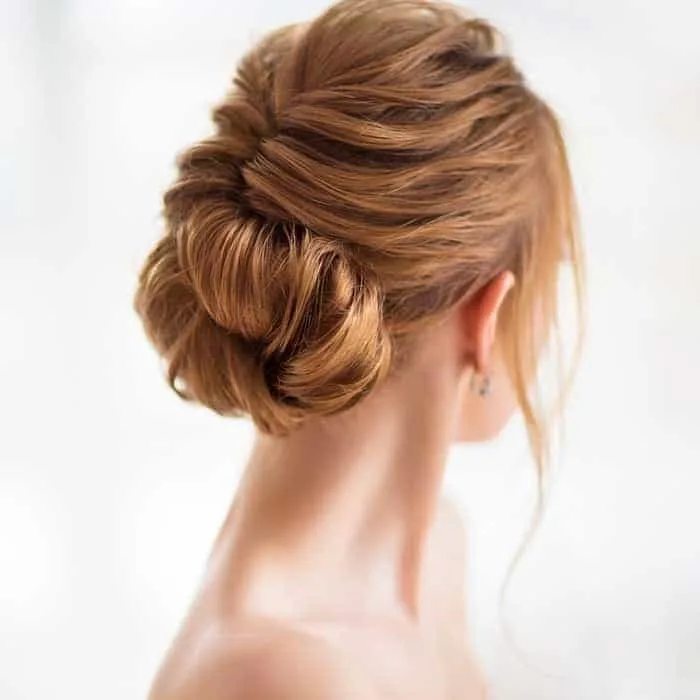 Style the top part in this way so it appears to be a fishtail updo. Use the remaining long hair to create a low bun and free a few strands from the corners of the forehead.
15. Voluminous Updo for Long Hair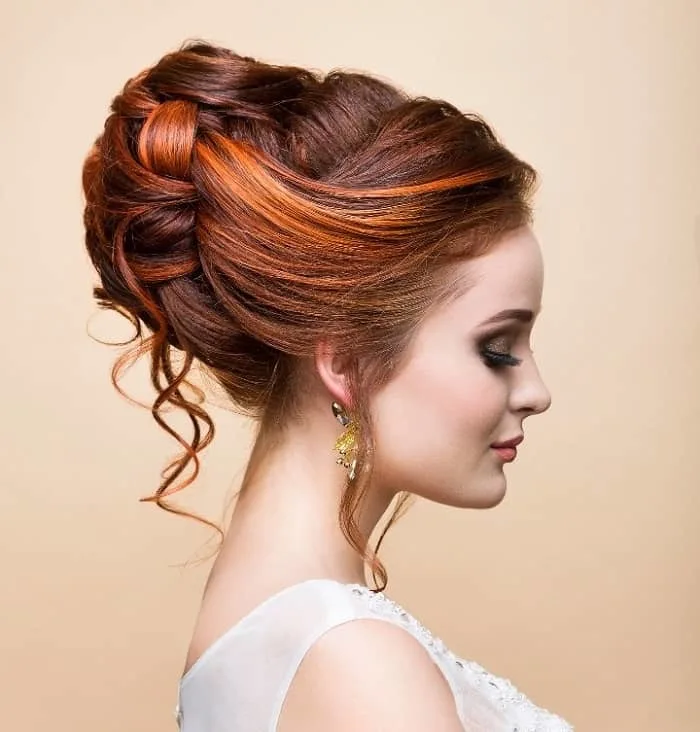 When your skin is as white as milk, you should definitely change your hair color into a gorgeous dark ginger shade.
The long mane can be styled in a voluminous bun in the back, with some strands loosely falling from the coiffure.
16. Nature Child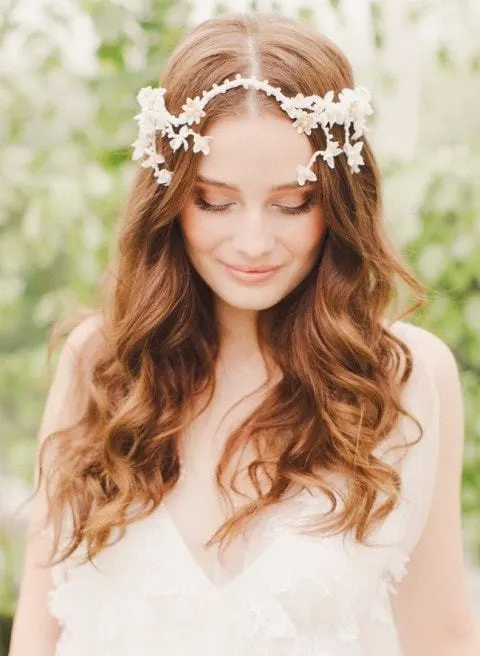 This simple hairstyle is great for girls who have an overall natural image for their wedding and are not afraid of touchups.
Consider adding a headpiece to make the hairstyle appear decorated. The headpiece should, of course, have flowers.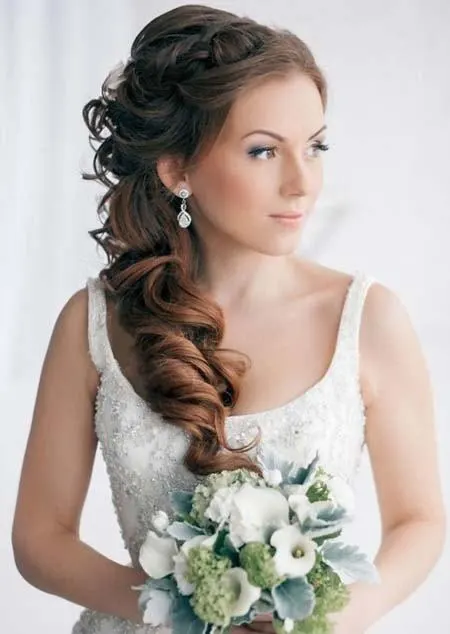 Curls are often the compulsory party of a wedding hairstyle for long hair. This side ponytail is the perfect way to keep the hair out of the way while arranging them so the length is visible in the wedding photos.
Wedding Hairstyle Ideas for Black Brides
18. Lift It Up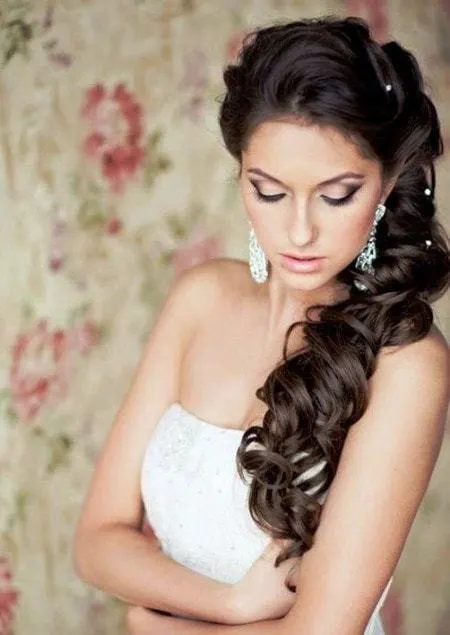 Sometimes the long hair lacks volume since it's so heavy that the gravity pulls it down. Ask your hairstylist to add some volume on top before proceeding with the curls and the ponytails. This hairstyle is perfect for any special occasion, not just the wedding.
19. Creative Long Hairstyle for Wedding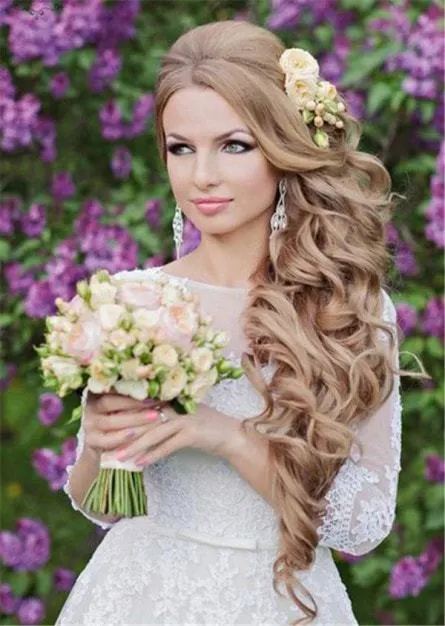 Mixing two styles is a great idea for a wedding. You can keep the hair straight on top and create something similar to a beehive. Anything that's below the ears should be curled and styled into a voluminous ponytail.
20. Wedding Long Hairstyle with Flowers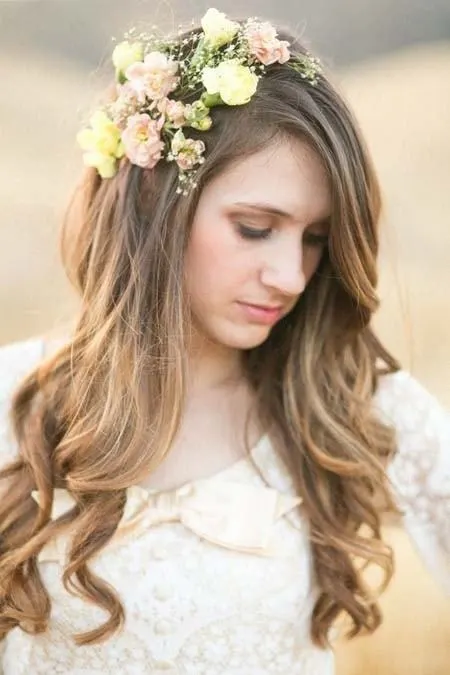 Adding real flowers to your wedding hairstyle is a great idea especially when your hair is long. However, real flowers are tricky and they tend to lose their luster halfway through the day. Be ready to replace them.
21. Let the Hair Flow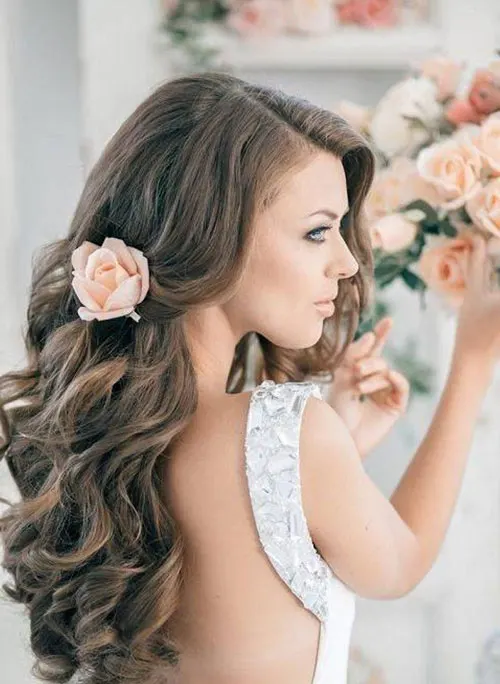 If you have long and beautiful hair, why not flaunt it? Let your locks flow down to shock the guests with their striking appearance. Use a curling iron to make waves or curls. You can use a pin with a flower to keep them out of your face.
Best Wedding Hairstyle Ideas With Short Hair
22. Best of Both Worlds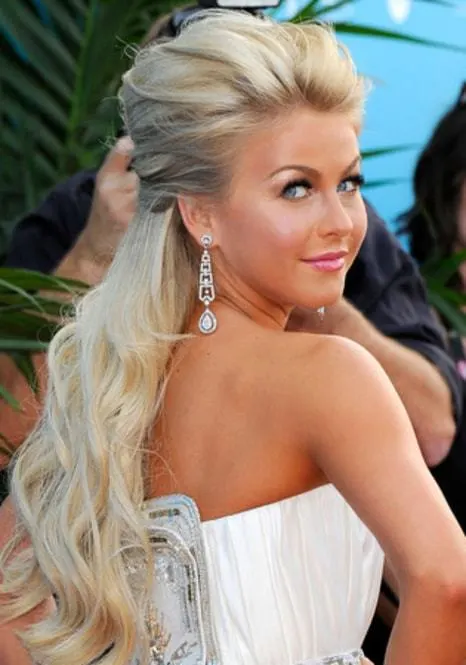 This long hair wedding style allows you to flaunt the length while keeping your hair neat and out of your face. The hairstyle is easy to do on your own, but professional assistance is always better. Consider creating the volume on top.
23. Wavy Wedding Long Hairstyle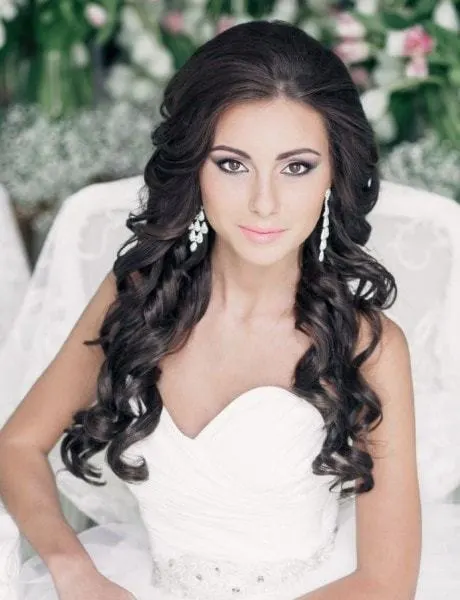 If you are not sure which wedding hairstyle to choose for your long hair, go for the smart waves. It's a no-lose option that can suit any dress and doesn't require you to get professional hairstyling assistance.
24. High Hair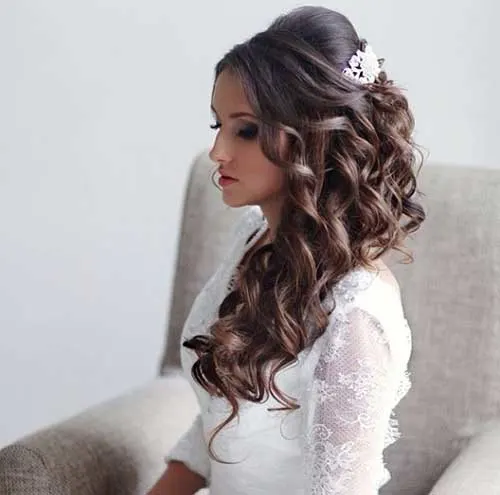 The high hair on top looks perfect when coupled with the curls that flow down the back. Consider leaving two strands hanging on each side of your face. This will make the appearance even more romantic.
25. Braided Wedding Hairstyle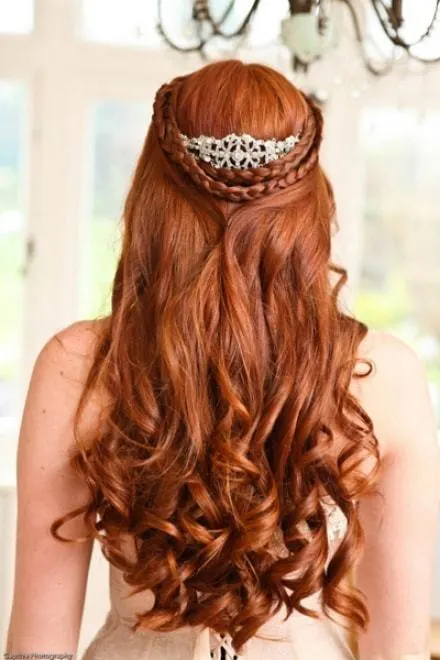 Let your beautiful hair down but don't forget about interesting hair arrangements. These two braids are so easy to make, but when coupled with a headpiece, they look amazingly striking. Give them a go!
26. Braids and Twists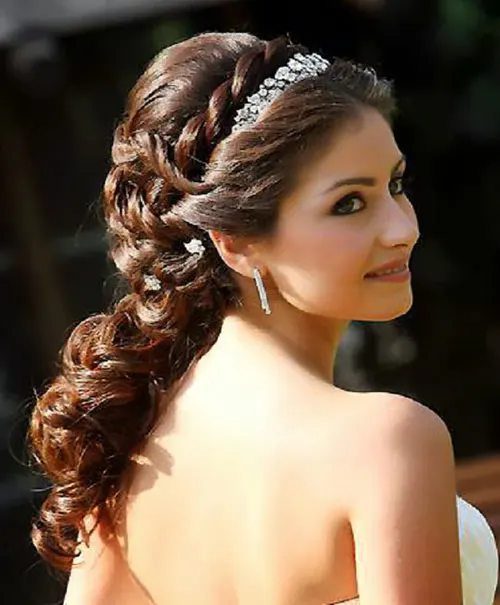 While not many women have enough hair to create this thick braids and twists extravaganza, most of them can take advantage of the hair extensions. Use a weave to make your wedding hairstyle look voluminous.
27. Stunning Ombre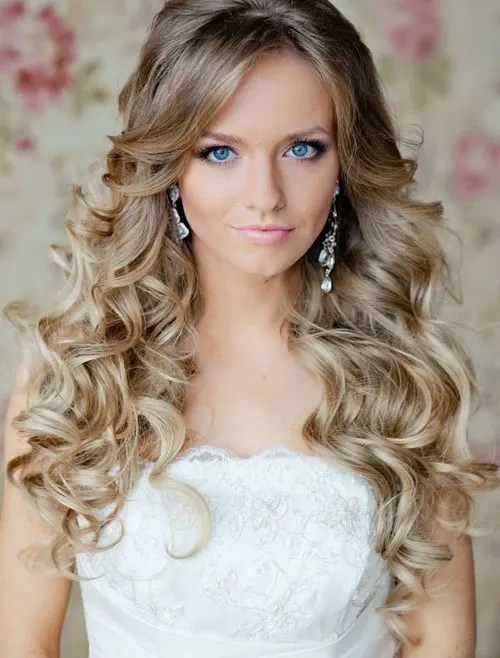 If you've been thinking about brightening up your hair color, your wedding is a wonderful opportunity to do it. Long blonde locks can make any man's heart flutter. Go for an ombre or a balayage to loo truly awesome.
28. Pompadour
Forget the classics! If you are ready to make a great statement with your hair, a wedding is a right day to do it. Ask your hairstylist to create a windblown pompadour on top of your head and decorate it with a few coils.
29. The Beauty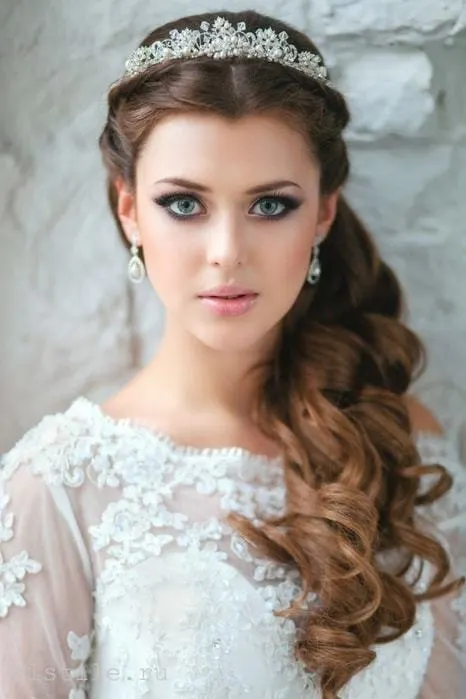 This classic wedding hairstyle is a perfect choice for any woman with long hair. You can make it on your own easily. Don't forget to make neat curls on the ponytail and try to wear it on your shoulder for the photos.
30. The Right Twist
Curling your hair is easy but arranging it into a neat twist is hard. You'll need professional assistance to bring this stunning hairstyle to life. Use special hair accessories to keep the curls together.
31. Accessories
When you are planning a wedding hairstyle, long hair might be beautiful enough without any extra accessories. Consider leaving your hair accessory free especially if you have long earnings and a bright necklace.
32. Windblown Style
This hairstyle is a great choice for women planning to spend most of their wedding day outside and hating the updos.
Leave your long locks down and curl them. Create a little bit of lift with your hair on top so the tiara can be placed snugly in the hair without falling out.
Take the remaining top part of your hair and pin them back and out of your face
33. Queen of Hearts
This heart-shaped wedding hairstyle is wonderful for a wedding day. Instead of curling just the bottom locks, make sure to use the curling iron at the roots as well. Shape the top part of your hair into a heart and secure it with plenty of bobby pins and hairspray.
34. Pretty Curls
If you have curly long hair, this wedding hairstyle can be a great option for you. Most of the hair is gathered up in a bun and pinned with special accessories. A few strands are hanging on the sides of your face.
35. Unique Approach
If you want to look truly unique at your wedding, you need to find a hairstylist with a wild imagination or use this example for inspiration. Just remember that such hairstyles take long to make and are hard to keep intact.
36. Windblown Charm
If you have beautiful natural waves, a wedding is not the right occasion to hide them. Allow the nature to overwhelm your image and leave your beautiful locks down. You can use a few accessories with flowers on them to complement the look.
37. Sweep Back
If you hate frequent touchups and plan to do plenty of dancing, this wedding hairstyle for long hair is for you. Make the curls and sweep them backward. Use tight elastic bands and clips to make sure it stays together all day long.
38. Highlights
Highlighted blonde hair is a perfect choice for a wedding. If you are after a soft, romantic and princess-type style, blonde curly locks are a must have. They look especially appealing with a long white veil.
39. Messy and Pretty
Curls come in all styles, shapes, and sizes. Pick this messy and pretty options to add some fire to your image. This hairstyle looks especially well with reddish hair. Hair accessories should be thin and delicate.
40. Big Curls
Your long hair can look its best when you make large curls since it will immediately show amazing volume. You can either clip the side strands in the back to make a simple hairstyle or just leave them down.
41. Headbands
The headband is an accessory, which will make even the simplest hairstyle look terrific. Spend some time looking at different kinds of bridal headbands and you will surely choose the one you like.
42. Be Original
There are always girls, who don't want to hear about the classics. If you trust your hairstylist, then you can make really original wedding updos for long hair. Just be careful not to overdo it, because memories of this day will stay with you for the rest of your life.
43. No Hassle
If you don't want to go through too much hassle, this wedding hairstyle is for you. All you will need to do is make soft waves. Brush the side strands to the back and make a ponytail. Adding a veil to the upstyle completes your look instantaneously.
44. Braids
If you don't want curls to be the main focus of your look, but still wish to stand out from the crowd, try the braids.
You can braid to side strands and pin them together in the back. This will create an appearance of a very neat hairstyle. You can easily make it on your own.
45. Get a Tiara
A tiara is a great way to collect your hair and keep it from getting into your face. Adding volume to the top part of your hair, by backcombing, will secure the tiara.
Take the remaining hair at your temples and pin them back, making sure not to pull it too tight. You will look truly stunning.
46. Be Simple
If you want to go for simple, yet classical curls, but are afraid of long hair getting in your way, you can go for this easy hairstyle.
Pinning the hair from your temple area back in a loose and delicate manner will ensure a beautiful style that's not too extravagant but yet elegant. This simple hairstyle will make you look incredibly soft.
47. Make a Crown
You are about to look like a queen, so you will definitely need a crown. This hairstyle is created by making two ponytails.
One is raised up high and the curls fall down the nape. The other one is low and is also curled. A special flower band is tied around to create an impression of a crown.
48. Go Back in Time
Huge voluminous buns are a thing of the past. However, they look so amazing, there is no reason to completely forget about them.
This wedding hairstyle for long hair is achieved by using special accessories which will be a base for a large bun.
49. Loose Braid
If your hair is not thick enough to make a beautiful braid, we are offering you a hairstyle that will imitate it.
It is easily created by a decorative wire which gets weaved into your hair and holds it together to create an impression of a loose braid.
50. Low Waves and Accessories
Natural looks are quite popular nowadays. So, a natural wave will look amazing on your long hair. Curl just the lower part, starting from your shoulders. Well-chosen accessories will make your hair look really regal.
51. Volume Is the Word
If you think that voluminous hairstyles are a thing of the past, you are very wrong. The more volume, the better!
You can make a lot of it on top, by pulling the side strands to the back, spraying them with a lot of hair spray, and clipping them together with special decorative pins..
52. Flowers
Flowers are an integral part of any wedding, so why not add them to your hairstyle? Clip some pins with artificial flowers inside large curls. Don't go for natural flowers. They might wither before the day is over.
53. Big Hair
Some might consider this hairstyle outdated, but it still hasn't lost its charm. It looks especially well on long and straight hair and is achieved by combing the locks over while spraying it with hairspray. Another way to do it is to brush the hair back over a high headband.
54. Decorated Ponytail
This amazing updo is a popular wedding hairstyle. The wire, which is weaved into the ponytail, will allow you to keep the style intact throughout the day.
Curls are a compulsory part of a special image, so the more – the merrier!
55. Large Bun
Girls, who don't want to spend too much time touching up their hairstyles during the wedding ceremony, can opt for a wonderful sizable bun.
This wedding updo for long hair can easily be created by curling the hair and then arranging it into a bun.
56. Loose Side Bun Wedding Hairstyle
This hairstyle is perfect for a relaxed wedding look. First, the hair is curled to make nice and smooth waves and then a loose bun is created on one side. You can pull some strands out to create a wild look if you wish.
57. Weave
If your hair is not too long, but you still want a very long wedding hairstyle, get hair extensions. With their help, you can do amazing things.
For example, you can run a braid around your head and make a wavy and voluminous ponytail below.
58. Braided Bun
This simple, yet beautiful hairstyle is perfect for active brides. If you are planning to do a lot of dancing, you will need to get the hair out of your way.
You can also save some money on a hairstylist and make a braided bun on your own.
59. Twisted Bangs for Wedding
A great way to keep your hair out of your face when dancing will be twisted bangs. This hairstyle is very easy to make on your own.
All you have to do is twist the frontal strands and pin them in the back. Adding some volume at the top will create a nice completed look. The rest of the hair can be curly or wavy.
60. Make it Short
Long hair is not always something you want to flaunt. Sometimes girls opt for hiding the length in order to forget about it at least for a day.
Such a hairstyle is created by pinning your hair up into a beautiful upstyle, in order to keep it not lower than your shoulders. Leave some strands hanging loose and curl them to create a soft and elegant style.
We hope these wedding hairstyles for long hair helped you make the right decision. If you are still unsure, try a couple of them. After all, you don't get married too often. The time you spend on the preparations is worth the result.